11 Best Boutique Hotels in Tokyo
9 min read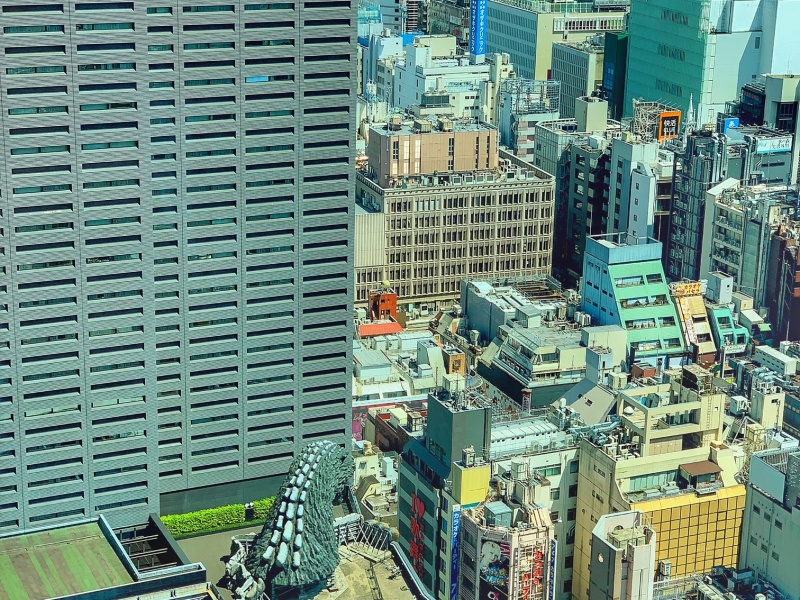 The best boutique hotels in Tokyo are a testament to the city's dynamic personality. Amalgamating the vintage with the futuristic, these city getaways not only provide comfort to wary travelers but do so in an individualistic style. From displaying the traditional side of Japan to showcasing its hyper vibrancy, boutique hotels in Tokyo are artistic destinations that will leave you in awe of Japanese culture, design, architecture, and their zest for immaculate hospitality.
Tokyo Station Hotel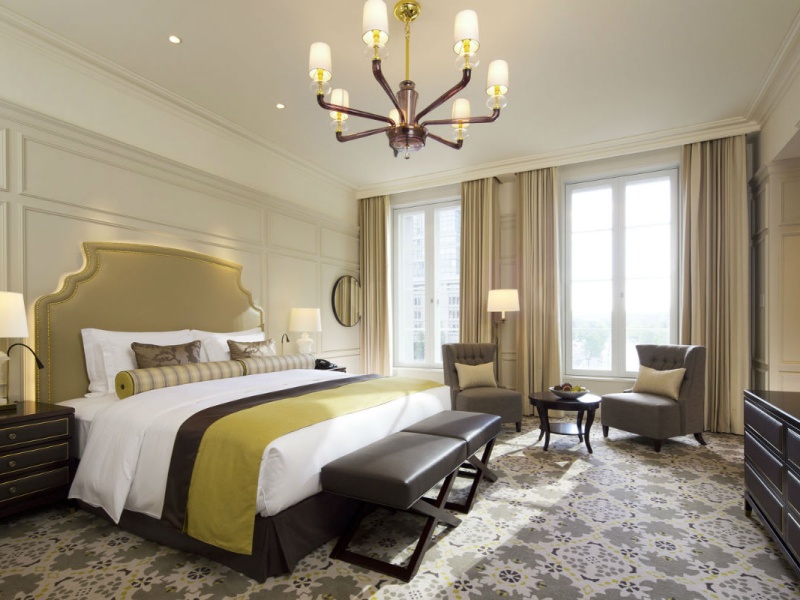 Tokyo Station Hotel inside the red-bricked Marunouchi building is an excellent pick for travelers aiming at old-age glamor and easy transportation. Established in 1915, the hotel lies right over the Tokyo Central Station Hotel and is one of Japan's Important Cultural Properties.
Tokyo Station Hotel's building maintains a colossal Renaissance outlook. It stands out amongst the skyscrapers in the Ginza commercial and Marunouchi financial district. Guests can book palace-side rooms with the city's view or dome-side rooms with the station's view.
On the second floor, the accommodations follow vintage European architectural patterns. In contrast, the recently refurbished third floor is more in sync with 21st-century modernity.
The basement level houses a fitness center and spa where guests can get Aroma therapy or spend time in an artificial hot spring.
The Tokyo Station Hotel has ten eateries, ranging from a fine-dining French restaurant, Blanc Rouge, to an authentic seafood spot, Sushi AOYAGI. The breakfast buffet is set up in the naturally lit guest lounge, The Atrium, and serves over 100 food items.
Andon Ryokan
Located in the residential area of Taito Ward, Andon Ryokan claims to be Tokyo's first designer ryokan – a traditional Japanese inn. The place is ideal for budget travelers, offering a mix of modern facilities and authentic Japanese elements like tatami (straw mat) flooring and futon beds.
A family-run establishment, Andon Ryokan maintains a typical hostel-like culture where guests can spend time in the lobby, use a shared kitchen, or coin wash. For a more immersive experience, patrons can sign up for courses like sake tasting, flower arrangement, origami, and tea ceremonies.
Interestingly, the ryokan's interior is eclectic, with anime art on shared bathroom walls and jacuzzi tiles. The artistically painted rooftop is suitable for watching the cityscape at night or having morning breakfast.
'Andon' is Japanese for a lantern, which is how the ryokan's frontal façade looks when well-lit at night.
Here, guests can enjoy homemade Japanese breakfast, eggs & bacon, or French toast. The cherry on the cake is the owner's extensive art collection, including stained glass lamps and vintage kimonos, displayed around the property.
Hotel Groove
Located in the heart of Tokyo in Shinjuku, Hotel Groove is the recent addition to the capital's dynamic boutique spaces for tourists and locals. A Park Royal hotel, Groove occupies the 18th to 38th floors in the Tokyo Kabukicho Tower, with one of them in collaboration with Lifestyle Hotel Eva.
The partnership allows guests to stay in rooms themed after the five pilots from the popular anime series: Neon Genesis Evangelion. The shared lounge areas maintain an eclectic aura with modern art and music. On the other hand, guest rooms have a minimalistic and calming décor with modern touches such as USB ports and the quintessential Japanese toilets.
One of the main advantages of staying at Hotel Groove, which takes inspiration from vintage music, think vinyl, is the astounding bird-eye views of the city's entertainment district. Pick any room, and the floor-to-ceiling windows allow you to appreciate the spread of Tokyo in all its panoramic glory.
The 17th floor, JAM17, is ideal for mingling with the diverse population of Tokyo. Additionally, Kabukicho Tower is now Shinjuku's hippest entertainment center.
Besides the two hotels, the high-rise is also home to a Starbucks, the gastronomically glorious Kabuki-Yokocho fold hall, the Namco Arcade with 250 gachapon and claw machines, a theater, a cinema, and member's clubs.
Book and Bed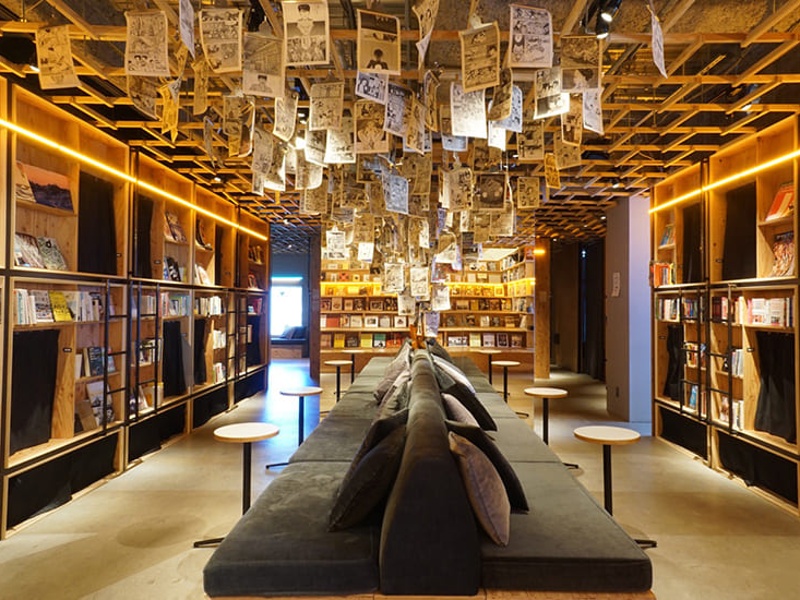 Next on the list of the best boutique hotels in Tokyo is Book and Bed, every bibliophile's dream come true. At first glance, it can be hard to differentiate whether the place is a library or a hotel.
However, step inside and walk around, and soon you'll spot bed-sized pods constructed between the bookshelves. As such, the guest is figuratively and literally sleeping amongst the books.
Even though Book and Bed is what one might call a capsule hotel, it also offers superior rooms with double-bed and glass-to-ceiling windows. The pods are simple, with comfortable bedding, device sockets, safes, and a curtain separating you from the outside world.
The communal area looks like a spacey library, where one can climb the bookshelves and find a quiet reading nook. Comic pages and books hanging from the exposed ceiling pipes only add to the geeky charm of the place.
Moreover, the on-site cafe serves American breakfast every morning and provides plenty of dessert and beverage options. Guests can also purchase keepsakes like key tags, pajamas, and bags.
Hotel Gajoen
Established in 1928, Hotel Gajoen is one of the oldest artistic boutique hotels in Tokyo and a luxurious wedding venue. With elaborate lacquer work and magnificent paintings, Gajoen is an all-in-one stop for art connoisseurs looking to delve deeper into the early Shōwa or pre-war era. Initially, the place was a hub for elite gatherings but has transformed into an elegant destination for global tourists.
Located in the residential area of Meguro with chic cafes and cherry blossoms, the hotel is a quiet retreat away from Tokyo's hubbub. Here, guests can spend time in the naturistic garden with waterfalls, bridges, and koi ponds. Also, there's an old library with exquisite wood paneling housing books on Japanese art and culture.
Hotel Gajoen is famous for its age-old museum, Hyahudan Kaidan, one of Japan's tangible cultural properties. It has seven rooms, each designed by renowned artists from the late 1920s. The renovated property now has sixty minimalistic-designed suites with a garden or city view.
For gourmet meals from around the globe, the patrons can book a table in one of the eight in-house restaurants. Pandora, a favorite, is an open lounge with slanted walls and an obstructed garden view where one can order light snacks or coffee.
Artist Hotel – BnA Studio Akihabara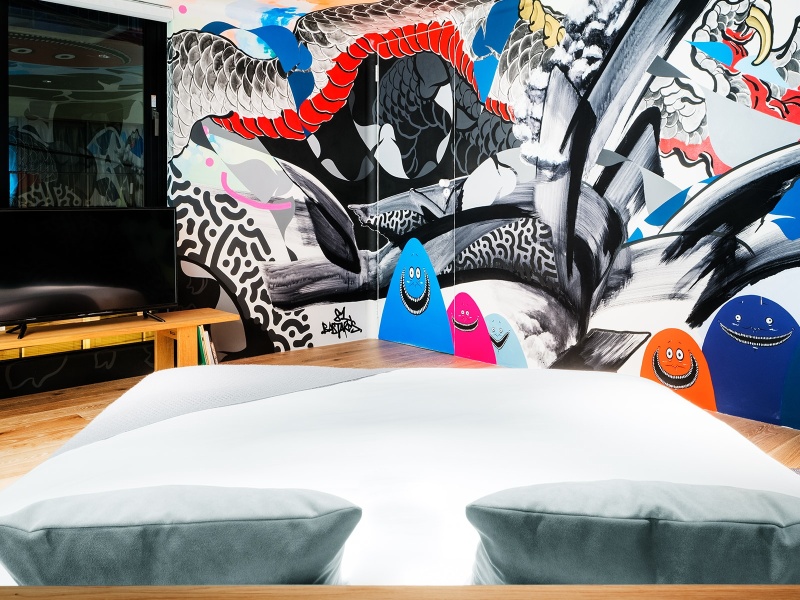 Promoting the idea of futuristic urban living via conceptual art, BnA Studio in Akihabara is one of those uber-cool hotels in Tokyo that splits its revenue with the artists.
Located in the hip neighborhood of "Electric Town," the place is within walking distance of gaming arcades, manga stores, and maid cafes. Tourist spots like Yushima Goryo Shrine, TKP Garden City, Kamiizumi Inari Shrine, and Origami Kaikan are nearby.
BnA Studio has five different concept art rooms. Wonder Park and Athletic Park maintain an upbeat look with pop art and industrial design elements. The Responder Room has 360° wall-sized murals, and the Zen Garden Room has a metal fence and a Japanese rock garden.
Lastly, the Hailer room is entirely black, with a traditional painting as a centerpiece. The rooms have kitchenettes and washer/dryers, making them perfect for an extended stay in the city. 
There are no on-site restaurants except for a common area with a coffee machine. Nevertheless, you can easily find several good food options nearby.
Trunk Hotel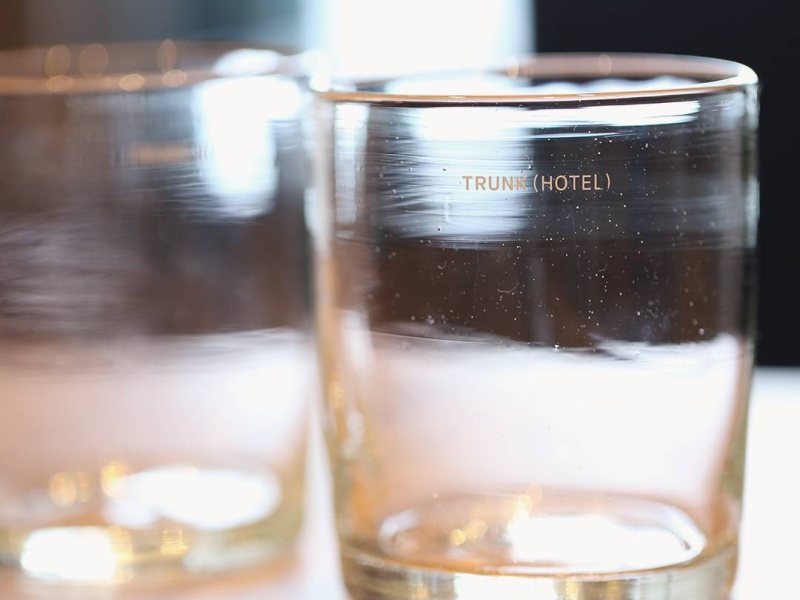 A passion project of Shibuya resident Yoshitaka Nojiri, Trunk Hotel is the right balance of contemporary decor and Japanese exquisiteness. Constructed within two adjoining four-story buildings, the establishment is only a short distance from Nezu Museum, Meiji Jingu Shrine, and Harajku's 'Cat Street.' The latter is one of the most colorful places in Tokyo to enjoy shopping and Japanese street food. 
At first glance, the hotel has a sleek outlook, dark-hued stone, and a contrasting pop of green from balcony plants. However, the decor inside completely flips the game. Think of displays of local craftsmanship like wooden furniture, washi paper art, modern paintings, and wall hangings.
Furthermore, the emphasis on sustainability when it comes to interiors and amenities makes it one of the eco-friendlier boutique hotels in Tokyo.
Trunk Hotel has an open lounge, also functioning as a bar and restaurant, that features a wall made entirely with wood from old Japanese houses. It is an outstanding spot to mingle with local youth and sample Japanese or international cuisines. Additionally, there is a Trunk Store to purchase recycled ceramics and other souvenirs.
One@Tokyo
If you are searching for boutique hotels in Tokyo with quirky yet striking entrances, One@Tokyo is the one to check out. With loose timber planks arranged to form entryway arches, the facade is an immediate eye-catcher. Designed by globally acclaimed architect Kengo Kuma, the Oshiage-based hotel aims to bring together the historical Edo era's essence and present-day niceties.
Additionally, wood and concrete are the main stars of the interiors, giving the place a bit of raw sophistication. The Atelier suite has ornate wood paneling and exudes a professional studio-like vibe. On the other hand, the Library suite is more subtle and comes with an entire wall converted into a bookshelf.
The lobby cafe on the bottom floor serves a buffet breakfast. It has a single dining counter spanning 15 meters with floor-to-ceiling glass windows. The rooftop terrace offers unobstructed views of the Tokyo Skytree.
Hotel Gracery Shinjuku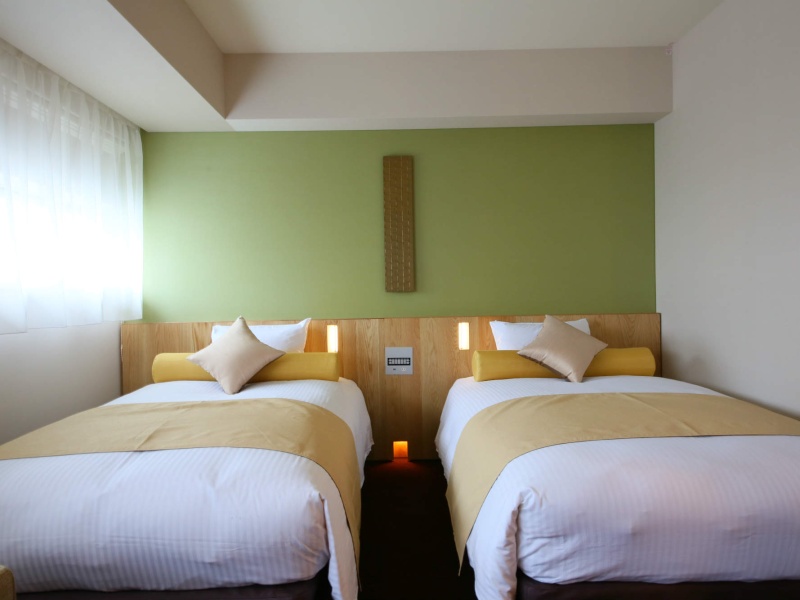 A Shinjuku classic, Hotel Gracery is among the best-known boutique hotels in Tokyo. The claim to its fame is the large Godzilla head poking over the hotel's terrace that looks over the neighborhood's main street. As such, Hotel Gracery is apt for travelers wanting to stay in the dead center of all the happenings in Shinjuku. 
As with most hotels in Tokyo, and the rest of Japan, self-check-in makes the process of getting your room easy and fast. The first thing one notes about the guestrooms is that instead of the standard large windows, you get a panoramic slit end-to-end window. This gives the space a somewhat cool and future-centric look. 
Clean and comfortable, the rooms feature all basic amenities from en-suites and coffee makers to nightwear, free WiFi, Panasonic air-e ion generators, and flat-screen TVs. Room sizes are standard to what you'll find in most hotels across Tokyo, small but manageable.
Hotel Gracery Shinjuku has a cafe on its eighth floor, a quiet spot for reflection and evening views of the city. Of course, the highlight of a stay here is the chance to get up close and personal with Godzilla on the roof.
Toggle Hotel
Brainchild of Klein Dytham architecture firm (creators of Ginza Place), Toggle Hotel is an artistic urban hotel in Suidobashi. The nine-story building lies at the intersection of the expressway and railway line, making it a convenient place to stay. The building's facade boasts a triangular curve on the outer end. Moreover, its gray and yellow stripe color scheme almost matches that of Tokyo trains.
Decked in shades of gray and green, the ninth floor of the building is an in-house cafe serving sandwiches, soups, and drinks. The cafeteria has plenty of plants inside and on the balcony to highlight the greenery. The bold color scenes in common spaces with loads of light seeping in give the place a hipster aura design enthusiasts will particularly appreciate.
Furthermore, each hotel floor has a different dichromatic color theme split into equal halves. One side mostly remains a neutral gray, while the second half contrasts with bright shades like pink, blue, and violet. In total, there are sixty color combinations available at Toggle Hotel.
A highlight of Toggle's accommodation is their loft rooms, where a single space has a lounge area at the bottom and a sleeping area at the top. All the color-coded rooms come with creature comforts that range from WiFi and Smart TVs to en-suites, safes, tea/coffee makers, and refrigerators.
Hoshinoya
Hoshinoya is a futuristic ryokan with five-star amenities that merges classic Japanese aesthetics with modern design and architecture. For instance, from the moment guests enter this hotel, there's a strict no-shoes policy. Adding to the integration are the tatami mat flooring and shoji paper sliding screens.
Situated in the Central Business District, Hoshinoya is near Tokyo Station and Imperial Palace. As a result, it is an ideal boutique hotel in Tokyo for tourists wanting to explore the city's main sights.
Hoshinoya's 17-story building initially passes as an illusion of a tall black tower. A closer look reveals leaf-like lattice patterns that give the exterior a traditional appearance.
Inside, each floor has a group of six individual rooms with a shared lounge and tea space, ochanoma. The seventeenth-floor houses two onsens or hot spring baths that fetch water from 1500 meters below the ground.
Hoshinoya's dining experience is equally exquisite. Patrons eating at the in-house restaurant can try seasonal Japanese meals cooked with advanced French techniques. For breakfast, onigiri rice balls and grilled fish are a must. The special 3-layered dinner box is perfect for in-room dining after a long day of sightseeing.