21 Best Things To Do In Honolulu, Hawaii (2023 Guide)
16 min read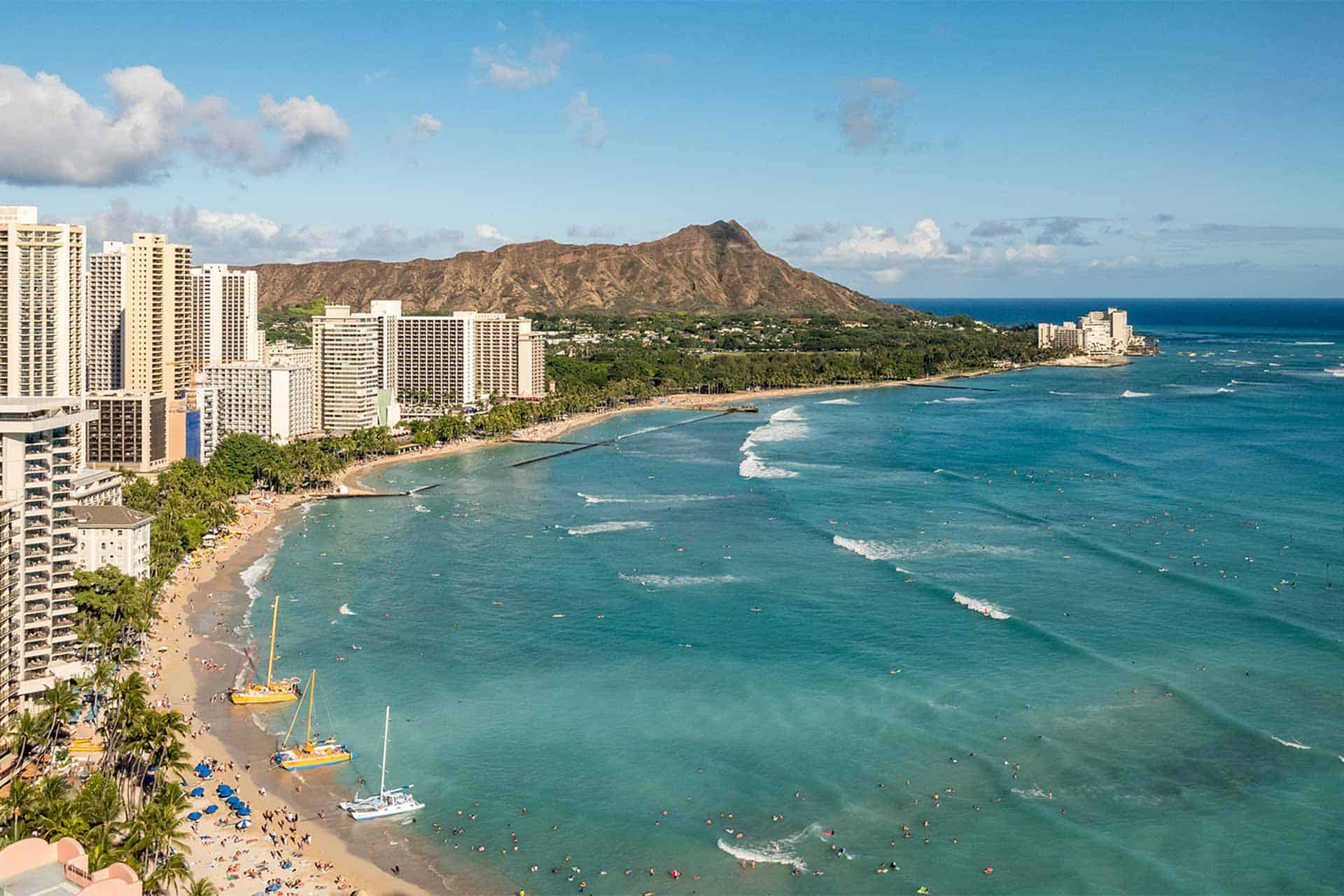 Looking for all the best attractions in Honolulu? Our guide with all the best things to do in Honolulu is all you need!
Honolulu is often considered the gateway to the Hawaiian islands. As the capital and largest city in the state, Honolulu, Oahu is a popular traveling destination for surfing, shopping, nature, and beaches. 
Located on Oahu island's south shore, Honolulu is an amazing place to start exploring the lush environment of the Pacific Islands. The refreshing tropical climate, vibrant natural scenery, and bountiful beaches make for an enticing vacation for people all over the globe. 
In addition, Honolulu is teeming with history. For example, the attack on Pearl Harbor occurred in Honolulu, home to the only royal palace in the United States. Rich with history, arts, and culture, Honolulu is a great place to learn about the culture, art, and history of Hawaii. 
From basking in the sun to enjoying a hula show, many fun and exciting attractions in Honolulu are waiting to be explored. 
So stop searching for what to do in Honolulu! Instead, we've created this list of the top Honolulu attractions to save you time so that you can get to packing! 
The Best Things to Do in Honolulu
Honolulu is the prime spot for outdoor recreational activities or to simply bask in the refreshing nature exclusive to Hawaii. 
From laying on the sandy beach at Ala Moana Beach Park or hiking the jaw-dropping Diamond Head crater, there are loads of outdoor attractions waiting for you in Honolulu — and don't worry! We've included popular indoor Honolulu activities for a nice refreshing breather. 
1) Lay In The Sun At Ala Moana Beach Park
Ala Moana Regional Park is an accessible 100-acre public park that spans a gold-white sand beach. 
As the most popular local Oahu beach, Ala Moana Beach Park is a playground for all ages. Shady trees and picnic tables speckle across the park that features tennis courts, a yacht club, concession stands, and Magic Island, a half-crescent beach. 
For extra fun, walk across the street to the famed open-roof Ala Moana Mall for some shopping rejuvenation.
Ala Moana Beach Park neighbors the tourist favorite and one of the most famous beaches, Waikiki Beach, though Ala Moana Beach Park is a local favorite that you should consider visiting. 
Address: 1201 Ala Moana Blvd, Honolulu, HI 96814
Hours: 4am – 10pm daily
Cost: Free
2) Scour The Historic Landmarks Of Downtown Honolulu
Honolulu's bustling downtown is peppered with impressive skyscrapers and significant spots like the extravagant Iolani Palace, a restored 19th-century royal residence. 
It's here, walking through downtown, that people can witness the splendor of Oahu's most historic landmarks. 
For example, the Iolani Palace is a national historic landmark and the only official state residence of royalty in the United States. Another significant historic landmark is the statue of King Kamehameha I, Hawaii's first king. 
Also check out the iconic Aloha Tower built in 1926 and the Kawaiaha'o Church made of coral in 1842. There are also plenty of museums, gardens, and statues to see as well. 
The Honolulu Botanical Gardens are another fantastic spot downtown. Wander through the relaxing walking trails and admire all the exotic plants and gardens. 
Join this two-hour historic Honolulu scavenger hunt for an interactive adventure. It's through this scavenger hunt that guests can explore well-known monuments like the Iolani Palace and overlooked gems in this stunning ocean town. 
3) Learn About Hawaiian Culture & History At The Honolulu Museum Of Art
The Honolulu Museum of Art is a fascinating meeting place where culture, art, history, and education come together in the heart of Honolulu. 
Guests can explore galleries, participate in a class, or watch a film to experience and learn about Hawaii's culture. 
Since its founding, the Honolulu Museum Of Art has grown from 875 works to 50,000 pieces. Many pieces span over 5,000 years, holding major pieces in Asian, American, and European art. 
As a result, the museum features one of America's best Asian art collections, where guests can view Georgia O'Keeffe's Maui landscapes and indigenous feather capes. 
Address: 900 S Beretania St, Honolulu, HI 96814
Hours: 10 am – 6 pm Thursday and Sunday, 10 am – 9 pm Friday and Saturday
Cost: $20
Read Next: Be sure to check out our list of the best things to do in Maui before planning your trip to the Hawaiian Islands!
4) Tour Pearl Harbor National Memorial
The largest harbor in the state of Hawaii, Pearl Harbor, was named after the abundance of pearls previously discovered in its now protected waters.
Termed Pu'uloa, or "long hill," and Wai Momi, "water of pearl," by Hawaiians, the harbor is an active military base that suffered a surprise attack by the Japanese in 1941 during World War II. 
As the Headquarters of the Pacific Fleet, Pearl Harbor is also a notable National Historic Landmark, home to four major attractions to commemorate the accomplishments of previous generations. 
Join this Honolulu Harbor city tour to witness Hawaii's most visited attraction for yourself. On this tour, see Pearl Harbor, discover Hawaiian history, and explore downtown Honolulu on this inclusive guided tour of Hawaii's major attractions. 
Or stop by the Pearl Harbor Visitor Center to get maps and guides for the memorial. 
5) Pay Your Respects At The USS Arizona Memorial
Located at Pearl Harbor, the USS Arizona Memorial marks the final resting place of 1,102 of 1,177 service members killed during the Pearl Harbor attack in 1941. 
Receiving more than 5,000 visitors daily, many people travel to the memorial to pay their respects to the fallen. 
In addition, a program is run where visitors are taken on a boat shuttle to the memorial, where a forty-five-minute program steers visitors through the memorial. 
This tour visits Pearl Harbor and the USS Arizona Memorial for a leap back in time before highlighting other famous city landmarks and historical locations.
Address: 1 Arizona Memorial Pl, Honolulu, HI 96818
Hours: 7 am – 5 pm daily
Cost: Free, but online reservations are recommended
Are you stopping in California before or after Hawaii? Check out our 3 days in San Diego itinerary for more ideas!
6) Bask In History & The Sun At Kuhio Beach Park 
A public park near the Pacific Ocean, Kuhio Beach Park is a popular gathering place for locals and tourists.
Named after Prince Jonah Kuhio Kalanianaole, the Prince's home once stood on Kuhio Beach Park, where he lived with his wife, Princess Elizabeth Kahanu. 
There are three famous landmarks in the area of Kuhio Beach Park. The Duke Kahanamoku Statue, the Prince Kuhio Statue, and the Stones of Kapaemahu. 
The Prince Kuhio Statue depicts Prince Kuhio, a Hawaiian prince who soon represented Hawaii as a delegate to the U.S. Congress after Hawaii was annexed as a territory of the U.S. 
The Duke Kahanamoku Statue is one of the most photographed spots, the gold statue welcoming others with open arms. The most respected Hawaiian surfer, master canoer, and champion Olympic swimmer is credited for bringing surfing to Hawaii and Australia. He is fondly referred to as "The Father of Modern Surfing."
And then, there are the Stones of Kapaemahu, representing four legendary men: Kinohi, Kahaloa, Kapaemahu, and Kapuni. These men came to Hawaii around 400 A.D. from Tahiti and were believed to be wizards that possessed healing powers. 
The stones are said to hold the mana of these four wizards, and to this day, the stones are fenced in to preserve and protect the historical markers. 
Address: 2453 Kalākaua Ave, Honolulu, HI 96815
Hours: 24/7
Cost: Free
7) Lounge In The Sun At Waikiki Beach
The most well-known beach in Hawaii, Waikiki Beach, features high-rise hotels, designer fashion stores, cocktail bars, hula shows, and fine dining for all who visit its sandy shores.
Waikiki Beach first became famous for its surfing and scenic views. Then, it quickly reached favorite star icons like Frank Sinatra and Amelia Earhart. Once celebrities began visiting this stunning beach, many others soon followed. 
Around the beach is the just as renowned neighborhood, Waikiki, which was once a playground for Hawaiian royalty. 
Do as the Hawaiians do in Hawaii and step on a surfboard! Enjoy this group surfing lesson in Waikiki Beach to learn the basics of surfing before cruising on board over clear waters. 
READ NEXT: While you're in the area, be sure to check out all the best things to do in Waikiki!
8) Explore The Honolulu Zoo
A 42-acre zoo, the Honolulu Zoo is the only zoo in the United States ever to be established by grants made by a sovereign monarch. The zoo is situated on part of the 300-acre royal Queen Kapi'olani Park and boasts over 1,230 animals.
In 1877, King Kalakaua dedicated the Kapiolani Regional Park to his consort, Queen Kapiolani. The King's private bird collection and a horse racing track were displayed at the park. 
Kapiolani park soon built a worldwide reputation for its bird of paradise collection, and in 1938, the bird collection grew to include three large aviary complexes. 
Today's Honolulu Zoo didn't come to be until 1984. Where once there was only a world-famous bird collection, the zoo now homes many different animals, including Komodo dragons, orangutans, and elephants. 
Address: 151 Kapahulu Ave, Honolulu, HI 96815
Hours: 10am – 3pm daily
Cost: $19 adults, $11 kids ages 3-12
9) Gaze From The Impressive Aloha Tower
Aloha Tower is a retired lighthouse and historical landmark of Hawaii.
Once the tallest building in Hawaii in 1926, the tower stretches 184 feet in the sky and was topped with a 40-foot flagpole. 
Similar to what the Statue of Liberty represents to New Yorkers, the Aloha Tower is incredibly significant to Hawaiians. To this day, the tower remains a docking port for Oahu's cruise ships. 
Aloha Tower is now a historic landmark, a port, and a shopping and dining marketplace in downtown Honolulu. The tower remained the tallest building in all of Hawaii for four whole decades with its clock being one of the largest in the United States. 
Now locals and tourists drift up to the Observation Deck on the tenth floor of the tower for stunning views of the harbor and the cityscape of Honolulu. 
Address: Aloha Tower, 155 Ala Moana Blvd, Honolulu, HI 96813
Hours: 9 am – 5 pm daily
Cost: Free
Read next: 21 Best Things To Do In San Francisco, California
10) Shop At The Oasis Ala Moana Center
The Ala Moana Center is the largest shopping mall in the United States, and that's not all! It's also the largest open-air shopping center in the world. 
Boasting over 350 merchants, the Ala Moana Center is a shopping oasis. Food options include an international food court and fine-dining restaurants. Luxury brand stores are available along with unique local stores for the ultimate Hawaiian spirit. 
Step over to the Ala Moana Center for live performances of hula shows, fashion shows, band performances, and lively concerts at one of Hawaii's most famous public amphitheaters, the Ala Moana Center Stage, to complete your Hawaiian vacation. 
Address: 1450 Ala Moana Blvd, Honolulu, HI 96814
Hours: 11 am – 7 pm (closes at 8 pm on Fri/Sat and 6 pm on Sundays)
11) Take A Dive To The Corsair Wreck Dive Site
A World War II Plane, the Corsair Plane now acts as a garden eel playground and advanced scuba diving site. 
During a routine mission, the engine of the plane gave out. Surprisingly, because the landing was soft, and the pilot safely ejected, the aircraft landed intact. 
However, since the plane was not buoyant, it was left to sink to its demise. The plane sank to around 115 feet, which is infamously known for its unpredictable strong currents. 
Today, photographers and divers often visit the Corsair Wreck Dive Site, while garden eels, stingrays, and jacks often frequent the area.
For all the advanced divers out there, this could be the unique adventure you've been searching for the best things to do in Honolulu! 
12) Visit The Protected Marine Life Conservation Area Of Hanauma Bay Nature Preserve
Hanauma Bay Nature Preserve is one of Honolulu's most popular tourist attractions. 
The Hanauma Bay nature is outstanding as the marine embayment of abundant green sea turtles and parrotfish. 
Declared a protected marine life conservation area and underwater park in 1967, Hanauma Bay is a popular spot for snorkeling, surfing, sailing, and sunbathing. Unsurprisingly, Hanauma Bay was voted the best beach in the United States in 2016. 
Enjoy a sightseeing tour of North Shore and Hanauma Bay Nature Preserve to experience the best of Honolulu. On this tour, guests can try Dole Whip at a pineapple plantation, join hiking or kayaking activities, and visit the famous Hanauma Bay! 
Address: 7455 Kalanianaole Hwy
Hours: 6:45 am – 4 pm Wednesdays – Sundays
Cost: $25
13) Go Shopping At The Royal Hawaiian Center
The Royal Hawaiian Center is an upscale premier shopping, entertainment, and dining location in Waikiki. It stretches down three blocks worth of stores and restaurants waiting to be explored!
In the heart of the Royal Hawaiian Center, visitors can step over to The Royal Grove, Waikiki's historic coconut grove. 
Here, guests can take part in celebrating Hawaiian traditions through Hula and cultural classes before or after shopping at the 110 varieties of stores and 30 exquisite dining options. 
Visit the website to see the full list of stores, events, and dining options. 
Address: 2201 Kalākaua Ave, Honolulu, HI 96815
Hours: 9 am – 9 pm daily
14) Take A Dip In The Waters At Sans Souci Beach Park 
As one of the most favorable family-friendly beaches in Waikiki, Sans Souci Beach Park's shallow waters are free of strong currents. 
A popular spot for kayakers and swimmers, many come to Sans Souci to access the waters beyond the reef that travel through the Kapua Channel. This leads to Old Man's, a famous surf site that is also commonly referred to as Kaimana Beach. 
For things to do in Honolulu, we recommend visiting Sans Souci Beach Park for a fun, family-friendly activity. The white sand, sparkling shallow blue waters, and minimal crowds make for a relaxing time in the sun. 
The park is open 24/7 and is free to visit!
Looking for more USA beach destinations? Check out our list of the best things to do in Tampa, Florida!
15) Witness The Largest Museum In Hawaii At The Bernice Pauahi Bishop Museum
A museum of natural and cultural history, the Bernice Pauahi Bishop Museum is the largest museum in the state of Hawaii.
Recognized worldwide for its education programs and cultural collections, the Bishop Museum is worth leaving the beach for. At this museum, visitors can bask in the ancient Polynesian navigators, and the art of the Hawaiian Islands settled on the Pacific. 
Established in 1889, the Bishop Museum was founded in honor of the late Princess Bernice Pauahi Bishop, the last descendant of the royal Kamehameha family, the first line of royal rulers in Hawaii. 
The museum has been running strong for quite a while, extending its knowledge to the public to encourage cultural appreciation and learn more about the history of Hawaii and its ancestors. 
Address: 1525 Bernice St, Honolulu, HI 96817
Hours: 9 am – 5 pm daily
Cost: $26.95 on weekdays and $28.95 on weekends (booking online is recommended)
16) Hike The Iconic Diamond Head State Monument
Diamond Head is a volcanic tuff cone known as Hawaii's most recognized landmark and one of the best things to do in Honolulu. 
Famous for its historic hiking trail and military history, Diamond Head State Monument is epitomized for its awe-inspiring coastal views and refreshing nature hiking trails.
The 0.8-mile trail to the summit of Diamond Head was first built in 1908 for a coastal defense system. 
Visitors can glimpse the past of Hawaii and Oahu as they climb up steep stairs to enter a 225-foot tunnel that steps into the Fire Control Station that was constructed in 1911. At Diamond Head summit, bunkers and an impressively large navigation lighthouse established in 1917 stand tall. 
For a rewarding adventure filled with nature and history, step over to this free Honolulu attraction at Diamond Head for a great, unforgettable experience. This tour starts at Waikiki and hikes up Diamond Head Crater for a safe guided experience! 
17) Join A Show At The Polynesian Cultural Center
The Polynesian Cultural Center was voted the #1 attraction in Oahu for its ability to bring the spirit of Polynesia to life through its attractions.
We highly recommend visiting the Polynesian Cultural Center to experience the best Polynesian entertainment in Hawaii as one of the best things to do in Honolulu. 
Guests will travel through time with thousands of years of culture from six different island nations in one-of-a-kind performances and entertainment. 
Stay for the entire day or bask in an evening show at the Polynesian Cultural Center for an unforgettable and impactful experience to take home with you. 
18) Tour The USS Bowfin Submarine Museum & Park
Named after the bowfin fish, the USS Bowfin Submarine Museum and Park was named after the USS Bowfin, a United States Navy submarine. 
Only a two-minute walk from the USS Arizona Memorial, the USS Bowfin Submarine Museum and Park teaches its visitors about the USS Bowfin, a fleet attack submarine used in World War II. 
This submarine popularized the term "Silent Service" and was nicknamed "the Pearl Harbor Avenger", launching precisely one year after the attack on Pearl Harbor and finding its permanent home there. 
At the museum, guests can discover the three expansive galleries covering the history of the United States Navy's Submarine Force during the Cold War, World War II, and the present. Fun fact — there are three submarines named with ties to Hawaii: USS Honolulu, USS Kamehameha, and USS Hawaii. 
Address: 11 Arizona Memorial Dr, Honolulu, HI 96818
Hours: 7 am – 5 pm daily
Cost: $21.99
Read next: The Perfect 3 Days in Orlando Itinerary
19) View Prickly Cacti At The Koko Crater Botanical Garden 
The Koko Crater Botanical Garden is situated inside the Koko Crater, an extinct tuff cone on Oahu. This botanical garden is a hidden gem oasis scattered with tropical flowers, cacti, and other native Hawaiian plants.
Established in 1958, the Koko Crater Botanical Garden spans 60 of the 200 acres inside Koko Crater. Step over to the Cactus Garden for an unusual step into Hawaii's nature as you explore the different plants, which include Hawaiian, African, and Madagascan plants. 
The gardens continue to amaze all who gather there with hibiscus trees and vibrant plumeria that bloom during the April season.
Address: 7491 Kokonani St, Honolulu, HI 96825
Hours: 7 am – 6 pm daily
Cost: Free
20) Hike To The Glorious Manoa Falls
Standing an impressive 150 feet, Manoa Falls is a waterfall that many people hike to bask in its stunning views.
One of the top things to do in Honolulu, this family-friendly hike encourages a leisurely stroll to bask in the refreshing nature of Hawaii. 
As Oahu's most famous waterfall, many have joined the adventure of the Manoa Falls trail through the bamboo forest to be rewarded with the Manoa Falls gloriously waiting at the trail's end. 
Enjoy a private hiking trip tour through the Manoa Valley rainforest to Manoa Falls for an unforgettable adventure. Afterward, indulge in Hawaiian shaved ice for a refreshing and rewarding snack! 
21) Koko Crater Trail 
A steep but rewarding climb, the Koko Crater Railway Trailhead features an abandoned railroad track and scenic ocean and city views.
Originally the railway was meant to haul cargo and supplies to the top for the lookout pillbox bunkers used during World War II. Currently, the railway has been abandoned to be used as hiking stairs that visitors can climb to reach the old military bunkers. 
The ultimate hiking challenge, Koko Crater Trail, famously known as "Koko Head Stairs," offers sublime panoramic views at the top. A test of endurance and willpower, this hike is one for the books! 
Where to Stay in Honolulu
Now that you know the best things to do in Honolulu, let's look at the top places for your stay! 
Best Hostel in Honolulu
Only three minutes from the beach, Polynesian Hostel Beach Club is the affordable stay you've been searching for! The highly sought-after location that is only one block from Kuhio Beach and the Honolulu Zoo, this hostel is the perfect place to meet like-minded travelers. 
Best Mid-Range Hotel in Honolulu
Affordable and luxurious, Luana Waikiki is a popular spot for guests to stay. The nearby features include Waikiki Beach, the Royal Hawaiian Shopping Center, and Kahanamoku Beach, close by to some of the best things to do in Honolulu! 
Best Luxury Hotel in Honolulu
Book your stay at Espacio The Jewel Of Waikiki! Guests only have a one-minute walk to dip their toes in the sand to bask in scenic ocean views and refreshing air.
Other impressive amenities include a rooftop infinity pool, a full-service spa, and an exclusive fine-dining restaurant for the ultimate luxury and enjoyment! 
DISCLAIMER: Some of the links in this article are affiliate links, which means if you book accommodation, tours or buy a product, we will receive a small commission at no extra cost to you. These commissions help us keep creating more free travel content to help people plan their holidays and adventures. We only recommend the best accommodations, tours and products that ourselves or our fantastic editorial team have personally experienced, and regularly review these. Thanks for your support, kind friend!