23 Travel Mistakes To Avoid: Travel Smarter, Not Harder
17 min read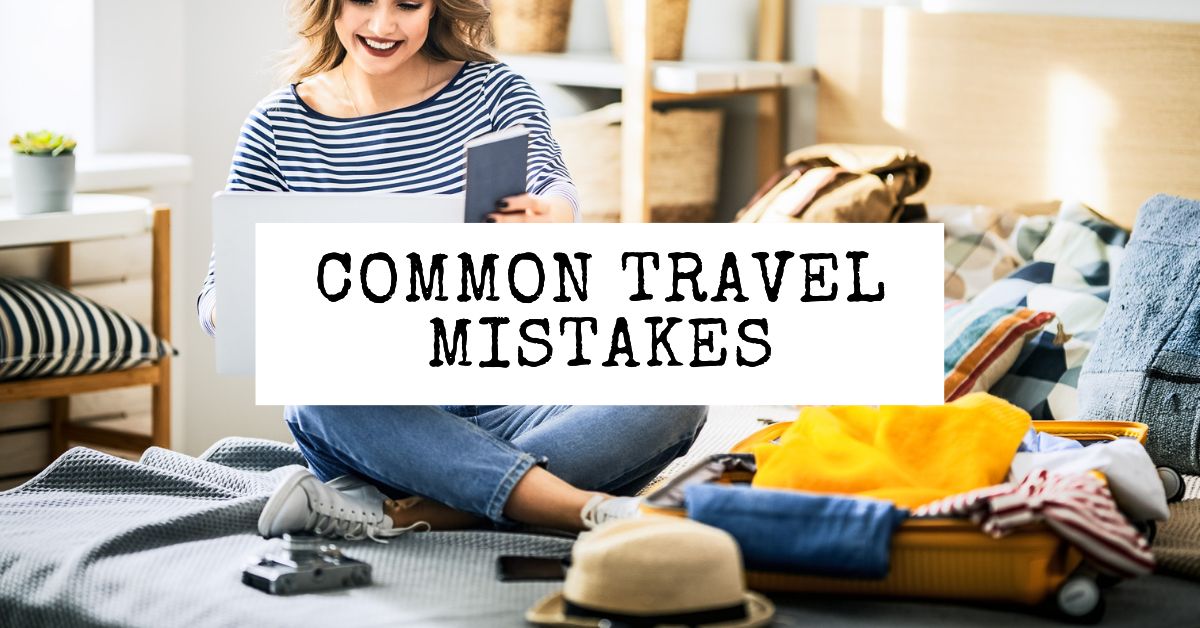 What are the common travel mistakes to avoid?
We recently avoided a huge travel mishap.
Half-asleep late at night, my husband gets into bed and asks me, "What date do we fly out to Rome again?"
At first, I was annoyed he was waking me up for this. Especially since he has copies of everything, I've booked so far.
Eventually, I do tell him so I can go back to sleep. I thought that would be the end of it.
Nope. After a long pause, hubby says, "That can't be right. With the time difference and change in time zones. That means we arrive on the day we embark on our cruise, not the day before, as we discussed."
Oh boy. To sat straight up on the bed and exclaimed, "Oh…fudge."
You see, we booked a cruise leaving out of Civitavecchia, Italy. One of the biggest cruise tips is to arrive at least a day before embarkation. The problem is that while the flight was for the day of, between travel and changing time zones, we'd end up landing in Rome just a couple of hours before our cruise was to set sail.
We would have never made it in time.
As someone always planning travel, I knew better to double-check the dates and arrival times to see if it would work with what we had planned, but I still made this common travel mistake. It happens to the best of us. And it can easily happen to beginner travelers planning their first international trip.
Thankful we caught this early because we could change our flight there to leave one more day in advance. Since we booked our flights months out, there was no difference in cost.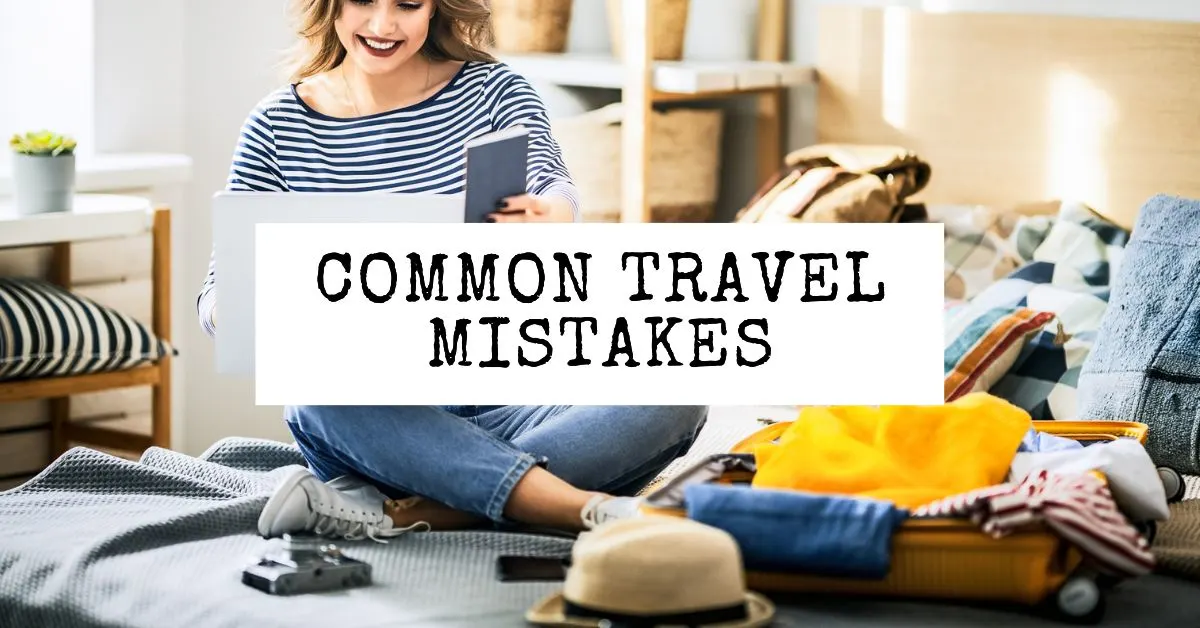 This post may contain affiliate links, which means we'll receive a commission if you purchase through our links at no extra cost to you. Please read full disclosure for more information. We appreciate your support!
What sucked was that we had to cancel our hotel room in Civitavecchia, which I had also booked on the wrong date. They were already fully booked for the correct night. So we had to find somewhere else suitable for the night.
Ultimately, it all worked out, and we will hopefully not encounter any other big travel problems along the way. There may be some minor travel mishaps here and there that we'll just have to pivot for, but some common travel mistakes can be avoided.
In this article, we list all the typical travel mistakes to avoid and the ones you may not have thought of.
You don't have to fear travel planning because it can sometimes be overwhelming. With careful research and planning, you can avoid common travel mistakes and have a smooth and enjoyable trip. So, you can travel smarter and not harder.
When travel mistakes occur, sometimes we must remember to stay flexible and open to changing those plans. Never be afraid to ask for help or advice from other travelers and even locals.
What are some travel mistakes you've made?
Travel Mistakes to Avoid
What are common travel mistakes, and how to avoid them?
1. Not Checking Your Passport or Visa Requirements
The moment you even decide to travel outside the country, you have to check your passport. Make sure it's not expired or about to expire.
The last thing you want to do is arrive at the airport and find you can't travel. Or arrive at customs at your destination to be denied entry because your passport will expire in 6 months.
We planned a few trips this year, and my passport was too close to those six months before expiring that many countries won't allow you to enter with. I had to send it out to be expedited before my next trip. 
You should also check if there are visa requirements, so you can submit any applications you need in advance.
2. Not Doing Enough Research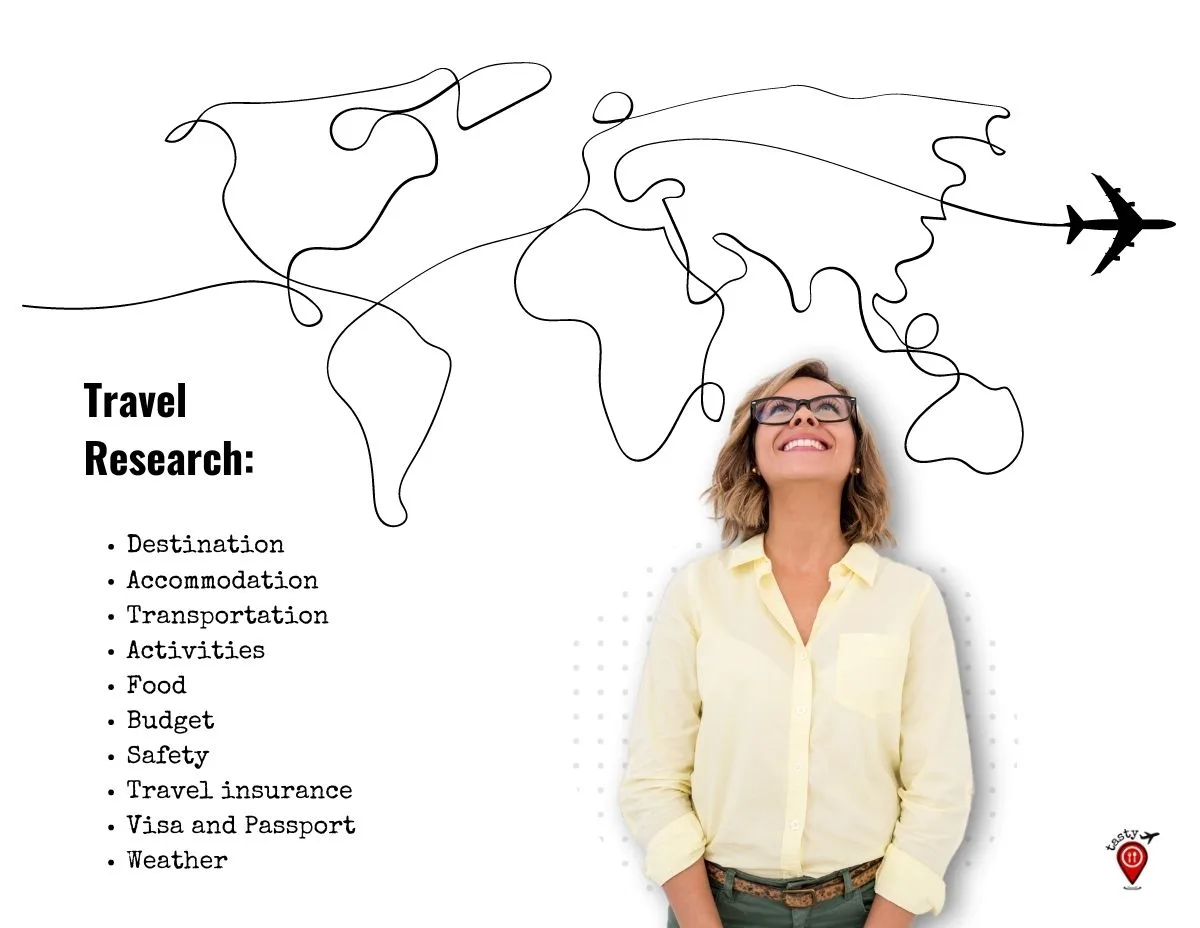 Before you travel, make sure to do your research on everything from the local culture to how their train system works. Don't be caught off guard upon arriving.
This includes these travel mistakes that are easily unavoidable:
Check if the sites you plan to visit are open when you plan to be there. Sometimes museums are closed on specific days of the week. We missed entering the Lourve when we visited Paris.
Businesses are sometimes closed on Sundays or Mondays. We experienced this when we took a day trip to Parma on a Sunday; a lot was closed. Still a great day, but we missed some great foodie spots we wanted to try.
Also, look out for holidays and festivals. This can impact your time there.
Research hidden gems and off-the-beaten-path spots that you won't find in travel guides. Sometimes Facebook groups and forums are a great way to do some research. You can always ask locals upon arrival, too. 
3. Not Budgeting
Travel is expensive. There are different levels of a travel budget, and budgeting appropriately is necessary when planning. Factor in your expenses, including transportation, accommodation, food, and activities. 
You don't want to end up halfway through your trip with maxed-out credit cards and zero in your bank account because you overspent. Create a realistic budget and do your best to stick with it.  
Tip: Mark a small part of that budget as an emergency fund or a little spontaneity during your trip.
Look for ways to save money, such as comparing vacation rentals to hotels, preparing some or all your meals, and prioritizing your spending based on what's most important to you. 
You can have a fantastic travel experience without breaking the bank.
Read more: How to Save Money to Travel
4. Not Booking Accommodations in Advance
This depends on the destination and the time of year you plan to visit. We are not entirely against spontaneous travel trips, but if you wait till the day of arrival to look for a hotel, you may not find anything.
Waiting last minute to book a hotel during peak season in a popular tourist destination may leave you without a bed to sleep in or broke due to high nightly costs.
The closer you are to your travel dates, the more in-demand rooms are; therefore, the higher the nightly rates. 
Tip to prevent this travel mistake:
Research and book your accommodations early with a flexible cancellation policy. This way, you can secure a cheaper rate. This allows you to continue planning without having this looming over you, and you can change or cancel as necessary. You can even re-check rates as your travel dates approach in case the rates dip, and you can rebook.
5. Not Double-Checking Your Flight Details
From my intro, you already know that it's important to double-check all your flight details from the date to departure times and arrival times.
If you have something planned, like an event or a cruise, make sure you're arriving with enough cushion time to allow you to make it without the chance of missing it. 
Remember time zone differences.
Take overnight flights into consideration.
When flying internationally, there may be a connecting flight to your final destination. Remember that you more than likely have to go through customs.
6. Not Having Travel Insurance
One of the biggest travel mistakes to avoid is not buying travel insurance.
Travel insurance can provide peace of mind and protect you from unexpected financial events such as illness, accidents, or lost luggage.
Always use a credit card to book your travel to take advantage of the travel insurance benefits many credit cards offer. 
Review the travel insurance your credit cards offer to determine if it fits your needs. You may not need separate travel insurance, but sometimes it's worth getting.
 If you are planning a cruise vacation, it is best to purchase separate insurance, most important to cover your medical expenses and if you must be evacuated by helicopter. 
Don't let the cost of travel insurance deter you from getting coverage, as the cost of an unexpected event can be much higher. Travel insurance lets you have peace of mind and enjoy your trip without worrying about what might happen.
7. Overpacking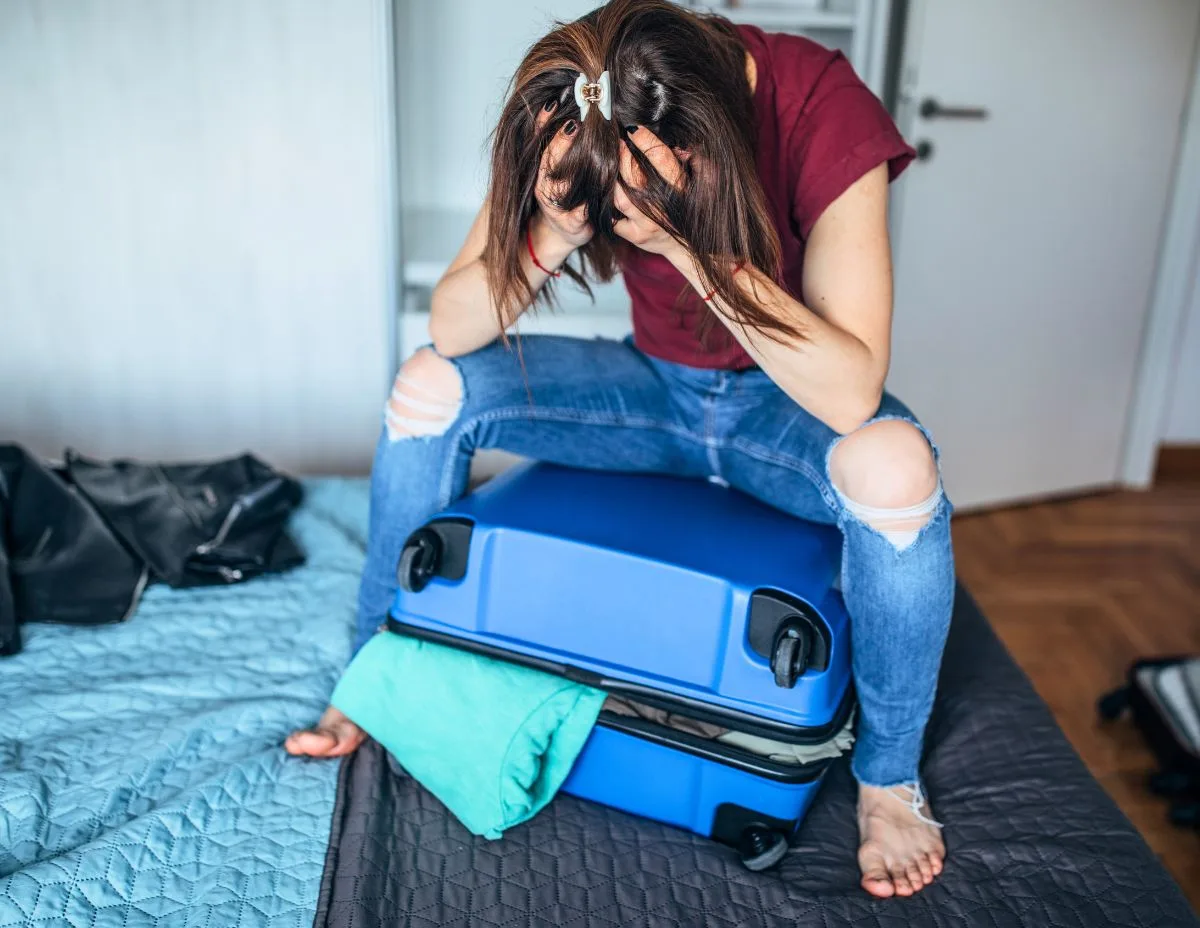 One of the most common travel mistakes to avoid is overpacking. We are guilty of this. It's always the "what ifs" that get to us. Not having those few items that make us feel more comfortable in case something happens. 
If you stick to the essentials and pack light, you can avoid dragging around a large suitcase and baggage fees.
How to avoid overpacking? Here are a few tips:
Plan your outfits. Create a capsule wardrobe so that you can mix and match pieces.
Wear your bulkiest items on travel days.
Consider doing laundry halfway through your trip. Check if a laundromat is near your stay or if it's part of your accommodation's amenities. You can always handwash a few things as you go.
When you return, look at the things that you did not use at all and make a note of them for next time. 
8. Wasting Time On Lines
We are fans of skip-the-line tours and tickets when they are available. Standing in huge lines to enter a site is a waste of time. Not because what you're about to experience isn't worth it, but because vacation time is limited, and we need to maximize our time.
Consider paying more for a skip-the-line entry. Having the tour guides bring you straight inside, pass all the chaos, is worth it.
9. Don't Cram Everything in a Short Time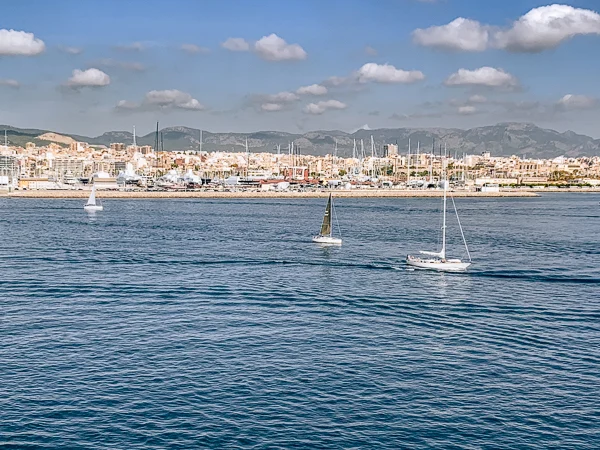 We are guilty of this travel mistake, especially when we cruise to the Mediterranean or travel to Europe. We have such short vacation time that we get caught trying to see everything and do everything in a short period. Still, it leads to burnout and a less enjoyable experience. 
How do we combat the urge to cram everything into a short schedule? We try to focus on what we want to see and do. Depending on our time in a destination, we'll focus on a few key sights and tours that interest us. Remember to do the things that you're excited about rather than what some travel guide has told you to do.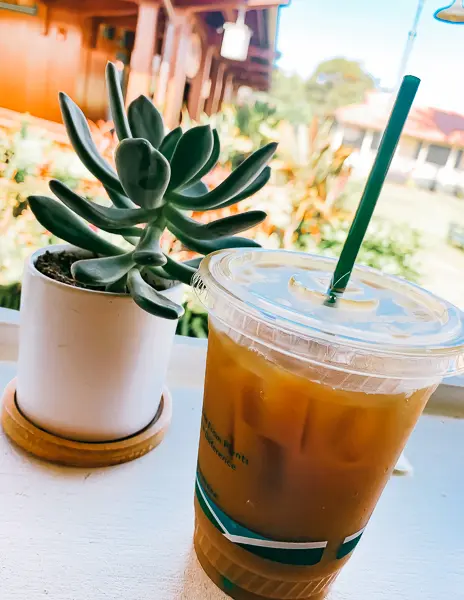 Always try to take the time to stop and enjoy what's around you. Whether sitting in an outdoor cafe with a cappuccino or reaching the peak of a mountain trail to take in the view, take time to appreciate your surroundings.
Another tip is to build some downtime into your itinerary. Schedule time for relaxation, exploration, or simply wandering around without a specific plan. This can help you recharge and appreciate the destination at a slower pace.
10. Not Letting Your Bank and Credit Card Companies Know About Your Travel Plans
During our first trip abroad, we had not let our bank know but not our credit card. We quickly learned and added this to our lists of travel mistakes to avoid and now always call the bank and credit card companies to give them our travel dates and countries.
Back then, credit card companies didn't automatically know you'd be out of the country based on your flight purchases like they do today. You had to submit a form.
Well, embarrassingly, our credit cards were declined upon trying to pay for something. They blocked our credit cards due to suspicious activity. 
We had to call customer service to get it all squared away. 
Nowadays, credit cards with advanced technology are mostly aware that you're going away based on your travel purchases. However, don't get too comfortable with that. Call your credit card companies and bank to let them know you'll be away. 
You don't want issues charging or withdrawing money from the ATM with your debit card.
11. Not Respecting Local Customs
 When traveling to a new destination, respecting the local customs and traditions is essential. This includes dress codes, behavior in public places, and respecting local religious practices.
12. Paying Too Much Attention to False Narratives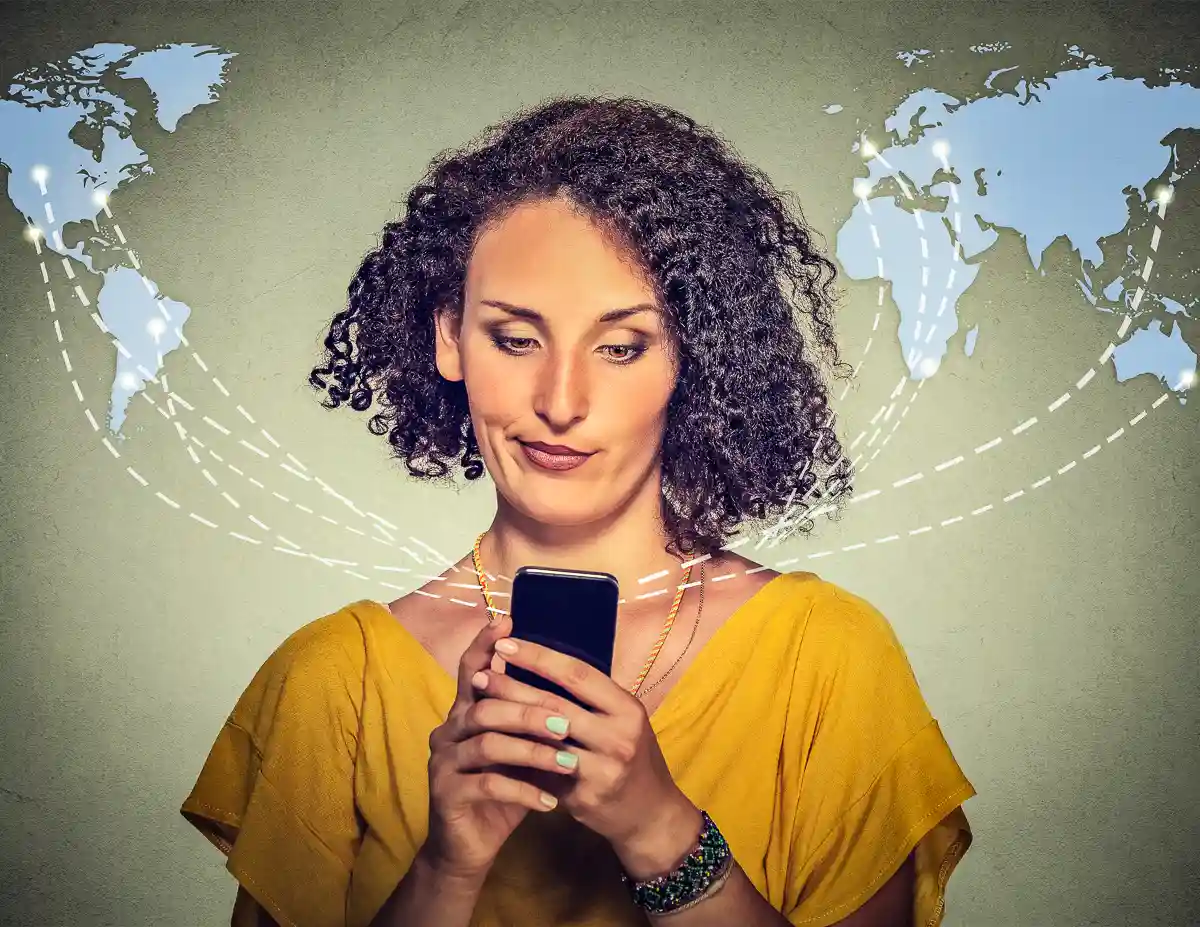 When planning a trip, sometimes there are false narratives about destinations that are simply not true or to the extreme. This leads to fear and people not wanting to travel to specific destinations that are safe to travel to.
For example, we were about to leave on a cruise to the Mexican Riviera, which stopped at Mazatlán cruise port. Just days before we were set to embark, the US government raised the threat level, and we wondered if the cruise would change the itinerary if it were that serious.
They did not change it, and we continued as planned, taking a food tour that took us all around Mazatlan. Never once felt unsafe or saw anything to be worried about. We felt safer there than in some parts of LA.
Of course, the threat level was meant for travelers to stay out of the countryside. That's not explained when threat levels are raised. 
Tip: Check the local Facebook groups for destinations geared towards things to do. You can ask locals and other travelers that have recently visited about your safety concerns. They'll share their honest experience.
13. Not Being Aware of Your Surroundings
At the same time, we must always be cautious and aware of our surroundings no matter where we travel. To avoid falling victim to scams or theft, we must stay alert. There are local scams, pickpocketers, and other safety risks to be mindful of.
Keep your valuables close to your body.
Avoid carrying large amounts of cash.
Be cautious of strangers approaching you.
14. Not Making Copies of Important Documents & Identification
Always have a scanned copy of important documents and identification stored somewhere safe to access.
This includes:
Passports
Birth certificates
Driver's licenses
Social security cards
Any other legal documents that are important to you
With digital copies of these documents, you can easily retrieve them in case of an emergency or if you need to provide them for any reason. 
For example, if your wallet or bag is stolen with your passport, you'll have your digital documents ready to provide to the US Embassy.
15. Forgetting to Pack a Snack or Two
Travel mistakes to avoid? Assuming you'll always be able to find food and water.
We always travel with snacks like a power bar or nuts and a reusable water bottle to fill up after we get through security. You never know when you're hungry and need fuel.
Airport restaurants and shops could be closed at late night hours. Your flight could be delayed with nothing offered to you to eat or drink. Sometimes you can arrive at a destination at an ungodly hour with little to no options for food. Or the food on the plane is just inedible.
If you have diet restrictions, traveling with a few things you can eat is even more important.
Read more: What essentials to pack in your carry-on backpack?
16. Not Staying Hydrated
Whether you bring a reusable water bottle or drink electrolytes, staying hydrated during your travels is important.
It's easy to forget, and I fail at this because I don't drink anything if I don't see a bathroom. This is a huge travel mistake because hydration fights off jet lag and keeps your body functioning properly.
Dehydration can cause fatigue, headaches, and even digestive issues. So, prioritize drinking water throughout your travels, especially if you're flying. 
17. Not Learning Basic Phrases in the Local Language
This is a common travel mistake we can easily avoid. Learning some key phrases in the local language you're traveling to is a sign a respect but also of a savvy traveler.  
It can help you navigate your surroundings more efficiently and connect with locals meaningfully. In return, they appreciate you for trying. 
Even if you don't become fluent in the language, learning some basic phrases such as "hello," "thank you," and "excuse me" can go a long way.
Tip: Download the Google Translate App to your phone. You will find this tool super helpful during your travels when you need to communicate or understand something that goes beyond basic phrases.
Love Babbel for learning a new language. I've been using it to learn Italian. I even upgraded to a lifetime subscription.
18. Not Respecting Local Customs
When traveling to a new destination, respecting the local customs and traditions is essential. This includes dress codes, behavior in public places, and respecting local religious practices.
19. Wearing the Wrong Shoes
The kind of shoes you pack and wear will depend on the destination, activities, and weather. No matter where you go, pack appropriate footwear. 
If you walk on cobblestone streets in Italy and do over 10k steps daily, a pair of comfortable walking shoes with support is ideal. You may want to leave those heels at home. Make sure to pack shoes that are broken in and won't give you blisters from all the walking you will do.
Of course, flip-flops may be fine if you go to the Caribbean to hang at a beach all day.
20. Not Traveling With a Portable Charger
In this day in age, carrying a portable charger for your mobile phone is crucial. We depend on our phones for everything from Google Maps to taking photos and videos throughout the day.
The more you use your phone, the faster the battery drains. The last thing we want is to be walking around with a dead mobile phone in a foreign destination without being able to access it in case of an emergency.
21. Not Having An International Cellphone Plan
Having an international cellphone plan is optional. But not having one cellphone plan or some sort of data plan when you need it the most can quickly become one of the biggest travel mistakes.
Wi-Fi is available in your hotel, and you can use your phone to communicate with others via WhatsApp or Google Voice. But once you're outside, away from Wi-Fi, cellular data is needed to use those apps and others.
Without a reliable way to communicate with others, you may find yourself lost, stranded, or unable to access important information. In addition, many popular travel apps and services require an internet connection to work properly.
To avoid making this mistake, it's a good idea to research international cellphone plans, purchase a local SIM card upon arrival, or set up an e-Sim option before flying. This will ensure that you have a reliable way to stay connected and access the information you need while traveling.
We have the T-mobile international plan with unlimited basic data and texting that has worked amazingly well when we travel. It's just so much easier to have the internet at your fingertips.
As a backup, we also carry a WiFi hotspot to buy daily passes as needed. In the past, before T-mobile, we'd connect our mobile phones to the hotspot to save money on data plans.
22. Not Having a VPN
Not everyone planning to travel thinks of this, but not having a VPN is a mistake.
A VPN is important for multiple reasons, especially if you plan to use public Wi-Fi.
It provides security. When you use public Wi-Fi networks, you risk the chance of hackers accessing your personal information. A VPN encrypts your internet traffic, making it unreadable to anyone who might try to intercept it.
A VPN protects online privacy by masking your IP address and location. This means that websites and advertisers won't be able to track your online activities.
Some websites and online services are only available in certain countries. With a VPN, you can connect to a server in the country where the content is available and access it as if you were physically located there.
Avoid censorship: In some countries, the government blocks certain websites and online services. With a VPN, you can bypass these restrictions and access the contact by switching the location of the IP.
We use Surfshark VPN. Not only do we have the app on our phones, but also on our Kindle TV Stick and computers.
23. Not Carrying a Paper Map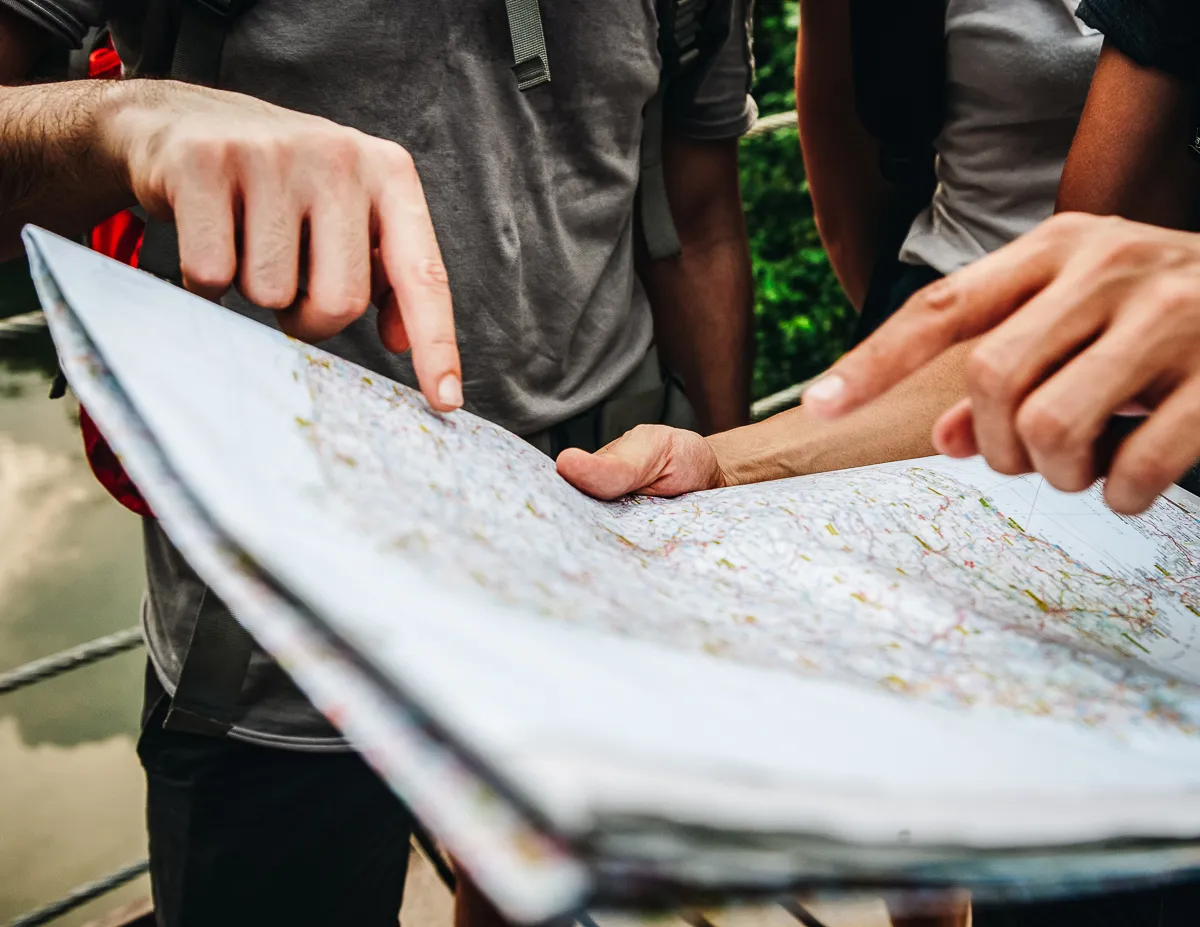 We can't always rely on Google Maps as much as we love it. It could take you off-road and into a harbor – did you see that news story?
We also once put in the directions to a village of Civita di Bagnoregio, which completely took us in the wrong direction. Of course, we didn't pack a map. Thankfully, we turned around and figured it out but regretted not bringing one.
It's best to have a paper map of the destination in your backpack, especially when traveling on back roads that Google Maps may not have driven in before.
Tip: If you're a AAA member, you can get maps for certain destinations for free at their travel offices.
What are the dos and don'ts of Traveling?
Dos of Traveling
Research your destination before you go.
Pack light and smart.
Keep important documents safe and in digital form.
Respect local customs and traditions.
Learn a few basic phrases in the local language.
Stay hydrated and eat well.
Be aware of your surroundings.
Do wear comfortable shoes.
Take lots of photos and make memories.
Always be kind.
Don'ts of Traveling
Don't forget to review your flight, accommodations, and activities.
Don't ignore local customs and etiquette.
Don't leave your valuables unattended.
Don't rely solely on technology for navigation and communication.
Don't bring unnecessary items.
Don't forget to take care of your health and safety.
Don't be disrespectful to locals or other travelers.
Don't forget to budget and keep track of expenses.
Don't be afraid to try new things, but don't put yourself in danger.
Travel Planning Mistakes FAQs
What are some mistakes travelers make when they visit other countries?
Some of the biggest mistakes travelers make when they visit other countries are assuming that everyone speaks English, disregarding cultural differences, and not respecting the local culture and traditions.
Travel is a privilege. Part of the fun and education is immersing ourselves in other cultures through their food, people, and way of life. We should be respectful and yet open to differences.
What can go wrong when traveling?
Many things can go wrong when traveling, from flight delays and cancellations to lost or delayed luggage, accidents, and natural disasters. However, these aren't reasons not to travel or fear travel as the chances of these things happening are low. It's just best to be aware and prepared and know that sometimes we must be flexible.
Purchase travel insurance, keeping important documents backed up and emergency contacts on hand so you're prepared to act quickly. Remember always to have a backup plan and stay informed about any potential hazards or changes to your itinerary. 
Share the tips & love on Pinterest: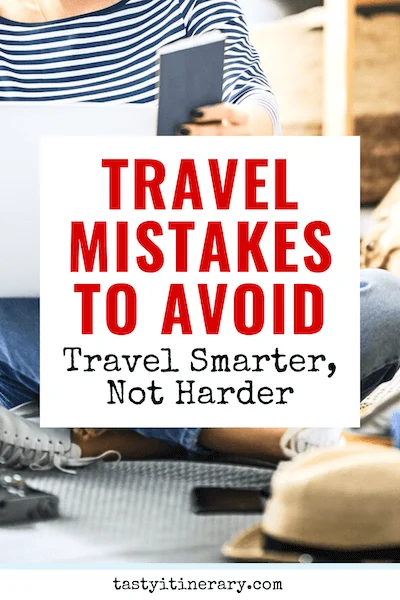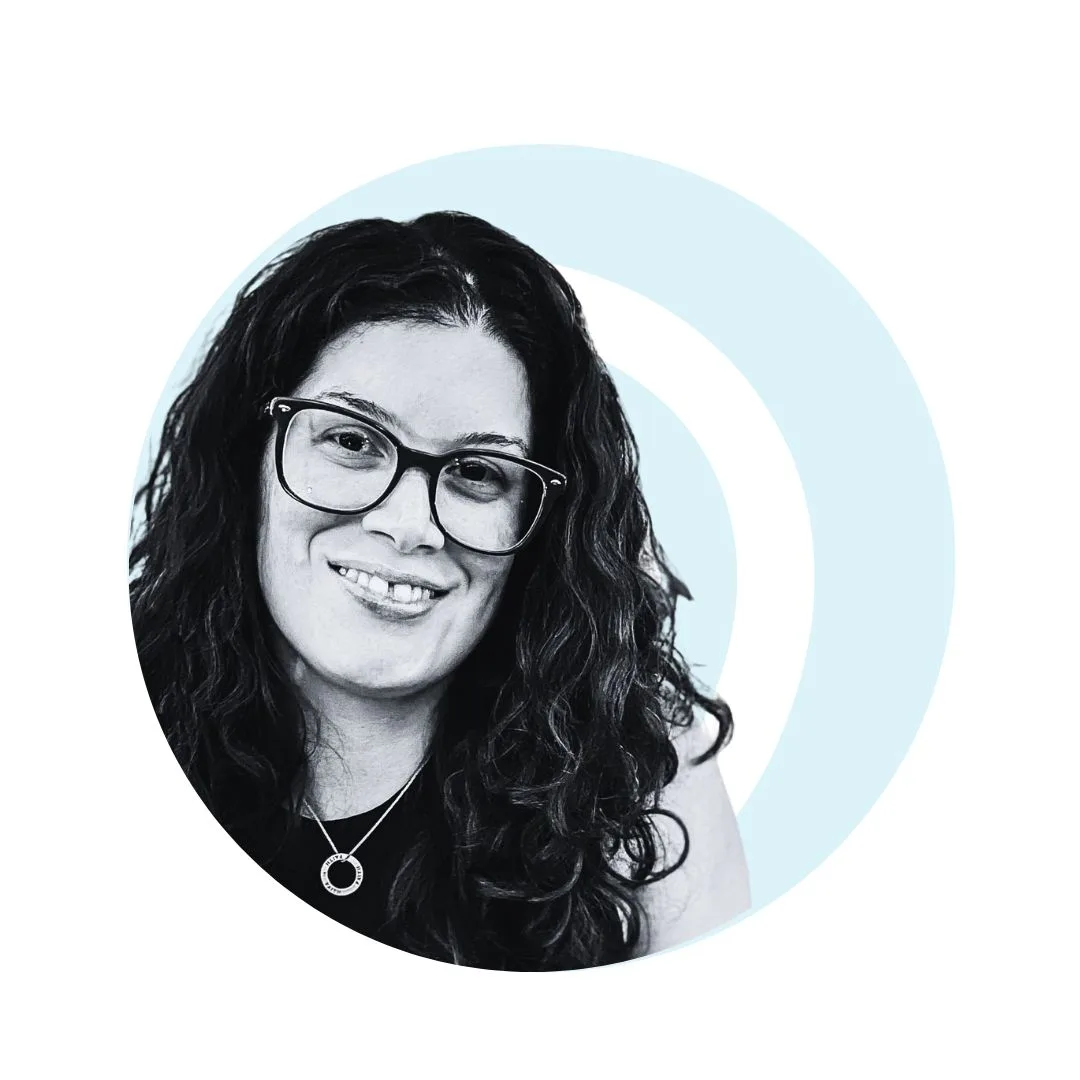 Meet Kathy – a food, travel, and cruise writer based in Los Angeles/Pasadena. With over 20 years of experience planning trips and logistics at her full-time job and for herself, she's become a pro at crafting unforgettable travel itineraries. She's always looking for delicious, fun cruise itineraries and travel destinations and is slightly obsessed with Italy. Her passion and curiosity for travel started in childhood on her yearly and sometimes bi-yearly trips to PR. She firmly believes that life is short and we must make the most of it – so let's explore the world and make some incredible memories.