A Hands-On Review and Comparison with Pocketalk Classic
6 min read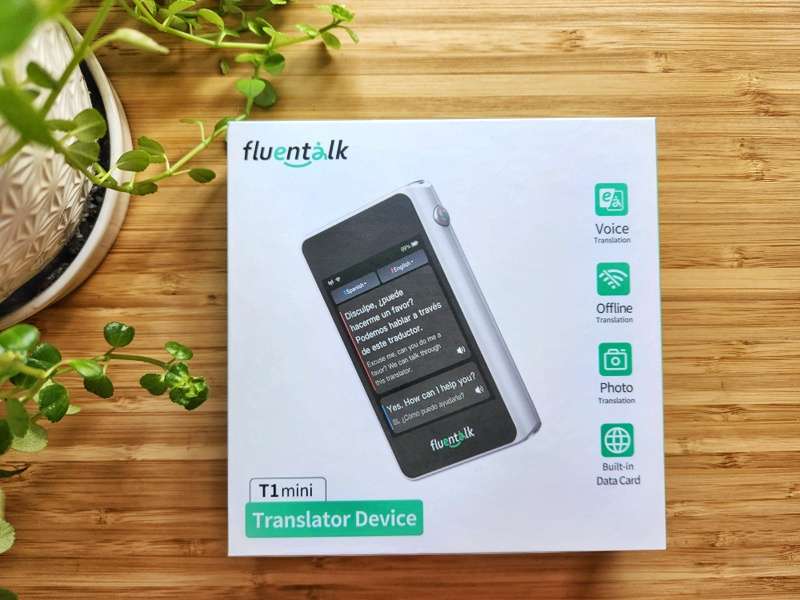 The Fluentalk T1 mini is a small, lightweight tool for live translation that works with Wi-Fi or the included worldwide data. Simple and fast, the T1 Mini's offline mode puts it head and shoulders above the Pocketalk Classic.
Picture this: You're strolling down the vibrant streets of Barcelona, enticed by the irresistible aroma of fresh paella, drawn to the colorful boutiques, and captivated by the lively murmur of locals around you.
But there's a catch – you don't speak Spanish.
How will you order that mouth-watering dish or inquire about the beautiful artisan products? Your answer lies in a handheld translator like the Fluentalk T1 Mini, a compact but effective handheld translator that can shatter language barriers.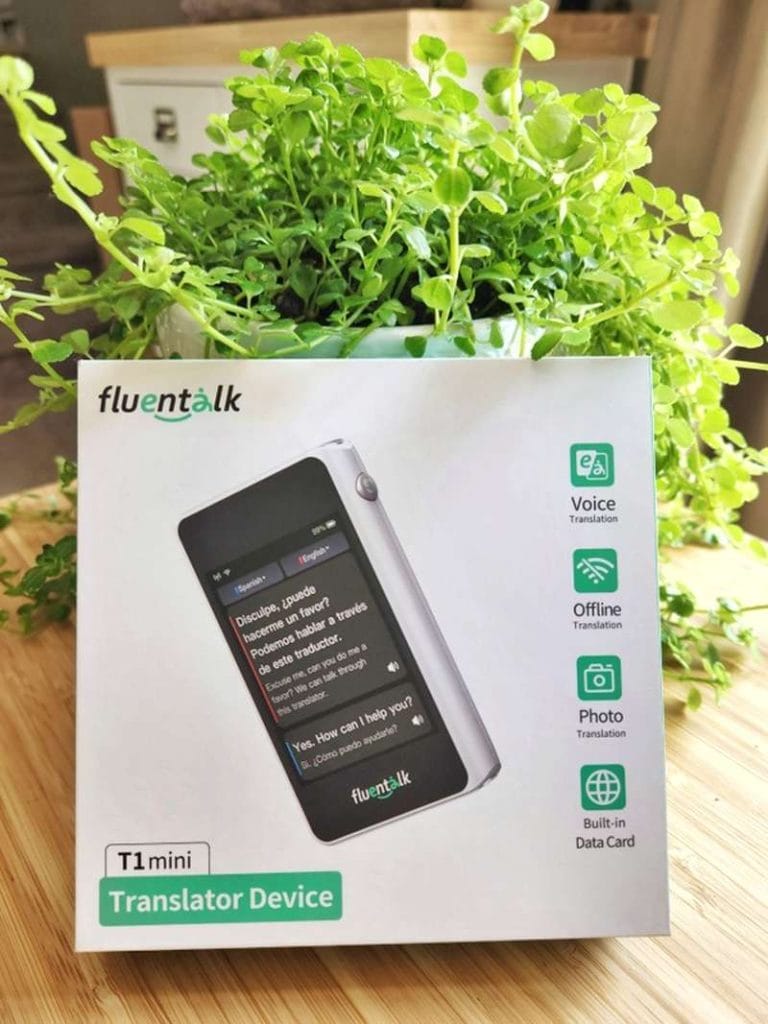 In this comprehensive review, we pit the new Fluentalk T1 Mini against the established Pocketalk Classic, assessing which device wins out as the essential travel companion and language learning tool.
Whether you're an adventurous overseas explorer or an enthusiastic language learner, a handheld translator device can make all the difference.
Fluentalk T1 Mini Review
Before we compare the T1 Mini to the Pocketalk, let's take a look at what the T1 Mini is all about.
As lifelong travelers, we've been around the block (or rather, the globe) a few times and stumbled upon our fair share of translation gizmos – some were hits, others were misses, but all had their own funky quirks and perks.
In a rush? See current prices now on the brand's website, and on Amazon here.
So, today's the day we get up close and personal with the Fluentalk T1 Mini. This cool little gadget is on a mission to make chatting in different languages as easy as pie. Ready to dive in?
Setting up the Fluentalk T1 Mini and first impressions
Setting up the T1 Mini is easy. All you have to do is turn it on, choose your native language, and accept the user agreement. From there it prompts you to connect to Wi-Fi.
After that's done – and here's the part I really liked, the Mini automatically activates your one year free global data. No messing with SIM cards, activation plans, or anything. It's just done for you.
What instantly caught my attention was the T1 Mini's tiny size.
Weighing in at a little less than 3 oz. (86 g), the screen measures in at about the size of a credit card. The whole device fits into the pocket – a perfect companion for your adventures.
At 3.5 x 2.15 x 0.52 inches, it's roughly half the size of my Samsung smartphone.
You can get a pretty good feel for the actual size of this little thing when you compare it to the size of a quarter. Although the display is small, it's easy to read, even in direct sunlight.
The interface is intuitive and easy to use, with simple sliding gestures. To select a language, just tap the option on the screen and scroll through available language options.
Testing voice translation
But at that small size, does it deliver good and reliable translation? The T1 Mini supports real time voice translation in 36 languages and 88 accents, while photo translation supports 39 languages.
The mini is built for one-on-one conversations in real time. When you want the T1 Mini to translate, just click the translation button on the right side. It's that easy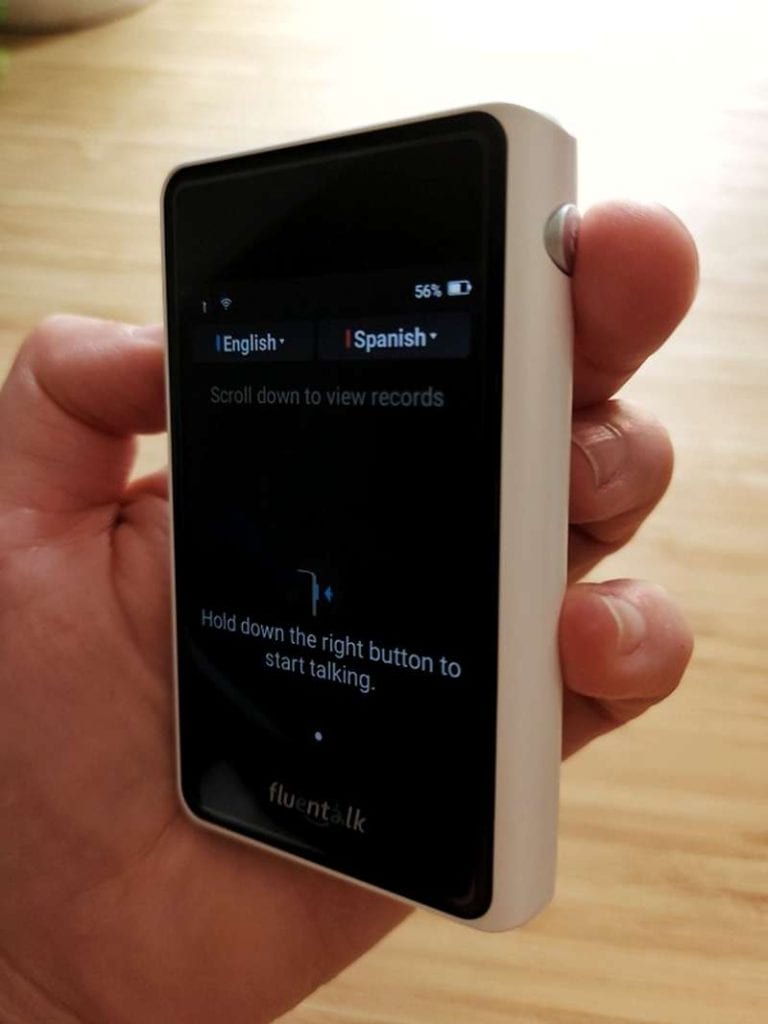 It automatically recognizes source and target languages based on your presets, eliminating the need for confusing menus or extra buttons.
All you need to do is talk, and it automatically recognizes the language you're speaking, and translates it (both on screen, and out loud, through the speaker).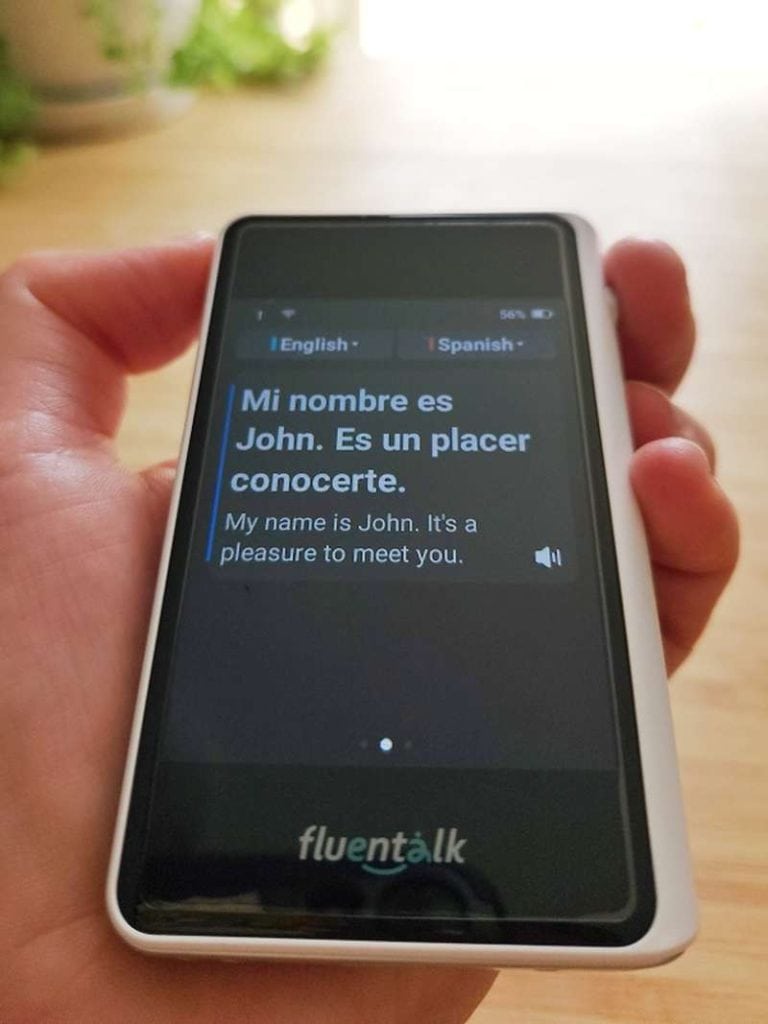 The one-click real-time translation is an absolute game-changer when you're stuck in one of those hair-pulling, "why me?" travel moments. Flight schedules gone haywire, a sudden need for a doctor, or just trying to figure out a bus timetable in a foreign language – that's when one-click translation truly helps make sense out of the chaos.
Looking for a slightly bigger translator, with slightly bigger battery capacity and a few more features? Check out our review of the Fluentalk T1 original.
Offline translation
One of the standout features of the T1 Mini is its offline translation function – a feature that significantly distinguishes it from the Pocketalk Classic.
Whether you're hiking in a remote location or strolling in a city with no Wi-Fi, the T1 Mini ensures that you're never lost in translation. This device supports offline access for 13 offline language pairs, which is an indispensable feature for any traveler.
Note: Of those 13 offline language pairs, the device can hold 4 at a time so if you're traveling to another country with a different set of languages, make sure to download which languages you'll likely be needing the next time you're not offline.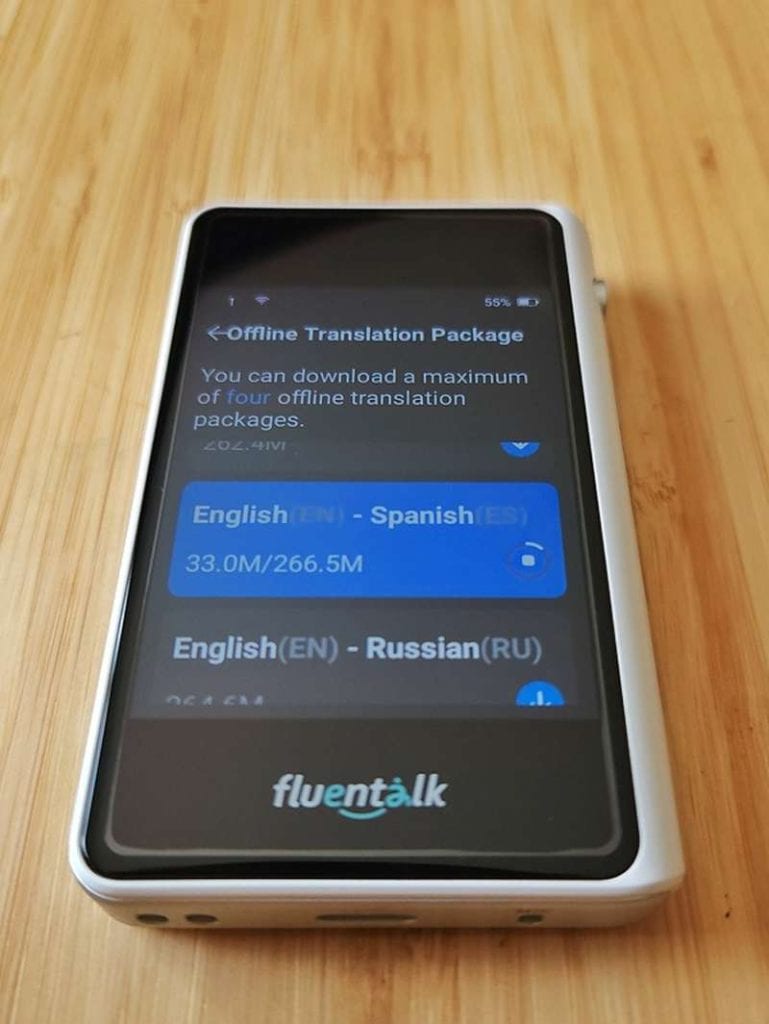 Additionally, the T1 Mini offers global free data roaming for an entire year with its built-in data card. Forget about purchasing additional data or fumbling with foreign SIM cards; this device is ready for action as soon as you step off the plane.
Photo translation
What more? The T1 Mini supports voice translation in 36 languages and 88 accents, while photo translation supports 39 languages. Just point its 5-megapixel camera at an unknown menu or signpost, and it will provide instant translation – an extremely handy feature for any traveler!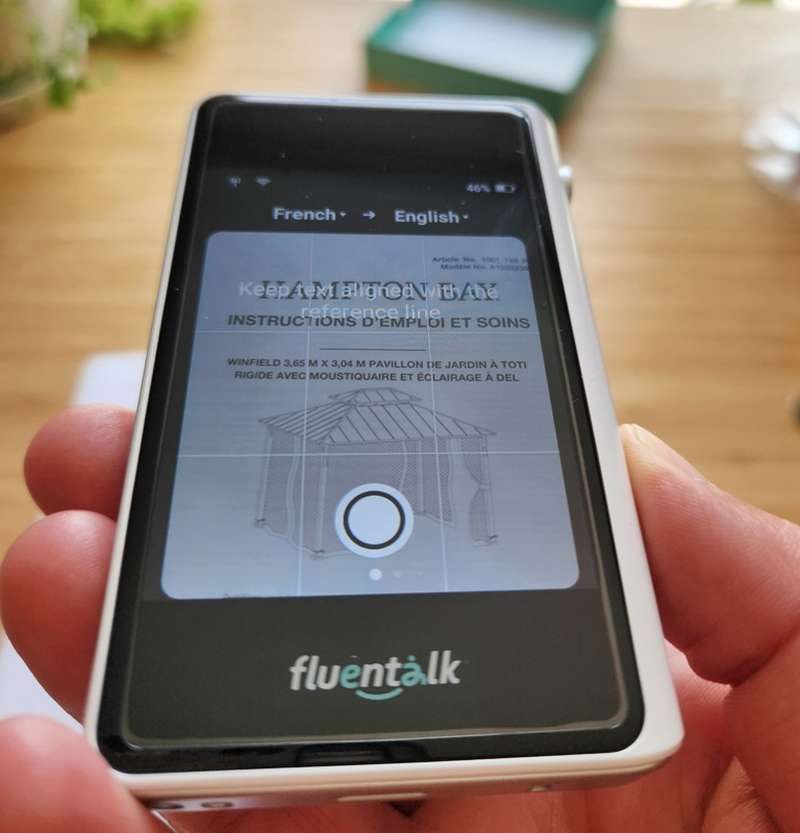 The Fluentalk T1 Mini vs. The Pocketalk Classic
The Pocketalk Classic is another heavy hitter in the translation device arena. However, when directly compared to the Fluentalk T1 Mini, a few differences really stand out.
| | Fluentalk T1 mini | Pocketalk Classic |
| --- | --- | --- |
| Weight | 86 g / 2.99 oz. | 99.22 g / 3.5 oz. |
| Size (approx) | 3.5 x 2.15 x 0.52 inches | 4.3 × 2.4 × 0.6 inches |
| Voice translation languages | in 88 accents (36 languages) | 82 languages |
| Photo translation languages | 39 languages | Not included |
| Offline languages | 13 language pairs | Not included |
| Lanyard strap | included | Not included |
| Global data | 1 year unlimited global data | 2 year global data |
| Battery capacity | 1500 mAh | 2200 mAh |
The Pocketalk Classic is slightly heavier and bulkier than the T1 Mini. While not a dealbreaker, the difference in portability is noticeable, especially when you're on the move for extended periods. Plus, the absence of a lanyard strap in the Pocketalk Classic package is a minor inconvenience when you want to have the device at hand quickly.
In terms of functionality, the Pocketalk Classic supports voice translation for an impressive 82 languages, while the T1 Mini offers translation in 36 languages (88 accents). The Pocketalk Classic may win out if you have a lesser used language you need to translate, like Amharic (Ethiopia), which the T1 Mini doesn't translate. However, most travelers need translation in more popular languages like French, Spanish, Chinese, Japanese (and the other 32 major languages offered by the T1 Mini), so the larger number of languages offered by the Pocketalk really aren't needed for most travelers.
Here's another difference between Pocketalk Classic and Fluentalk T1 mini: The Fluentalk T1 mini can automatically recognize source and target languages based on your presets. That means instant activation with a single click, so you can use the T1 mini effortlessly. This is especially helpful for emergencies where you need language support, like customs clearance, or reporting lost items to an airline or the police.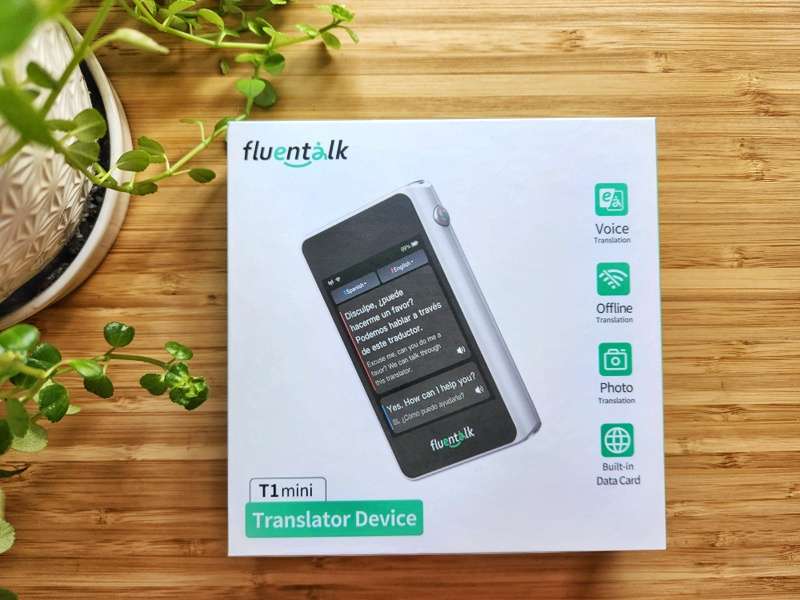 Two major drawbacks of the Pocketalk are that it lacks the convenience of offline translation and photo translation, which the T1 Mini readily provides. These features have often been the difference between smooth communication and frustration during our travels.
Both devices have their strengths and are more than capable of being your language companion in your global adventures.
However, considering the T1 Mini's added functionalities and convenience factors, we now lean towards the Fluentalk T1 Mini for its comprehensive translation abilities and its user-friendly design.
Safe travels, and never stop exploring!