Alexandra Daddario Posts 'I'm Getting My Butt In Shape' While Climbing Hotel Stairs To Avoid Waiting For The Elevator
3 min read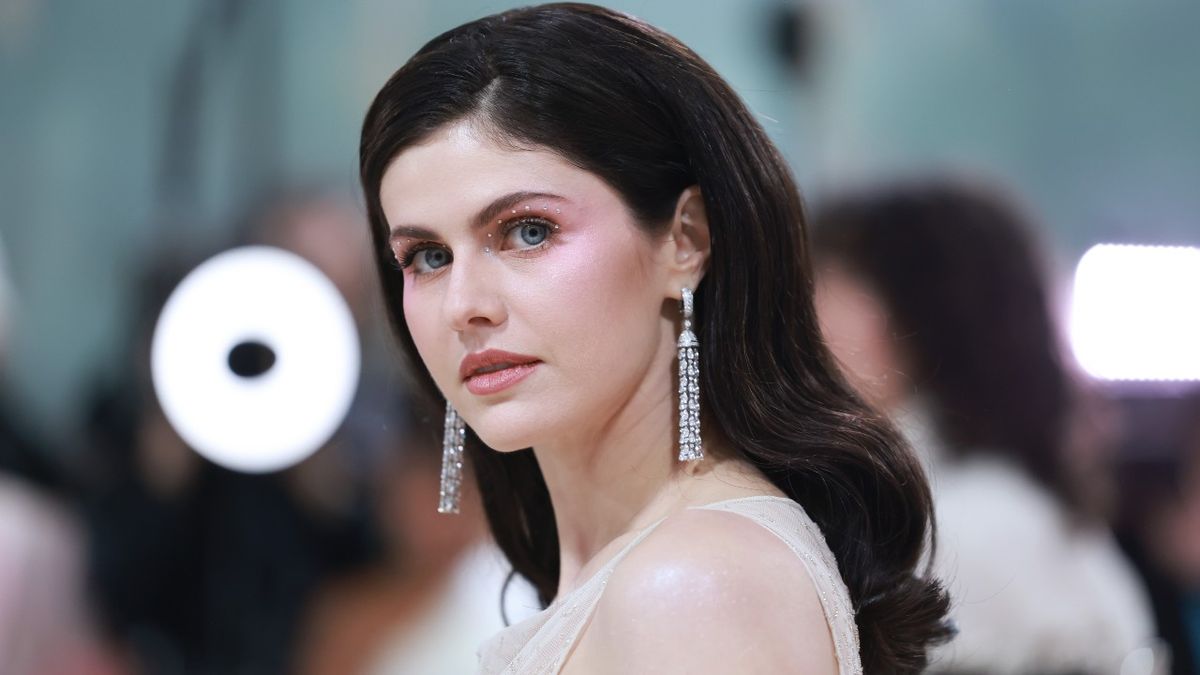 Stairs are hard, especially when you don't intend to climb them. However, when the line is long for an elevator, and you have the Met Gala to get to, sometimes you gotta do what you gotta do. In this case, Alexandra Daddario ended up climbing flights of stars because she didn't want to wait for the elevator, and as she made her way up, she also noted that she was "getting [her] butt in shape," before walking up the Met steps. 
For context, Alexandra Daddario is always in fabulous shape, and her fitness journey is something I admire. She started training for a bigger butt on Baywatch, and she's continued with her fitness, and even said that iconic red swimsuit helped her feel like a "much sexier, hotter version" of herself. Since then, Daddario has posted amazing post-wedding bikini photos, and keeps her Instagram fun by uploading other fun looks she rocks. Now, while she didn't intend to do this seven flight climb, she did note the silver lining of getting a good workout in, telling her Instagram followers:
The video was taken as Daddario and Marty Harper, her hair stylist, climbed up to the sixth floor. They had one more flight to go, and in the video, you can tell they are both a little exhausted from the stairs. I mean six flights is no joke. However, they took those stairs with grace, and the actress did it with a big smile on her face.
Well, she made it to her room, and the dress she was referring to was the Dior gown she slipped into the 2023 Met Gala. She looked fabulous in the floor-length gown, and she complimented her looks with silver dangling earrings and gorgeous glam. Her hair is also styled in a way that reminds me of Old Hollywood. Assuming that taking the stairs got The White Lotus cast member and her hair stylist up to their room faster than those taking the elevator, they likely had a little extra time to really perfect the gorgeous do. 
Alexandra Daddario was among many A-Listers at the Met Gala last night, hence the long line for the elevators at The Mark – which is a hotel many celebs get ready at. Along with the Mayfair Witches star, many showed up in stunning (and shocking) looks, which included Jared Leto, Doja Cat and Lil Nas X all showing up in cat-inspired looks. While they all took the theme "Karl Lagerfeld: A Line of Beauty" to an extreme by paying homage to the designer's cat, many others, including Daddario rocked looks that harken back to Lagerfeld's work with luxury brands like Chanel, Fendi and Chloé. 
I personally love that Daddario gave us a behind-the-scenes look into her day preparing for this high-profile event, and the cherry on top was her journey up the stairs. Not only was it entertaining, but it was also a great reminder that climbing up flights of stairs is a fantastic way to get your "butt in shape." 
To keep up with Alexandra Daddario's latest projects be sure to check out our 2023 TV schedule and this year's new movie releases, as Mayfair Witches was renewed for a second season and she has a movie in production. And while we wait to see her appear on screen again, we'll always have her Instagram posts and fun stories to admire, like this journey up the stairs.