Best 10-Day Canadian Rockies National Park Road Trip Itinerary
7 min read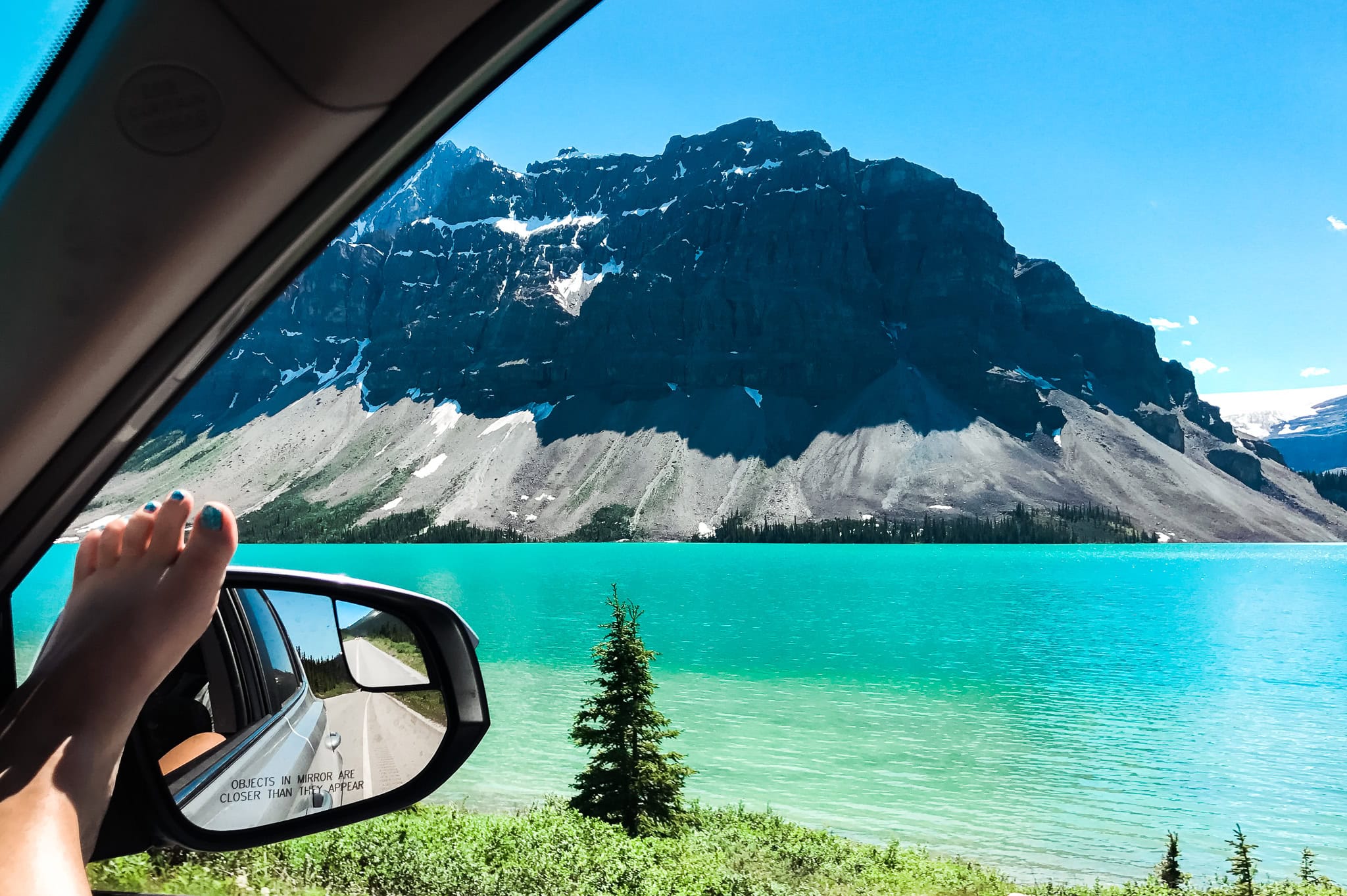 Canada has 38 national parks, 10 national park reserves, and one national urban park, covering an area of approximately 342,456 km2 (132,223 sq mi), or in other terms, about 3.3% of the total land area of Canada. Providing miles of Canadian Rockies for your national park road trip. Banff National Park is the most popular of the parks followed closely by Jasper National Park – and it's no secret why. I've been to the Alberta and British Colombia provinces several times now and each time I go, I'm in awe by how gorgeous it is. After two road trips to the most popular parks in the region, I thought I'd share with you our 10-day road trip through Canada's most popular national parks.
Your Canadian national park adventure starts in Edmonton, around a 4-hour drive to the first stop – Jasper National Park. Driving south along the Icefields Parkway to Banff National Park before heading west to Yoho National Park, Glacier National Park, and ending your road trip at Revelstoke National Park.
The Best Canadian National Park Road Trip Itinerary
Outline: the best 10-Day Rockies national parks Itinerary
Ready to jump in? Start planning your 10-day Canadian Rockies national park road trip using this outline itinerary! You can adjust the route through the Rockies in a way that suits you best. Below is a summary of our trip and where we were each day. For more details on how to spend your time in each park, continue reading.
Day 1: Fly into Edmonton Airport and drive to Jasper  
Day 2: Jasper
Day 3: Jasper
Day 4: Drive Icefields Parkway to Jasper 
Day 5: Banff 
Day 6: Banff
Day 7: Yoho
Day 8: Glacier
Day 9: Revelstoke
Day 10: Fly out of Calgary Airport
Jasper National Park
Spend 2 days in Jasper National Park
What to do: Go white water rafting, climb a rock wall, and hike the Sulphur Skyline. Jasper is jam-packed and full of outdoor adventures. Downtown Jasper has an adorable downtown to explore for food, shopping, and tours! Go on a Maligne Lake Cruise, ride high on the Jasper SkyTram, and hike the 1-2 hour-long Simmons trail for one of the best places to see bison.
Where to stay: Fairmont Jasper Park Lodge, surrounded by nature and abundant wildlife. Fairmont Jasper Park Lodge is a 700-acre year-round luxury mountain resort that wraps around the shores of pristine Beauvert Lake. Pine Bungalows provide a peaceful setting where you can unplug and unwind with excellent wildlife viewing opportunities. Choose a self-contained cabin for 2, 4, and 6 people on 11 acres of naturally landscaped property situated on the banks of the Athabasca River just 2 km outside the Town of Jasper. 
Where to eat: Terra; a contemporary restaurant serving breakfast, lunch, dinner, brunch, and drinks. Another fresh alternative is Harvest Food & Drink. Order the French brioche bread, Saskatoon berry compote, and lemon mascarpone, with pistachios for brunch. You might want to go on a Half-Day Jasper Culture Food Tour if you have time.
Icefield Parkway
drive 3 hours to Banff
The Icefield Parkway is a 232 km (144 miles) stretch of highway winding along the Continental Divide through pristine icefields, towering rocky mountain peaks, and vast sweeping valleys and rivers. This scenic drive will take you through the Canadian Rockies on your national park road trip. Connecting Lake Louise with Jasper, the Icefield Parkway is one of the most beautiful road trips on the planet. It's even rated as one of the top drives in the world by Condé Nast Traveller.
What to do: here are the must-see spots along the way, listed from north to south.
Athabasca Falls
Sunwapta Falls
Glacier Sky Walk
Colombia Icefield
Parker Ridge
Big Hill & Big Bend
Weeping Wall
Saskatchewan River Crossing
Peyto Lake & Bow Summit
The Best Canadian National Park Road Trip Itinerary
Where to stay: along the 3-hour drive that is the Icefields Freeway. Glacier View Lodge is right in the middle, then there is Mountaineer Lodge by Lake Louise in Banff National Park or Mount Robson Inn near Jasper.
Where to eat: Sunwapta Falls Lodge, Altitude Restaurant, Parkway Pub, The Lodge at Bow Lake, Mountain Restaurant
Banff National Park
Spend 2 days in Banff National Park
Banff National Park offers some of the best Canadian national park adventures so it's no surprise this gem of a park is the most popular in all of Canada. Go on as many hikes as your abilities allow you because that is where you will see the magical forests, and unique terrains like the Ink Pots on Johnson Canyon.
What to do: Take a scenic ride on Banff's Gondola ride, go on a 2-hour tour to see Banff's sunset & stars, or explore the lakes on a canoe trip! There is even an eBike and hike tour in Banff going to Johnston Canyon. If you want to save time on parking, try the hop-on-hop-off bus so you get front-row parking at each stop. Or get some shopping done on Banff Avenue, after a bite to eat at one of the delicious restaurants.
Best Hikes:
Where to stay: The Best Places to Stay in Banff National Park
Where to eat: the Canadian Northern Lights Alpine Kitchen is a true "mountain top meal" with killer views. Try farm&fire with a menu featuring only the freshest ingredients from local Canadian farmers. With a name like "Sky Bistro" you know the views are going to be as amazing as its food.
Yoho National Park
Spend 1 day in Yoho National Park
Yoho National Park is seriously underrated considering it's only a 45-minute drive from Banff National Park. Yoho National Park is in the Rocky Mountains, in eastern British Columbia, Canada. Waterfalls include Wapta Falls, on the Kicking Horse River, and towering Takakkaw Falls. The trail circles the turquoise-colored Emerald Lake, with a nearby natural stone bridge. The Lake O'Hara area contains alpine lakes, cliffs, and wooded trails. Viewpoints overlook trains entering the Spiral Tunnels on Kicking Horse Pass.
What to do: hike to Wapta Falls, Emerald Lake Loop, Sherbrooke Lake, and Laughing Falls. Canoeing and kayaking are available for rent at Emerald Lake as well. Check out the natural bridge that was forged by water over millions of years.
Best Hikes:
Where to stay: The Best Places to Stay in Yoho National Park
Where to eat: Truffle Pigs Bistro & Lounge: Local cuisine, Canadian, Fusion, Gastropub, Vegetarian Friendly. Cilantro Café: Dine at beautiful Emerald Lake, surrounded by the Rocky Mountains. The Siding Café: Canadian Cafe accommodates vegetarian, vegan, and gluten-free options.
Glacier national park
Spend 1 day in Glacier National Park
The park has high peaks, glaciers, and one of Canada's largest cave systems to explore. Dense forests support large mammals, birds, and bears. With amazing alpine scenery and deep valleys filled with ancient forests, Glacier National Park is a year-round adventurer's paradise. Go on a hike along some of the most beautiful Hiking trails, take a gentle stroll amid moss-draped old-growth cedars, or hike through alpine meadows dotted with lichen-covered boulders. After you explore for a day, learn about the history of Rogers Pass, the final link in the railway that brought Canada together as a nation. together as a nation.
What to do:  Climb towering mountain peaks, camp next to roaring rivers, or take a cool summer stroll or mountain bike ride beneath the towering old-growth trees of the world's only inland cedar rainforest. Walk the abandoned rail bed that marks Canada's first trans-continental railway or wander the ruins of the West's first luxury mountain resort as you immerse yourself in Glacier National Park's beauty.
Best Hikes:
Where to stay: If you're looking for someplace cozy, check out this Lakefront Cedar Cabin inside Glacier National Park. For an adventure, you'll love this boathouse on the shores of Lake McDonald. There's also a cabin on the water that would be perfect for couples. If you're traveling in a group, this luxury home sleeps 15 people and you don't need a park pass to enter.
Where to eat: If you're in the mood for a burger, you'll love Bear & Bone Burger Co. for small bites and coffee head to Double Black. If you like sushi and Japanese, try Q's Asian-style Fusion Restaurant, for Mexican freshly made tortillas Reposados Tacos Y Tequila is where to go.
Revelstoke national park
Spend 1 day in Revelstoke National Park
What to do: Half-day boat trip offers angling adventures on Lake Revelstoke, Three Valley, Upper Arrow Lake, and the Columbia River. Go on an extreme whitewater rafting adventure down Kicking Horse River. Or for beginners, there's this rafting adventure. If luxury is what you want, go on a private Captained 3-Hour Pontoon Boat Cruise.
Best Hikes:
Eva Lake and Miller Lake Trail – 9.3 mi, est 4.5 hrs
Upper Summit Trail – 1.9 mi, est 1 hr
Begbie Falls – 0.4 mi, est 15 min
Moses Creek Falls – 0.5 mi, est 16 min
Sorenson Trail Loop – 3.2 mi, est 1.5 hrs
Where to stay: If you're looking for a luxury condo-like place to stay – check out Basecamp Resorts Revelstoke. Budget-savvy travelers will love the views at the Best Western Plus. Offering every type of room configuration there is – Coast Hillcrest Hotel accommodates families of all sizes. For unique places to stay, Boulder Mountain Resort offers cabins, tiny houses, and more!
Where to eat: For a super fun atmosphere head to The Village Idiot. French toast dessert anyone? Find that and more at the Steakhouse Quartermaster Eatery. Chubby Funsters is a casual diner with amazing food and a long wait – so get there early.
I hope you enjoyed this article and found it helpful in planning your Canadian national park road trip! Don't forget to

PIN IT

for later!
Related