BLUETTI PV350 Solar Panel Review: Powerful, Portable Solar Charging
9 min read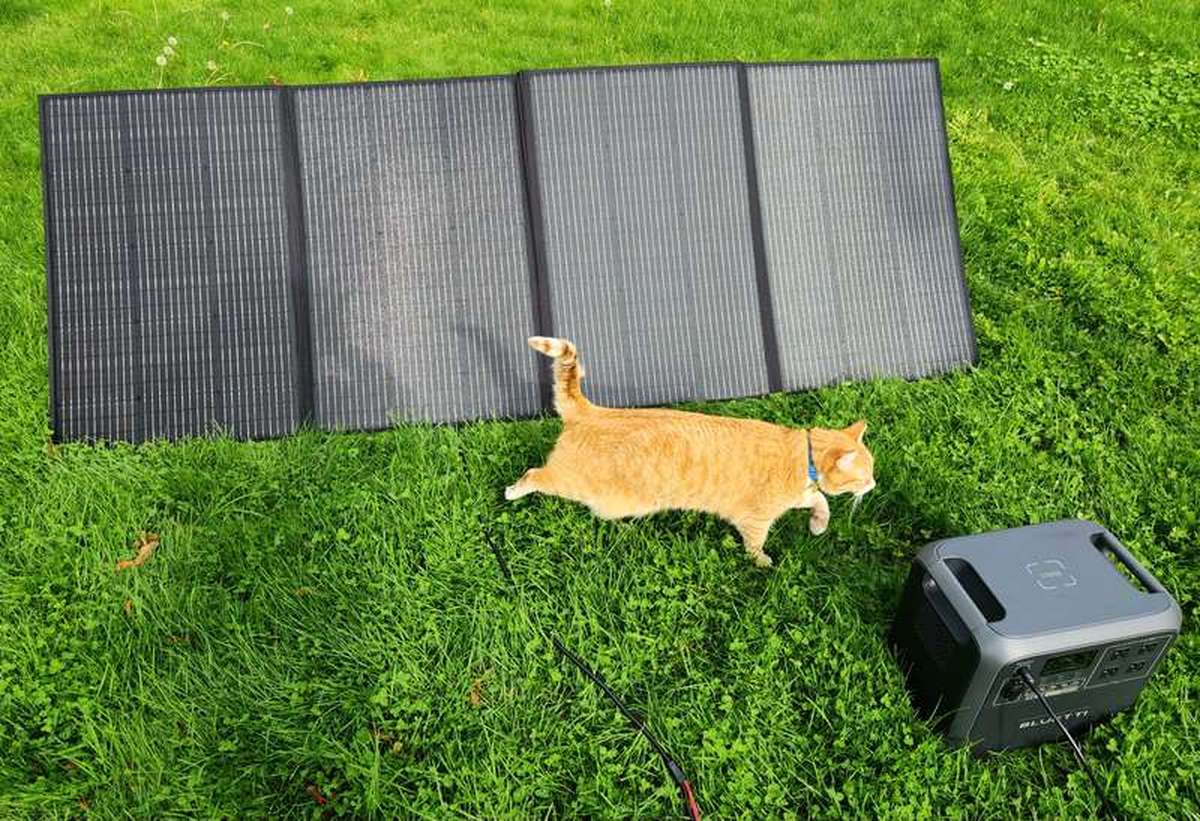 Attention campers and those preparing for emergencies: Are you searching for a reliable solar panel power solution?
If you're a camper looking for a reliable power source or someone prepping for emergencies and natural disasters, the BLUETTI PV350 Solar Panel might have caught your eye.
It's portable and easy to set up, but is it worth the investment? In this review, we'll delve into its features, from its capacity to support up to 1050W of charging power (when linked with additional panels), to its practicality for off-grid and emergency situations.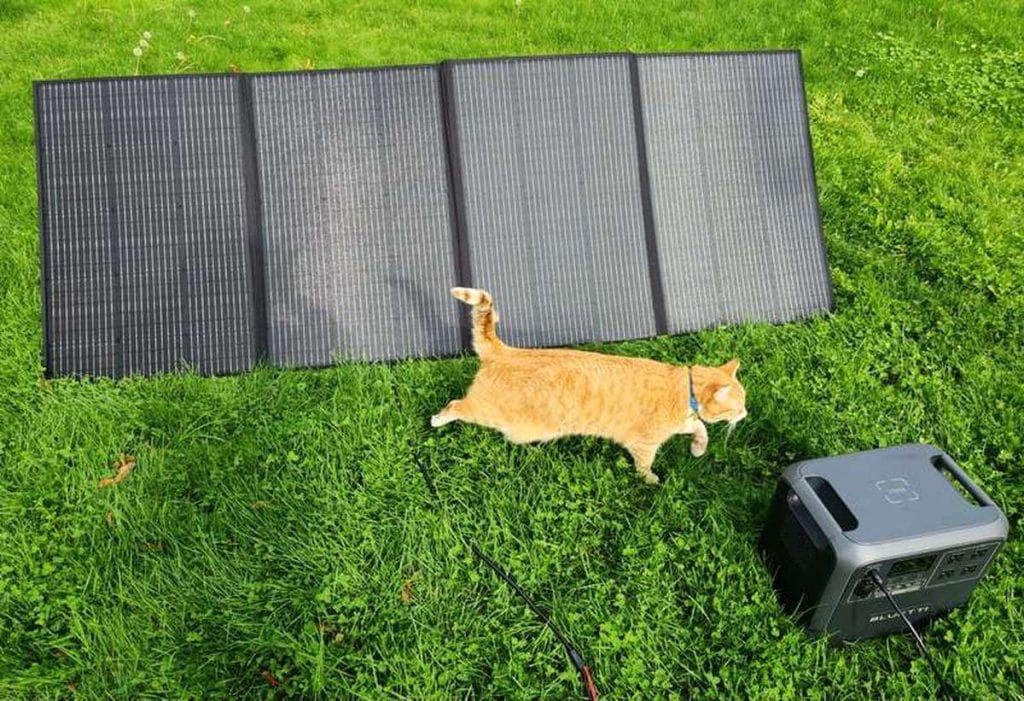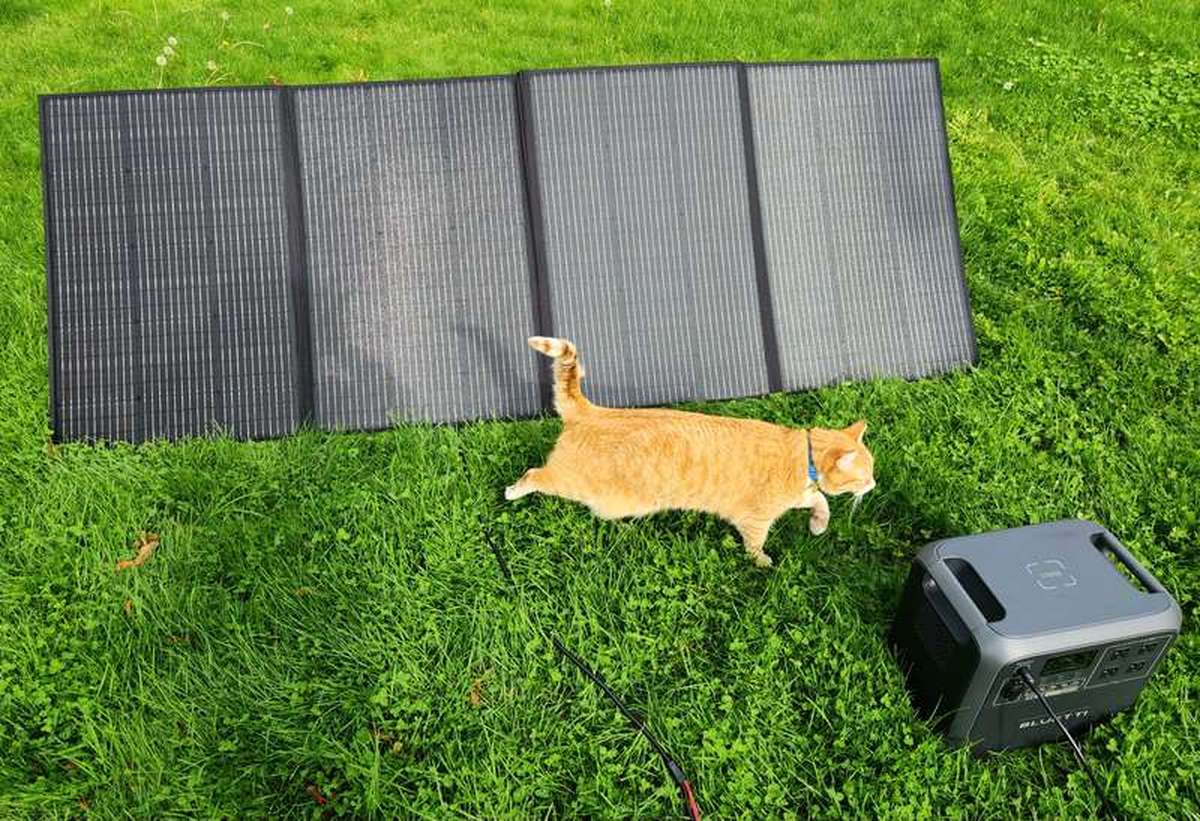 Stick around to find out if the BLUETTI PV350 deserves a spot on your shortlist of dependable power solutions.
BLUETTI PV350 Solar Panel Review
This is our first BLUETTI brand solar panel, though we have the BLUETTI EB70S Portable Power Station (800W rated wattage and 716Wh battery capacity, and 1,400W of surge power) and the more powerful BLUETTI AC180 (1,800W AC Output, and 1,152Wh battery capacity, and 2,700W Power Lifting capacity).
Combining a BLUETTI power station with the PV350 Solar Panel gives you a dynamic duo that's excellent for off-grid camping, and also a lifeline during unexpected power outages. Imagine keeping your devices and small appliances up and running seamlessly— all it takes is a little sunlight, and you're good to go, so long as you're not battling serious rain or snow.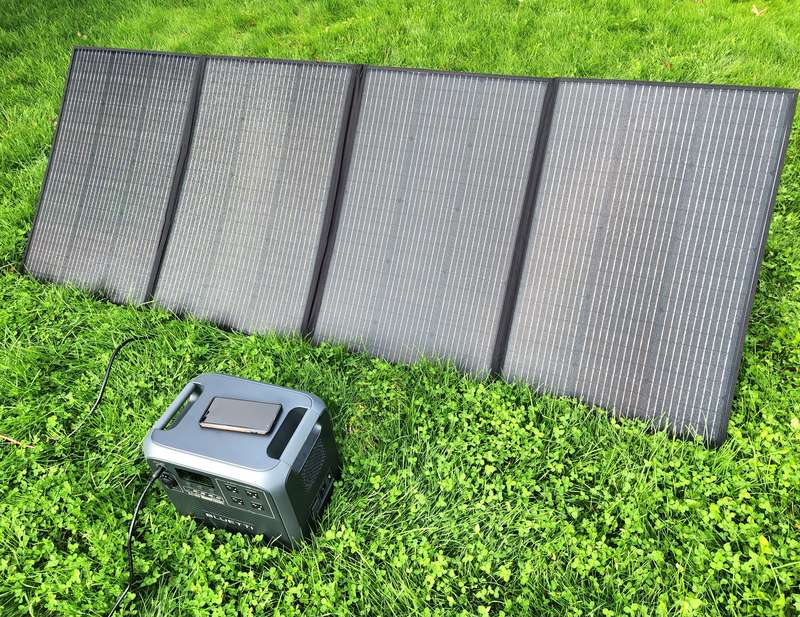 First impressions of the BLUETTI PV350 Solar Panel – unboxing
What's in the box? The box includes the BLUETTI SP350 350W solar panel, and one user manual.
It weighs just over 30 pounds (30.6 lbs, to be exact, or 13.9 kg).
The panel came folded in 4 as a slim package of 35.6″ wide, 24″ high, and 2.5″ deep. (In centimeters, that's 90.5 by 61.3 by 6.5cm).
When folded, the panels serve as their own carrying case. The built-in case has sturdy handles on top, with rubberized grips. The carrying case and handles make it easy to move, pack, and store the panels when not in use.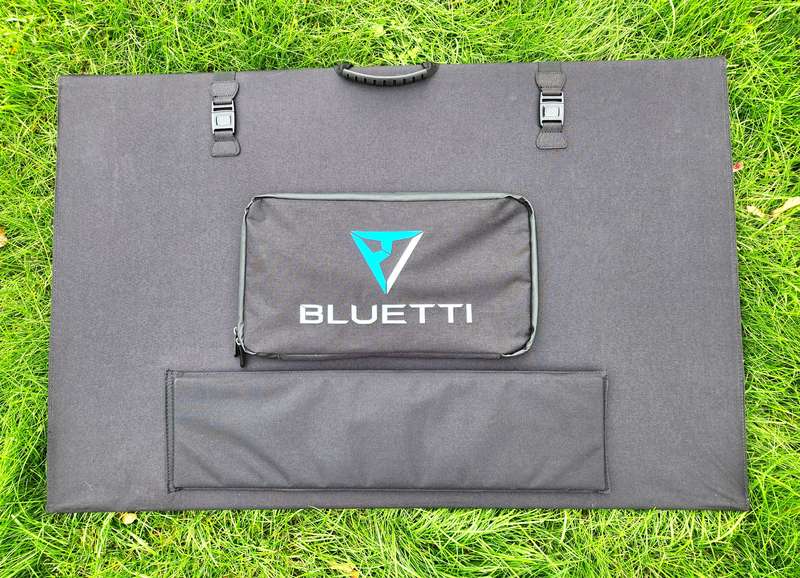 There's a built-in zippered storage bag sown onto the front that stores cables. There's also lettering printed on the inside of the storage bag with all the specifications for the PV350, which is pretty helpful if you're setting it up somewhere remote without internet access.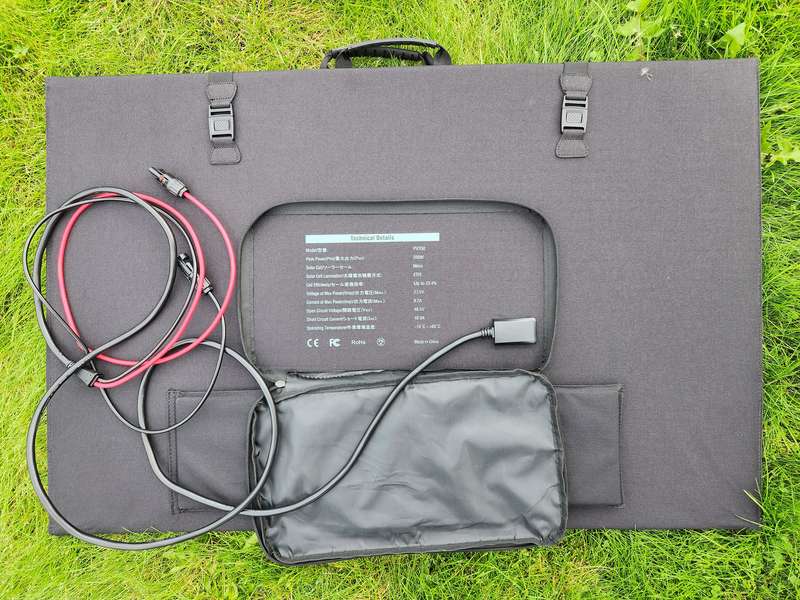 There are two elastic fabric straps at the top holding the panels together, with easy snap plastic buckles.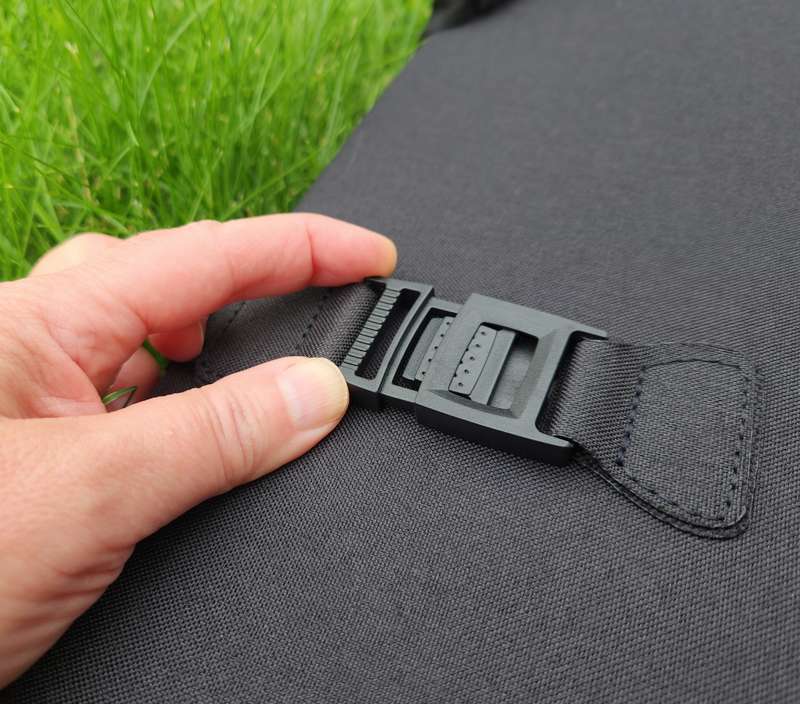 How to set up the BLUETTI PV350 panels
To unfold the panels, unclick the two buckles on top.
Then, just unfold the four panels.
Unfolded, the panels are 94″ long by 35.6″ high (or 240 by 90.5 cm).
From there, it's fairly simple to set up the panels.
Each panel has a 6-inch wide, flat, reinforced stand, complete with a retractable nylon tape for precise angling toward the sun. While the integrated stands might present a learning curve during your first few setups (yes, knocking one over is almost a rite of passage), they do a solid job of keeping the panels securely upright once you get the hang of it.
There's also a stretchy strap attaching each stand to the panels, which makes adjusting each stand's angle easy up to 45 degrees.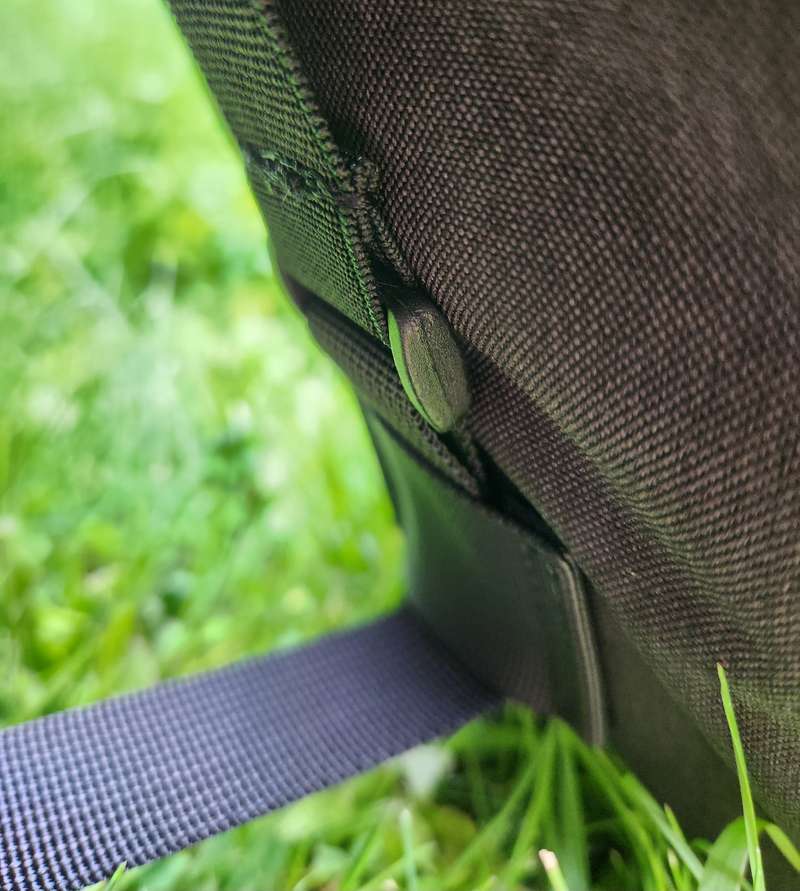 Tip! When I folded out the middle two stands first, it was easier just to unfold the other two panels, and set up the stands one at a time.
Here's how the stands look when they are all set up.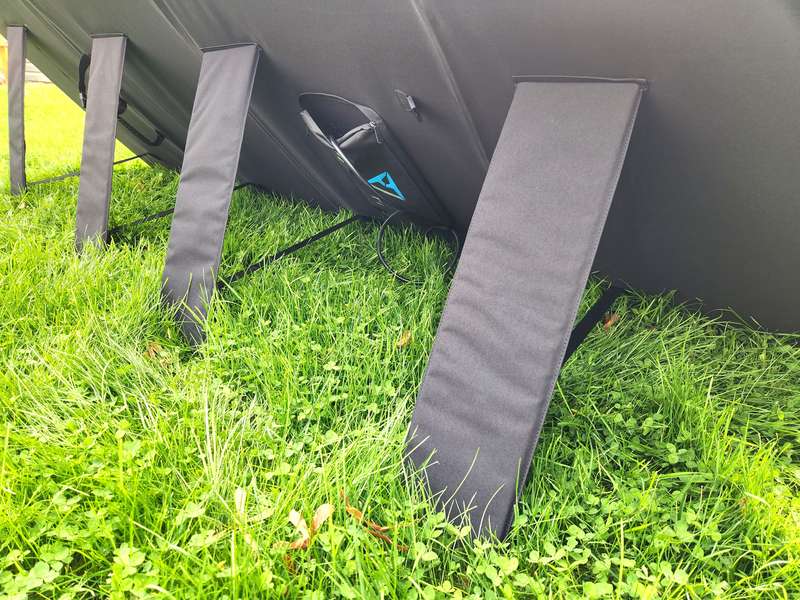 BLUETTI says the best working temperature is 77 ℉ (25 ℃), but the official operating temperature is 14 to 149 ℉ (-10 to 65 ℃).
For me, I hope to never use the solar panels at 149 ℉ (Yikes!), but the lower operating temperature of 14 ℉ (or -10℃) is worth a note. We don't often get temperatures that cold here, but it does happen occasionally, and we won't be able to effectively use the panels below that temperature. (There's a good chance they'd be covered in snow at those temps here anyway.)
How to connect solar panels to a BLUETTI portable power station
The BLUETTI 350w solar panel thankfully includes a long power cable.
BLUETTI has been pretty generous here, with a cable that's over 10 feet long (3.175m), allowing you a lot of distance between the panel and your solar generator.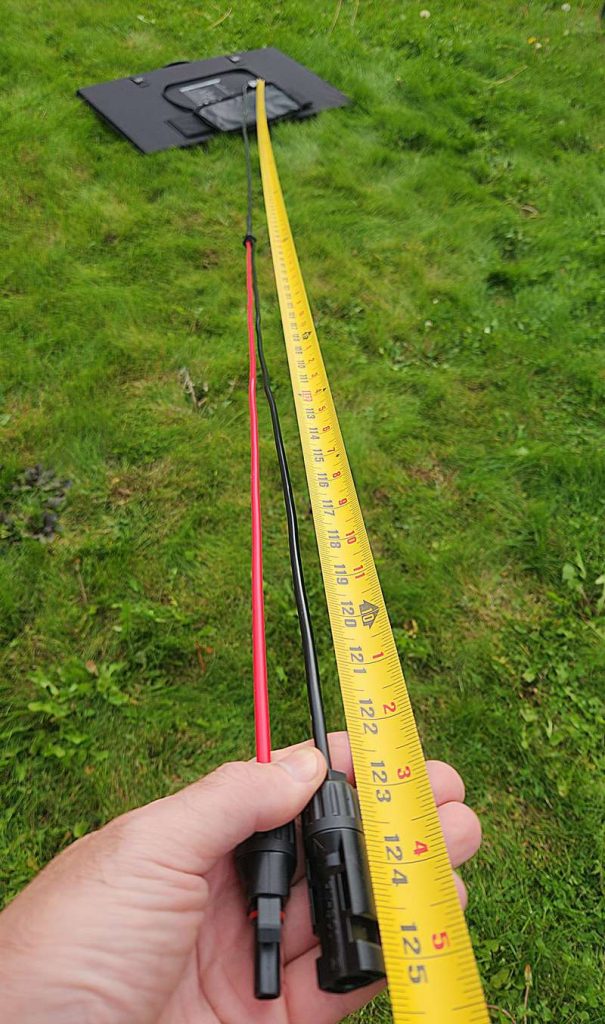 All that's left to do is attach your cable from your solar generator, and plug the charging cable into the DC input on the BLUETTI power station.
From there, the BLUETTI power station recognizes that you are using the solar input, and will show this on the display (Of course displays will vary depending on which solar generator you have.)
What I really like about the BLUETTI AC180 and the PV350 combo is that you can charge via solar, while using the solar generator to charge other things since it allows passthrough charging. In this case, we're charging a phone on the top wireless charging pad at the same time as charging via the solar panel.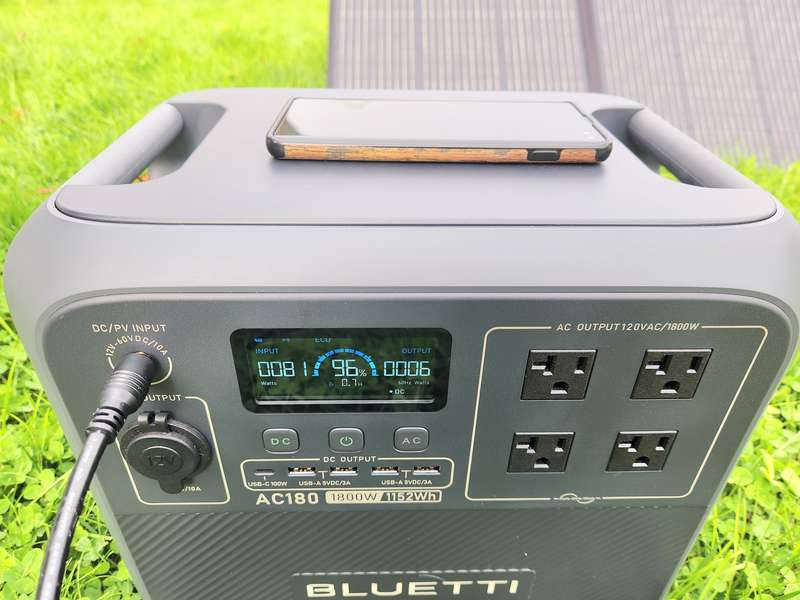 I personally love to use the BLUETTI app to keep an eye on the BLUETTI PV350 Solar Panel's performance without having to sit and watch the display on the power station.
Tip: Keep your power station in a shaded spot to prevent overheating! It can also easily sit behind the panels themselves if just charging for the day.
What power stations is the PV350 compatible with?
The 350w BLUETTI 350PV is compatible with the BLUETTI AC200P, AC200MAX, AC300, EB150, EB240, EP500, EP500PRO, and AC500. It's also compatible with other power stations, like our BLUETTI AC180, that have MC4 connectors and can be solar-charged.
On its own, this panel delivers a solid 350W of peak power. It can reach up to 46.5V VOC with a max current of 9.2A at 37.5V. If that's too much wattage for your particular charger, you could also just fold half the solar charger closed thereby cutting your max possible wattage in 2. Please note that using it this way isn't officially approved by Bluetti so you're on your own if you decide to use it this way.
Is the BLUETTI PV350 solar panel waterproof?
Curious if the BLUETTI PV350 Solar Panel can weather the elements?
While it's not fully waterproof, it does offer a level of splash resistance. Built with heavy-duty panels that carry an IP65 water-resistant certification, it's designed to handle water splashes thanks to its ETFE coating. So, take note: it's not meant to be left out in heavy rain or submerged in water.
So, can you count on the BLUETTI PV350 in a downpour?
The answer is no, but for minor water contact and most light rains, it's designed to hold its own.
Keep reading as we delve into other aspects of this panel's durability and performance.
WHAT'S AN IP RATING?
IP ratings were created by the International Electrotechnical Commission to give a standardized rating of protection offered by the enclosure of electrical equipment against liquid and dust.
The IP code is has two numbers: The first number is the degree of dust protection, and is rated on a scale from 0 (no protection) to 6 (dust does not enter the equipment).
The second number rates protection against liquids and uses a scale from 0 (no protection) to 9 (high-pressure hot water from different angles).
Is it durable?
Wondering about the durability of the BLUETTI PV350 Solar Panel?
Constructed with laminated panels and featuring a surface made of long-lasting ETFE material, it's built to withstand wear and tear. Plus, its scratch-resistant surface makes it easy to clean with just a wet cloth.
So, is the PV350 a durable option for your outdoor or emergency power needs? Based on its construction, it seems well-equipped to handle the rigors of its intended use.
How much power does a 350W solar panel produce in a day?
Curious about the daily power output of a 350W solar panel like the BLUETTI PV350?
While it's rated for 350 watts, actual output can vary due to numerous factors such as location, angle, shading, temperature, and panel condition. Performance peaks when the sun is high and decreases in cloudy conditions or low sun angles.
We set up our solar panels on a partly cloudy day and set the panels up quickly, and were immediately pulling in 179 of the 350 watts. That's pretty good for a lot of cloud, and not having the panels angled directly at the sun.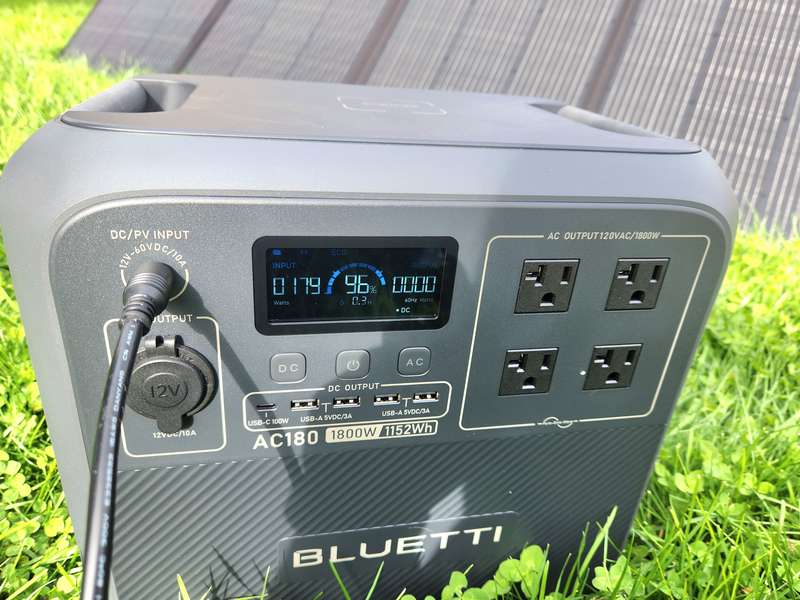 However, the BLUETTI PV350 monocrystalline panels do feature a high conversion efficiency of up to 23.4% and excels in low-light conditions compared to polycrystalline panels. It's also equipped with movable stands to achieve optimal sun exposure angles.
So, how many kWh does a 350W solar panel produce in a day? Under optimal conditions, on a seven-hour day, you can expect around 2.45 kWh.
Want more power?
You can run up to three PV350 panels in parallel to get a whopping 1050W charging power (or the max that your solar power station can accept via solar).
I haven't been able to test this personally, as we only have a single solar panel currently, however our resident feline mathematician says the math checks out.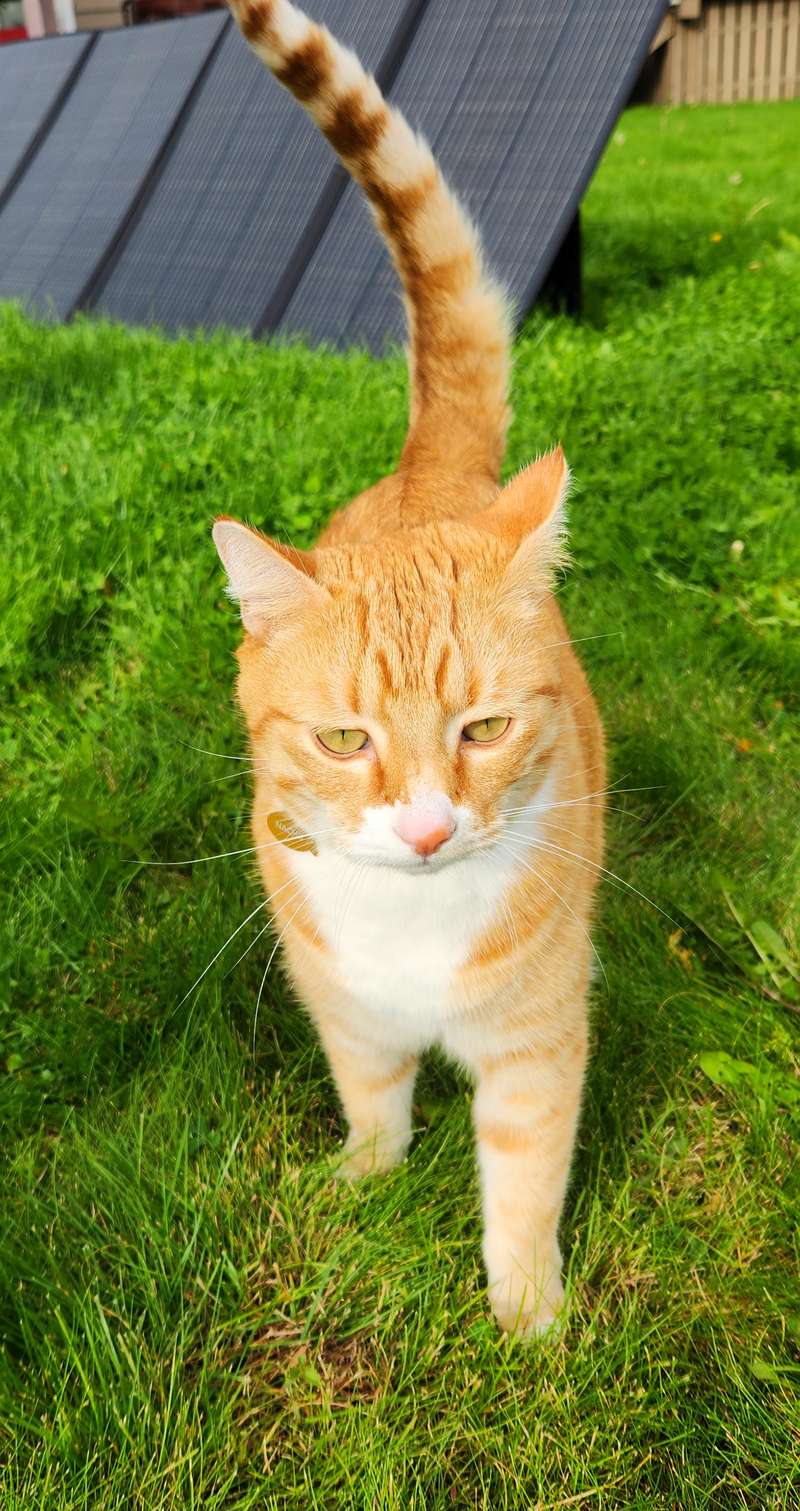 Can I use BLUETTI Solar Panels to charge a different, third-party power station?
Wondering if you can pair your BLUETTI PV350 Solar Panel with a third-party power station?
The answer is yes, but there are a couple of conditions. First, the power station needs to have MC4 connectors. (Many solar power stations come with adapters and if not, adapters can be cheaply bought online.) Second, it should be compatible with the output specifications of the BLUETTI solar panels (which is 350W per panel or 36.5V at 9.2A).
So, can the BLUETTI PV350 flexibly integrate with other brands? Under these conditions, it certainly can.
BLUETTI PV350 vs SP350 solar panels
The key distinction between the BLUETTI PV350 and SP350 solar panels lies in their wiring: the PV350 has parallel wiring, while the SP350 uses a series configuration.
This makes the PV350 more shade-tolerant in performance. Additionally, the PV series uses a single waterproof coating to cover all solar cells, whereas the SP series panels are sewn onto a large, untreated canvas.
Who is the BLUETTI PV350 folding solar panel for
The folding BLUETTI PV350 solar panel is designed for people on the move. Whether that be campers, hikers, off grid builders, rvers, tailgaters, boaters, preppers or remote workers. Easy to fold up and store away, they're great for quickly putting up and taking down when needed and could be awesome in an emergency.
While they aren't incredibly light, they do provide a good amount of power for their size and with their included stands, they can be adjusted to match the best angle the sun is found on any given day. For best results, couple it with a portable solar generator with enough power to match your lifestyle.