Cruising the NCL Encore Review
28 min read
Will you be cruising the Norwegian Encore? We took a 7-day cruise to Alaska on this cruise ship. Read our NCL Encore Review.
Is a mega cruise ship the right cruise to sail to Alaska?
Maybe. Maybe not.
Cruising Alaska was on the top of my list of cruise itineraries to experience for some years now. Last year, we finally booked this dream cruise on the Norwegian Encore.
We set sail to Alaska from the end of July into the first week of August. We never travel mid-summer, but a cruise consultant advised us that it was one of the best times to travel to Alaska.
The weather. 
It was all about the weather when we made this decision. It was supposed to be the warmest and nicest of all the months.
Did it turn out to be? Yes. The weather was mostly amazing and warmer than we expected it to be.
With CruiseNext vouchers on hand and a significant amount of future cruise credit we couldn't let go to waste, we booked the Norwegian Encore. Newer ship. It visited Juneau, Skagway, and Ketchikan. And it had Glacier Bay on the itinerary. It is almost the perfect Alaska itinerary for first-timers cruisers heading that way.
Honestly, I didn't pay much attention to the finer details of the itinerary, which I later came to regret.  
After booking this cruise, we learned quite a few things about planning a cruise to Alaska.
The weather in Alaska is unpredictable, and you don't know what you'll experience until you're there.
The cruise line and size of the cruise ship you book to Alaska does make a difference.
And, even after all the years cruising, you can still make rookie mistakes like not looking at the itinerary close enough to realize that a couple of the days are SHORT on your cruise itinerary. 
Despite that, we had a great first cruise to Alaska. We returned with incredible new memories and are ready to book another cruise to Alaska, but probably not with Norwegian.
In this NCL Encore review, we will share our experience with the cruise ship, the staff, its restaurants, entertainment, and other tips and things you should know. We also included Norwegian Encore photos of the cabin, ship, and food.
If you have sailed on the Encore, we encourage you to add your NCL Encore review in the comments. We love to hear everyone's experiences, but also it is helpful to other readers that will be sailing on the Norwegian Encore in the future. 
About Norwegian Encore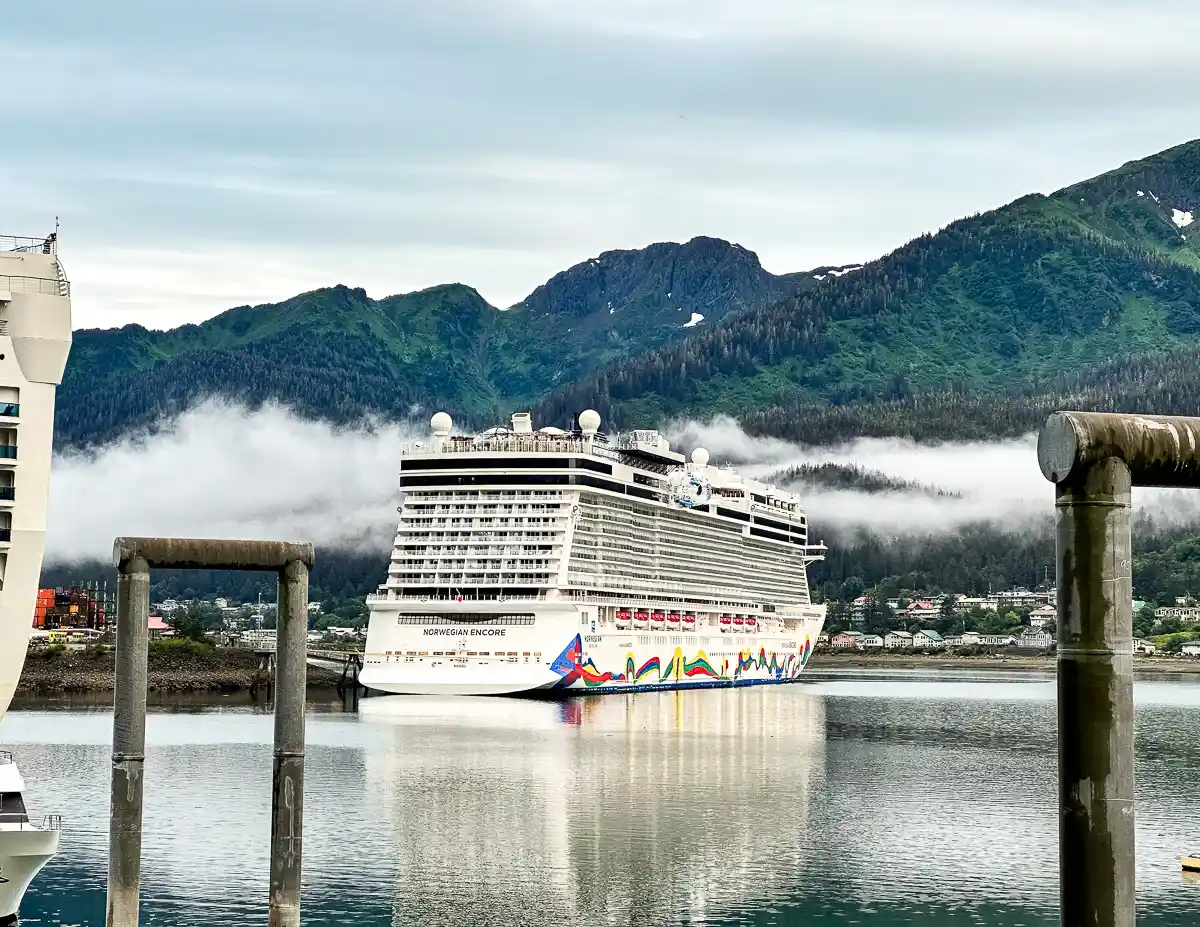 Here are a few quick facts about the NCL Encore:
The Norwegian Encore cruise ship is the last of the Breakaway Plus class ships.
It was completed in October 2019 and set sail on its maiden voyage in November 2019.
The NCL Encore cruise ship holds up to 4,000 passengers, not including crew members. 
It's the sister ship of the Norwegian Joy, Norwegian Bliss, and Norwegian Escape.
7-Night Norwegian Encore Alaska Itinerary
Day 1 – Seattle, WA
Day 2- Sea Day
Day 3 – Juneau, AK
Day 4 – Skagway, AK
Day 5 – Cruising Glacier Bay
Day 6 – Ketchikan, AK
Day 7 – Victoria, Canada
DAY 8 – Seattle, WA
Norwegian Encore sails Alaska from April to October. In the Winter, you can find the Norwegian Encore in the Caribbean before it returns to the Pacific Coast to sail North to Alaska.
Norwegian Encore Review
Embarkation in Seattle Cruise Port
Where does the Norwegian Encore cruise ship dock in Seattle?
Norwegian Encore docks at Pier 66 in Seattle.
The embarkation process at Seattle Cruise Port was slow. We even waited until noon to check in, thinking we'd avoid the worst of it, but that was not the case.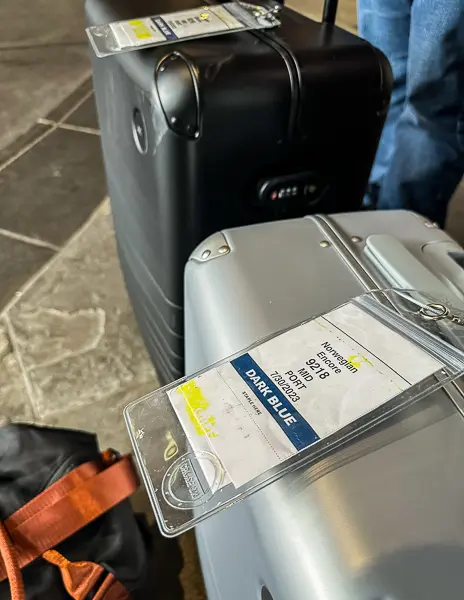 It took us an hour and thirty minutes from when we dropped off our luggage with the porter to when we got our key cards before we were on the ship.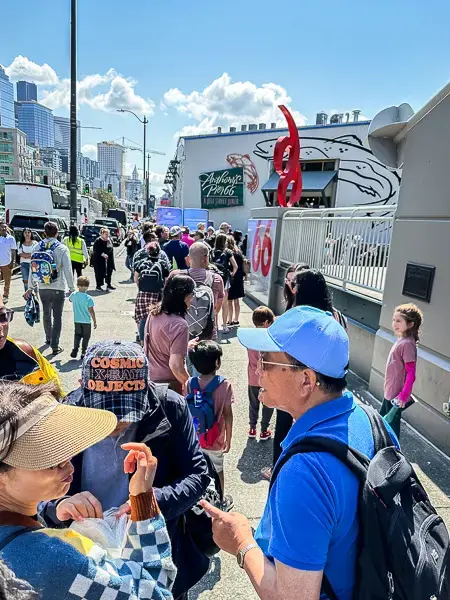 Have your identification and cabin # ready before entering the Seattle Cruise Terminal. There is a checkpoint to verify your identity and ensure you're on this cruise ship.
From here, passengers go through security, which went pretty fast as the port authority kept people moving.
Then passengers are routed to different check-in rooms depending on their deck. If you don't have priority check-in with Latitudes or other special bookings, i.e., The Haven, expect to wait a while before being checked in.
We did the online check-in 21 days before the sail date, in which we included photos of ourselves. They still had to take photos at the check-in counter and ask health questions. You are handed your cruise key cards after that to head on up to the ship.
We wish that the online check-in truly was an online check-in like on Celebrity. They scan your barcode on the paperwork, verify quickly, and allow you to embark when it's time.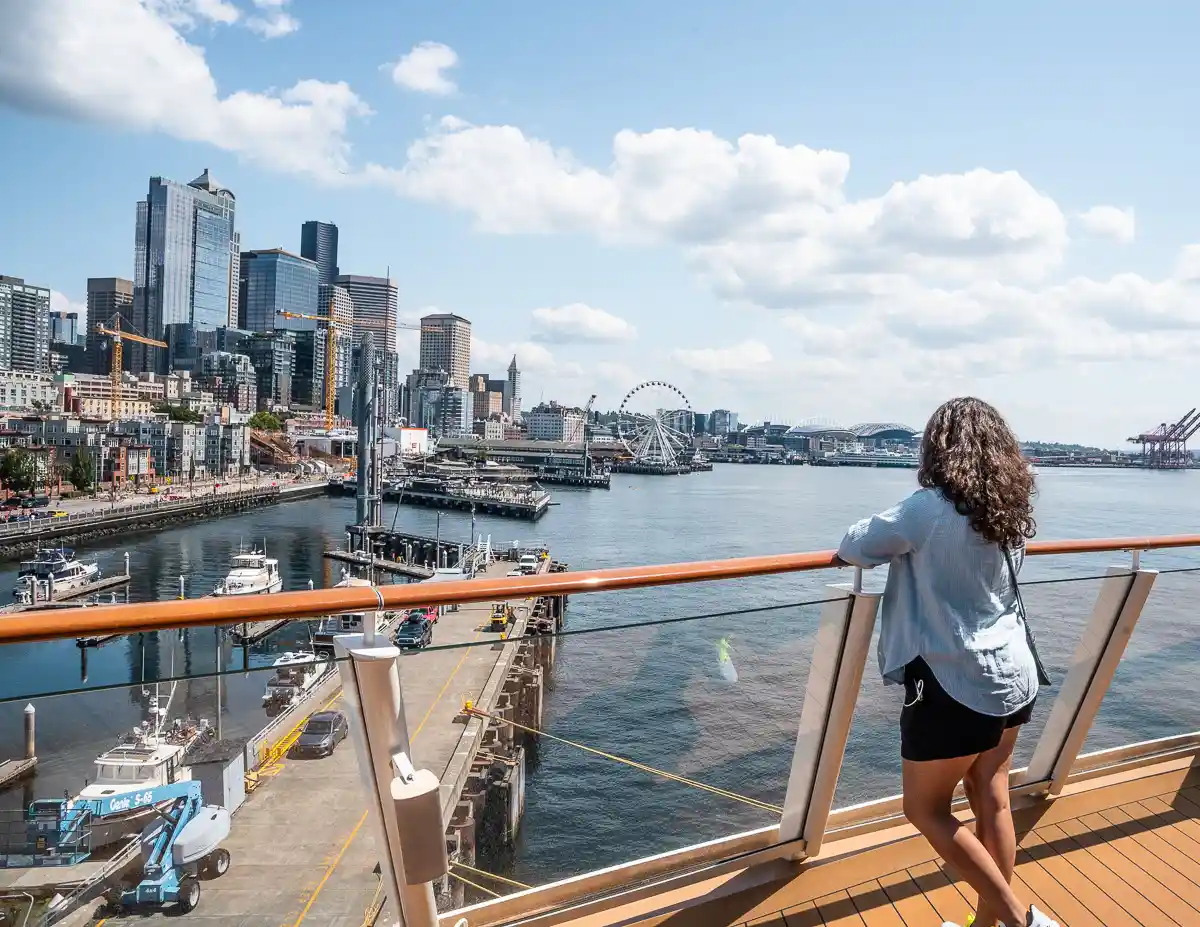 Muster Drill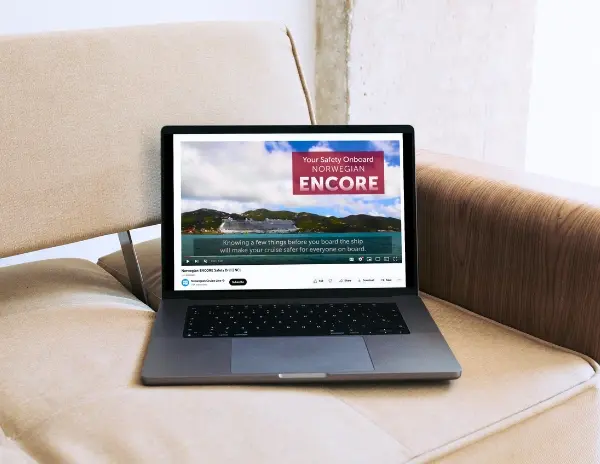 After embarking on the Norwegian Encore, we went to our muster station to check in. Best to always get that out of the way as soon as you embark.
Thankfully, Norwegian heard the cruisers' outcries, and they are back to doing virtual muster drills. They had returned to having everyone gather at different stations briefly, but it did not last long.
The muster pre-safety video is emailed repeatedly to ensure you watch it before sailing. It is also played on the NCL App once you sign in and on your Cabins room TV on embarkation day.
You must watch the video before checking in for muster. Check-in to muster ASAP, as it can hold up sail away.
Reservations
✔️ You checked in to Muster.
Now it's time to make those reservations you didn't make in advance.
Go to Deck 6 at the Teppanyaki restaurant to make dinner reservations.
Then walk across to the Social Club to make reservations for entertainment.
Ninety days before the sail date, we had already made restaurant reservations for our two specialty dining meals that came with our Free at Sea perks. 
We also made reservations for "Choir of Men" 21 days before sailing. 
However, a few days before the sail date, we upgraded to the NCL Premium Plus package, which included two extra specialty dining meals we needed reservations for.
Note: Teppanyaki is the hardest restaurant to get into. Make sure you make reservations as soon as you can. We were unable to find a time that worked for us.
Read more: Norwegian Cruise Drink Packages Explained
Norwegian Encore Cabin # 9218 Review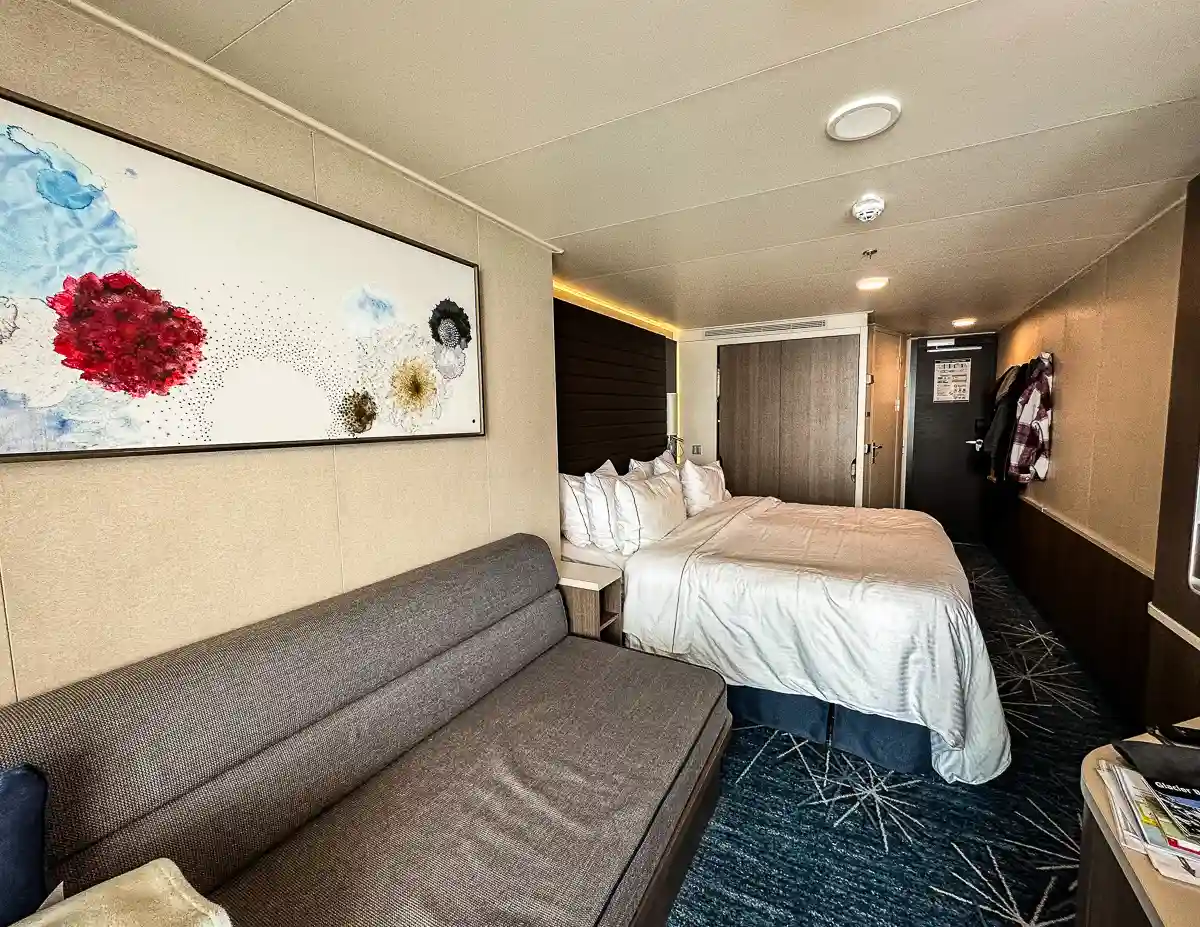 Stateroom cabin # 9218 on the Norwegian Encore is a mid-ship balcony cabin on the port side.
We always book a cabin on deck 9 or 8, usually our go-to. However, we've had other cabins located elsewhere, usually when the cruise line chooses it for us.
Balcony cabins are important to us and a personal choice. It was even more vital for Alaska to have one. I wanted to sit on the balcony, enjoy the beauty of Alaska, see some wildlife, read a book, and so on. For the most part, we were able to do that.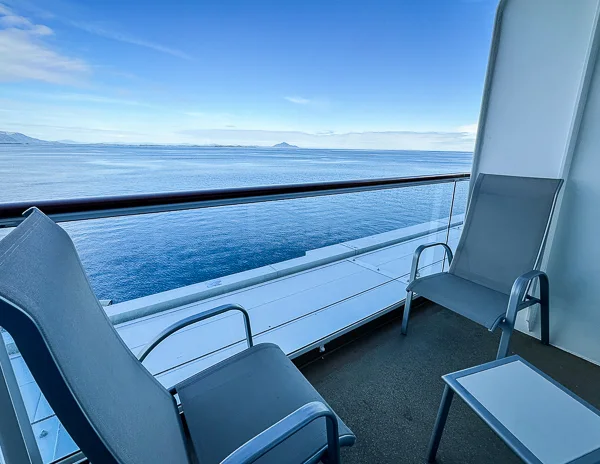 However, I made the rookie mistake of not seeing what was below us. Deck 8 is usually the Waterfront, and we've never had a problem with it. But right below this cabin is the outdoor Sugarcane bar. On some days, all you could hear was the shouting and laughing of passengers enjoying themselves. At night, you would hear furniture being moved for a short time. You should be aware of this if you plan to book this cabin.
Besides that, balcony cabin 9218 on the Norwegian Encore served us well. It is practically brand new. We didn't see any wear and tear. It was super clean. Our attendant Rachel Madrid was on top of everything and provided us with everything we requested.
And on the morning of Glacier Bay, the balcony served its purpose. We woke up early, had breakfast delivered, and admired the breathtaking scenery. The best part was that everyone on the Waterfront and balcony above, below, and beside us was doing the same. We did not experience the noise from other days.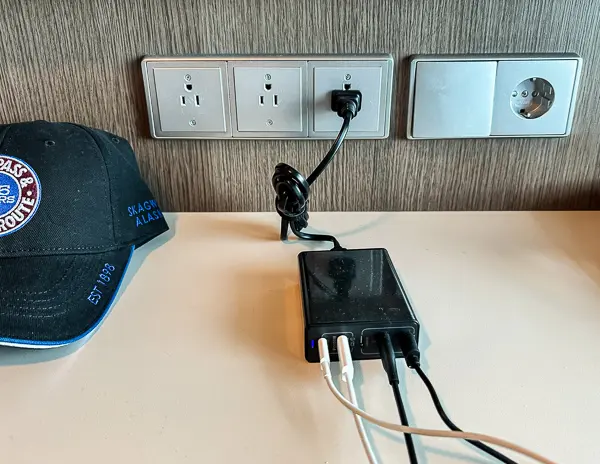 Important you should know about balcony cabin 9218:
The sofa is beside the balcony door in this cabin layout.
The bed is FIRM. I mean, rock hard. Request an egg crate topper; it will make a world of difference. 
There are 3 US electrical outlets. You may (up to you and what you need to plug in) want to leave the extra power outlet and instead bring a USB port charger as part of your cruise items to pack.
The cabin has two USB-A ports, one on each bedside lamp next to each side of the bed.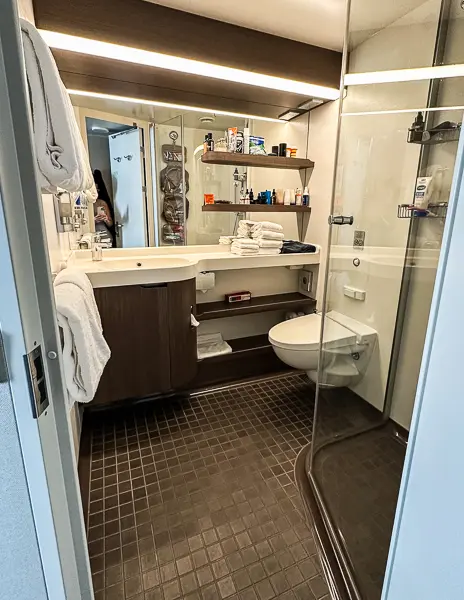 The bathroom has a glass-enclosed shower line, shampoo/conditioner, and body soap.
Plenty of shelving for things in the bathroom and in the cabin. There are no drawers, only shelves in the closet and the vanity.
There is no turndown service anymore on Norwegian. You can tip your cabin steward and request a few things on the mattress topper, like extra towels.
The cabin is a close walk from the AFT or FWD elevators, which we liked. Also, close to decks 8, 7, and 6, where most venues are located. 
Tip: Don't forget to follow the fish on the carpet if you're going FWD on the cruise ship.
A video of the cabin is coming soon.
Read: Clever Cruise Cabin Tips and Tricks
Sail Away from Seattle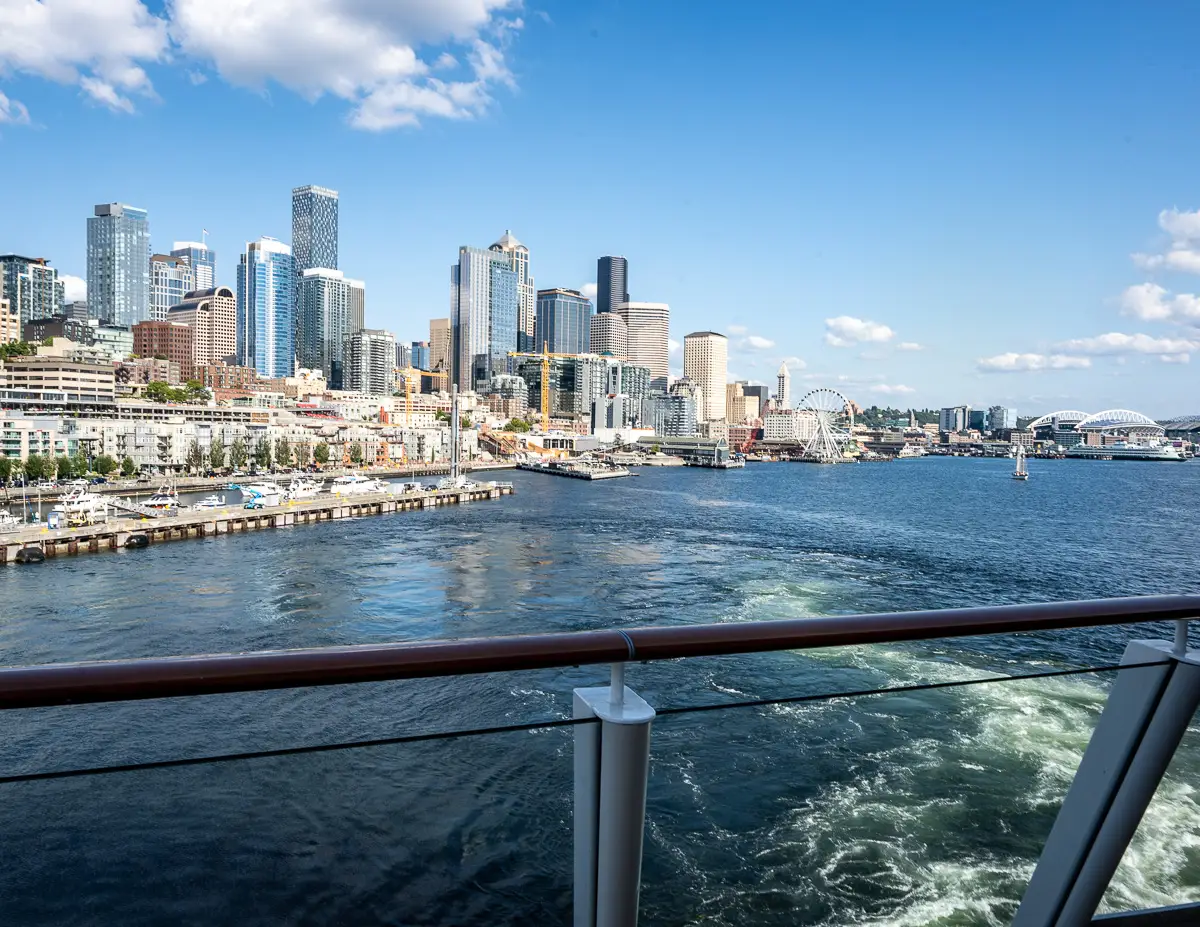 Sailing away from big cities is one of my favorite reasons to cruise. It's always a unique perspective of a destination you may not get on land.
Sailing away from Seattle was as magical as when we sailed away from New York City in a different way. The Seattle Skyline sends you off on your voyage with stunning views of the Space Needle, the Great Wheel, and the city's many skyscrapers.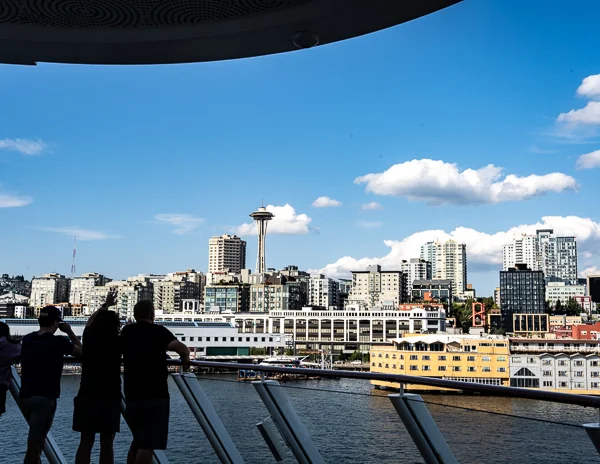 Where to get the best view of the Seattle skyline during sail away on Norwegian Encore?
For the best views leaving Seattle on Norwegian Encore, want to find a spot on the top deck or The Waterfront starboard side, slowly making your way to the AFT for a panoramic view.
Service on Norwegian Encore
Part of this NCL Encore review is rating the service and the staff on the Norwegian Encore are amazing. They are there looking to help provide you with the best experience and memorable vacation.
Any qualms I have with Norwegian Encore have nothing to do with the staff on this cruise. They are doing their best and will go out of their way to ensure you're having a great vacation, even when you can tell they are a bit overwhelmed.
Even with the crowds, the kids running around and screaming, and demanding passengers (we witnessed more than a few), the staff kept calm, friendly, and helpful.
Tip: If a crew member assisted and went above and beyond in any way for you, and you think they deserve more, fill out a Vacation Hero Card at guest services. This helps them immensely behind the scenes to promote and receive other incentives. 
There was one instance I left my phone behind in a bathroom, and when I realized it, I went back to look. The bathroom attendant had found it and taken it to lost and found. I was SO THANKFUL. You bet I tipped her and filled out a Vacation Hero card for her and my cabin attendant.
Norwegian Encore Restaurants and Dining
We upgraded to the Premium Plus Package, which included two extra special meals on top of the two that came with the original perks. Therefore, we spent a limited time in the main dining rooms but will still share our experiences.
What restaurants are free on Norwegian Encore?
Taste, Savor, Manhatten Room, The Garden Buffet, and The Local are the restaurants included on the Norwegian Encore.
Tip: If you're early at any of these restaurants, try to ask to sit by the window. They will kindly accomodate, if available. The sun doesn't set until late on an Alaskan cruise, so you can enjoy the stunning scenery and maybe even get a glimpse of wildlife while you eat.
The Garden Buffet
We did not eat much at the buffet because it always felt like we entered chaos every single time. We'd go in occasionally for pizza, snacks, and dessert.
One morning we did go for breakfast and regretted it. Unless you spend in a long line for an omelet, you're stuck with powdered eggs or hard-boiled. You are better off going to the dining room, going to The Local, or ordering room service for breakfast (extra cost but worth it)
The food we did get to have at other times of the day at the buffet was pretty good. Nothing exciting stood out to us, although I enjoyed their chocolate brittle on the first day.
Check out your Freestyle Dailies, as they have themed lunches and dinners throughout the week.
Sadly, we did not try Indian food, which is usually one of our favorite stations on NCL buffets.
Good news: the pizza on the Encore has real cheese and made up for the disaster we had on Joy last year.
Bad news: There is no late-night selection of food. In the past, on other ships, after 10 pm you could stop by to have some pizza or cookies.
Tip 1: When it's crowded. It's best to find seats first and then go one at a time to get food. Or else you may be eating standing.
Tip 2: We love cookies and on this cruise we didn't ever see them out. We asked and they are hidden near the ice cream / dessert station and by request only. 
Taste & Savor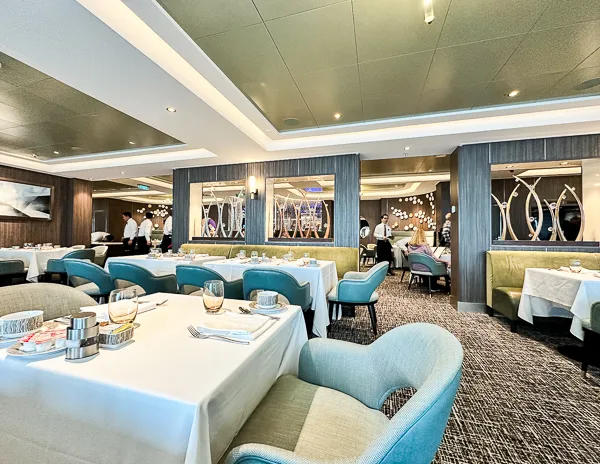 Taste and Savor two of the 3 main dining rooms in Norwegian that are included with your cruise fare. We dined in both restaurants for breakfast, lunch, and dinner.
Our experience at breakfast and lunch was lovely. And on a crowded ship, it is best to stay away from the buffet and try to find other open dining venues.
Tip: Taste and/or Savor is open for LUNCH on days it is at sea. Consider eating here instead of the buffet.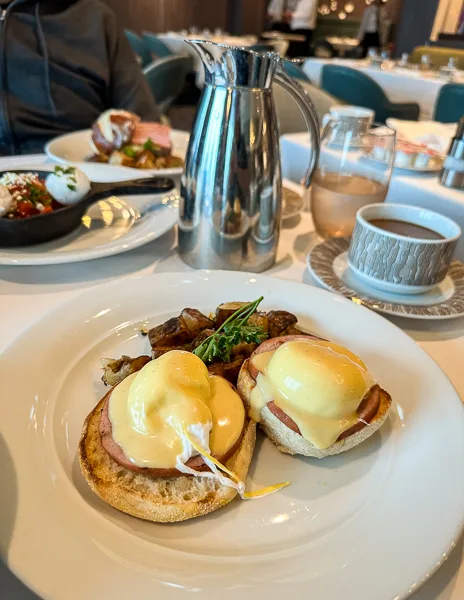 The breakfast food was the best. If you start early morning, the dining room is quiet, and you can enjoy your coffee with a nice place of fresh eggs near a window. While most of the menu items are the same, they'll be a couple of featured breakfast items that change throughout the week.
They have three different menus that rotate for lunch. This was another time that it was nice to eat in the dining room.
The service was either lacking or rushed for dinner at Taste and Saver, but not because the servers weren't trying their best. It's because they were overwhelmed with tables. We even saw managers come out to help and try to give passengers the best service. One manager insisted she refilled our sparkling water, even though we told her we had it because she said we were on vacation.
We did have some delicious delicious in the main dining room. There was a Hawaiian Pork Belly they served one night that was so good that the servers said they also loved it. That was the same night we had cannoli for dessert, also recommended by the servers.
On this trip, the servers knew which dishes were good. They never steered us wrong when we asked.
The third main dining room is The Manhattan. We normally enjoy this dining room on other NCL ships, but we never made it this time around.
The Local
The Local is included in your cruise fare, and the late-night pub is open almost 24 hours daily. They serve breakfast, lunch, and dinner, then a lighter late-night menu.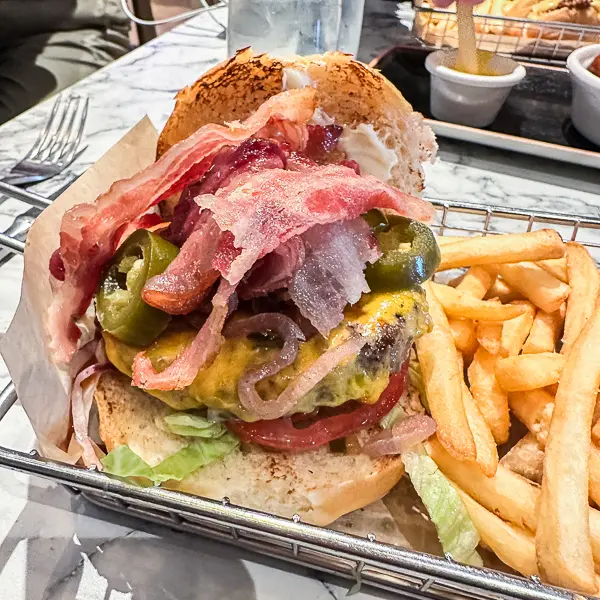 The food at The Local this time was pretty good. I'm usually not a fan, but they impressed me with their Wrangler Burger and carrot cake this time. I did see the Rueben being ordered a lot around me, but I'm not a fan of Pastrami.
What continues to lack at The Local is the service. That's not on the staff, but the fact that there isn't enough of them to cover how busy this restaurant can get.
Food Republic
I've heard so many great things about the food at Food Republic and don't know why it took us so long to eat here. The food here is DELICIOUS, and they have the best desserts we had while sailing on the Norwegian Encore.
Food Republic is known for sushi, so we have never eaten there since hubby doesn't eat fish. While they do serve sushi, the menu is Asian Fusion with plenty of meat dishes and served tapas style – small plates you can share.
You're going to find all sorts of different Asian dishes, from sushi, ramen, and pork belly bao as well as a few Mexican ones thrown in (odd, but the Tijiana Fries sounded good).
These are the plates we ordered, and we enjoyed each one. The only photo missing is of the Lamb Kalbi, which we also amazing.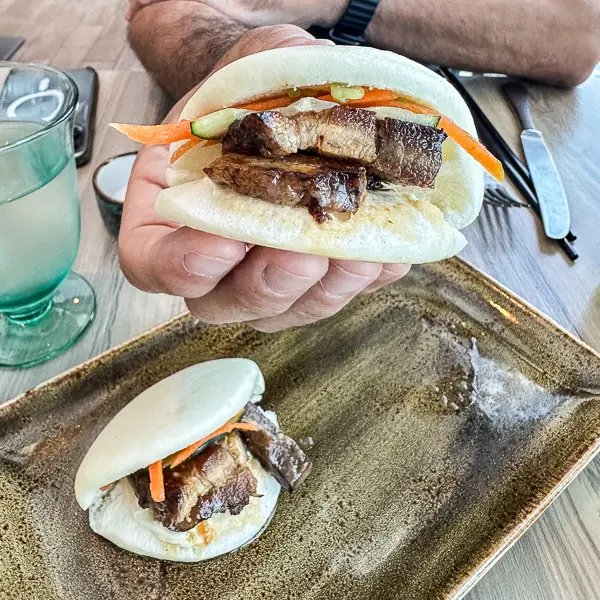 If you have the specialty dining package, each person can order 4 dishes, including dessert. Between two people, that's 8 dishes, which equals to a lot of food. Some were small bites, while others were meals for us.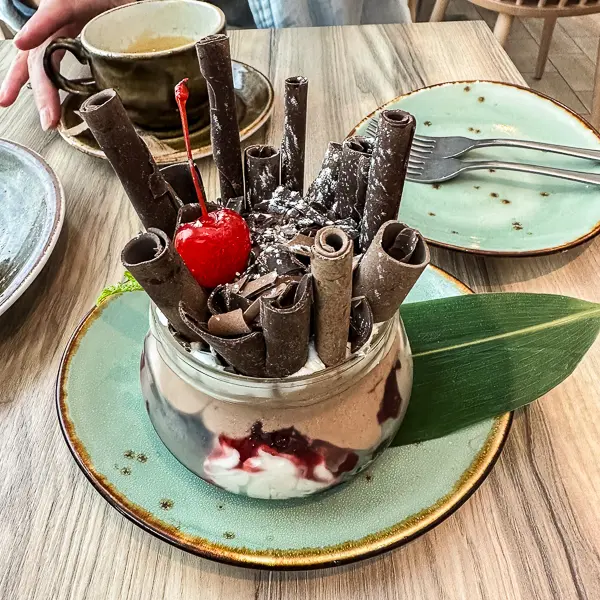 So, go hungry. And start slow. You order the plates from a tablet on the table, and they come out as they are ready. 
Food Republic was open for lunch (extra $$) during one of the last days at sea. Look in the newsletter for opening times.
Food Republic Menu on Norwegian Encore PDF
Le Bistro
Le Bistro is one of our favorite restaurants on Norwegian Cruise Line. If you have read my previous cruise ship reviews, we never miss out on dining here.
The food at Le Bistro is top-notch, but the menu has changed a bit… there is no more veal chop. You must now pay a supplement charge of $10 for the Filet if you're dining on the specialty dining package.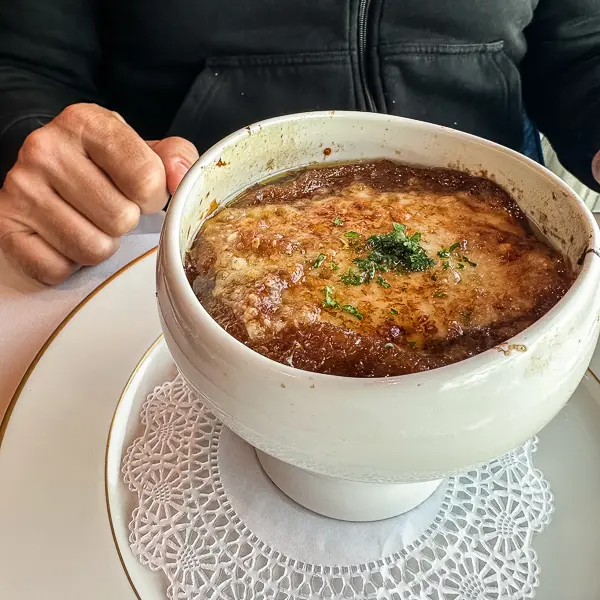 I thoroughly enjoyed my meal, tried something new, and ordered the Dover sole as my main course. It was okay, but I still enjoyed the Filet more. Hubby ordered the Filet de Boeuf, which was so tender and flavorful; I wish I had ordered that.
The biggest downside of Le Bistro on Norwegian Encore is its odd location. When the ship was designed, it was cast aside and sent up to deck 17 AFT, on the other side of American Diner, by Galaxy Pavilion and beneath the Go Karts. 
The truth is that NCL tried to fit as many specialty restaurants as possible onto the ship, and Le Bistro suffered location-wise.
While the food and service are good, the vibration you felt throughout dinner ruined the ambiance of what's supposed to be a fine dining experience. And it was the only time we felt the ship throughout our cruise week.
We canceled a 2nd reservation with them for the week and decided to try Los Lobos.
Le Bistro Menu on Norwegian Encore PDF
Los Lobos
We decided to try Los Lobos out of curiosity. We get some of the best Mexican food here in Los Angeles, so we were skeptical but open to having good food. Los Lobos did not disappoint.
Surprisingly, we enjoyed Los Lobos. We listened to our waitress's advice on what to order, and she didn't steer us wrong.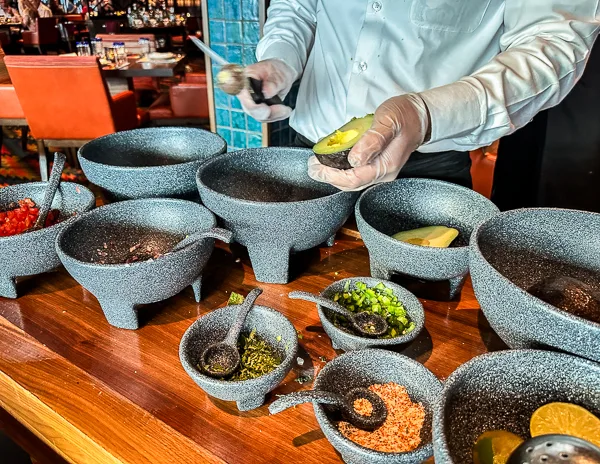 Our favorites were the tableside guacamole, queso fundido as appetizers, and carne asada for the main course.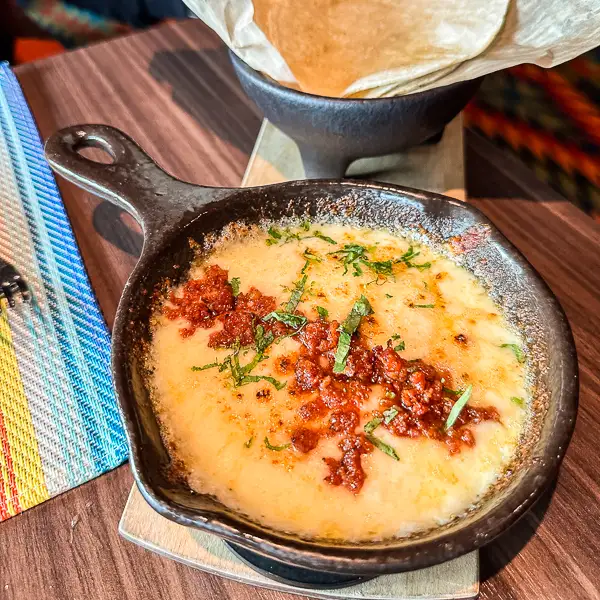 It is a lot of food, especially with the specialty dining package. So keep that in mind when you're ordering or go there really hungry. We ended up not being able to finish most dishes and only ordered just one dessert.
If you don't have the specialty dining package but would still like to try it by paying ala carte, this is a great spot to get a couple of appetizers and a margarita.
Los Lobos Menu on Norwegian Encore PDF
Onda by Scarpetta
The Onda restaurant surprised us. We are picky about Italian food and wondered if it would live up to the hype of having this restaurant on a Norwegian Ship.
And wow, the pasta is delicious.
We started with the pizza, which was just okay, nothing special. But what was good was the pieces of stromboli they brought out in the bread basket. You don't need to order pizza after having that stromboli; order a salad or burrata.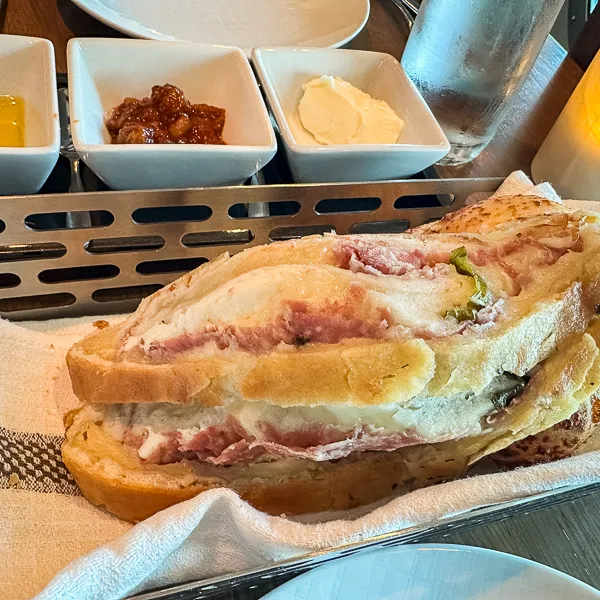 Then the pasta shocked us. I ordered the Tagliatelle pasta with lots of lobster chunks in a spicy tomato sauce, and was divine. My Italian husband ordered the Pappardelle Bolognese, and I was prepared for him to hate it, yet he left his plate clean – it was that good.
Not pictured is the tiramisu we had, which was also surprisingly good.
By the way, Loved the Palermo Old Fashion cocktail at Onda.
Onda by Scarpetta Menu on Norwegian Encore PDF
Onda by Scarpetta Dessert Menu on Norwegian Encore PDF
Other specialty restaurants and specialty eateries on Norwegian Encore we did not try on this trip:
Ocean Blue
Q Smokehouse
American Diner
Cagney's
Teppanyaki
Coco's
The Bake Shop
Starbucks on Norwegian Encore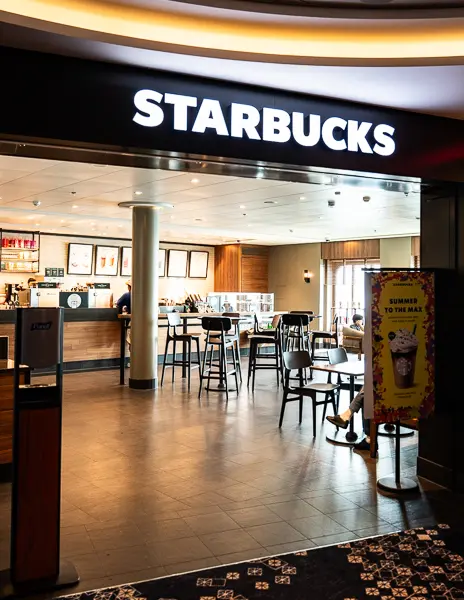 Surprisingly, there is only one Starbucks on Norwegian Encore on Deck 6 near the atrium, which was surprising since there are two locations on the Joy. This sometimes made for long lines at Starbucks, but the staff behind the counter were amazing.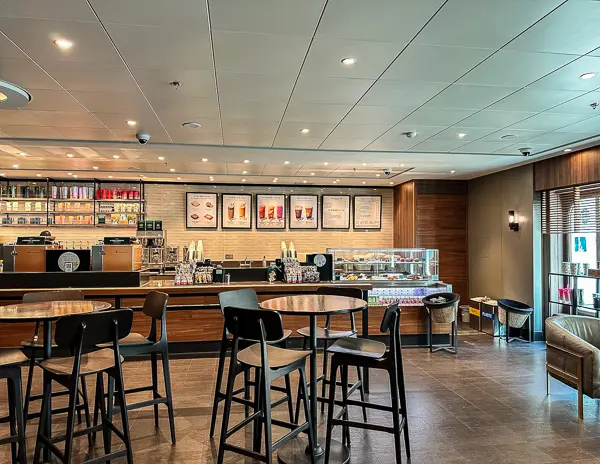 Earl, one of our favorite baristas, was always hustling, taking orders, and getting drinks out fasts. And the best part is, they cared about your coffee drink. They weren't just pouring milk into a latte and sending you off. They'd carefully make those pretty latte art designs on top before handing it over.
The Starbucks drinks on the cruise ship are 1000 times better than on land. I rarely get Starbucks at home, but on the cruise ship, they were A+.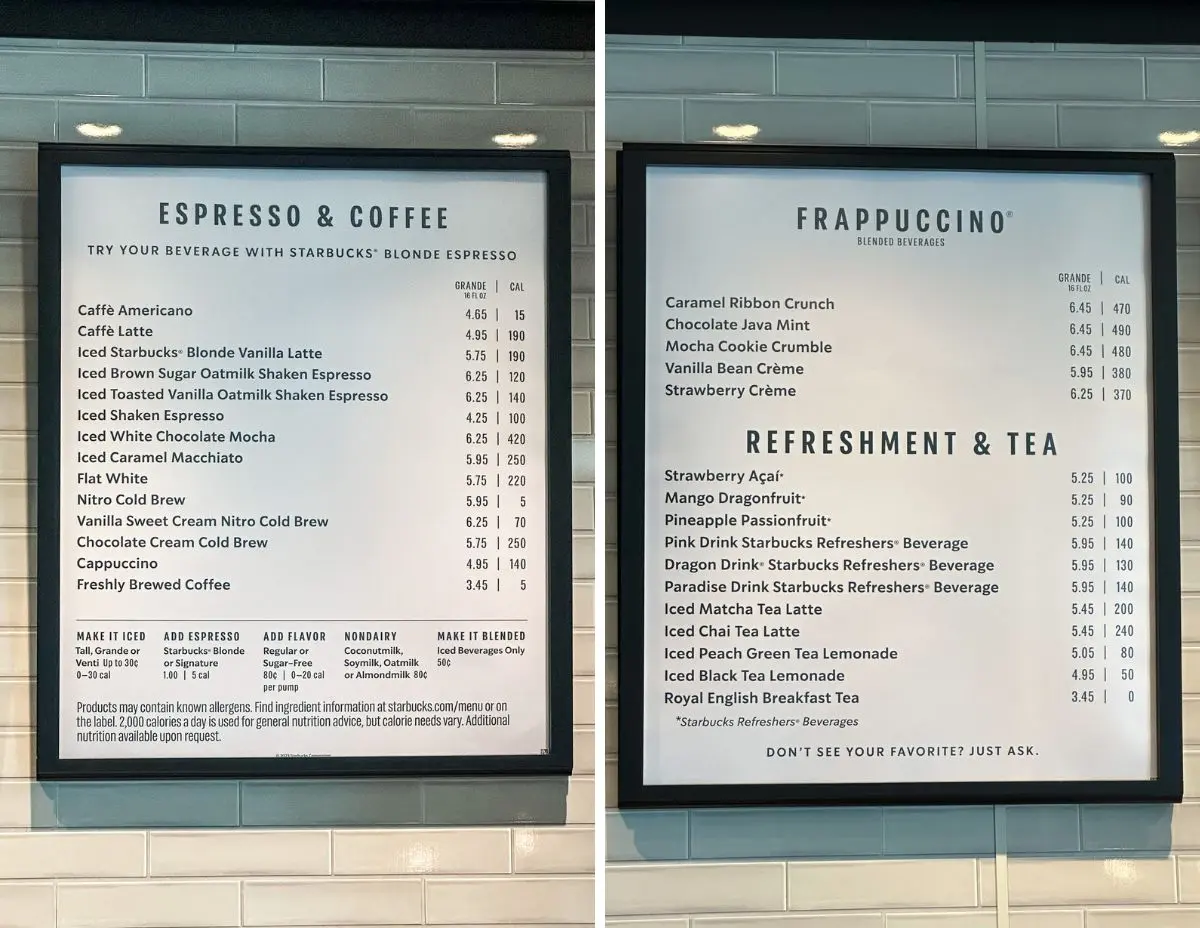 It was nice having the Premium Plus Package and being able to order specialty coffees at sit down restaurants. You don't always have to go to Starbukcs for tha espresso. I had a dopio espresso every night with dessert.
Norwegian Encore Activities and Entertainment
On this cruise, we didn't rush to watch all the shows. Alaska was the main event, as well as the food. It was a packed ship, so we avoided crowds when possible. 
Anything taking place at The Cavern or the Social Club was hard to get into. You had to be there super early to get a spot. These venues are way too small for the number of people on this cruise ship. So if you plan to see anything in these venues, arrive super early.
Choir of Men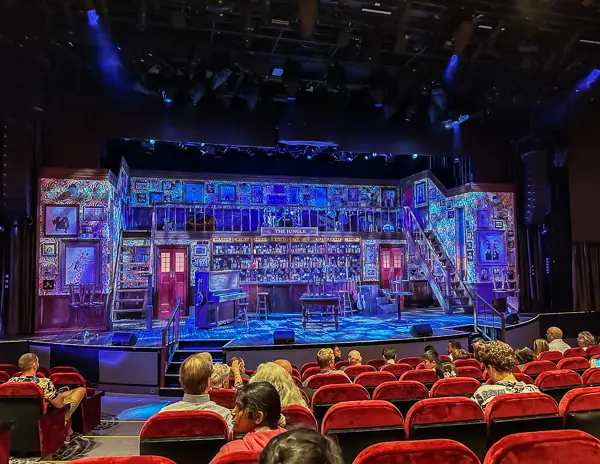 The headliner of the Norwegian Encore is the "Choir of Men." We weren't sure what to expect, but the show was phenomenal, and we truly enjoyed it.
There is so much heart and soul in this British musical, humor, and immense talent. The cast sang and danced their hearts outs to many fan-favorite songs, from old to newer pop songs. 
The cast starts early, 10 minutes before the show starts, involving the audience and inviting them to the stage for a beer. It's a celebration from the very beginning to the very end.
It's a must-watch. You can make reservations to see it 21 days before the sail date. I heard that you can easily get in on stand-by at the theater even if you don't have reservations. 
The Choir of Men casts also do another show in the Cavern Club called "Dudes Sing the Divas." We tried to get in last minute, but there was no seating. We loved the first few minutes of it, but it was so uncomfortable where we were that we had to leave. Add it to your list and keep a close eye on it when it comes up in the Freestyle Dailiies.
Cost: $0 | Reservations Recommended
Note: Kinky Boots used to be a headlining production, but in January 2023 NCL cut back on entertainment which led to this show being canceled. Most recently, in June 2023, NCL cut back on even more productions across their fleet.
The Beatles Invasion
This will be an unpopular opinion, but we didn't enjoy them as much as The Beatles Story of the Joy. However, it is worth a listen if you love the Beatle's music. 
They play in both the Cavern Club and the Theater.
Cost: $0
Go-Karts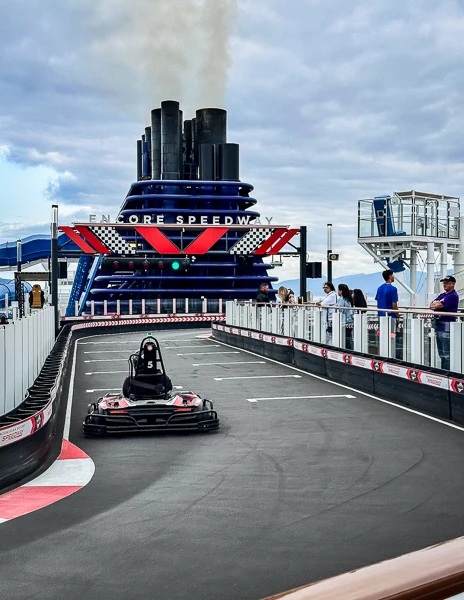 The Go-Karts are one of the top activities that should be booked beforehand. On the Norwegian Encore, the Go-Karts are two levels going from Deck 19 to Deck 20, the top two decks of the cruise ship.
Hubby loves everything related to cars and racing, so he had to try it out on the Encore. It was fun, but the downside is they constantly stopped the karts to enforce rules or drag people out of corners they could not drive out of. It puts a damper on the race.
Personally, I think it takes up too much space on the ship. I rather have an extra pool.
Cost: $15 per ride for 10 minutes of racing | Reservations required
The Pool Deck on Norwegian Encore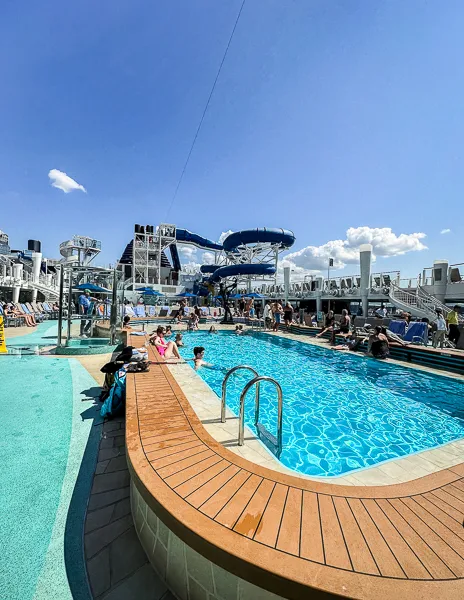 There are two pools on the Norwegian Encore, outside of The Haven area, and the Thermal Spa. One is for kids, and the other pool is for adults only – that rule is NEVER implemented.
We did not go into the pool at all, but many people enjoyed the sunny day in Seattle on embarkation day. So if you're looking to take a dip, bring a swimsuit in your carry-on. We also had other warm days on this Alaskan Cruise, and it's not the norm, so you bet there were cruisers taking advantage of the weather.
There are a total of 9 hot tubs on the ship. Every time we passed by one, they were full of children.
There is an aqua park for kids right next to the kids' pool.
Two water slides, the Aqua Racer and the Ocean loops; neither we tried out on this trip.
Casino
The Casino on the Norwegian Encore takes up most of deck 7 on the cruise ship. It was shockingly quiet the many times we passed by or were there. There weren't as many passengers playing on this cruise as on other cruises.
There is a closed-off smoking section of the Casino that is truly appreciated.
Other popular activities we did not partake in, but you may consider at an extra cost:
Laser Tag (we tried to get reservations it was booked solid)
Galaxy Pavilion
Virtual Escape Room
The Spa Thermal Suite on Norwegian Encore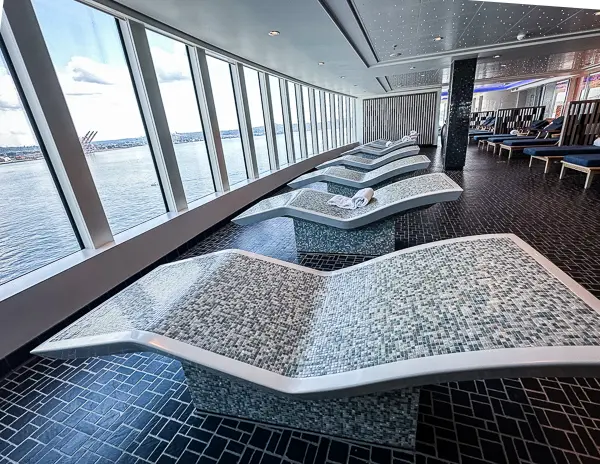 We did not book the thermal suite n Norweigan Encore. We wish we had. It is one of the most beautiful thermal spas I've seen on a Norwegian ship, and because of this, I'm including it in this review.
The Thermal Suite included heated chaises, a thermal pool, a hot tub, a dry and wet sauna, a salt room, and even a cold room.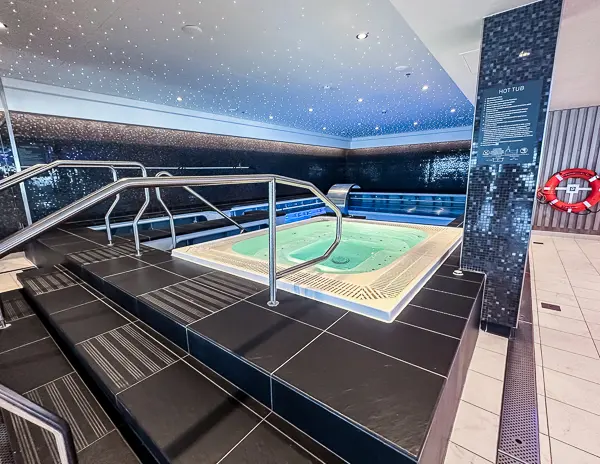 The thermal pass is only sold to up to 100 passengers. So it is a lovely escape from a crowded ship. Next time, on an itinerary like this one, we'll consider it.
A limited amount of these passes are sold before embarkation. You can also purchase if available on embarkation day. Daily passes are sometimes available and limited.
Cost: $299 to $350 pp for the week
The Observation Lounge on Norwegian Encore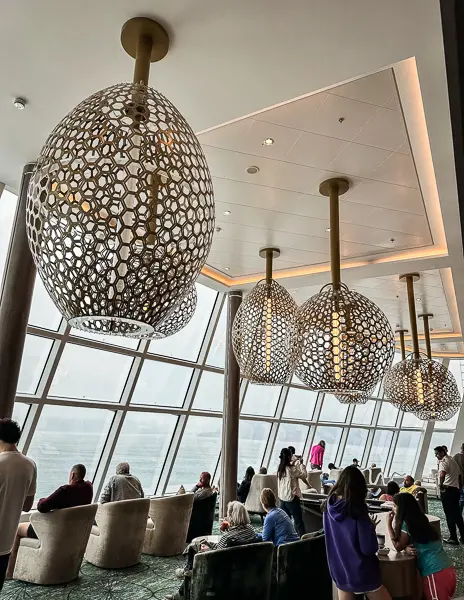 The Observation Lounge on Norwegian Encore was always crowded during this Alaska cruise, especially when food was out. About 5-6 stations of light food choices come out at specific times of the day.
We were able to get seats a few times around lunchtime. The key was to wait for everyone to go to lunch at the buffet, and we'd grab seats left open then. When food was brought out at the stations, you'd watch as the lounger got super loud and packed again, and we'd leave.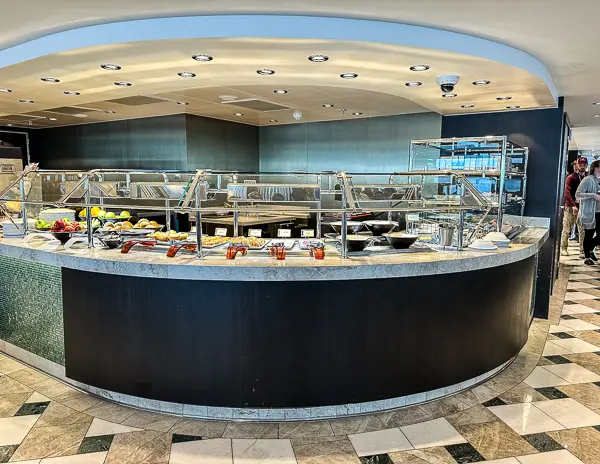 That said, if you get seating, it is a great place to relax, enjoy the views and watch for wildlife. We saw whales, dolphins, and seals from the lounge on the first sea day. It was cool! Everyone got super excited when something came out of the water.
And the bar at the Observation Lounge mixes some amazing drinks.
The worst part about the lounge is that the cruisers camped out from morning to night as if in their living room.
The Waterfront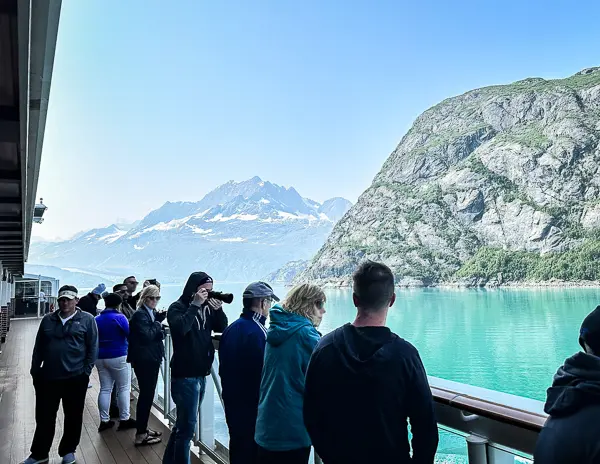 Aside from your balcony, the Waterfront on deck 8 is the best place to be on Glacier Bay and generally anytime you want to get away from crowds. It was never overly crowded, not even when cruising Glacier Bay, and it had the best views.
Seeing wildlife and admiring the stunning scenery from outside is a much better experience than from the observation lounge. It may be colder, but you see it all and get to take photographs in its truest form rather than through a glass window with watermarks.
Another option to consider if you want to get away from crowds is the Vibe Beach Club, but that is an extra cost.
Other Observations of the Norwegian Encore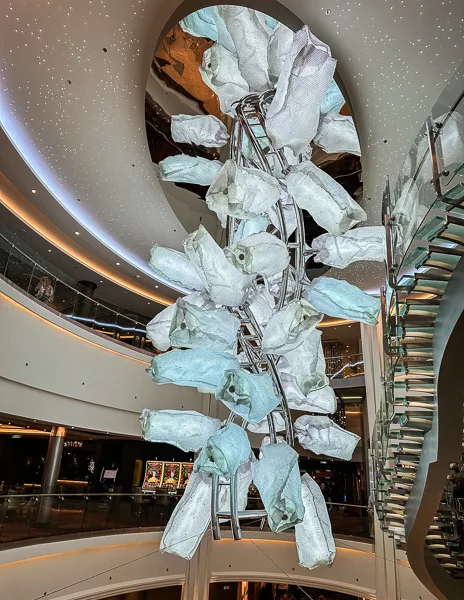 Smooth sailing throughout our cruise. Outside of our dinner at Le Bistro, I never felt the ship.
The ship was crowded and at capacity. It would be for a mid-summer cruise. While the staff did an amazing job, they are stretched thin.
Our cabin attendant may no longer be doing turn-down service, but she sometimes worked into the early evening. Sometimes we'd find her servicing a cabin 20 doors down. So, how many cabins do these attendants have?
While the Encore is the sister ship of the Joy, we found the layout of the Encore slightly odd, even with its similarities. Funnily enough, the Joy was designed primarily for an Asian market before being refurbished, making her unique in the fleet, yet we loved the Joy over the Encore.
The ship's bow is open the morning of Glacier Bay when the ship arrives at the first Glacier around 9:15 am.
Hot chocolate and coffee stations, including Irish coffee (extra cost without a drink package), are set up throughout the Waterfront on the day for Glacier Bay.
Although it was a crowded ship, we thought that Norwegian did a great job having multiple dining venues open for breakfast and lunch on days we were at sea. The buffet was not the only choice.
On Disembarkation Day, we had an early flight, so we walked off the ship with our luggage first thing at 7 am. There was already a line on Deck 7 at The Local when we arrived. Once we got clearance, we were off quickly.
Norwegian Encore Freestyle Dailies
Below are the Freestyle Dailies for the Norwegian Encore Alaska cruise. Note that the newsletters were created for the week we cruised, and times, shows, activities, and information listed can and will change at any time.
We share them so you can have idea of what to expect and plan your reservations.
NCL Encore Freestyle Daily – Day 1
NCL Encore Freestyle Daily – Day 2
NCL Encore Freestyle Daily – Day 3
NCL Encore Freestyle Daily – Day 4
NCL Encore Freestyle Daily – Day 5
NCL Encore Freestyle Daily – Day 6
NCL Encore Freestyle Daily – Day 7
Book a Norwegian Encore Cruise
Sailing to Alaska on the Norwegian Encore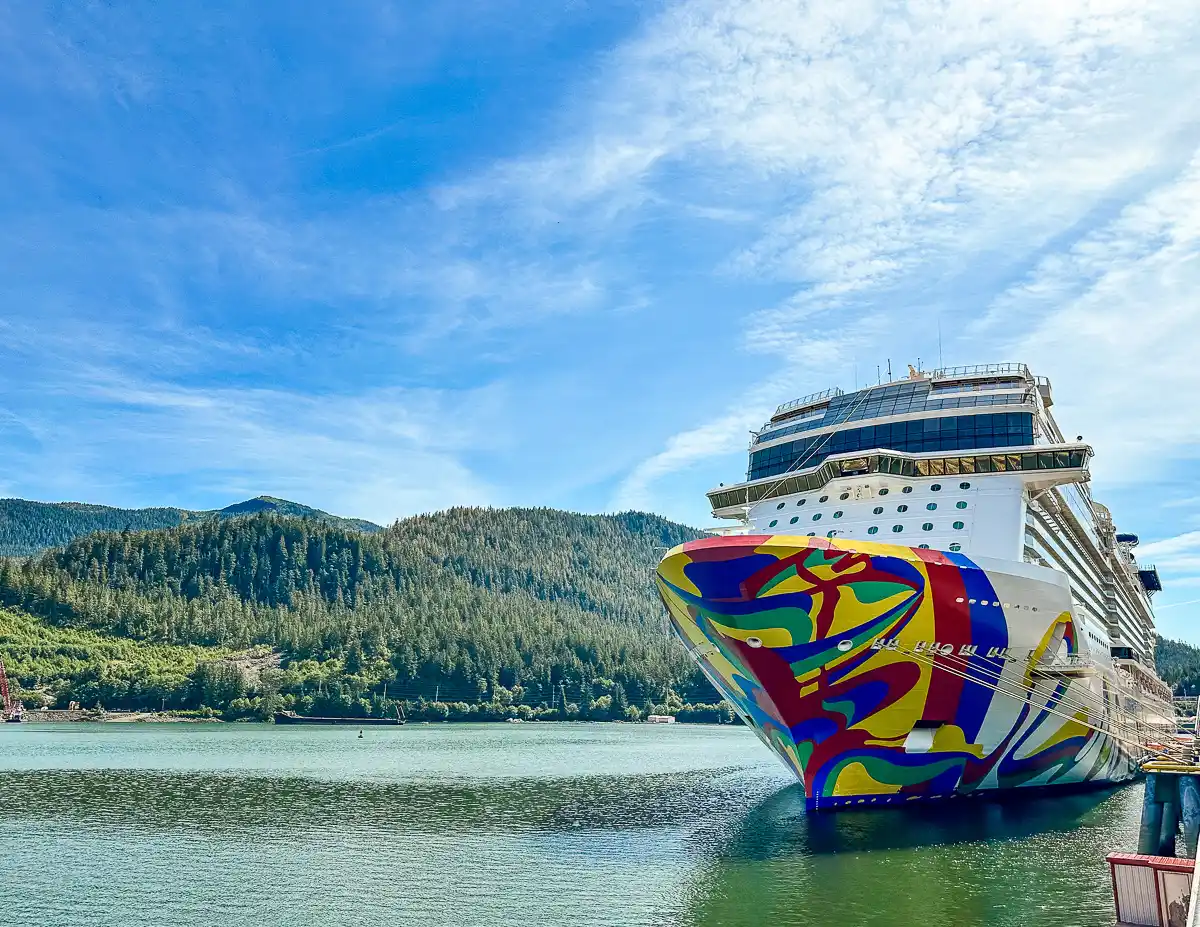 If I didn't write reviews and give honest opinions on my travel experiences, I'd chalk this cruise up as another beautiful adventure in our books. And it still is, but I want to provide an honest Norwegian Encore review and what I learned planning this cruise so that you can plan your best vacation. For some, this is THE TRIP of a lifetime.
First, it's a mega-ship.
Why wouldn't we travel to Alaska on Norwegian Encore again? It carries way too many passengers. Therefore, crowds are more than likely. Especially likely during the summer months.
Second, the short days at port.
If we had to replan this cruise again, I probably would not choose the Norwegian Encore or any of the Breakaway Class ships to cruise to Alaska. A Gem Class ship would be better, with less passengers, longer days on the cruise itinerary, and smaller ships.
Third, NCL docks their cruise ships the farthest away from town.
At every cruise port, Norwegian was the farthest cruise ship docked. We slightly envied Princess and Holland America, always docked at the very front. We will remember that for next time.
I probably won't book a Norwegian ship again because of how far they dock at certain destinations, like in Ketchikan; the ship is 20 minutes from town rather than docking in the center of Ketchikan. One of the biggest complaints I heard from cruisers as we stood in line waiting to get on a shuttle back to Ward Cove.
Although, I was told by a crew member that the NCL Spirit parks right in town. Let me know if you have first-hand experience with this.
Some don't see the point and say it's not a big deal. If you think about the limited time on this itinerary, with half a day or less at a time at a port, 20 minutes, plus the time it takes to line up for shuttles, that's our time that is eaten up. It adds up to an hour or more of our day that we could have used to explore.
Sure, when you go on a cruise, sometimes ships dock away from cities, and we are responsible for getting where we want to go. The thing is that for this itinerary, there are options on both ends. We can choose to book another cruise that is more accessible, or Norwegian can choose to pay more to dock closer in town if the size of the ship allows them to.
Even the NCL Sun was docked next to the Encore at Ward Cove. The difference, at least, is they had a loner day in port because the Encore shares that space with the Bliss that was coming in after we left.
Besides those three points, NCL did a great job introducing us to the beauty of Alaska. Of course, it was our first cruise to Alaska, so we had no other cruise ship to compare it to. Yet.
The Norwegian Encore is a great ship for a Caribbean itinerary. We travel as a couple and don't need all the extras of slides, go-karts, etc, especially for Alaska. It's a different vibe in the Caribbean, and we've enjoyed the other Breakaway class ships in the past – we have also one booked for next year.
We are normally fans of Norwegian Cruise Line. That said, just because we love NCL usually doesn't mean we won't keep it real when things fall short.
For Alaska, next time, we will look for a cruise ship that doesn't carry over 3k passengers and provides a more intimate experience.
However, if you're a family traveling with kids, Norwegian Encore may be suited for you on this itinerary because there are so many activities. You will know best the kind of cruise ship you need to sail on.
Norwegian Encore Review: FAQs
Does Norwegian Encore have an adults-only area?
Yes, the Vibe Beach Club and the Thermal Suite Spa are two areas of the Norwegian Encore ship that are adults only. Special passes are sold the morning on embarkation day; you can sometimes purchase them online in advance.
Does Norwegian Encore have an adults-only pool?
There is a designated adults-only pool on the pool deck of the Norwegian Encore, but the staff never implements it. You will find children swimming in the pool.
What drinks are free on Norwegian Encore?
Norwegian Encore and most NCL ships provide guests with complimentary drinks, filtered water, regular coffee and tea, select juices and milk during breakfast and lunch, and hot chocolate packets.
Premium cocktails, frozen drinks, bottled water still or sparkling, soda, and specialty coffees are an extra cost.
Are you sailing on the Norwegian Encore? Don't forget to add your Norwegian Encore Cruise Review to the comments.
Don't miss these other cruise ship reviews:
Share the tips & love on Pinterest: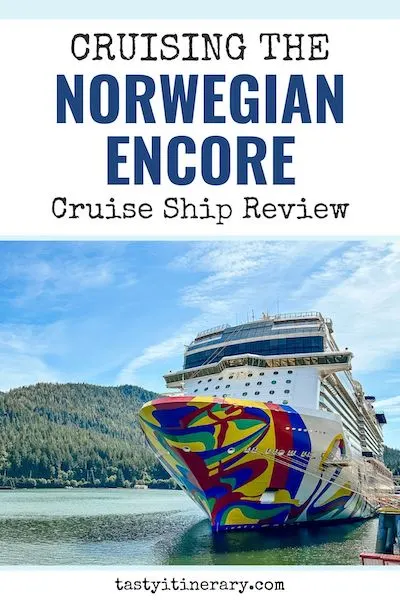 Quick Cruise Planning Guide
Where to book a cruise?
We like to shop around before booking by going directly to the cruise line and checking out the deals on GoToSea, CruiseDirect.com, Costco Travel, and Cruise Compete. Ultimately, the best advice is to find a travel agent you can trust to help you book a cruise.
Hotels for pre-cruise and post-cruise stays
We always use Booking.com or Hotels.com to book international accommodations and Expedia or Hotels.com for US accommodations. Airbnb or Vrbo for vacation rentals.
Can I book my own shore excursions?
Yes, you'll save money booking your own excursions and not with the cruise ship. We like to use Viator or WithLocals. Don't forget to read up on our tips for booking.
Car Rentals
We like to rent a car at cruise ports and for the freedom to explore on our own when the destination makes sense. We also sometimes rent cars during our pre-cruise stay or on embarkation day.
Should I book cruise insurance?
Yes! Cruise insurance is essential. We always book with a third party rather than the cruise line. Compare pricing on Insuremytrip.com.
Packing for a Cruise? Don't miss our essential cruise packing list.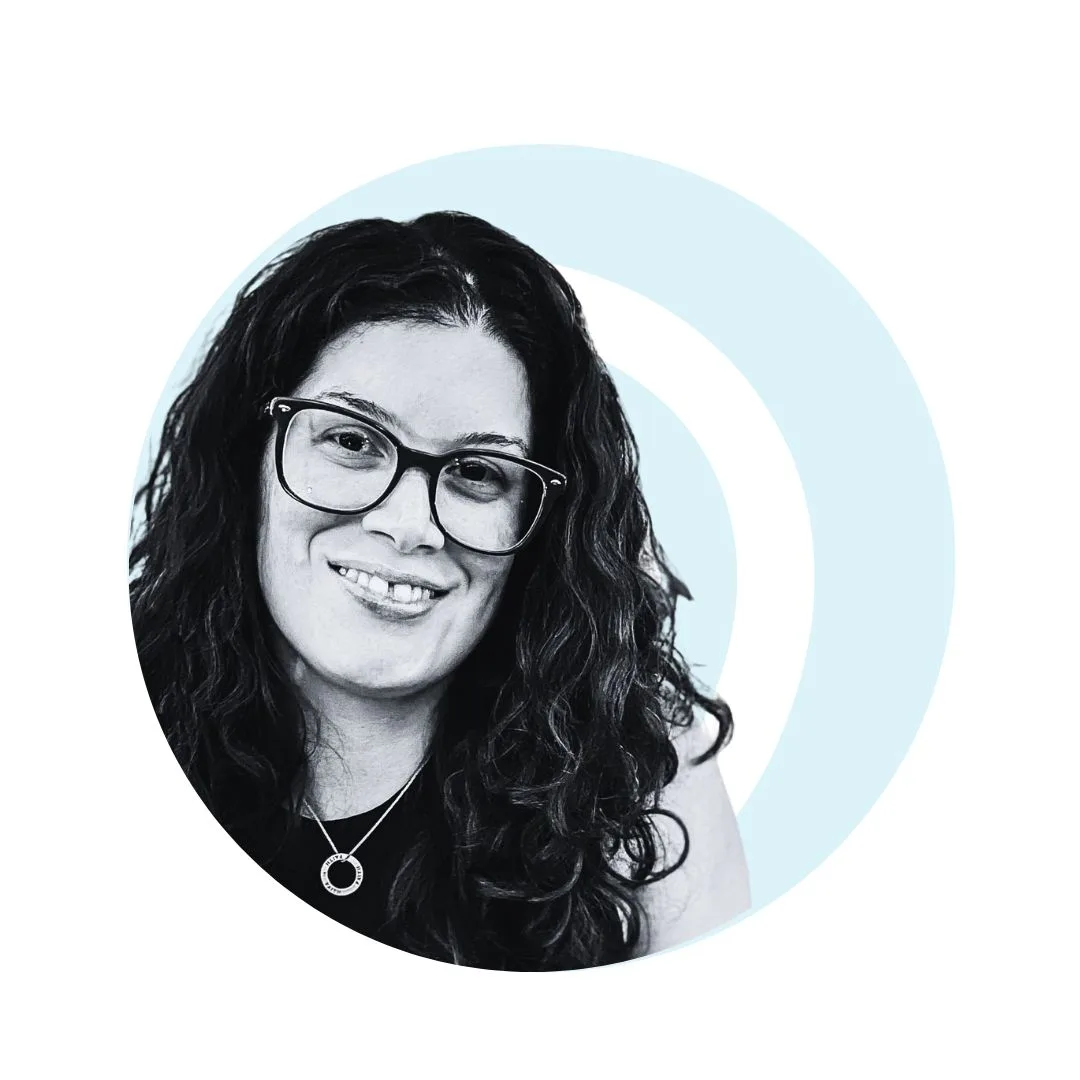 Meet Kathy – a food, travel, and cruise writer based in Los Angeles/Pasadena. With over 20 years of experience planning trips and logistics at her full-time job and for herself, she's become a pro at crafting unforgettable travel itineraries. She's always looking for delicious, fun cruise itineraries and travel destinations and is slightly obsessed with Italy. Her passion and curiosity for travel started in childhood on her yearly and sometimes bi-yearly trips to PR. She firmly believes that life is short and we must make the most of it – so let's explore the world and make some incredible memories.