Eaton Canyon Falls Hike: A Guide to Chasing a Waterfall in Pasadena
9 min read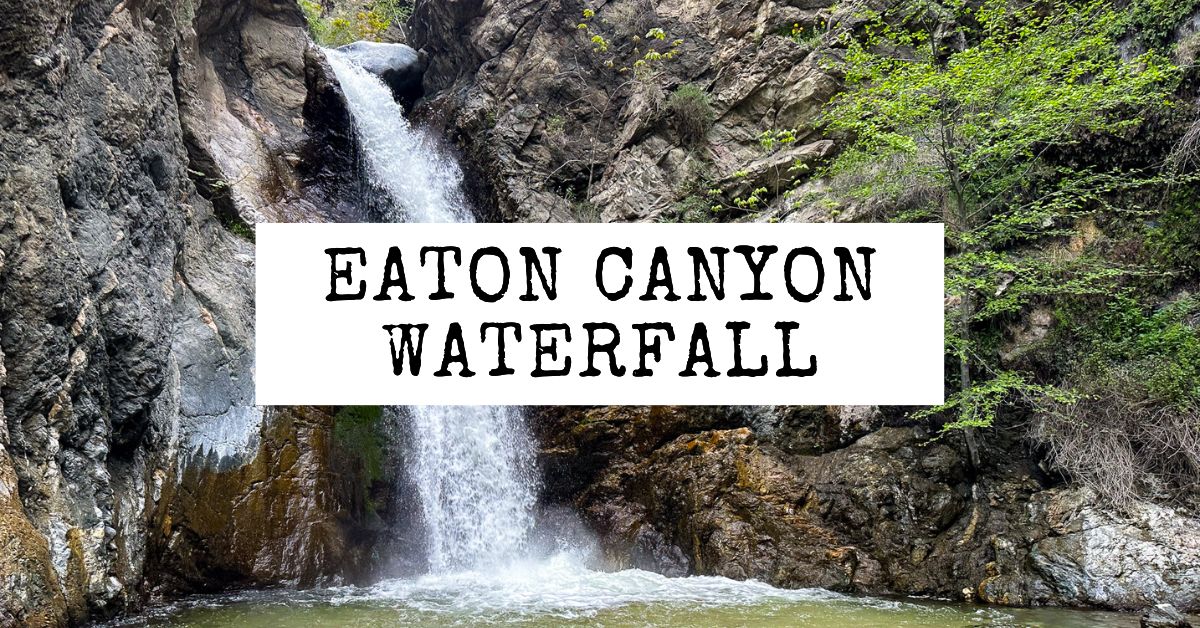 Where is Eaton Canyon Falls? Is the hike to the Eaton Canyon Waterfall worth it?
As individuals who are not avid hikers, Eaton Canyon Falls is one hike we enjoy while living in Pasadena. It's a fun trek with a high reward, especially after a rainy season.
For us, it was multiple high rewards. We couldn't stop talking about the burritos we would reward ourselves with after the hike.
In recent months, we had an influx of rain, and we thought, what better time to hike to the Eaton Canyon Waterfall than now? It felt like the perfect time to chase a waterfall with Spring upon us and the poppies and wildflowers in bloom.
Of course, you can hike Eaton Canyon Falls all year round if the trails are open and considered safe. We've hiked after having Thanksgiving pie, on Christmas morning, and in the middle of the summer.
Eaton Canyon Falls is a beautiful waterfall located in Pasadena, California. The falls are part of the larger Eaton Canyon Natural Area Park, which offers a variety of outdoor activities and stunning views of the San Gabriel Mountains.
The hike to Eaton Canyon Falls is moderately challenging because you have to cross riverbeds that can either be a light stream of water or a strong current, depending on the season and the amount of rain we had during it.
We never know how the seasons will pan out and how much water we will see flowing from the waterfall once we reach it sometimes, but this time with all the rain, we knew it would be a sight to see.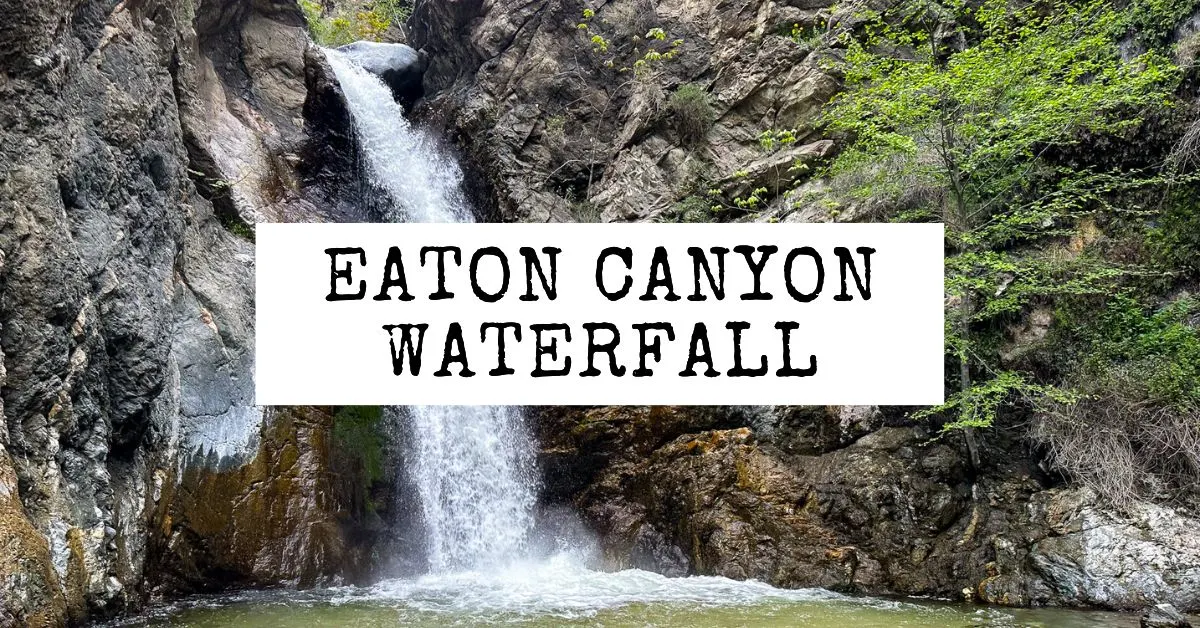 The hike is said to be under 4 miles round trip from the Eaton Canyon Nature Center Parking, but we measured it at 4.15 with a small detour. There are a couple of ways to start your trek to the waterfall by the Eaton Canyon Nature Center, which will lead you to the same destination so you can take your pick.
An Eaton Canyon Falls trail hike from Pinecrest Drive is 1.9 miles round-trip. It is considered a shortcut to the waterfall.
Visitors can expect to see wildlife and plant life along the way, including wildflowers, oak trees, and even the occasional bear.
We saw a bear during a Christmas hike years ago. Warning, don't stop to feed it. Yes, there were hikers t
Once you reach that waterfall, it is breathtaking, especially if it's at its peak. We may have been exhausted from our hike once we returned to our car, but that view and being outside with nature were worth it.
In this article, we share our experience hiking the Eaton Canyon Falls trail, the sights we came across, the beautiful view at the end, and a few tips we learned during our hike.
Eaton Canyon Falls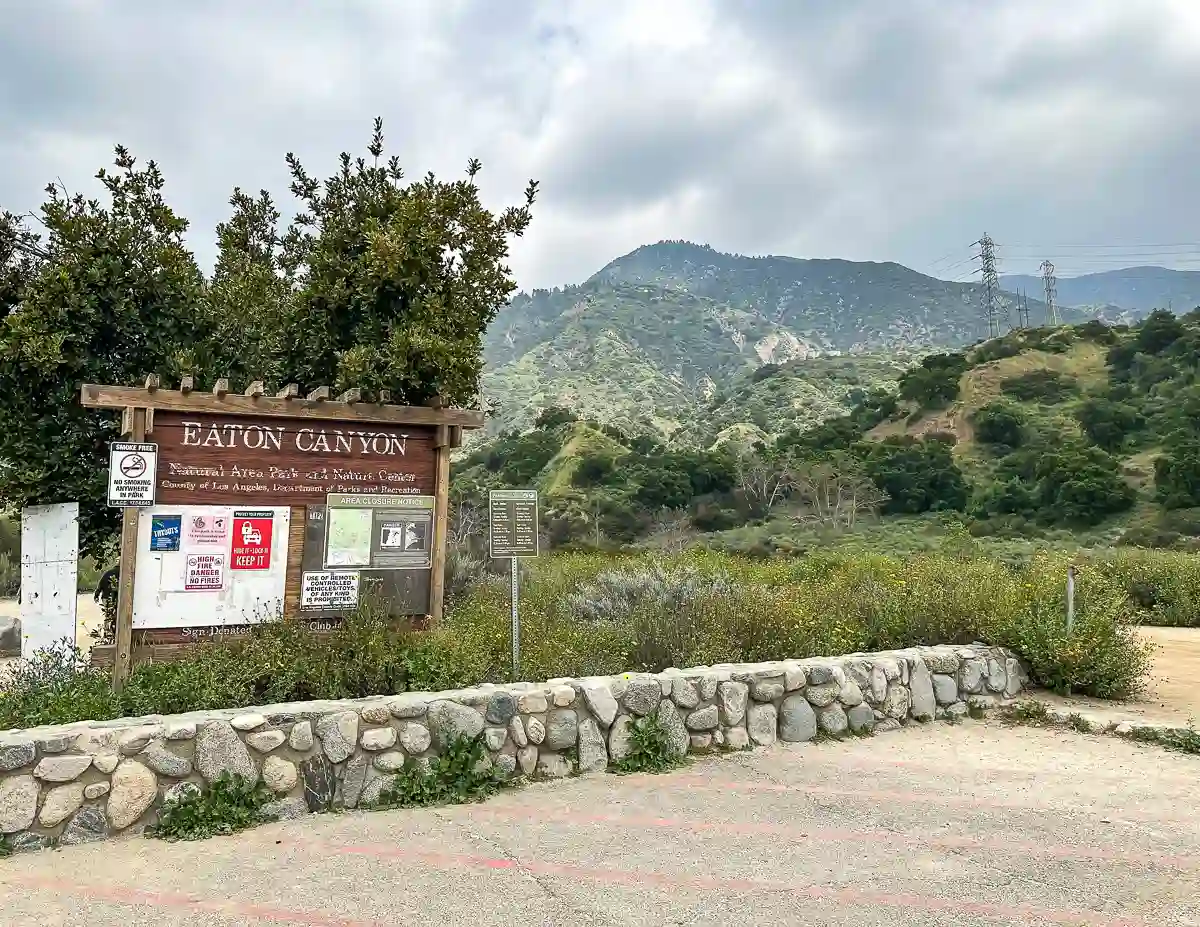 Where is Eaton Canyon Falls?
The falls are in the Eaton Canyon Natural Area Park, part of the Angeles National Forest. The park is situated in Pasadena and Altadena, just off Altadena Drive, and is easily accessible by car. Visitors can park at the nature center and hike to the falls.
Address: 1750 N. Altadena Dr. Pasadena, CA 91001 [Google Map It]
The Eaton Canyon Nature Center is also in the park and offers visitors information about the area. The center is a great place to stop before or after a hike to the falls.
Open Hours
Eaton Canyon Nature Park is closed on Mondays.
Open from Tuesday to Sunday from March 31st to October 31st, 8 am to 7:30 pm.
Open from Tuesday to Sunday from November 1st to February 28th t, 8 am to 5:00 pm.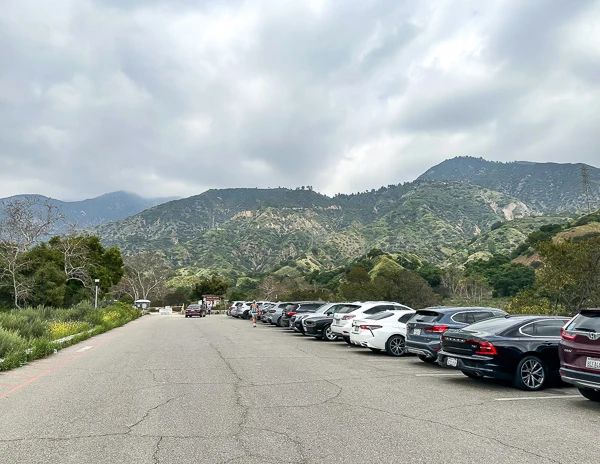 Where to park for Eaton Canyon Falls?
There is free parking at the Eaton Canyon Nature Center and street parking outside the center. Limited street parking is available if you take the shorter trail that starts at Pinecrest Drive.
How long is Eaton Canyon Falls Trail hike?
The hike to the falls is a moderate 4-mile round trip, with an elevation gain of about 400 feet. The trail is well-maintained and offers stunning views of the mountains and canyons.
It is important to note that the trail can be steep and rocky in some areas, as well as wet, depending on the current of the river beds. So you should wear appropriate footwear and bring plenty of water.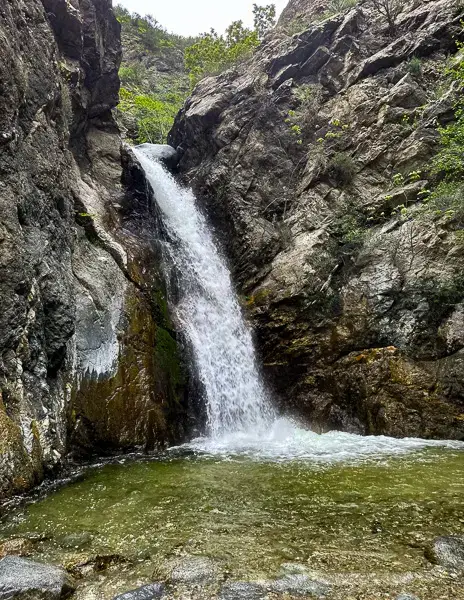 Is there water at Eaton Canyon Falls?
Yes, there is water at Eaton Canyon Falls. The amount of water you'll see depends on the season and the rain we've had. During rainy seasons, you can expect a larger water flow from the waterfall. If there is drought, expect just a drizzle or none at all.
Is Eaton Canyon dog-friendly?
Yes, Eaton Canyon is dog-friendly. Dogs must be leashed and well-behaved at all times. We passed many dogs along the trail, and it was such a joy to see them happily frolicking in the streams. Don't forget to pick up after your pet when they do their business.
Is Eaton Canyon Waterfall Crowded?
The Eaton Canyon Waterfall can be crowded, especially on weekends and beautiful sunny days. We recommend getting there early to beat the crowds or late afternoon.
When we last hiked there, it was an overcast day during the week and later in the day. By the time we reached the waterfall, we had passed everyone lounging at the falls and making their way back. We got lucky and arrived at an empty waterfall. It was glorious!
Hiking to Eaton Canyon Waterfall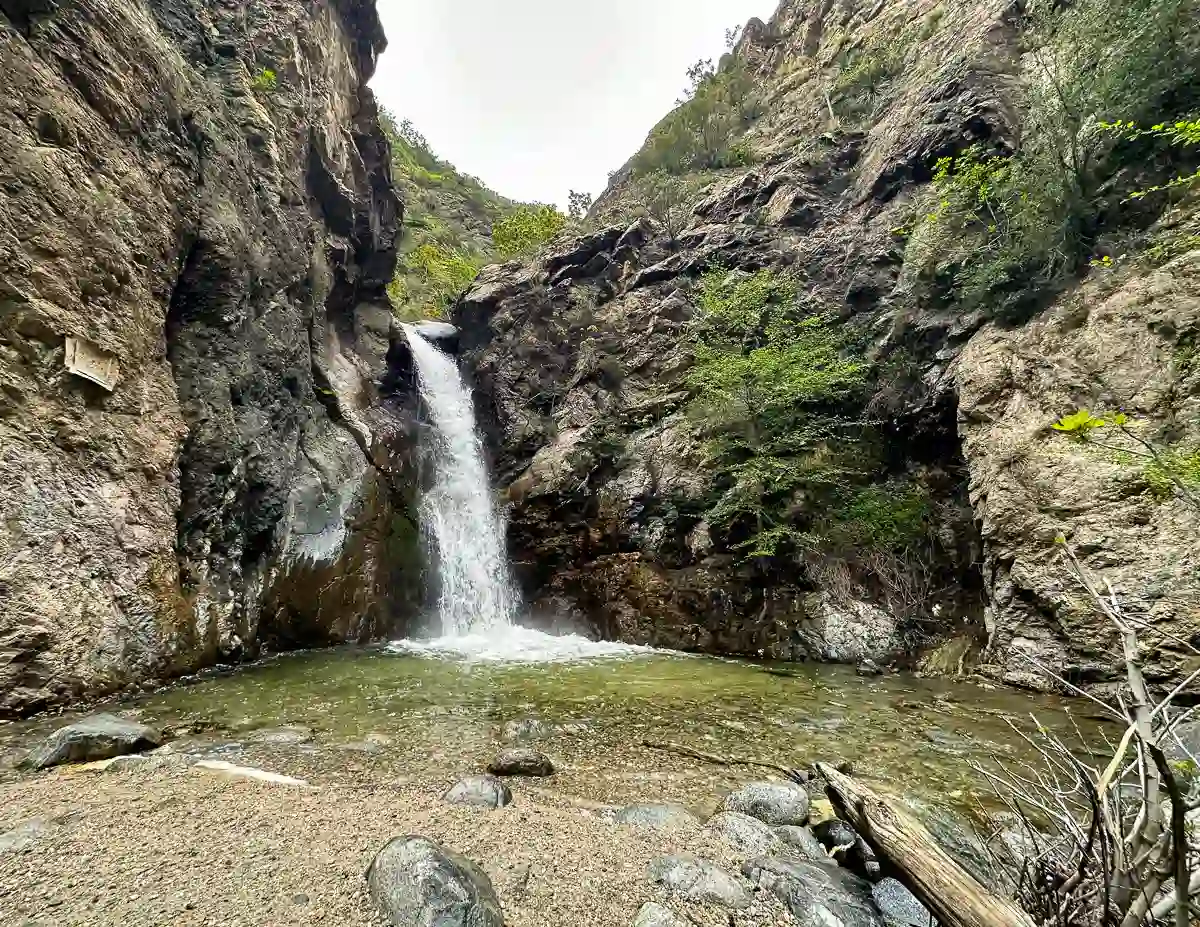 How to get to Eaton Canyon Falls?
To get to Eaton Canyon Waterfall, there is more than one way to get to it.
There is the popular main path that starts past the entrance from the Eaton Canyon Nature Center. This one keeps you on a flat dirt path until you reach the river bed to your left.
A trail that starts near the Eaton Canyon Nature Center keeps Eaton Creek on your right. We call this the scenic trail because it's less flat and has more to see than the main path on your way to Eaton Creek.
Then there is the shorter trail that starts from Pinecrest Drive gate.
No matter which way you decide to go, you will end up at Eaton Creek, crossing it multiple times until you reach the waterfall.
The Eaton Canyon Falls Trail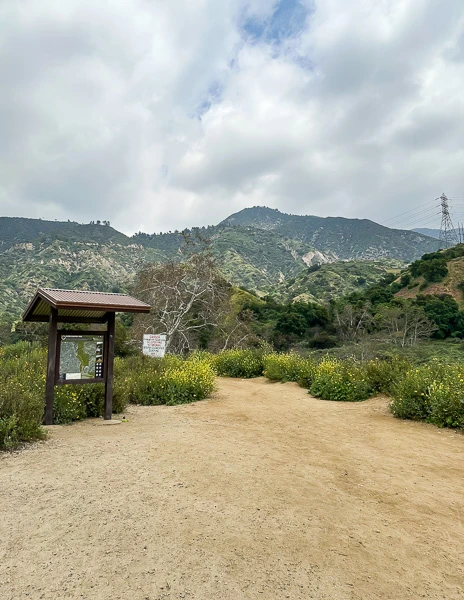 The Eaton Canyon Falls trail we will explore today is the main path that starts when you enter the nature center parking lot. You'll want to stay to your right and pass the sign with the outline map. Continue onto the dirt path.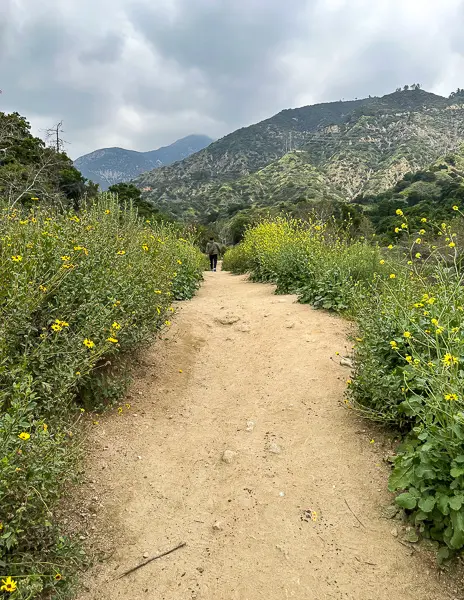 If it's Spring, you'll be delighted by all the wildflowers. And if it's been raining, you'll hear water streaming through the creek on your right. There are smaller trails from here that you can explore further, and then you can turn back around to continue onto Eaton Canyon Trail.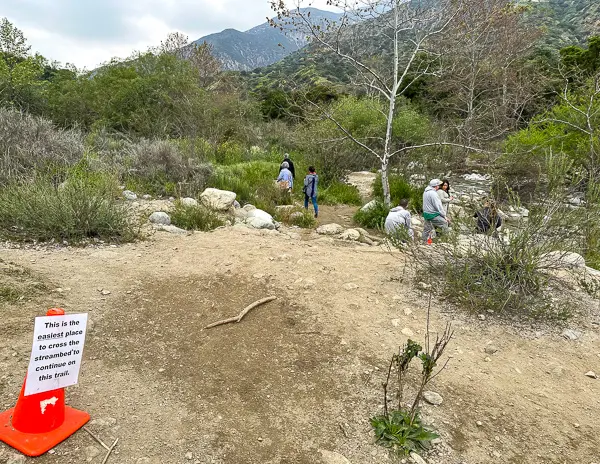 At the end of this path, you will come to a crossing. Most times, when it hasn't rained a lot, this is just a rocky dirt path we walk across. This time there was a stream and a sign that told us where to cross best. Once you cross, you'll be on the wider dirt trail.
Optional: If you're standing at this sign and stream, look behind you. There is a sign that says nature reserve. A trail starts at the top of that short climb to your right. That is trail #2, which we like to call the scenic trail.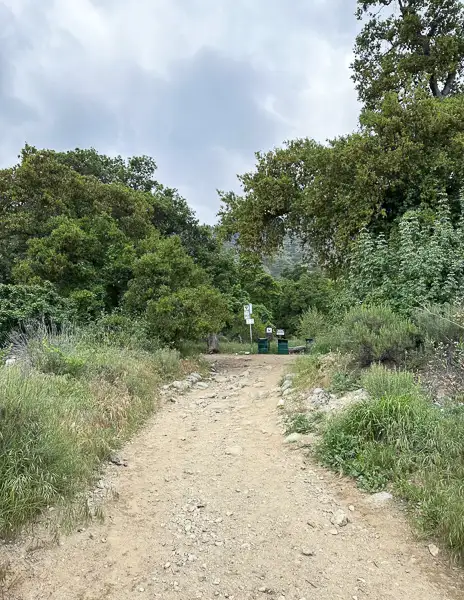 Stay to your left as you enter this wider dirt road. So you'll want to make a left at the end where the trash cans are.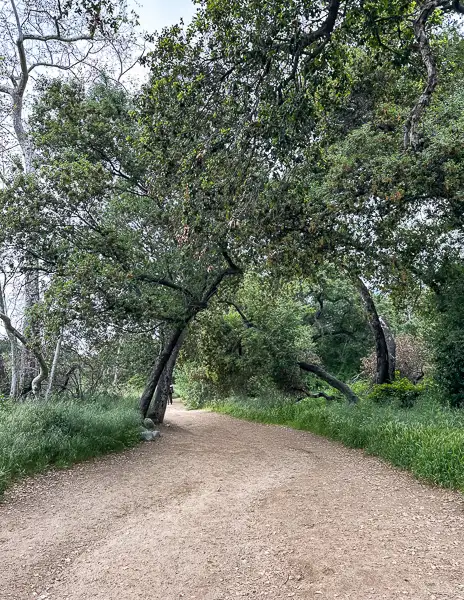 Continue on this wider dirt path, not taking any detours or other narrow paths you come across. There will be signs pointing you to different trails and mountains that you can ignore until you reach a fork in the road with a sign that reads Eaton Canyon Falls 1/2 mile.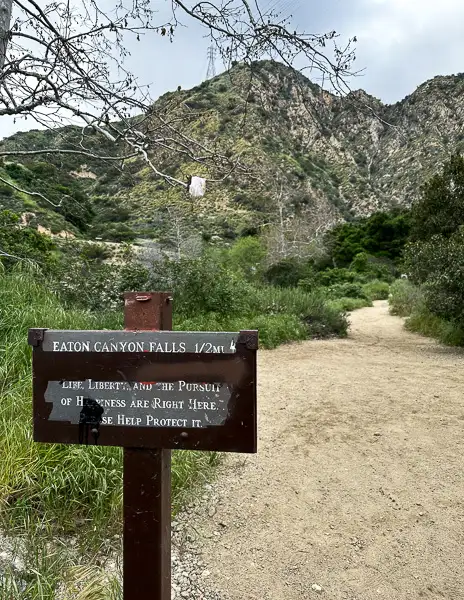 Stream Crossings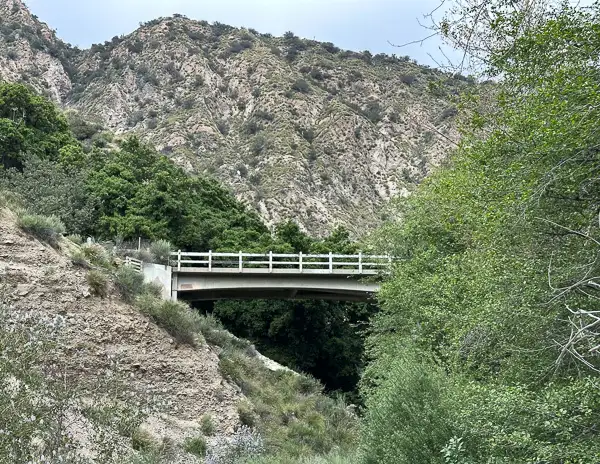 Further past this sign, you'll start to gear up to cross the rocky stream beds about 4 times to the waterfall, not counting the times you'll have to cross it back. You must cross these streams and climb over some rocks and small hills to get from one stream to the next.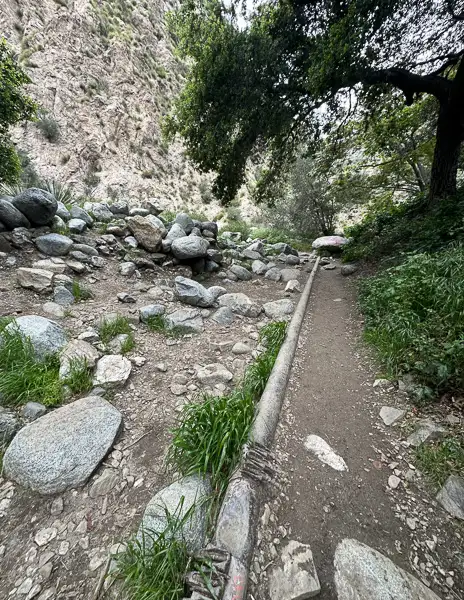 The water levels can vary depending on the time of year and recent rainfall. It is important to exercise caution when crossing the streams, especially during times of high water flow. Waterproof shoes or sandals are recommended for those who want to keep their feet dry.
We took off our sneakers once, and then we gave up after the first time, realizing there was no way to cross without getting wet. Plus, stopping to take off shoes to go barefoot takes time and can be dangerous if you don't know what you're stepping on.
On this hike, sometimes the stream reached up to our knees, specifically as we got closer to the waterfall. In past hikes, we barely ever got wet because the flow was weak and not as strong.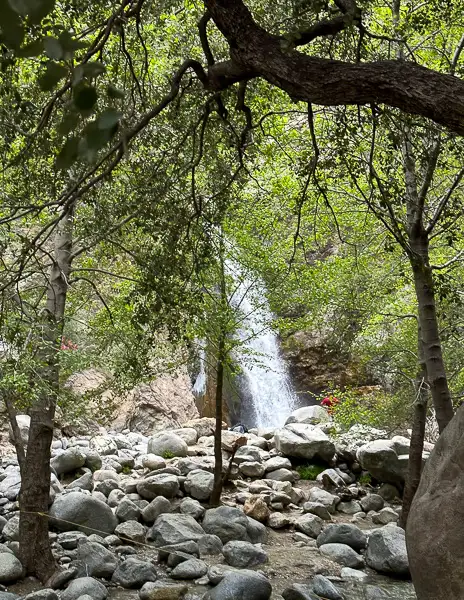 Once you cross the last stream and round the corner to see the falls, you forget that your feet are wet and that the trek was a little more challenging than expected.
Eaton Canyon Water Fall Up Close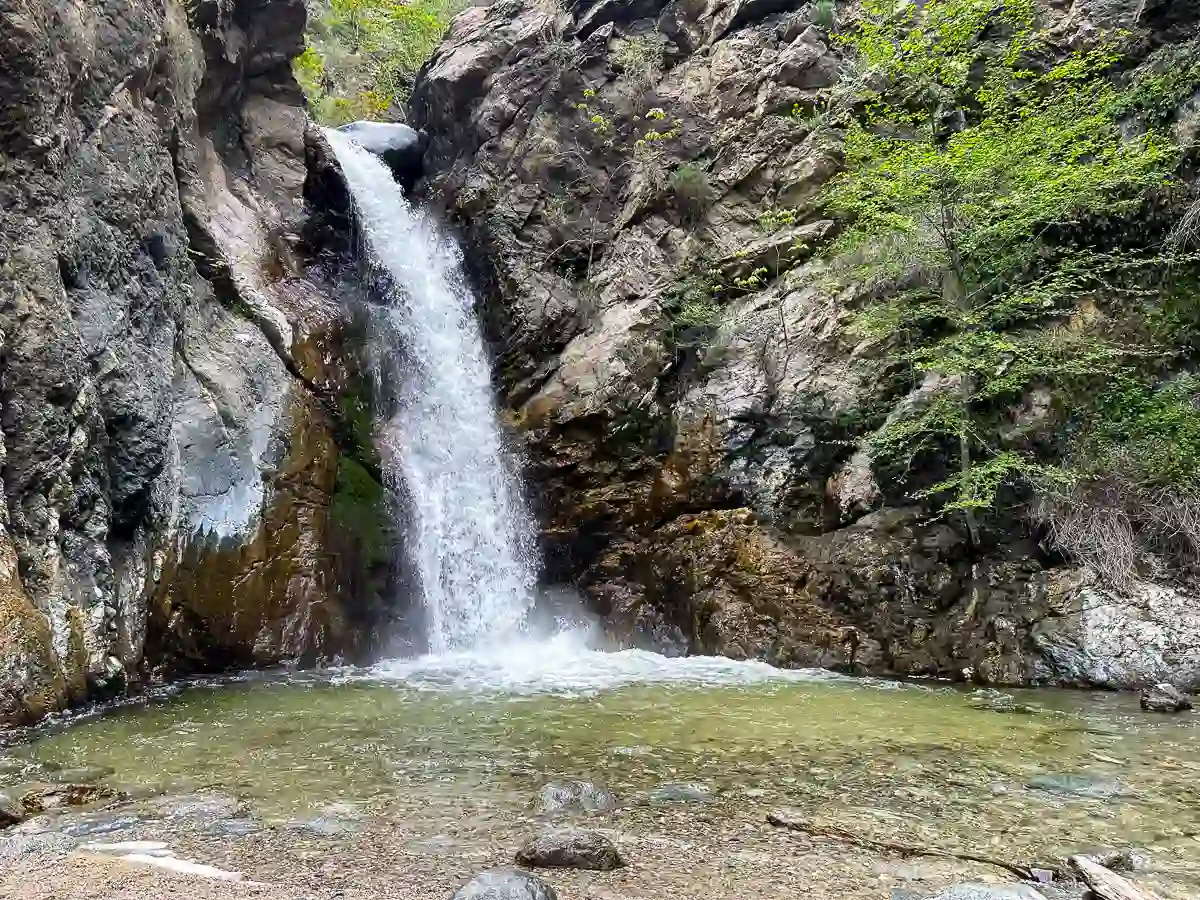 In the past, reaching the Eaton Canyon Waterfall was always a surprise when we reached the end. How much water will there be? This time, everyone on their way back kept telling us that the waterfall was at its best and encouraged us to keep going on the trail to reach it.
This is just another warning that you may see it with this strong flow, or you may not.
The waterfall is about 40 feet high along steep rocky walls. Sometimes, a trickle of water cascades out of it and, other times, a full flow after a rainy season. While you're standing near it, the mistiness
There is a large pool of water at the bottom where people sometimes go in to cool off their feet or let their dogs frolic in, but swimming in the pool is prohibited. Since it was late in the day, we had the waterfall to ourselves for about 5 minutes until someone else joined in.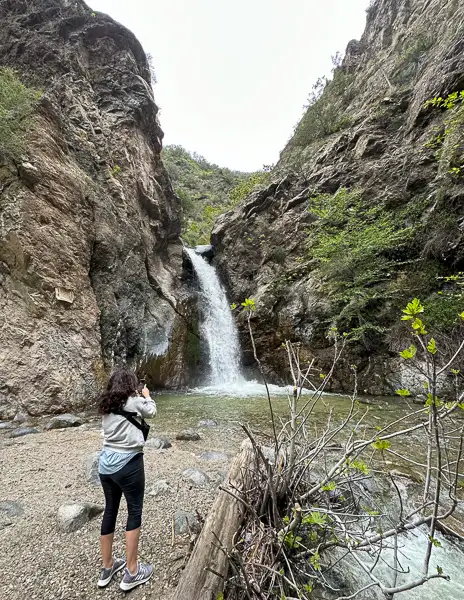 While standing near it, the mistiness from the falls hitting the water cools you off on a warm day. On a cooler day, you'll want to wear a light sweater.
The area is cliffed off, and there is no way to climb the waterfall. You can't even hike to the top of the waterfall if you want to because it's been closed off due to safety reasons.
People here will stop to gather for impromptu picnics or drink from their water bottles and enjoy the scenery before turning back around. Just make sure not to leave any trash behind.
We admired the waterfall and returned the way we came from, crossing 5 streams until we were back in the parking lot.
We chased our waterfall. Now it was time for our burritos.
Tips for Hiking Eaton Canyon
Best Time of Year to Hike Eaton Canyon Falls Trail
Fall and Spring is the best time of year to hike the Eaton Canyon Falls Trail. Summers can be very hot in this area. Winter can bring cooler temperatures and sometimes snow if there is a lot of rain and the temperatures have dropped.
Parking
Arrive early to secure a parking spot at Eaton Canyon Natural Area Park. On busy days, the parking lots fill up quickly, and visitors may have to park on the street. Read and follow all parking signs to avoid getting a ticket.
What to Bring on the Hike
Visitors should bring plenty of water, snacks, a light sweater, and a hat. Wear sturdy hiking shoes, waterproof sneakers or shoes, or sandals, like Teva. Trekking poles may be helpful, especially when crossing the stream.
Wear Sunscreen
Even if it's overcast, wear sunscreen.
Check the Weather
Check the weather forecast before heading out to Eaton Canyon Falls. The trail gets closed after rain because of rain due to the risk of flash floods.
Share the tips & love on Pinterest: