First-Time Visit to The Color Factory in NYC
3 min read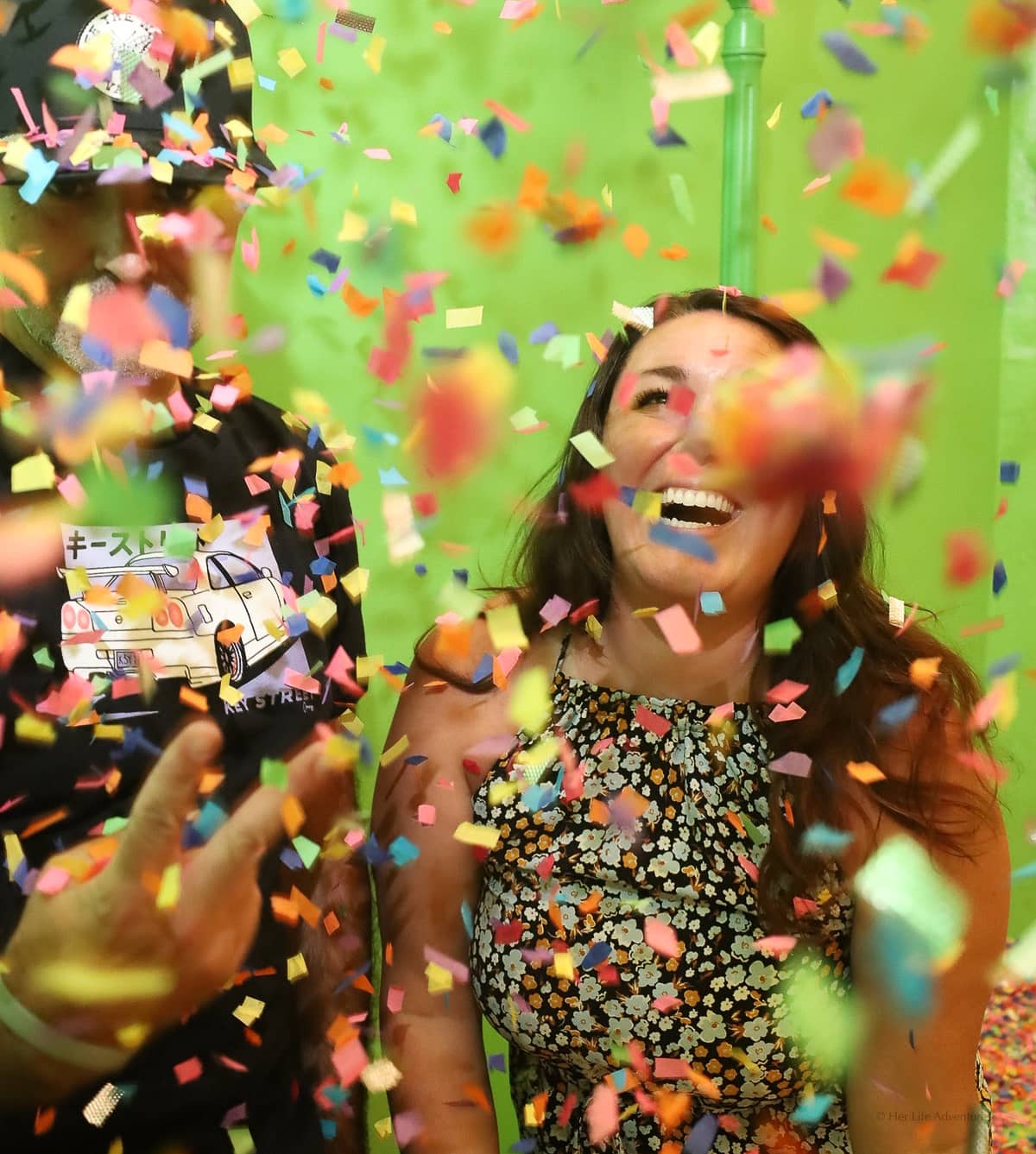 My first visit to The Color Factory in New York City was just as interactive, and colorful as I imagined it would be. I expected immersive art exhibits as stunning as they are colorful – and I wasn't disappointed. The Color Factory is fun for all ages, even Logan enjoyed it! On our visit through the museum, you can see the many shades of the city – from the bright yellow of a taxi cab to the dark red of a slice of pizza.‍ Each visit to Color Factory includes surprise giveaways, sweet treats, and complimentary digital photos to capture all the best moments from your experience.
How much does it cost to visit The Color Factory?
Weekdays $39 USD
Weekends $45 USD
The Color Factory was just a few blocks away from our hotel, so we headed over there as early as we could. Thankfully the museum wasn't too busy so we were able to get some nice photos without other people in them. As we entered the first exhibit, there was a macaroon conveyor that I did not take advantage of… looking back I wish I had tried more than one 🙂 but I was just too excited to head into the museum.
So excited in fact, that my single macroon took center stage in the second exhibit because we had no idea how else to pose. Logan just hid haha. We didn't know what to expect as we made our way from room to room throughout the museum.
The Color Factory – Smell exhibit
The next room was a tunnel of color with slotted screens sticking out – each one smelt different. From wacky scents like pavement and rubber gloves to some that were just plain gross – like garbage, skunk, and car tires. It was pretty unique, and I still wonder how they were able to capture the scents so well. After a spring air whiff, I finally decided to eat my pistachio macaroon.
The Color Factory – Sound Exhibit
As we continued onward, our senses were once again stimulated – this time by sound. Each pillar of color was topped with xylophones of different tones that you could bang with mallets. The room was also filled to the brim in color.
The Color Factory dance room
After your musical debut, you're given a set of headphones to enter the dance room. This was one of my favorite spaces. So. Much. Glitter. There was a camera in this exhibit that made GIFs, which we didn't know until we got our pictures back haha
the Color Factory – circle Room
As we headed into the next exhibit we came across platform circles with cameras on top of them. Stand on them, sit, or lay – you're sure to get some cool photos.
The Confetti Room
Easily my favorite exhibit in the entire museum – the confetti room at The Color Factory is just so much fun. I felt like a kid again, throwing the confetti at Logan and making a big mess of it all. It was great.
The treat room
With all the confetti throwing, music playing, and dancing – you deserve a treat. This exhibit had a rainbow of flavored salt water taffy for you to choose from. Once again, I was too excited to eat mine so I chose one and put it in the backpack for later… where Logan ate it. I knew I should have grabbed more than one!
The Color Factory – City Room
This room was constantly changing colors, turning it into a disco!
the ball pit
The last exhibit was a giant blue ball pit. The children loved it, especially the slide. Logan didn't want to join so I threw balls at him haha overall we had a great experience at The Color Factory. I highly recommend it if you're in New York City one day.
If you enjoyed this article,

PIN IT!

and share it on social media!
Related