How to Visit Copenhagen in One Day
14 min read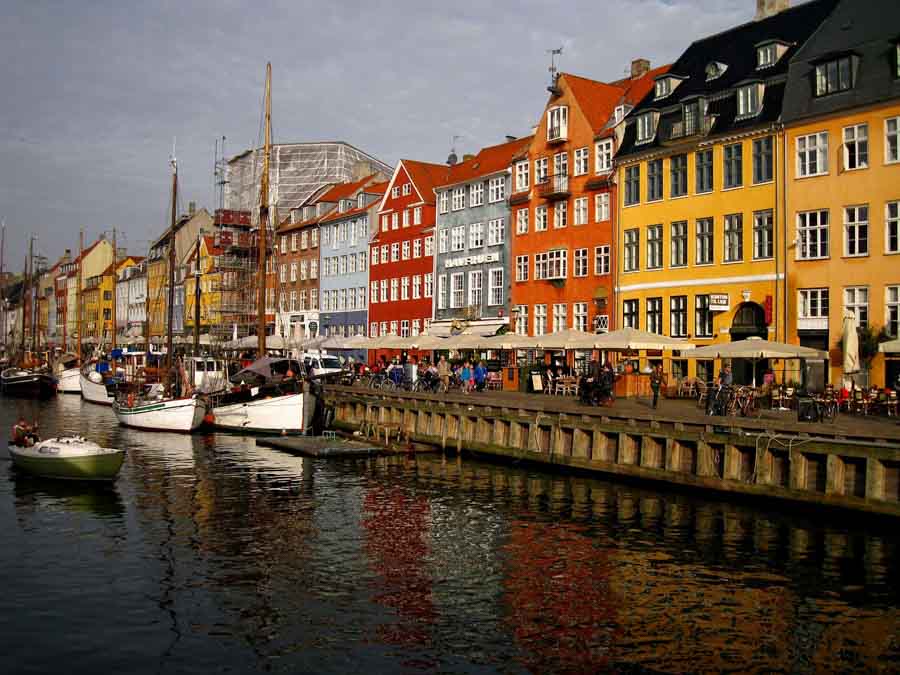 Copenhagen is considered Scandinavia's most fun-loving capital and one of the happiest places in the world, according to the 2023 World Happiness Report. Whether you tour Copenhagen for one day or more, the first thing that will strike you when you arrive is how well this society works! It has a sense orderliness and general calmness that makes you feel safe and relaxed.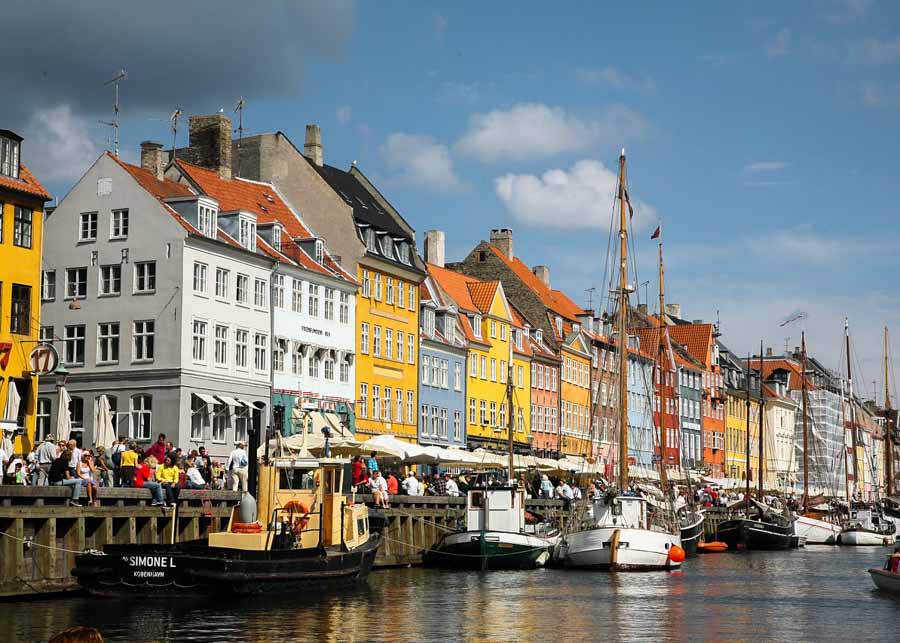 The city seems to have a bit of everything: brightly colored buildings – both modern and historic – interesting museums, good public transportation, delicious foods, and so much more. So if you are planning a short visit to Copenhagen, this an itinerary that highlights the best things to do here when time is short.
Is One Day Enough for Visiting Copenhagen?
Copenhagen –the capital of Denmark– straddles two islands: most of it is located on Zealand Island while a small part is on Amager Island. When compared to other European capitals like Stockholm, Paris, or Budapest, the city is quite compact.
Ideally you should spend at least two-three days in Copenhagen in order to explore it properly. However, with a well-planned itinerary you may be able to visit the city's most important attractions, do a canal cruise, sample some smørrebrød, and even relax at Tivoli Gardens!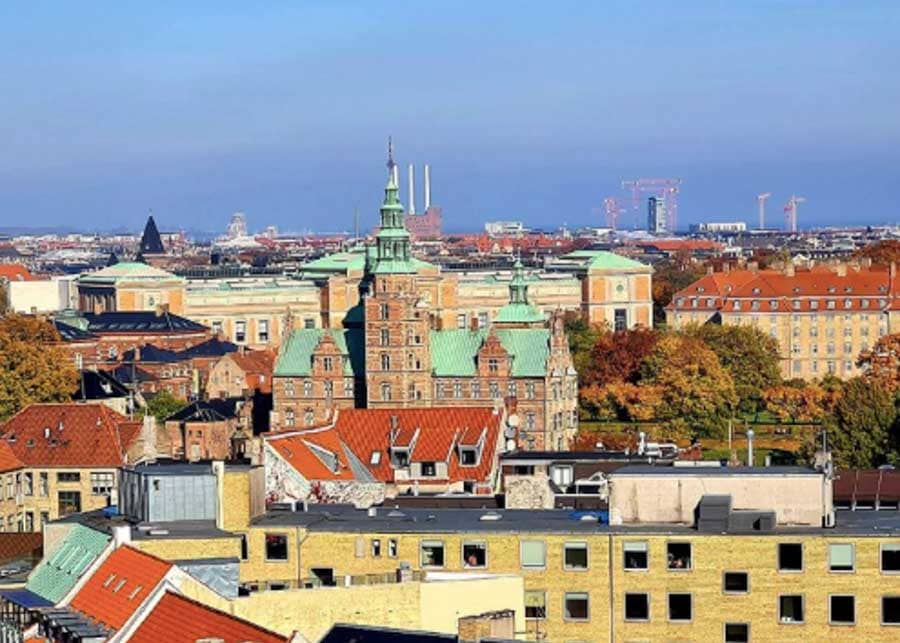 So if you have a long layover in Copenhagen, or can squeeze in a day into a larger European Itinerary, I encourage you to do it. You won't regret it!
Getting Around Copenhagen
By Bike
Copenhagen has a bicycle culture, so you can rent bicycles just about anywhere. A staggering 50% of the locals commute to work by bike. No wonder bikes outnumber cars in this city! In such a bike-friendly city, renting a bike is obviously the best way to ger around.
However, bikes are not always the ideal mode of transportation. Especially when the weather is cold, or rainy. So if you don't want to go around on bike, there are some other options.
By Public Transportation
Copenhagen has a modern and well organized public transportation system that features metro lines, busses and an easy-to-navigate train network (known as the S-tog). You could also use Taxis which are plentiful, but rather expensive.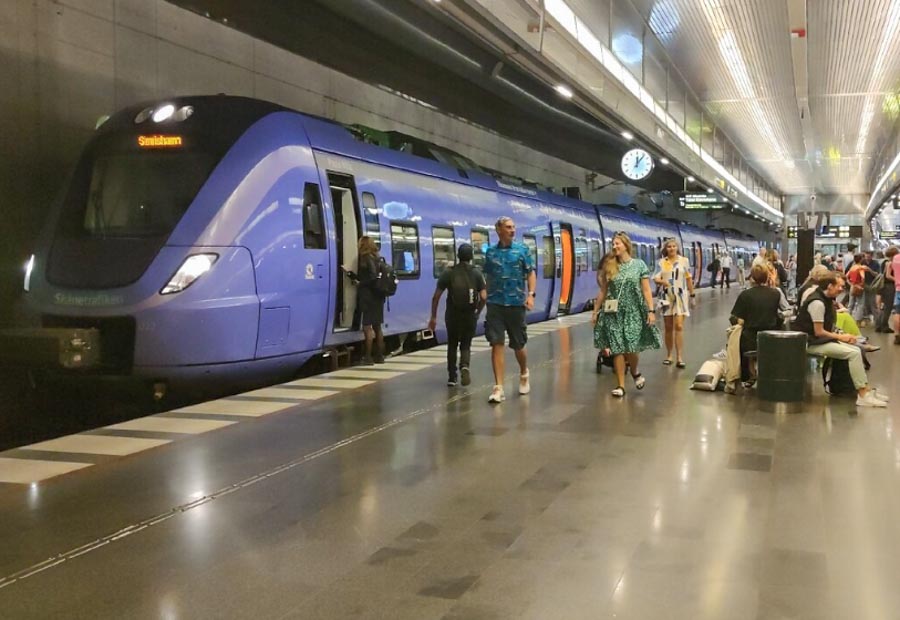 Buses and the metro are available 24 hours a day, but trains operate only from 5:00 am to 12:30 am. The cost varies by the number of zones you travel in, but starts at 24 Kroner ($4) per adult and 12 Kroner ($2) per child 15 and younger. But if you purchase a Copenhagen Card, you'll get free rides on buses, trains and metro.
By Walking
The good news is that Copenhagen is not really that big. Besides, the city's most important landmarks are within walking distance from each other. Also, many of the streets in the downtown area (Indre By) are pedestrian-only, so it's easy to walk around.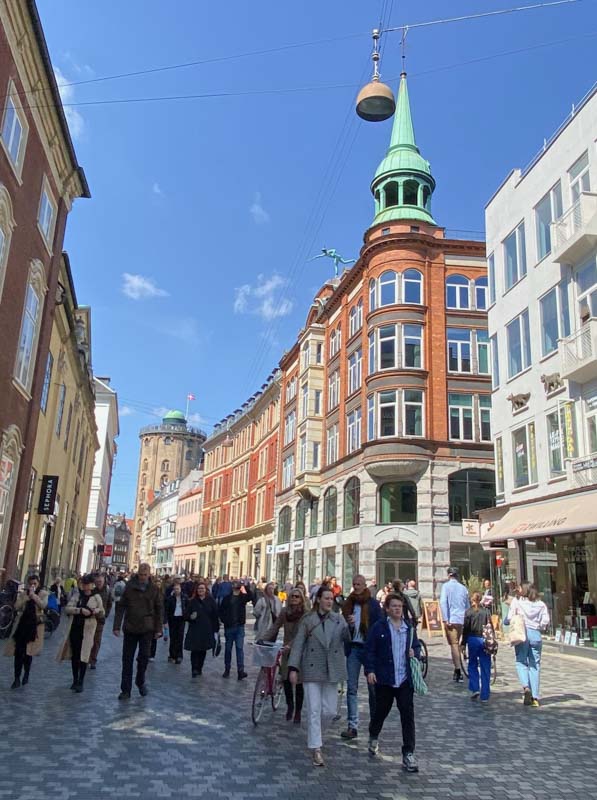 We were able to accomplish this Copenhagen itinerary on a self-guided walking tour, so we believe most people can do that too.
By the Hop-On Hop-Off Bus & Boat
One of the most convenient ways to visit Copenhagen is with the Red Sightseeing Hop-On Hop-Off Bus & Boat Option. The 24-hour ticket includes a combination of bus and boat that that allows you to see the highlights of Copenhagen both by land and by sea.
You can stop and explore the areas that interest you most, or simply stay on the bus (or boat) and listen to the audio guide.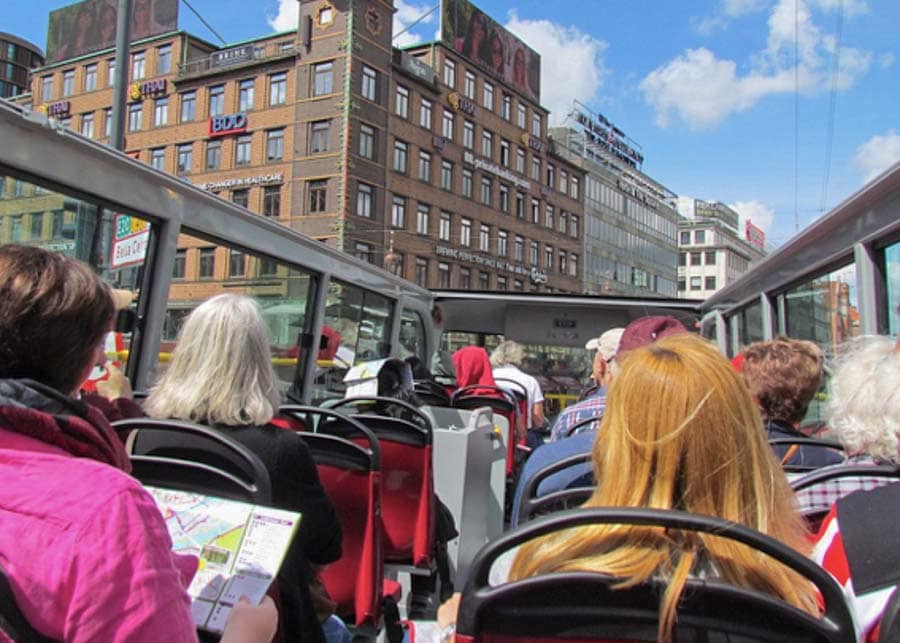 The 24 hour bus & boat combination costs $33.14/person and includes an audio-guide, Wi-Fi, and one-hour boat tour.
NOTE: Hop-On Hop-Off Bus tickets without the boat tour option can only be purchased for 72 hours. The cost is $30.95/person.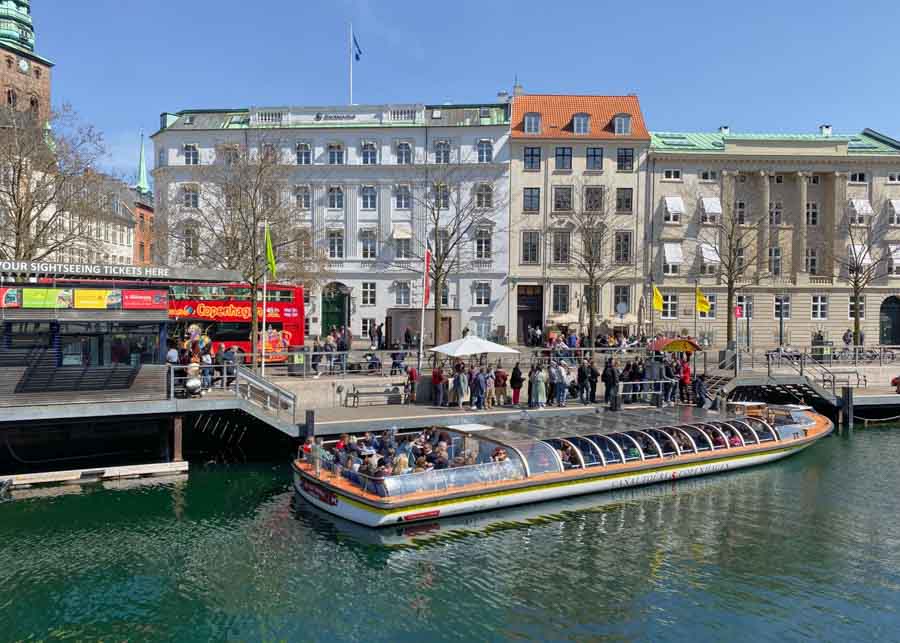 Copenhagen Card – Is It Worth Buying for One Day Only?
We usually buy City Cards only if we have at least 2-3 days in a city. However, in this case we found the Copenhagen Card to be totally worth buying, no matter how many days you plan to spend here. Here is what the card features:
Free access to 80+ attractions in the city and the entire Capital Region
Unlimited public transportation (in zone 1-99)
Canal boat tour (only with departure from Gammel Strand)
Free transportation to and from the Airport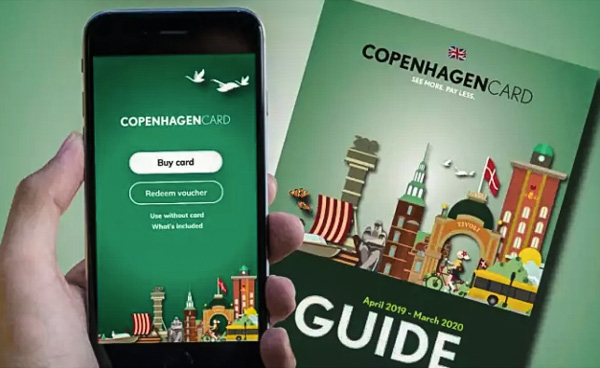 The card is available for 24, 48, 72, 96 or 120 hours, is 100% digital and works through an app called "Copenhagen Card City Guide" which can be downloaded either through the App Store or Google Play. The cost is DKK 459 ($68). Once you have purchased your card (see below) you can redeem it in the app.

Best Things to Do in Copenhagen – One Day Itinerary
There is so much to see and do in Copenhagen besides visiting The Little Mermaid and Tivoli Gardens! The city has top-notch museums, interesting historical sites, beautiful castles, and Michelin-starred restaurants. But one day is not enough for everything that Copenhagen has to offer, so here is a realistic itinerary that you can easily accomplish in a day.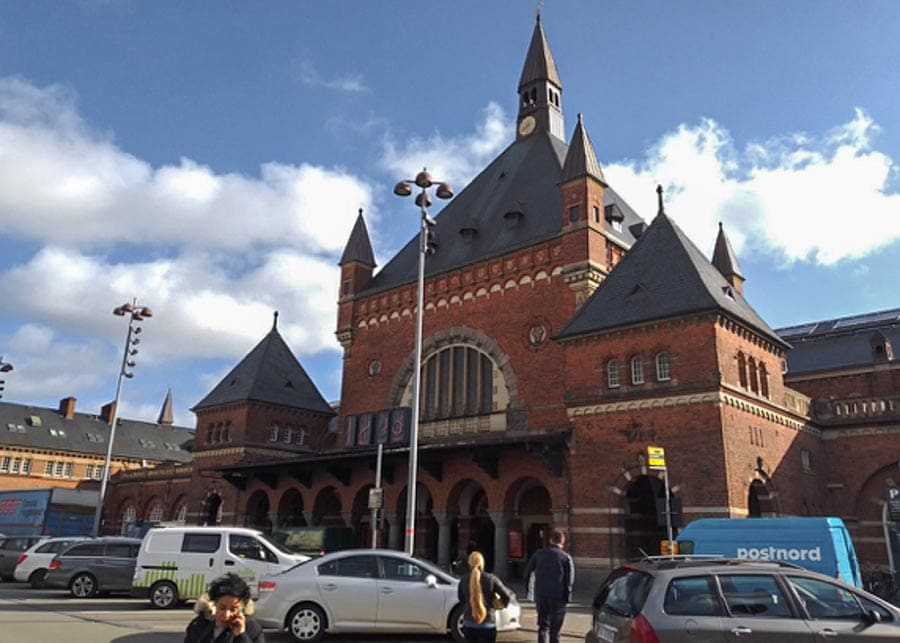 Start Your One Day Itinerary at Copenhagen Central Station
Located in the heart of the city, between the districts of Indre By and Vesterbro, Central Station is the gateway to all public transportation in, out and around Copenhagen. What makes it the perfect place for starting visit is that no matter where you are coming from you'll end up here, whether it's from the Airport, from other parts of town, or by train from another European city.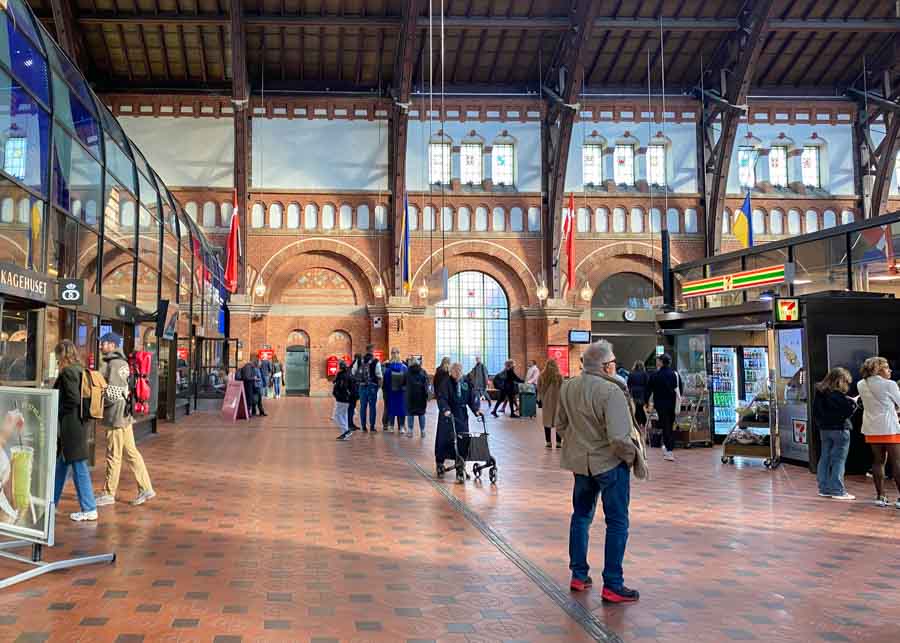 Also, Copenhagen Central Station is situated within walking distance of many attractions, like Tivoli Gardens, Glyptoteket, or Strøget.
Visit the Tivoli Gardens
From Central Station walk straight to the Tivoli Gardens, which is about 500 meters away (just a few minutes walk). This is one of the oldest theme parks in the world, which supposedly served as inspiration for Walt Disney's own Disney World.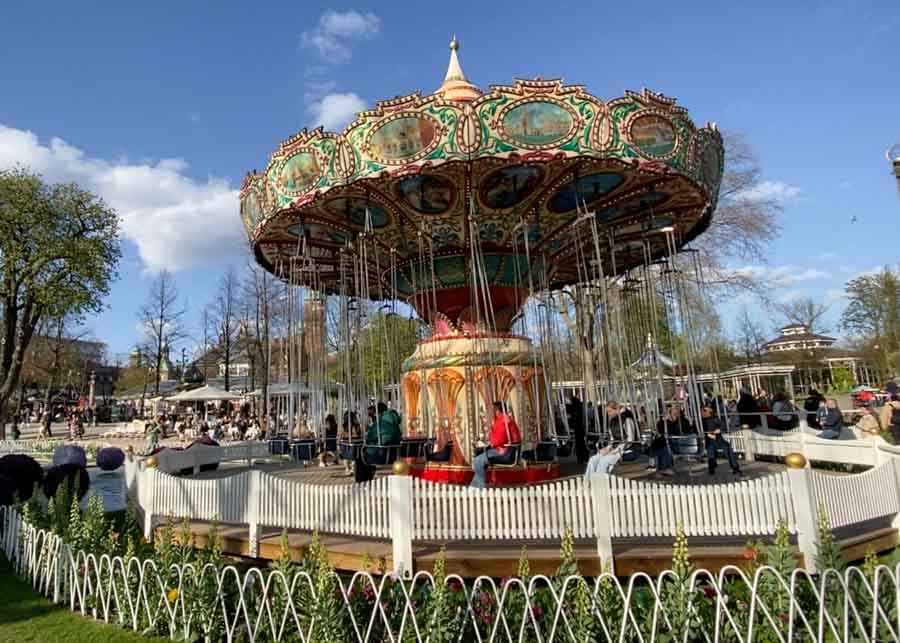 The park has something for everyone, from beautiful scenery and lush vegetation, to exotic architecture and rollercoaster rides. There is music in the park every single day and even special musical events during the summer. So whether you come for the gardens, music or rides, you'll have a blast here!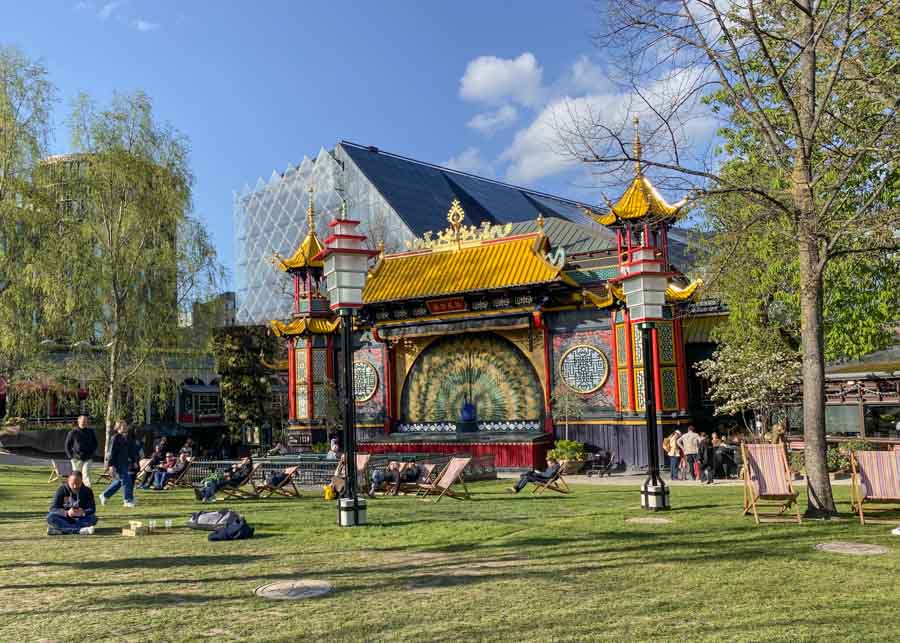 Tivoli is best known for its wooden roller coaster, Rutschebanen, which dates back to 1914. This is one of the world's oldest wooden roller coasters that is still in operation today.
At night Tivoli Gardens lights up with thousands of colorful lights that create a fairytale atmosphere.
When it comes to food, Tivoli Gardens has quite a few restaurants to choose from. Many people however like to bring their own food and picnic on the grass.
Practical Information
Opening hours: Tivoli Gardens is open from 11:00 am to 10:00 pm (in winter) and 11:00 am to midnight in summer.
Admission prices are: 155 DKK ($23) for adults and 70 DKK ($10) for children. The park is free with the Copenhagen Card.
Time needed on the site: the park has plenty of attractions to justify a full day visit, but my suggestion is to spend about an hour here. This will give you enough time to get an idea about what's around.
Stroll the Strøget Shopping Mile
Next head to Strøget, Copenhagen's main shopping area which runs from the City Hall Square to Kongens Nytorv .
Here you'll find a wealth of shops, from budget-friendly chains to some of the world's most expensive brands like Prada, Max Mara, Gucci, Louis Vuitton, or Mulberry.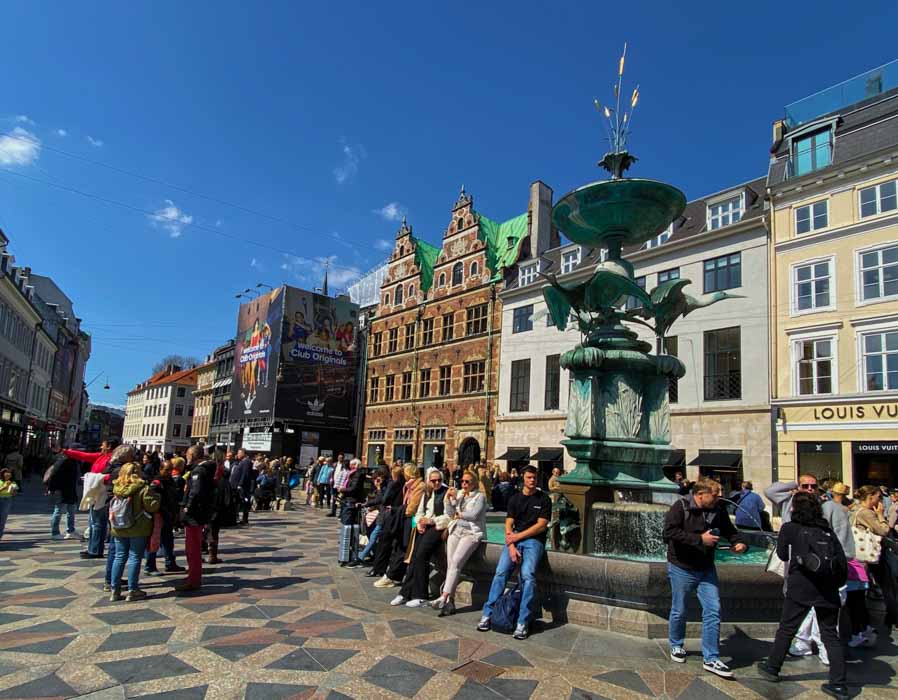 While you won't have much time for shopping during your short day visit, you shouldn't miss strolling the beautiful pedestrian streets of this popular area in Copenhagen. It's a charming and trendy place (somewhat similar to Vaci Utca in Budapest) on which people find themselves often on their way to different other tourist sites.
Amalienborg Palace
To reach the palace from Tivoli Gardens you can either take the metro (15 minutes), a cab (4-5 minutes), or walk (1.5 miles). If you decide to walk, you go on on Strøget street on your way to the palace.
Amalienborg is the current residence of the Danish royal family, so many of the palace wings are private. Because of that you'll only have access to Amalienborg Museum – an exhibit of the living areas of the monarchy. The museum is a surprisingly personal look at one of Europe's most modern and progressive royal families.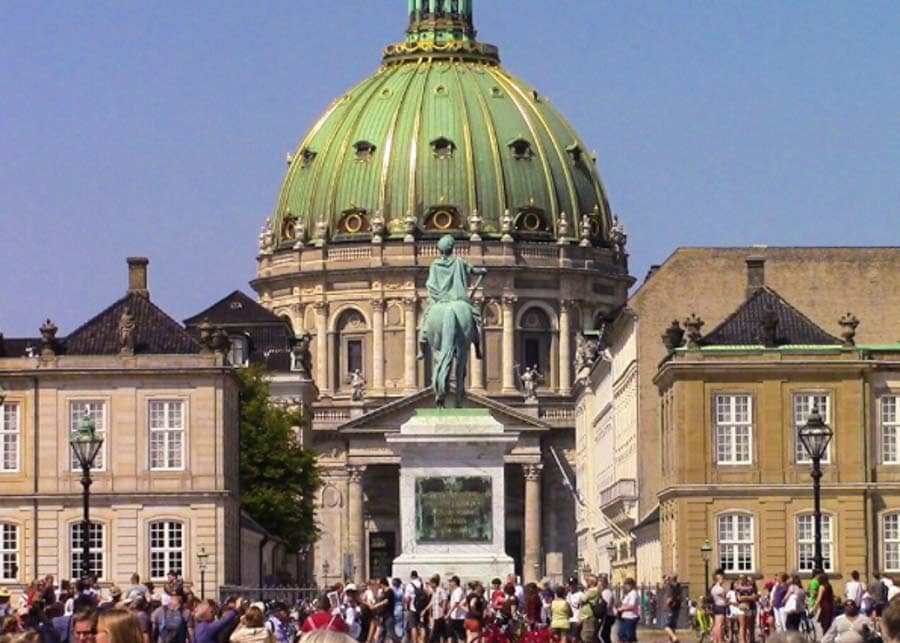 One of the reasons to visit Amalienborg is to see the changing of the guards, which takes place at 12pm every day on the palace grounds. So make sure to plan your visit around that time. Because the guards are so close to you the experience feels very intense and quite interactive.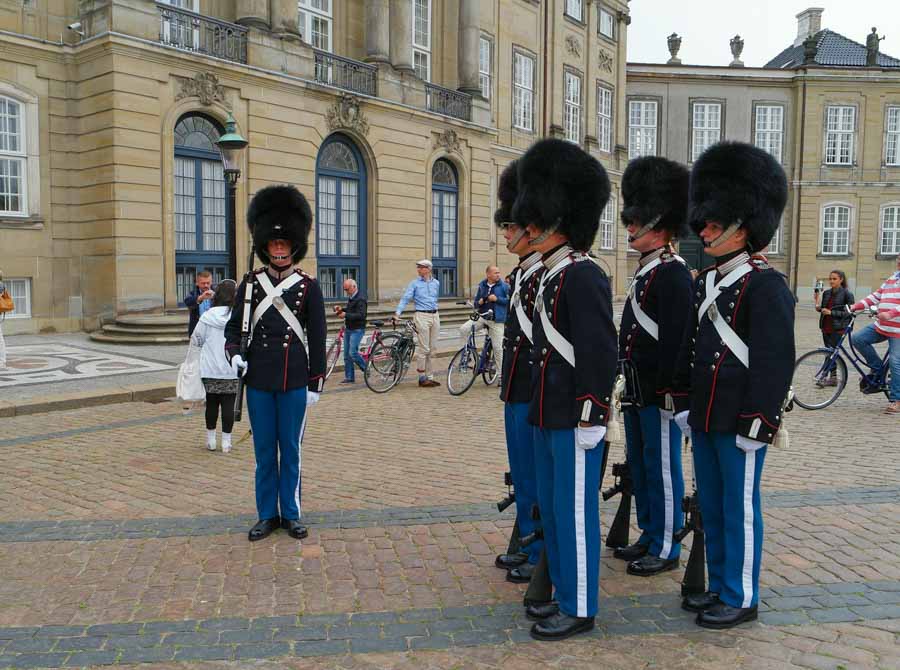 Both the palace and the grounds are really beautiful, but if you visit on a weekend expect to find big crowds!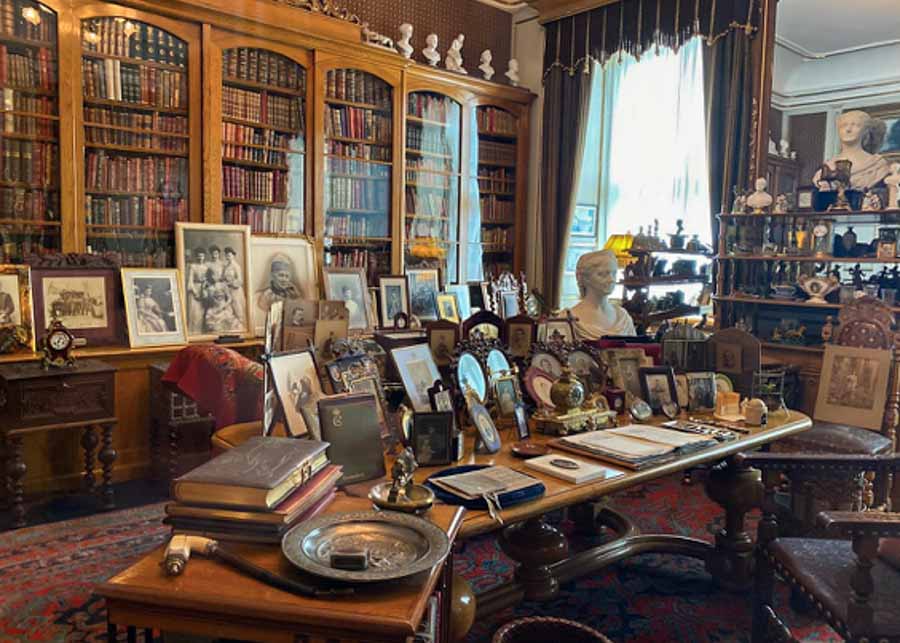 Practical Information
Opening hours: times vary by season, but in summer the palace is open everyday from 10 am – 5 pm.
Time needed for visitation: It took us a little under two hours to visit the palace and the grounds. However, you can spend more or less time, depending on how many other things you plan to do during your day in Copenhagen.
Admission to Amalienborg Palace is DKK 120 ($17), but with the Copenhagen Card it's free.
Rosenborg Castle
Just a few blocks from Amalienborg is Rosenborg Castle, another beautiful palace worth including in your Copenhagen itinerary.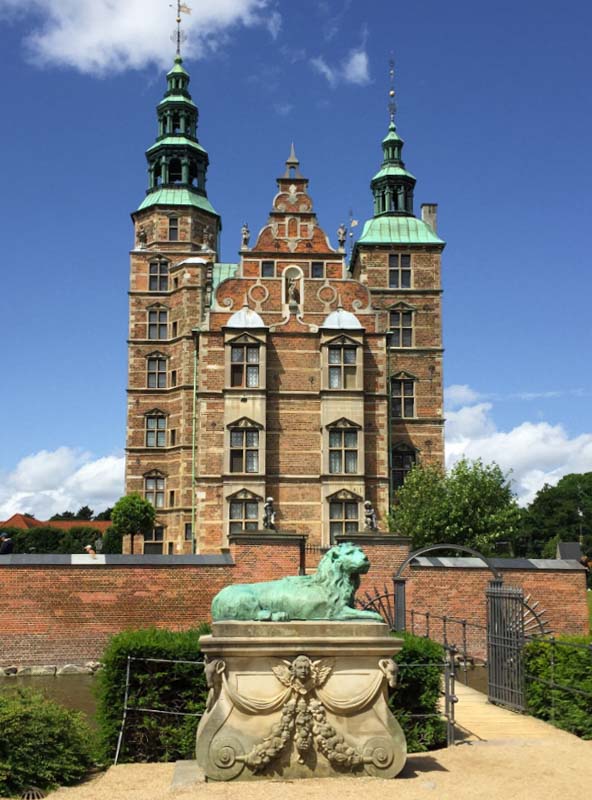 The castle, which dates back to the beginning of the 17th century, was the summer residence of Christian IV. The king loved its tranquility so he spent a lot of time here. He even passed away in this castle, in 1648.
After the king's death Rosenborg was passed down to his son, Frederik III. Frederik restored parts of the structure, but didn't use the castle for too long, as the royal family preferred to live in Frederiksberg. The castle was abandoned in the early 1700s and for almost a hundred years it was used as a storage space for art.
In time a massive collection of art was amassed, which sparked the idea of transforming the Rosenborg Castle into a museum. Today this museum houses the Royal Collection of Artifacts which span from the late 16th century to the 19th century.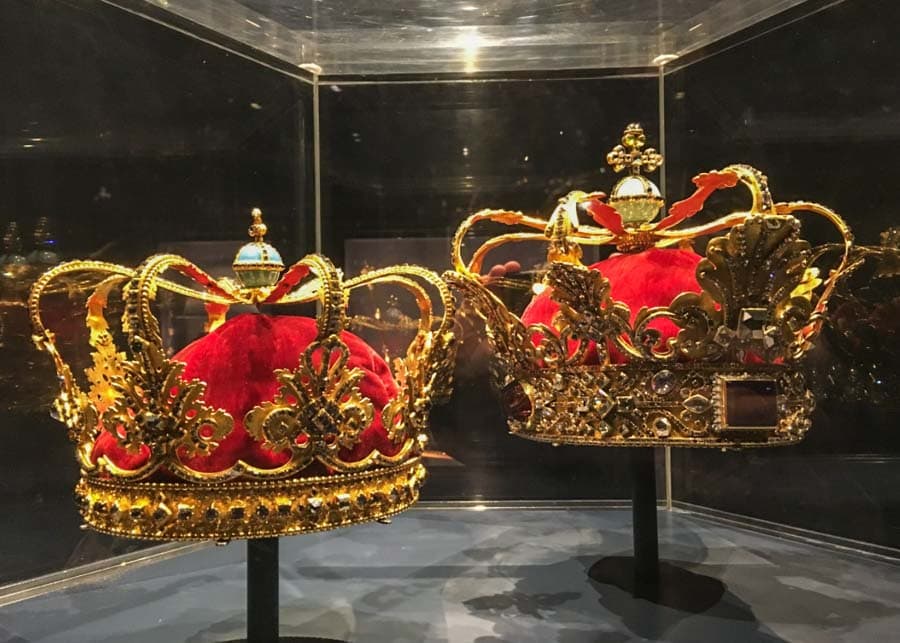 There is a vast array of art and other valuable pieces on display, both in the castle and the treasury. Among them are the Crown Jewels and the Danish Crown Regalia.
Practical Information
Opening hours: the castle is open between 10:00 am and 4:00 pm.
Admission is free with the Copenhagen Card. Otherwise the cost is DKK130 ($17.50) for adults and DKK84 ($11.25) for students. Or you can buy a combined ticket for Rosenborg & Amelienborg for DKK 200 ($29.50) for adults and DKK140 ($19.15) for students.
Time needed for visitation: The castle itself is very large. I don't think we spent more than an hour inside, and then walked around the gardens a bit. A guided tour takes approximately one hour but must be booked at least two weeks in advance.
Climb to the Top of the Round Tower (Rundetaarn)
After you finish visiting the Rosenborg Castle head to the Round Tower (Rundetaarn), one of Copenhagen's most memorable buildings. The tower was built in 1642 as an observatory, by King Christian the 4th.
Walk up the wide spiral path to reach the observation deck and get a feel for the city's architecture and scenery. The Round Tower has a hollow core, so if you don't have acrophobia (fear of heights) you can look down the hole by standing on a glass floor 25 meters above the ground.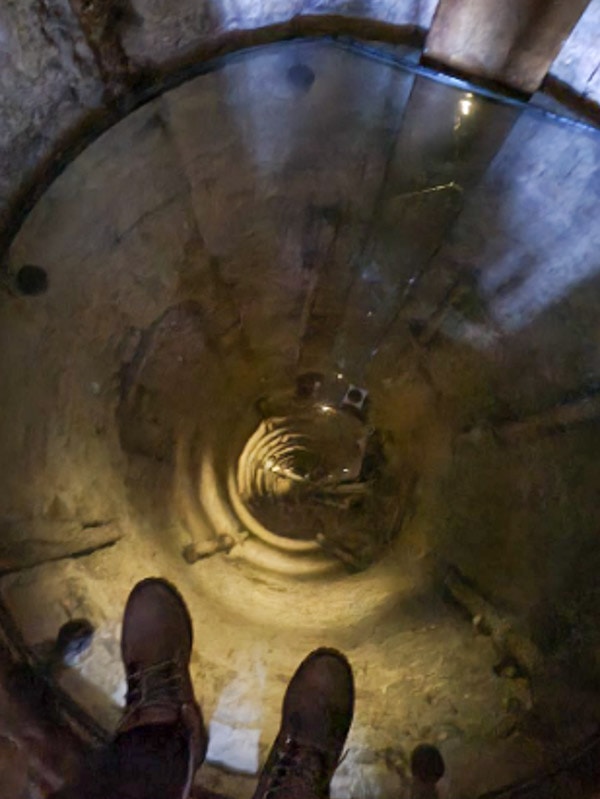 The glass floor is more than 50 mm thick and can carry up to 900 kg per square meter, which is very reassuring. Nonetheless, I'll have to admit that standing on it feels a little intimidating.
What sets this tower apart from other towers that you may that have visited is the interesting spiral ramp (somewhat similar to the ramp at Giralda, at the Seville Cathedral in Spain). To reach the top you'll have to walk in circles on this ramp.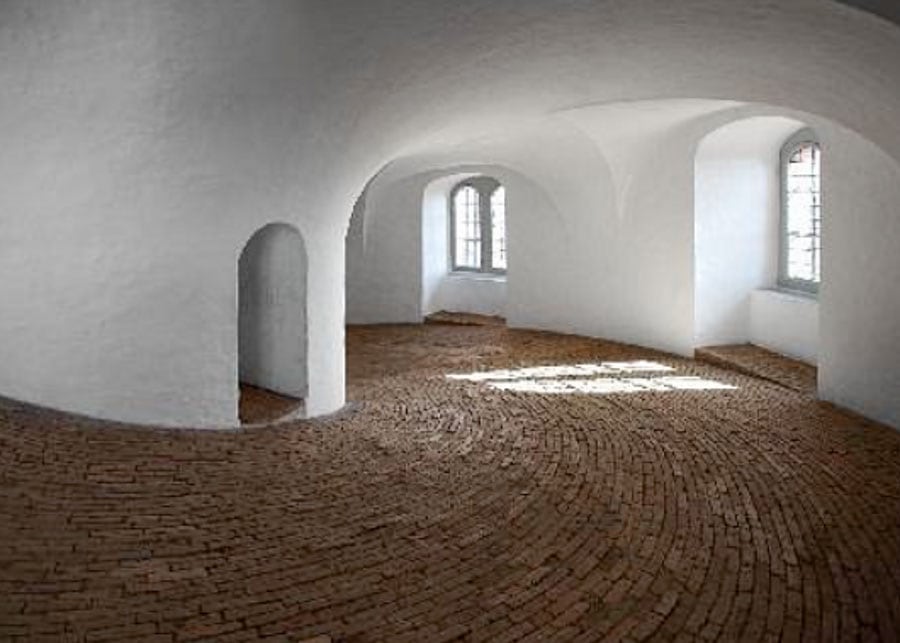 Along the ramp you'll come across a mini-museum, a gift shop, and even the original privy of the tower. The privy, which dates back to 1642, was merely a hole with a drop where the waste accumulated. As the shaft was sealed and had no ventilation system, the smell from the decomposing waste was absolutely unbearable!
Eventually, because the tank could only be emptied internally, they had to close the privy. But don't worry, today the smell is gone! In 1921, the city removed nine loads of decomposed waste from the holding tank before installing water closets to replace the privies.
At the top of the tower it's an observation deck that requires climbing some narrow steps. Because the corridor is so narrow, it is regulated by a traffic light system. You have about 90 seconds to get to the top, or get down. The views from the top are amongst the best in Copenhagen.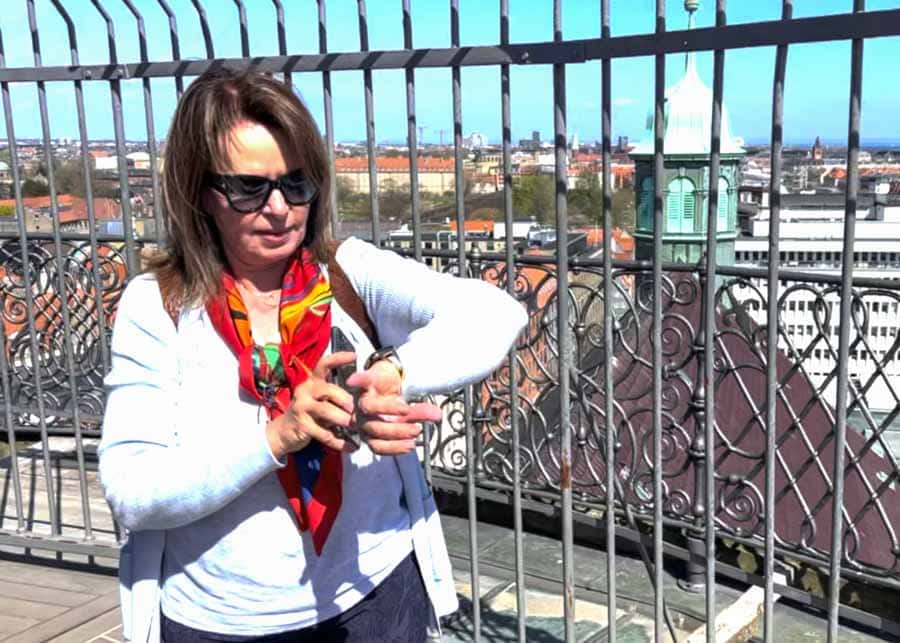 The Round Tower is home to the oldest functioning observatory in Europe, which today in used by amateur astronomers and visitors. There is also a church and the Copenhagen University book collection at the Tower.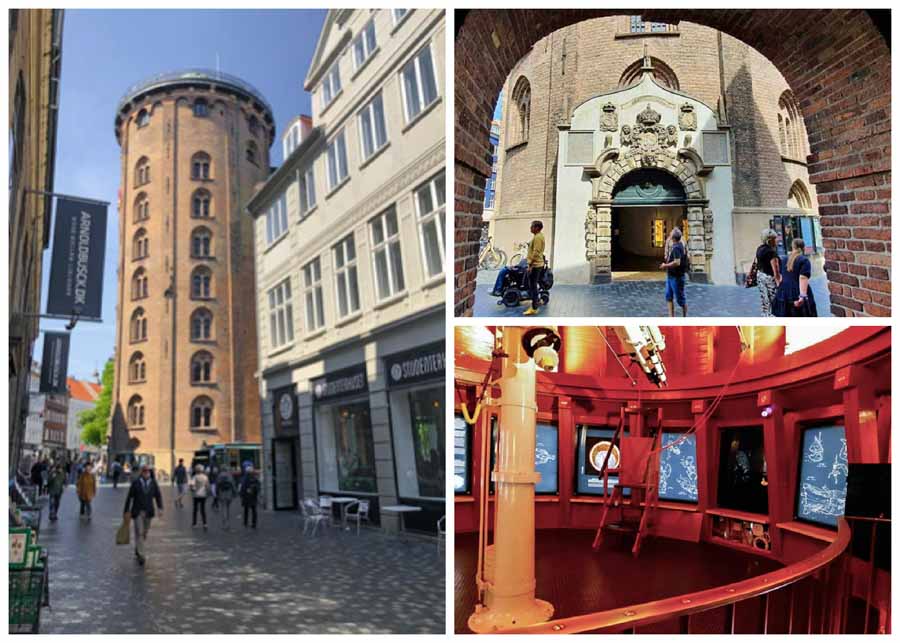 Practical Information
Opening hours: 10:00 a.m to 8:00 p.m.
Admission prices are: 25 DKK per adult ($4.00) and 5 DKK (under $1) for children. The Tower is free with the Copenhagen Card.
Time needed on the site: if you take time to admire the views, visit the gallery and the church attached, you can spend almost an hour here.
Stop for Lunch on the Waterfront of Nyhavn
Nyhavn is the old harbor of Copenhagen. The area is very photogenic, lined with colorful buildings, tall ships, and always swarming with people. From the Round Tower it takes about 15 minutes to walk here.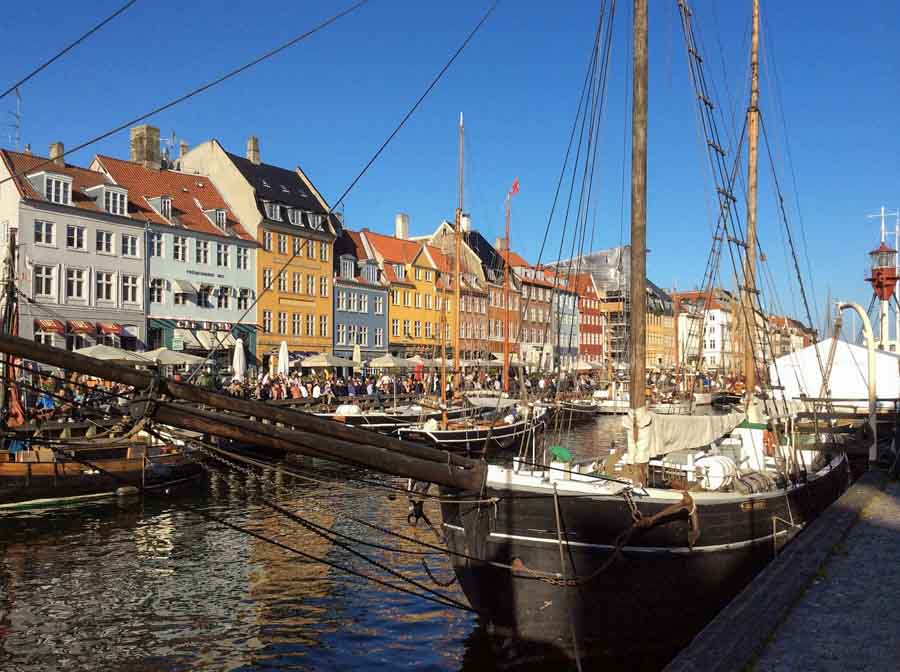 Some of the houses that line the water's edge still look like they did 300 years ago! Among them you can see the building where the famous writer Hans Christian Andersen lived and even wrote some of his classic fairytales. He even wrote some classics like The Tinderbox, Little Claus and Big Claus and The Princess and the Pea while he was living at No 20.
The historic area of Nyhavn is a foodie's paradise where you'll discover plenty of delicious restaurants and cafes, so it's the perfect spot to stop for lunch.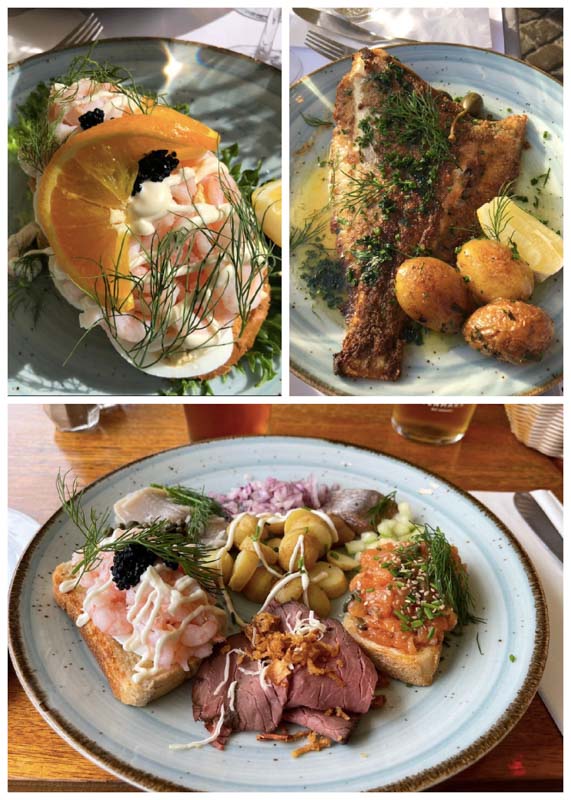 Time needed: you should reserve at least one hour to visit Nyhavn. This will allow you enough time to stroll along the main street and even stop for a quick bite.
Take a Canal Tour of Copenhagen
A boat tour along the Canal is an absolute must on any Copenhagen itinerary! Winding through the colorful canals tucked under orange bridges was one of our favorite things to do in Copenhagen. Seeing the city from the water is a very unique experience that you definitely shouldn't miss.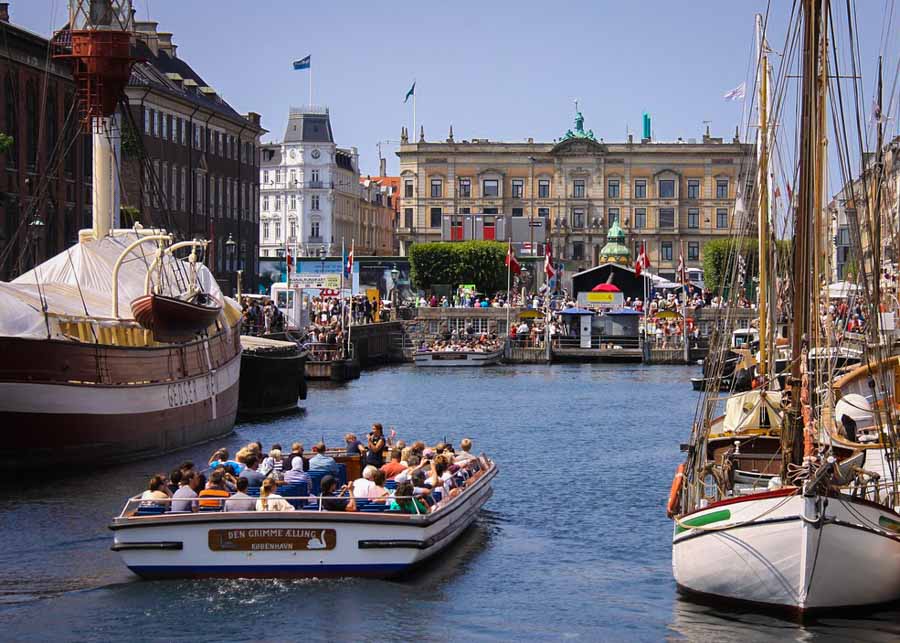 Practical Information
The regular canal tours last one hour and cost around $14-$16/person. However, you can book longer tours if you are interested.
There are a few companies that offer canal tours. However, if you plan on purchasing a Copenhagen Card, you'll be able to get free tickets at two of these canal cruises. The good news is that all these companies follow similar routes, which means that you won't go wrong by choosing one over the other.
The tours take about an hour, which is the perfect amount of time to see the highlights of the Copenhagen canals and harbor (like Nyhavn, Christianhavn), as well as the modern buildings along the way.
If you have more than a day in Copenhagen, you can also rent a boat for $65/hour and be your own captain. You'll get a map of the harbor and canals and you can go around as much as you like. We would have loved to do it, but our time was too short for that.
Visit the Statue of The Little Mermaid
Located near the fortress of Kastellet (The Citadel) you'll find the statue of The Little Mermaid which was created by Edvard Eriksen in 1913. The statue was inspired by Hans Christian Andersen's fairytale that bears the same name.. Then story is about a mermaid who fell in love with a prince and had to return to the see when her love was not reciprocated.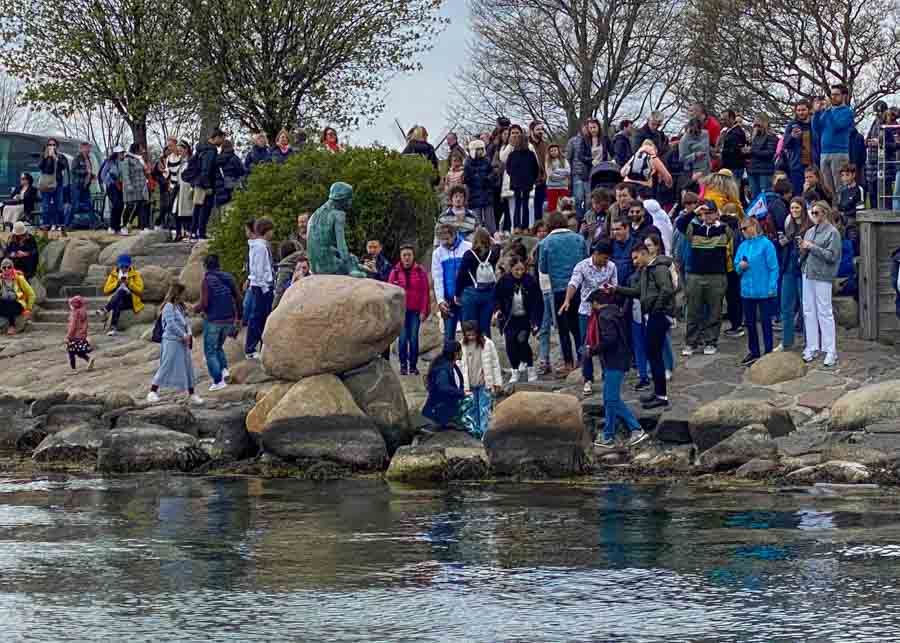 The statue is the official emblem of Copenhagen and as such is a must on any Copenhagen itinerary. But don't expect something imposing. The Little Mermaid is actually … well, quite "little!"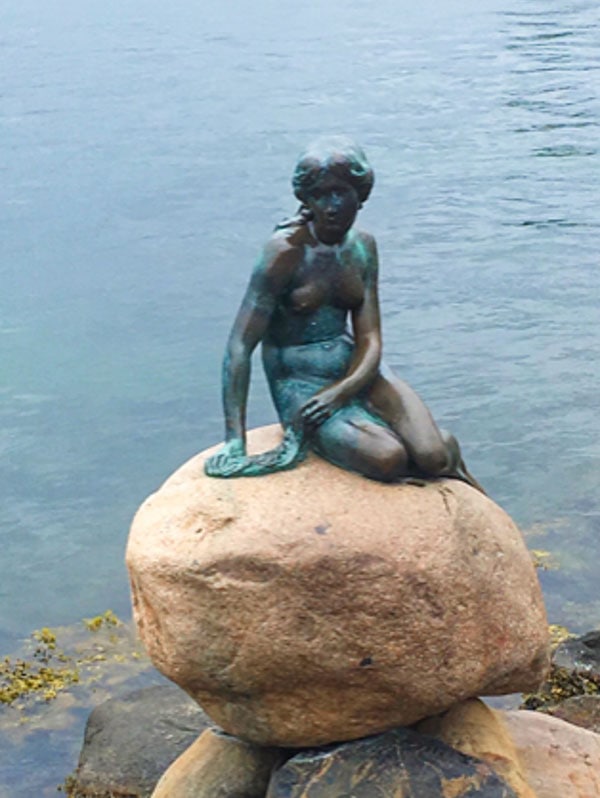 The best time of the day to visit the statue is probably in the morning, before the crowds hit the place. However, since your time in Copenhagen is limited, I suggest you visit it after you get the two castles out of the way as they close early.
Glyptoteket
If you have any energy left, I suggest adding the Glyptoteket to your Copenhagen itinerary. This is an art and sculpture museum famous forits marble sculptures and winter garden.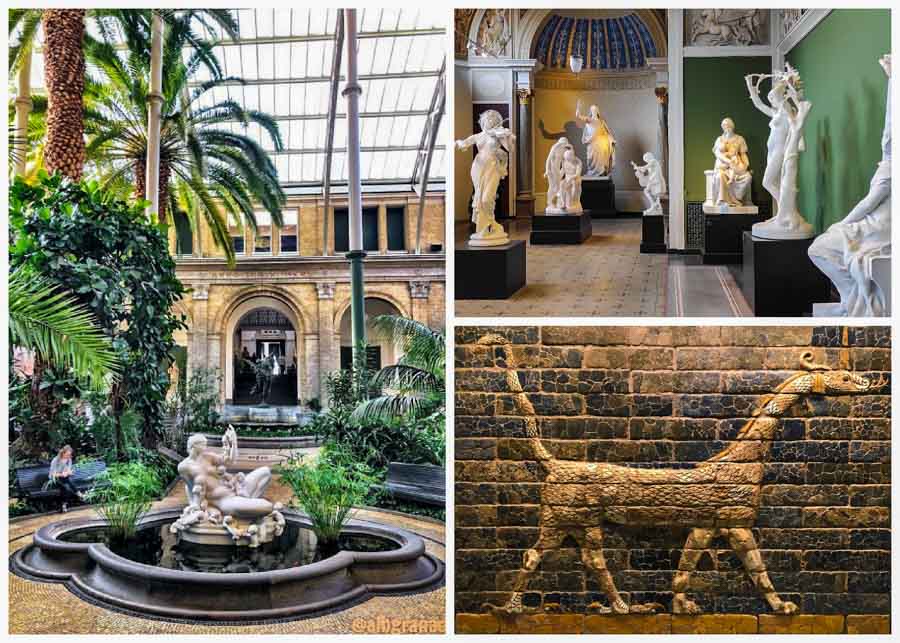 The museum features some impressive collections of Egyptian, Greek, Etruscan and Roman art. The building itself is also very beautiful, with high ceilings and hallways lined with marble statues. At its center is a winter garden full of palm trees surrounding a fountain and a pond. We absolutely loved this museum!
Practical Information
Opening hours: Tuesday to Sunday (10:00 am to 5:00 pm), Monday closed.
Admission prices: 125 DKK ($18.50) for adults; 95 DKK ($14) for students; children under 18 are free.
Time needed on the site: you can stroll through the museum on your own in about an hour, or you can take a guided tour witch lasts 45-60 minutes. The tour must be booked at least 14 days in advance.
Tips for Spending a Day in Copenhagen
• Bring a light jacket and an umbrella with you. Copenhagen weather is very unpredictable, so it's possible to experience all sorts of weather conditions all on the same day.
• Dress nicely. Copenhagen residents dress very smartly, so if you want to blend in you should dress like a European. Jeans are very much in style, so you can wear them with a shirt and a jacket for the summer, or a cardigan and a warmer coat in the winter.
• Beware of bicycles! As I have already mentioned, in Copenhagen bicycles outnumber cars so you'll encounter cyclists almost everywhere. Although bikes have specific lanes, you need to be sure to stay on the walking path and not step out into the bike lane without looking. Cyclists pass very quickly and they may easily hit you if you don't pay attention.
• Skip visiting The Little Mermaid. The statue is kind of far from other top attractions in Copenhagen, so you can leave it out of your itinerary if you are short on time. Besides, it's not particularly impressive. If you are really curious how it looks, there is a replica of The Little Mermaid in the Copenhagen Airport which you can see when you arrive or depart the city.
• Try the smørrebrød. This is a traditional Danish food made of a slice of hearty rye bread topped with various toppings (like pickled herring, salmon, shrimp, and roast beef).
• Bring a plug adaptor. Like most other European countries, Denmark has 220-volt AC, 50Hz current and uses two-pin continental plugs.
Pin this to help other readers discover this one-day Copenhagen itinerary: