Is the Bluetti AC180 Worth It? Our In-Depth Hands-On Review Reveals All!
10 min read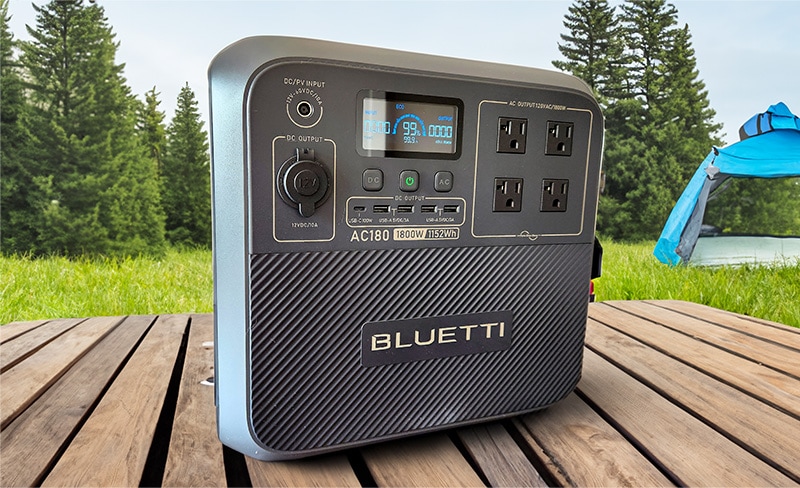 Are you looking for a reliable battery backup for home blackouts, that you can also use for car camping or RVing? Continue reading for our hands-on, in depth review of the BLUETTI AC180.
For some time now, we've been on a quest for a reliable power source that can accompany us on car camping trips, but is powerful enough to keep our home essentials running during unforeseen power outages.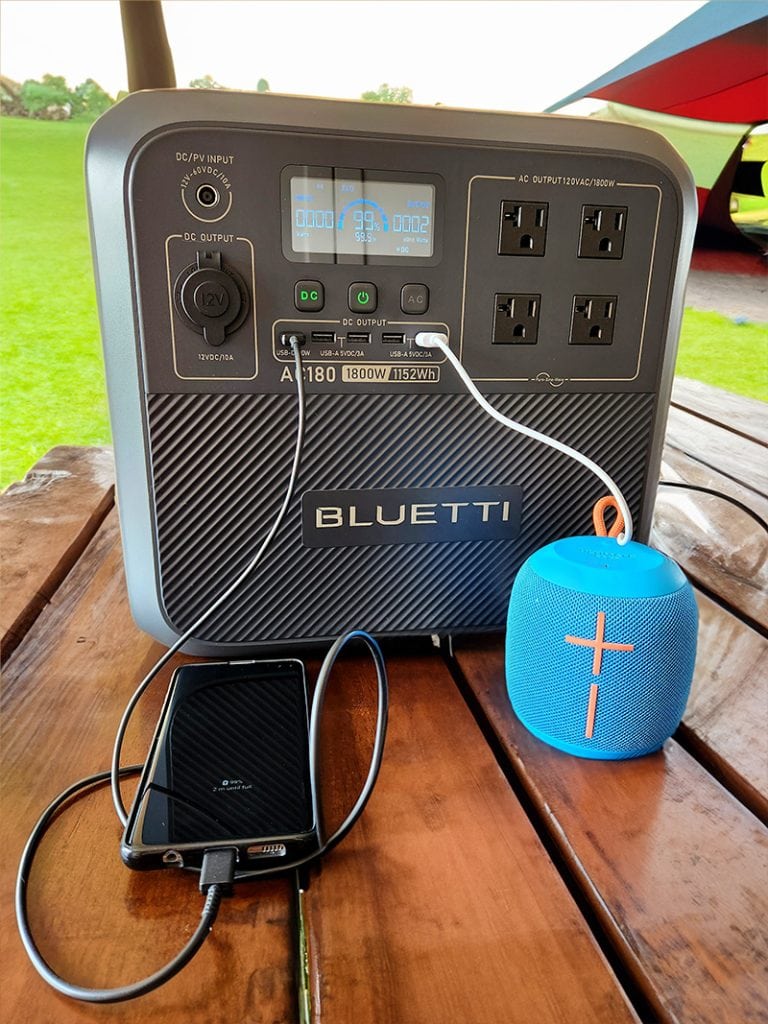 Enter the BLUETTI AC180 portable power station, the latest contender from a company well known for quality solar power generators.
Curious? Check out the BLUETTI AC180 here, and use our special code: Micki180 to get 3% off discount 
With an impressive 1,800 Watts of power, this portable station promises enough energy to run your appliances, charge your devices, and light up your campsite or your home. And, you'll never have to stress over grid connectivity or running out of power during your off-grid sojourns.
So, is the BLUETTI AC180 a game-changer? Let's delve into the details with our comprehensive review!
BLUETTI AC180 Review
BLUETTI has been a big name in power stations for a while, and they've built a solid reputation.
The AC180 is a nice mix of capability and size, with almost 1,200 Watt hour of battery capacity, paired with an 1,800 watt inverter, meaning it can run virtually any 110 volt kitchen appliance, including refrigerators, air conditioners, heaters, instant pots, skillets, and even large microwave ovens without a sweat. It's also still very portable at this size and weight, being well under 40 pounds.
The big selling feature of the BLUETTI AC 180C is the combination of affordability, a solid 1,152 watt-hour battery, and a solid brand name.
It's a well built unit, with solid carrying handles, sturdy buttons, and a well designed interface. It comes with a respectable five year warranty.
The AC180 comes with a car charging cable, power cable, and solar cables with MC4 connectors. The unit has a 12v DC output cigarette lighter, a power delivery Type C port, four Type A ports, and four AC outputs. It also has a Qi wireless standard charging pad on top.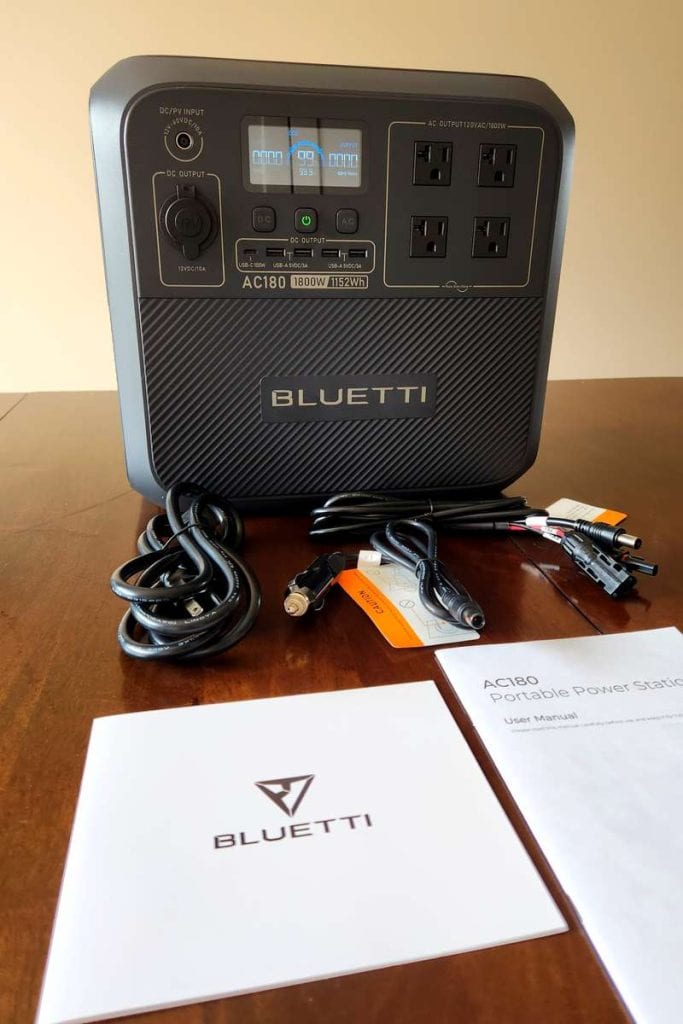 Is the BLUETTI AC180 worth it? Let's find out.
Specifications
First, a quick look at what's under the hood:
1,800W AC Output / 2,700W Power Lifting capacity
1,152Wh battery capacity
11 output ports
Smart control and monitor with BLUETTI App
Weight: 35.27 pounds
Battery: LiFePO4 (Lithium Iron Phosphate)
What matters most to me is that the AC180 can run or charge what I need it to, and that it's easy to recharge. Let's take a look at what you can charge with the AC180, and how long the battery lasts.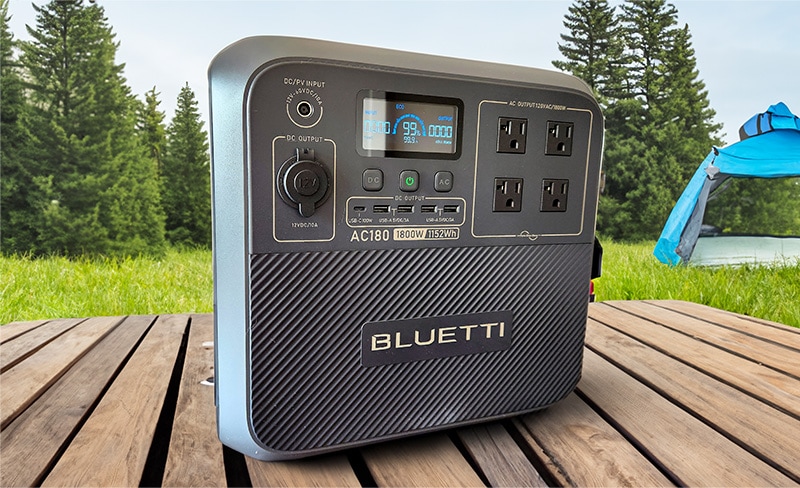 What devices can the AC180 power?
The AC180 can run anything that takes up to 1,800 Watts to power. This includes your laptop, your smartphone, and most small kitchen appliances.
Want to power a device like a hair dryer or small electric heater? Put the AC180 in Power Lifting mode, and you can run devices like a hair dryer (which is typically around 1800 watts) for a short while.
We already have a 800W and 1,000W power station. They're fantastic for powering our laptop, phone, and small appliances, but there are a few things we'd like to be able to use easily, which they can't quite power, like our blender (which tops in at 1,400 watts) and our air fryer (which takes 1,500 watts). In the summer especially, we use these almost daily.
We tested the BLUETTI by running our 1,600W hair dryer on low and high setting. It handled the load with zero issues.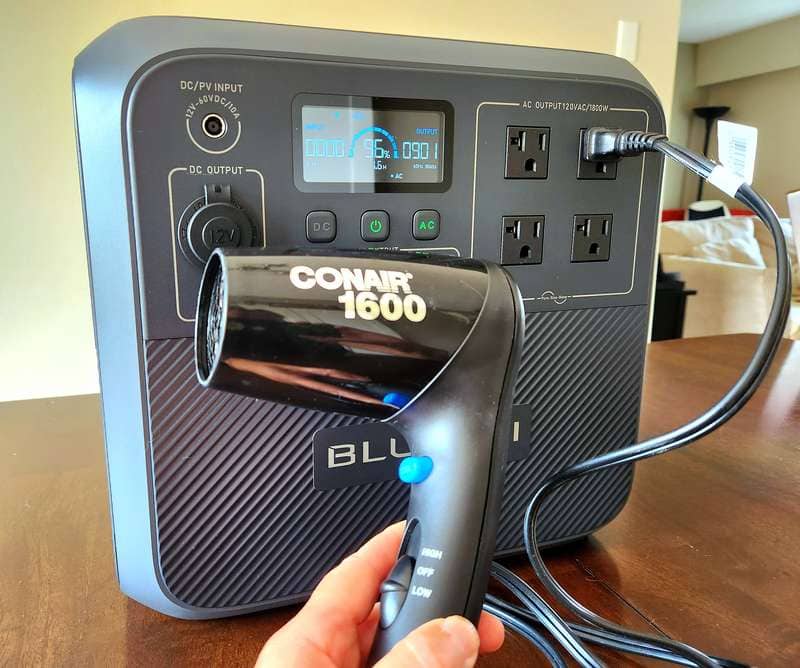 With an 1,800 Watt capacity, the AC180 can easily run our blender or air fryer, with power to spare.
We also want to use our power station to run our fridge or freezer in case of a blackout, and the AC180 is up to that task, as our fridge only takes 680 Watts, and the freezer takes around 350 Watts.
How long will the battery last?
The AC180 is a 1,152Wh LiFePO4 (Lithium Iron Phosphate) battery, which offers plenty of advantages over traditional lead acid batteries. This includes a longer battery life span, zero maintenance, better safety, more lightweight, and improved discharge and charge efficiency.
Even so, over time, all batteries lose capacity, even excellent batteries like the LiFePO4.
BLUETTI rates the AC180 at 3,500-plus full cycles before the battery can only charge to 80 percent of its original capacity. Basically, that means you can charge and discharge the battery 3,500 times from empty and it will still have 80% of the original capacity. I mean, I can't imagine using my battery that much – even completely charging it and discharging it once a day for ten years would only give me about 3,650 life cycle. That's pretty impressive.
The battery is powerful enough to charge a phone 103 times, power a laptop 17 times, or run a typical fan for 26 hours. It can even power a fridge for 17 hours.
It can also charge power tool batteries on unpowered jobsites, recharge the old camper batteries if going offgrid or power your backyard string lights for many nights of enjoyment.
How long does it take to recharge?
The AC180 can be recharged with solar, car, wall charging, or even via a generator.
The fastest way to recharge the AC180 is through wall charging. It only takes 45 minutes to go from zero to 80% charged with a 1,440W AC Input, and it's fully charged in about 1.2 to 1.6 hours.
For solar charging, it supports a maximum of 500 watts of solar at 10 amps from 12 to 60 volts. Meaning, with it's max solar input of 500 watts, it can be fully charged in 2.8 to 3.3 hours under ideal conditions of prime sunshine, ideal orientation and low temperature. It's likely 4 to 5 if conditions aren't ideal and of course longer if only using a 200w solar panel.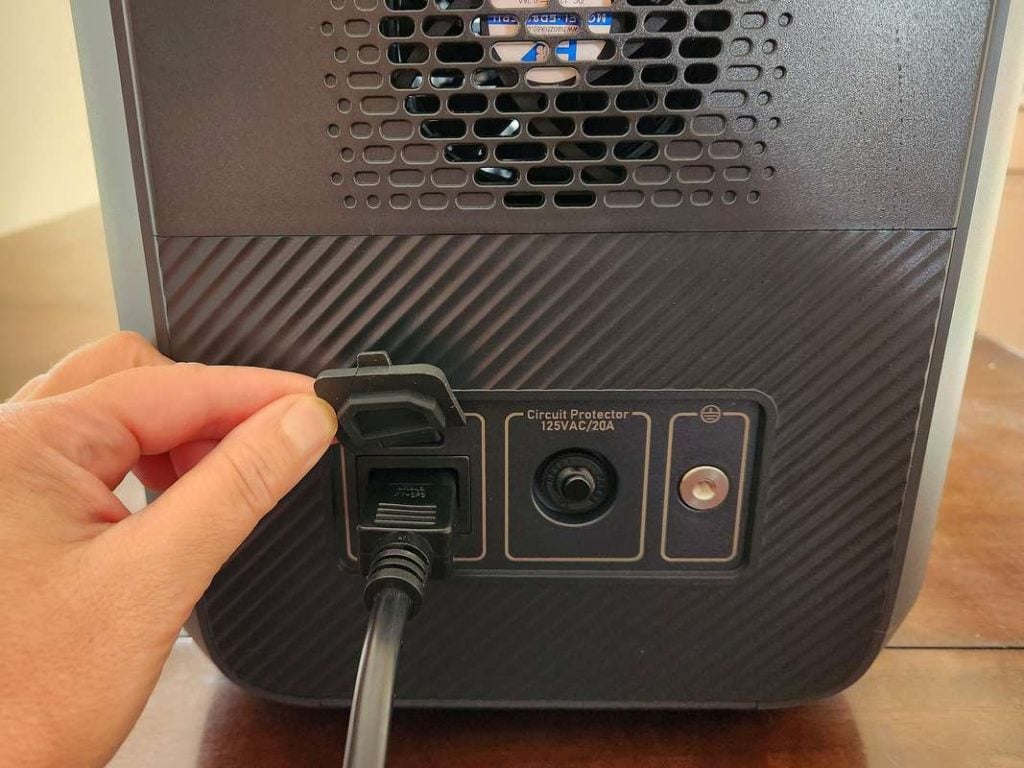 You can even fully top it up within a short period by AC and solar simultaneously, which I think is a pretty cool option.
Car charging is the slowest, with a full charge taking just over 5 hours with a 24V input, or just over 10 hours with a 12V input.
If you find yourself out in the woods, with no option but to charge using a generator, at least it's a quick charge of 1.3 to 1.8 hours at 1,440W input.
To maintain the battery, BLUETTI says to recharge to 80% every three to six months. We haven't owned it long enough to see what kind of drop in charge there is after 3 months but with Lipo batteries, it shouldn't be much.
What ports does it have?
Wondering what you can charge with your power station? There are 11 ports, offering everything from your typical wall charging to USB to a DC car charger and even a wireless charging pad.
4 x 120V/15A AC outlets with1,800W total combined (2,700W in Power Boost Mode)
1 × USB-C Port (100W Max)
4 USB-A Ports:

2 ×USB-A1: 5VDC/3A 15W in total
2 ×USB-A2: 5VDC/3A 15W in total

1x 12V DC outlets (12V/10A car outlet)
1 x wireless charging pad (15W max)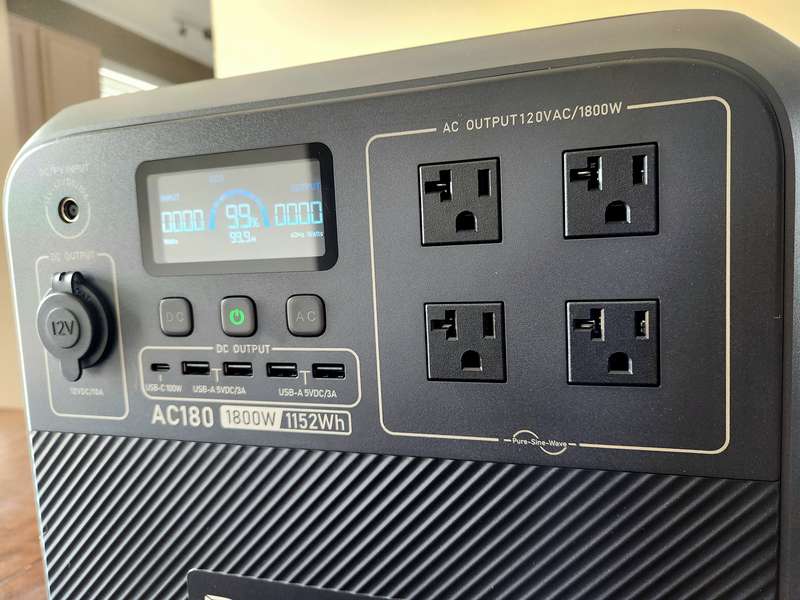 Unfortunately, the wireless charger built into the unit doesn't support fast charging, even though it is a 15-watt charger.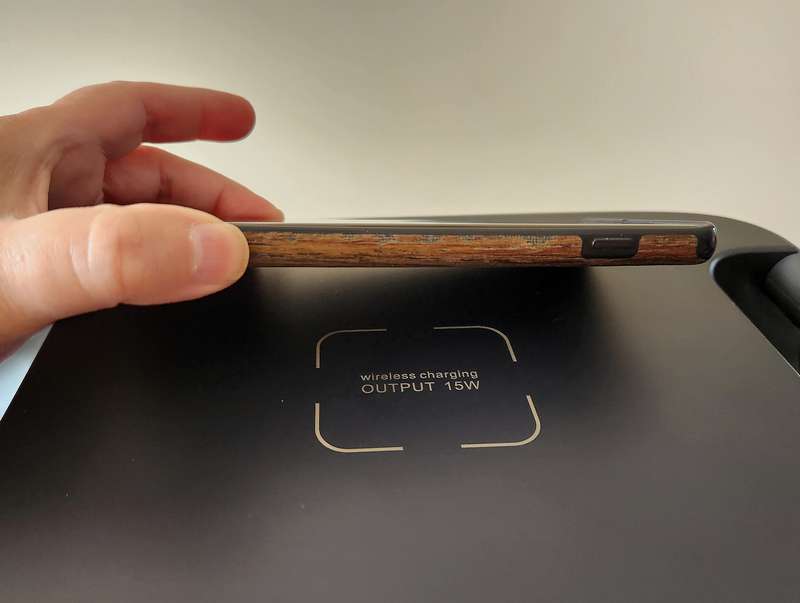 One thing I like about the AC180 is that it offers pass through charging, which means you can use the AC180 to charge your device, as the device itself is charging. To be fair, that's the standard with higher quality power stations, but you sometimes won't see it on lower quality units.
Check out the BLUETTI AC180 here, and use our special code: Micki180 to get 3% off!!!
Is the BLUETTI AC180 safe for sensitive electronics?
The BLUETTI AC180 has a pure sine wave inverter, which is the gold standard you'll need to safely run sensitive electronics like laptops, computers, and even medical equipment.
The AC180 also offers a 20 millisecond switching UPS feature, meaning you can have sensitive devices plugged in, and if the power goes out while your device is plugged in, the battery will simply take over.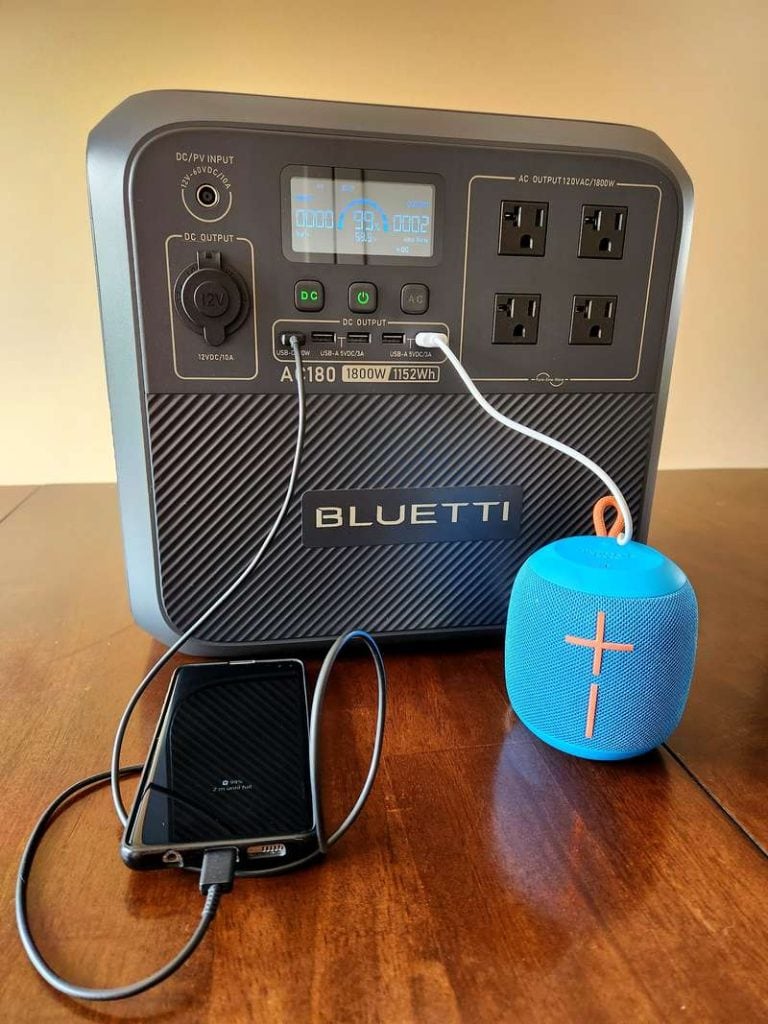 The BLUETTI App
The AC180 has both Wi-Fi and Bluetooth app support for Android and iPhone.
We tested the Android app version, which lets you access plenty of settings, including setting charging rates, specifying when ports shut off, monitoring how much power is consumed, and determining how much power is coming into the unit from solar or wall charging. You can even update firmware via the app.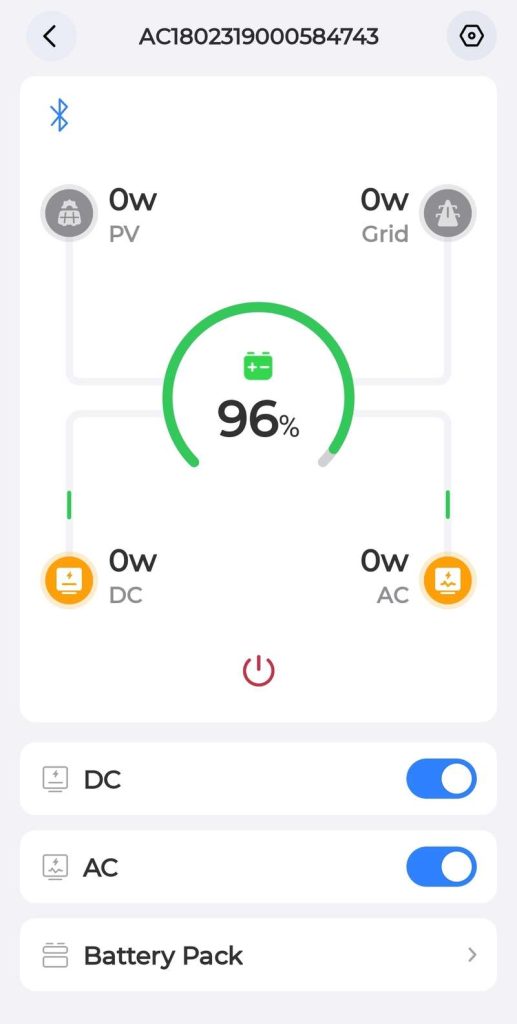 One thing I really liked is that the app will work without an internet connection. The offline Bluetooth mode lets you control the unit when it's not connected to the internet, during a power outage or when you're camping. This is really useful in a remote place, as you don't need your phone to be connected to the internet to control the power station.
I tested the Bluetooth mode, and it ran perfectly.
Display
The display is pretty intuitive and easy to use.
It's a color LCD that shows input and output Watts, time to charge and discharge, and battery percent with an icon. It does not have a touch screen – you use the buttons to control the display.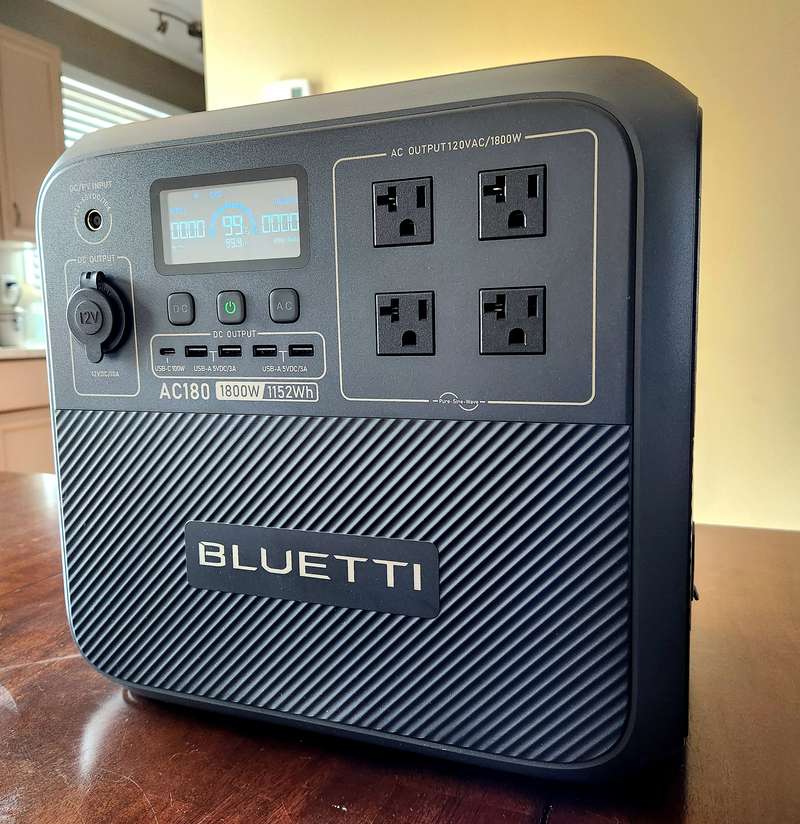 Is there a BLUETTI AC180 expansion battery?
One of BLUETTI's most useful features is the ability to connect to other units for additional battery capacity.
The AC180 can connect to BLUETTI's 806 watt-hour B80, the 2,048 watt-hour B230, or the 3,072 watt-hour B300 (in Power Bank Mode) for additional battery capacity. You will need a special cable from Bluetti to connect the units.
How loud is the BLUETTI AC180?
There's a common misconception that solar power stations run completely silently, which just isn't the case. They're definitely a world quieter than noisy, pollution-belching gas generators, but they aren't completely silent, as they need to run fans to keep their electrical components cool (just like how your computer's fan runs to keep its electronics cool).
We tested the BLUETTI AC180's noise levels at rest, while charging, and while in use.
Our verdict: It's not the loudest power station we've tested, but it's definitely not the quietest either.
It was especially annoying when the fan kept going on after we'd charged it to full charge, but left it plugged into the wall. We weren't charging anything at the time, and it was at room temperature, so it wasn't likely to be overheating.
We did manage to get it to quiet down quite a bit after peeking at the manual. Here's a helpful hack for charging the AC180 more quietly using wall charging: Just select Silent for AC charging in the BLUETTI app.
The fan also became louder under heavy load, which is really to be expected.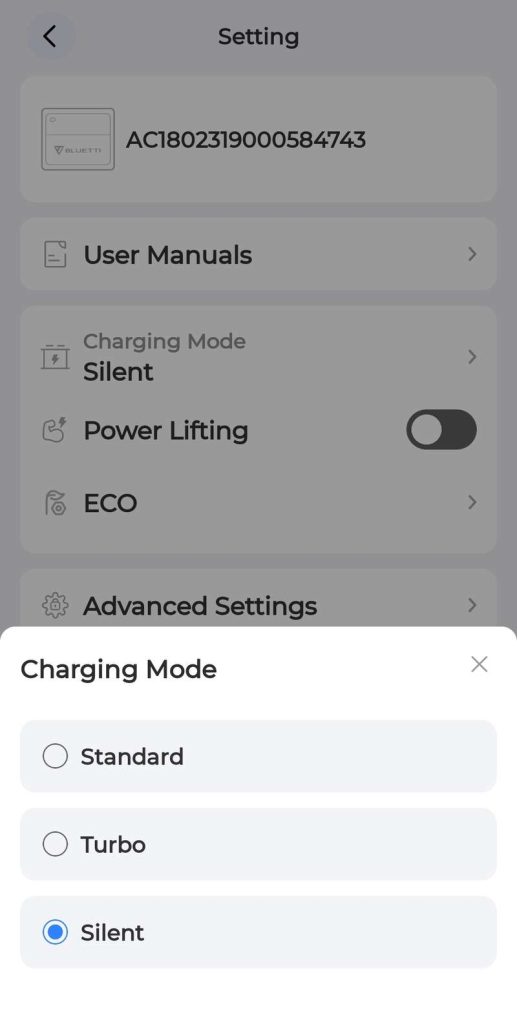 How heavy is the BLUETTI AC180?
The BLUETTI AC180 weighs in at 35.27 pounds (or 15.99 kg).
To me, that's a pretty reasonable weight given that there's a solid 1,800 watt output.
It's light enough to pack into our vehicle for car camping, but powerful enough to keep at home for backup power in a natural disaster or other power outage.
How does Power Lift mode work?
We've talked a little about BLUETTI's 2,700W Power Lift mode here. It lets you run certain appliances that normally need a much higher power than the continuous 1,800W the AC180 offers.
The Power Lift mode only works with certain pure-resistive heating devices, like hair dryers, electric kettles and heaters. However, the appliance may not run as fast or hot as usual.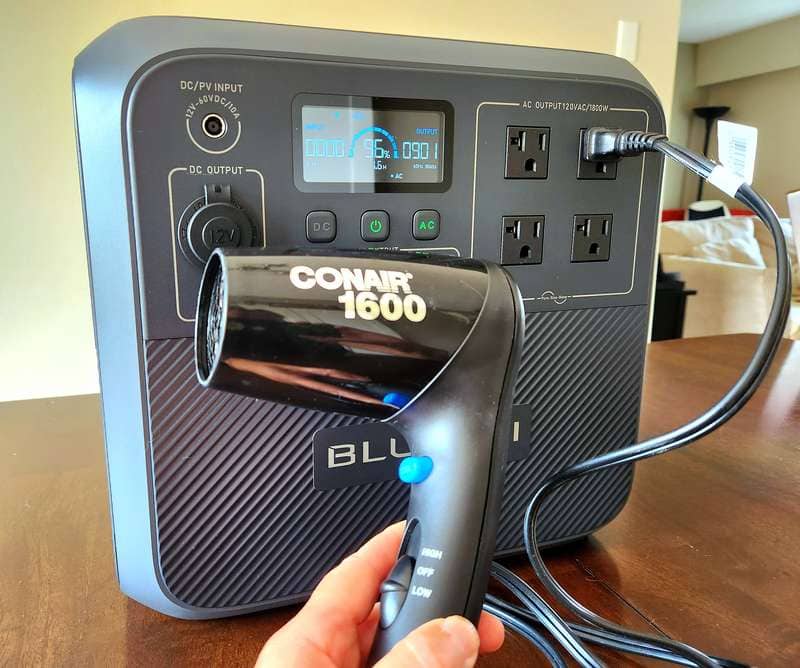 Do I need a BLUETTI brand solar panel for solar charging?
BLUETTI recommends using one BLUETTI PV420 solar panel to charge the AC180. That said, you can charge the AC180 with any compatible solar panel, as long as it meets these specifications:
Open circuit voltage: 12-60V
Total solar input: Max. 500W
Equipped with a compatible solar connector.
Is the BLUETTI AC180 worth it?
Overall, we really like the BLUETTI AC180 for our needs as battery backup for our home, and as an on-the-go power source when we're car camping. With a premium brand name and quality, it's a great product for its price, offering a lot of power and versatility for a relatively low cost.
Do I wish it was a bit lighter? Yes, but the reality is that there's a weight trade off when it comes to solar generators – to get a powerful 1,800W generator, you'll need to have something around 35 pounds (or more!).
While it's not perfect, with price and weight as potential considerations, it proves to be a solid power source for home and travel needs.
Check out the BLUETTI AC180 here, and use our special code: Micki180 to get 3% off!!!