Is the Jackery Explorer 1000 Pro Worth It? What You Should Know in Our Hands-On Review
15 min read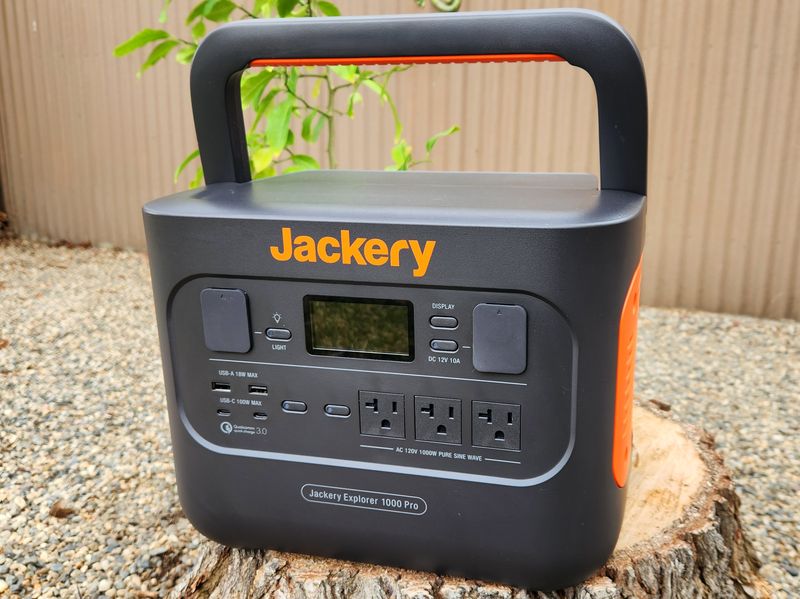 Are you tired of feeling left in the dark by the lack of electricity while camping, or worrying about power outages? The Jackery Explorer 1000 Pro solar generator might just be the solution to your power woes. Keep reading for our full review.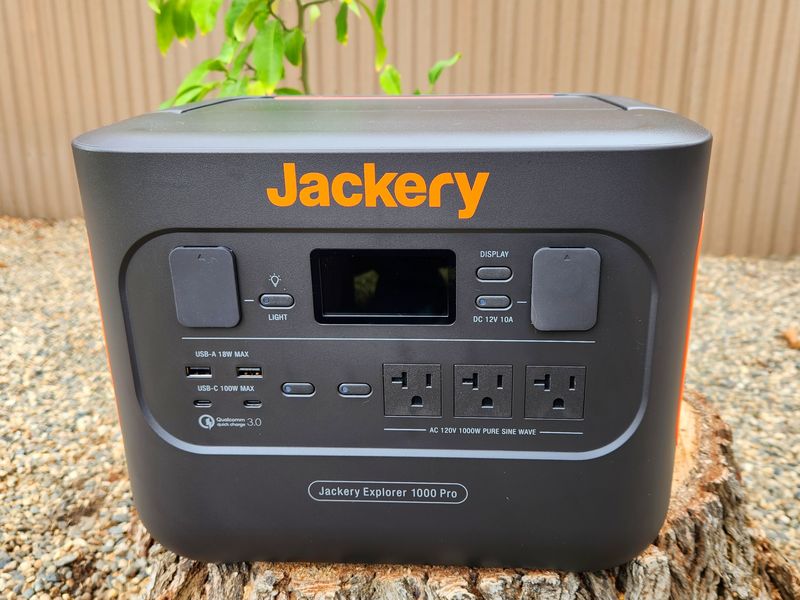 We've been actively looking for a generator for a couple of years. We wanted something portable enough for off-road vehicle camping, but with enough power to run our home office electronics in a power outage.
Curious? See the Jackery 1000 Pro on Amazon here or learn more about the Jackery 1000 Pro on the Jackery website.
Using a generator outdoors used to mean bringing along a noisy, gas powered machine on off-road adventures.
Luckily, the past few years have brought a renaissance in solar powered generators, which generate power from the sun instead of from a can of gas, making them much quieter, more eco-friendly and cheaper to maintain in the long run.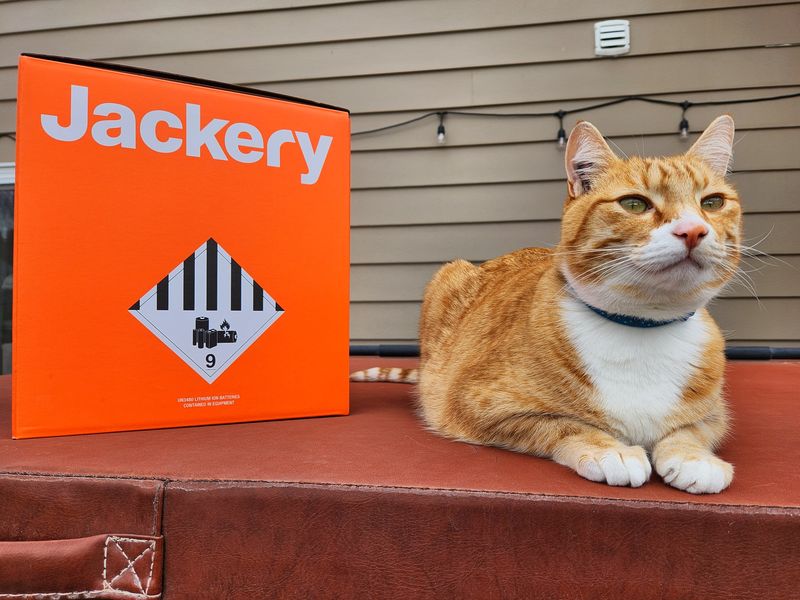 Let's take a look at one of the latest of these setups from a company that focuses exclusively on solar power generators. This is the new Jackery Explorer 1000 Pro.
Jackery is having a flash sale with up to 20% off on selected products from April 14th to 22nd! Don't miss the chance to snag one for your spring getaway!
Old school generators needed fossil fuels to run, which was always annoying, because you can only bring along so much gasoline, and you'd eventually be left without power. Plus, transporting and storing gas is messy, smelly and can even be dangerous.
Let's dive into the Jackery solar generator review!
Jackery Explorer 1000 Pro Review
With an impressive 1,000 watts of power, this generator can provide the energy needed to run appliances, charge devices, and power your campsite. And best of all, you won't have to worry about connecting to the grid or running out of power when you're out in the wilderness.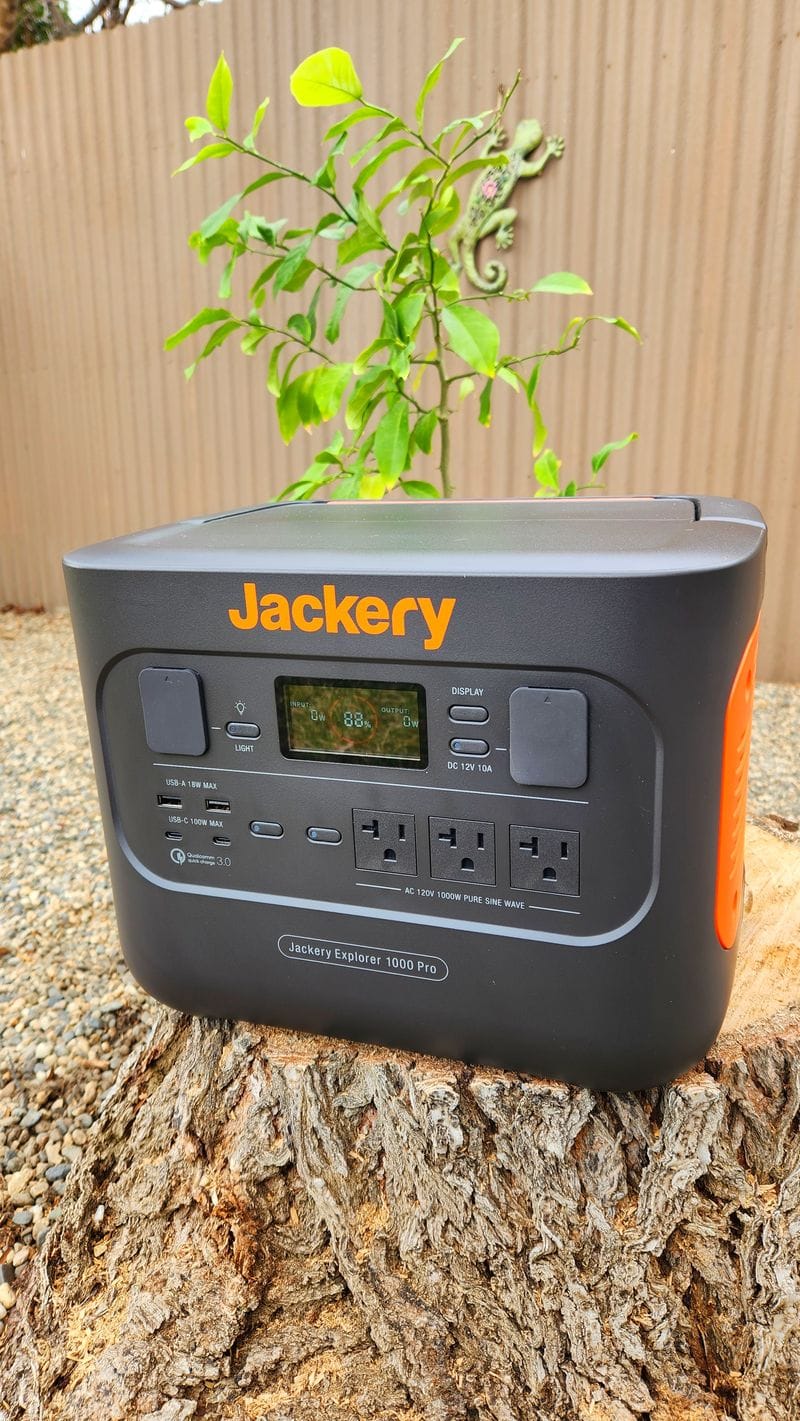 Trust me, having a reliable source of portable power can make all the difference when you're off-grid. So, if you're serious about finding a generator that can keep up with your outdoor adventures, a battery based solar generator like this one should definitely be at the top of your shortlist.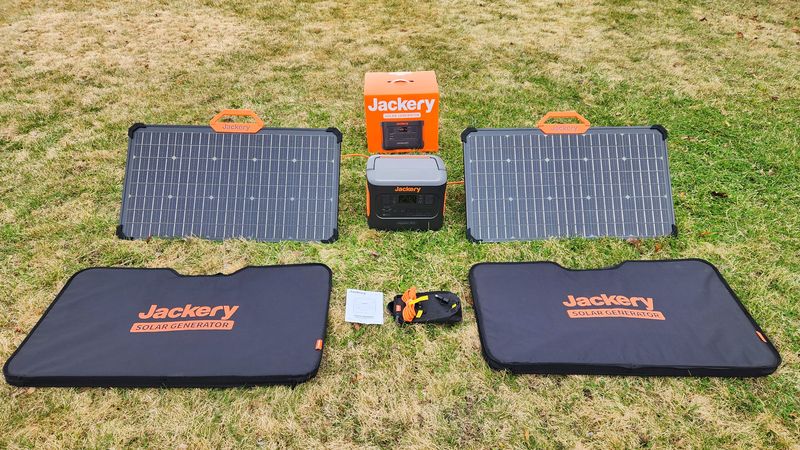 A solar generator means no cords have to run through windows or an expensive outside switch needs to be installed like a gas-powered model that needs to be run outside the home (due to carbon monoxide risk). A solar generator like the Jackery runs clean and silent, and can be kept in the house, while a gas generator needs to run outdoors.
That means that we can move or position the Jackery anywhere in our home if needed and keep it closer to what's important. It's also great when we have to turn off the breakers when working on any electrical projects yet still maintain our modem, router or lighting when one of us needs to continue working online for the duration of the outage.
See the Jackery 1000 Pro on Amazon here.
Learn more about the Jackery 1000 Pro on the Jackery website.
Solar generator for travel and camping
That said, we love our electronics. After a long day out on the trail, it's wonderful to kick back and watch a movie on our laptop, enjoy the cool breeze from a fan in our tent, or brew a tasty cup of coffee.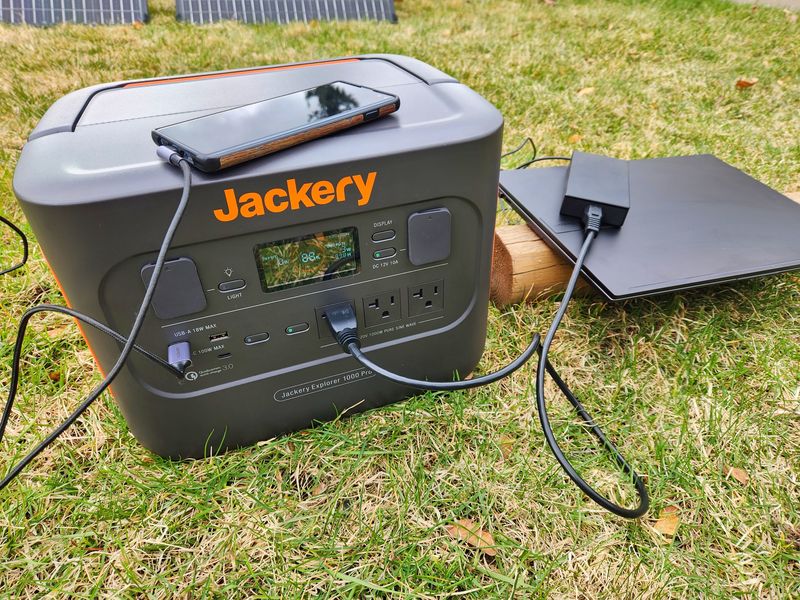 Unfortunately, the great outdoors doesn't come equipped with power outlets, so we need to bring our own portable power station.
Having a solar generator can make off-road camping a little more luxurious, providing power for a blender, coffee maker, or even a mini-fridge plus it can run lights, music and whatever else you might enjoy away from the comforts of home.
A solar generator runs silently, and without fossil fuels. This makes a solar power station much more desirable for camping than a gas generator, since it's silent, and doesn't require refilling with gasoline or propane, which is a limited resource off-road. You can only carry so many cans of gas, which are prone to spilling, and stinking up the inside of your vehicle and propane bottles are often big and clunky to transport safely.
Instead, a solar power station can be recharged by solar panels continually for free with zero noise. That means they can run from sunup to sundown regardless of where you happen to be and if you're in one of the many parks that limit gas generators to only a few hours a day due to noise, with these you can stay plugged in all the time.
Where to use the Jackery 1000 Pro
We love camping, whether it's lakeside in our travel trailer, or in the middle of nowhere in our tents, and we also love to just hop in our vehicle and explore the great outdoors for the day. The Jackery makes this easier for us.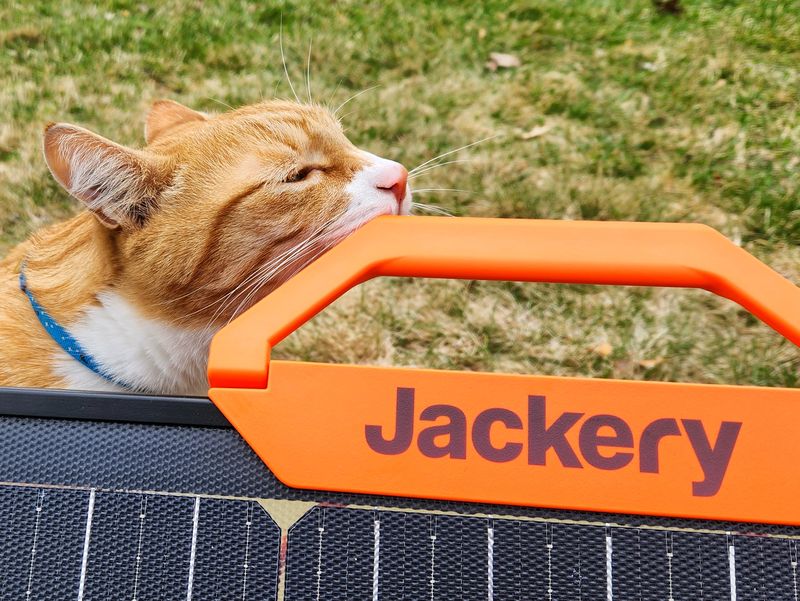 The Jackery Explorer 1000 Pro can be recharged more than 1000 cycles to 80% capacity. If we camp three times a year, for five days each, for a total of 15 days, charging once a day, well, then we'd need to camp for 66 years before we hit the 1000 charges. Basically, the Jackery would outlast me.
Like many of you, we usually bring sensitive electronics, including smartphones, cameras, wireless speakers and the occasional drone when we camp. That means that we want a power station, like the Jackery, which has a pure sine wave AC outlet, letting us safely use the power station inverter to run and charge our delicate electronics.
We also wanted a solar power station that is light enough for our 14 year old daughter to carry. The Jackery 1000 Pro weighs in at just under 25.5 pounds (11.5 kg), which is light enough for her to easily move around a campsite.
The built-in Jackery's LED light is useful while camping, and it's adjustable, with a dim, bright, and flash setting. It could probably run that light for a week.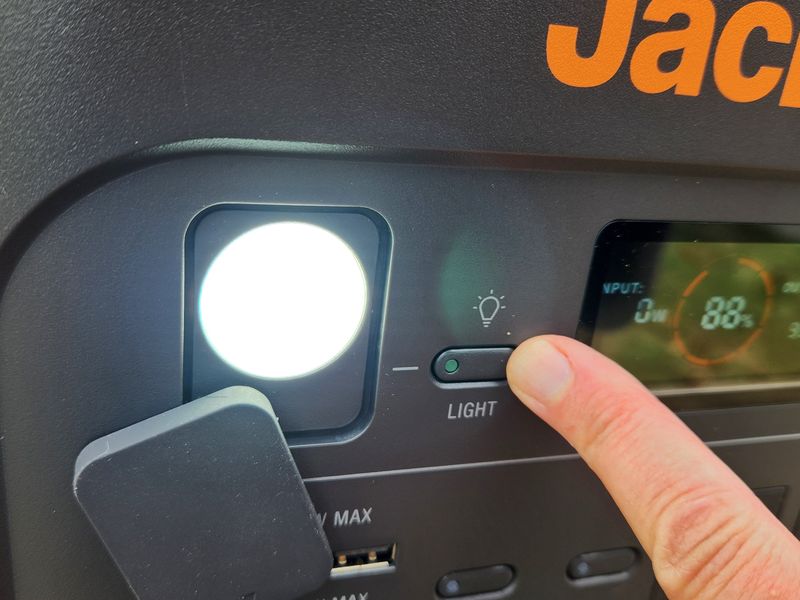 Solar generator for camper
We're starting to do more tent and hammock camping, but we still occasionally take out our travel trailer. It's great for rainy weather, and has more room for our family of four.
A solar generator for travel trailers or RVs generally needs more power than for the off-road tent and hammock camping we do. RVs come with more comfort, and larger appliances like a microwave, blender, and coffee maker plus, since we have more room and a safe place to store them, we're more likely to use small electrical devices, such as a laptops or tablets while in the trailer.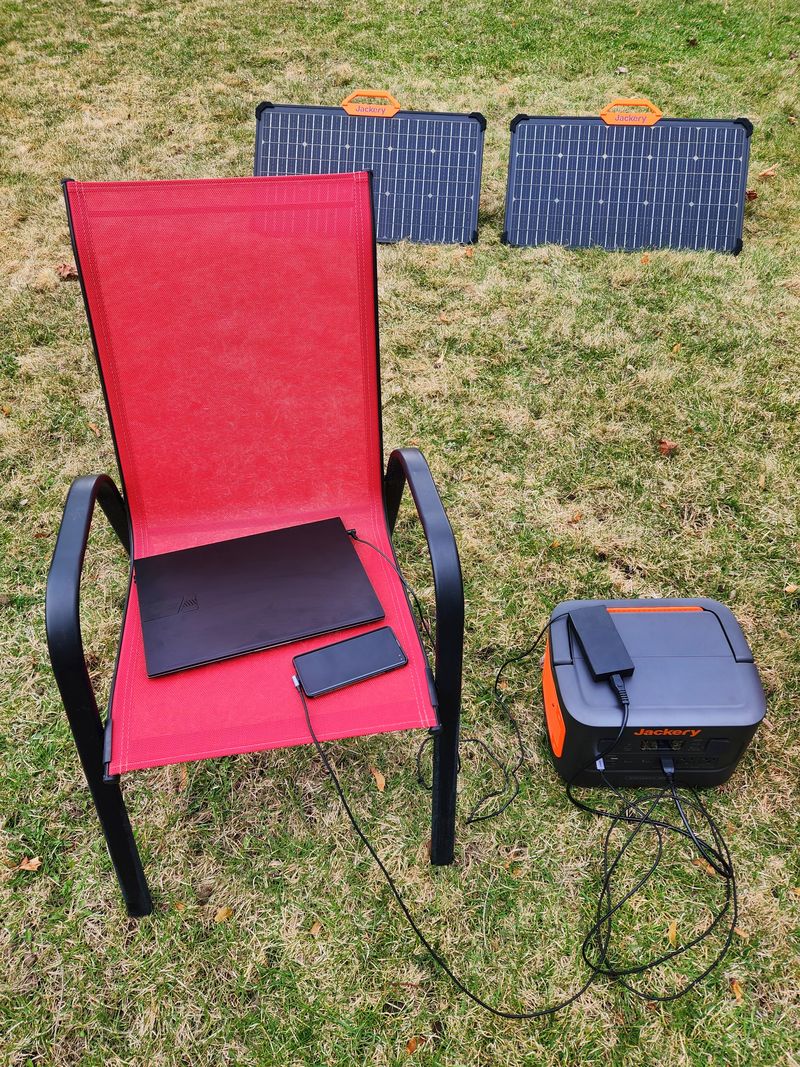 Taken all together, these appliances can create a pretty big electrical demand.
While we personally tend to either tent or use our travel trailer, a solar generator can be equally useful for other RVs, like motorhomes, fifth wheels, tent trailers, caravans, truck campers, and popup campers. It would also be a great addition for the vanlife crowd with their reduced needs.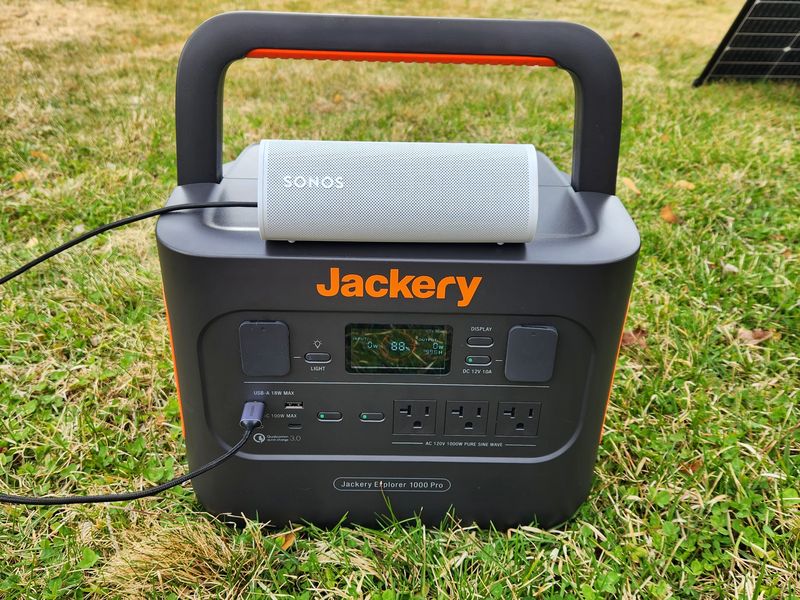 When looking for a solar generator for a camper, generally, the more power the better so you might want to look at Jackery's larger offerings.
Check out higher powered Jackery options on Amazon or on the Jackery website.
Scroll down to see details on the Jackery Earth Day sales event!
Jackery 1000 Pro
There's a lot to like with the Jackery Explorer 1000 Pro.
Because it runs on green energy from the sun, it's super quiet (46 dB), which is about the sound level of normal library sounds, and quieter than a quiet conversation.
There's an integrated battery system (BMS) to monitor and protect battery life, and a folding handle for easy transport and storage.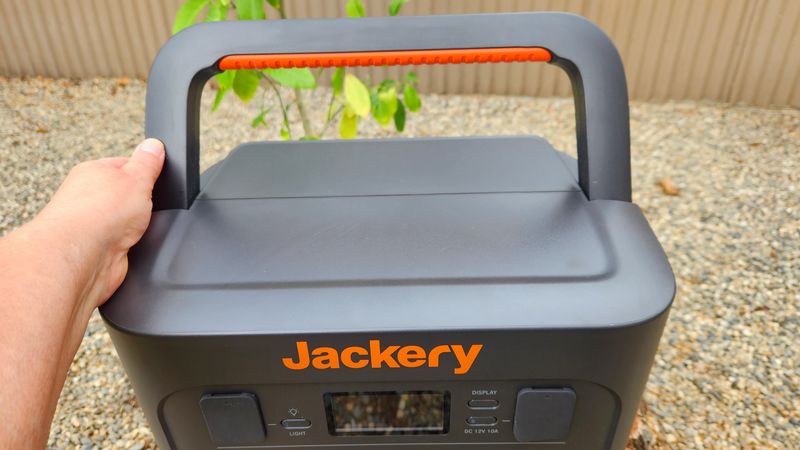 All of those features mean that it's perfect for camping and power outages.
How long will a Jackery 1000 Pro run our office electronics in a power outage?
We make our living online, so a power outage from a natural disaster or even on the grid power issues is not only inconvenient, it can also cost us money if we can't work.
The Jackery Pro has a pure sine wave inverter for stable power that protects against equipment damage, which is perfect for delicate electronics like laptops, phones, drones, cameras, and Wi-Fi routers.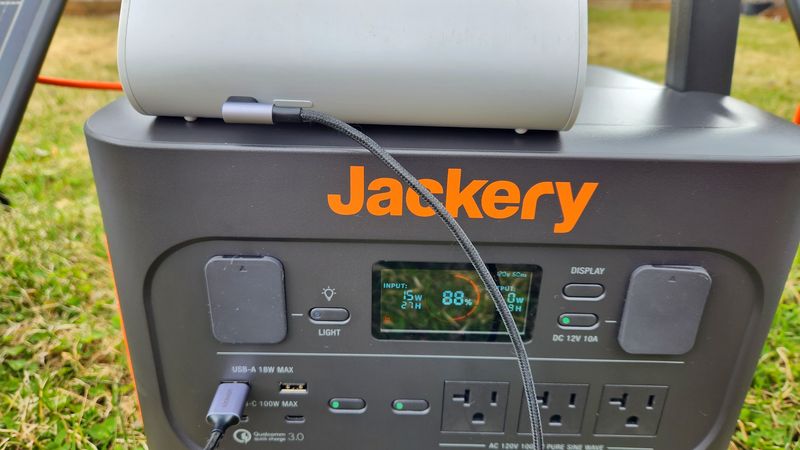 It's also super quiet, so we can work in peace and quiet!
Here's a little of what the Jackery can run:
TV for 13 hours
blender for 2.5 hours
coffee maker for 1.5 hours
charge a phone 130 times
charge a laptop 12 times. My laptop has a 10 hour battery, so that's around 120 work hours on just one charge!
You can charge up to eight singular devices at the same time, using the four USB outlets, three AC outlets, and one car port charger. If you have a USB multi adapter, you can charge even more than that.
If we get hungry, it can run a microwave for 1.2 hours, an instant pot for just under an hour, or even act as a backup for our fridge (1.6 hours on a single charge).
What's especially helpful is that we can recharge the Jackery for free anytime the sun is out. It only takes seven hours to charge from 0 to 80%, using our two 80 W SolarSaga panels. That means that we can get multiple charges every day, especially during the summer when we have over 15 hours of sunlight a day.
We can also just plug it into the wall and have a full charge in 1.8 hours. If you're heading out on a long drive, it can also be charged up in the car with the included 12v lighter adapter charger.
How long will a 1000 watt Jackery Pro last?
The 1000 in the name of the Jackery 1000 Pro means two things:
1000 watts is the maximum power level of a device you can run off the device
1000 watt hours of duration
For example, you could run a one watt device for 1,000 hours, or run a 100 watt device for 10 hours (1,000 watts total).
It's rated for 1000 full charge cycles. At the end of those 1,000 charges, you'll be left with approximately 80% of your original capacity, and capacity will gradually reduce from there.
Jackery also says the 1000 Pro holds an 80 percent charge for a year sitting on a shelf, which is pretty fantastic, especially if you're not interested in the hassle of regularly maintaining your battery. Seriously, I have enough to do in my life that I don't need to have to worry about some sort of regular battery maintenance to the list.
How does a Jackery work, and what can you power with a Jackery?
You can use the Jackery to plug in standard household items, using the AC outlets, USB chargers, or even via a car charger.
The Jackery has:
three – 3-prong, grounded household AC outlets, to plug in anything from a fridge to a blender to a coffee maker to a wireless router to a fiber optic modem
four USB ports! Of these, there are:

Two USB-A ports with quick charge 3.0, which is fantastic for charging cell phones that can take that much power
Two USB-C ports, with 100 W output, which would be great to charge a laptop or tablet

a traditional 12 volt automotive style outlet so you can charge any device you normally plug into your vehicle's cigarette lighter port.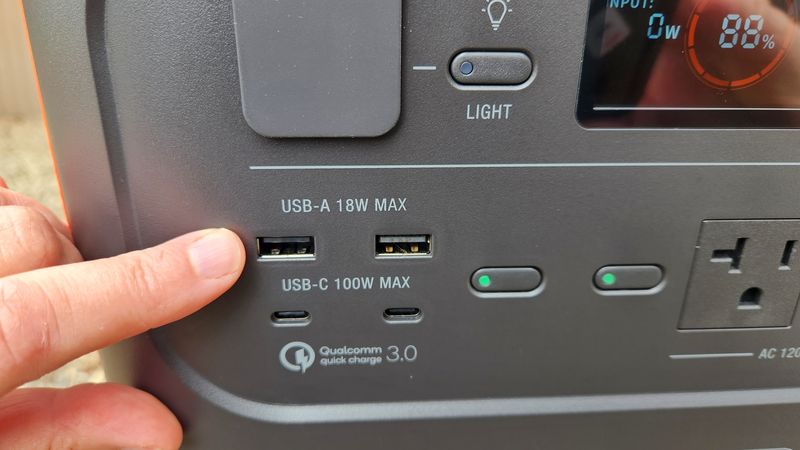 The battery itself is lithium-ion, which is standard in these higher end portable power stations. They last significantly longer than old style lead acid batteries, they're much lighter, and can be more fully discharged than old-school lead-acid batteries.
How to charge your Jackery
To charge the Jackery you have three options: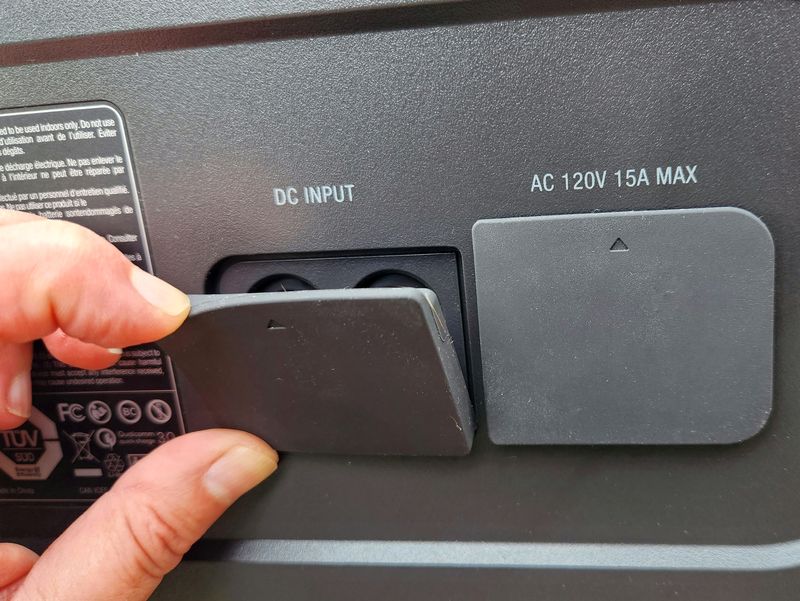 Plugging it into the wall. It'll fully charge in 1.8 hours from empty.
Plugging it into your car's 12-volt outlet, so it can charge as you're driving. This takes about four and a half hours of driving to get a full charge.
Charging with solar panels (approx 7-9 hours with the 2x80w SolarSaga solar panels and less than 2 if you have the 200w version).
I love the option to charge with the wall charger, and from the car battery, but honestly the solar panels high efficiency MPPT charging ability is the main draw for me. I'm all over the idea of charging with free energy from the sun.
The Jackery comes with numerous charging cables and adapters, and a handy carrying case:
1 Car Charge Cable
1 AC Charge Cable
2 DC7909 to DC8020 Adapters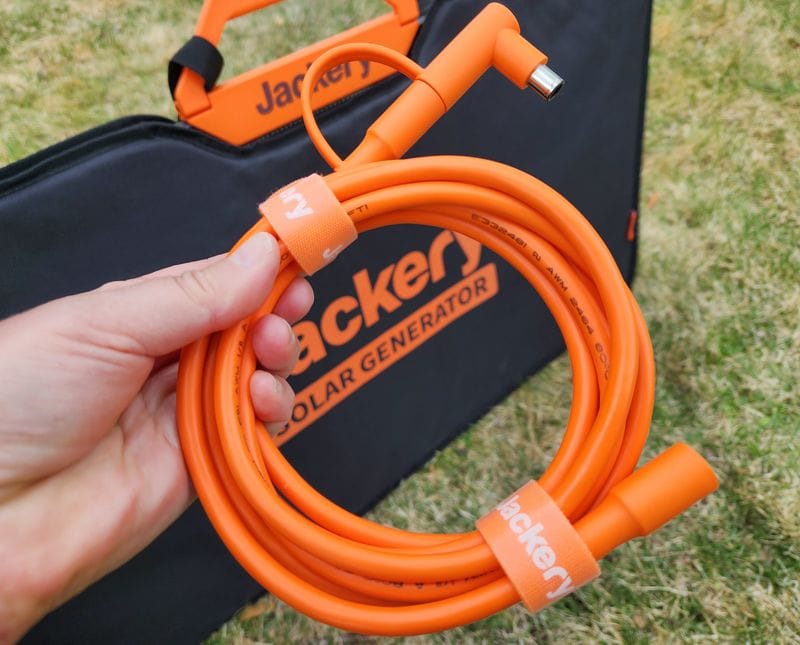 It also comes with user manuals for the Jackery Explorer 1000 Pro, and the SolarSaga 80 W solar panels.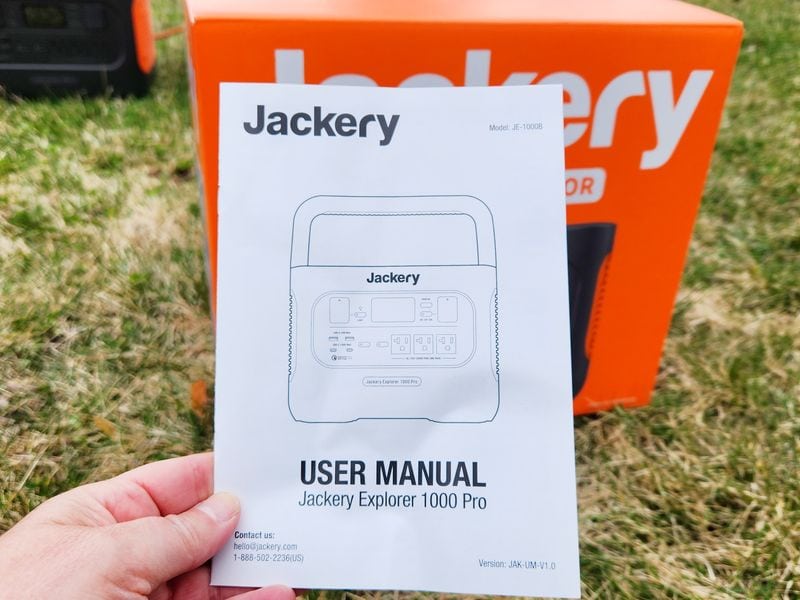 Jackery SolarSaga 80W solar panel review
Our Explorer unit came with the affordable two Jackery SolarSaga 80 W panels option.
These solar panels use IBC solar cells, which is a fancy way of saying that they're really efficient at turning sunlight into electricity. In fact, they can convert up to 25% of the sunlight they receive into usable power. That means you can get more power out of these panels than you would with other types of solar cells.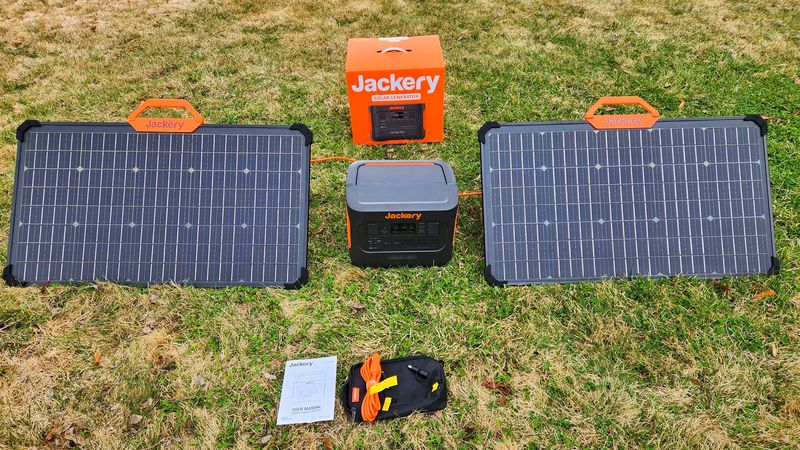 What's more, these panels work well even in low-light environments. So if you're using them on a cloudy day or in the shade, you'll still get a decent amount of power. And because they're designed to be heat-resistant, they'll keep working even when temperatures rise. In fact, in hot weather, you can get even more power out of these panels.
Overall, if you're looking for a reliable, efficient, and durable solar panel for your outdoor adventures, Jackery SolarSaga 80 watt solar panels are a great choice.
Each solar panel comes with a zippered carrying case with a built-in handle to better protect them when on the go.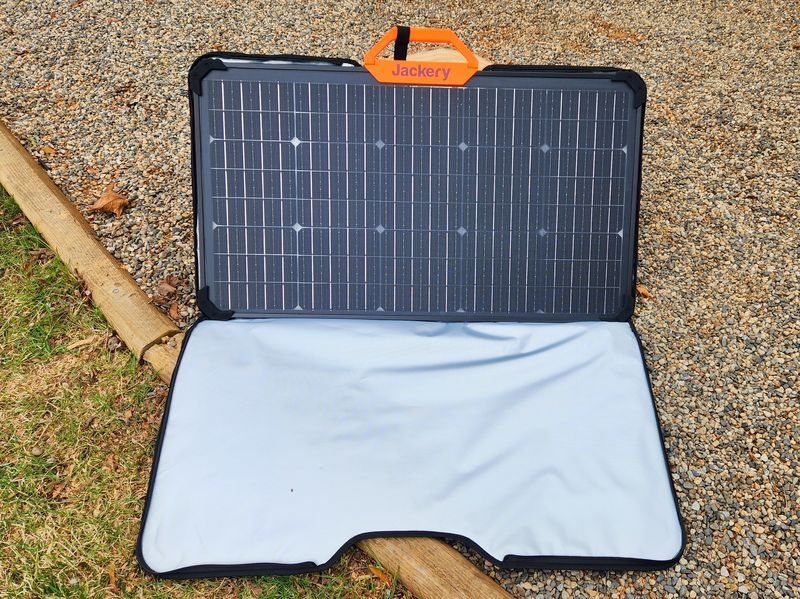 Each panel only weighs around 11 pounds (5 kg), and they unfold and set up in around 60 seconds, giving our family endless green power wherever we happen to be.
It comes with all the cables and connectors that you'll need including extenders to give you a few more ideal solar placement options.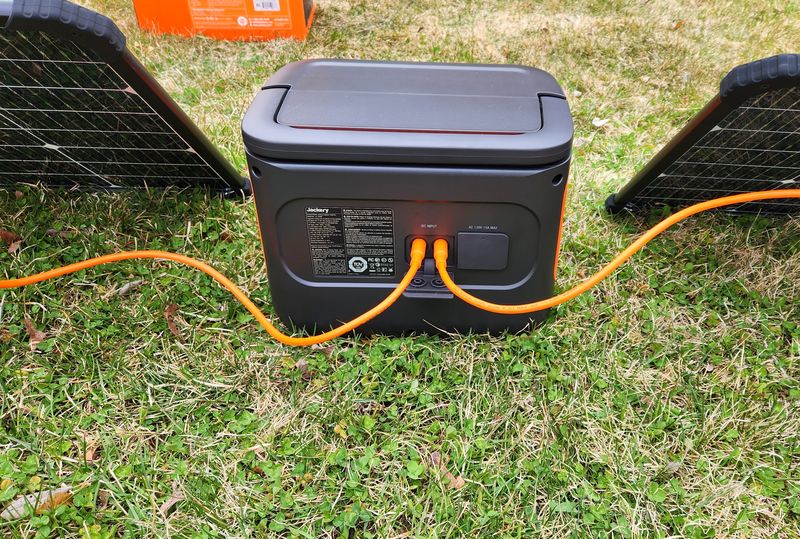 The panels come with a quick flip metal stand on the back to angle them to better capture the sun's rays.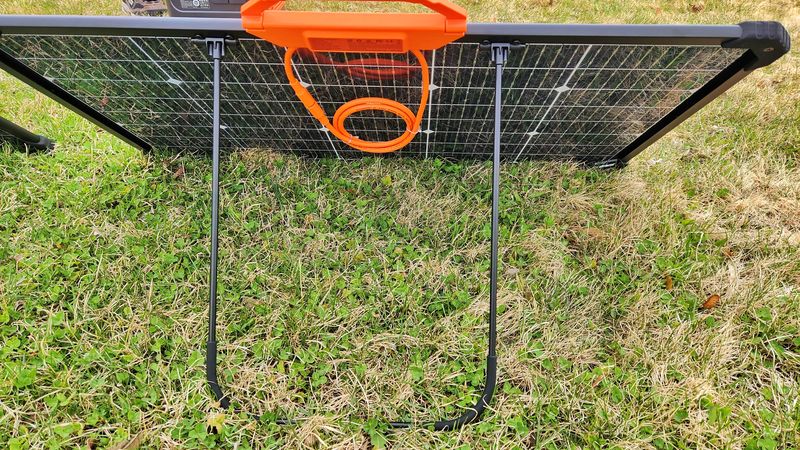 These fold up really nicely for storage and transport, and when they unfold and are aimed right at the sun it takes nine hours for a full 0 to 100% recharge (or only seven hours for a 0 to 80% recharge). Honestly, that's just fine with me, as during summer camping season we get around 14 to 15 hours of sunlight every day and in all likelihood, the Jackery won't be at 0% when we go to charge it so it will take even less time to recharge.
The panels themselves are pretty heavy duty, with both water and dust resistance. They're IP68 waterproof and dustproof certified.
What's an IP rating?
IP ratings were created by the International Electrotechnical Commission to give a standardized rating of protection offered by the enclosure of electrical equipment against liquid and dust.
The IP code is has two numbers:
The first number is the degree of dust protection, and is rated on a scale from 0 (no protection) to 6 (dust does not enter the equipment).
The second number rates protection against liquids and uses a scale from 0 (no protection) to 9 (high-pressure hot water from different angles).
Does the Jackery 1000 Pro support pass-through charging?
Yes, you can charge your Jackery with your solar panels, and plug in devices to charge from the Jackery at the same time. This is a great option for topping off your phone or laptop while still recharging the Jackery for later use.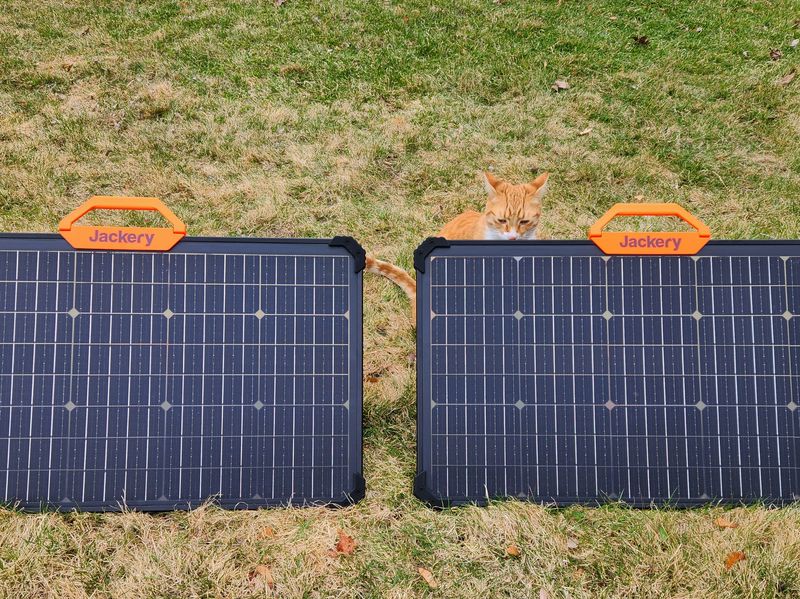 How many solar panels does it take to charge a Jackery 1000 Pro?
We have the two 80 W SolarSaga panels, but you can also get the four SolarSaga 200 W option.
With the four SolarSaga 200 W solar panels, you can recharge in only 1.8 hours to full charge. That's as fast as charging with a wall outlet, but it does come at a cost to your wallet.
Is Jackery waterproof?
No, the Jackery 1000 Pro solar generator itself isn't waterproof.
While the solar panels do have a high resistance to dust and water, that is not true of the power station, so you need to be careful if you're using this in a rainy climate, in snow, or in high humidity. There are covers for some of the ports though and they will help protect the Jackery from certain things.
Jackery 1000 vs 1000 Pro
The Jackery Explorer 1000 Pro is a newer, upgraded version of their Explorer 1000 power station.
Here are a few of the upgrades you'll find in the Jackery Explorer 1000 Pro vs the original Jackery 1000:
Wall charge of 1.8 hours for a full charge vs the original's seven hours for a full charge
Maximum solar panel support of 800 W (1.8 hours for a full charge) vs the original's 200 W Max (8 hours for a full charge)
foldable handle (Jackery 1000 original has a fixed handle)
LED light (no light in the original)
1000 cycles to 80%+ capacity (vs the 500 cycles to 80%+ capacity in the original)
extended warranty 3+2 Years 2 yr extension offer available vs the 2+1 years of the original
Car charge of 12 hours vs 14 hours for the original
Additional info on the LED display
The Explorer 1000 Pro doesn't require the power brick to charge from the wall – all you need is the included heavy cable for charging
The Explorer 1000 Pro can self-diagnose faults and display details on the LED display.
Is the Jackery 1000 Pro worth it?
For me, the faster charging of the Jackery 1000 Pro (vs the original Jackery 1000) makes the small increase worth it.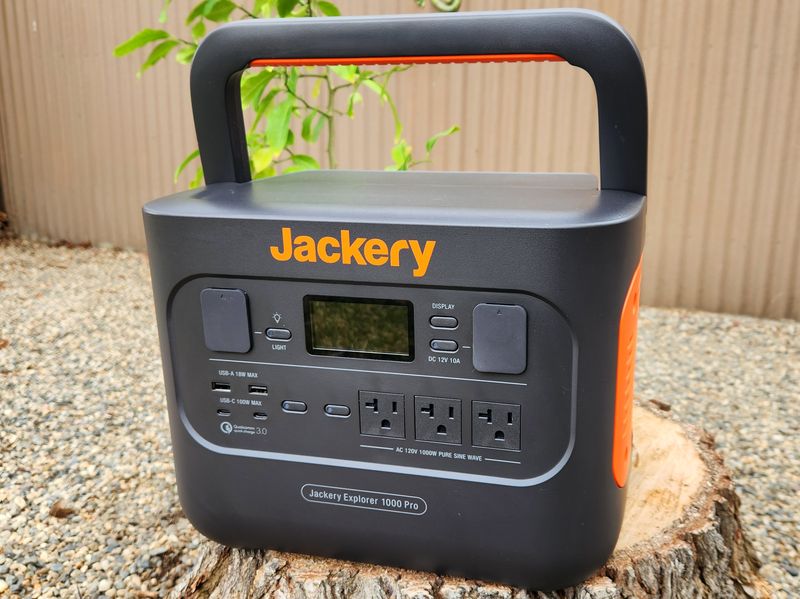 The Jackery Explorer 1000 Pro charges in only 1.8 hours when plugged in vs the original's seven hour charging time. It can also charge in 1.8 hours via solar (with the 4×200 W panels), which is lightning fast.
That fast charging speed, alone, makes the Jackery 1000 Pro worth it for me.
The Jackery Explorer 1000 has the capacity to charge an essential device like your smartphone 130 times over. While that's probably overkill, the Explorer Pro's three 110V AC outlets means it can also be used to keep small appliances running during a power outage. It can power a tower fan for 17 hours on one charge, and having a fan to cool us off during a heat wave when the power is out would be incredibly useful.
It can also charge up power tools on the go or charge up battery operated power tool batteries if you tend to work away from home or in areas without power. We could see something like this being a huge boon to contractors on the go or working on new homes without electricity available yet.
Let's talk price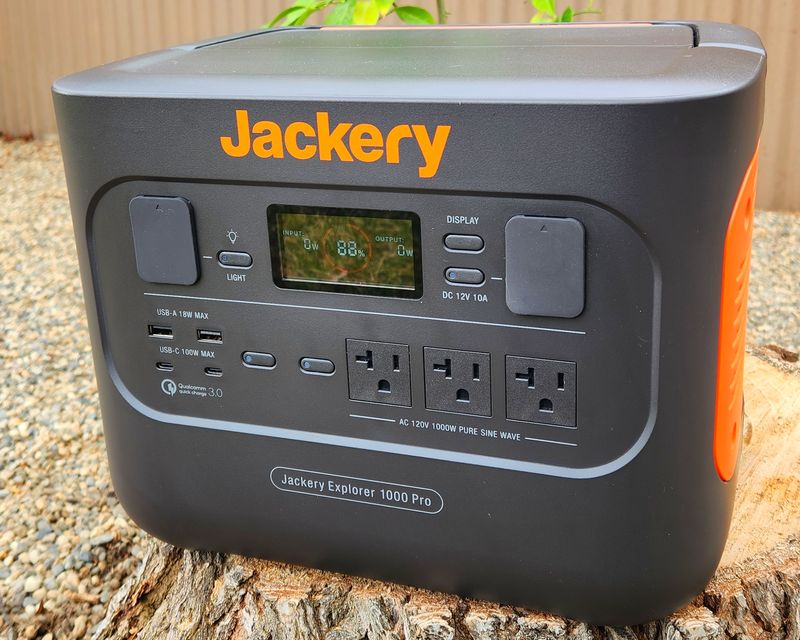 At $1,199 USD with the 15% off Earth Day promo – (or $1,614.15 with the two SolarSaga 80W solar panels), it's a relatively affordable power source for outdoors and on camping trips, and emergencies.
Right now, there's a fantastic Earth day promotion.
Jackery is throwing a flash sale with up to 20% off on selected products from April 14th to 22nd!
Don't miss the chance to snag one during the Jackery Earth Day Promo for your spring getaway!
See the Jackery 1000 Pro Earth Day promo on Amazon here.
See discounts for the Jackery 1000 Pro Earth Day Promo on the Jackery website.
Jackery 1000 promo code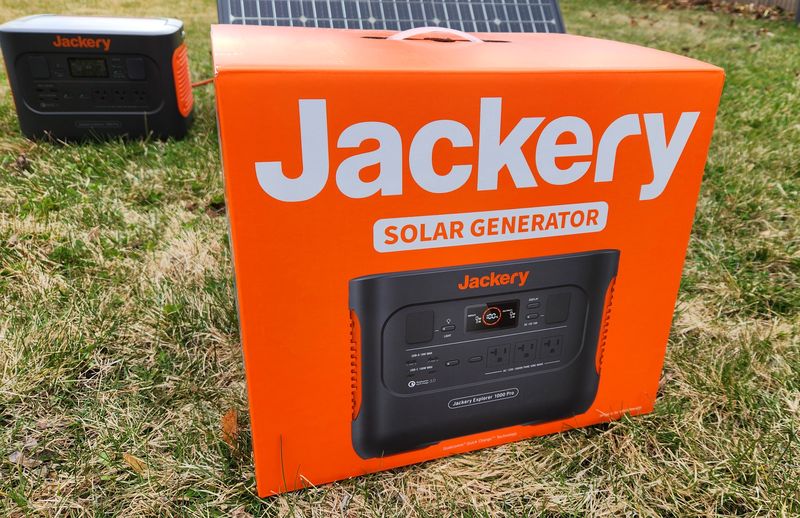 You can find the promo code for the Jackery on Amazon or it's own website.
Jackery 1000 Pro Earth Day promo on Amazon.
Jackery 1000 Pro Earth Day Promo on the Jackery website.
Is the Jackery worth the money?
It's definitely not a cheap portable power device, but it's in the premium range for quality and reputation too.
If you're interested in getting a portable power system that lets you go just about anywhere and have serious power and serious recharge this is definitely one to look at.
More great reviews: