Marble Canyon Hike, Kootenay National Park
6 min read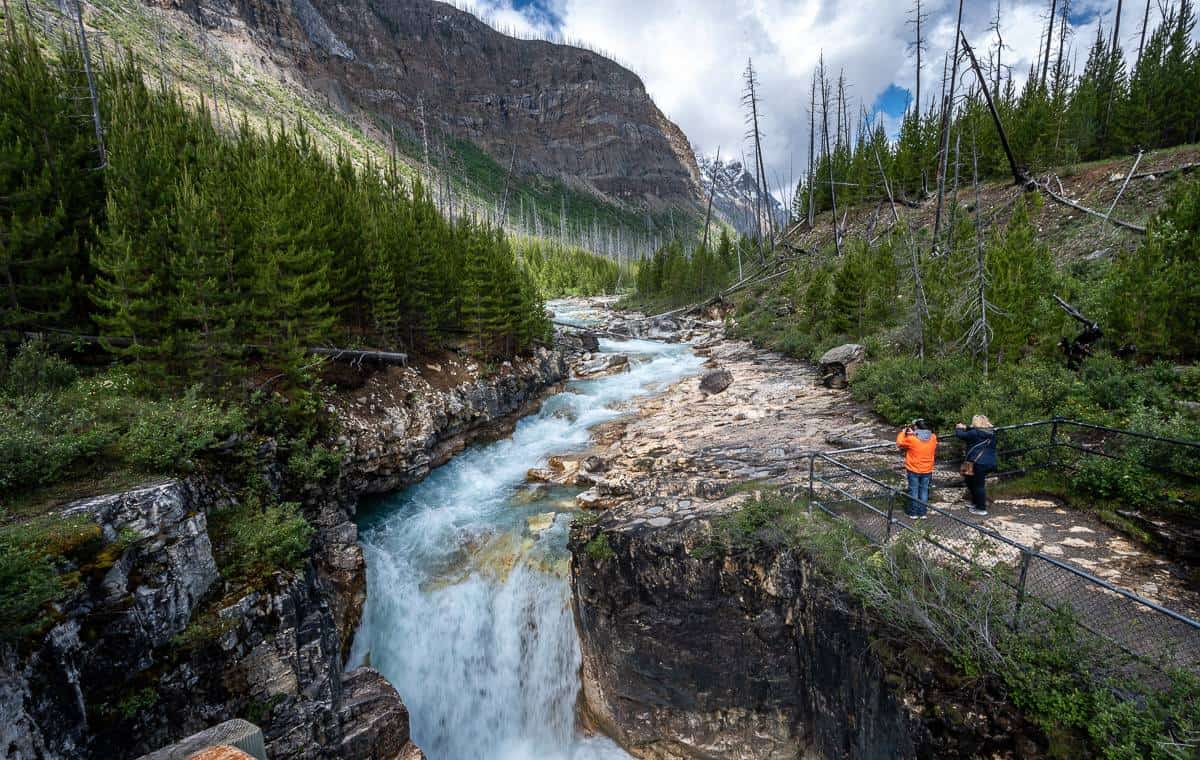 Last updated:
Marble Canyon is a scenic, narrow 600-metre long gorge up Tokumm Creek in Kootenay National Park, just south of the border with Banff National Park. It's a short, easy must-do outing if you're staying in the Banff – Lake Louise corridor or if you're looking for a quick stop as you drive south to Radium Hot Springs and the Columbia Valley. You can knock off the easy Marble Canyon hike in as little as 20 minutes, but photography lovers will want to linger.
Signage at the beginning of the Marble Canyon trail explains that the canyon was formed by water eroding a fault in the limestone and dolomite bedrock over a period of 10,000 years. That erosion is ongoing.
As you hike up the Marble Canyon trail, you'll cross Tokumm Creek seven times via a series of bridges – with the final bridge affording a view of the steepest part of Marble Canyon. Look down 39 m or 128 feet to the turquoise waters of Tokumm Creek churning and swirling below. Do exercise caution and don't try for Instagram fame – as there have been a few people that have lost their lives when they fell in.
This post includes some affiliate links. If you make a qualifying purchase through one of these links, I will receive a small percentage of the sale at no extra cost to you. Thank you very much for your support.
Marble Canyon hike in Kootenay National Park summary
Distance: 1.6 km (1.0 miles) round trip
Elevation gain: Approximately 30 m or 98 feet
Level of difficulty: Easy, but not accessible to strollers or wheelchairs.
Time needed: 30 minutes to one hour depending on how many photos you stop to take.
Bears: The Marble Canyon hike is popular, so the chances of seeing a bear are slim – but I still take my bear spray. 
Best season: It's a great short hike year-round, but in winter the snow is often higher than the summer fencing, so exercise caution.
Dogs allowed: Yes, but keep them on a tight leash, especially on busy days. Don't forget the dog poop bags which you can dispose of in the parking lot.
Washrooms: There are a couple of outhouses in the parking lot.
Cellphones: Don't expect any coverage in Kootenay National Park until you reach Radium Hot Springs.
Parks Canada red chairs: If you need to sit down at some point along the Marble Canyon hike, look for two red chairs on the right about two thirds of the way up Marble Canyon.
Marble Canyon trail location
The Marble Canyon trail is located off Highway 93 in Kootenay National Park, 18.3 km southwest of Castle Junction and 87 km north of Radium Hot Springs.
Marble Canyon hike description
The Marble Canyon hike is as straightforward as it gets. It's a great hike for families and those of you wanting to stretch your legs on an easy trail, especially as the scenery pops within minutes of starting the hike.
From the parking lot head into the woods and head along a trail that parallels Tokumm Creek. Then there's a short climb up a section of stairs – the only "hard" part of the hike.
From there continue along the Marble Canyon trail weaving across the seven footbridges as they present themselves. It's quite the thrill to peer down into the raging waters of Tokumm Creek! When you look back in the direction of the parking lot, you'll see Vermilion Peak to the right and Stanley Peak to the left.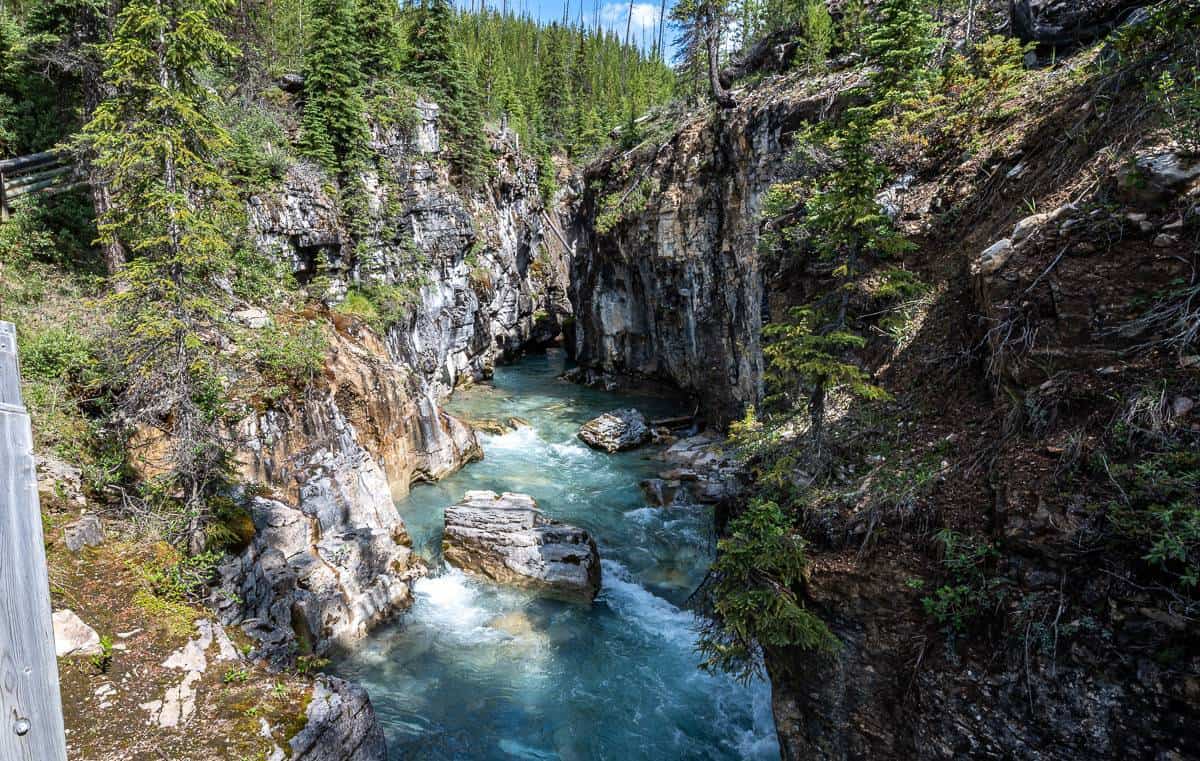 When you reach the end of the Marble Canyon trail, stop, and admire the waterfall as it drops into a hole in the canyon. It's mesmerizing to watch the power of the water. Looking ahead you'll see the calmer waters of Tokumm Creek and remnants of a burn that happened in 2003.
Retrace your steps to return to the parking lot. I think the view going back, is equally as beautiful as the view on the hike up Marble Canyon.
Other hikes from Marble Canyon
If you hike a short distance up Marble Canyon – you'll notice a gate and a trail heading to the left along with trail signage, just before a short steep set of stairs. If you're looking for a longer hike you can walk 3 km one way to the Paint Pots (orangish-red mineral deposits once used as a pigment by the Indigenous Peoples in the area) or 3.4 km one way to the Ochre Creek trail.
However, you can also drive 2.6 km south to the Paint Pots trailhead and do a shorter hike. The Ochre Creek Trail takes off from the Paint Pots – and is one of the gateways to the famed Rockwall Trail.
Where to stay near Marble Canyon
There's a bit of everything close to the Marble Canyon trailhead – from camping to hostels, mountain inns, and the whole gamut of choices in Banff and Lake Louise.
Marble Canyon Campground
The Marble Canyon campground is almost directly across the highway from the Marble Canyon trailhead. The campsites are unserviced so are best suited to tents and motorhomes and trailers under 15 feet long. The campground is typically open from the third week of June until early September. There are 36 sites that can be reserved and 24 sites available on a first come, first served basis. You can make online reservations.
Other nearby options
Storm Mountain Lodge & Cabins, back in Banff National Park, is only a 9-minute drive away. They offer cabins with wood burning fireplaces and a dining room and lounge. 
Castle Mountain Chalets at nearby Castle Junction would also be a good choice. They have dog-friendly rooms.
In summer, check out Johnston Canyon Lodge & Bungalows, located beside popular Johnston Canyon. 
For those on a budget but not interested in camping, then the Castle Mountain Hostel would be a good option.
Radium Hot Springs
If you're planning to continue through Kootenay National Park to Radium Hot Springs then you have more options. There is also camping at the Redstreak Campground above the Village of Radium Hot Springs. There are lots of options from unserviced sites to oTENTiks.
Bighorn Meadows Resort is a great choice if you want cooking facilities. It's also got a seasonal outdoor heated pool.
The Prestige Radium Hot Springs Resort is conveniently located right as you enter the village and is rated as very good.
More hikes within a 20-minute drive of Marble Canyon
Click on the photo to bookmark to your Pinterest boards.