Peak Design Travel Backpack Review
22 min read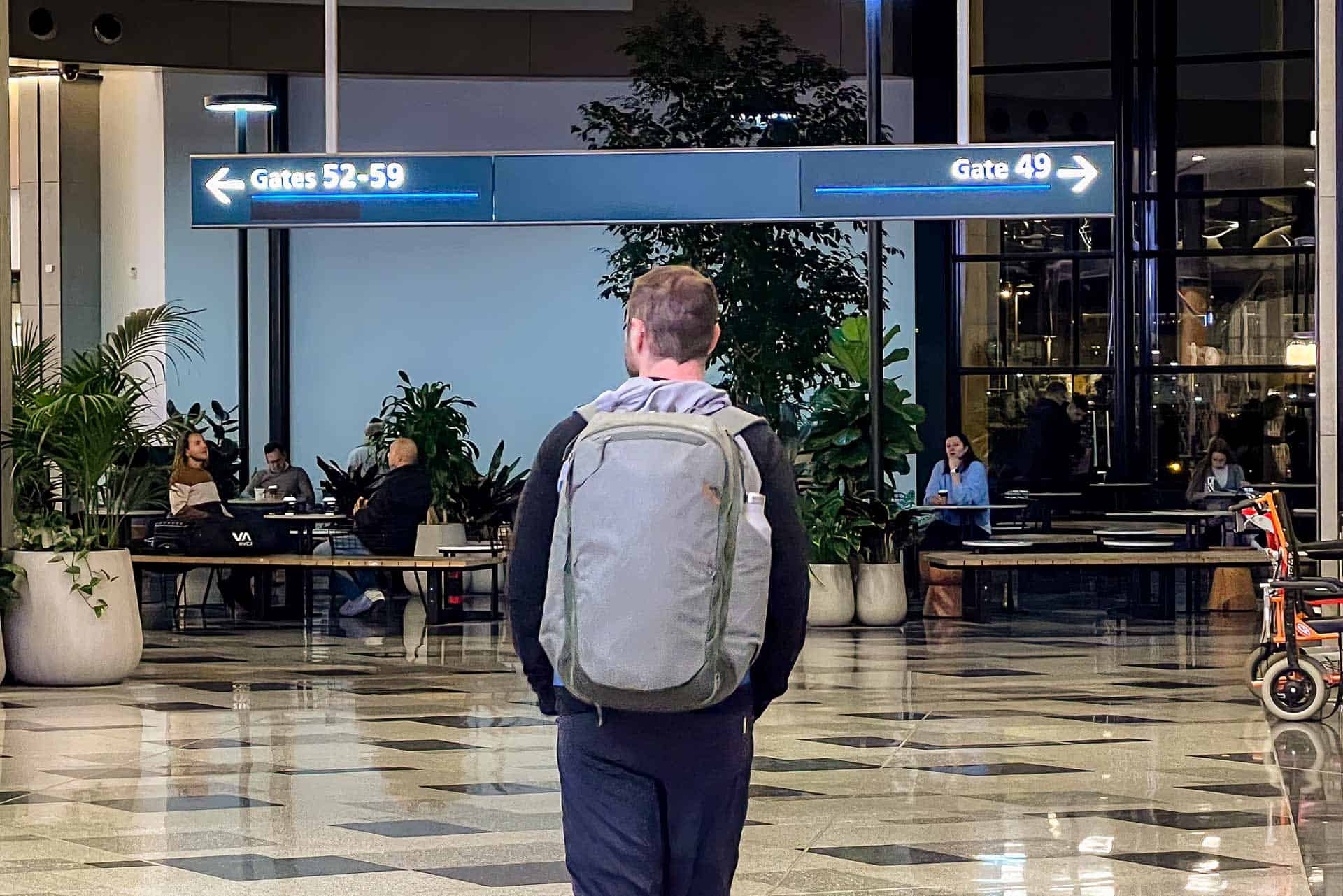 In my constant search for finding the best travel gear, I finally picked up the 'Ferrari' of carry-on bags and put it to the test. In my personal and comprehensive Peak Design Travel Backpack review I set out to determine if it really is the best carry-on backpack for travellers and photographers, break down all the innovative features and most importantly decide whether it's worth the somewhat hefty price tag.
For the past 15 years I've been fortunate enough to traverse the globe pretty much full-time, exploring breathtaking landscapes and immersing myself in rich cultures with everything I own on my back.
As a professional travel photographer and full-time wanderer, I've relied on a mix of check-in and carry-on style travel to accommodate my ever-changing needs.
Some trips I'll need camping gear, other times I'll need clothing for -40 degree temperatures, and sometimes, when I'm really lucky, I'll just need my camera gear and summer wear for a tropical assignment.
Despite my experience, the biggest dilemma always remained – how the hell do I actually carry everything in a travel backpack without needing a team or sherpas to manage it all?
I've been on a perpetual quest to find the perfect carry-on bag that strikes the right balance between functionality, durability, and style.
The right travel backpack also needed to cater for my somewhat demanding list of equipment and other bags I always need to bring with me.
READ MORE: Don't miss my complete guide to all the best travel backpacks on the market right now!
Besides being a full-time content creator, I also run a number of online businesses and spend more time than I like to admit in airports, on sketchy boat or bus rides and walking long, long distances to avoid unscrupulous taxi drivers.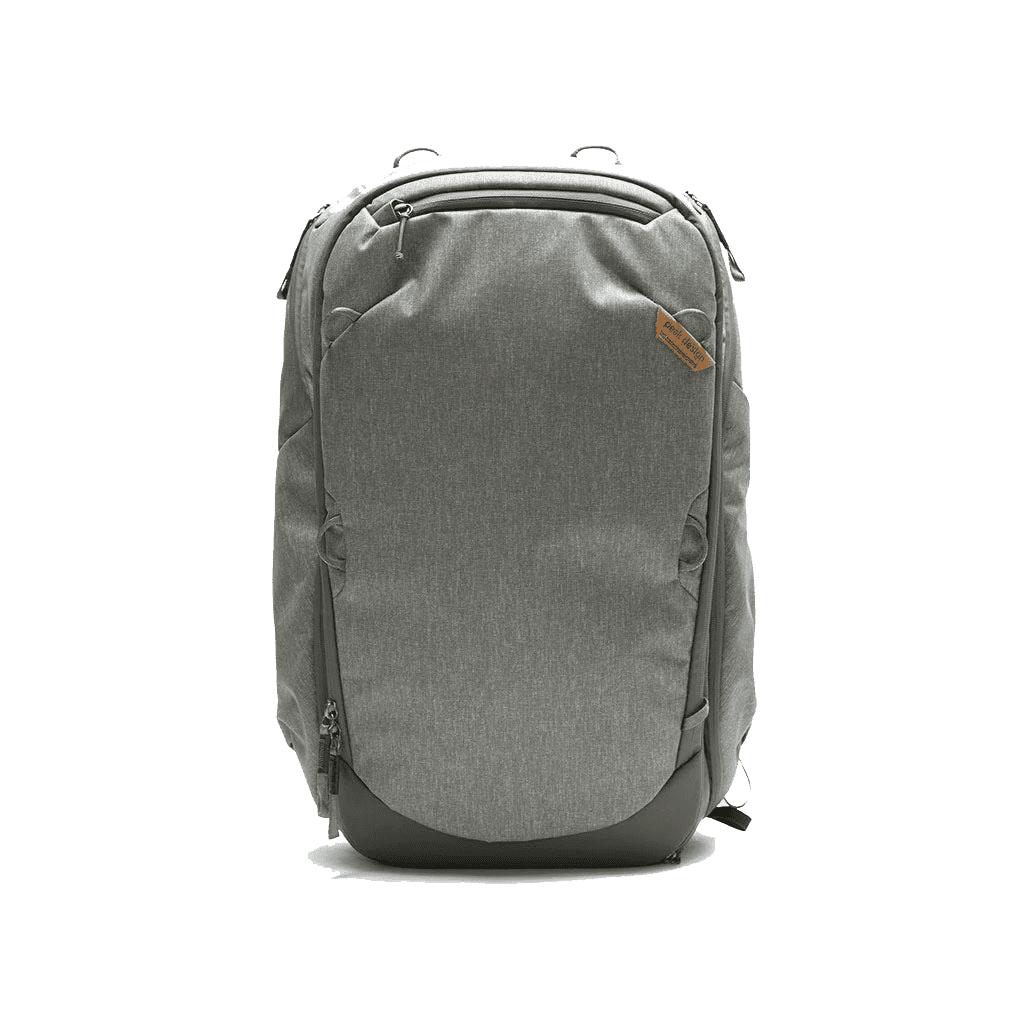 Peak Design Travel Backpack
Tonnes of storage and organisation
Very customisable for travel, tech and camera gear
Strong, durable and water-resistant
So not only do I need something that carries a laptop, multiple cameras and lenses, clothes, electronics, cables and whatever else I need for a particular trip, it needs to be comfortable, durable, water resistant, discreet and hold everything without the inside of my bag looking like a complete mess.
At my last calculation, I have personally bought and tested almost 50 bags, yet I had never quite discovered one that ticked all the boxes and met my high standards.
Until now? (Yep, question mark…)
As my journeys took me to new corners of the world, I'd often hear whispers about the Peak Design Travel Backpack from fellow travellers and photography enthusiasts.
It was hailed as a game-changer that had revolutionised the way people travelled with their gear.
I have already used a number of Peak Design products in the past, with no bad experiences.
The Capture Clips are simply phenomenal. The camera straps live permanently on all of our bodies. Hell, even the Clutch and Cuff have their places in our bags full time.
And I've managed to get my hands on their Everyday Bag and Messenger Bag a few times and been very impressed.
Still, I remained skeptical; after all, I have been left disappointed by many so-called "revolutionary" bags in the past. And these Peak Design bags, as well-received as they seemed to be, aren't exactly cheap.
Eventually, curiosity got the better of me, and I decided to bite the bullet and give the Peak Design Travel Backpack a shot.
After all, if it lived up to the hype, it could be the solution to my carry-on conundrum.
With my skepticism in tow, I put the Peak Design Travel Backpack through the wringer, subjecting it to the rigorous demands of my on-the-go lifestyle.
As a professional traveller , the quality and features of my gear are of paramount importance, so I was determined to leave no stone unturned in my evaluation of the backpack.
My journey with the Peak Design Travel Backpack took me from the bustling city streets of Sydney to remote villages in the Solomon Islands, and I paid careful attention to how it performed under various conditions and environments.
In the following review, I will share my honest thoughts and experiences with the Peak Design Travel Backpack, detailing its many features, its few drawbacks, and ultimately, whether or not it lived up to the hype that had surrounded it for years.
So, without further ado, let's dive into my Peak Design Travel Backpack 45l review and discover if it truly is the carry-on bag that can meet the demands of a seasoned traveller and professional photographer like myself.
My Peak Design Travel Backpack Review – Is the 45 Litre Bag Worth It?
The Peak Design Travel Backpack is a versatile and well-designed 45L bag that is highly regarded for its functionality, durability, and overall performance.
It can be compressed to 35L for a more compact setup or expanded to its full 45L capacity, making it suitable for a variety of travel scenarios.
The bag's design prioritises access and organisation, featuring multiple access points including back, side, and front panels, and various pockets and compartments for sorting your gear.
This includes a dedicated laptop sleeve, internal and external pockets for better organisation, and the ability to integrate with Peak Design Packing Tools for further customisation.
Constructed from high-quality, weatherproof materials, the backpack is designed to withstand harsh conditions and keep your belongings safe.
The well-padded back panel and shoulder straps, along with a stowable waist belt and adjustable sternum strap, contribute to a comfortable carry, making it a reliable choice for long travel days.
However, it's worth noting that the bag may be on the heavier side for some users, and the price point is higher compared to other options.
Despite this, its solid construction, thoughtful design, and versatile functionality make the Peak Design Travel Backpack a popular choice among seasoned travellers, particularly those who carry camera equipment or other delicate tech gear.
The bag comes in 30 litre and 45 litre versions, but I went for the larger one.
Let's dive into my full review!
Summary of Features
Here's a bullet point summary of the key features of the Peak Design Travel Backpack:
Expandable capacity: The bag can expand to 45L for longer trips or compress to 35L for shorter trips or day-to-day use.
Multiple access points: The bag features back, side, and front panel access, making it easy to reach your belongings without digging through the entire bag.
Excellent organisation: The bag includes a dedicated laptop sleeve, external quick-access pockets, and internal pockets to keep your gear organized.
Customisable setup: The bag is compatible with the Peak Design Packing Tools, allowing for further customisation and organisation.
Weatherproof materials: The bag is made from high-quality, weatherproof materials to protect your belongings in various weather conditions.
Comfort features: The bag includes a well-padded back panel and shoulder straps, a stowable waist belt, and an adjustable sternum strap for comfortable carrying.
Meets carry-on requirements: The bag is designed to meet most airline carry-on requirements.
High-quality construction: Known for its durability and robust construction, the bag is designed to withstand the rigours of travel.
Detailed Features of the Peak Design 45 Litre Travel Backpack
Let's dive a little deeper into the features of this epic travel backpack.
Zippered Pocket Compartment
The main zippered compartment of the Peak Design Travel Backpack is the backbone of its design and offers a wide range of organisational possibilities.
Accessed via the back panel, the primary zippered compartment is expansive, making up the majority of the bag's 45L volume when fully extended.
This compartment is secured with robust and durable zippers that run around the perimeter of the back panel, ensuring your belongings are kept safe.
The zippers are also lockable for an added layer of security when you're on the move.
Once you open the Peak Design backpack, you'll see the large, cavernous interior designed to hold the bulk of your gear.
The space is versatile and can be utilised in a variety of ways depending on your packing style and travel needs. It can accommodate a combination of clothing, shoes, toiletries, camera gear, and other travel essentials.
A standout feature is that the main compartment is compatible with Peak Design's system of Packing Tools.
These include packing cubes, a tech pouch, a wash pouch, and a camera cube. They fit seamlessly into the main compartment, allowing you to further organise your belongings and tailor the bag to your specific needs.
These additional packing tools are a big plus for those who want an extra level of organisation.
Within the main compartment, on the inner sides of the bag, there are also two stealthy zippered pockets.
These pockets are great for stowing smaller items that might otherwise get lost in the large space. Think items like cables, chargers, snacks, or personal hygiene products.
The back panel that houses the main compartment zipper also includes a sizable flat pocket suitable for documents, notebooks, or other slim items.
This is especially handy for items you want to keep flat or protect from being bent or damaged.
Overall, the main zippered compartment of the Peak Design Travel Backpack is a flexible and spacious area that can be customised to suit a wide variety of travel needs.
Its design keeps in mind all the details and practicality of accessing and organising your belongings effectively and securely.
Zippered Dividing Panel with Dual-Side Access
The Peak Design Travel Backpack features a zippered dividing panel with dual-side access that truly enhances its functionality and accessibility, setting it apart from many other travel bags on the market.
This mid-layer dividing panel essentially splits the main compartment into two separate sections – a top and a bottom.
It's a convenient feature that offers a new level of organisation, allowing you to separate your belongings based on use or category, such as clothing in one section and tech gear or shoes in the other.
Each side of the dividing panel has a zippered mesh pocket that's perfect for storing small items that you want to keep secure yet visible.
These pockets can be used for items like cables, chargers, or travel-sized toiletries.
But the real game-changer is the dual-side access to these compartments. With zippers on both sides of the bag, you can quickly reach into either compartment without opening the entire bag.
This is particularly handy when you're in a hurry or in a tight space like an airplane cabin or a crowded train. It eliminates the need to rummage through your bag, helping you to find what you need with minimal fuss.
Additionally, the zippered dividing panel is not just functional, but it's also flexible. If you want to use the full capacity of the main compartment, you can simply unzip all the zippers and dividing panel to create one large space.
This flexibility gives you the freedom to pack your bag in a way that suits your specific needs and travel style.
In essence, the zippered dividing panel with dual-side access is one of the key features that enhance the adaptability and practicality of the Peak Design Travel Backpack, making packing and accessing your items a much smoother process.
Organisational Features and Accessibility
The Peak Design Travel Backpack shines in its organisational features and accessibility, which are deliberately designed to facilitate easy packing and quick access to your belongings.
Multiple Access Points: The backpack features back, side, and top access points, each of which offers entry to different sections of the bag. This design is particularly advantageous when you need to grab something quickly without having to unpack the whole bag.
Main Compartment: The spacious main compartment, which can be accessed from the back panel, serves as the bag's primary storage area. It can be customised with Peak Design's Packing Tools for further organisation.
Zippered Dividing Panel: Inside the main compartment, there's a zippered dividing panel that splits the space into two sections. Each side of the panel has a zippered mesh like pocket, and there's dual-side access for easy retrieval of your items.
Exterior Pockets: The bag features two quick-access pockets on the front and one hidden pocket in the back panel, ideal for storing items like passports, wallets, or phones that you need to reach quickly and frequently.
Laptop Sleeve: A dedicated laptop compartment provides safe and secure storage for a 15" laptop and additional space for a tablet. It's accessible from the top of the bag, making it easy to remove your devices at airport security, and it sits flush against your back for solid weight distribution.
Interior Side Pockets: Inside the main compartment, there are zipper pockets on both sides, perfect for small items like cables, chargers, or personal hygiene products.
Stowable Straps: Even the bag's carry options provide organisational versatility. The shoulder and waist straps can be stowed away when not in use, giving the bag a sleeker profile and preventing unwanted snags during transit.
In summary, the Peak Design Travel Backpack's organisational features and accessibility options have been meticulously designed to make packing, unpacking, and accessing your gear as easy as possible.
This thoughtful design helps ensure that whether you're in transit or on location, your focus can remain on your travel experiences rather than on battling with your bag.
Stowaway Shoulder Straps and Hip Straps
The stowable straps are one of the features that enhance the versatility of the Peak Design Travel Backpack, contributing to its comfort, convenience, and streamlined aesthetic.
Shoulder Straps
The backpack's shoulder straps are well-padded for comfort and can be easily adjusted to fit various body types.
When you don't need them or when you're in transit (like on an airplane or a crowded bus), these straps can be unclipped and neatly tucked away into a hidden pocket at the back panel.
This creates a sleeker profile for the bag and prevents the straps from catching on anything, which is especially useful when storing the bag in overhead compartments or other tight spaces.
Waist Strap
The bag also comes with a harness system a waist strap that provides additional support and helps distribute the weight of the bag more evenly, reducing the strain on your shoulders.
This hip belt strap is particularly useful when you're carrying heavier loads or moving around a lot. Similar to the shoulder straps, the waist strap can be stowed away when not in use.
It neatly tucks into the pockets at the base of the bag, maintaining the bag's streamlined look.
Multiple Grab Handles
In addition to these stowable straps, the bag features reinforced carry handles on the top and sides.
These handles offer alternative carrying options when the shoulder and waist straps are stowed, making it convenient to carry the bag like a briefcase or a duffel bag, or to quickly grab it from an overhead bin.
READ MORE: Need stability? Check out our full guide to the top tripods for travel.
Peak Design Travel Bag Accessories
The Peak Design Travel Backpack is part of a broader ecosystem of travel accessories created by Peak Design.
These accessories, known as "Packing Tools," are designed to fit perfectly within the bag and offer further customisation and organisation options.
Packing Cubes
Available in small and medium sizes, these cubes can compress your clothing to save space. They feature a tear-away zipper for fast access and have a separate compartment for dirty clothes. Check them out here.
Camera Cubes
These are available in small, medium, and large sizes, and are meant for safely storing and organising your camera gear. They can hold everything from a simple camera setup to a full professional kit, depending on the size. See them here.
Tech Pouch
The Tech Pouch is designed to store and organise small electronics, cords, SD cards, and other tech accessories. It opens out flat for easy access and features multiple pockets and elastic loops. Check prices.
Wash Pouch
This pouch is intended for toiletries, featuring pockets and organisation designed to hold a range of personal care items. It also opens out flat for easy access and has a stowable hook for hanging. Check prices here.
Shoe Pouch
The Shoe Pouch is a lightweight, packable pouch for carrying shoes. It has a weatherproof design to keep dirt and odours contained. Check the latest prices.
Rain Fly
Though not strictly a packing tool, the Rain Fly is a waterproof cover designed to protect your backpack and its contents in heavy rain. It's especially useful if you're travelling in regions with unpredictable weather.
The fact that this doesn't come with the bag already though is a bit of a kick in the guts.
Each of these accessories fits seamlessly into the Travel Backpack, allowing you to customise the bag's interior based on your specific travel needs.
Whether you're a photographer needing to protect your gear, a tech enthusiast with multiple gadgets, or just someone who appreciates organisation, these accessories enhance the functionality of the Travel Backpack.
Use as a Camera Bag
One of the main reasons I wanted to go for this backpack is because I was in desperate need for a bag that could be used as carry-on for short travel trips while also carrying some camera gear.
If I'm flying off to Antarctica or Africa for a photography assignment, obviously I need a large, dedicated backpack or case to carry all my ridiculous amounts of gear.
But what if I'm just ducking off to Thailand for a week and need a small amount of clothes along with one camera body, two lenses, a GoPro and a drone?
That's where the appeal of this bag started to pop up – could this finally be my one-size-fits-all??
Turns out it just about can be!
The Peak Design Travel Backpack can be transformed into an exceptional camera bag thanks to its thoughtful design and the company's range of compatible packing tools.
This feature is particularly appreciated by photographers like me who need a convenient and secure way to carry their gear.
Here's what makes it so damn good as a hybrid travel and camera bag.
Camera Cubes for Your Camera Gear
Ahh, the legendary Peak Design Camera Cubes. Coming in small, medium, and large sizes, these cubes are padded, have customisable dividers, and are designed to fit perfectly into the main compartment of the Travel Backpack.
Depending on your gear setup, you can choose a cube that fits your needs and fits neatly into the backpack.
They offer protection for your camera body, lenses, and other camera accessories and can be accessed easily from the back or side of the bag.
Up until recently I've been using another camera cube system inside the bag which works but doesn't sit as nicely in there.
I've ordered the Peak Design Camera Cubes and will update this article once they arrive.
Flexibility
The bag's interior is highly customisable, so you can arrange it to suit your gear. For example, you could store your camera gear in a Camera Cube in the bottom half of the bag, and use the top half for personal items, snacks, or additional gear.
The zippered dividing panel keeps everything in its place.
Protection
The bag is made from durable and weatherproof materials to protect your gear from the elements. Additionally, there is a separately sold Rain Fly for extra protection in heavy rain.
It's not as good as a dedicated camera bag, but it serves a pretty good purpose.
Accessibility
The Tech Pouch can be used for batteries, SD cards, and other smaller tech items. Also, the front and side pockets are great for storing lens caps, filters, or cleaning cloths.
By using the Peak Design Travel Backpack as a camera bag, photographers can have their essential photography equipment and personal belongings in one bag that's comfortable to carry and easy to manage.
Remember, however, that while the backpack offers a lot of protection and accessibility features for everyday backpack, it won't offer the same level of protection as a dedicated hard case for extremely fragile or high-value equipment.
Expandability and Compression
The Peak Design Travel Backpack is a unique blend of design and functionality, with its impressive expandability and compression features being standout elements.
This adjustable capacity is one of the features that truly sets it apart from other backpacks on the market.
Expandability
When fully expanded, the Travel Backpack offers a generous 45L of volume, providing ample space for all your travel necessities.
This makes it ideal for longer trips, or for when you need to carry larger items like camera gear, additional clothing, or souvenirs.
The bag's main compartment and various pockets are designed to make the most of this volume, with a smart layout that allows for easy organisation and access.
The expandability is primarily achieved through a zippered gusset that runs around the front of the bag.
When the zipper is closed, the bag is in its standard 35L capacity. When the zipper is opened, the front of the bag can expand outward, providing an additional 10L of storage space.
Compression
Just as it can expand, the Travel Backpack can also compress down to a more compact size.
When you're not carrying a full load, or when you're in environments that require a smaller bag (like crowded public transportation or tight airplane cabins), you can compress the bag down to a more manageable 30L.
This compression is achieved via the 'snap' buttons on the front of the bag that cinch down the excess fabric when the bag is not fully loaded.
This not only reduces the physical size of the bag but also gives it a sleeker, more streamlined appearance.
In my experience though, it's not a very strong method for compression unless your bag is really empty.
The expandability and compression features of the Peak Design Travel Backpack provide an incredibly adaptable storage system.
Water Bottle Side Pockets
Really Jarryd? You want to talk about a water bottle sleeve?
You're damn right I do!
I have been searching the world for the best camera bag ever made, and I'm yet to find the winner.
My main camera bag (a Lowepro) that has been on most of my recent adventures is close to being perfect…Except it doesn't have anywhere to hold a water bottle!!!
As a thirsty photographer, how the hell can a company not think that somebody may want to, oh I don't know, stay hydrated?
Ugh. Anyways. Not a problem with this backpack though.
On either side of the backpack, there are expandable side pockets that can each hold a water bottle. These pockets lie flat and sleek when not in use, maintaining the bag's streamlined appearance.
The side pockets are designed with an elasticated top and a gusseted, expandable design, allowing them to stretch to accommodate bottles of varying sizes.
When a water bottle or similar item is inserted, the pocket expands to hold it securely.
Additionally, these pockets can be used to hold other items like travel umbrellas or mini tripods, making them versatile storage spaces beyond just holding water bottles.
When you're not carrying a water bottle or any other item in these pockets, they neatly tuck back into the bag, contributing to its sleek and professional look.
It's worth noting that, like the rest of the bag, these pockets are made from a weather-resistant material, which can help prevent any condensation on your water bottle from wetting other items in your bag.
Cons of Peak Design Travel Backpack
Ok, so you've read all the features of the bag, can see that I think it's pretty damn awesome, and I'd tell my best mate or mum to get it.
Does it mean it's perfect though?
Sadly not quite.
While the Peak Design Travel Backpack has been well-received and offers a range of impressive features, no bag is perfect and there are some potential downsides to consider:
Price: The Peak Design Travel Backpack is considered a premium product, and its price reflects that. It might be a significant investment for some travellers. Additionally, the specialised packing tools like the Camera Cubes and Tech Pouch are sold separately, adding to the overall cost.
Weight: Empty, the bag weighs about 2.05 kg (4.5 lbs). This is heavier than some other travel backpacks on the market, which might be a concern for travellers who are trying to keep their pack weight to a minimum. Especially considering most airlines cap their carry-on specs to 7kg total.
Complexity: The bag has numerous features and compartments, and while this is great for organisation, it might be overwhelming or unnecessary for some users. If you prefer a simple bag with a straightforward design, this might not be the right choice for you.
Size: Even in its compressed state, the bag may still be quite large for some people, especially those with a smaller body frame. It fits me great, but it looks huge on Alesha. This can affect the bag's comfort and fit. Additionally, while it can compress and expand, the fully expanded 45L size might not be compliant with carry-on restrictions for some airlines.
Aesthetics: While this is subjective, the modern, tech-focused aesthetic may not appeal to everyone. Some people have found the bag to look a bit too sleek or technical for their tastes.
Comfort: While the bag is generally considered comfortable, especially with the adjustable and stowable straps, if the bag is packed to its full capacity, it's a bit heavy and uncomfortable to carry for extended periods. The lack of breathable material on the back panel might also contribute to discomfort during hot weather.
As with any product, it's essential to consider your specific needs, preferences, and budget when deciding whether this is the right backpack for you.
FINAL VERDICT – Is the Peak Design Travel Backpack Worth It?
The Peak Design Travel Backpack is a product that expertly marries form and function. It's a travel companion that's been meticulously designed to cater to a wide range of needs, particularly for photographers and frequent travellers who value organisation, versatility, and style.
With a thoughtful array of features such as customisable organisation, stowable straps, expandability, and convenient accessibility, the bag stands out in the market.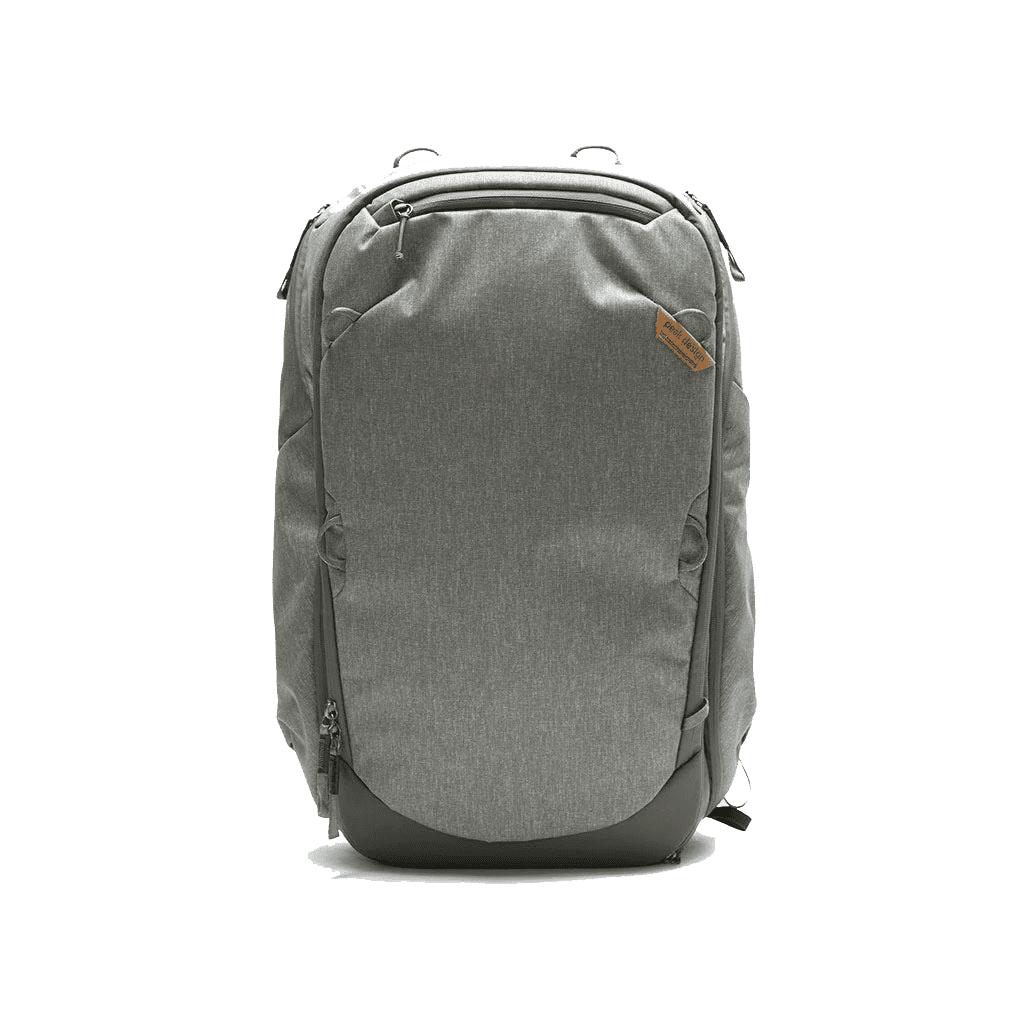 Peak Design Travel Backpack
Tonnes of storage and organisation
Very customisable for travel, tech and camera gear
Strong, durable and water-resistant
The option to add specialised packing tools like camera cubes and tech pouches further enhances its functionality and adaptability.
However, it does come with a few caveats – it's on the pricier end of the backpack spectrum, it may be too complex or large for some, and its aesthetics might not be for everyone.
Yet, for those who value the qualities it excels in and are willing to invest in a bag that's built to last, the Peak Design Travel Backpack can be seen as an excellent value proposition.
In conclusion to my Peak Design Travel Backpack review, if you're a frequent traveller, photographer, or a digital nomad who's always on the move and needs a durable, reliable, and extremely versatile backpack that can hold not only your travel essentials but also your precious camera gear, then Peak Design's Travel Backpack is certainly worth it.
It's not just a bag; it's a testament to innovation, attention to detail, and a deep understanding of the travel-savvy customer's needs. Plus the company itself is dope as.
It's more than just a backpack; it's a travel solution.
Am I keeping it? 100% yes.
DISCLAIMER: Some of the links in this article are affiliate links, which means if you book accommodation, tours or buy a product, we will receive a small commission at no extra cost to you. These commissions help us keep creating more free travel content to help people plan their holidays and adventures. We only recommend the best accommodations, tours and products that ourselves or our fantastic editorial team have personally experienced, and regularly review these. Thanks for your support, kind friend!
Can I use the Peak Design Travel Backpack as a carry-on?
Yes, the Peak Design Travel Backpack has been designed to meet all international and domestic carry-on requirements in terms of dimensions.
As long as you don't overpack it, have tripods hanging out everywhere or fill it with enough stuff to make it weigh 30kg, then you can take it as carry-on.
Is the Peak Design Travel Backpack comfortable?
Based on my personal experience with this bag, the Peak Design Travel Backpack is very comfortable. It's not the most comfortable bag on the market, but the thick straps and padded back makes it a pleasure to wear for long periods of time.
Which is better – Peak Design Travel Backpack or Travel Duffel?
Overall, the Duffel Pack has more versatility, a more robust structure and holds more items. It has less organisation and can be more difficult to carry however. Personally I prefer the Travel Backpack, but it comes down to your own preference.
Does the Peak Design Travel Backpack fit under the airplane seat?
The ability to have one bag travel, the Peak Design Travel Backpack to fit under an airplane seat can vary depending on the airline, the specific aircraft, and how full the bag is.
The fully expanded 45L version of the bag is quite sizable, and it may not fit under the seat in front of you on most commercial airlines, particularly when the bag is fully packed.
However, this bag does have a compressible design. When compressed to its smallest 35L size, it might fit under the seat of some airlines, but it will likely still be a tight squeeze.
That said, the bag is designed to meet most airline carry-on standards when not fully expanded, meaning it should fit in the overhead bin without a problem.
It's always best to check the specific carry-on requirements of your airline before your flight, as these can vary and change. The last thing you want is to have to check your bag unexpectedly!
What Colour are Peak Design travel backpacks?
The Peak Design Travel Backpack has two different colour options—black and sage. I've got the sage backpack, and I really like it.
Peak Design Travel Backpack
In my Peak Design Travel Backpack review I dive into all the features, tech and style of the 45 litre bag to see if it really is worth the price tag.
Product Brand:
Peak Design
Pros
Tonnes of space and organisation pockets
Very durable and water resistant
Complies with airline carry-on restrictions
Perfect for tech-focused travellers