Splish Splash – The Top Water Parks in Europe for Summer Fun – Earth's Attractions
7 min read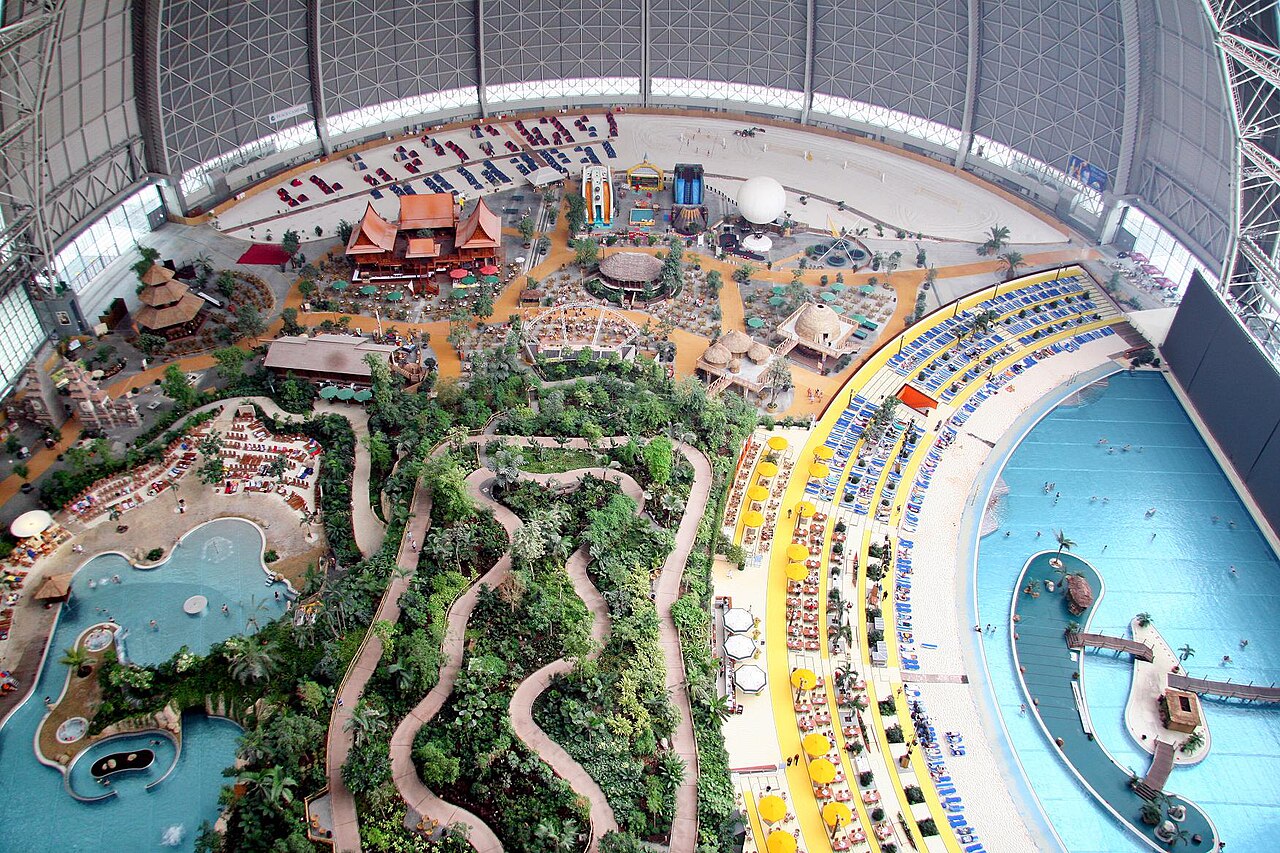 As the weather heats up, there's no better way to cool off than by hitting up one of Europe's amazing water parks. From thrilling rides to relaxing lazy rivers, these parks offer something for everyone. In this post, we'll dive into the top water parks in Europe that will make a splash this summer!
As a note, there are many water parks in Europe, so if you are travelling to Europe during the summer and like to relax at a water park, you can check in advance, when creating your itinerary, and see what water parks are nearby as you will definitely find some.
These parks are easily accessible, whether you get there by car, train, or airplane. So let's see the best water parks in Europe!
I tried to include in this guide to the best European water parks such places in as many countries as possible so that no matter where you go on your European holiday, you can find a water park nearby.
Included in this top water parks in Europe guide:
Siam Park, Tenerife, Spain
Aquapark Istralandia, Croatia
Tropical Islands, Germany
AquaMagic – Mamaia, Romania
Gardaland Water Park, Italy
Aquariaz, France
Aqualand, Greece
Fasouri Watermania, Cyprus
Aquashow Park – Quarteira, Portugal
Alpamare, Scarborough, UK
Siam Park, Tenerife, Spain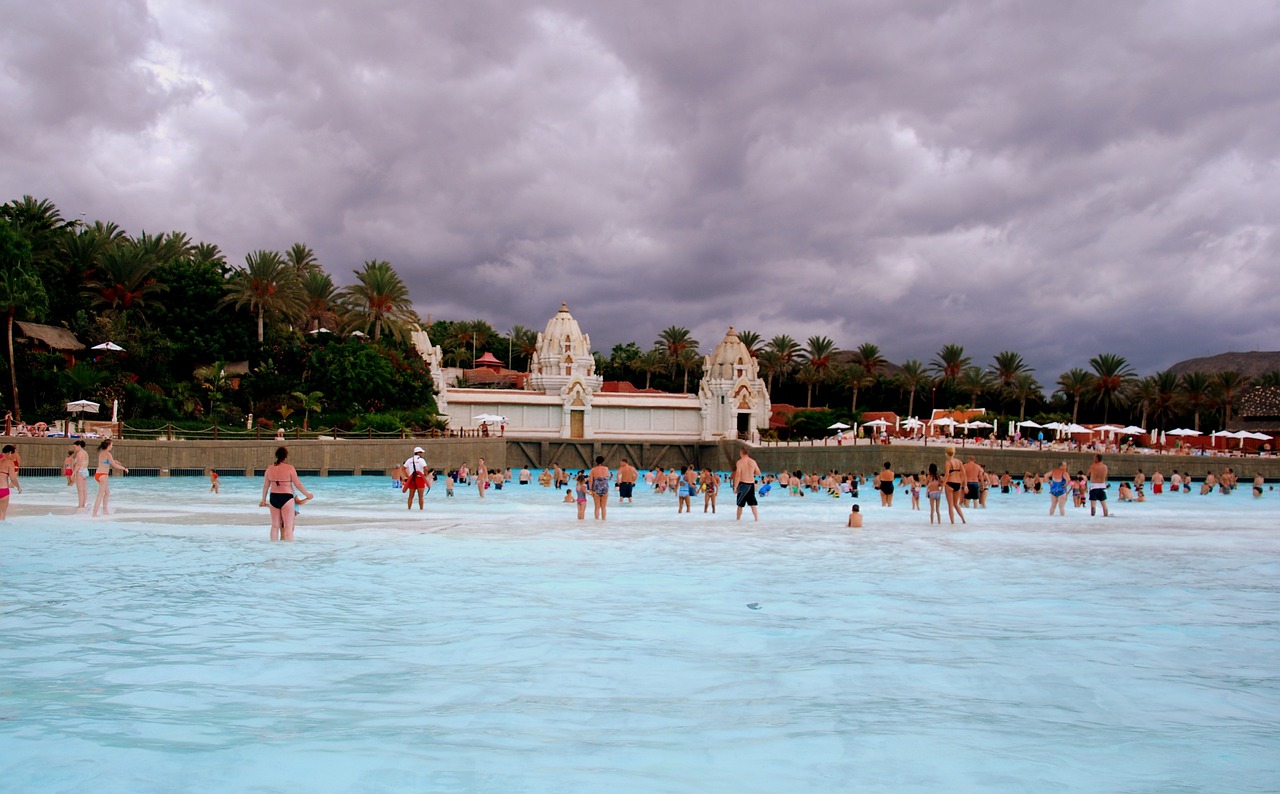 Located on the popular Canary Island of Tenerife, Siam Park is consistently ranked as one of the top water parks in the world. This Thai-themed park features incredible attractions like The Dragon – an intense water coaster that zooms through the park at high speeds with jaw-dropping drops and loops.
Tower of Power is another heart-pounding ride, with a near-vertical drop through a shark tank. Families will love the relaxing Lazy River, or floating through the world's largest man-made wave pool. With something for all ages, it's easy to spend a full day exploring Siam Park.
The park has attractions for all preferences – relaxation, adrenaline-rushed based, and family-friendly ones!
Aquapark Istralandia, Croatia
Aquapark Istralandia was the first water park to be inaugurated in Croatia, in 2014. Located 5 km away from the Adriatic Sea, this park covers 81000 m2!
Croatia's largest water park, Aquapark Istralandia is situated in the beautiful Istria region, not far from cities like Poreč and Rovinj. The park is home to 22 exciting slides and attractions, like the high-adrenaline Black Kamikaza or the Space Rocket slides, and multiperson Raft River.
For younger kids, the Pirate Lagoon and Pirate Castle are great. There are plenty of food stalls and dining options on-site when you need to refuel. Aquapark Istralandia recently added a new zone called Adrenaline Valley, with unique rides like a high-speed aqua loop.
With sunny weather and proximity to Croatia's stunning beaches and coastline, this water park makes for an unforgettable summer vacation.
Tropical Islands, Germany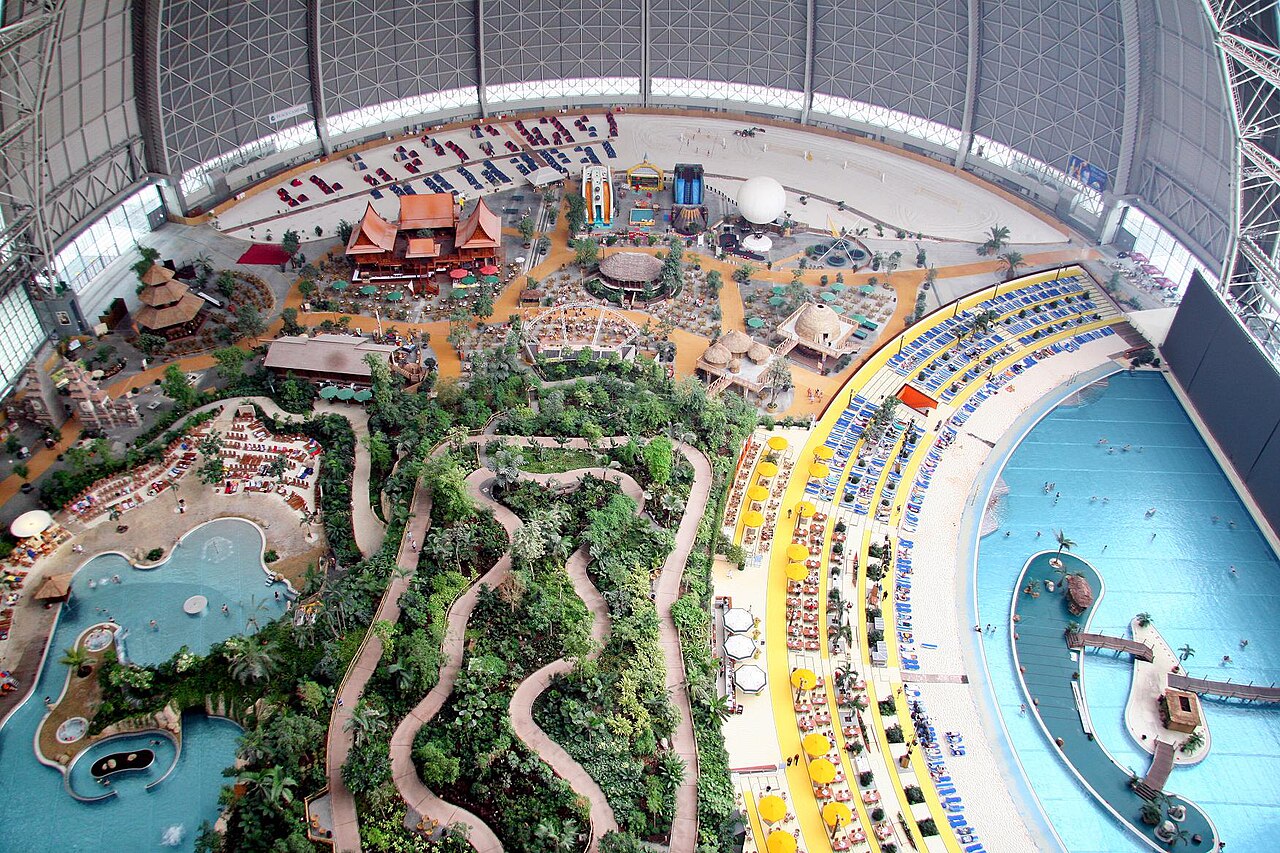 Need a beach getaway but can't make it to the coast? Or on your summer holiday in Germany and there is a rainy day?
No problem ― at Tropical Islands in Germany, one of Europe's most unique water park experiences, you can experience a water park and tropical vacation under one giant dome.
The immense indoor park near Berlin maintains a balmy temperature all year long. With white sand beaches, palm trees, lagoons, and the world's largest indoor rainforest, it's easy to forget you're not actually overseas.
The park features a number of classic water slides and playgrounds.
Unique attractions include a massive sauna and spa area, balloon safari flights, and overnight cabana or tent accommodations. Families, couples, and solo travelers alike will find plenty of activities for a one-of-a-kind tropical vacation.
AquaMagic – Mamaia, Romania
Situated on the picturesque coast of the Black Sea, AquaMagic is a popular water park in Mamaia, Romania. As I am a Romanian, I had to include this on this list of best waterparks in Europe.
But this is indeed one of the top European water parks – for multiple reasons.
It offers a wide range of water attractions suitable for visitors of all ages. The park features an impressive selection of slides, including the adrenaline-pumping Kamikaze and the thrilling Turbo Cyclone. AquaMagic also offers a dedicated kids' area, lazy rivers, and various swimming pools, ensuring a memorable day for the whole family.
It is also relatively easily accessible – you can get to Constanta by train and then head to Mamaia with a bus. Mamaia is a popular seaside resort (Mamaia North is the more expensive one, while Mamaia South is more accessible; these are NOT two different resorts).
Plus, the beach is close to AquaMagic as it is located in a seaside resort! – so, you see, there are plenty of reasons to enjoy its slides and rides while on a vacation in Romania.
Gardaland Water Park, Italy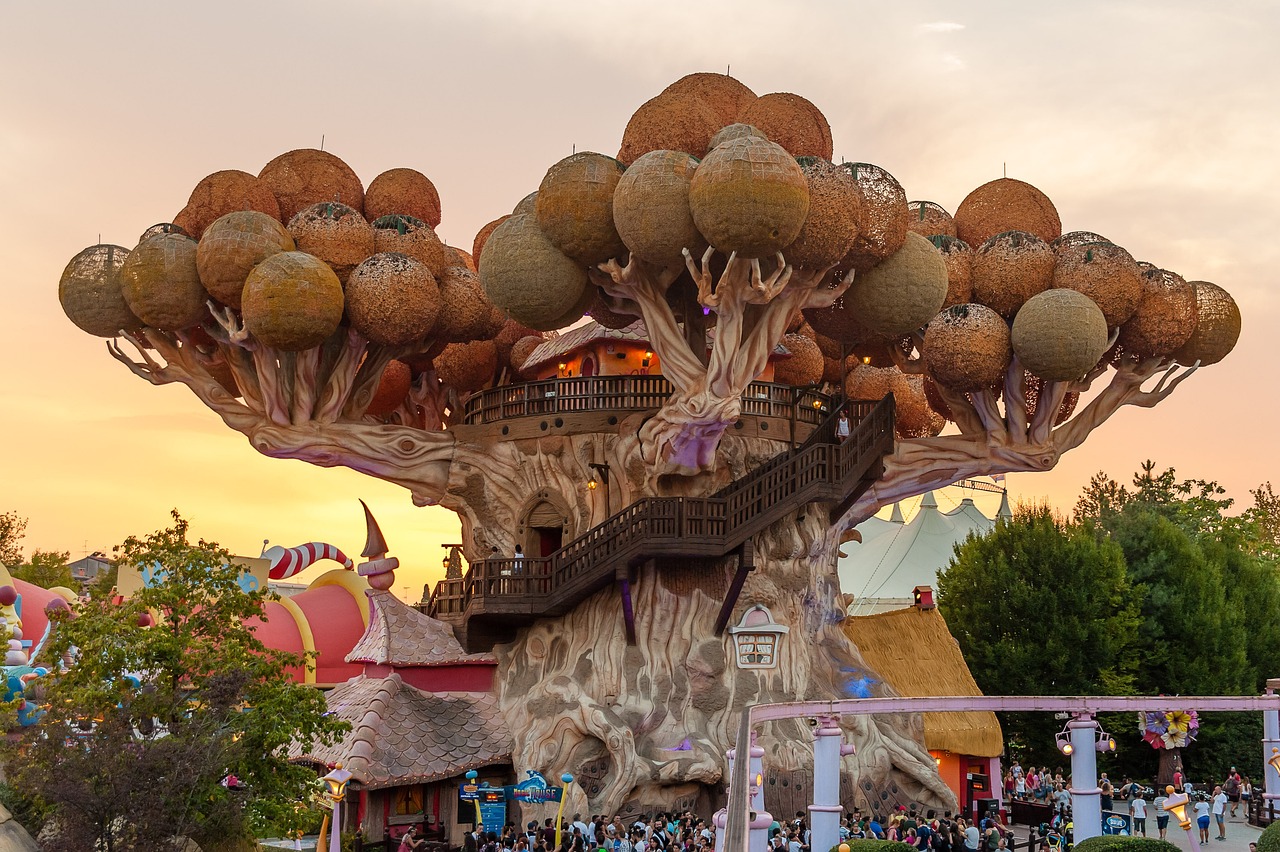 Located next to the iconic Gardaland amusement park in the beautiful Lake Garda region of Italy, Gardaland Water Park is one of the best water parks in Europe, packing fun for all ages into its 9 acres. Slides like the winding Fantasy River and intense 60-foot Oblivion drop offer thrills.
Multi-person raft rides, a wave pool, kids' play areas, and the relaxing Mississippi Adventure lazy river provide options for everyone. With rides, neighboring resorts, and Verona just minutes away, Gardaland Water Park makes for an exciting Italian getaway and is certainly among the best European water park destinations.
Aquariaz, France
Make a splash this summer at Aquariaz, one of France's top water parks, nestled amidst the breathtaking French Alps. This place offers a unique aquatic retreat in the heart of Avoriaz, France. This is also the highest waterpark in Europe.
Thrill-seekers flock to Aquariaz for waterslides like the heart-pumping Boomerango and the steep, speedy Super Crater – so if you like adrenaline-based waterslides, this water park won't disappoint you!
As in many other parks, families can enjoy the lazy river, activity pools, and water play zones perfect for little ones.
Aqualand, Greece
Greece is known for its gorgeous islands and beaches, so it's no surprise that it's also home to some fantastic water parks. Located on the popular island of Corfu, Aqualand is one of the best European waterparks and offers a huge selection of slides and pools across its 75 acres.
Test your courage on rides like the Vertigo Slide's almost vertical drop. The park also features a massive wave pool, kids' splash area, a lazy river, and activity pools for sports like water volleyball.
You can relax on the sand beach, go kayaking, or enjoy Mediterranean cuisine at one of the on-site eateries. With many attractions and lounge areas tucked into beautiful gardens and greenery, Aqualand Corfu is a magnificent blend of nature and aquatic fun and it can be easily included on your Greece Corfu vacation.
Fasouri Watermania, Cyprus
Make a splash on your next Cyprus vacation at Fasouri Watermania, an exciting water park located near the popular resort town of Limassol and one of Europe's top water parks. Jam-packed with thrilling waterslides, relaxing lazy rivers, and family play pools, Fasouri Watermania offers aquatic fun for all ages.
There is something here for everyone – and if you do not believe me, here are some of the things you will find here: steep drops of The Fall slide or race down the twin Aphrodite adrenaline slides for those who are looking for adrenaline-based activities; a long lazy river for the more relaxed types, and the mini pirate-themed pool for the kids.
Aquashow Park, Quarteira, Portugal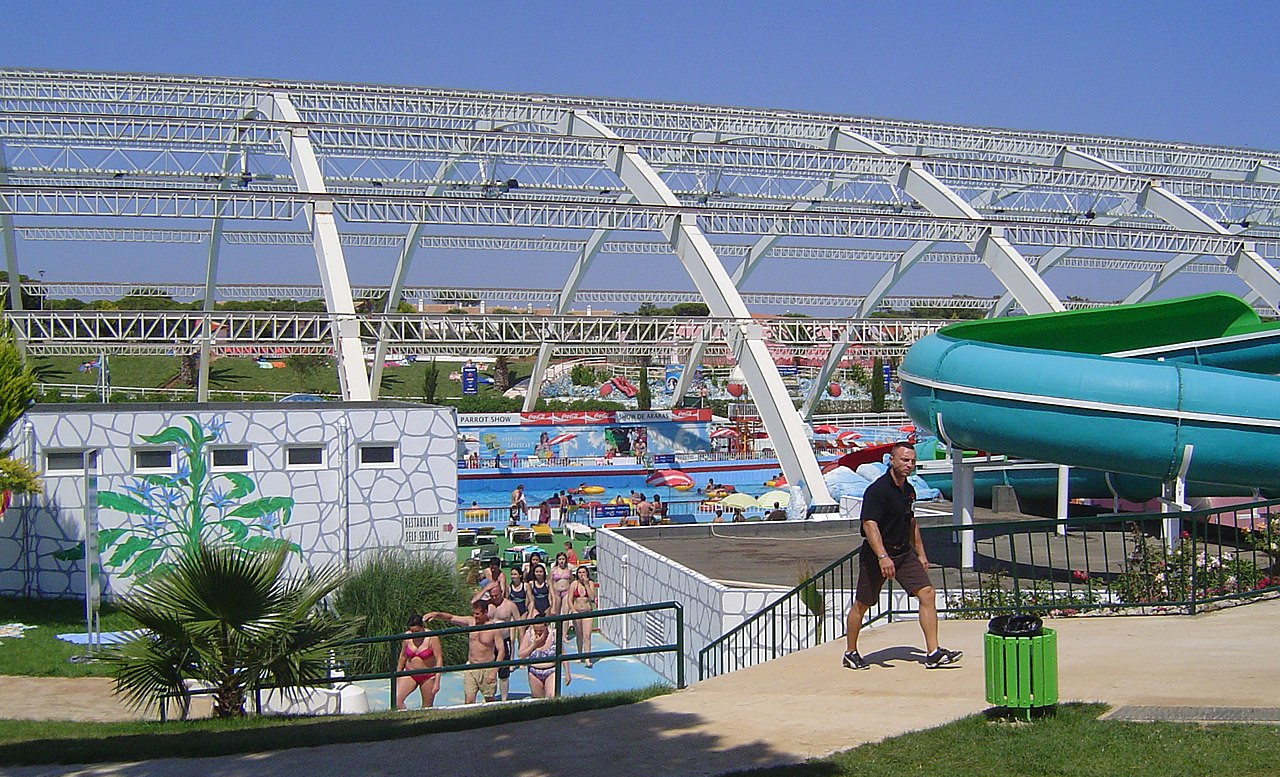 Next on this list of top water parks in Europe for summer fun is a place in beautiful Portugal. Nestled in the beautiful coastal town of Quarteira, Portugal, Aquashow Park is a must-visit destination for water park enthusiasts. This park offers an exciting blend of thrilling slides, family-friendly attractions, and entertaining shows, making it a top choice for family fun.
I highly recommend starting your day with a thrilling ride on the White Fall, where you'll plunge down a steep slide into a refreshing pool. For a more laid-back experience, grab a tube and float along the Lazy River, enjoying the scenic views and gentle currents. Aquashow Park also boasts a large wave pool, perfect for catching some waves or simply relaxing on the sandy beach area.
Alpamare, Scarborough, UK
One of the best waterparks for families in Europe is Alpamare Scarborough, in the UK. The presentation from their website states: "if you think you know waterparks, think again."
This is one of the best water parks in the UK and it has something for everyone. There are small pools for kids and slides for children 3+, but also for older children and, of course, adults. There are four slides for those who like adrenaline-rushing slides, a pool with waves, as well as an infinity pool, and food and drinks are also available on the premises.
Conclusion
As you can see from this top water parks in Europe article, there are many amazing water parks all across Europe. Regardless of you European destination, you will most likely find a water park nearby! Make sure you look up your destination and see what water park you will visit.
The places included in this article, are some of the best water parks in Europe – and I only included one from each country, though there are several water parks in many of the above-mentioned countries. Choose your favourite and enjoy!