Stunning Places to Stay in Big Sur
8 min read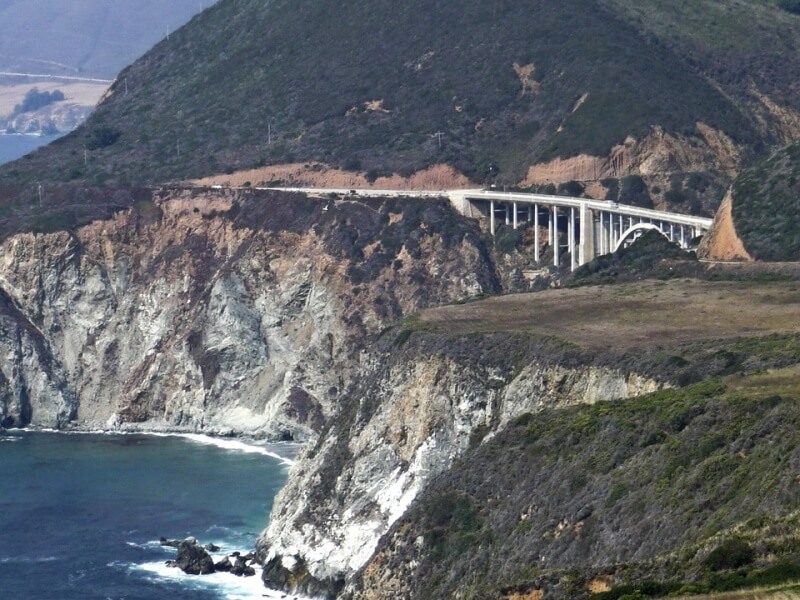 Travelers wondering about stunning places to stay in Big Sur are typically amazed by the variety of options available in the region. From family-run inns to rustic mountain cottages and golf resorts, the best hotels in Big Sur promise total immersion into the characteristic personality of this fantastical destination.
Boasting one of the most breathtakingly atmospheric coastlines in the US, Big Sur has become a destination of choice among adventure seekers. A 90-mile stretch between Carmel and San Simeon, the Pacific-facing Californian escape is famous for its winding roads, jagged cliffs, misty ambiance, and scenic panoramas.
Adding to its natural charm is the region's serenity and lack of commercialization, making Big Sur the place to visit when looking to relax or partake in hearth-thumping activities.
Post Ranch Inn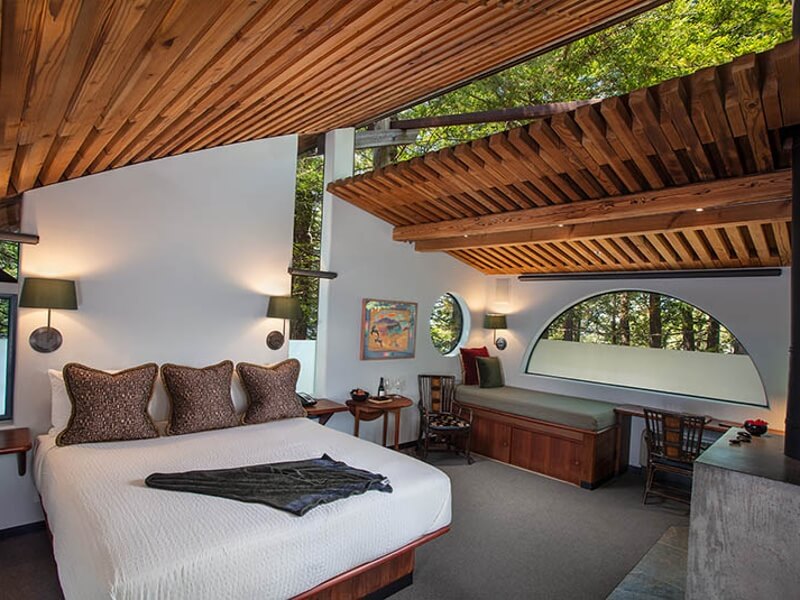 What began as a homestead for the Post family generations ago is now one of the most luxurious cliff-perched places to stay in Big Sur. Almost 1200 feet above the Pacific, the resort follows a biophilic architecture scheme, seamlessly interweaving different elements of nature to create a unique living space.
Post Ranch Inn welcomes guests to choose between private homes or rooms with oceanfront, mountain, or forest views. Most rooms have curved interiors with suspended balconies, wood-burning fireplaces, and floor-to-ceiling glass panes.
The more unique accommodations at the Inn include the secluded Post House, Butterfly (with a semblance of split-ceiling wings), and Tree House.
To relax in the water, head towards any of the three infinity heated pools, each with panoramic views of Big Sur.
The in-house restaurant, Sierra Mar, offers 360° coastline views and a farm-to-table dining experience. Moreover, their a la carte menu focuses on seasonal harvest with vegan options.
Furthermore, Post Ranch offers various outdoor activities like forest meditation, chef's garden tours, guided nature walks, and yoga. The spa and wellness center provides aromatherapy, Thai, therapeutic, and lymphatic massages.
Glen Oaks Big Sur
Glen Oaks is a retro-chic destination, only 15 minutes by car from California's most photographed Bixby Creek Bridge. Sprawling across 20 acres, the property comprises a mix of lodges and cottages built with reclaimed stone and Peroba wood. Cherry on the cake is the unobstructed views of the Big Sur River Valley from these equally beautiful abodes.
Glen Oaks fits the bill perfectly if you're looking for private places to stay in Big Sur. The residences, scattered across the landscape, come equipped with private decks and fireplaces. Different cabins in Redwood Grove Lodge are near the forest, with optional mountain, sky, and river views.
A distinct highlight is Bridge House, accessible only by crossing a suspended footbridge over the Big Sur River. It has elements of timber and glass walls, thus allowing natural light to filter through the tall trees. 
The nearby Big Sur Roadhouse restaurant serves local Californian cuisine prepared with seasonal organic ingredients. Decked in shades of beige and white, the simple and contemporary decor here almost resembles a quaint city cafe. Stop by here for a cup of coffee or a tasty snack after a morning hike.
Big Sur River Inn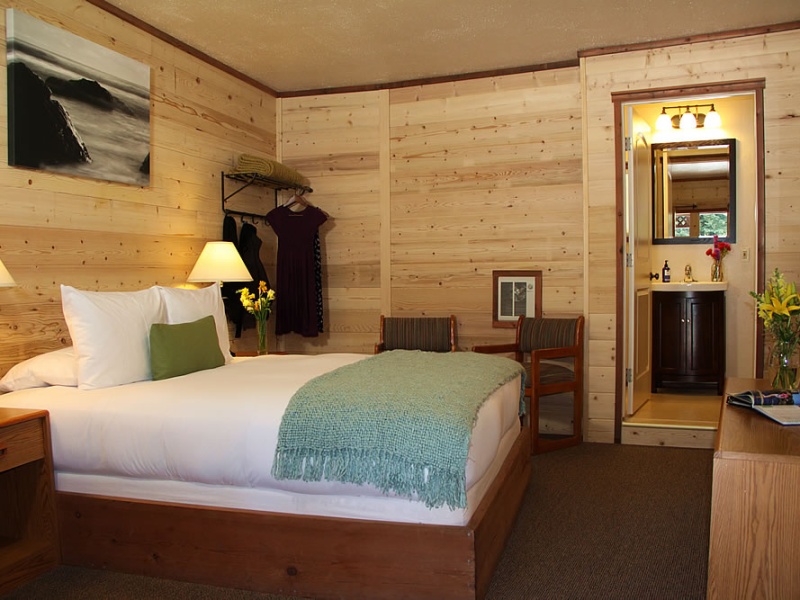 Alongside Highway One, Big Sur River Inn is an exclusive gastronomically historic place to stay in Big Sur. The establishment's journey began in 1934 as an Apple Pie inn, and the recipe of this finger-licking creation remains an essential part of the menu to date.
At first glance, the wooden and stone-laden facade of the inn gives the impression of a vintage motel. The rooms are equally rustic, with a wooden shack-like ambiance. However, they provide all modern-day creature comforts.
The highlight of a stay at Big Sur River Inn is their tradition of placing redwood Adirondack chairs at the riverside. The spot eventually becomes ideal for all occasions, be it lengthy romantic chats, quiet introspection, interactions with fellow guests, or dipping your feet in the shallow waters.
The Inn's in-house restaurant has a large dining hall and a few tables placed outside. One can order French toast, hash & eggs, oatmeal, or huevos rancheros (corn tortilla with eggs and salsa) for breakfast. The lunch menu includes shrimp ceviche, pasta Castroville, and classic Caesar salad. At Big Sur River Inn, Sunday afternoons are about barbecues and live music featuring local bands.
Treebones Resort
Located on the cliffs of South Big Sur, Treebones Resort is an eco-friendly glamping spot. The establishment generates energy from microturbines and is 100% off-grid, thus reducing the carbon footprint to a minimum. Guests can notice these efforts around the premises, from composting bins to pasta sticks replacing wooden ones to stir up your coffee.
At Treebones Resort, you can pick between yurts or autonomous tents with exceptional ocean views. Yurts come with all amenities and private redwood decks, while tents have a curved frame and offer more privacy. Moreover, campers can bring their gear and book empty campsites near the shore.
For an outdoorsy hotel in Big Sur, Treebones has some fantastic dining options. The Wild Coast Sushi Bar transports you across the Pacific with its omakase experience to the "land of the rising sun."
At the same time, The Lodge Restaurant offers 4-course seasonal meals that include items such as scallops fried with onions and butter, garden salad from Treebones' own cultivation, and wood-fired pizza.
Alila Ventana Big Sur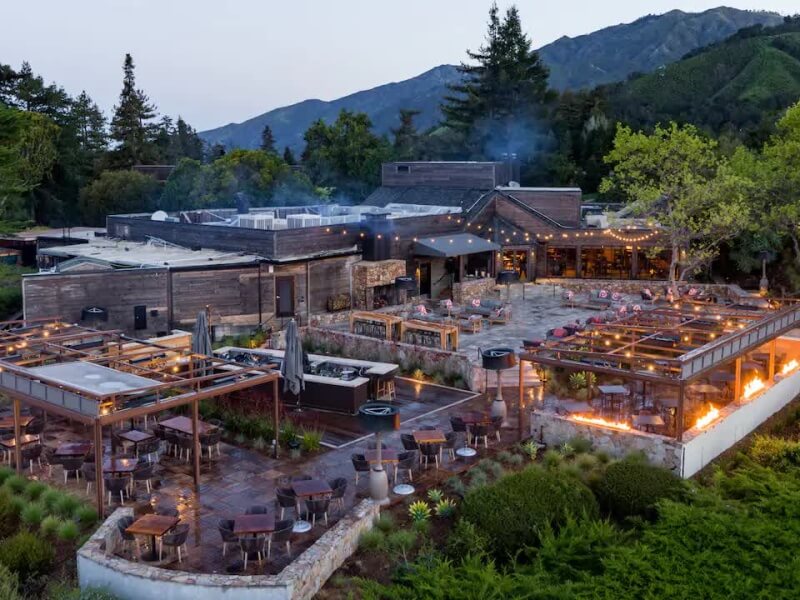 Alila Ventana is a 160-acre pet-friendly, adults-only haven, making it one of the best places to stay in Big Sur. A luxury resort nestled amongst the region's natural splendor, Alila places you conveniently near all major tourist attractions, from Bixby Bridge to Point Sur Light Station. 
Rooms at Alila Ventana are monochromatic and naturally well-lit, with an attempt to bring the outdoors inside. Tucked amongst the redwoods, the suites have a deeply pastoral theme but aren't without contemporary conveniences. Apart from its well-furnished 59 elegant rooms and suites, the resort offers a premier glamping experience with safari-style canvas tents.
The Sur House restaurant at the hotel comes with ocean patio seating. The snack menu here includes comfort food like chicken wings, harissa hummus, and guacamole with chips. Furry friends get a separate menu with options like basmati rice, roasted vegetables, and coco patty. Guests looking for a private dining experience can make the most of the Ventana Glass House.
Any stay in Big Sur is incomplete without outdoor activities. You can indulge in ax-throwing, wild apothecary, and cardio climbs at Alila.
Ripplewood Resort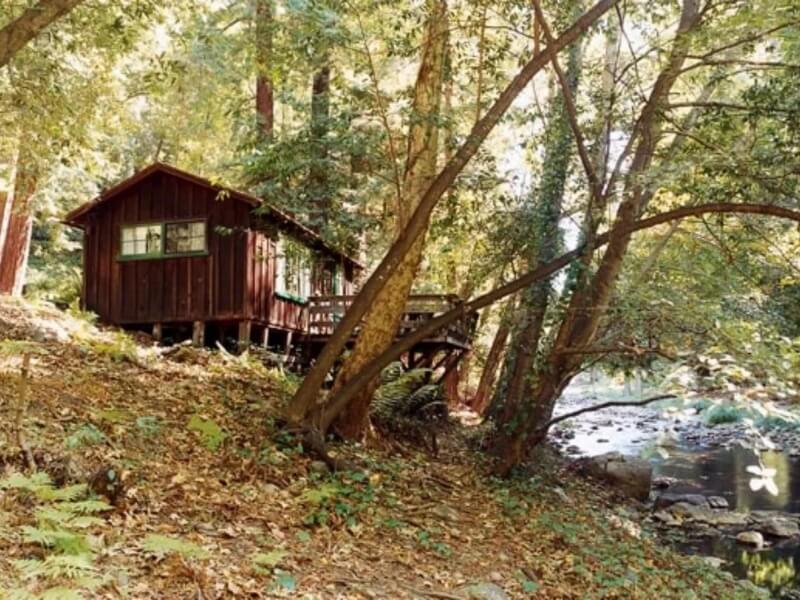 If living in a cabin built almost a century ago sounds enticing, Ripplewood Resort is the place to book. The resort is one of the top budget places to stay in Big Sur, offering 17 vintage wooden cabins built along the riverside.
While making reservations, guests can pick their accommodation based on whether they want to face the river, the meadows, or stay near the highway. Moreover, each cabin has an outdoor patio with fire pits, an indoor fireplace, and a kitchen.
Ripplewood Cafe at the resort serves food from 8 AM to 2 PM. The menu includes American and Mexican dishes like chorizo & eggs, tuna salad sandwiches, enchiladas, tostada salad, cinnamon French toast, and buttermilk pancakes.
Should you wish to save some money and cook on your own, a local grocery store provides food supplies and required camping gear.
Quail Lodge & Golf Club
Quail Lodge, situated roughly 30 minutes from Big Sur, is yet another gem in the Monterey Valley. Guests searching for a luxury retreat featuring a top-class golf course will particularly like Quail Lodge, spread around lakes and scenic terrains to their liking.
Subtly decked in light pastel shades and large windows, suites at Quail Lodge reflect the beauty of the surroundings through their interiors. Moreover, the attached patios act as a bridge connecting the outside with the inside.
Additionally, modern comforts, ranging from Nespresso machines, bedside USB and wireless charging, and interactive TVs, further enhance every stay.
Quail Lodge serves early morning tea and coffee, but head over to Covey Grill for breakfast, comprising pancakes, eggs, and fruits. In contrast, Edgar's restaurant serves classic Californian cuisine with a modern influence for lunch and dinner.
If you plan a longer stay, sign up for lessons at the resort's Golf Academy. Additional activities at Quail Lodge include swimming, off-road driving, wine tasting, and peninsula hiking.
Gorda Springs Resort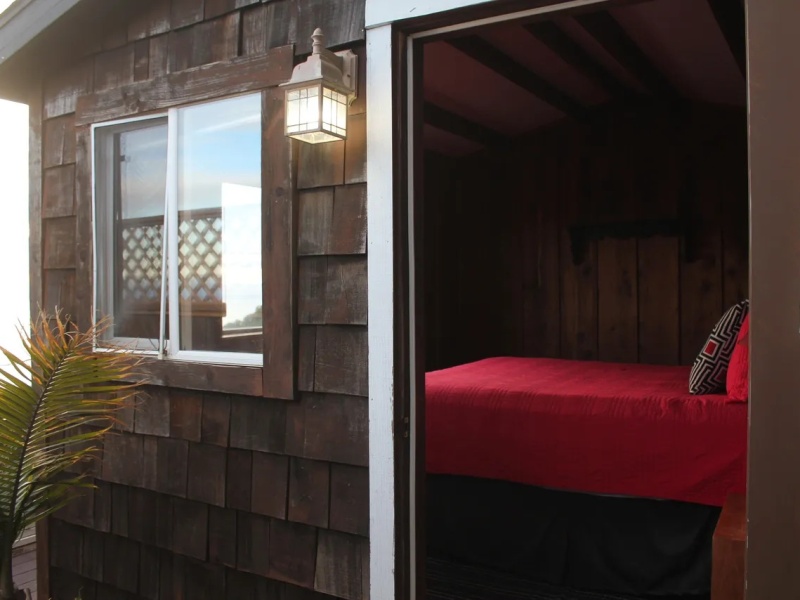 Gorda Springs is a self-contained town with sweeping views of the Saint Lucia mountains and the Pacific. The property has 11 separate cottages and is ideal for guests looking for private places to stay in Big Sur.
Located along the southern coastline, Gorda has its own gas station, dining area, gift shop, and espresso bar.
The pet-friendly resort has several cottages for two to four guests and a maximum of 3 dogs. Each abode oozes warmth and homilies owing to its wooden interiors and private patios. Our favorite, the Little Palm House, sits right beside the ocean and comes with a slanted roof and deep brown hues.
The on-site Whale Watcher's Cafe is where one can catch a glimpse of majestic aquatic creatures put on a show if you are lucky. Either way, you can savor the fine selection of imported wines and beers on offer.
La Playa Carmel
Better known as the "Grand Dame of Carmel," La Playa is approximately 25 miles from the heart of the Big Sur. The origin of the property dates back to 1905, when an artist started constructing the stone mansion as a gift for his wife.
Located in Carmel-by-the-Sea, the historic boutique hotel in Big Sur now symbolizes romance and art in the region.
La Playa retains the old-world charm but accentuates your stay with the latest amenities. There are 75 rooms in the hotel, each with a view of the ocean, poolside, or garden patio. Rooms follow a white color scheme with beige decor for a minimalistic yet elegant outlook.
The establishment serves a champagne breakfast in the library and terrace each morning, with options like fresh fruit juice, European cheese board, and pastries. For lunch, head to the in-house restaurant, Bud's. With its bohemian look, Bud's has an exemplary wine list and a menu of sourdough crostini, cobb salad, tomato bisque, and grilled cheese sandwiches.
La Playa is a popular wedding destination, with the drop of Carmel Beach acting as the perfect background for many a special event. Their courtyard and the patio can turn into an outdoor garden setting with tables, centerpieces, and fairy lights.
Hyatt Carmel Highlands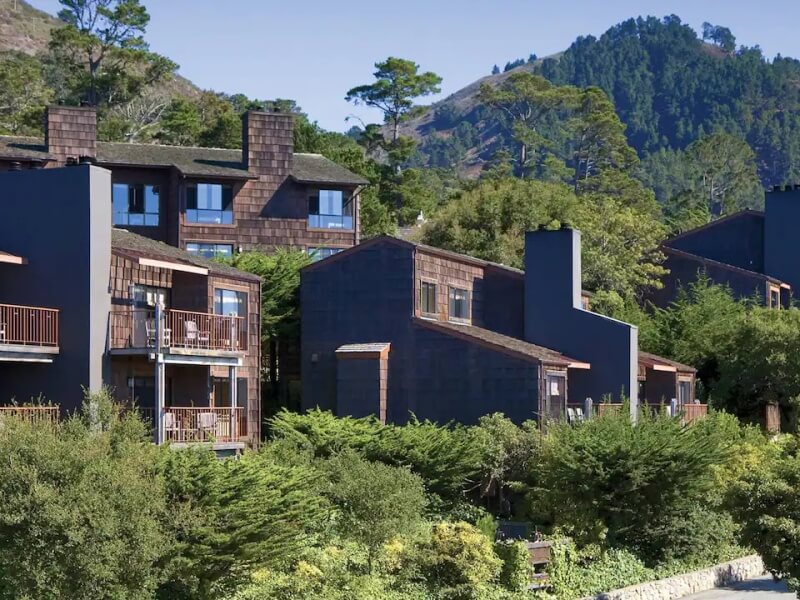 When it comes to offering a world-class experience along the West Coast, Hyatt Carmel Highlands is a top contender. The four-star property resembles a grand villa, standing tall on the perched cliffs of Carmel-by-the-Sea.
Among the best places to stay in Big Sur, its location allows residents to appreciate the full glory of the region, from the dramatic coastline and towering mountains.
Often considered an artist's haven, Hyatt Carmel opened its gate in 1917, way before the construction of the iconic Highway One. Today, it boasts 144 luxurious rooms across different buildings.
Each room or suite showcases a contemporary look with earthy shades and has a small kitchenette, en-suite, as well as an indoor fireplace. Moreover, all abodes feature floor-to-ceiling glass doors and windows with vistas of the ocean or Point Lobos State Park.
Hyatt Carmel Highlands has two dining spots, Pacific's Edge and the Sunset Lounge. Pacific's Edge dishes out familiar recipes such as smoked salmon bagel, omelet, avocado toast, and yogurt parfait for breakfast. The Sunset Lounge opens in the evening and serves local cuisine, cocktails, and light bites.