The 25 BEST Things to Do in Rarotonga, Cook Islands [2023]
28 min read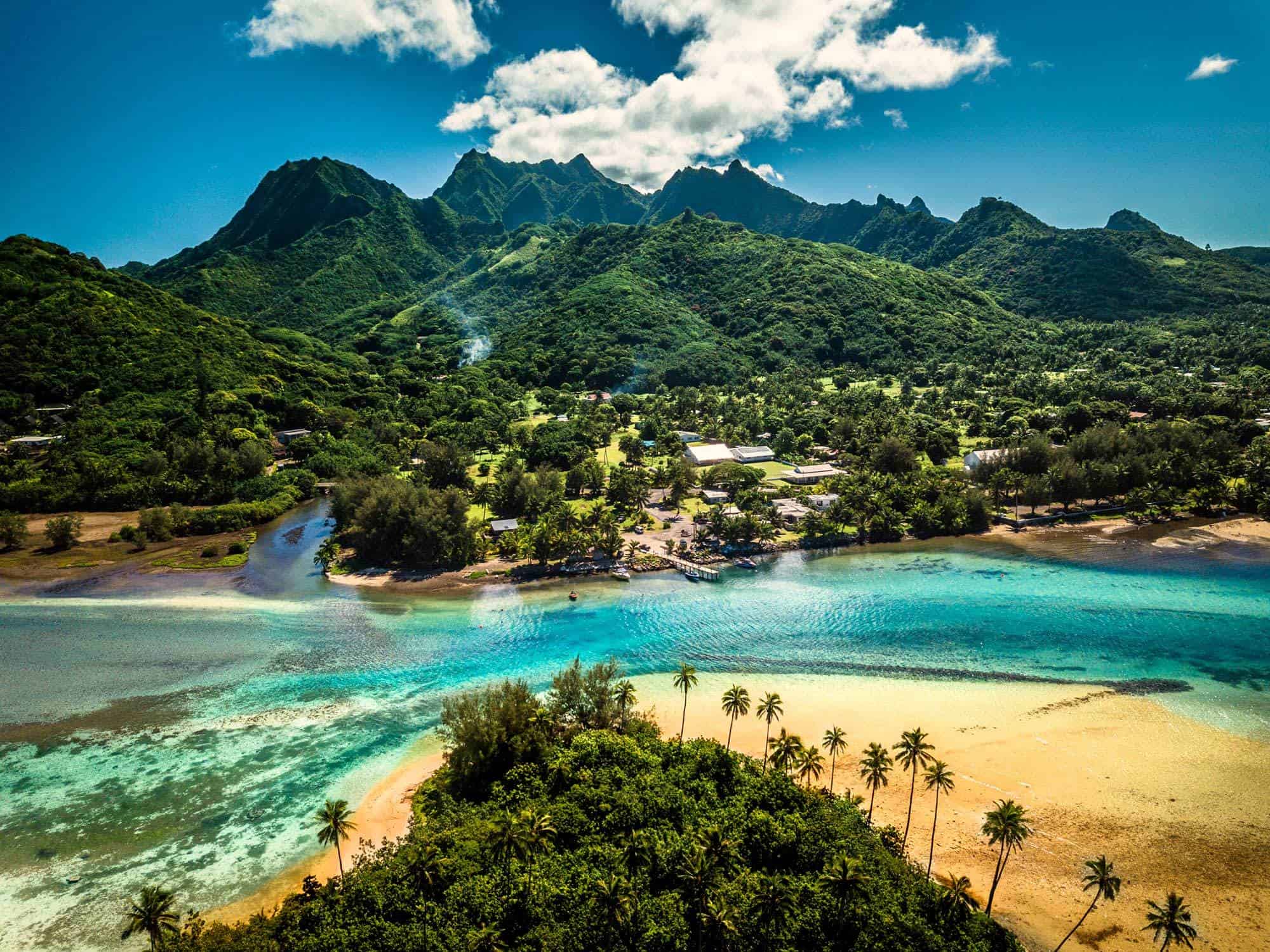 Whether you're looking to relax, learn about the culture or go on an adventure, there's no shortage of epic things to do on Rarotonga, Cook Islands
We have to admit that even though we'd heard of the Cook Islands, we never really knew much about them. We had a feeling they'd be tropical, probably beautiful, but we had no idea just how spectacular they'd be.
This gorgeous archipelago in the middle of the Pacific Ocean is a self-governing island, in association with New Zealand, meaning that it is technically it's own country, but its people are citizens of New Zealand.
We were lucky enough to spend a week on Rarotonga, the largest and most populated island of the Cook Islands, and absolutely fell in love with its vibe, people and amazing activities.
Our List of the Best Things to Do in Rarotonga
For such a relatively small place, we couldn't believe just how many Rarotonga activities there were to enjoy.
We've been to island destinations before where pretty much the only activity was sitting in a hammock by the beach.
Not here.
7 days wasn't nearly enough time to do everything on the island, but we gave it our best trying to tick them all off anyway!
Here's our list of the best things to do on Rarotonga, Cook Islands to help you make the most of your next trip.
Note – All prices listed are in New Zealand Dollars (NZD) unless otherwise stated.
READ MORE: Check out our best travel tips before you book your trip!
Have an Awesome Night at the Highland Paradise Cultural Show
While the scenery in the Cook Islands is what blows people's minds, it's the culture that makes people fall in love with the archipelago, and the best place to learn about it is at the Highland Paradise Cultural Show.
The Highland Paradise Sunset Cultural Show is a dancing, singing and feasting extravaganza held in a small mountain village on the western end of the island every Wednesday and Friday night.
You are picked up from your accommodation and driven up the mountain, with incredible views of Rarotonga and the sea below you as you twist your way up the steep road.
Once you arrive you're greeted by the chief and taken into the traditional village that has been reconstructed to be the same as it would have been back in the days when warriors and tribes dominated the island.
The chief tells stories of how life would have been, then you are treated to a ceremony in one of the most sacred places in Rarotonga.
As the sun goes down everybody heads to the open-air hall and gets settled in for the rest of the night's festivities.
The chefs bring out a huge buffet spread of local cuisine, including an umu, which is food cooked in an underground oven that is normally only reserved for special occasions.
In between the courses the chief leads the show, introducing dancers, singers and musicians who tell the tales of Rarotonga through expression. It's powerful, moving and entertaining.
The entire event goes on for a few hours and is really one of the best things to do in Rarotonga, Cook Islands. Even if you aren't a foodie or not really focused on culture, you definitely have to attend the Highland Paradise Cultural Sunset Show.
Price: $110 for adults, $65 for kids under 12.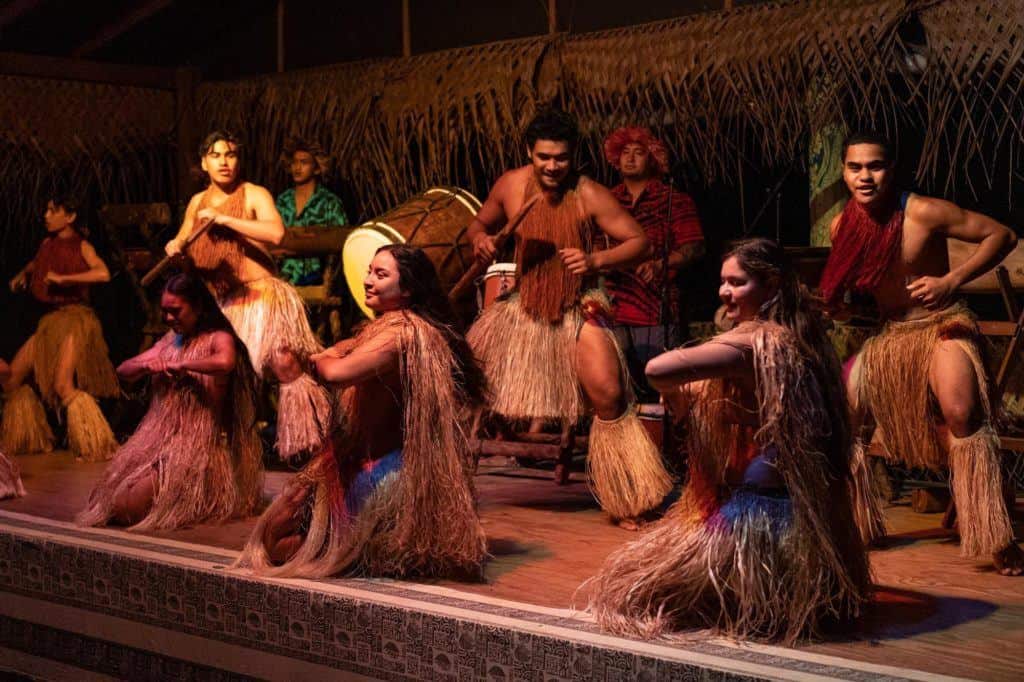 Go Snorkelling at Aroa Beach
There's no shortage of amazing places to go snorkelling on Rarotonga, and we tried our best to sample as many as possible.
Our favourite place was at Aroa Beach.
Located on the southwestern tip of the island, Aroa Beach is a beautiful stretch of white sand with insanely blue water, fringed by coral and rocks just a short distance from the shore.
Definitely one of the top free things to do in Rarotonga!
Set up a spot on the beach then all you need to do is swim out just a few metres.
You don't need to go too deep to start seeing some gorgeous marine life, and soon you'll be surrounded by plenty of fish.
We recommend paddling out to the rocks and coral that form a natural barrier around Aroa Beach and do your exploring there.
You'll find much more species to inspect. The main Rarotonga attractions are its beaches and Aroa Beach is the most popular one.
IMPORTANT – Do not stand on any rocks or coral, as you can damage any life growing on them permanently.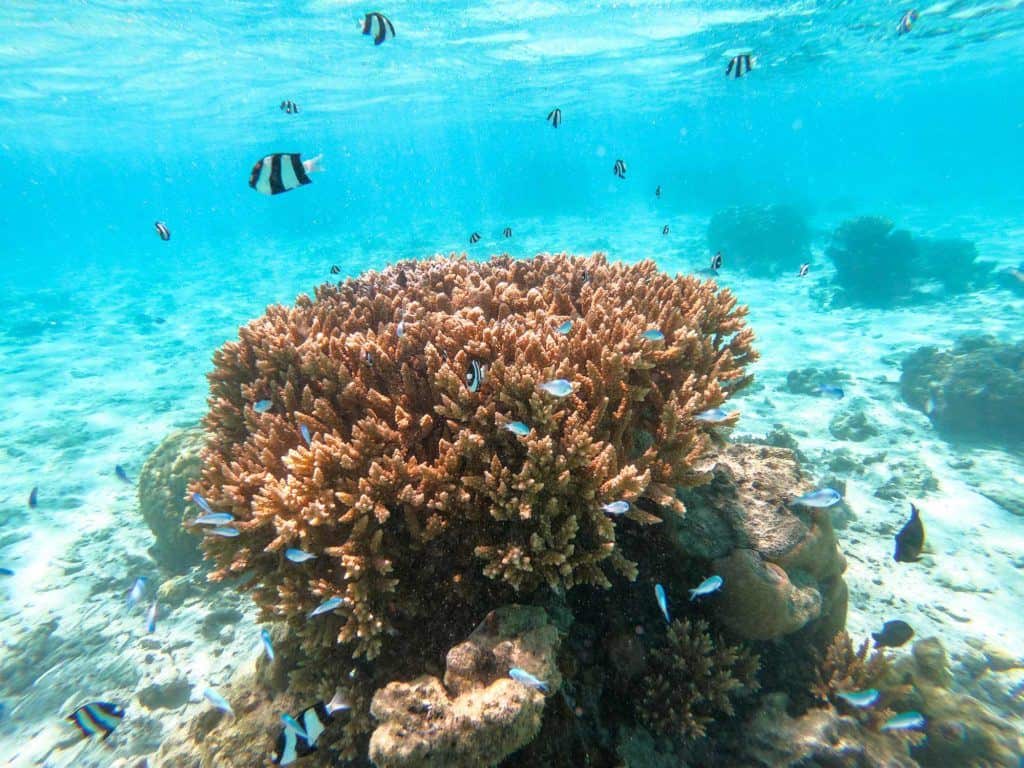 Hang Out at the Punanga Nui Morning Markets
Every Saturday, downtown Avarua comes alive at the Punanga Nui Markets, and no weekend in Rarotonga is complete without wandering around chatting to locals, sampling local cuisine and listening to music.
The markets are a hive of activity, and on a sunny day it feels like the entire population comes out to enjoy the atmosphere.
For tourists this is also the place to be if you have to pick up some souvenirs.
You'll find everything from shell art to t-shirts, wood carvings to paintings and even hand-made ukuleles.
Make sure you watch the local school children performing their traditional dances on the stage, and don't be afraid to sample all of the delicious food and drinks.
On your list of what to see in Rarotonga add the morning markets, as the bustle of the friendly crowd, various trinkets and amazing street food make the markets part of the full Rarotonga sightseeing experience.
Location: Ara Tapu, Avarua District
Opening hours: every Saturday from 7 AM – 12 PM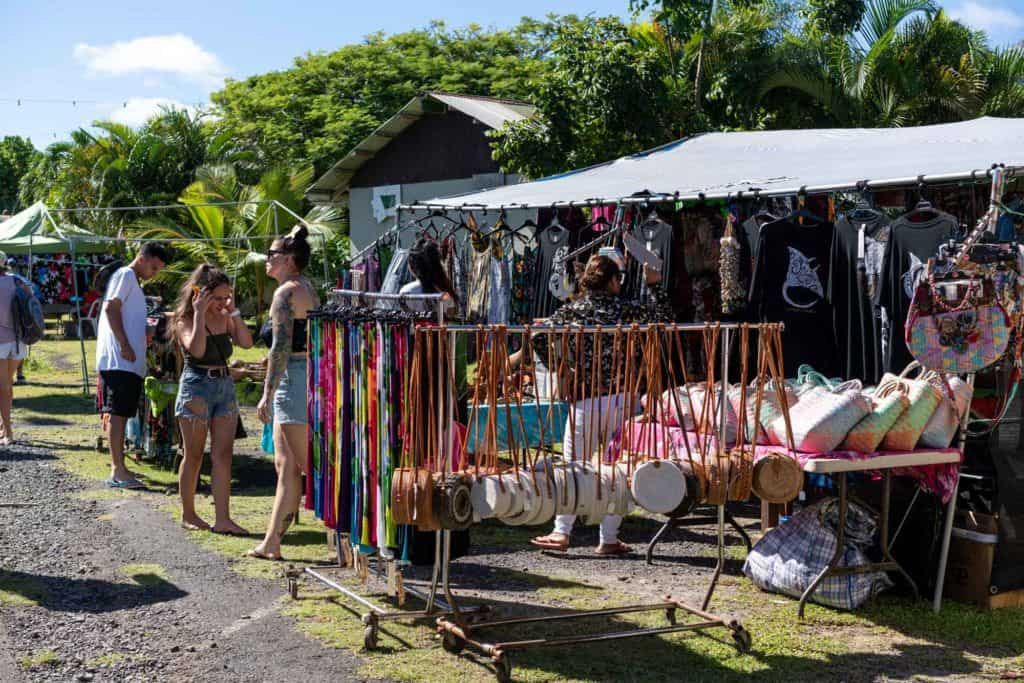 Eat a Fish Burger from Mooring Cafe
We have to be honest with you – if you're going to spend any time eating out on Rarotonga, you're going to end up eating a lot of fish burgers.
Why? Because they're just so damn good!
Being an island in the middle of the Pacific Ocean means there's no shortage of fresh fish for the taking, and local fisherman head out every single day to catch their quota and sell to the restaurants and cafes.
We ate at a bunch of them, and they were all good. But the absolute best fish burger in Rarotonga was at Mooring Cafe, on the edge of Muri Lagoon on the eastern part of the island.
Their F.O.B. sandwich was absolutely delectable, with a chunky fillet of mahi mahi cooked to perfection with a soft bun, and filled with just the right of amount of sauce and salad.
And all of this only cost $13! What a bargain. Word of warning though – this thing is huge, so make sure you skip breakfast before you show up.
Location: Off Main Road, Avana, near Muri
Opening hours: Monday – Friday from 9:30 AM – 3:30 PM, Sunday from 12 PM – 4 PM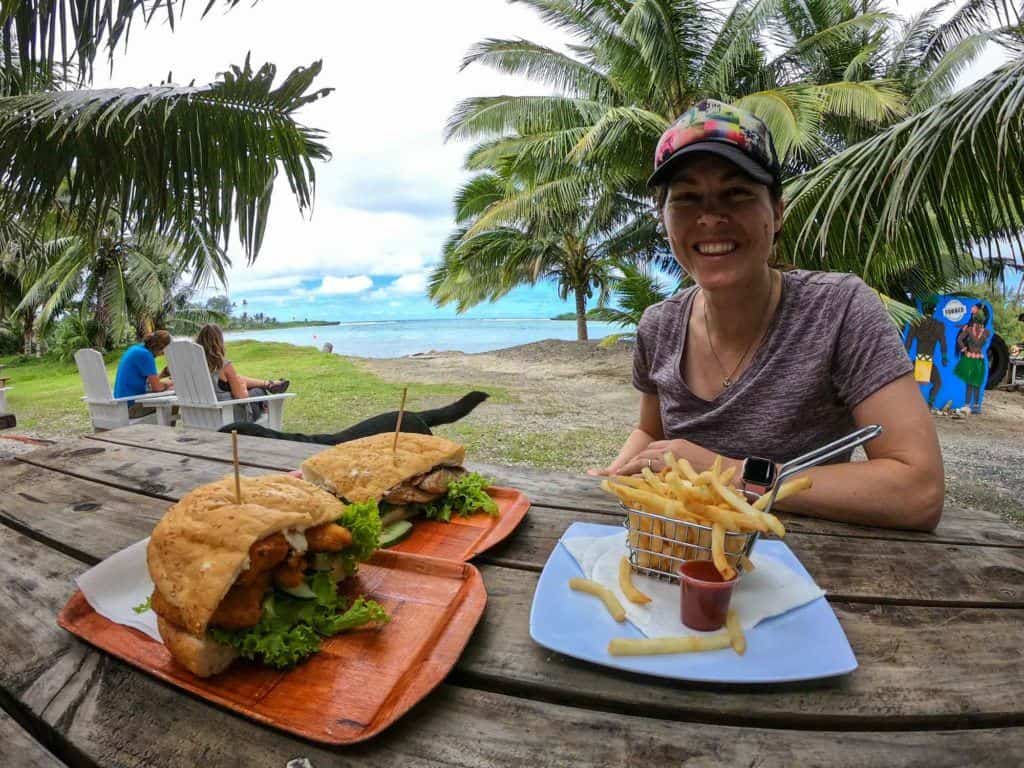 Go Scuba Diving with Pacific Divers
If you're a certified scuba diver, or are looking to get qualified on your next trip, then Rarotonga is a perfect place to do it!
It's no secret that the South Pacific Islands are home to some of the best scuba diving on the planet, and while the Cook Islands aren't quite to the standard as Palau or the Solomon Islands, the dive sites here are still worth exploring.
We went out for a 2-dive excursion with Pacific Divers, the top dive operator on Raratonga, and really enjoyed ourselves.
The sites we went to were just off the pier from Avarua and still inside the lagoon. This meant there was minimal time spent on the dive boat getting to and from each location.
The wind was up and seas were slightly rough on the day we went out, but much to our surprise visibility was phenomenal, almost up to 40m!
We didn't see a lot of fish unfortunately, but on both dives we explored a couple of swim-throughs in small caverns and even saw a few sea turtles.
A light snack and coffee was included during our day, and we enjoyed our surface interval break back at the pier rather than waiting on the boat.
2 dives only cost $99 including all rental gear, making it an absolute bargain. Next time we'll definitely try and get out to the further dive sites, or perhaps go diving at Aitutaki.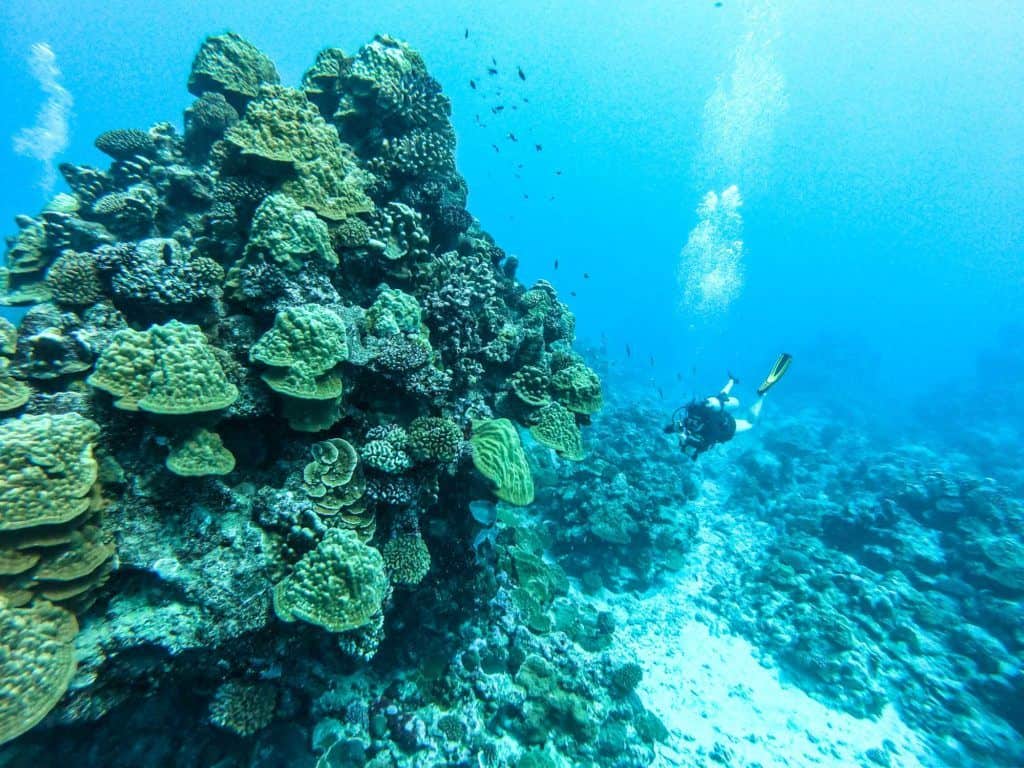 Enjoy Traditional Rarotongan Hospitality with the Progressive Dinner Experience
For us spending time with the local people is what makes travel so rewarding, and because of that the idea of having dinner in a family's home sounded right up our alley.
We joined the 'Progressive Dinner' tour, which involves visiting three different families living in a village near Avarua and enjoying a home-cooked meal with each of them.
The tour starts off with a walk through a plantation with the mum on the house, and she explains how Cook Islanders work with the land to farm fruits and vegetables. Then it's back to her house to enjoy the entree.
At each house you get told stories from each family, sharing their experiences about what it's like living in such an isolated paradise where community means everything.
The food is amazing and very traditional. You finish it all with a massive dessert before being dropped back off at your accommodation. The entire experience lasts for about 4 hours.
To be completely honest on the night we did it there was an enormous school group from the United States taking part as well, so it didn't feel like we actually got a chance to talk to the locals because of the group size, but our guide told us a group of this size is unusual.
If you're looking for some unique Rarotonga activities, this is one of the most cultural. It is held every Monday and Thursday.
If time was short though and you had to choose between the Highland Paradise Cultural Sunset Dinner or the Progressive Dinner, we would recommend Highland Paradise.
This is one of the more popular Rarotonga tourist attractions because you get an opportunity to learn about how locals live, become part of their community for a day and try some delicious food.
Tackle the Cross Island Trek – Te Rua Manga (The Needle)
The Cook Islands isn't all about eating food and lounging around the beach! If you're looking for adventurous things to do in Rarotonga, then your first activity should be the Cross Island Trek.
Cutting right through the some of the best mountain scenery on Rarotonga, this captivating and slightly challenging hike only takes a few hours, but is sure to test your body with steep ascents, uneven terrain and muddy tracks.
The hike goes from behind Avarua straight through the heart of the island and finishes up at Papua (Wigmore's) Waterfall.
Walking through the jungle is truly fantastic, and while it does get very humid, it's a welcome relief to be in the trees out of the sun.
You can do this hike in either direction, but we had a few locals tell us to finish at the waterfall, as it's much more difficult the other way.
The goal is to reach The Needle, the high, jagged rock in the middle of the island.
We began our hike early in the morning to beat the heat and after an hour or so of steady climbing through dense jungle we popped out on a narrow ridge.
To get to the base of The Needle there's a few ropes and chains to help keep your balance, and we charged up to the base for some amazing views.
We saw some clouds rolling in so climbed back down and into the safety of the jungle. Moments afterwards the heavens opened up and it started pouring on us.
In perfect conditions it might have taken us an hour to make it to the waterfall, but with the steep track now completely muddy and slippery we had to take our time. In the end it was about a two-hour descent.
The Cross Island Trek is definitely one of our favourite activities on our list of what to do in Rarotonga, and we're so glad we did it.
You can do this on your own, or through a tour. A local legend by the name of Pa used to guide hikers across the island, but he has since retired.
If you have moderate fitness and a basic understanding of being out in nature we believe you don't need a guide for this, but it would be nice to have a local join you if that's what you're looking for.
We did the hike with another couple we met scuba diving, so we could park one vehicle at the start and the other at the end, running shuttles after the hike. Otherwise the alternative is to hitch or take the bus.
For avid hikers and nature lovers, the Needle is definitely one of the things to see in Rarotonga!
Grab Dinner at the Muri Night Markets
There's a good chance you'll leave the Cook Islands slightly heavier due to all the incredible local food available, and a great place to dive into it all is at the Muri Night Markets.
Located at Muri Beach, these awesome night markets happen every Sunday to Wednesday every week, and there's no shortage of choices when it comes to what to eat.
You'll find a DJ busting out good tunes, families running around having a great time and a huge variety of dishes being cooked up right there at the markets.
Make sure you try the desserts – they are delectable!
Location: Ngatangiia District
Opening hours: Tuesday – Thursday and Sunday from 5 PM – 8 PM
Rent a Scooter or Car and Drive the Ring Road
One main road circles the entire island, making exploration of Rarotonga super simple. All you need to do is get a vehicle and circumnavigate it!
The 32km paved road follows the coast and cuts right through many of the major villages.
If you drove it non-stop it'll take about 50 minutes (nobody drives faster in Rarotonga), but chances are it'll take you a lot longer with all the stops you'll make!
Do yourself a favour and rent a scooter or car and spend some time just driving around with no real plans.
You'll find tonnes of great beaches, quiet parks, awesome restaurants and little bars to check out.
There's also an inner ring road that was built in the 11th century and goes around about 3/4 of the island.
If you don't feel like driving you can always jump on the bus. It's easy to figure out – one says 'clockwise' and the other says 'anti-clockwise'!
Check out part 2 of our Cook Islands vlog!
Take a Day Trip to Aitutaki
Rarotonga is beautiful, but the truth is it often gets overshadowed by its smaller, hard-to-believe-it's-real neighbour, Aitutaki.
45 minutes away by plane is the overwhelmingly stunning island of Aitutaki, known as the most beautiful lagoon in the world.
The name Aitutaki literally means 'A Little Paradise', so with those two facts it should give you a clear indication of what to expect.
We've been lucky enough to travel to a lot of amazing places in the world, but believe us when we say that Aitutaki is the most beautiful island paradise we have ever seen! 
We visited on a day tour from Rarotonga, which isn't the cheapest excursion in the world, but in our opinion is completely worth it.
You are picked up from your accommodation in Raro and taken to the airport early in the morning.
After a very relaxed check-in procedure, you jump onboard the small propellor plane and fly off to heaven.
When you get there you meet up with your guide who drives you into town on an open-air bus.
Driving through the tiny villages really gives you an idea of just how remote this place is.
After a quick visit to the general store to pick up any last-minute supplies you jump on a traditional wooden boat and begin your cruise over the epic lagoon.
During the day you stop off at 3 different islands, giving you plenty of opportunities to snorkel or walk around the glistening white sand.
The water is the most spectacular shade of blue you'll ever see. In fact we had to de-saturate our photos just to make it look real!
You have lunch on the boat, comprising of delicious fresh fish, then finish your afternoon at One Foot Island, the gem of Aitutaki.
You'll be back in Rarotonga in the evening. We're not going to give too much else away about this trip, but trust us when we say that if you're not planning on spending a few days in Aitutaki, you at the very least MUST head there on a day tour from Rarotonga!
Price: $493 per person, including flights
Climb the Raemaru Trek
If you're looking for a walk that isn't quite as long as the Cross Island Track, but still offers incredible views and fun challenges, make sure you take on the Raemaru Trek.
We did this on our last day before flying out, and it turned out to be one of our favourite things to do on Rarotonga.
It's a simple hike, climbing slowly in elevation, and cutting through some beautiful jungle.
The last section is a fun scramble up a cliff, with ropes and chains bolted in place to make it easier and safer. The climb is only 20m or so, and was or favourite part of the entire hike.
At the top you reach a large plateau with lovely views over the island, but not quite as impressive as the Cross Island Trek.
Lots of wildflowers and fruits are growing up here, so make sure you spend a bit of time walking around.
The Cook Islands Tourism organisation has recently put in QR codes along the track that digitally tell the story of Raemaru, adding an entirely new interactive experience to the hike.
The Raemaru Hike starts behind the Arorangi village. It's 3.1km in total.
Do Some Whale Watching
Every winter thousands of humpback whales cruise the Pacific Ocean, looking for warmer waters to breed in after a big season of feeding in the Antarctic.
The most popular place to see these majestic creatures is in Tonga, and a booming tourism industry has risen up around it, but the Cook Islands is also one of the best places in the South Pacific to see them.
While seeing the whales is very common for locals and fisherman, few operators have really capitalised on this huge potential of offering whale watching tours.
From July to October most people simply head to the western side of the island and hang out on the shore, keeping an eye out for the humpbacks to pass by.
If you're feeling really keen, talk to any of the fishing or diving operators to see if they can organise a personal whale watching tour for you.
Watch Sunset at Black Rock
There are quite a few places to stop and enjoy sunset in Rarotonga, but the most popular one is Black Rock, on the northwestern tip of the island near the airport.
It's quite an iconic location when visiting Rarotonga, and almost everybody will head out there at some point to swim around in the little channel that forms at high tide.
It's also an amazing place to watch sunset, with the rock forming a perfect backdrop agains a pastel sky. It's a Rarotonga must see!
You'll find lots of locals coming down here in the late afternoon as well, so it really gets a fun, family-friendly vibe.
Take a Dip at Wigmore's Waterfall
If you're looking for a break from constantly swimming in saltwater, it's time to head to Wigmore's Waterfall and take a dip in some fresh stuff!
This picturesque little water hole is at the start (or end) of the Cross Island Trek at the back of the Vaimaanga village.
There's a small entrance fee to head in there, and this goes towards maintaining the road and site.
Note that if you hike over from the other side of the island you don't have to pay this fee. The waterfall is a great place to cool off after your trek.
Make sure you bring plenty of bug spray! The mosquitos are nasty there.
Go Stand-Up Paddle Boarding at Night with KiteSUP
Muri Lagoon is absolutely stunning at any time of day, but if you want to explore it on a real unique experience, we recommend signing up for a stand-up paddle boarding tour at night with KiteSUP.
You head down to their office just before sunset, get a briefing on how to use a SUP (in case you're new to the sport), then as the sun starts dipping down the whole group paddles out together to check out the lagoon.
It's a lot of fun paddling between islands during golden hour, and the guides keep everyone together and share fun stories and jokes to keep everybody entertained.
Once it gets dark the guides put on a fire show beneath the starry night before paddling back to Rarotonga.
Don't be worried if you've never paddle boarded before. You can always sit down if you find it hard to get your balance, and nobody is in a rush.
If you're real lucky you might even be joined by some of the friendly island dogs, who swim along with the SUPers and sometimes even try to hitch a ride.
Grab a Drink at Trader Jack's
It would be a sin to visit the Cook Islands and not have a drink at Trader Jack's, a bar and restaurant that is as iconic to Rarotonga as Muri Lagoon.
This slightly-rundown drinking hole is located in Avarua right on the water's edge, and on a clear evening you'll find it buzzing with locals and tourists.
The food is bit on the pricey side, but the quality is awesome.
Location: Ara Tapu, Avarua District
Opening hours: Monday – Saturday from 11 AM – 11 PM (except Friday from 11 AM – 3 AM and Saturday from 11 AM – 12 AM)
Get Dirty with Raro Quad Tours
The most fun you can have on four wheels is with Raro Quad Tours, who run adrenaline-packed ATV adventures through Rarotonga's rough and rugged interior.
These epic quad bike tours aren't for the faint of heart. After you have your safety briefing and are shown how to drive their quad bikes, the guides load everyone up and hit the tracks.
You'll discover some truly unique parts of the island that you cannot get to any other way besides on a ATV, including driving through the abandoned Sheraton Hotel, and if there's one thing that's guaranteed, it's that you will get muddy!
The tour lasts just over 2 hours.
Price: $160 for a single, $175 for a double
Swim to the Ship Wreck
A few hundred metres from the shore at Avarua is the remains of the RMS Maitai, an old cargo ship that ran aground in Rarotonga on Christmas Day in 1916.
Over the last century or so the wreck has slowly torn apart and the ocean and coral have claimed it as their own, so now only a small section remains visible above the surface.
If you're a good swimmer and feeling adventurous you can swim out to the wreck and snorkel around it, keeping an eye out for all kinds of marine life.
We recommend going in a group for safety as the swell and tide can be rough the further out you get. Don't attempt this if you aren't a very confident swimmer.
Visit the Museums
Rarotonga has a range of different museums focused on culture, art and history, and visiting them is a great way to spend a hot afternoon or get out of the rain when it comes.
The Te Ara Cook Islands Museum of Cultural Enterprise is the best one on the island, and it has lots of traditional art and information on the Polynesian way of life.
The Cook Islands Library and Museum is also another great place to stop off at if you're interested at all in World War 2 history. Don't miss the Cook Islands National Museum as well.
Buy Some Cook Islands Art
What better souvenir to have from your trip to the Cook Islands than picking up some traditional art?
Over the centuries, the people of the Cook Islands have developed a beautiful art scene, and at various shops around Rarotonga and at the markets, you can purchase some to take home with you.
Paintings are quite common, depicting scenes from the ocean of around the islands, but the most iconic forms of art are wood carvings.
Skilled artisans spend dozens of hours hand-making these beautiful carvings out of locally-sourced wood, and while it isn't as commonly practised in recent years as it used to be, you can still find great examples in Rarotonga.
For something unique and practical, handmade ukuleles are always a great souvenir.
Explore the Muri Lagoon
It's one of the most beautiful places to visit in Rarotonga, and any trip you make to the Cook Islands will most likely include at least one day swimming, snorkelling and hanging out at the Muri Lagoon.
The lagoon is visually jaw-dropping, with turquoise waters lapping at the Rarotonga shores with a couple of islands right in the heart of it, and short swim (or paddle) from the beach.
The snorkelling here is lovely, and it is home to some of the best things to do in Rarotonga such as stand-up paddleboarding and kayaking. You can even go for a half-day BBQ lunch and snorkelling cruise.
You'll find the Muri Lagoon on the east side of Rarotonga.
Cool Down with an Ice Cream from Wigmore's Supermarket
It can get very hot and humid in Rarotonga, and when you need a quick fix to cool you down, do what the locals do and head to Wigmore's Supermarket for a delicious ice cream.
The servings here are massive, and there's at least a dozen different flavours, so you might find yourself heading back time and time again to try them all.
Best of all they are very cheap, costing only $2 for a giant scoop in a cone. Wigmore's is also the largest supermarket on the island, so it's a great place to stock up on some snacks before going on adventures.
Location: Ara Tapu, Takitumu District
Opening hours: 24h/7
Go on a Pub Crawl
Sometimes you just need to let your hair out and get a little bit loose, and Rarotonga is a perfect place to do it!
One of the funnest things to do in Rarotonga is cruise around to a bunch of different bars, and the crew from the Rehab Nightclub have put together an awesome night out with Rehab's Raro Pub Crawl.
The open air bus goes on a tour of Raro's best bars every Monday, Wednesday, Friday and Saturday, allowing you to sample the best nightlight in the Cook Islands without having to worry about how you're going to get around.
For $10 they'll pick you up from anywhere along the main ring road, and you'll have the chance to join a group of excited patrons for an awesome night.
Bar games and drink specials along the way for pub crawl members!
See the Abandoned Sheraton Hotel
The more we hung out in Rarotonga, the more we heard about the strange incomplete and abandoned Sheraton Hotel.
There's a whole lot of rumours going around about the origins, and eventual demise, of the Sheraton Hotel, but the theory we kept hearing the most was that the Italian Mafia moved into Rarotonga and started building the hotel to launder their money.
They poured millions of dollars into building one of the grandest, most elaborate hotels in the South Pacific, but the money eventually dried up and the local government kicked them out when they stopped receiving their kickbacks.
This resulted in the enormous complex being half-built, and over time the jungle has quickly reclaimed it.
Whether there's any truth to this story or not is something you'll have to investigate on your next trip to Rarotonga.
Access to the grounds is now closed to the public, but if you join one of the ATVs tour you can have the chance to drive right through the hotel property.
Simply Relax at the Beach
You could spend an entire month on the island and still not tick off all of what to do in Rarotonga, but that doesn't mean you should fill every waking moment being busy.
Don't forget that you've travelled to an island paradise – Spend some relaxing on a patch of white sand with the ocean lapping at your feet.
The beaches in Rarotonga are sensational, and all you need to do is go for a drive or ride to just about any place along the ring road and find yourself a patch of sand to chill out on.
Make sure you head to the west side of the island in the evenings for epic sunsets while you sip a Happy Hour cocktail! The best way to relax on the beaches of Raro.
Rarotonga Travel Guide
Now that you know all the best things to do in Rarotonga, we want to share with you some other bits of general travel advice for visiting the capital of the Cook Islands.
Where to Eat on Rarotonga
For a little island, there are quite a few awesome spots to grab a meal. Here are some of our favourite places we found for where to eat in Rarotonga.
Breakfast at Beluga Cafe
This is an absolute must while you're on the island. Make sure you head to Beluga Cafe at least once on your trip to try their delicious breakfasts and real coffee.
We recommend the sashimi eggs benny!
Location: Main Road, Arorangi District
Opening hours: Monday – Saturday from 7:30 AM – 3 PM (except Saturday from 9 AM – 1 PM)
Fish Burger from Charlie's
We already recommended getting a fish sandwich from the Mooring Cafe on this list of the top things to do in Rarotonga, so let us give you another alternative.
Charlie's is another legendary place to eat on Rarotonga, and their fish burgers are seriously next-level delicious. Make sure you are starving before you come, or split a burger – they are massive!
Location: Ara Tapu, Takitumu District
Opening hours: Monday – Sunday from 11 AM – 9 PM (except Saturday from 11 AM – 3 PM)
Dinner at Wilson's Beach Bar
When the sun goes down there's a bunch of places to grab a meal and drink on the west side of the island, but our favourite was at Wilson's Beach Bar, located in the Castaway Resort.
Its location right on the beach is simply marvellous, and the food is fantastic. Every night they have a different theme, or you can order off the standard menu.
We went on a Saturday night when they had Indian curries, and we were pleasantly surprised with just how amazing they were. Highly recommended.
Location: Arorangi Avarua
Opening hours: every day from 8:30 AM – 8 PM
Where to Stay on Rarotonga
There's no shortage of great accommodation on Rarotonga, and these can range in price from relatively cheap to absolutely astronomical, depending on what you're looking for.
Here's our list of where to stay in Rarotonga for your budget.
Budget – Backpackers International
Finding good accommodation at backpacker prices is pretty hard in Rarotonga, but luckily one hostel is delivering a great product while still managing to be very affordable.
Backpackers International is a basic, yet clean and sociable hostel located on the west side of the island and only a stone's throw away from an awesome beach.
Their dorm rooms max out at 6 beds, and they also have private rooms available. There's a kitchen so you can self-cook (helping keep your costs down further), and the hostel organises all kinds of great activities for their guests.
Mid-Range – Aroa Beachside Inn
You'll find this gorgeous resort right on the picturesque Aroa Beach, home to crystal white sand and glistening blue water.
Aroa Beachside Inn has managed to cram a very high quality product into a very affordable price, and every room as a little kitchenette, sitting area and outdoor furniture with ocean views.
Guests can enjoy the free use of kayaks and snorkelling gear, and breakfast is included every morning. You'll be hard pressed to get a better place for this price in Rarotonga.
Luxury – Rumours Luxury Villas and Spa
If you're visiting Rarotonga for your honeymoon, or just want to stay in the absolute best accommodation on the island, then you need to book into Rumours Luxury Villas and Spa.
Every single villa is right on the beach, with a private patio overlooking the sea, but that's not all you get. Each villa also has a private pool and gardens right there inside your property.
The spa is arguably the best on all of Rarotonga, so it's a perfect place to pamper yourself too. Some of the beachside villas also have their very own hot tub.
If you want to experience the epitome of luxury, Rumours is the place for you.
Our Personal Choice – Ikurangi Eco Retreat
We have a love of accommodations that focus heavily on protecting the environment and being eco-friendly.
On a place as beautiful and remote as Rarotonga, this is particularly important, and there's one place that is really taking this concept and pushing it to the next level.
Ikurangi Eco Retreat is honestly one of the nicest places we have stayed anywhere in the world, and they are proudly different to everything else you'll find on Rarotonga.
First of all, Ikurangi uses unique safari tents built up on stilts for their rooms.
These are spacious, surprisingly cool during the days with their natural ventilation while being warm at night with extra canvas over the entire tent, and tastefully decorated.
They also have a wonderful feature that we seriously couldn't get enough – open-roof bathrooms!
That means you can have a shower (or a bath if you're in the luxury tents) with views of a starry night and palm trees above you.
Every morning the friendly managers serve a purely delectable breakfast made with fresh fruits picked right from their neighbouring orchards (the absolute best papaya we've ever had!) and the coffee and smoothies are incredible.
The property has a swimming pool surrounded by trees and gardens, and guests can make use of the bicycles and snorkelling gear for free.
They also put their money where their mouth is when it comes to being eco-friendly, which is what made us choose this accommodation in the first place.
The tents are built on shallow foundations so they leave minimal impact on the earth. All of their cleaning products are natural and chemical-free.
The toilets are composting and wastewater is used to water the gardens. Low-energy lightbulbs are used, and of course they recycle and reuse heavily.
They are also big on putting back in the community, and they offer all staff above-average living wages and purchase all their food and decorations from local people.
It's located inland a bit, providing a very different and quiet experience compared to all the typical beachfront accommodation on Rarotonga.
We absolutely loved our time at Ikurangi Eco Retreat and believe in everything they are doing. We'll 100% stay here again on our next visit.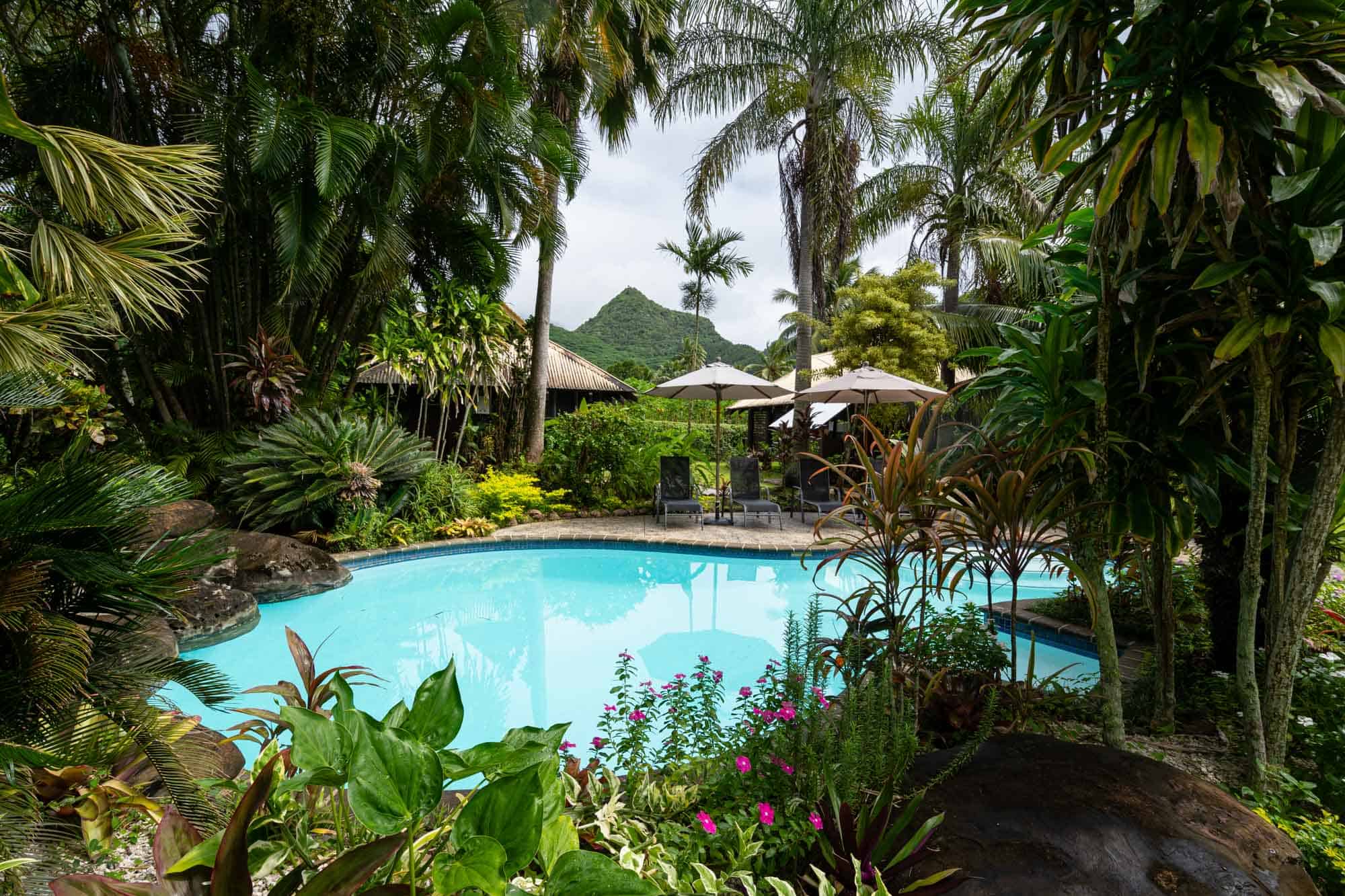 How to Get to Rarotonga
Unless you charter a yacht, the only way to get to Rarotonga is to fly into their international airport.
Direct flights are available from Los Angeles in the USA, Auckland in New Zealand and Sydney in Australia. The best airline to fly into Rarotonga is Air New Zealand.
We flew in from Sydney and the direct flight has really made things so much easier when coming from Australia, as you used to have to fly via Auckland.
Air New Zealand flies non-stop once per week from Sydney to Rarotonga. One-way Seat fares from $392 (inclusive of taxes). See for more information and to book.
Once you're in Rarotonga you can take flights to Aitutaki or some of the other further islands.
How to Get Around Rarotonga
If you're comfortable with it, the best way to get around Rarotonga is to rent a car or a scooter, as it will make moving between places much quicker.
Bicycles are another great option if you just want to keep things local and stick to one side of the island.
Another alternative is to take the local bus, which is a cheap and efficient way to get around. Don't worry, it's easy to figure out – One bus goes clockwise, and the other goes anti-clockwise.
That's it for our guide on all the great things to do in Rarotonga, Cook Islands. What do you think? Have we missed anything? Leave a comment below and let us know!
Best Time to Visit Rarotonga
We believe that any time is the best time to visit Rarotonga, but if you're interested in travelling when the weather is the finest then you'll need to visit in their winter and spring.
This is from May to October, when the weather is actually drier and cooler, making it a perfect time to explore Rarotonga.
If you travel outside of this time you can expect it to be more humid with higher chance of rain, but you'll also find this is the optimum time to beat the crowds and get cheaper prices.
DISCLAIMER: Our Rarotonga travels were made possible thanks to our partnership with Cook Islands Tourism, and our flights to Rarotonga were part of our collaboration with Air New Zealand. All thoughts, opinions and countless fish burgers consumed are, as always, our own
DISCLAIMER: Some of the links in this article are affiliate links, which means if you book accommodation, tours or buy a product, we will receive a small commission at no extra cost to you. These commissions help us keep creating more free travel content to help people plan their holidays and adventures. We only recommend the best accommodations, tours and products that ourselves or our fantastic editorial team have personally experienced, and regularly review these. Thanks for your support, kind friend!