The 6 best online travel agencies in Spain
6 min read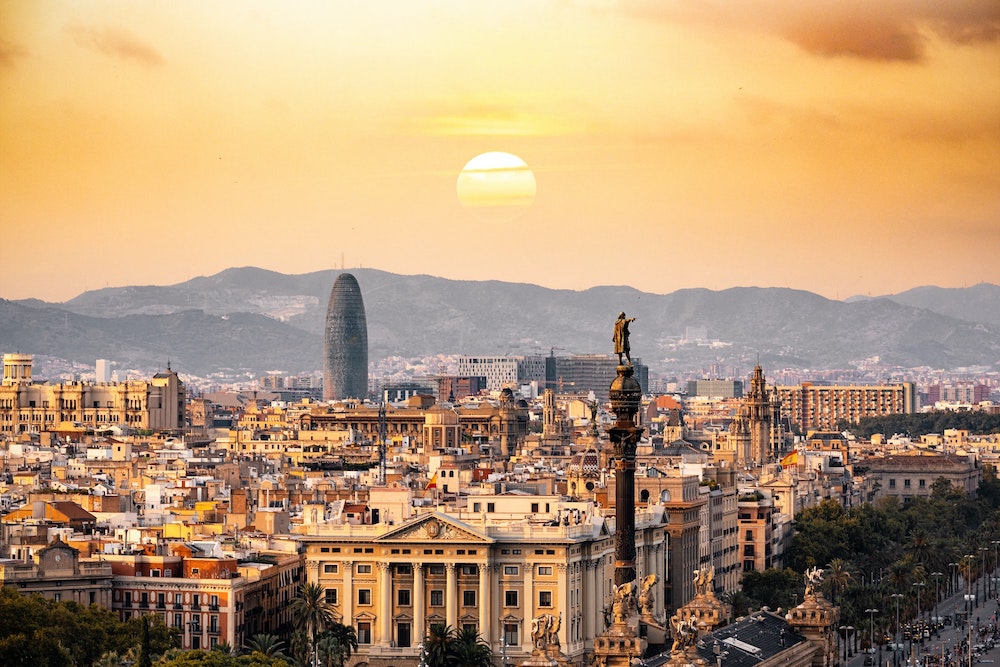 Hola, España! With its rich history, world-famous gastronomy, and diverse landscapes, Spain has always been a top destination for both business and leisure travelers—who can say no to tapas, beer, and a night of flamenco? 
Whether it's the allure of booming business in Bilbao, meetings in Madrid, or the siren song of Seville's sun-kissed shores calling you, having a reliable online travel agency to assist can make all the difference—taking your trip from bueno to excelente! 
To help make your trip a success, here's our carefully-compiled list of the finest online travel agencies Spain has to offer. To make things even simpler, we've divided it into those best suited to both business and leisure travel. 
Empecemos! 
Best online travel agencies for business travel
Spain is a unique hub for business in Europe. With the entrepreneurial spirit of Barcelona and the 'always on' capital of Madrid, your business travel is going to be next level with the right online travel agency by your side. Here are two of the best for business travel. 
1. TravelPerk: best for businesses looking for a complete solution
TravelPerk is a Barcelona-based online travel agency that specializes in providing modern solutions for seamless business travel. Its easy-to-use online booking tool is a refreshing change from the clunky UI often associated with business travel. TravelPerk enables you to make flexible bookings for employees and even offers the option to offset your carbon footprint—say adiós! to stress and contamination.
When considering the best online travel agencies, TravelPerk is a top contender, with an innovative, end-to-end solution for modern corporate travel. It's an all-in-one, intuitive online booking platform, which is a refreshing change from the typically clunky UI of business travel apps and websites. 
Corporate travelers have a mission with each journey they take—it's not the moment to waste precious time worrying about travel logistics. TravelPerk understands this, and efficiency is at the core of the team's offering. 
Businesses can boost efficiency even further with TravelPerk's numerous tool integrations, centralizing expenses with software such as Expensify or Divvy, or sharing travel plans over Slack. Streamlining a workflow in a way that suits your company's needs is key to successful business travel.
Another huge plus is that TravelPerk enables you to make flexible bookings for employees with FlexiPerk. Business travel is often subject to last-minute changes, and TravelPerk's flexible booking feature gives you the necessary leeway to change plans and get 80% of your spend back. Plus, booking with TravelPerk gives you the option to offset your carbon footprint with GreenPerk—a must in today's eco-conscious world. TravelPerk strives to ensure employees are traveling stress-free and comfortably, without breaking the budget.
Embark on a journey of smart travel solutions with TravelPerk—your perfect companion for Spanish business ventures!
2. B Travel: good for discounted travel
B Travel is a prominent Spanish travel agency with a dedicated focus on corporate travel services. B Travel specializes in tailor-made solutions catering to both large and small businesses. It also boasts a network of airline and hotel partnerships, ensuring a range of options for business travelers.
Main offerings:
Group tours and private tours are available
Travel expense management and reports
Travel specialist agent and customer service in Spanish or English
Different billing options for corporations
Dedicated travel portal for business travelers
Best online travel agencies for leisure travel in Spain
Ready to sip on the best sangrias, delve into a long list of tapas, and work on some sun time in Mallorca or Málaga? Vamos! 
3. Viajes El Corte Inglés: where personalization is served daily 
A renowned leisure travel agency in Spain, Viajes El Corte Inglés excels in creating personalized vacation packages. 
They offer a variety of options for traveling in Spain, including trips to heritage cities (a great way to see famous Cathedrals, museums, and world heritage buildings), special celebrations (to experience local gastronomy and culture), day trips, and last-minute flights. Although the team's great expertise in Spain travel is almost unmatchable, they only offer services in Español.
Main offerings:
Expertise in Spain, Europe, and the Caribbean
Package deals
Day tours to France, Morocco, Portugal, and other European cities available
Possibility to book cruise ships and trains
4. Halcón Viajes: bespoke travel has never been this easy
Halcón Viajes, with a legacy spanning several decades, is one of the oldest and most reliable travel agencies in Spain. Their expert travel advisors provide valuable recommendations on the best places to explore and how to travel between destinations (cars, cruise ships, and more). 
Halcón Viajes allows you to plan for large and small groups—maybe a Spanish honeymoon to Mallorca or a tour of Spain's Mediterranean coastline with the whole family, you choose—with a wide variety of options to craft a tailored package for any trip. Salud! 
Main offerings:
Customer loyalty program
Dedicated travel plan to the Spanish islands
Guided tours by local tour guides
Circuits and longer trip options (Africa, Asia, Europe, America, and more)
Offices across Spain and Morocco
5. eDreams: the right tech to make your travel planning fácil y rápido
eDreams is an international online travel agency that also serves the Spanish market. It offers a comprehensive platform for leisure travelers seeking to explore Spain and beyond— whether it's a tour of Andalucía, a getaway to Basque Country, or a paella evening somewhere in Northern Spain. 
With eDreams, you'll feel as if you have a travel agent in your pocket. Their real-time flight tracking option, online check-in, and hand luggage scanner make traveling fácil, rápido, y comodísimo!
Main offerings:
Easy-to-use website and booking app
Real-time flight tracking
Discount codes especially for app users
6. Logitravel: putting the logic in travel
Although based in the UK, Logitravel is a prominent online travel company catering to the Spanish market—because as much as they love a good cup of English Tea, they know nothing beats the sunshine you get in España. 
With Logitravel, you'll be able to get real reviews from real people and see which destinations and plans people are most interested in—helping you better plan your adventure through Spain and other European cities on your bucket list.
Main offerings:
Great deals and exclusive offers
Specialized agents available
24/7/365 Customer support
Includes TripAdvisor ratings and reviews
Vamos! It's time to choose the best travel agency for you
Maybe you need a corporate gathering in Granada or you're after a stroll through Gaudi's parks, from business to leisure, these six online travel agencies are providing exceptional travel services to those exploring the wonders of Spain. 
Whether you're chasing the history in the Alhambra, dancing with Andalucía's flamenco scene, or embarking on a walking tour of Barcelona's Gothic Cathedrals, let these six travel companies organize everything.
TravelPerk is one of the best options for corporate wanderers. Why? GreenPerk ensures you're giving back to the ecosystem while adding to your mileage. FlexiPerk gives your trips as much flexibility as your Havaianas. TravelCare gives you the peace of mind of knowing that whatever happens you'll be taken care of, and TravelPerk's 3rd party integrations make expense management a party your HR and Finance teams will love. 
¡Buen viaje!