The 8 Best Car Rental Apps for Business and Leisure Travelers
9 min read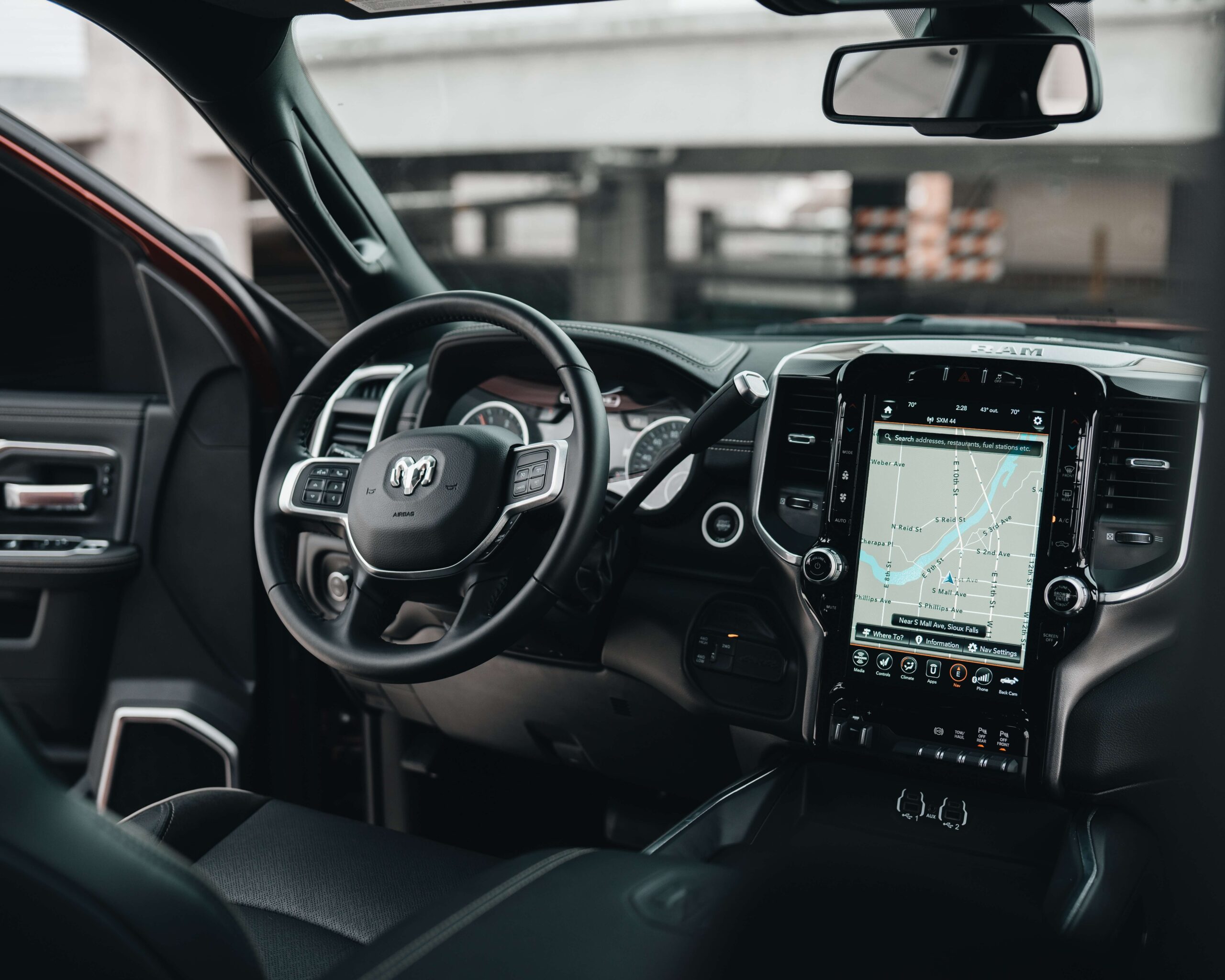 Between the rental car shortage, already-inflated gas prices, and increased demand due to the pandemic, car rental services have gotten more expensive (and difficult to find) over the last few years. 
Whether you're traveling for leisure or business, there are still a few ways to find great deals on rental cars. One of the easiest is to use an app that shows you a full list of available car rental agencies to help you compare and select the best ones for your trip. 
In this article, we'll break down the best car rental apps for both business and leisure travelers, based on pricing, availability, flexibility, travel management tools (for business travelers) and more. 
To better compare each of these cheap car rental apps, we searched each app for a 3-day midweek rental in Chicago, IL for dates two weeks out from the time of writing. We've included comparison details for these searches within each section. 
Best overall car rental app for business travel: TravelPerk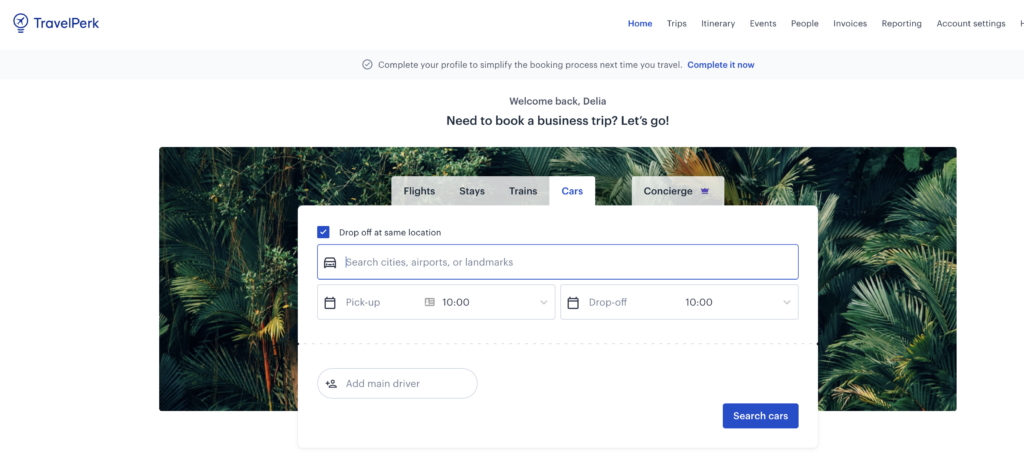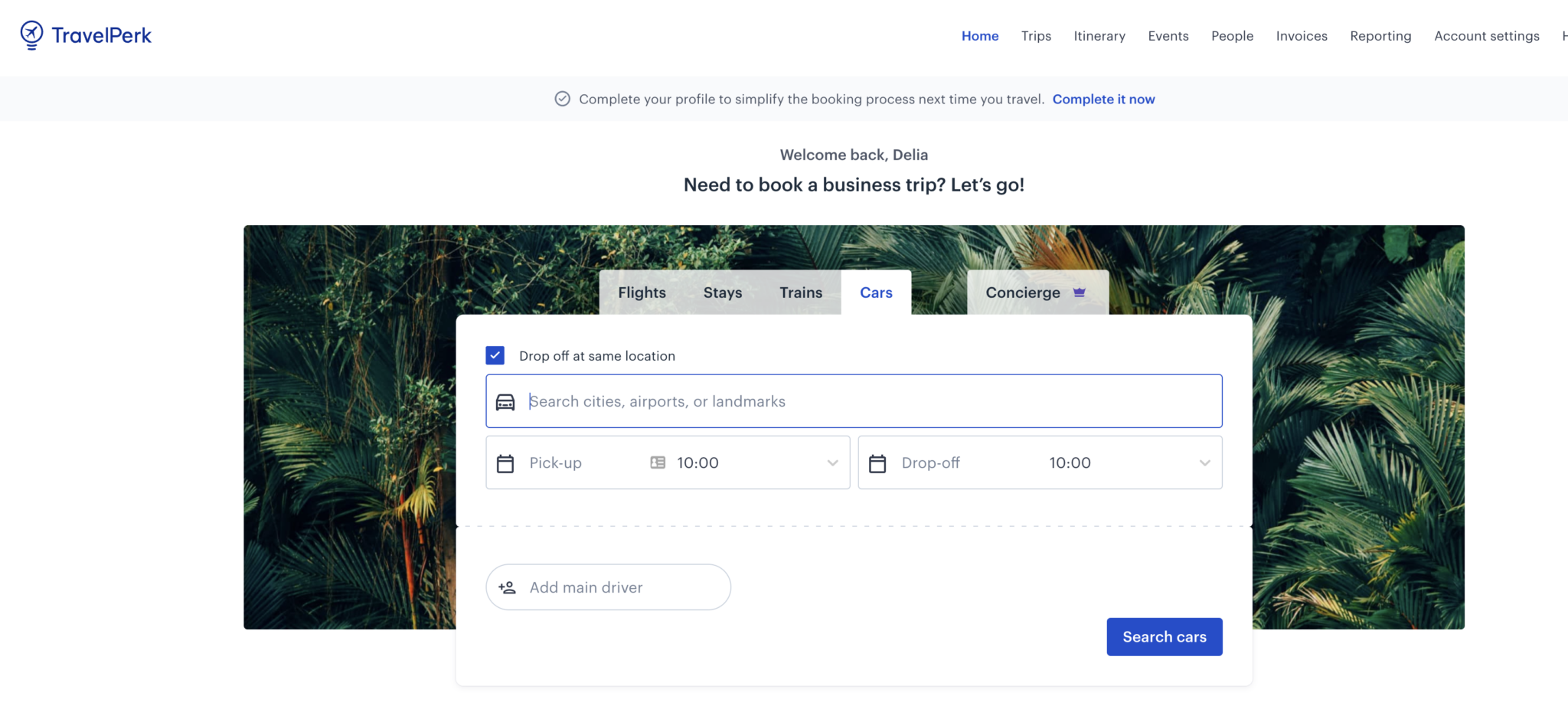 For business travelers, TravelPerk is the best overall car rental app. As one of the few car rental apps that caters directly to business travelers, TravelPerk has all of the features and solutions you need to make business travel seamless and stress-free. 
Not only does TravelPerk offer the widest selection of corporate rentals and rates, but it's a user-friendly, all-in-one platform that allows business travelers and travel managers to book car rentals, flights, accommodation and more. Teams can also manage travel itineraries, costs, business expenses, VAT refunds and so on. 
Speaking of VAT, companies who book through TravelPerk have access to their VAT recovery solution, helping you save up to 25% of your annual travel budget for travel throughout Europe. 
Key Features: 
Book, manage and report on business travel and expenses all in one platform—seamlessly connect your car rental to your other business travel plans. 
Access the largest worldwide corporate inventory for car rentals, with companies like Avis, Enterprise, Europcar, Hertz, National, Sixt and more. Plus, with exclusive rates, you can get the best deals every time.
24/7 customer support provides help for you or your employees in an average of 15 seconds. 
Get 80% of the cost back for canceled trips with FlexiPerk, without worrying about individual cancellation policies. 
Sample Pricing: 
Rates for our search started at $47.60 / day, for an estimated total of $142,81 for the entire rental period. 
What's Included: 
3-day rental for a midsize sedan 
insurance and liability protection
cancellation policy
unlimited mileage
VAT recovery solution 


Best overall car rental app for leisure travel: Priceline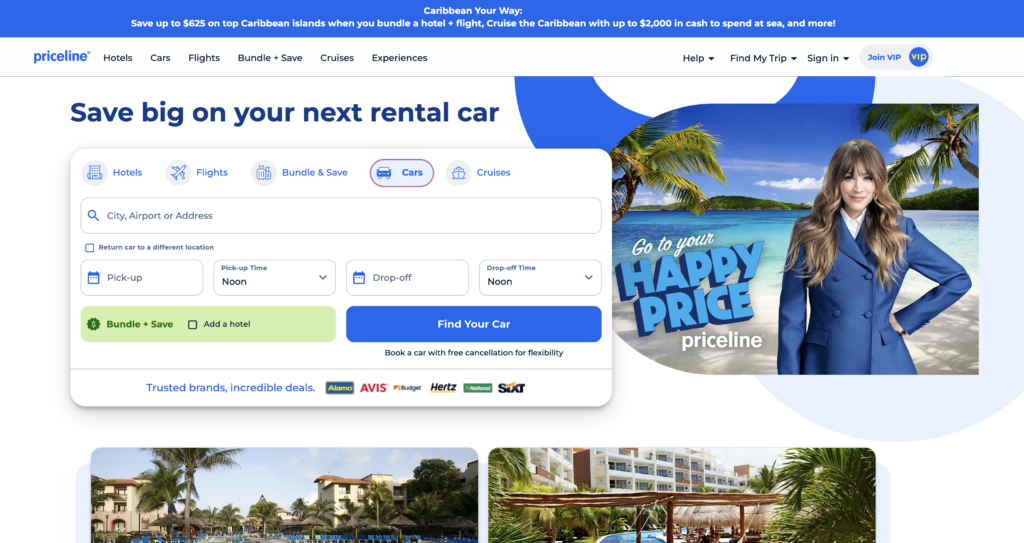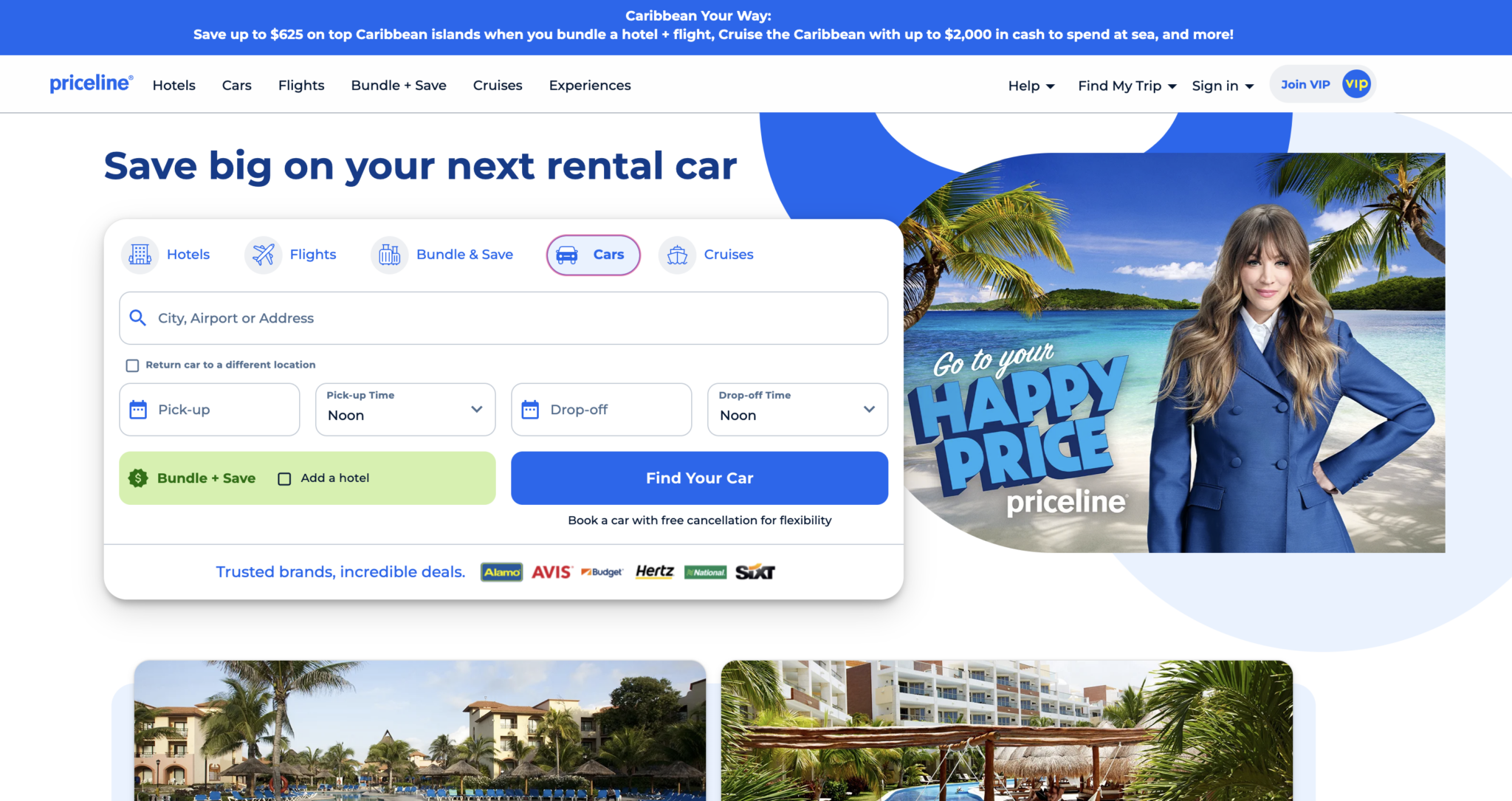 If you're traveling for pleasure rather than business, Priceline is hard to beat for the best car rental options. Priceline's extensive network, including rental car companies like Avis, Alamo, Hertz, Enterprise and more, sets it apart in terms of ease and affordability. 
Priceline is an online travel agency that helps you find cheap car rentals through metasearch capabilities—that is, searching many car rental brands and booking websites at once and delivering the results to you in aggregated results. With so many options, you can easily sort and filter by policies that matter most to you. In addition, they offer exclusive deals and package options so you can book your car rental in combination with your airfare or hotel to save even more.  
Key Features: 
Express Deals allow you to save up to 40% off list prices by booking an "unbranded" rental car. You'll find out the brand of the rental car after the booking is complete. 
Book your car + hotel together for additional savings.
Sort and filter results based on your rental and policy needs. 
Sample Pricing: 
Rates started around $25/day for car rentals, for a total rental price of around $140 for the trip. The cheapest car rental result for our search was an Express Deal for a rental car from Ace, Economy or Fox, but there were 15+ car rental brands included in the results. 
What's Included: 
Mid-sized sedan 
Unlimited mileage 
Airport shuttle to rental car pickup location 
Best car rental app for regular, short-term rentals: Zipcar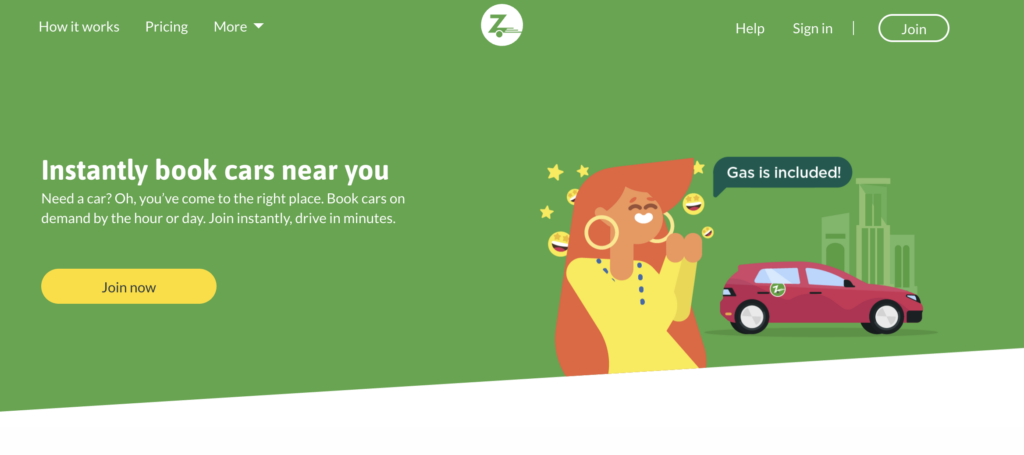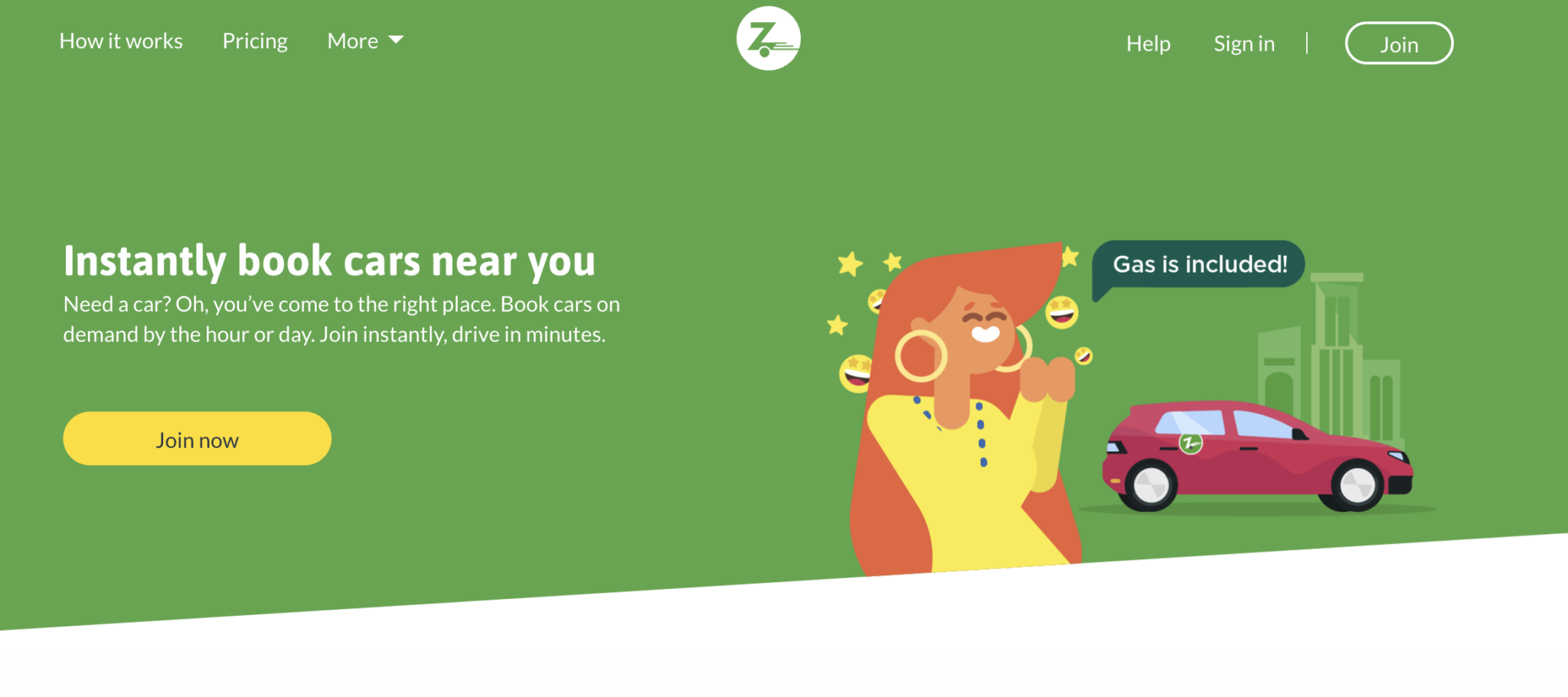 If you regularly need a rental car—whether for driving to meet clients around the city, taking weekend road trips or just getting more supplies for the office—Zipcar is the best way to get cheap short-term car rentals on a regular basis and a great alternative to ride-sharing apps like Uber and Lyft. 
Zipcar operates on a membership model, so all users pay either $9/mo. or $90/annually for a membership. From there, rates start around $11/hour for drive time. 
Key Features: 
Located in most major metro areas in the US (currently 500+ cities).
Everything's included—insurance, gas, roadside assistance, and more.
On-demand rentals from the Zipcar app.
Rentals are parked at various Zipcar locations around the city—get quick rentals without having to drive to the airport.
Additional savings for business accounts makes Zipcar an easy option for on-demand "company cars." 
Sample Pricing: 
Rates for our search started at $83/day, for an estimated total of $249 for the entire trip period. While Zipcar is definitely one of the cheapest options for quick trips, its daily rates can be higher than other options. 
What's Included: 
Insurance for all trips 
Gas (as needed) 
180 miles per day ($0.58 per mile after that)
On-demand rental system, with hourly (instead of daily) rates 
Best peer-to-peer car rental app: Turo 


Turo is a peer-to-peer car sharing app that lets you rent cars directly from car owners in your city—like Airbnb, but for cars. Two major benefits? Flexibility and cost savings. Renting a car through Turo is often much cheaper than renting through a traditional platform. 
Turo is particularly convenient if you're not heading to an airport during your trip. Since it's a peer-to-peer service, you'll typically pick up your car rental at a location around the city. In some cases, you can even have the car delivered to you for a fee. 
Key Features: 
Cheaper prices than traditional car rental companies. 
Lots of last-minute (same-day or next-day) availability. 
Availability in 7,500+ cities across the US, Canada and the UK. 
Discounts for extended trips (7+ days or 30+ days)
Cars located throughout the city, as opposed to a single pickup location.
Sample Pricing: 
Rates for our search started at $27/day, for an estimated total of $82 for the entire rental period. This was the cheapest car rental option we found for our search.  
What's Included: 
3-day car rental for a midsize sedan
Basic insurance + liability protection 
Free cancellation up to 24 hours before the trip 
Up to 600 miles (additional miles billed at 0.14c/mile) 
Best car rental app for flexibility: Getaround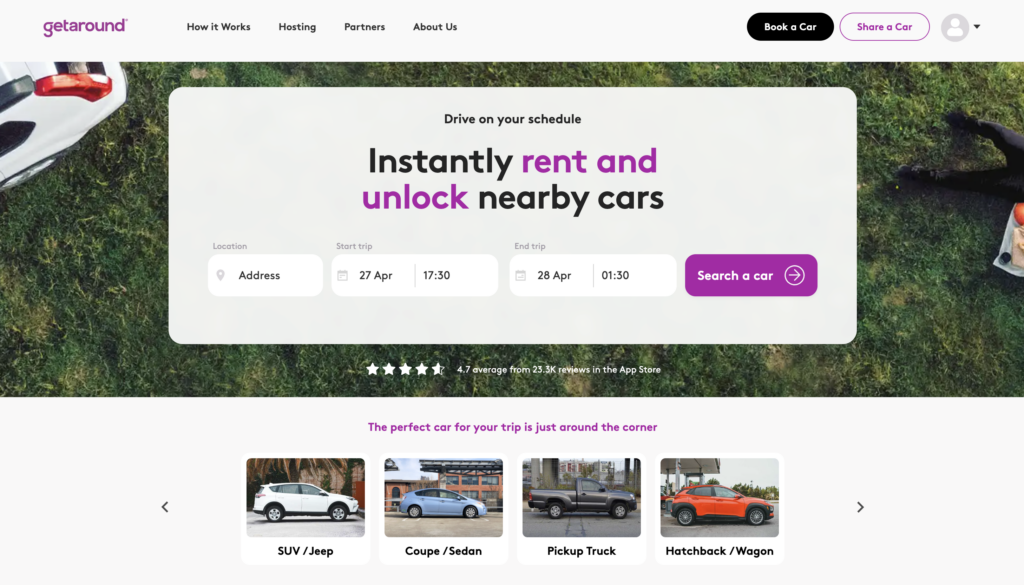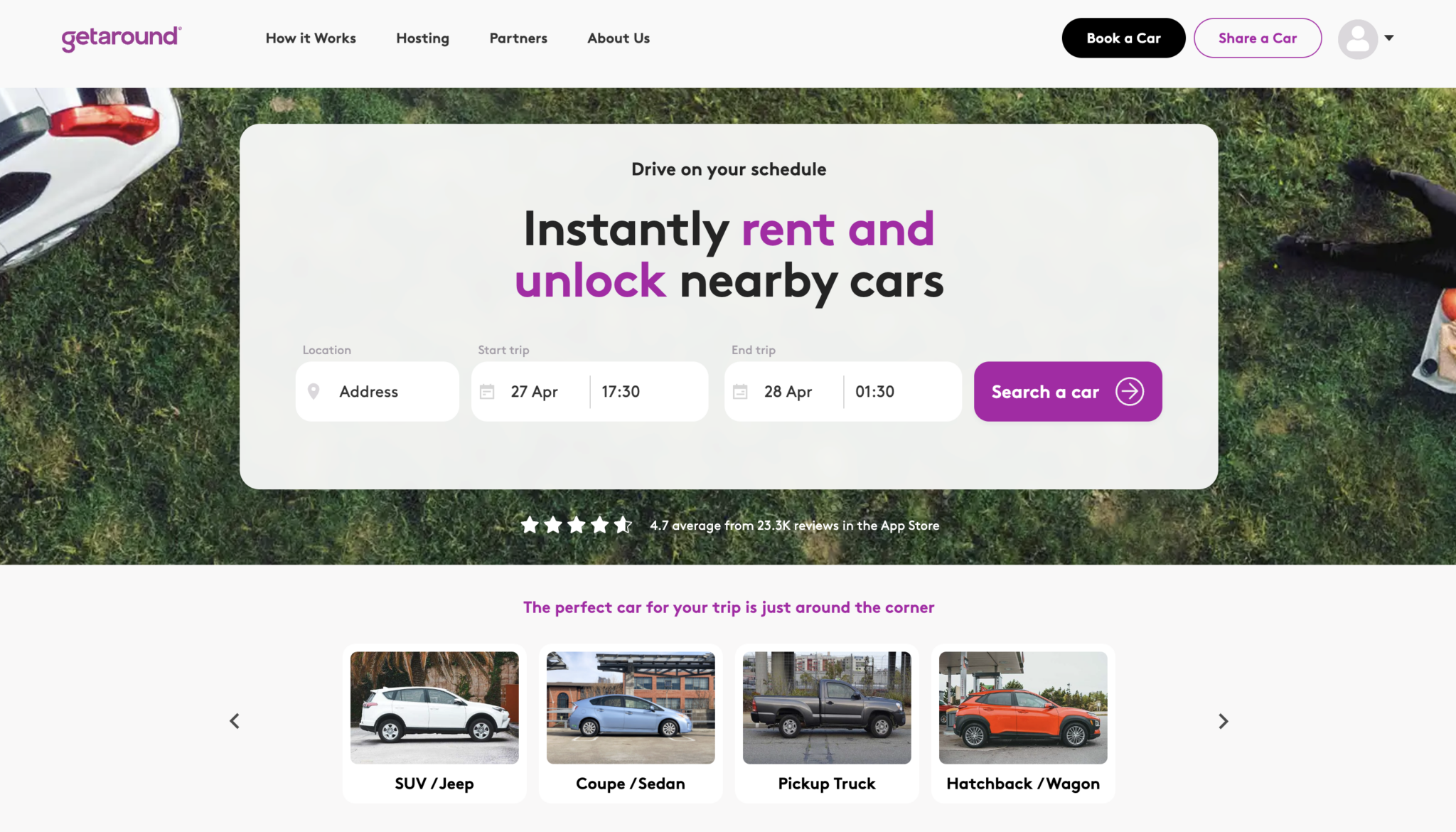 Particularly for leisure travelers, it's tough to beat the flexibility of Getaround. Getaround is a peer-to-peer car rental app, similar to Turo. While Getaround's search and booking UI isn't as intuitive as Turo's is, they do offer more flexibility than Turo (and most traditional platforms). 
As a peer-sharing platform, it doesn't offer all the "perks" associated with traditional car rental platforms. For example, many newer cars (2018+) on Getaround charge premium rates, much more than you would pay for a similar car with a traditional rental company. However, if you don't mind driving an older model, you can score some excellent deals. 
Key Features: 
Ability to book a car hourly rather than by the day—only pay for the time you really need.
Save money by booking older cars. 
Available in 300+ US cities and more worldwide. 
Lots of last-minute booking options via their iPhone and Android apps. 
Cars are located around the city, so you can find one near you.
Sample Pricing: 
Rates for our search started at $4.50 / hour, for an estimated total of $100 for the rental period. 
What's Included: 
3-day rental for a basic midsize sedan 
No fees for cancellation made at least 24 hours before your rental 
Up to 200 miles per 24-hour period (so our example trip would have up to 600 miles included) 
Basic (limited) insurance protection, with the option to purchase additional insurance 
Best car rental for European travel: Europcar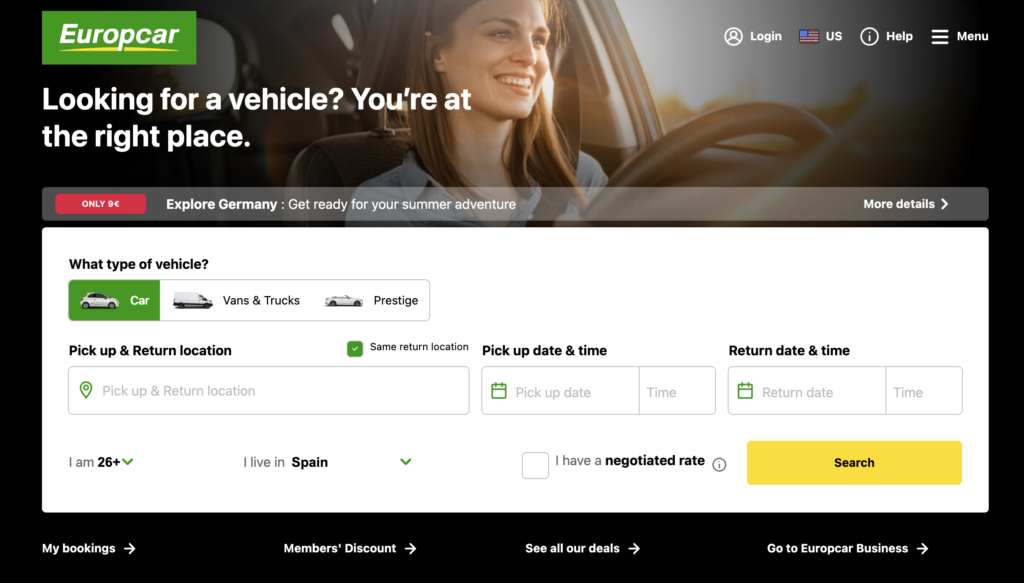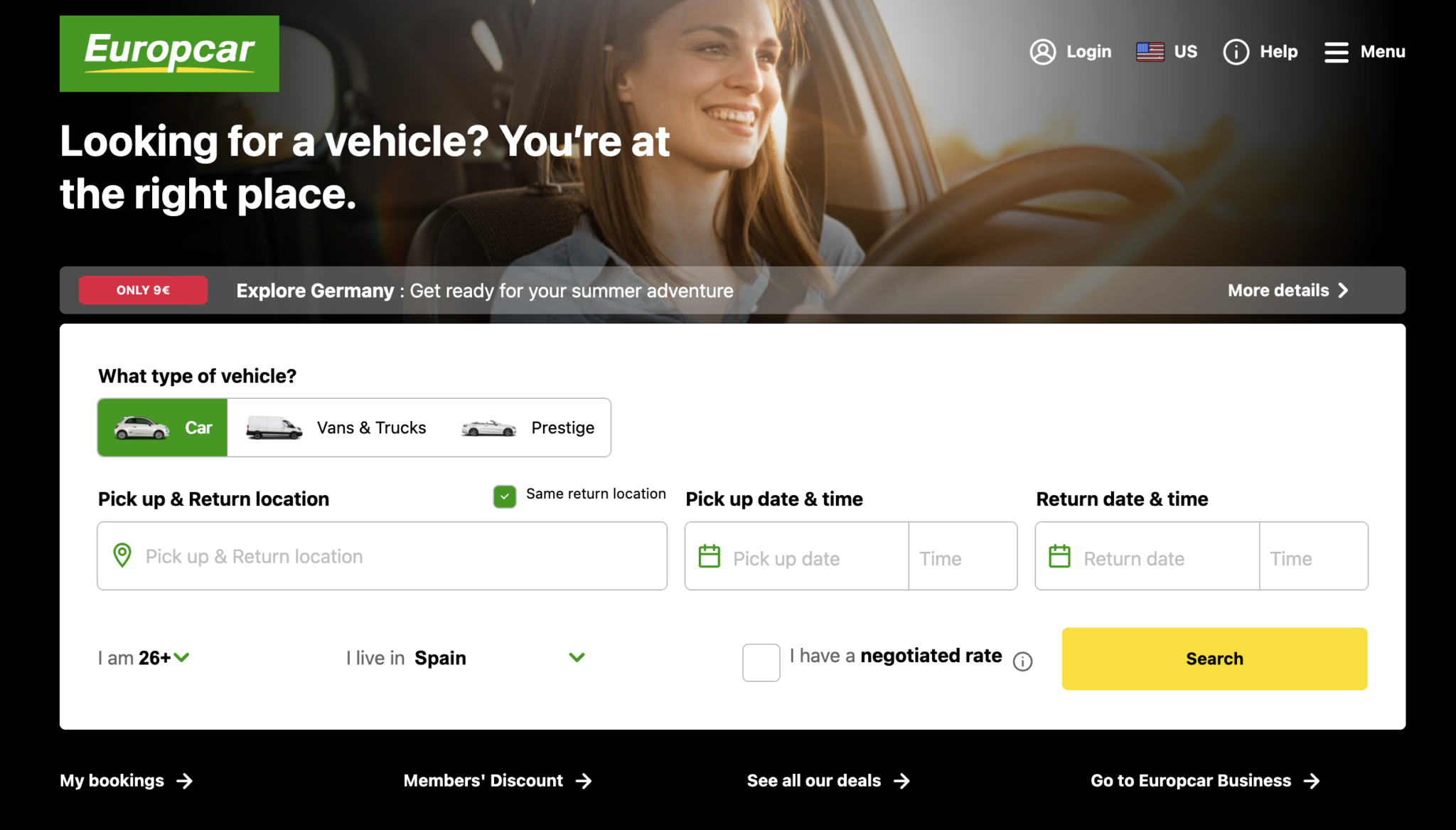 With over 3,000 locations across Europe and worldwide and regular discounts for popular locations, Europcar is a great option for travelers looking for cheap rental cars in Europe from a reliable provider. 
Europcar also offers solutions for business travelers such as travel management tools, contactless key pickup for faster check-in, self-service tools and additional discounts.
Key Features: 
Privilege members save at least 10% off all rentals between 3-21 days in length and can earn points towards free rentals.
Fewer fees than other traditional rental car brands. 
Online check-in via the Europcar app allows you to save time at the counter and start your vacation even faster!
Additional discounts and hassle-free check-in for business travelers.
Sample Pricing: 
Rates for our search started at $68/day, for an estimated trip total of about $204. 
What's Included: 
Midsize sedan 
Unlimited mileage
Basic liability and insurance protection 
All driver fees 
VAT recovery
Best car rental app for frequent flyers: Hertz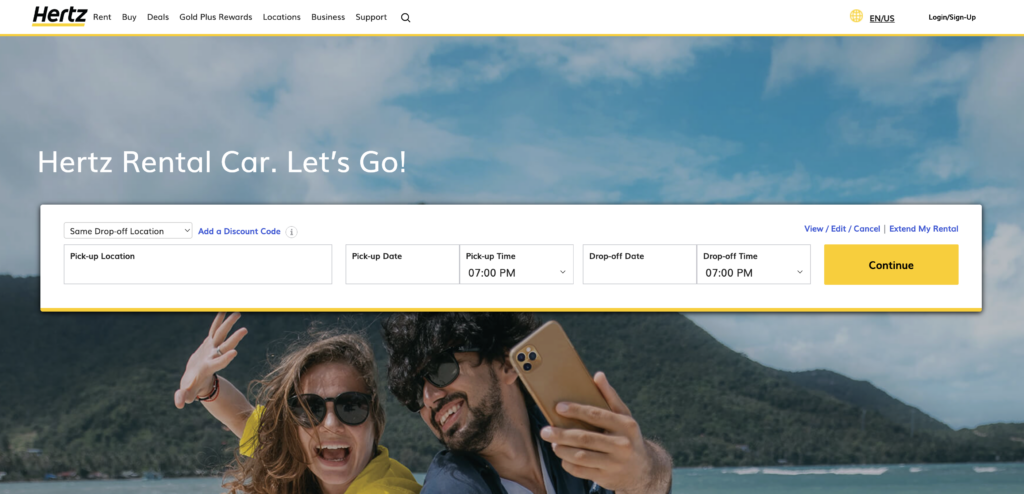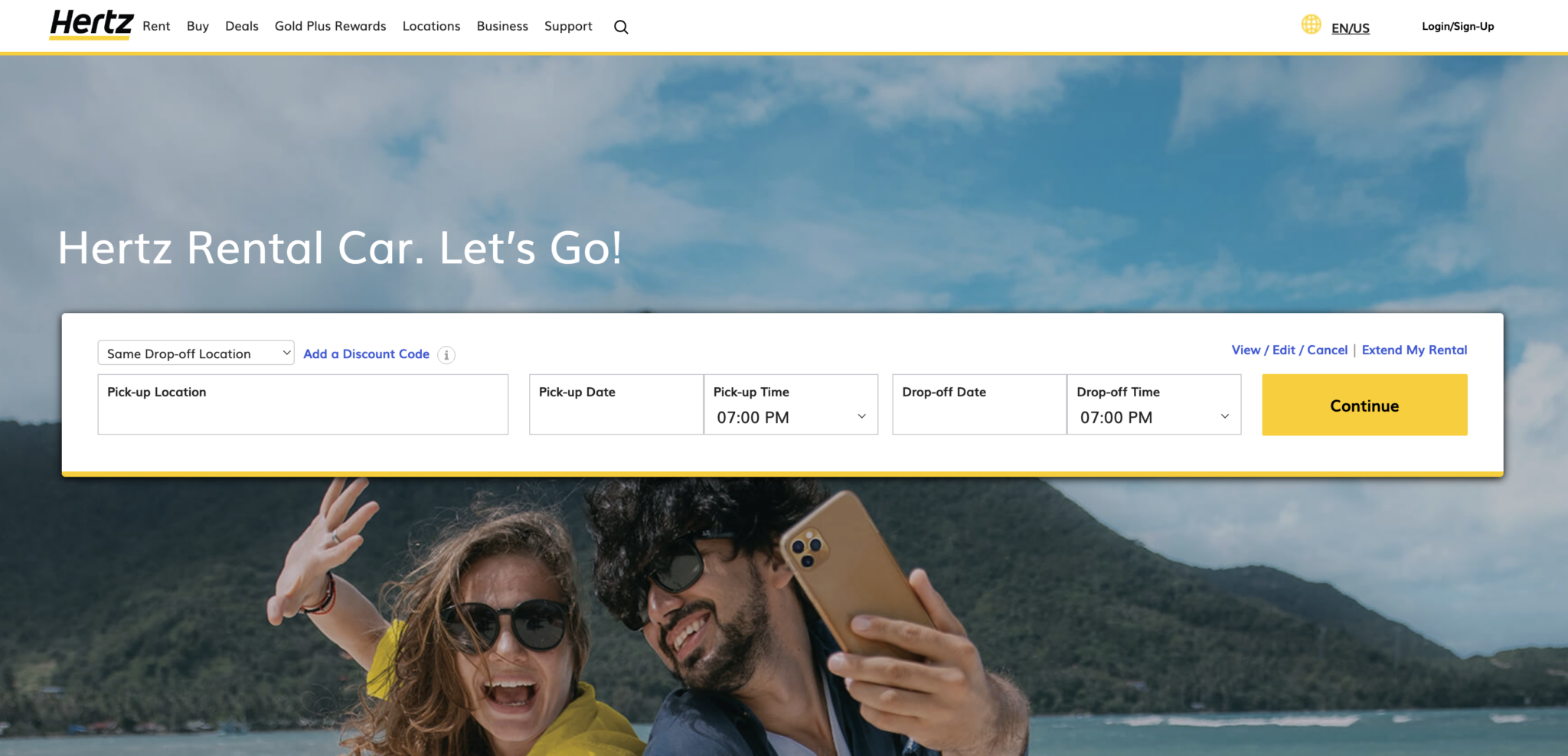 If you're on the road often, Hertz is one of the best rental car apps for you. 
Not only do they offer cheap car rentals and an extensive network, but their membership program allows you to earn points towards free car rentals, free upgrades, frequent flyer miles (for participating airlines) and more. Membership is free, so it's absolutely worth joining if you travel and rent cars frequently.
As a traditional car rental brand, Hertz also has car rental locations at the majority of major US airports, so you can hop off the plane and hit the road ASAP—no managing pickups at your hotel or other secondary locations. 
Key Features: 
8,500+ locations worldwide. 
Best Rate Guarantee—they'll price match if you find a cheaper Hertz car rental price on any other site besides theirs. 
Gold Plus Rewards program lets you earn rewards with every rental. 
Speedy pickup and dropoff using their mobile app—skip the line at the counter!
Sample Pricing: 
Rates for our search started at $65/day, for an estimated total of $272 for the rental period. 
What's Included: 
Standard sized electric vehicle 
Unlimited miles
Free cancellation for the first 24 hours after booking 
Basic liability and insurance coverage (in some states) 
Best car rental app for comparing options: Kayak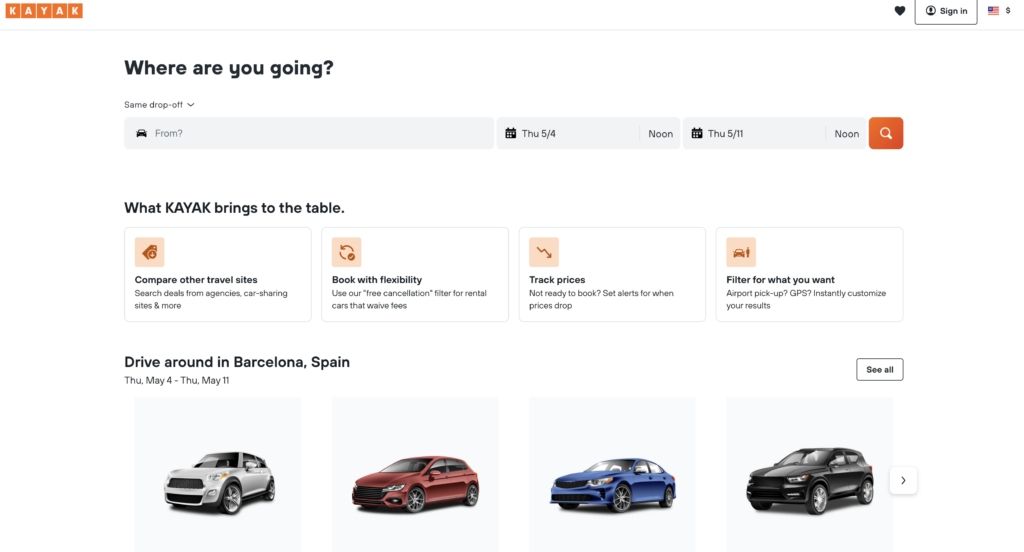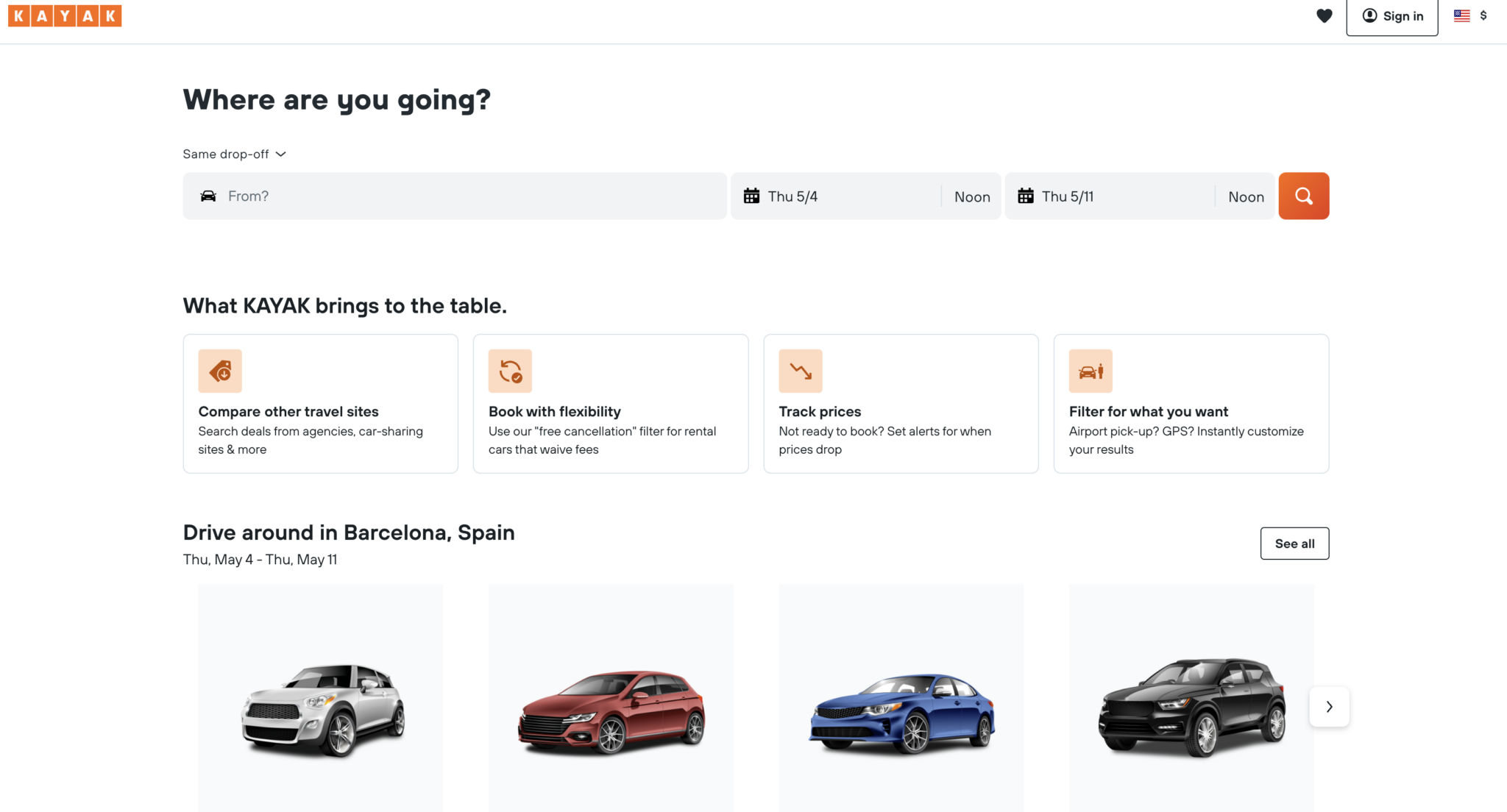 Kayak is a third-party search aggregator that searches both direct booking platforms as well as other third-party sites to give you as many options as possible. 
Since Kayak is aggregating so many results, you can easily filter and find the right car for you. For example, you could sort your search by rental brand, car options, policy options (such as unlimited mileage or free cancellation), pickup location and more. 
Once you've found your ideal car rental, you can compare prices for that car across various sites, such as the direct provider and other OTAs, and then decide where to make your booking.  
Key Features: 
Wide network of both rental car and booking options—you're bound to find something that works for you. 
Price alerts notify you if the price drops. 
Search and compare across multiple booking sites at once to find the best deal. 
See non-traditional options, like Turo and commercial vehicle options, right within the search results.
Sample Pricing: 
Rates started around $40/day for a total of $115 for the entire trip period. The cheapest traditional brand found was Routes Car Rental.
What's Included: 
Free cancellation for up to 48 hours prior to the rental 
Unlimited free in-state mileage 
Airport pickup options 
Insurance policies and additional fees can vary based on rental car brand—check in advance what will be required before booking