The Complete Travel Guide To Kanchanaburi, Thailand
9 min read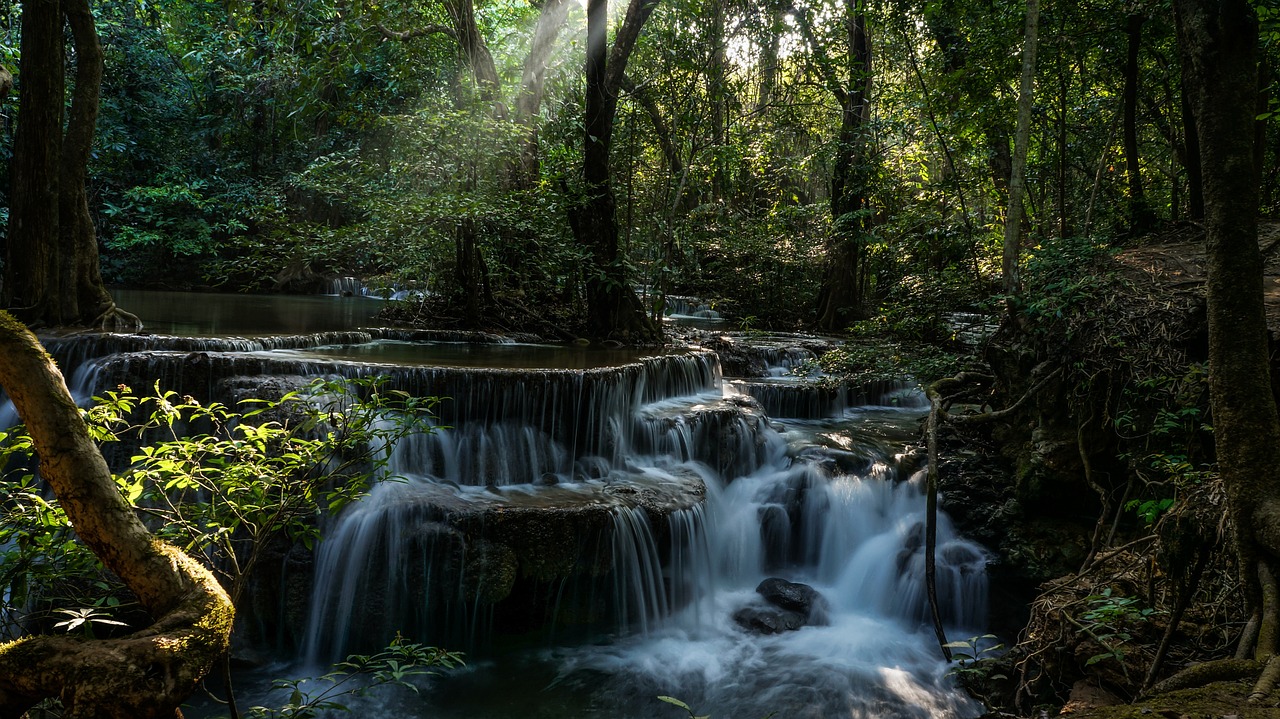 If you want to visit some great spots close to Bangkok that really capture the essence of traditional Thai culture, then Kanchanaburi is your destination. 
One of the best places to be in Thailand is Kanchanaburi, about two and a half hours away from Bangkok. 
Is Kanchanaburi, Thailand Worth Visiting?
Toying with the idea of adding Kanchanaburi to your lists of places to visit when in Thailand? Well, don't think twice. This small town is the perfect destination for a quick trip from Bangkok.
Kanchanaburi, Thailand is famous for its historical sites and national parks. It was the site of fierce battles between Allied troops and Imperial Japan during World War II.
And Kanchanaburi's national parks are something to talk about, too. Whether it's the emerald waterfalls of Erawan National Park or the mountains of Sai Yok National Park, you'll find adventure around every corner.
Planning on exploring Thailand independently? Get our comprehensive Thailand Travel Guide, where you'll find all necessary information before your trip to Thailand.
Travel Guide to Kanchanaburi, Thailand
Discover Kanchanaburi's rich history or explore its natural wonders. Whether you're interested in local culture, the region's historical sites, or adrenaline-pumping adventure, this is your chance to get a taste of it all.
Here are the 13 best things to do in Kanchanaburi, Thailand:
The River Kwai Bridge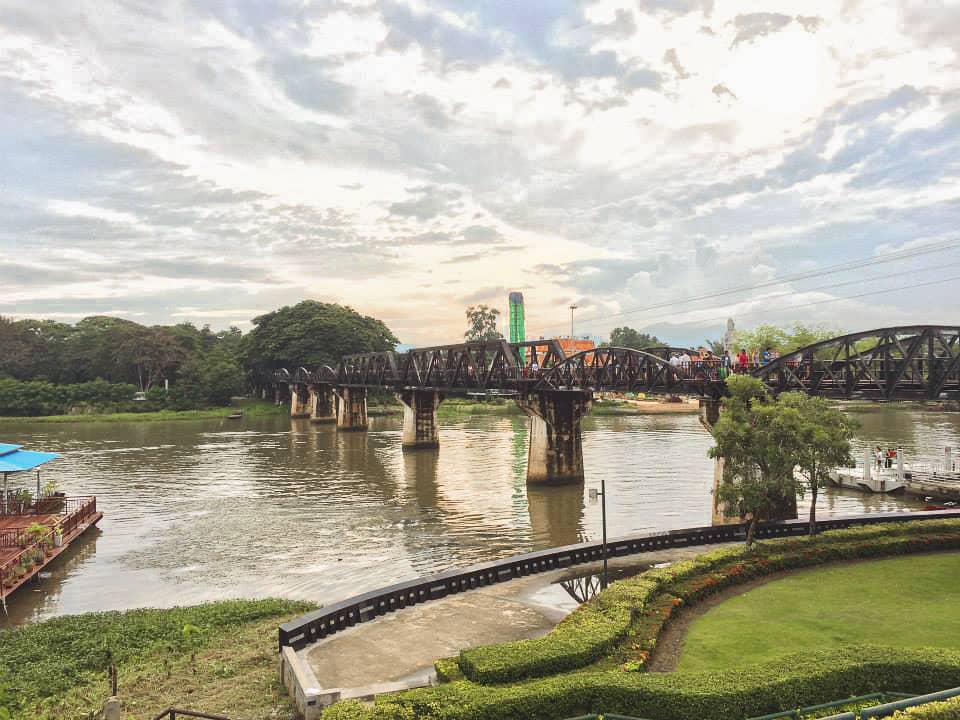 One of the most interesting places in Kanchanaburi is the bridge on River Kwai, which was part of the Thailand – Burma Death Railway. The construction began in June 1942 and ended in October 1943. To build this bridge, 250,000 laborers were forced by Japan to work as slaves; as many as 100,000 people lost their lives during the construction of this railway.
There is a famous movie based on this history, "The Bridge over the River Kwai."
Nowadays, tourists visit here and walk across the bridge. The fee for foreigners is 100 Thai baht per person, but for Thais, it is free.
Erawan National Park
Erawan National Park is a national park in Kanchanaburi Province, Thailand. Established in 1975, the park is home to many waterfalls and rock formations.
The most famous of these is Erawan Falls, which consists of tiers that cascade down multiple levels into a large basin at the bottom of a steep canyon. 
To get to Erawan National Park, you'll need to take a taxi or rent a motorbike. By car, the drive is approximately 50 minutes. But by motorbike, prepare for an hour and a half ride.
Once you get there, spend time hiking up to each level of waterfalls, swimming, and exploring the rest of the national park.
Tham Krasae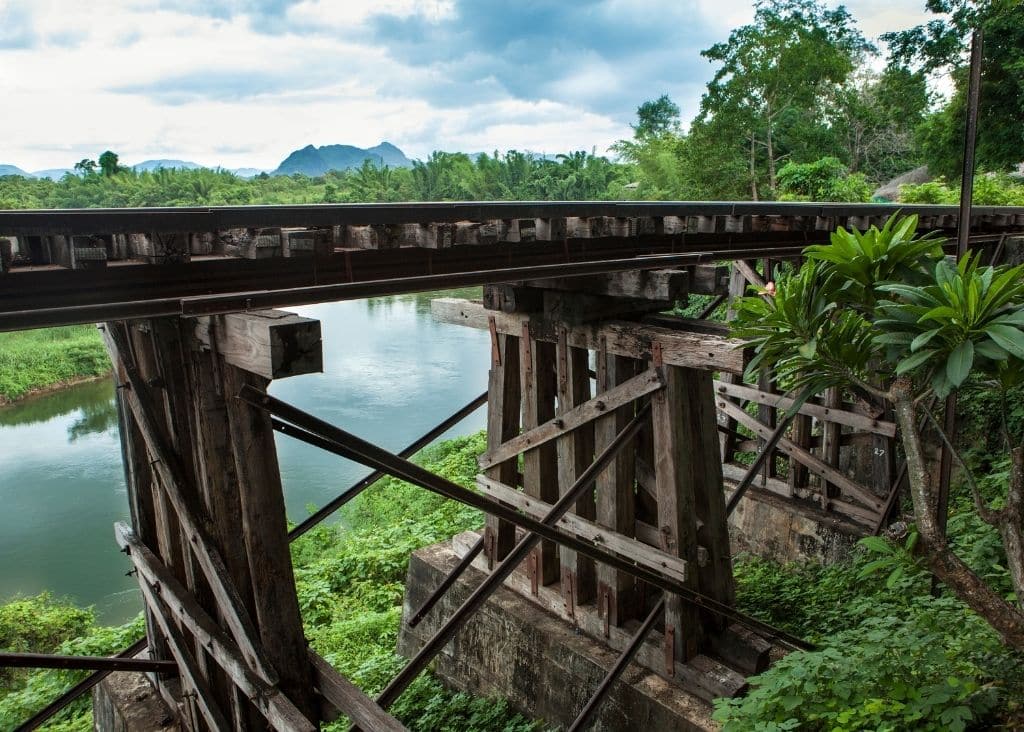 Approximately 30 minutes west of Kanchanaburi, you'll arrive at the Tham Krasae Bridge. Built with bamboo by Allied POWs during World War II, it is a beautiful structure to see.
I recommend staying as the sun goes down. The way the sun peeks out from behind the trees as dusk approaches is magical. You'll hear several different languages reflecting on what sacrifices were made to build this, and how it is still standing today.
Nearby, you'll also find a cave that Allied troops hid in during battle and a waterway that they used for transport. The cave is tiny, so I don't necessarily recommend spending a lot of time inside.
Join some of the local tours in Kanchanaburi:
Hellfire Pass
The trip to Hellfire Pass was a highlight of my visit to Kanchanaburi, Thailand. Before I arrived in Thailand, I had learned about the Death Railway and the horrific conditions Allied prisoners of war faced during World War II.
Hellfire Pass offers a glimpse into what prisoners who helped build the railway battled. More than 100,000 people lost their lives during the construction of the railway.
Entrance is free and it's an excellent experience to learn more about the history behind Kanchanaburi and the western provinces of Thailand.
Plan your next trip to Thailand:
Death Railway Museum
I've mentioned the Death Railway several times throughout this guide because it is an essential part of Kanchanaburi, Thailand's history. So, it's only fitting to learn even more about what happened during this time by visiting the Death Railway Museum.
As Kanchanaburi is an often overlooked tourist destination in Thailand, this museum doesn't see as many visitors as it should. And it's a shame because It is one of, if not the best, historical museums in Thailand.
It will give you an inside look into what life was like on this brutal railroad and teach you all about its history. It is very well curated and has some intriguing exhibits.
Khwae Yai River Cruise + Dinner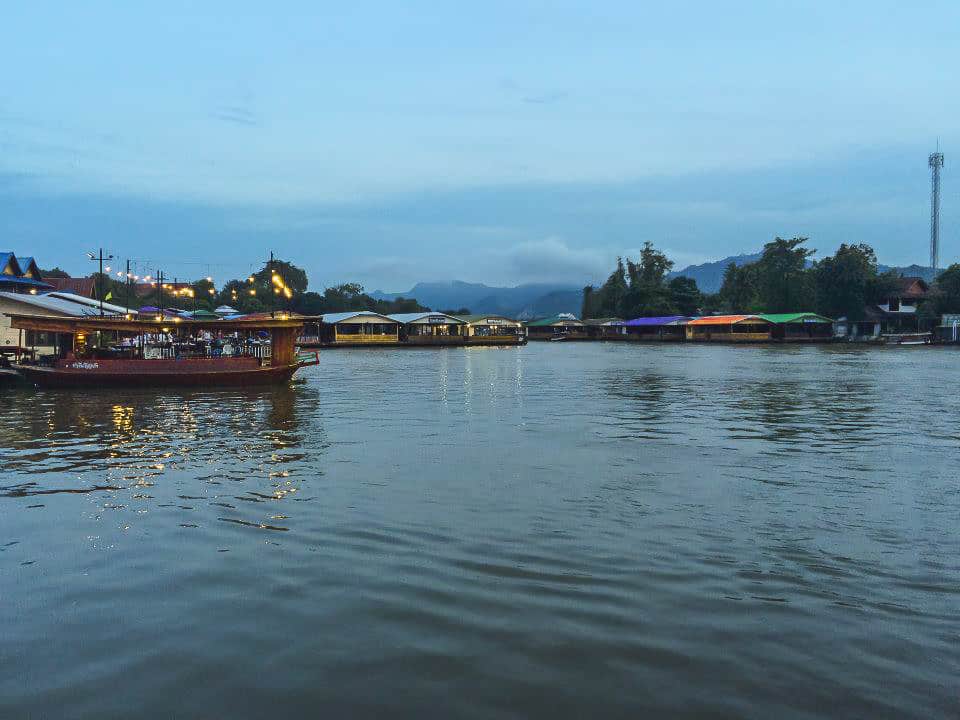 After a day of exploring Kanchanaburi, Thailand, I recommend hopping aboard a dinner cruise on the Khwae Yai River. This was one of my favorite experiences in Thailand and something that I had wanted to do for years.
Our cruise offered delicious traditional Thai food, incredible views of the sun setting over the river, and of course, karaoke. It's a lot of fun, so don't be shy!
Above all, it's a great way to see more of Kanchanaburi without getting back on your motorbike. It's such a memorable experience that offers mindfulness and tranquility amidst chaotic Southeast Asia.
Visit The Mall
It wouldn't be a Thai city if it didn't have a mall, right? So, of course, Kanchanaburi is no exception.
During your trip to Kanchanaburi, be sure to set aside some time to explore the mall near the center of town.
It is an excellent place to spend some time and grab a bite to eat or a souvenir. The mall has everything you would expect from a modern shopping center, including restaurants, shops, and even a cinema.
Cooking Class
Thai food is a massive part of the culture here in Kanchanaburi, so it makes sense that you can take classes while you are in town. Cooking Thai food is not just about following recipes; it's also a great way to learn more about Thai culture and cuisine.
And of course, we can't forget about how food in Thailand tastes. Not only do you gain the skills to cook like a Thai, but you will also be able to create food that your family and friends can enjoy; what a great way to share your trip with them.
If you're looking for a good cooking school while in Kanchanaburi, we recommend Apple's Retreat. The owner is a kind-hearted and experienced Thai cooking instructor. She has been around Thai cooking her entire life, so she knows everything there is to know about Thai cuisine and how to prepare it properly.
Walking Street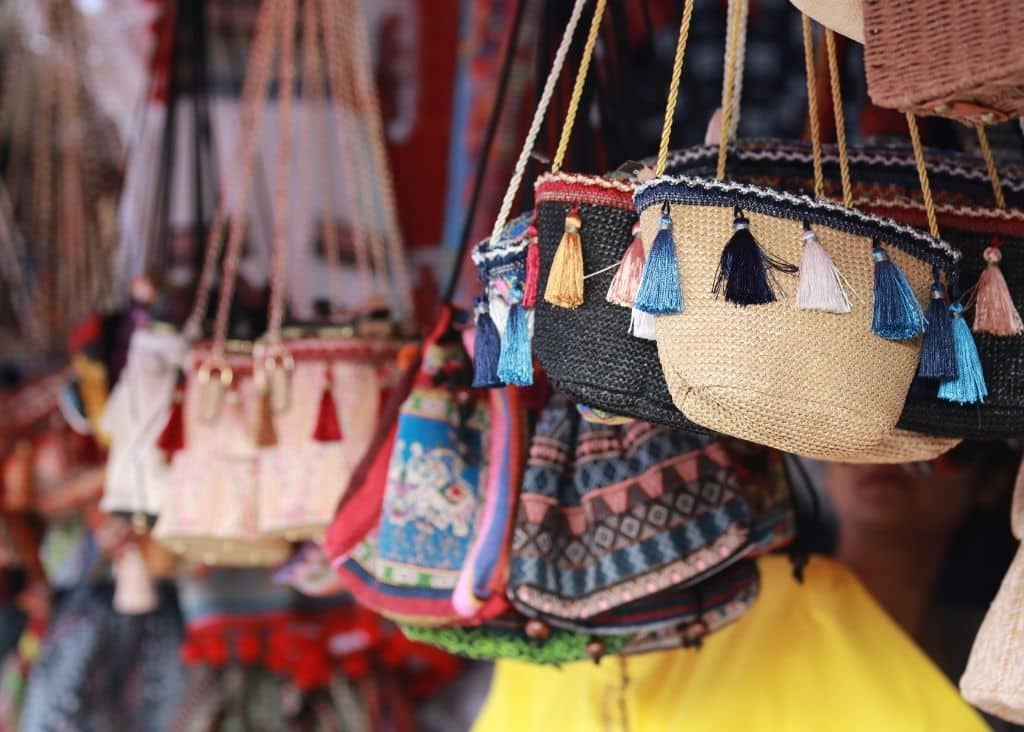 If you are visiting Kanchanaburi, you must check out Walking Street. This famous street draws people from all over the globe who want to experience its unique combination of food, shopping, and entertainment.
With friendly locals running the show, it will be a highlight of your trip. It's no question that it is a big part of what makes Kanchanaburi so great.
We always went to Walking Street for a Singha beer and live music after a full day of adventuring.
See The Giant Raintree
For a less-frequented but equally interesting alternative to Erawan National Park, we recommend visiting the Giant Raintree. Although it's nowhere near as famous as its national park neighbor, this is an excellent place for those who like off-the-beaten-path locations.
What makes this Giant Raintree so unique? This 100-year-old tree is not only stunningly beautiful but also sacred.
Fitting in a stop at the Giant Raintree is a must and it's the perfect way to break up your trip from Bangkok to Kanchanaburi. You can also visit the Giant Raintree as a day trip from Kanchanaburi, Thailand.
More travel tips on your trip to Southeast Asia:
Wat Tham Khiritham
I know you must have visited many Wats by this time in your Thailand trip, but it is worth visiting Wat Tham Khiritham for its meditation cave.
Wat Tham Khiritham is an important spiritual spot and a religious school for novice monks. Its caves are also a popular destination for meditation practitioners, as the cave holds spiritual powers that will energize all who enter it.
So, if you're looking for a cultural experience and a place for meditation, do visit Wat Tham Khiritham. My visit to Wat Tham Khiritham was a very spiritual and refreshing experience that I will never forget.
Sai Yok National Park
Sai Yok National Park is the largest national park in Kanchanaburi, making it the perfect place to explore during your trip to western Thailand. The park is home to several important natural sites, mountains, and inspiring waterfalls.
Although it doesn't quite match up against its neighbor, Erawan National Park, many travelers consider it superior. Not only does it boast a tremendously vast wilderness area, but its terrain is also perfect for those looking to enjoy a day of hiking or biking.
So, why not add a visit to Sai Yok National Park to your list of things to do while you're in Kanchanaburi, Thailand?
Sri Nakharin Dam National Park
And last but not least, you can't miss out on Sri Nakharin Dam National Park.
This national park is only about an hour away from Kanchanaburi and it offers stunningly beautiful scenery with fewer crowds than Erawan National Park.
Nearby is a big lake, Lake Sinakharin, which is also a fantastic place to spend time hiking or meditating. Adding this national park and area to your Kanchanaburi itinerary is a great way to relax and enjoy the natural beauty of this area.
Is Kanchanaburi, Thailand safe?
Overall, Thailand is very safe and Kanchanaburi is no different. But just like any destination around the world, practice common sense and be aware of your surroundings.
One of the biggest risks here is petty theft, which mostly happens in crowded areas like travel markets that tourists gather to shop at. Whenever you're out shopping or sightseeing, keep your money safely tucked away and hidden from view.
Where to stay in Kanchanaburi, Thailand when visiting
As you go to book your accommodation, you'll find there are a lot of choices. For budget travelers, we recommend the smaller guesthouses and homestays in town as they're cheaper and offer more personal service compared to larger hotels. One of our favorite guesthouses in Kanchanaburi is WesTory Poshtel. This modern hostel offers thoughtful amenities and affordable prices. Book your room now.
If you're looking for a more upscale place to stay near Kanchanaburi and you don't mind spending a bit more, then check out Cross River Kwai (former X2River Kwai Resort). This resort is located on the banks of the Kwai Yai River and has stunning views of local hills. The resort's restaurant serves up delicious Thai food and Western dishes, too.Book your room now.
Where To Eat In Kanchanaburi, Thailand
If you aren't eating street food, then are you even in Thailand? Just like all of the other places in Thailand, Kanchanaburi has street food stalls that are not only delicious but cheap, too.
But if you're keen on sitting down for a meal, check out Mangosteen Cafe & Bookstore or Good Times Restaurant. Both of these restaurants are locally owned and dish out some of the best Thai food west of Bangkok.
Pack & travel:
How To Get Around Kanchanaburi, Thailand
When you visit Kanchanaburi, you will find that you can easily walk around town. Walking Street is where most travelers stay while visiting. Most hotels and hostels are on or nearby this street, making it easy to navigate.
On the other hand, you'll definitely want to explore Erawan National Park and all of the other places we listed above. In that case, we recommend hiring a taxi driver or renting a motorbike.
Tips For Renting A Motorbike
If you have never driven a motorbike before arriving in Thailand, I wouldn't recommend starting there. Instead, hire a driver to take you where you want to go.
We only suggest that experienced motorbike drivers rent a bike for the day; it provides a lot more freedom and will save you money. To rent a motorbike in Kanchanaburi, you'll need your passport, which the motorbike company will likely hold onto while you have their bike; so, keep this in mind and always bring your passport with you.
I hope this article has helped you find all the information you need to plan a worthwhile visit to Kanchanaburi. Safe and happy travels!