Universal Studios Japan on a Rainy Day
11 min read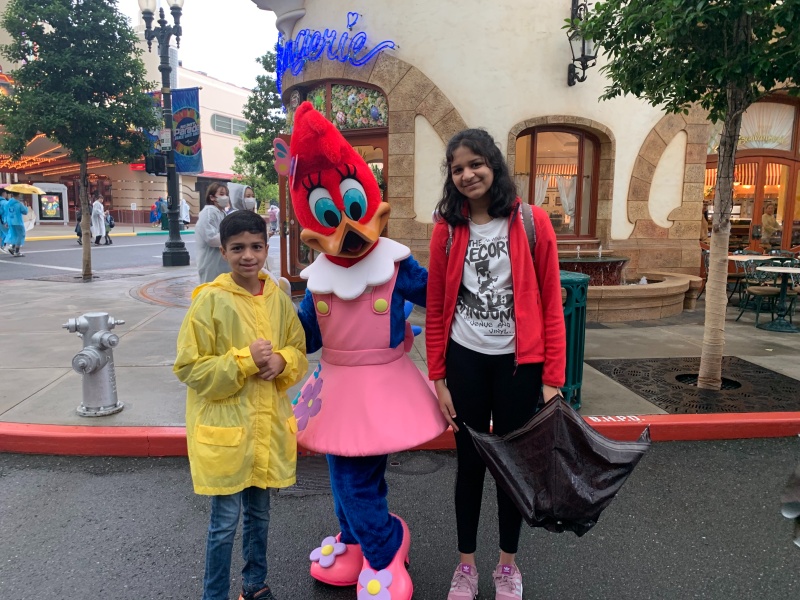 A day of fun and excitement at Universal Studios Japan was an eagerly awaited event for everyone in the family during our two-week holiday to "the land of the rising sun."
Sadly, the weather gods had alternate plans. As it turned out, the entire country, not just Osaka, received heavy rainfall on the day of our visit to USJ (end of June).
I'm talking about pouring cats, dogs, hamsters, rabbits, turtles, and every other possible pet!
Still, our rainy day at Universal Studios Japan turned out to be quite a unique experience.
Was it a washout? Well, that would be an emphatic YES!
Still, there were plenty of moments to cherish and lessons learned for next time. However, one thing is certain: none of us will be running to play in the rain anytime soon.
In this article, I've collected all the tips on how to survive a rainy day at Universal Studios Japan, from when is the best time to buy tickets to planning your meals and what to pack.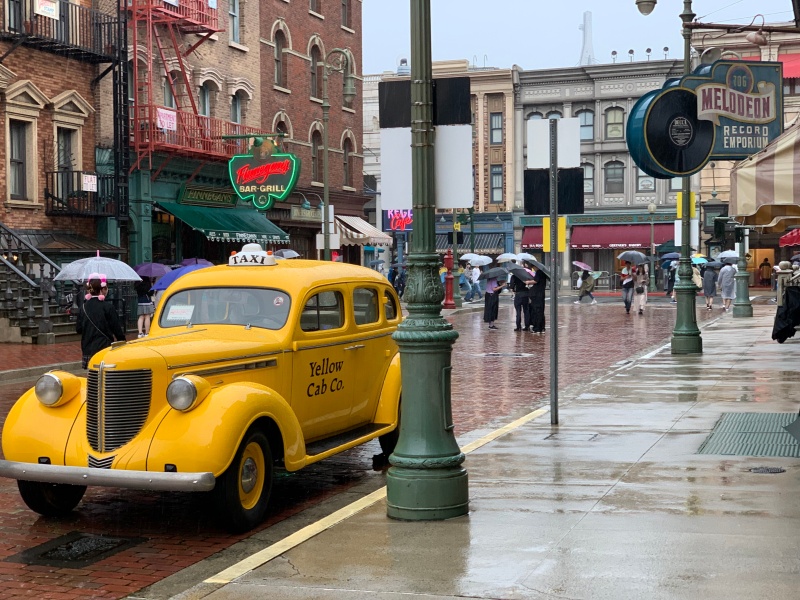 Is Universal Studios Japan open when it's raining?
One would imagine that a theme park shuts down whenever it's pouring. However, Universal Studios Japan stays open in the rain. The same is also true for Disney parks in Tokyo.
Since your tickets are non-refundable, it's best to go to Universal Studios and do whatever is possible rather than them going to waste.
The park is only closed in extreme weather, like a typhoon. But Universal Studios will stay open even in heavy rain.
When is the best time to book Universal Studios Japan tickets?
USJ is quite a busy theme park and extremely popular all year round. So, the best time to book Universal Studios Japan tickets is as soon as possible – they are available about two months in advance.
I should remind you that the USJ tickets are date-specific. Moreover, you cannot change the date or return them for a refund. So, if you do not have a fixed date, leave the booking until you are confident.
Booking tickets early also allows you to purchase the USJ Fast Pass, which helps save time on the most popular rides inside the park.
After having a Universal Studios Japan rainy day experience, in hindsight, I would suggest purchasing the tickets on the day of your visit.
The only problem with buying tickets at the park is that you might have to stand in line for a long time. Also, tickets do sell out.
The line to buy tickets at USJ was nearly empty on the day we visited, but that's because it was raining. Had it been a sunny day, I am sure there would be a few hundred people there, if not more.
Also, note that there are no discounted tickets if it rains. You still pay the full price.
How to book tickets for Universal Studios Japan?
The most convenient way to book tickets for Universal Studios Japan is through their official website or as we did via Klook.
The official USJ website is the best place to buy the tickets. However, booking via Klook was easy, and the e-tickets arrived in my mailbox within minutes of making the reservation.
As mentioned above, you can buy USJ tickets at the park on the day of your visit if you are unsure about the weather or have a fixed itinerary.
What is an Area Timed Entry Ticket at USJ?
At USJ, there is something known as an "area timed entry ticket" for Super Nintendo World and The Wizarding World of Harry Potter.
It basically guarantees you admission into the two sections of the park. Since both attractions are extremely popular, this is a way to limit the number of people who can go inside these two specific sections.
There are three ways to get the area timed entry ticket:
You can get a Timed Entry eTicket from the USJ App on the day of your visit once you are near the theme park.
At a booth inside the park
As part of some Express Pass deals
Since we were visiting on a weekday (Friday), we'd initially opted to risk it and not pay for the timed entry ticket.
Our extensive pre-travel research suggested reaching the theme park early and making a beeline for Super Nintendo World.
Luckily for us, because it was raining in USJ on the day, everyone and everything was a little slow. So, entry into Super Nintendo World was open without a timed ticket.
In the meantime, we kept checking for a timed e-ticket on the USJ App for Harry Potter, which once again remained open for all.
I should mention that a long line was starting to form at its entrance when we left Super Nintendo World.
Having to stand in the rain first to get inside the zone and then spend another hour in line to enjoy Mario Kart would have been a damp start to our day at Universal Studios.
When to reach USJ on the day of your visit?
The opening time of Universal Studios Japan changes daily. While they usually allow visitors at the published time, there are days when they will let people in early.
If you think Universal Studios Japan on a rainy day means fewer people, you'd be wrong. Not only that, we reached a good hour before the opening time, and there were already mile-long lines before us.
So, the best time to reach USJ on a rainy day would still be one hour before the advertised opening time.
Hot Tip: Reaching early allows you to be among the first few to enter the park. Use this advantage and head straight for the two most popular rides at USJ – Mario Kart: Koopa's Challenge and Harry Potter and the Forbidden Journey.
Does Universal Studios Japan allow outside food?
As is the case at Universal theme parks worldwide, Universal Studios Japan does not allow outside food. And they are very particular about it.
But what about on a rainy day?
Although we did not take any food, we thought that USJ would not check for it, considering it was raining so much, there were long lines, and everyone was visibly eager to get inside.
Wrong!
The family in front of us had to take out and throw away a big bag of snacks and drinks in the dustbin right before our eyes.
Packing list for a rainy day at Universal Studios Japan
We'd expected at least some rain during our holiday in Japan and had thus packed accordingly. But being at Universal Studios on a rainy day involved being out in the open more than one would like.
So, here are the basics you should pack or wear if the weather suggests rain during your park visit;
Umbrella
Poncho – I found my sizeable yellow poncho that covered the backpack more valuable than an umbrella. Even though taking it off for the rides and putting it on was a pain. You can buy ponchos and umbrellas at Universal Studios, but they cost a lot. Nevertheless, we did buy a Minion umbrella for my son.
Waterproof backpack
Ziplock bags – To keep your phones and cameras safe.
Waterproof shoes – Avoid sandals or slippers, but wear shoes that you don't mind getting wet. You will be walking through big puddles.
Extra socks – Your socks will get wet instantly, so it's best to avoid wearing them initially. Carry an extra pair for when you leave the park and head home.
Comfortable clothing – The humidity and having a sweaty back, thanks to carrying the backpack, was irritating. So, wear light and airy clothes. We did come across many visitors in Mario costumes and big hats. I don't know how they were managing the water and humidity.
Waterproof camera
Hand towel – Helps with wiping your face when you finally make it someplace indoors.
What rides are closed on a rainy day at Universal Studios Japan?
Unfortunately, knowing what rides will be open or closed on a particular rainy day is impossible.
I'm sure the park management considers various factors and decides which rides are safe to operate. I've come across people who were able to enjoy many outdoor rides when it was raining.
Sadly, in our case, they had closed most of the outdoor rides because it was raining rather heavily.
Since I love movies, I was looking forward to some of the more classic rides at Universal Studios Japan, like Jaws and Jurassic Park.
Not being able to enjoy them was a big disappointment.
Popular rides that were closed
Jaws
Jurassic Park: The Ride
Flight of the Hippogriff
Hollywood Dream – The Ride
The Flying Dinosaur
Depending on when you go, there is also the chance that some rides are closed for repairs.
In our case, Space Fantasy – The Ride, which is otherwise an indoor roller coaster, was not operating for this reason.
The good thing is that the rain did not affect the other indoor rides.
Top rides that were open
Harry Potter and the Forbidden Journey
Disposable Me Minion Mayhem
Mario Kart: Koopa's Challenge
The Amazing Adventures of Spider-Man – The Ride 4K3D
Freeze Ray Sliders
Do rides stay closed all day?
I'm happy to say that if the weather improves or the rain decreases, the park will start certain attractions.
As we were heading towards the park exit late afternoon, we noticed some kids running in the opposite direction.
When we turned around to see what was happening, we noticed they were heading towards the Hollywood Dream – The Ride, which was closed until then.
However, since the rain was more of a drizzle at the time, they opened the ride.
My daughter, who absolutely loves roller coasters, was able to rush and get a seat through the empty single-rider line.
What is the wait time for the rides?
Any regular theme park goer will tell you that wait times can differ from day to day.
For example, we first went for Mario Kart within minutes of entering the park. The wait time was already 40 minutes by that time.
Similarly, the wait time was around 60 minutes for our next ride, Harry Potter and the Forbidden Journey. And Minion Mayhem was even more by the time we got to it.
You might wonder why such long wait times exist, especially on a rainy day.
Well, when it's raining, everyone ends up going to the same few open indoor rides.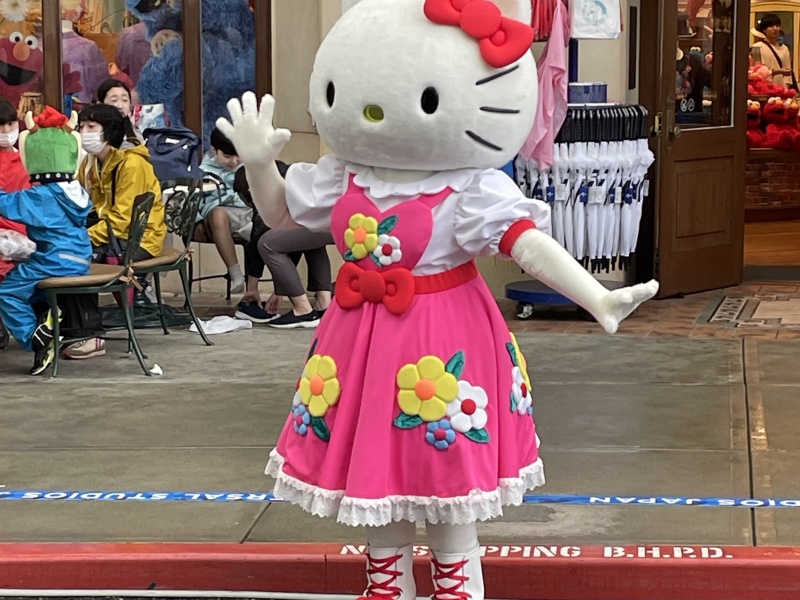 Does Universal Studios Japan have character meets on a rainy day?
Yes. You can meet some characters in Universal Studios on a rainy day.
But, instead of finding them all over the park, most are in the covered area of the park's Hollywood section, right next to the entrance.
Does Universal Studio Japan have shows and parades on a rainy day?
Like the rides, all outdoor parades and shows are canceled on rainy days.
I was looking forward to the Waterworld Stunt Show, which is so iconic. Alas! It was not happening.
Indoor shows like Playing with Curious George and Universal Monsters Live Rock and Roll Show did take place.
Is it worth staying at Universal Studios Japan till the end on a rainy day?
I feel it's always tough leaving a theme park, even on a non-rainy day. You want to forget about everyday life and spend all your time there.
Since the weather was unpredictable and the kids were tired, we left the park around 5:00 PM. The rain at that time was down to a drizzle.
Once we reached the hotel room in one of the best boutique hotels in Tokyo by 6:00 PM, my son checked the USJ App. He found that some outdoor rides like Jaws were now open.
So, if you can, I suggest staying at the park for as long as possible, because you never know what might happen!
Rainy day food at Universal Studios
Considering you cannot bring outside food or drinks to Universal Studios, we relied on what they serve inside.
Unfortunately, the rain closed most of the small snack kiosks. Some were open initially, but they would close down whenever the rain would increase.
We missed having butterbeer because we thought we'd have it after the Harry Potter ride. By the time we got back, the kiosk was closed.
There is no shortage of food, but you are limited to only the indoor restaurants.
Now, it's imperative that when planning your lunch, you either go a little early or make a reservation at one of the restaurants.
Again, most of the restaurants were empty around noon. We then went on a ride and returned an hour or so later, and no tables were available.
My daughter, a Harry Potter fan, was disappointed about not finding a table at The Three Broomsticks restaurant.
We then made a reservation at another restaurant but still had to wait an hour before seating. You can imagine how hungry everyone was when it was finally time to eat.
Is the USJ experience on a rainy day more expensive?
The theme park experience on a rainy day is technically no more costly than any other day.
When I calculated our spending at the end of the day, this is what I discovered;
The tickets were the same price, so there was no difference there.
We did not get the Fast Pass or pay extra for timed tickets. Buying them might have saved us some time, but in the end, we saved money.
We also saved money at Universal Studios on food. We would have eaten so many snacks if the kiosks were open.
And finally, we spent more time and money shopping than planned because we would go into the shops to escape the rain.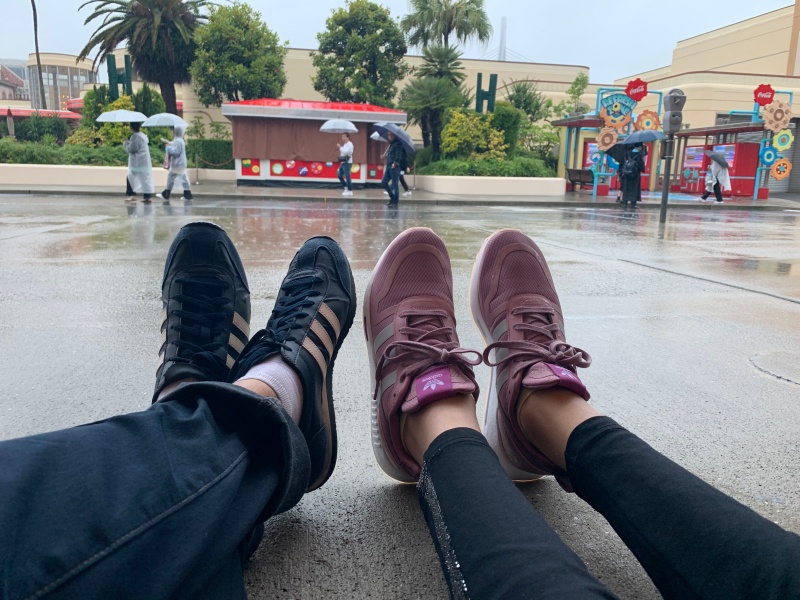 Tips for Universal Studios Japan on a rainy day
Forget whatever you've planned and do the ride that comes your way and has a short waiting time. But, cover Harry Potter World and Super Nintendo World first.
We didn't buy an Express Pass, but it would have been great on a rainy day in USJ. Sometimes, we were standing in half-open spaces, and just being able to skip the lines would have been nice.
Again, plan for food before lunchtime. It gets super busy, and there are no snack stalls open. Make a reservation at a restaurant as soon as you enter the park.
Being in the rain and standing in long lines will tire you. Remember to take your breaks. Sit in a restaurant or go for a show. Sadly, we didn't come across many covered seating areas, and at one time, we had to sit on the floor for some time.
Use the opportunity of standing in lines to interact with people from around the world.
Keep a watch for rides that may open temporarily. You must be observant, ask cast members, or keep checking the USJ App.
Universal Studios Japan cast members are friendly and happy to talk and help in any way possible. Many commented on my Mr. Bean t-shirt and even gave the kids free stickers.
Most importantly, enjoy the moment rather than sulking and cursing the weather.