Where to stay for Ironman Cervia 2024 – Best Hotels and Tips
8 min read
Are you racing Ironman Cervia 2024? That's awesome! Then we might see each other as Rob is planning to race the 5i50 Cervia in Italy again. [Article updated: Sept/2023].
And have you planned your trip and chosen where to stay for Ironman Cervia?
The 3 Ironman competitions in Cervia attract thousands of athletes every year, and with so many athletes and families in town, finding the best place to stay in Cervia can be a daunting task unless you plan a little bit in advance and follow our tips on where to stay for Ironman Cervia.
Ironman Italy Emilia Romagna will happen on September 21st, 2024, in the ancient fishing village of Cervia which is famous for its flat and fast course.
It's a great place to combine competition and a beach getaway, and there is also Italian food & wine, the perfect reward after a triathlon race.
If it's your first Ironman in Cervia, be ready for a great party, days of emotions, a lot of sweat, tears, and big smiles. If it happens to be your second, third, or fourth time, then you already know how magical that place is and how busy it gets during Ironman weekend.
We are not here to talk about the competition itself, our target is to help you find the best places to stay for Ironman Cervia, how to book it, and get all your needs sorted by the hotel staff. 
More European Triathlon and Guides to inspire you:
Where to stay in Cervia for Ironman?
As you probably know from the official website, all the pre-race steps (registration, race briefing, fair, bike check-in, etc.) and the start point of Ironman Cervia will take place near Fantini Club.
It's located right on the beach, at Lungomare Grazia Deledda. This will be the starting point for all Ironman competitions in Cervia, whether it's Ironman, 70.3 Ironman, or 5i50 Cervia.
That means you should stay close by in order not to waste time, energy, or money moving around the city. 
Another positive aspect of staying in this area is that most hotels here are prepared to receive the athletes. On top of that, restaurants, markets, and bars in this area will be opened during special hours, offering special menus for Ironman weekend.
Key information: Cervia is a holiday city and from September on, which is the end of the summer season, some of the shops, restaurants, and even hotels are usually closed. When you look at it on Google Maps, you will find plenty of places to eat and hotels in Cervia, but not all of them will be open during the competition weekend, especially the ones far from where Ironman happens. 
There are many hotels and Bed & Breakfasts in Cervia's surroundings like Milano Marittima and Pinarella. But you will be quite far from the action, and believe me, from our own experience, staying far from the Ironman Village is a pain. 
As Ironman Italy Emilia Romagna was a very last-minute decision (Rob is crazy sometimes), we couldn't find a hotel for a reasonable price in Cervia Beach or Cervia city center. So we ended up booking a hotel in Pinarella, which is a beautiful area, but far from the competition point.
The hotel was good, the park and the beach in front of it were super cute, but because of the distance, we spent a lot of time getting from one place to another. Thank God the hotel had bikes available, so we could use them to get around and save time.
The downside of staying so far away was that we had to leave the hotel way earlier and had to plan our meals around Cervia Beach, as the restaurants and markets near our hotel were already closed for the season. 
Another negative point of staying far away is the taxi fares. Seriously, taxis in Cervia are ridiculously expensive and Uber don't operate here.
We took a taxi from Cervia train station to Hotel Roxy in Pinarella and we paid 24 Euros for a 3.6 Km ride. Avoid taxis as much as possible, unless you don't mind paying for a short taxi ride as much as you would pay for a nice bottle of Italian wine, well deserved after crossing the Ironman finish line. 😉
If you are planning on renting a car, then booking a hotel anywhere near Cervia won't be that bad.
Just keep in mind the main roads of the city are closed during the competition days and parking near the beach is not that easy. If you still feel like renting a car, you can check the best car rental prices here. 
Here is a checklist of what your hotel for Ironman in Cervia must have:
Good location, anywhere near, within walking distance of the Ironman Village,
Breakfast included (they usually prepare a special breakfast during the race days),
A restaurant or a bar at the hotel is a big plus, 
Parking space, if you are traveling by car,
Pool, sauna, and gym are also nice.
As I said before, our stay in Pinarella was OK but not amazing, so during the trip, we visited a few hotels in Cervia to check them out and chose the best ones for Ironman Cervia 2024.
So here are our suggestions of where to stay in Cervia for Ironman:
Best hotels for Ironman Cervia, Italy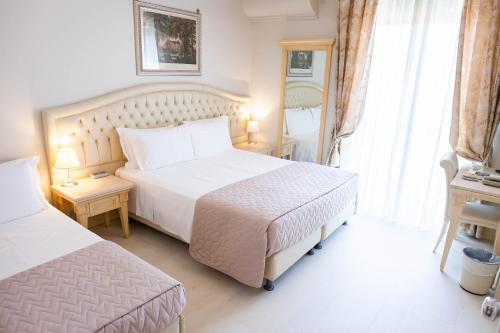 Conchiglia is a 4-star hotel that although it has been renovated, has kept its charming and elegant style. Some of the big and tidy rooms that don't have a sea view balcony, still provide a side look out at the ocean, which is just across the street.
They have two swimming pools, a sun terrace, a gym and bike rental, friendly staff, and a good location, just 140 meters from the Ironman Village.
This family-run hotel is located in front of the beach within walking distance to the historical center of Cervia, as well as to its train station, and it's only 900 meters from the Ironman Village.
Surrounded by greenery, it features quality furniture and modern rooms with orthopedic mattresses. They offer free parking space and bike rental, a great pool area as well as an on-site hot tub.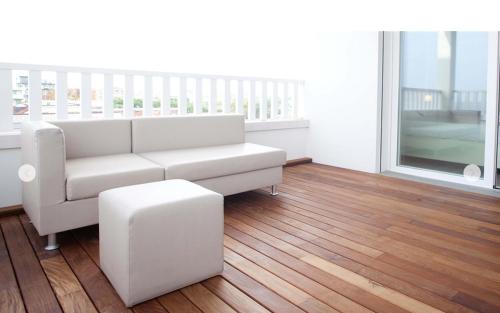 Boasting a contemporary design, Villa del Mare is precisely 220 meters away from Fantini Club, where Ironman happens.
The hotel has a romantic vibe and there's even a romantic attraction nearby, La Fontana dell'Amore. Perfect for the athletes traveling to Cervia with their loved ones.
The resort features 2 rooftop swimming pools and sits on a private beach. Expect nothing less than large rooms with sea view balconies (from where you can watch all the action) and a superb breakfast.
Orchidea is a lovely small holiday hotel with superb staff that will go the extra mile to make you feel welcome. It's just a few meters away from the sea, it's also close to some hotspots, restaurants and only 500 meters from Fantini Club.
The rooms are cozy and equipped with good showers and comfortable beds. There are free parking and breakfast, as well as some bikes available to the guests at no extra cost.
Club Hotel Dante is located 300 meters from Fantini Club, on the seafront of a private beach. This family-friendly hotel makes for great race or summer vacation accommodation.
It's close to restaurants and also popular landmarks such as La porta Mare di Cervia, in case you want to explore Cervia beyond the beach. On-site facilities include a pool, a wellness center and entertainment for children. The fully equipped rooms are soundproof, and they offer free breakfast and car parking.
Do you want to have a look at other hotels in Cervia?
My suggestion is to search and book your room via Booking.com or Agoda, they have a great selection of accommodations in Cervia, trustworthy reviews and some hotels offer a comprehensive cancelation policy.
Need help finding the perfect hotel room? Click here and read our Accommodation Guide.
Also read: Ironman Langkawi, Malaysia – a tough but beautiful race
What to do after booking your hotel in Cervia?
Perfect! You've found a hotel in Cervia for your Ironman Italy Emilia Romagna that suits both your taste and pocket, then what's next?
Now we suggest you use the messaging tool on either Booking.com or Agoda and write to the property giving them more details about your needs during your Ironman stay.
Most of the hotels in Cervia that operate during Ironman will be aware of the competitions and the athletes' special needs, but it's always good to play on the safe side, so message them if you have any requests or doubts. 
Some hotels can organize special services such as pick up from either the airport or train station (overly handy if you are traveling with your bike), babysitters, and even being ready to welcome your pets.
It's better to have everything organized in advance, so once you arrive in Cervia, your mind and body can focus on the competition and on crossing the Ironman finish line only. 
Now that you know where to stay and the best hotels for Ironman Cervia, read our quick round-up of travel tips.
Ironman Italy Emilia Romagna Travel Tips
Cervia's nearest airports are Forli Airport in Forli, Federico Fellini International Airport in Rimini, and Bologna Guglielmo Marconi Airport (the biggest one). To search for the best flights to Cervia use Skyscanner.
Don't forget to buy your travel insurance! We use HeyMondo and SafetyWing. Just click on one of them and book your insurance now.
Read all our blog posts about Italy here.
For more travel planning tips, read our Travel Resources here!
That's it, we are done! If you need any other tips about planning your trip or where to stay in Cervia drop us a message in the comments below. 
Did you like this guide about where to stay in Cervia for Ironman? Pin it for later!