Why Visit Costa Rica? – Enchanting Travels
6 min read
Whether you prefer trekking through verdant forests, witnessing the spectacle of active volcanoes, zipping through misty treetops, or feeling the soft beach sand slip between your toes, we invite you to experience 'pura vida' in Costa Rica. 
With over 500,000 species of plants and animals, this country boasts incredible biodiversity, and wildlife and bird enthusiasts are in for a treat! Costa Rica treasures its natural resources dearly and the commitment to sustainable practices is evident in its efforts to conserve the rich biodiversity, protect its forests and watersheds, and reduce its carbon footprint. From eco-friendly hotels and tours to responsible farming practices and a strong focus on renewable energy, Costa Rica has set an example for the rest of the world in promoting a sustainable way of life. 
Why Should Ecotourists Visit Costa Rica?
Costa Rica has been encouraging establishments to become certified under its sustainability program since 1996. The country's dedication to conservation hasn't gone unnoticed, as it was named the 'Greenest Destination in the World' at the 2019 World Travel Awards. Many establishments here have implemented energy-saving measures, while others have undertaken reforestation projects to offset their carbon emissions.
"Many hotels across Costa Rica take steps to reduce their environmental impact by using solar panels, implementing waste management practices, and avoiding harsh chemicals like chlorine in their pools."

– Koen Peeters, South America Product Manager
As a result, you have a wide range of options to choose from when planning your trip, including eco-lodges, sustainable tour operators, and carbon-neutral establishments. Knowing that your trip is contributing to the regenerative efforts makes exploring this country a meaningful and fulfilling experience.
Why Should Adventure Lovers Visit Costa Rica?
Immerse yourself in the breathtaking beauty of Costa Rica's diverse terrain. Adventure seekers can indulge in an array of thrilling outdoor activities, from surfing on the Pacific and Caribbean coasts to zip-lining through the canopy of Monteverde, Arenal, and Manuel Antonio's rainforests.
Wildlife enthusiasts can spot rare creatures like sloths, toucans, and jaguars in their natural habitats in Costa Rica's national parks such as Corcovado, Tortuguero, and Manuel Antonio. For those who love white water rafting and kayaking, Pacuare and Sarapiqui rivers are worth exploring. Hikers can also enjoy miles of trails scaling through lush forest reserves and rugged mountains in Tamarindo, Manuel Antonio, and the Nicoya Peninsula.
But that's not all – Costa Rica's rich cultural heritage also awaits you. The country has a blend of indigenous heritage and Spanish colonial influence, with Jamaican, Chinese, and other immigrant cultures adding to the mix. Across the country you can have opportunities to learn about traditional music, dance, and local cuisine in towns and indigenous villages.
Please note: Costa Rica provides a variety of activities and attractions that are accessible for travelers with limited mobility, such as visits to national parks, hot springs, beaches, and wildlife tours. Numerous popular destinations offer paved trails, ramps, and facilities designed for easy accessibility. To ensure that guests with limited mobility have an enjoyable experience, you can consult our experts who can provide information on suitable hiking, kayaking, and birdwatching tours.
Stay in Sustainable Hotels in Costa Rica
The thoughtfully designed climate-positive lodgings in Costa Rica blend seamlessly with the surrounding ecosystem, providing travelers a harmonious experience. We would like to introduce you to two of our favorite hotels in Costa Rica that embody this spirit of sustainability:
Nayara Tented Camp
Situated in the Arenal Volcano National Park, a true nature retreat with its outdoor showers and plunge pools fed by natural springs, overlooking the iconic volcano is pure indulgence. The unique volcanic mud massages and open-air spa in the treetops add a new dimension to your experience. The luxury tents are spread across a large area with spaces for wildlife and wilderness. Awarded as the best resort in Central America in 2022 by Travel & Leisure magazine, Nayara Tented Camp is exactly where you would want to surrender yourself to the chirping of frogs and the call of the birds.
Finca Rosa Blanca Coffee Plantation and Inn
Nestled on a hilltop, this boutique hotel offers stunning views of the mountains and nearby Poas Volcano. It's one of the first carbon-neutral hotels, featured in Fodor's Best 100 Hotels list and National Geographic Unique Lodges of the World. Each villa, suite, and studio is uniquely decorated with local art and murals. Enjoy the educational coffee farm tour and sip freshly brewed local coffee. The infinity pool provides an eco-luxury experience with lush tropical rainforest views.
Explore Costa Rica's Bio-diverse National Parks
With 32 protected national parks, Costa Rica is a great place to observe some of nature's true miracles. Among the most popular are Cahuita, Arenal Volcano, Manuel Antonio, Tortuguero, and Monteverde Cloud Forest.
Among our favorites is Tortuguero, a remote park which is accessible only by boat or plane on the northern Caribbean coast. Here, visitors can experience guided tours and birdwatching trips to spot some of the 300 bird species of birds. Canoeing in the mangrove-covered lagoons offers a unique perspective to admire the tranquility of the forests. 
Monteverde National Park's dramatic cloud forests are shrouded in ethereal mist, resulting in high humidity and dense vegetation. A surreal experience, the canopy tours provide a close-up view of this lush environment, which is a must-see for anyone interested in forestry, wildlife, and adventure.
Only a few lodging options have the certification to operate in these remote locations. Aninga Lodge in Tortuguero offers a true connection to nature, with toucans perched just outside your jungle cabin window. You will also have a chance to spot four varieties of turtles nesting on the beaches. At Belmar Hotel in Monteverde, you can walk the hanging bridges through the canopy and learn more about the rainforest ecosystem. 
Relax on Eco-Friendly Beaches in Costa Rica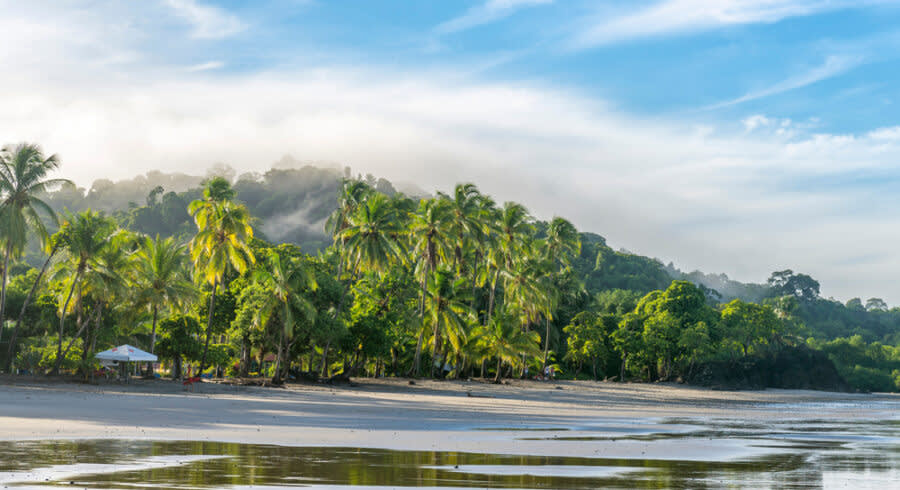 If you're looking to unwind in some of the best beaches in the world, then Costa Rica is the place to be! The North Pacific coast, also known as the Gold Coast, is the perfect place to start your beach adventure, with popular beaches like Tamarindo, Playa Flamingo, Playa Grande, and Playa Conchal. You can expect vibrant nightlife, plenty of natural beauty, as well as calm beaches.
The remote Osa Peninsula on the Southern Pacific coast houses Corcovado National Park, which is home to 2.5% of the world's biodiversity. Secluded beaches including Playa Matapalo, Playa Carate, Playa Platanares, and Playa Preciosa offer clear waters, soft sand, and a tranquil atmosphere. The rugged coastline also has small coves and bays that are only accessible by boat or foot, perfect for those seeking seclusion.
Manuel Antonio is the smallest national park in Costa Rica, located in the Central Pacific region. Visitors can witness Capuchin monkeys' antics on the beaches and sloths, jaguars, iguanas, and endemic birds on hiking trails. The calm white sand beaches are ideal for snorkeling and swimming, with Espadilla Sur's clear turquoise waters being a favorite. The Blue Flag-certified sustainable beauty of Costa Rica's coastline awaits you, so pack your bags and get ready to be inspired.
Costa Rica Trip Planning
Why visit Costa Rica? The country's verdant hills, lush rainforests, sparkling beaches and the endless expanse of blue ocean never fail to inspire awe. But more than just a beautiful destination, Costa Rica is a place that inspires us to be better stewards of the earth. Experience the wonders of this country by exploring, connecting, and immersing yourself in its natural beauty.  While it is not a large country, planning your trip can be logistically complicated, especially if you want to see multiple regions. Get in touch with our Costa Rica experts for a personalized trip that you'll cherish for your lifetime.
Explore costa rica