Your Guide to the Best Las Vegas Climbing Gyms » Local Adventurer » Travel Adventures in Las Vegas + World Wide
8 min read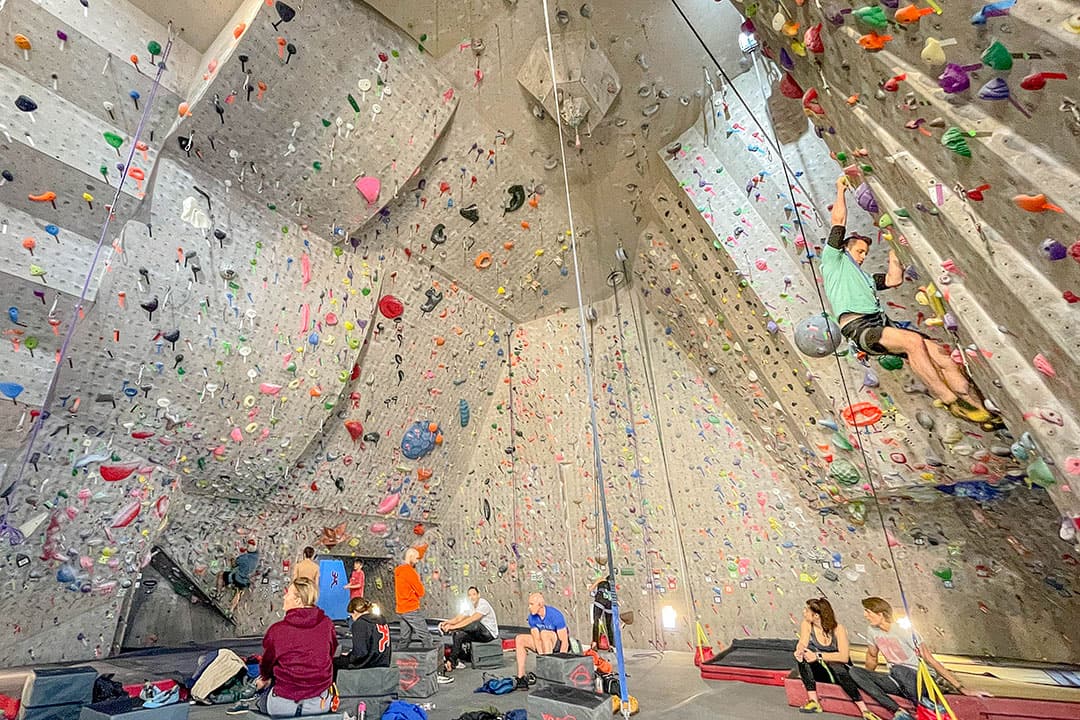 Looking for the best Las Vegas climbing gyms? Here's a guide from a local who actually climbs.
It's no secret we moved back to Las Vegas for the climbing. It's one of the best places to live if you climb outdoors. Red Rock is part of the city, and within a few hour's drive, you'll find many more climbing destinations.
During the heat of summer or when it rains at Red Rock, all the climbers migrate North, head to Charleston, or flock indoors. You'll also see gyms get busier right after the rain. Whether you're climbing for the first time, you only like climbing indoors, or you got rained out, here's a comparison of all the climbing gyms in Las Vegas.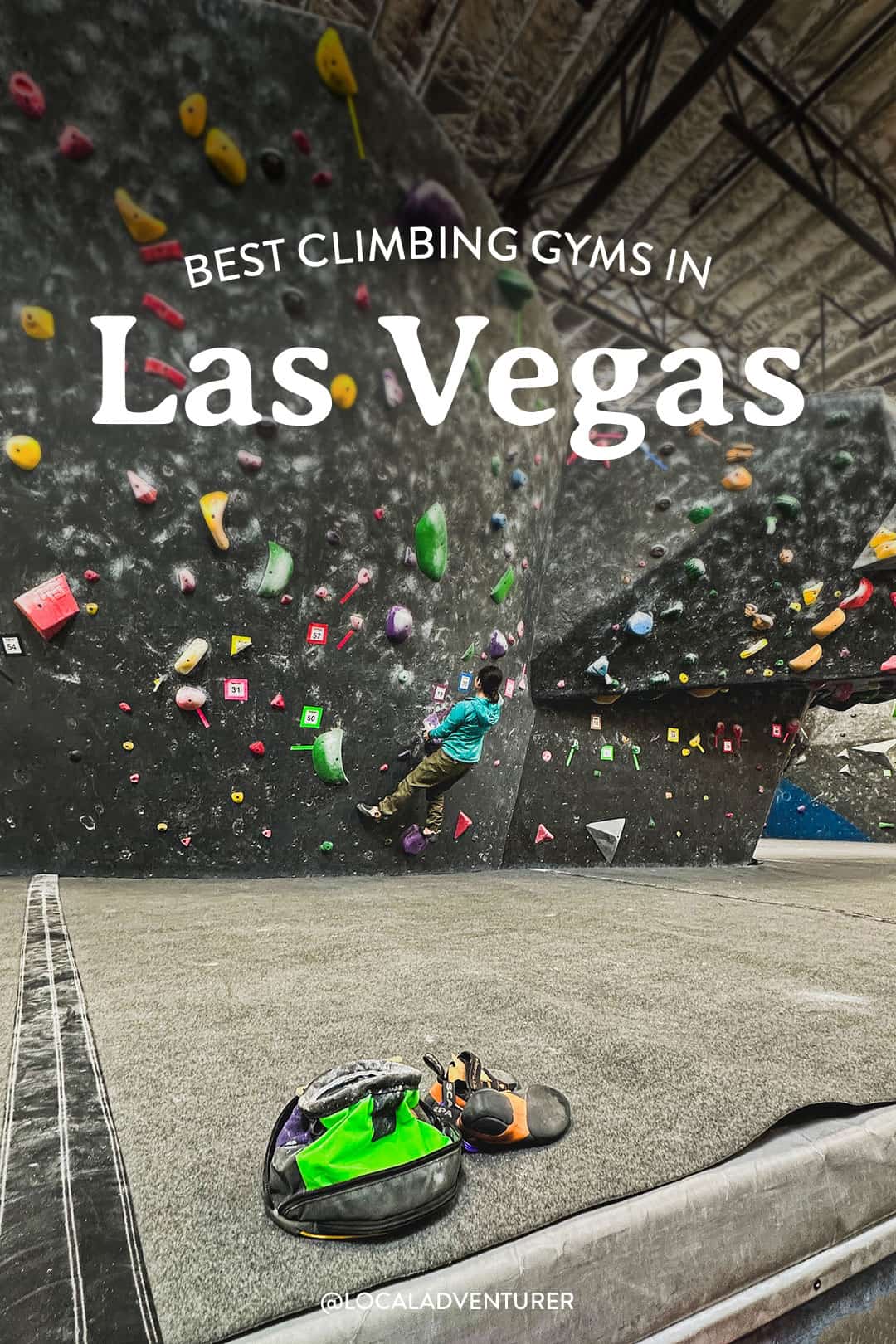 This post may contain affiliate links, where we receive a small commission on sales of the products that are linked at no additional cost to you. All opinions are always our own. Read our full disclosure for more info. Thank you for supporting the brands that make Local Adventurer possible.
Last Updated: August 28, 2023
We've been to over 25 gyms all over the US, and while some cities may have better gyms in general, these ratings are relative to the gyms within the same city. Later, we'll do a post comparing all the gyms.
In a recent YouTube video, Alex Honnold mentioned that there are no good climbing gyms in Las Vegas. While other cities have massive corporate gyms with huge budgets to build gyms with everything your heart could desire, I would argue there's still a place for Las Vegas climbing gyms. They aren't perfect, but you can find your climbing community here.
Things to Keep in Mind
Climbing at Red Rock? Check wetrockpolice to see if it's dry. The sign says to wait 48 hours since it has last rained, but we've seen it take longer. A good rule of thumb is to dig an inch into the dirt to see if it's dry.
Gyms will continue to change with staff turnover or updates, and it's more noticeable at smaller, independent gyms than at large, corporate ones. All the gyms in Vegas except the Pad are independent, so anytime something changes, you notice a huge difference, whether for better or worse. Since 2019, we've changed gyms.
The best gym will depend on what you're looking for. Gym climbing has evolved and has become its own sport. I've noticed my outdoor friends like gyms with lots of 'tensiony' moves that train them for the outdoors, but many of our indoor-only climbing friends are looking for something entirely different.
Our friends who van life and travel to climb outdoors year-round have told us that generally, climbing gyms have been worse at better outdoor climbing destinations, but that could also be because many are found in smaller communities.
The Best Rock Climbing Gyms in Las Vegas
1. The Refuge Climbing and Fitness – Best Bouldering Gym
6283 S Valley View Blvd Suite C, Las Vegas, NV 89118, map
Setting: 4/5
Facility: 3.5/5
Rates: $18 Day Passes | Memberships Starting at $54.17/month
Setting Routine: Resets one section each week
Types of Climbing: Bouldering
Busiest Times: Weekdays after work
Training Boards: Tension Board, Moon Board, Tread Wall, Campus Board
If you visit and see us around, say hi! The Refuge is currently our home gym. Although the facilities are older, the setting is the best if you're training for the outdoors, and it's central to the city. Most of our climber friends in Vegas climb here now, and they've grown into a great community. We love the roof feature and the top-out section that no other gyms in Vegas have for bouldering.
Room to Improve: At 11,000 sq ft, the gym is smaller, so when it's busy, it feels crowded, but there are plenty of times to climb to avoid crowds.
See More: 7 Best Things to Do in Red Rock Canyon National Conservation Area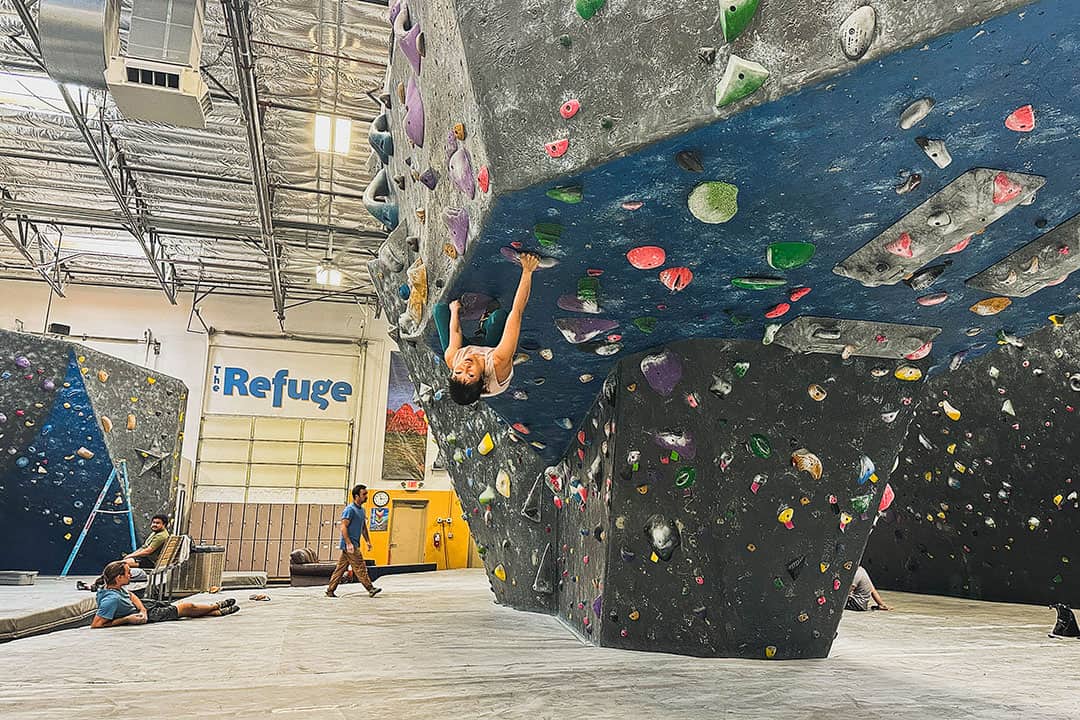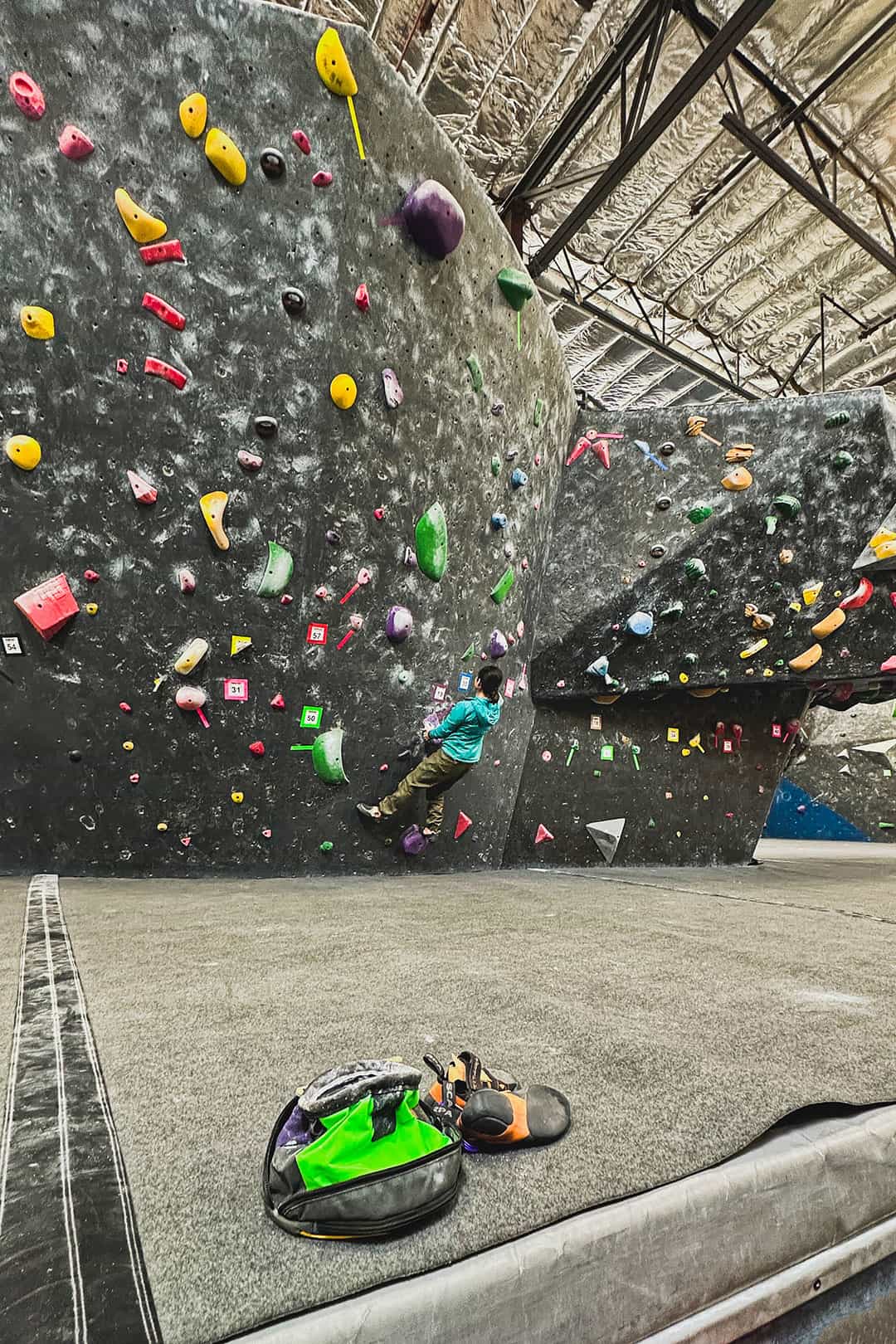 8201 W Charleston Blvd #150, Las Vegas, NV 89117, map
Setting: 3.5/5
Facility: 3/5
Rates: $17 Day Passes | Memberships Starting at $55/month
Setting Routine: Sets on Monday and Tuesday (Alternating from Boulders and Routes each week)
Types of Climbing: Top Rope, Lead, and Bouldering
Number of Problems Up: ~120 Boulder Problems and ~90 Routes
Busiest Times: Tuesday to Thursday from 5-8 PM, Saturday Morning
Training Boards: Moon Board, Campus Board
If you're mainly a sport or trad climber, Red Rock Climbing Center (or R2C2 to locals) is your best option in the city. Some routes are up to 100ft long.
This is the old-school gym in Las Vegas and closest to Red Rock. It has the most options for sport climbers and bouldering and training area upstairs. We've also heard from friends who boulder here that it's very meh, and the gym feels dingy. When we finally went to see for ourselves, we enjoyed it more than expected. They have a lot of great wall features, and I can see why our friends who sport climb prefer this gym.
Room to Improve: Modern gyms have walkways that give better traffic flow. They could use a more extensive hold selection. Most of their holds are older.
See More: 101 Things to Do in Las Vegas Bucket List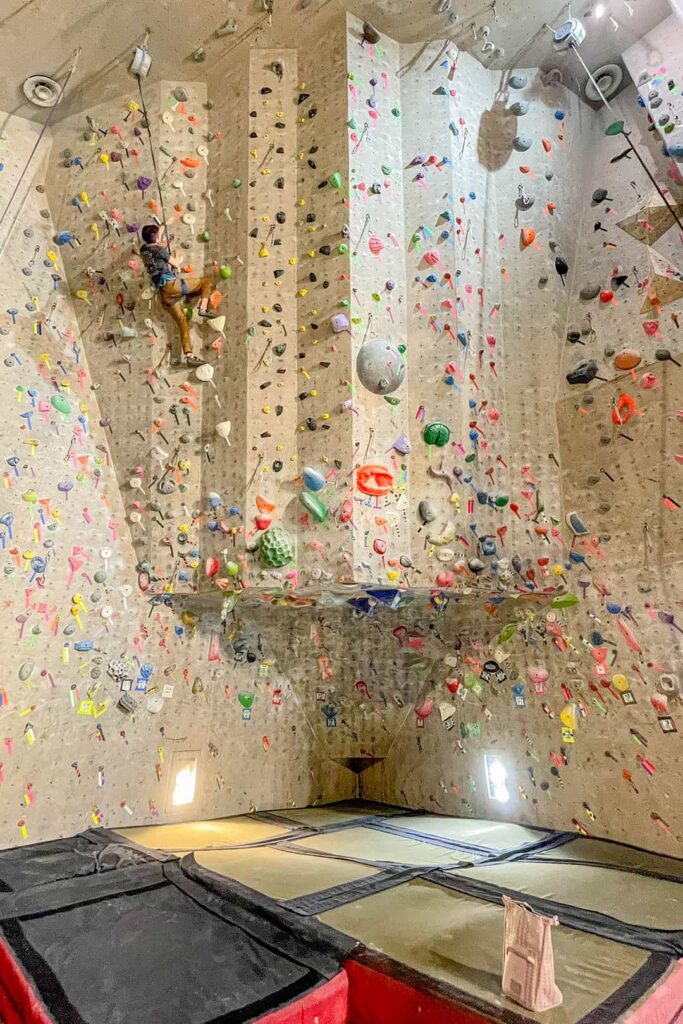 3. The Pad Henderson – Newest Facility + 24 Hr Access
7585 Commercial Way J, Henderson, NV 89011, map
Setting: 3/5
Facility: 4/5
Rates: $23 Day Passes | Memberships Starting at $66.67/month
Setting Routine: Resets Bouldering Twice a Week and Rope Once a Week
Types of Climbing: Bouldering, Top Rope, Lead
Busiest Times: Weekdays after work
Training Boards: Woods Board, Kilter Board, Tread Wall, Campus Board
They have the newest and largest facilities in Vegas. It was our original home gym when we moved to Henderson. We recommend going here if you live in Henderson or need 24-hour access.
I used to work as a setter here, and I'm forever grateful to the previous owners who taught me what I know, but everything changed with the new management. We left the gym in 2019 during all my health problems, and we decided to switch to the Refuge once I recovered since most of our friends also switched over.
We still hear horror stories about how management has responded and treated employees and members, which doesn't make us want to return. In addition, our few remaining friends say the setting has gone downhill (although we've heard it has slightly improved lately), and more injuries have happened because of the change in setting.
See More: 49 Best Places to Eat in Las Vegas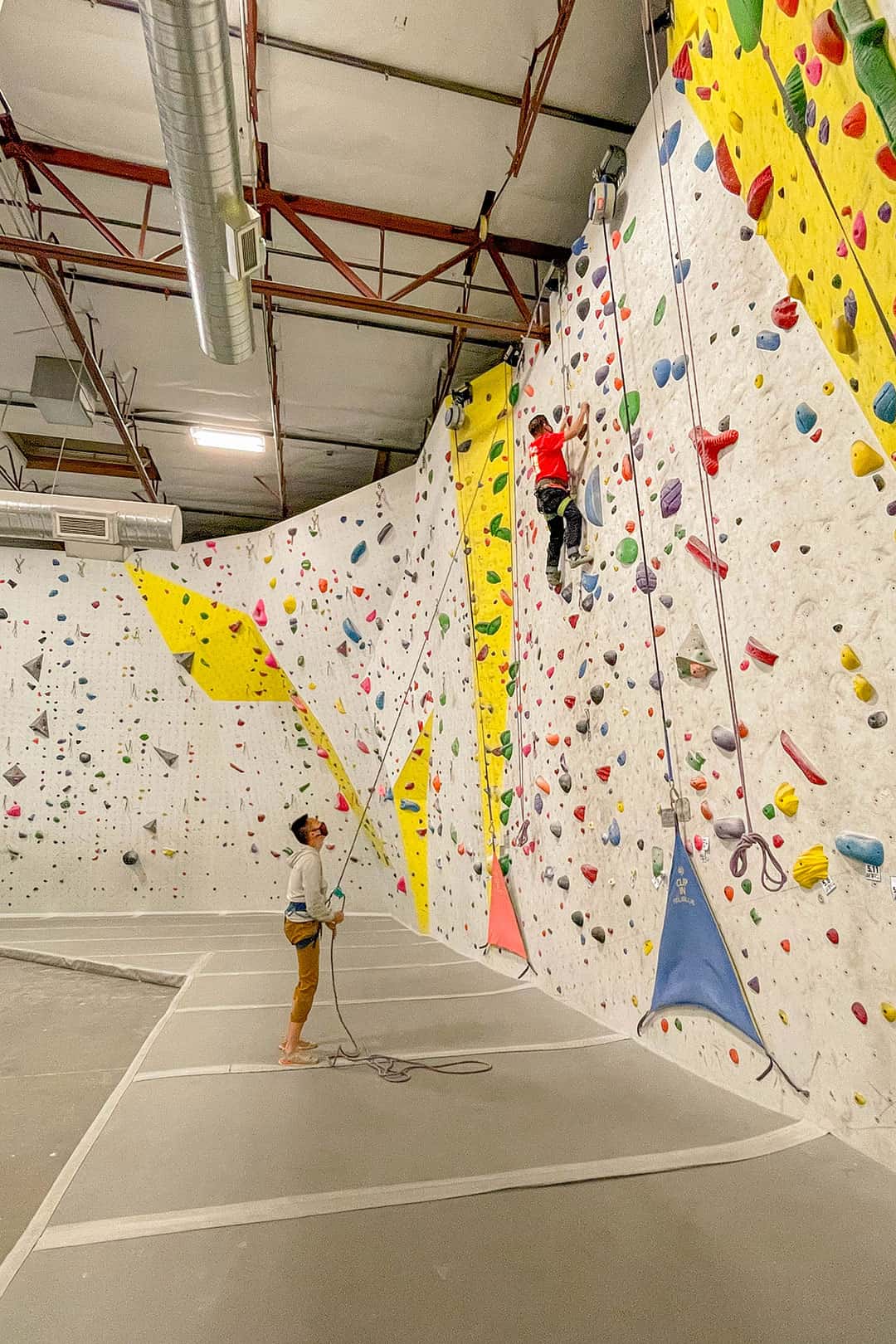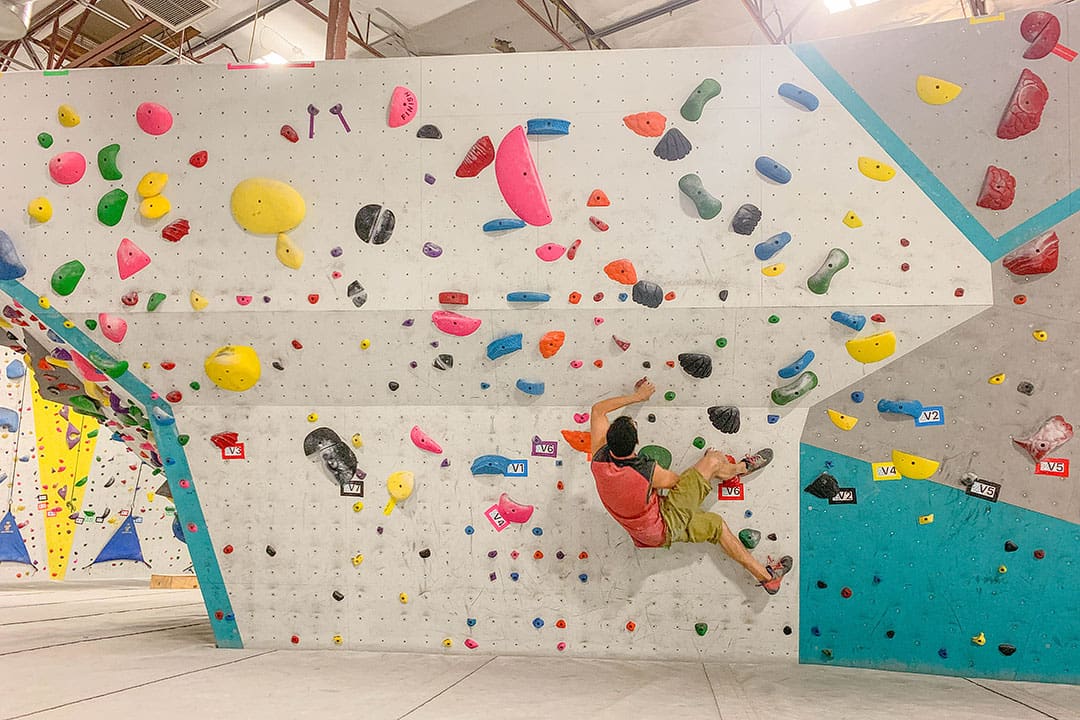 4. Nevada Climbing Center
3065 E Patrick Ln #4, Las Vegas, 89120, map
NCC is the oldest gym in Vegas that was recently sold. We still need to check it out, but we heard they have no AC in the summer, so we're waiting until the fall.
Map of the Best Climbing Gyms in Las Vegas
OTHER Rock Climbing Gyms in Las Vegas and Nearby
Here, we're including fitness facilities that have climbing walls and areas to climb nearby.
What to Pack – Climber's Packing List
First Timer's What to Bring
You can rent shoes, chalk, and a harness if it's your first time. All you need to bring is the following:
Rock Climbing Essentials for Indoor Climbing
For those who already climb, don't forget these items too! Check this post for our favorite of each.
Climbing Shoes – we always say to buy the shoes that fit your feet best. I tried every pair I could get my hands on, and so far, these have fit me best, and I've worn them for the past five years. I'm happy about their performance.
Comfortable Climbing Shoes – if you climb a lot and want to save your rubber for when you're projecting, buy a second cheaper pair with thicker rubber. These are great for warming up, or our outdoor friends call them their gym shoes.
Chalk Bag or Chalk Bucket
Brush
Chalk
Tape 
Harness (Sport + Top Rope)
Rope (Sport)
GriGri Belay Device (Sport + Top Rope)
Extras
Finally, here are some miscellaneous items you can bring for warming up, training, and more.
More About Our CLimbing Journey
We typically climb in the intermediate V4-6 range indoors and outdoors. Most climbers we've seen at gyms have been either beginner or intermediate climbers. If you're climbing in the advanced to pro range, we assume you don't need to Google gyms and already have a network of climbing friends telling you where to climb (but who knows… we could be wrong).
I used to route-set at our old gym in Vegas, so I have a basic understanding of what the setting should be. Different gyms and setters focus on different things when setting. Whether to train certain moves or for the aesthetic, the bottom line is that it should always be fun.
We've climbed at over 25 gyms all over the US and have a good idea of what cities have decent climbing gyms. Most of these have been in major cities (ABQ, Atlanta, Austin, Bishop, Chattanooga, NY, Portland, San Diego, SF, Seattle, and Vegas).
Since we're not pro climbers, double-digit climbers, or TikTok famous, people don't give us special treatment. As an Asian male, Jacob can get a good feel of whether the gym community is friendly.
Any other rock climbing gyms in Las Vegas that we missed?
DID YOU ENJOY THIS POST? PIN IT FOR LATER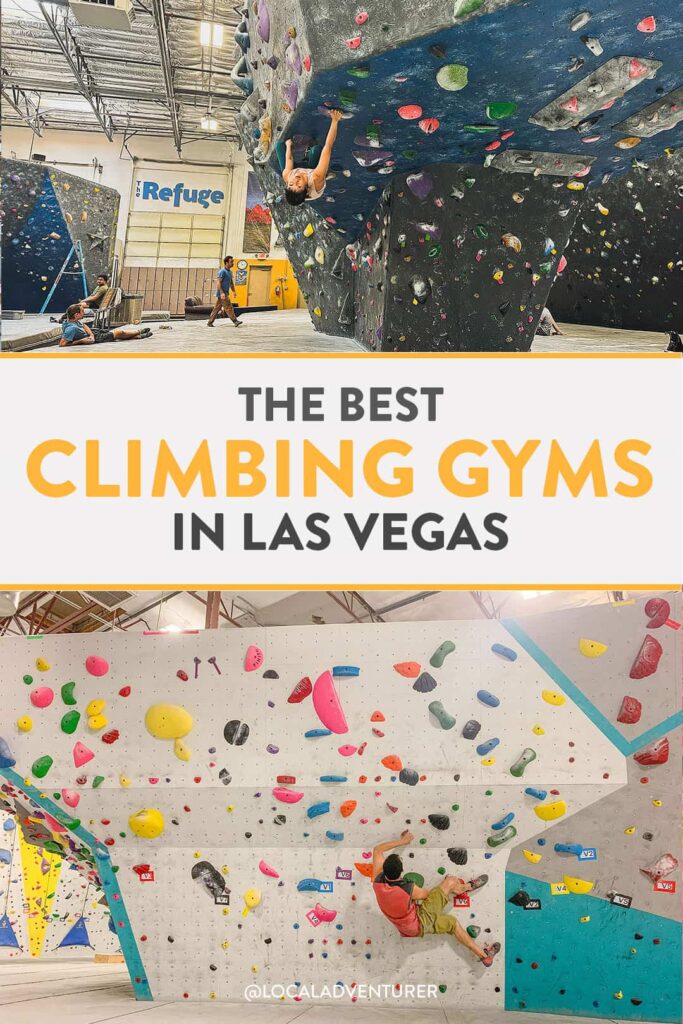 SEE MORE LAS VEGAS GUIDES
⟡⟡⟡⟡⟡
"Discovery consists not of seeking new lands but in seeing with new eyes" – M. Proust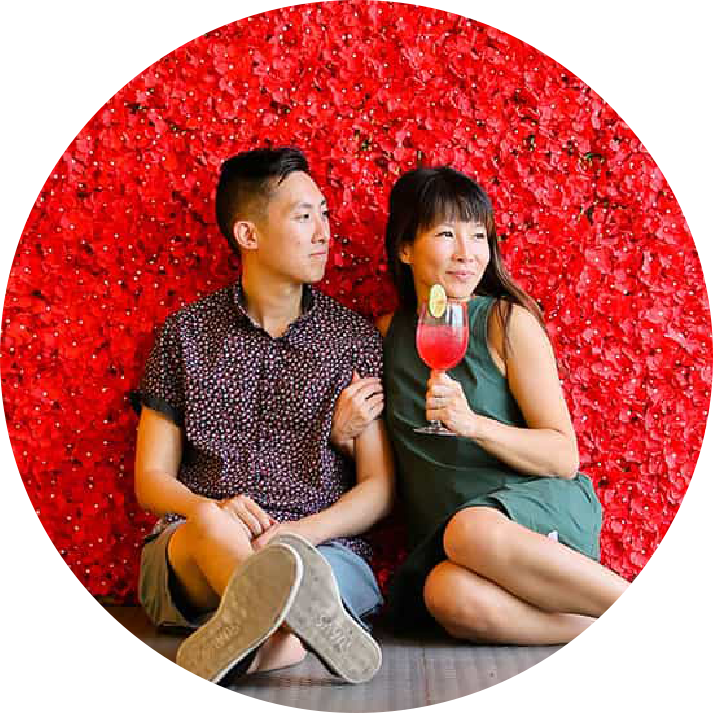 Esther + Jacob
Esther and Jacob are the founders of Local Adventurer, one of the top 5 travel blogs in the US. They believe that adventure can be found near and far and hope to inspire others to explore locally. They explore a new city in depth every year and currently base themselves in Las Vegas.
Follow on Instagram (E + J), YouTube, TikTok, and Pinterest.