10 Weird & Wacky Wisconsin Roadside Attractions
8 min read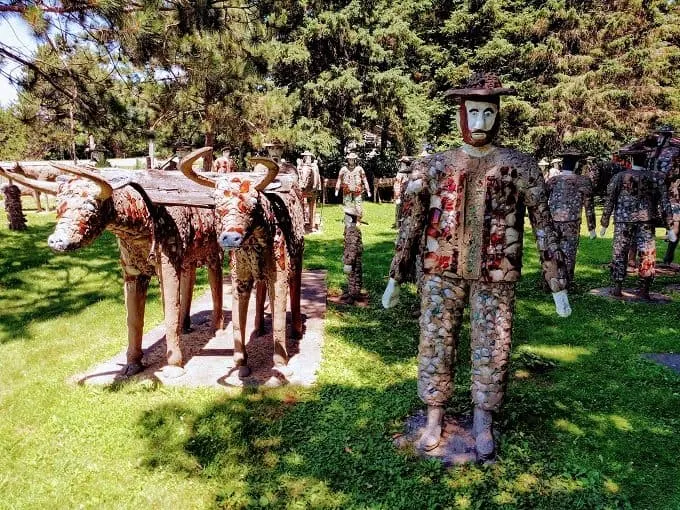 Guide to the most fun and quirky roadside attractions in Wisconsin, USA
Traveling to Badger State on a road trip is fun, as there are plenty of cool Wisconsin roadside attractions you can stop by on your way to your destination.
Some roadside attractions in Wisconsin may be considered weird and wacky.
Nevertheless, they're worth visiting whether you want to dig more into the local's heritage and traditions or just want to stop for a quick photo to post on your Instagram.
In this post, I'm going to list some of the best Wisconsin tourist attractions that you can visit as you travel Wisconsin by car.
From the famous House on the Rock to the world's largest M in Platteville, here are some wacky Wisconsin roadside attractions you shouldn't miss while traveling to the state!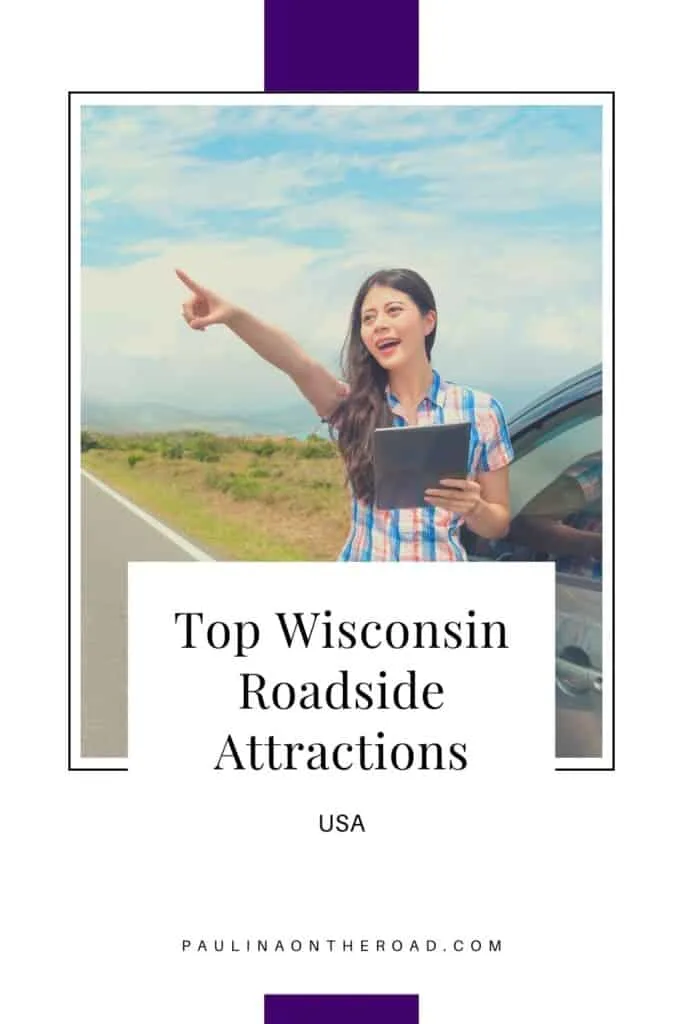 Pssst…!!?? You can't get enough of Wisconsin? Have a look at my other posts:
This blog is supported by you, dear reader. If you make a purchase through a link, I earn a small commission. As an Amazon Affiliate, I earn from qualifying purchases.
Top resources to travel Wisconsin
✎ Plan the ultimate Wisconsin road trip (no backtracking!) with the Perfect Wisconsin Road Trip itinerary – Buy now for less than 12$

✈ Find the best hotel deals in Wisconsin with Trivago

➳ Book vacation rentals in Wisconsin with VRBO

✔ Book tours in Wisconsin with Viator

☘ Get the best discounted outdoor gear (outlet) at REI.com

$ Get Wisconsin hiking guides and maps at REI.com

✎ Never leave without travel insurance. I get mine at SafetyWing. It is easy to set up, cheap, and reliable.
Overview: Top 3 Wisconsin Roadside Attractions
The House on the Rock
Dr. Evermor's Forevertron
Mars Cheese Castle
1. The House on the Rock
Where: Spring Green, WI
Situated between Dodgeville and Spring Green along Highway 23, the House on the Rock is among the Wisconsin road trip attractions you should visit.
First built in the 1940s by Alex Jordan, the House on the Rock is an eclectic mix of art, architecture, and Wisconsin oddities that offers an immersive experience for its visitors.
It's home to the world's largest indoor carousel, with over 269 animals and 189 chandeliers.
Although visitors can't ride it, the 20,000 lights features on the carousel will be enough to lighten up your Wisconsin vacation ideas!
Buy the ultimate Wisconsin road trip itinerary
2. World's Largest Penny
Where: Woodruff, WI
When passing through Woodruff, WI, roadside attractions in this area include the Dr. Kate Museum and the World's Largest Penny.
A tribute to Dr. Kate Pelham Newcomb, the woman who initiated her dream to build a local hospital in the 1950s.
Due to the lack of funds, the old teacher of the geometry class, Otto Burich, and his pupils initiated a campaign called "The Million Penny Parade" to raise funds for the continuity of building the hospital.
Made of concrete block, you can now visit the 17-foot-tall penny sculpture that commemorates this fund-raising stunt.
The campaign was a success, as not only did the students donate their pennies to the hospital, but the story also led to nationwide publicity.
In turn, this led them to raise over a million dollars to complete the construction of the current Lakeland Memorial Hospital.
3. Pinkie the Pink Elephant
Where: DeForest, WI
First erected in the 1960s with the purpose to attract customers to the Shell gas station nearby, Pinkie the Pink Elephant has become a beloved fixture.
He attracts not only customers who want to refuel their vehicles but also most passersby traveling through I-90/94 in DeForest.
The gigantic elephant sculpture is styled with its signature hipster glasses, making it one of the most popular Wisconsin roadside attractions.
Pinkie the Elephant is a great selfie spot in Wisconsin, and you can also get various Pinkie souvenirs from the gas station store nearby!
4. Mars Cheese Castle
Where: Kenosha, WI
Looking for an idea to get on day trips from Milwaukee? Don't miss one of the Wisconsin roadside attractions in Kenosha, Mars Cheese Castle!
A must-visit for cheese lovers, Mars Cheese Castle is a great place to stop if you're looking for America's roadside attractions in the Midwest.
Situated on I-94 between Milwaukee and Chicago, it's one of the best Wisconsin road trip stops, especially if you want to enjoy various special delicacies from cheese to wines!
When visiting Mars Cheese Castle in Kenosha, don't forget to check the easter egg in the form of what's written on their billboard.
They're notably known for their witty and sometimes hilarious billboard sign along the interstate highway, making it one of the most fun Wisconsin sightseeing!
Book the best vacation rentals in Kenosha, WI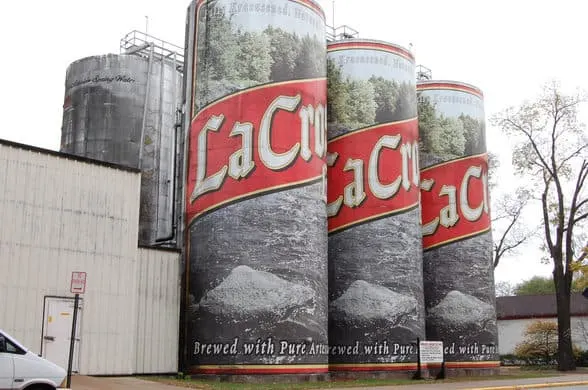 5. World's Largest Six Pack
Where: La Crosse, WI
Traveling to Wisconsin isn't complete without talking about its beers and brewery.
The Badger State is notably known for its beer industry due to its history of pioneering breweries from the mid-1800s.
La Crosse is the city known for hosting Oktoberfest in the US, making it one of the best tourist attractions in Wisconsin in the fall!
The beer festival is not the only reason why you should visit La Crosse, as the city is also home to one of the best Wisconsin roadside attractions: the World's Largest Six Pack!
Situated not too far from the I-90 exit 3 onto Highway 53/35 in La Crosse,  the gigantic beer cans are not just a vanity that hits the world record.
The world's largest six-pack is also used as the inventory storage for City Brewing Company, which contains almost 700,000 barrels of beer.
Don't miss visiting this Wisconsin roadside attraction when traveling to La Crosse!
And, of course, don't forget to check out all the other amazing and fun things to do in La Crosse while you're there.
Book the best cabin rentals in La Crosse
6. World's Largest Talking Cow
Where: Neillsville, WI
Located at the Clark County Fairgrounds in Neillsville, the city comes fourth in Wisconsin's milk production.
The world's largest talking cow, Chatty Belle, is a 20-foot-long fiberglass Holstein cow, making her 7 times larger than the average Holstein cattle.
Drop a quarter in the coin box, and Chatty Belle will share some fun facts about dairy in a soothing woman's voice that can be an interactive way to spend your weekend trips in Wisconsin.
So, if you want to know the average daily production of milk or the best food with Wisconsin dairy products, Chatty Belle is the Wisconsin roadside oddities that you shouldn't miss!
Buy the ultimate Wisconsin road trip itinerary
7. Jurustic Park
Where: Marshfield, WI
This one-of-a-kind outdoor art display features the work of an amateur paleontologist and artist Clyde Wynia, who creates whimsical metal sculptures of dinosaurs and other creatures from prehistoric times.
Jurustic Park is one of the best quirky and weird attractions in Wisconsin, especially since it features some extinct creatures that used to inhabit the Marshfield area during the Iron Age.
Located around 5 kilometers from the Marshfield town center, the park offers many things to do in Central Wisconsin!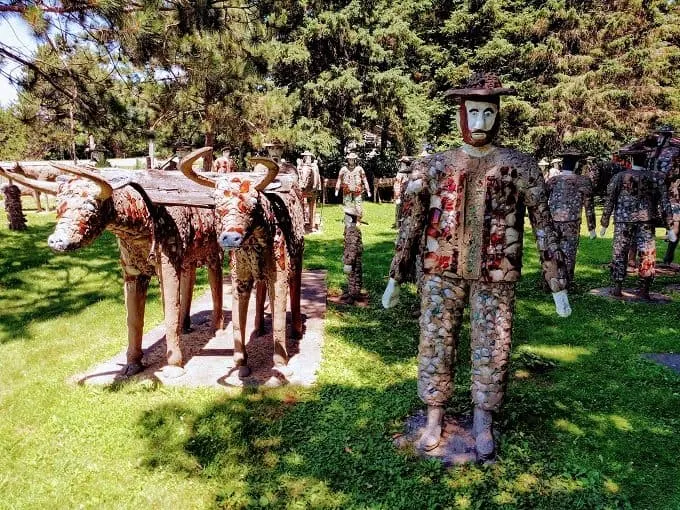 8. Wisconsin Concrete Park
Where: Phillips, WI
Exploring the wacky Wisconsin roadside attractions isn't complete without stopping by Wisconsin Concrete Park.
It's an outdoor museum built by self-taught artist Fred Smith from 1948 to 1964, and today is one of the coolest Wisconsin tourist destinations.
If you look for some quirky roadside attractions, Wisconsin has them in spades – such as Concrete Park.
This unique attraction showcases over 200 sculptures made from concrete that depicts various things from people and history to the sculptor's expansive imagination.
Whether you want to add a pile of photos to your Instagram or enjoy your Wisconsin sightseeing, this 16-acre park is worth visiting when traveling to Badger State!
Don't miss one of the most unique outdoor things to do in Wisconsin!
Buy the ultimate Wisconsin road trip itinerary
9. World's Largest M
Where: Platteville, WI
Also known as the Platte Mound M, the world's largest M is located on a hillside overlooking the city and the University of Wisconsin-Platteville campus.
It's one of the most popular Wisconsin roadside attractions, almost as popular as the Hollywood sign in California!
Constructed in the early 1930s by the University of Wisconsin-Platteville students who worked at a mine in Colorado, Raymon Medley and Alvin Knoerr got inspired by the large "M" they saw on Mount Zion.
As a result, they were inspired to build a larger "M" and made it the most significant symbol for their university.
The world's largest M is currently made of concrete and measures approximately 241 feet wide, making it a prominent landmark in the Platteville community as well as one of the best attractions in Wisconsin!
10. Dr. Evermor's Forevertron
Where: Baraboo, WI
When it comes to roadside attractions, Wisconsin has plenty of sites that hit the world's record, including Dr. Evermor's Forevertron in Sauk County.
It's a massive steampunk-inspired sculpture park not too far from Highway 12, passing through Baraboo and Wisconsin Dells.
The world's largest scrap metal sculpture, Forevertron is a 50-foot high sculpture that incorporates a hodge-podge of materials.
The sculpture is even made of some antique machinery, including two Thomas Edison dynamos and the Apollo 11 decontamination chamber.
Created by Tom Every, the Forevertron is now one of the greatest Wisconsin points of interest, as well as the icon of Baraboo!
Make sure to leave time to explore some of the other fun things to do in Wisconsin Dells and the surrounding area.
You'll also find lots of great hiking in Wisconsin Dells and plenty of campsites in Wisconsin Dells if you want to hang out and enjoy one of the best Wisconsin attractions more!
Book the best vacation rentals in Wisconsin Dells, WI
---
If you're looking for weird roadside attractions, Wisconsin has plenty to offer!
Whether you want to do some quirky tourist experience like visiting Wisconsin Concrete Park in Phillips or you don't want to miss visiting the world record like the world's largest six-pack in La Crosse, you can visit many weird Wisconsin oddities suitable to your liking.
So, which one of these weird and wacky Wisconsin roadside attractions is your favorite?
---
Short FAQs About Wisconsin Roadside Attractions
How many roadside attractions are there in Wisconsin?
It is impossible to say exactly how many roadside attractions Wisconsin has, though there are at least 20.
Are there any famous roadside attractions in Wisconsin?
Yes, one of the most famous roadside attractions in the USA is The House on the Rock, which is located in Spring Green, Wisconsin.
Are the Wisconsin roadside attractions worth visiting?
Absolutely! Wisconsin is home to some of the quirkiest roadside attractions in the USA.
---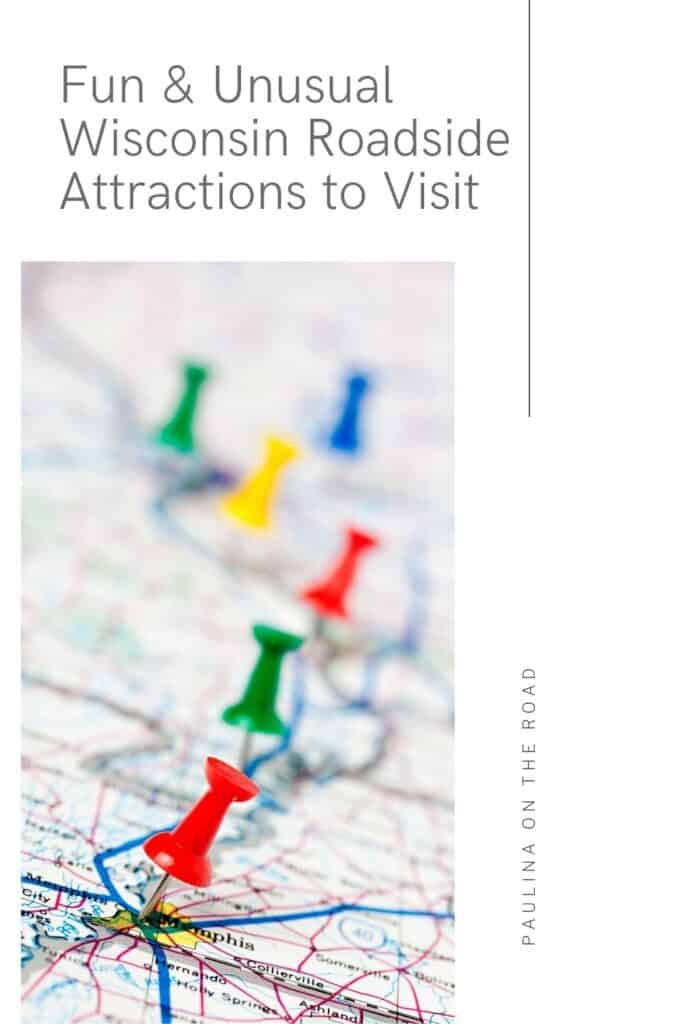 ---
Hola! I am Paulina, a fervent travelette who crossed the Atlantic Ocean by Boat HitchHiking. On my blog, you'll find all the tips to make the most of your holiday. Get ready to enjoy outdoor and sustainable travel like hiking, cycling or sailing. Let's hit the road together!