18 Beautiful Scenic Viewpoints In Vancouver, BC
12 min read
Vancouver, British Columbia, is a beautiful city in Canada that people love to visit throughout the year. More than things to do in Vancouver, visitors and locals are spoiled with amazing views. From certain viewpoints in Vancouver, whether near the ocean or on top of one of the mountains, you will see different perspectives of Vancouver's beauty.
As someone who has lived in Vancouver for her whole life and has been to almost all of these Vancouver viewpoints, I can guarantee that you will enjoy and love them or at least hopefully one of them when you visit Vancouver.
The best viewpoints In Vancouver
1. Queen Elizabeth Park
One of Vancouver's gems is Queen Elizabeth Park. The scenic park sits right in the heart of all of Vancouver. It is a stunning 52-hectare park that draws botanists in with its gorgeous flower gardens (Quarry Garden and Rose Garden) and the Bloedel Conservatory. And it's also one of the favorite spots for wedding photos. 
The top of the park sits at 152 meters above sea level. This grassy hill with beautiful gardens is the highest point in Vancouver, making it one of the best viewpoints in Vancouver. Standing at designated lookout spots, you can see views of Downtown Vancouver, the Northshore, East Vancouver, and, of course, our trademark, the mountains.
2. Burnaby Mountain (Simon Fraser University)
Burnaby Mountain holds one of British Columbia's top universities, Simon Fraser. However, most people do not know it is a local's favorite spot to watch the sunset with friends, family, or their significant other.
From this viewpoint, from a far distance, you can have breathtaking views of parts of Downtown Vancouver and the side of the Northshore mountains. You will also see the sunset on the horizon and eventually set behind the mountain.
This picturesque park dotted with sculptures and many hiking trails is a good option for getting into nature with some of the best Vancouver scenery views.
If you decide to visit this spot, I recommend having a car or renting one (click here for car rentals in Vancouver), because local transport will take a long time to get to the university. Plus, walking toward the bus stop will be very dark if you plan to go during sunset. Also, parking may be tricky; however, there could be less of a crowd if you go on a weekday.
3. Capitol Hill
Another local's favorite spot is Capitol Hill Reservoir Park. It is a small area in a neighborhood that requires driving only to get to. However, it is peaceful and another spot to watch the sunset and admire the city views. It can get pretty busy at this viewpoint, and parking is not the easiest, but it is worth it if you score a spot.
4. False Creek (Science World)
Those three locations are further out in Vancouver, but now we are moving close to the Downtown Vancouver center, and we will start with False Creek. False Creek Marina is where you can have excellent views of Downtown Vancouver's outskirts.
False Creek is also a picturesque spot for taking photos of Science World, the dome-shaped science museum. Suppose you are looking for a city-type viewpoint in Vancouver at night. In that case, I recommend stopping here as it has excellent locations for nighttime shots of the fully-lit skyline. However, you can still get amazing photos of the False Creek area during the daytime.
5. Cambie Street Bridge
Continuing from False Creek to Downtown along the walkway, you will eventually be under the Cambie Street Bridge. If you want to surpass all that walking, you can take one of the small ferries in the inlet to the stop near the Cambie Bridge. But I suggest walking!
Once you reach the Cambie St. Bridge, there is a winding staircase with access to part way on the bridge. Unfortunately, you cannot cross the bridge because of traffic, and you will have to go to the end of the bridge to be able to cross the street to view the other side.
Walking along the Cambie Street Bridge on one side, you will see the dome-shaped Science World, the Olympic Village, and that small end of False Creek with peaking mountains off in the distance. On the other side, you have incredible views of the edge of Yaletown with its tall buildings and the West End.
6. Charleson Park
Along the same walkway, you will come to Charleson Park, one more of Vancouve's urban park worth visiting for the scenic views.
From this viewpoint, you will have a city skyline view of Yaletown. Across the way, you can see David Lam Park, the continuation of the walkway you are on, but on the other side, and boats in the marina.
This park is also great; if you want to stop and sit on the benches to relax, let your children run around at the playground, or even bring your dogs and let them run around in the big open Charleson Dog Park area.
7. Granville Island
At the end of the walkway, you will end up on Granville Island. Not only is Granville Island an excellent viewpoint spot to take pictures of a different perspective of Vancouver's Yaletown and Davie Village. Many people also love to take photos from below the Granville Street Bridge at Granville Island, which brings me to my next viewpoint.
8. Granville Street Bridge
From the Granville Bridge, you can see Granville Island from a birdseye view, and the Burrard Street Bridge, Vancouver mountains, ocean views, Sunset Beach, and Stanley Park peaking out in the distance. The bridge also looks magnificent at night, with all the marina lights lit up, and at sunset, you will have a stunning view.
9. Vainer Park
Close to Granville Island is Vanier Park. It is a popular grassy park with three museums, the HR MacMillan Space Centre, The Museum of Vancouver (MOV), the Vancouver Maritime Museum, and Bard on The Beach plays during the summer.
Vanier is in the English Bay with spectacular views across from Sunset Beach, with Davie village in the background.
You will also see Stanley Park, boats and bards, and other parts of West Vancouver. Elsje Point is a scenic spot in Vanier Park that is great for photographing the residential buildings across the inlet.
If you fancy some relaxing time, keep walking to Kitsilano Beach, aka Kits Beach. It is one of the best beaches in Vancouver with fantastic views from the ocean.
10. Jericho Beach
Another beautiful sandy beach in Vancouver is Jericho Beach. Not only is Jericho one of the most popular beaches, but it's facing the distant mountains, and it offers the best view of Vancouver's Downtown skyline. 
Taking a photo during sunset at Jericho is also beautiful, as it has one of the most incredible sunset views in Vancouver. If you go during low tide, you can walk out further to get the perfect shot.
11. Coal Harbour
Back toward Downtown Vancouver, Coal Harbour is a popular neighborhood and is considered to be an excellent location for viewpoints. It is a tourist location, but it is also the starting point of the Seawall. You will be able to take many amazing photos from Coal Harbour.
When you walk between the Coal Harbour Marina to the Vancouver Convention Center you'll pass by the Harbour Air, and from here you can have distant views across the inlet in North Vancouver. You will see Lonsdale Quay and Stanley Park to the left.
During the summer months, cruise ships stop at Canada Place Cruise Terminal. You can also walk around the Canada Place building and see other perspectives and panoramic views.
12. Lonsdale Quay
Lonsdale Quay (pronounced KEY) is across the inlet, as I mentioned the view if you were to stop off in Caol Harbour. It is an easy location to get to, and you only have to take the SeaBus. From the perspective of Lonsdale Quay, you guessed it would give you beautiful views of Coal Harbour!
Besides Lonsdale Quay is the Waterfront Park which has a little pier that gives sweet views of the Vancouver skyline with its building heights contrasting with the body of water.
13. Stanley Park Seawall
The top tourist and local's favorite spots in Vancouver are Stanley Park and the Seawall around the park, another location with the best viewpoints in Vancouver. There are many to note; for example, Hallelujah Point, where the Nine O'Clock Gun is located, will give you the perfect spot for taking pictures of Vancouver skyline and even better for night views.
Walking around the Seawall, there are more viewpoints: the Port of Vancouver Lookout, The Brock Point Lookout, Totem Poles, and Siwash Rock. Once you get close to the Lions Gate Bridge, another viewpoint along the Seawall is where people like to take photos of the bridge during the evening.
14. Prospect Point
While still in Stanley Park, there is a viewpoint called Prospect Point. Unfortunately, you cannot access the viewpoint from the Seawall. Still, you will have to either walk or drive to the location in Stanley Park.
Once you reach Prospect Point, to your right, you will have a closer view of the Lions Gate Bridge, and towards looking to the left, you will have mountain views and ocean out on the horizon. Due to its amazing waterfront views, Prospect Point is another excellent spot to watch the sunset during the summer months.
15. Cypress Lookout
If you want to go even higher than Lonsdale, you can drive to Cypress Lookout which is on the way to Cypress Mountain Hollyburn Nordic Area at the Cypress Provincial Park. From here, you will see beautiful Vancouver and beyond.
However, the weather can be unpredictable as you go higher in elevation. So, if you go during a cloudy, rainy day, you might see rain off in the distance or even Vancouver covered in a blanket of fog.
16. Grouse Mountain
Grouse Mountain is for people that want to do the work for a viewpoint taking the Grouse Grind Trail to the top of the mountain. Or if you do not want to do the work, you can ride the Skyride (like a gondola) instead up the mountainside.
The Grouse Grind is more popular in the summer; thus, winter months will most likely be closed due to weather conditions. It is a challenging hike for beginners. However, beginners can do it, but it may take you longer than you expect to complete. 
You will have 360º views of Vancouver harbor center, and Stanley Park from the top of Grouse Mountain. From there, you can also admire the Cascade Mountain Range, one of the most important mountain ranges in North America.
17. Lighthouse Park
One of my favorite non-touristy things to do in Vancouver is the Lighthouse Park Trail. Only a few tourists know about Lighthouse Park because it is tucked away in a residential area. However, taking photos during the day or sunset makes it a beautiful viewpoint.
This viewpoint in Vancouver will give you awesome views from different perspectives. Several trails lead to lookout points facing west and east Vancouver, be aware of rocky outcrops while venturing yourself there. You can take panoramic shots from Bowen Island from one side, and from the other is Vancouver Downtown afar. All the viewpoints will have beautiful blue water as part of the landscape.
18. Horseshoe Bay Lookout
One of Vancouver locals' hidden secrets is the Horseshoe Bay Lookout. You will not be able to see it from the road, and it is not in a popular spot. Instead, it is the sunset platform, where you can watch the sunset over Horseshoe Bay.
To this day, it is unknown who built the wooden platform, and since word got out about this secret spot, it has become more popular.
The platform is right off Horseshoe Bay Drive. You have to exit on Exit 2. From there, it is about a one-kilometer drive to reach the location. Parking may be tricky as there is no real parking spot, but you can grab a spot if you drive further.
The views are amazing, Bowen Island, Vancouver Island, and coastal views. 
I mentioned it is a fantastic spot for sunsets, but if you want to avoid a crowd, do not go during the weekends but on weekdays instead. 
Visiting Vancouver Viewpoints
As you can see, Vancouver has many viewpoints to get the optimal city photos during the day or night. I hope these locations inspire you to take pictures of this magnificent city while visiting Vancouver.
When planning your trip to Vancouver, Canada, I suggest adding a couple of days to your itinerary just to enjoy the views from the parks, lookout points, and downtown bridges.
Vancouver has many things to do and see, from museums to outdoor activities, food markets, shops, and more. You will be busy for days, that's for sure, and exploring the city's viewpoints will give you a unique perspective of this incredible city.
Once you are done with the city, you can venture to the mountains of Vancouver. Just keep in mind that, depending on the season, the trails might not be open. Summer is the perfect season to enjoy both mountain views and downtown beaches.
Travel Advice:
Don't forget your Travel Insurance! You don't want anything to ruin your trip, right? So don't take the risk! Reliable travel insurance can help you in case of travel issues, from accidents to health problems, travel delays, and lost luggage.
There are many insurances in the market, our picks are HeyMondo and SafetyWing. We used both and always had a good experience. Click on the insurance names to get a quote.
Best hotels in Vancouver – From luxury to budget
Now that you know how to plan your trip to Vancouver, let's talk about the places to stay in Vancouver.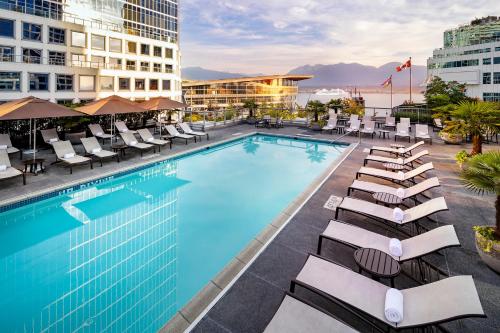 The Fairmont Waterfront offers impeccable service, stunning views, spacious rooms, and an outdoor heated pool with views of Vancouver Harbour cold water.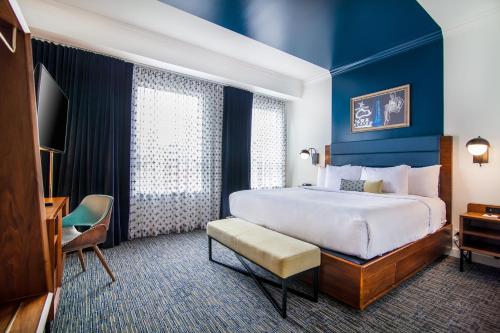 Hotel Belmont Vancouver MGallery is located in the city center, with a funky decor, offers free bikes to guests, and has a restaurant and bar on site. Its location is superb, just a 20-minute walk to the Burrard Bridge, a famous bridge in Art Deco style where you can admire the city's beautiful skyline. You can choose from a deluxe city view room to one bedroom or junior suites. 
Budget Hotel in Vancouver: YWCA Hotel Vancouver
YWCA Hotel Vancouver is a great budget accommodation in Vancouver. The hotel has comfy rooms and 3 shared kitchens, and it is located 300 meters from the Stadium-Chinatown metro station. You can easily get from the hotel to many of the places we mentioned in this guide from beach viewpoints (English Bay Beach and Sunset Beach) to Downtown views.
For those planning a trip around British Columbia, here is our guide to the best things to do in the Canadian Rockies. The snow-capped mountains and national parks are great places to visit after Vancouver.
Did you like this list of the best viewpoints in Vancouver? Pin it for later!
---
Author: Kelena
Kelena is a curious Canadian travel blogger behind the Written by Kel website. She loves exploring her backyard and traveling to other countries worldwide. Sharing her experiences and details for others to enjoy is what she loves to do through her writing.