20 Best Spots for Autumn in Japan (Fall Foliage Viewing)
11 min read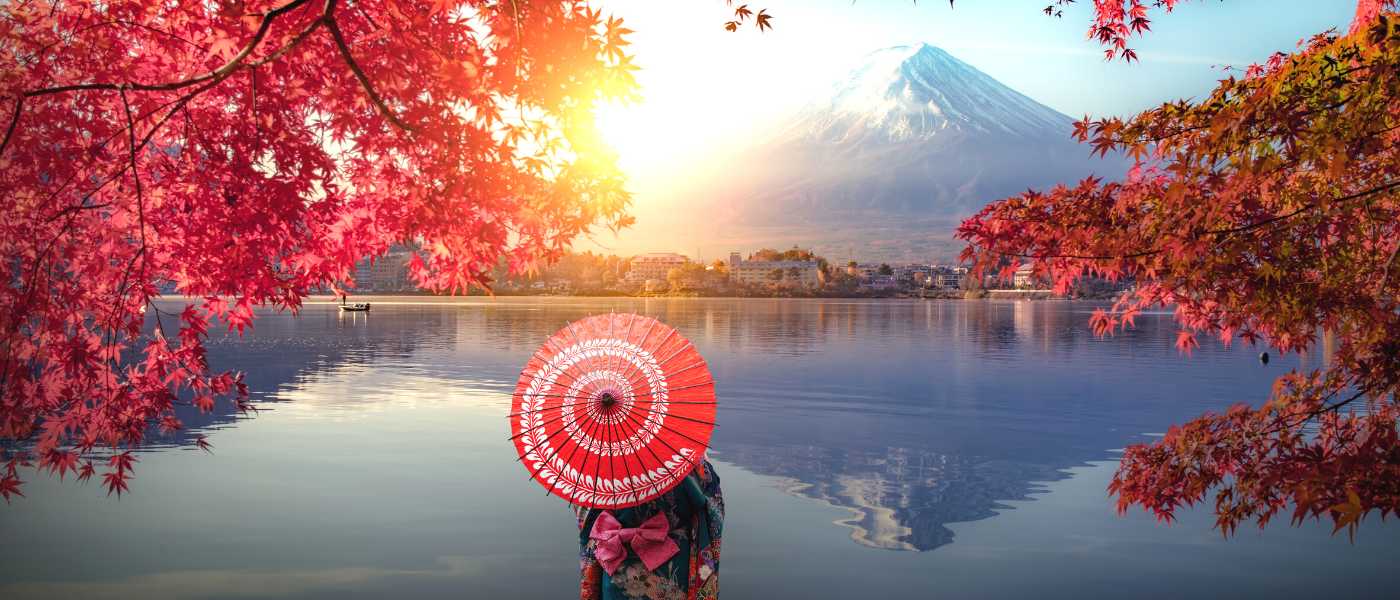 A trip to Japan has almost always been synonymous with iconic sights of sakura or cherry blossoms; after all, hanami or cherry blossom viewing is a must for travelers visiting in April. However… there's something to be said about autumn in Japan, especially with its impressive fall foliage!
First things first, take note of the period from mid-September or October until December because it is famously known as koyo season — it's the time when the weather is cooler and vibrant autumn foliage starts to reveal itself. From the deep red Japanese maple leaves to the unique kusamomiji or red autumn grass, there are tons of beautiful spots that you can check out.
Just take note that most of these places (especially temples) will be packed with people, but don't let that fact stop you from taking the trip. Besides, come nighttime, some of the locations will often illuminate the autumn trees for a breathtaking foliage view.
As of 2023, below is the foliage forecast map for Japan:
Source: Japan Meteorological Corporation
Autumn in Japan: Top Spots
» North of Tokyo
Daisetsuzan National Park
Photo by: Shutterstock
Daisetsuzan National Park, located in Hokkaido, is a vast expanse of pristine wilderness that stands as the country's largest national park at 2,267.64 square kilometers. Known for its dramatic landscapes, it features rugged mountain ranges, serene plateaus, and vibrant alpine forests, showcasing Japan's unspoiled beauty that's great for sightseeing — if not hiking!
In autumn, Daisetsuzan transforms into a mesmerizing tapestry of fiery reds, brilliant oranges, and golden yellows. Not to mention, it is a hotspot for leaf-peepers and nature enthusiasts, as the koyo, or autumn colors, start to appear earlier here than anywhere else in Japan.
TIP: Don't forget to drop by the Mikuni Pass (seen in the photo above).
Address: Sounkyo, Kamikawa, Kamikawa District
Hitachi Side Park
Photo by: Shutterstock
This spot is an emblem of autumn in Japan, particularly in the autumn months! Miharashi Hill in particular becomes a surreal dream during this season, with its undulating landscape swathed in the deep reds of Kochia plants (usually in full bloom in October).
This crimson blanket creates a stark yet mesmerizing contrast to the park's azure skies, inviting photography enthusiasts and nature lovers alike. Beyond this, the park unravels further beauty through its myriad gardens teeming with vibrant tulips and calming hues of lavender. While Hitachi Seaside Park is renowned for its vast fields of Baby Blue Eyes, many visitors are pleasantly surprised to discover that the park offers an array of other floral spectacles, each adding a unique touch to its breathtaking panorama.
Address: 605-4 Mawatari Onuma, Hitachinaka
Irohazaka Route
Photo by: Shutterstock
This scenic winding path is truly the embodiment of nature's grandeur, particularly during the autumn months! With each turn and twist, the road reveals panoramic vistas of cascading hills drenched in a spectrum of fiery reds, radiant oranges, and golden yellows.
Recognized by many as the most thrilling road to traverse in autumn, it doesn't just offer a journey from one point to another but a voyage through nature's exquisite autumnal display. It helps to note that the downslope (1st Irohazaka), which has 28 curves, includes a stop to see two waterfalls; whereas the upslope (2nd Irohazaka), which has 20 curves, has the Akechidaira Plateau at the top that will offer you spectacular views of the valley.
TIP: During autumn, the influx of visitors can extend a typical 20-minute drive through Irohazaka Route to 3 to 4 hours! For a smoother experience, consider booking a tour on a weekday.
Address: Hosoomachi, Nikko, 321-1445
Towada Lake
Photo by: Shutterstock
Nestled in the serene confines of Aomori prefecture lies Towada Lake, the grandest crater lake in mainland Japan which is a great place to go to for autumn in Japan.
As autumn sets in, the lake transforms into a canvas painted with brilliant hues of crimson, gold, and orange. Here, you can embark on a scenic cruise, letting the gentle waves guide you along shores adorned with beech and maple trees. But for those who are adventurous at heart, tread the trails along the Oirase Stream, where the vibrant fall colors play backdrop to the stream's fierce rapids and cascading waterfalls, creating a mesmerizing blend of tranquility and raw nature.
Address: 034-0301 Aomori-ken, Towada-shi
Naruko Gorge
Photo by: Shutterstock
Reaching its vibrant peak from mid-October to early November, this iconic gorge comes alive as hues of gold, amber, and crimson drape its slopes.
However, due to the impact of the 2011 earthquake, the entire gorge walking trail isn't accessible. Still, visitors can capture the gorge's essence from the rest house, offering iconic views of the bridge and surrounding beauty — plus, a partial section of the trail remains open for exploration. Once you've soaked in the vistas, unwind in nearby areas like Naruko Onsen, Higashi-Naruko, or Onikobe, each boasting unique onsen hot springs.
Address: Narukoonsen, Ōsaki, Miyagi 989-6100
» In & Around Tokyo
Hamarikyu Gardens
Photo by: Shutterstock
Hamarikyu Garden, a tranquil oasis amidst Tokyo's bustling cityscape, offers an enchanting autumnal retreat for just about anyone!
As the season progresses, the garden's foliage dons a palette of vibrant reds, oranges, and gold, making it an ideal destination for those seeking nature's resplendent display in the heart of the metropolis. But the magic doesn't end at sunset. As evening descends, the trees are bathed in a soft, ethereal glow, as illuminations cast their light upon the leaves, transforming the garden into a luminous dreamscape. This blend of natural beauty and artful lighting creates an ambiance of serene elegance, making Hamarikyu Garden a must-visit during Tokyo's autumn nights.
Nearest Metro: Hama-Rikyū (Hama-rikyu Garden) Station
Address:  1-1 Hamarikyuteien, Chuo City, Tokyo
Kajika Bridge
Photo by: Shutterstock
Kajika Bridge, gracefully arching over the waters of Ikaho Onsen, becomes a magical pathway during autumn in Japan. As you stroll across, let the vibrant canvas of russet and amber leaves envelop you in the season's embrace.
And of course, the surrounding onsen town, with its rich history, offers not just scenic beauty but also engaging activities. Delight in fruit-picking, savoring the fresh flavors of the season, or embark on a hiking trail, allowing nature to guide your journey. For those seeking a bird's-eye view of Gunma's fall splendor, the Ikaho ropeway awaits, whisking you to vantage points where the entire valley is painted in rich hues.
Address: 590 Ikahomachi Ikaho, Shibukawa, Gunma
Lake Kawaguchi of Fuji Five Lakes
Photo by: Shutterstock
As the most renowned of the Fuji Five Lakes, it offers stunning panoramic views where the snow-capped peak of Mt. Fuji complements the fiery hues of fall foliage. The annual Autumn Leaf Festival is a spectacle not to be missed; as the sun sets, the trees are illuminated, enhancing the vibrant reds, oranges, and yellows.
A highlight of the region is the Maple Corridor – a picturesque path lined with brilliantly-colored maple trees that seem to set the place ablaze with their splendor. For those seeking that picture-perfect shot, you can reach this visual treat by hopping onto the Kawaguchiko Sightseeing Bus (Red line) and alight at the Itchiku Kubota Art Museum bus stop.
The prime time to experience this vibrant display is between early to mid-November. To avoid the crowds, consider an early morning visit or even better, an overnight stay, ensuring both serene morning views and a glimpse of Mt. Fuji in its full glory.
Meiji Jingu Gaien
Hamarikyu Gardens
Nestled a stone's throw away from Meiji Shrine, Meiji Jingu Gaien, or the Outer Garden, stands as a testament to nature's grandeur in the heart of Tokyo. The avenue, adorned with towering ginkgo trees, transforms into a golden corridor during autumn, making it a top contender for the best fall foliage spots in Japan.
Now, one of the things you should NOT miss out on while there is the annual Jingu Gaien Ginkgo Festival. Celebrated since 1997, visitors not only get to immerse themselves in the mesmerizing hues of the leaves but also revel in the vibrant atmosphere brought to life by street performers and an array of food booths. (Usually happens from mid November to early December).
Nearest Metro: Sendagaya Station
Address: 1-1 Kasumigaokamachi, Shinjuku City, Tokyo, Tokyo
Mount Nasu
Photo by: Shutterstock
Mount Nasu, often referred to as Mount Chausu, stands majestically as one of the region's prominent active volcanoes. To start off your autumn in Japan experience on a great note, embark on a memorable journey on the Nasu Ropeway, leading you up to the mountain's Ninth Station – a significant point on the hiking trail.
For those considering a guided experience, there is a tour that not only offers transportation to Mt. Nasu but also treats participants to a buffet lunch and an entrancing visit to the renowned Ashikaga Flower Park — and this park dazzles visitors with its exquisite night illuminations and vibrant flower exhibits!
Rikugien Garden
Photo by: Shutterstock
To truly appreciate Rikugien's beauty, allocate an unhurried afternoon autumn in Japan to meander through its scenic trails, punctuating your journey with tranquil moments at its traditional teahouses.
Highlights include the serene ambiance near the Tsutsuji no Chaya teahouse stream, the picturesque charm around the Togetsukyo Bridge, and the panoramic vistas from the Fujishirotoge viewpoint. The garden's autumnal splendor usually reaches its best from late November to early December, so take note!
Nearest Metro: Komagome Station
Address: 6 Chome-16-3 Honkomagome, Bunkyo City, Tokyo
Shinjuku Gyoen
Hamarikyu Gardens
The park boasts 3 signature gardens, each offering a unique autumn in Japan experience,
The Japanese Garden dazzles with its fiery red maple canopy, painting a serene picture reminiscent of traditional landscapes. In contrast, the British Garden is a sea of golden splendor, thanks to its ginkgo trees that shimmer in the light. But autumn isn't just about fiery hues; the French Garden surprises with late-blooming roses, adding a touch of romance to the fall palette.
To truly capture the essence of Shinjuku Gyoen, traversing through all three gardens is a must. So plan your visit between mid-October and mid-December to bask in the garden's full autumnal glory!
Nearest Metro: Shinjuku-sanchome Station
Address: 1-1 Kasumigaokamachi, Shinjuku City, Tokyo, Tokyo
Ueno Park
Hamarikyu Gardens
Autumn in Japan's Ueno is not just a visual treat; it's an experience. Besides marveling at the fall foliage, visitors can explore the multiple museums housed within the park, including the Tokyo National Museum and the Ueno Royal Museum.
The park's serene Shinobazu Pond also offers paddle boating amidst the lotus plants, and the Ueno Zoo provides a delightful encounter with diverse wildlife. As the sun sets, consider enjoying a leisurely boat ride or simply sitting by the water, taking in the reflection of the vibrant leaves.
Nearest Metro: Yushima Station
Address: Uenokoen, Taito City, Tokyo
» South of Tokyo
Eikando Zenrinji Temple
Photo by: Shutterstock
This serene temple, with its beautiful pond garden and timeless architecture, mirrors the essence of Japan's traditional beauty against the vibrant backdrop of autumn leaves. But the magic doesn't end with sunset.
As evening descends, the temple grounds are illuminated, casting the trees, pond, and structures in an ethereal glow, turning the landscape into a dreamy world straight out of a painting. This nightly illumination is an experience in itself, as the shimmering reflections and shadows create a mystical ambiance.
Address: 15 Chome-778 Honmachi, Higashiyama Ward, Kyoto
Houkyou-in Temple
Houkyo-In, a hidden gem in the cultural heart of Kyoto, offers a serene escape, especially during the autumn months.
As the more popular spots in Kyoto buzz with tourists, Houkyo-In remains a tranquil oasis, where the changing leaves can be admired in relative solitude. The temple grounds come alive with a burst of reds, oranges, and yellows, each leaf narrating its own tale of time.
Address: Saga-shakado-monzen-minamichuin-cho 9 Kyoto Ukyo-ku, Kyoto
Korankei Valley
Photo by: Shutterstock
With the serene Tomoe River reflecting the vibrant canopy, maple trees numbering in the thousands, flank the riverbanks and mountainsides, creating a captivating backdrop to this picturesque gorge.
Visitors can also indulge in a myriad of activities here! Embark on a tranquil boat ride along the Tomoe River, immersing yourself in the surrounding beauty. Wander along well-trodden paths, crossing the iconic red Taigetsukyo Bridge, which offers one of the best panoramic views of the valley. And as evening approaches, the illuminations cast a magical glow on the trees, creating an ethereal atmosphere.
Address: Iimori Asukecho, Toyota, Aichi
Minoo Park & Falls
Photo by: Shutterstock
Tucked away from the bustling cityscape of Osaka, Minoo Park offers a serene escape and is refreshingly uncrowded.
An autumn visit reveals a canvas of vibrant hues, with crimson and gold leaves creating a mesmerizing backdrop. Not to mention, the centerpiece of this natural haven is the Minoo Falls, cascading gracefully and complementing the season's beauty. As you wander the park's trails, don't miss out on the unique culinary delight it offers: the momiji tempura. These battered and deep-fried maple leaves provide a crunchy taste of autumn, making your visit to Minoo Park a treat for both the eyes and palate!
Address: 1-18 Minookoen, Minoh, Osaka 
Nara Park
Photo by: Shutterstock
As autumn descends, this famous park is drenched in a riot of reds, oranges, and yellows, offering a picturesque backdrop to the hundreds of docile deer that roam freely. These iconic residents, revered and protected, are always eager for a biscuit and might even bow in gratitude!
Amidst this autumnal splendor, the majestic Todai-ji Temple stands tall, providing a serene setting that contrasts with the playful deers. For a postcard-perfect shot, position yourself across the shimmering Daibutsu-Ike Pond, capturing the temple, fall foliage, and perhaps a deer or two in a single frame.
Sagano Romantic Train
Photo by: Shutterstock
Embark on a picturesque 25-minute journey around the Arashiyama district aboard the Sagano Romantic Train for the best autumn in Japan experience!
As you traverse landscapes awash in vibrant autumn hues, it's clear why this route is a favorite, particularly among romantics. Experience the district's full splendor by booking a tour now. Besides, beyond the train ride, you can enjoy ample time to wander the iconic Togetsu Bridge and the mesmerizing Arashiyama bamboo forest. You can even delight in the included Hozugawakudari River Boat Ride, stretching from Kameoka to Arashiyama.
Address: Near JR Saga-Arashiyama Station
Tofukuji Temple
Photo by: Shutterstock
Established in the early Heian period, this temple has long been a revered place of worship and reflection. With sprawling grounds and iconic structures, it showcases the best of Japanese temple architecture.
Anyhow, autumn in Japan at Tofukuji Temple is nothing short of magical. Visitors are drawn to the Tsutenkyo Bridge for panoramic views over a valley of maples, while the Zen-inspired gardens provide tranquil spots for reflection.
Address: 15 Chome-778 Honmachi, Higashiyama Ward, Kyoto
» BONUS: Dress Up in a Kimono during Autumn in Japan
Elevate your autumn vacation and photography by draping yourself in a traditional yukata or kimono! Rental shops all over Japan also cater to males and even the younger ones — so yes, you can easily hold a photo shoot with your loved ones.
For the best experience, check out the range of rental shops all over the country via Klook: [click]. I assure you, your Instagram feed is about to become the envy of all!
• • •
Overall
As the vibrant hues of autumn in Japan paint the landscape, each of these 20 spots surely offers a unique tapestry of reds, oranges, and gold!
So whether you're a photographer, traveler, or simply someone who appreciates nature's artistry, these locations promise unforgettable memories. Go grab your camera, a warm drink, and let the serene beauty of Japan's autumn foliage captivate your heart!