Cruise Wear for Men Guide and Packing Tips
12 min read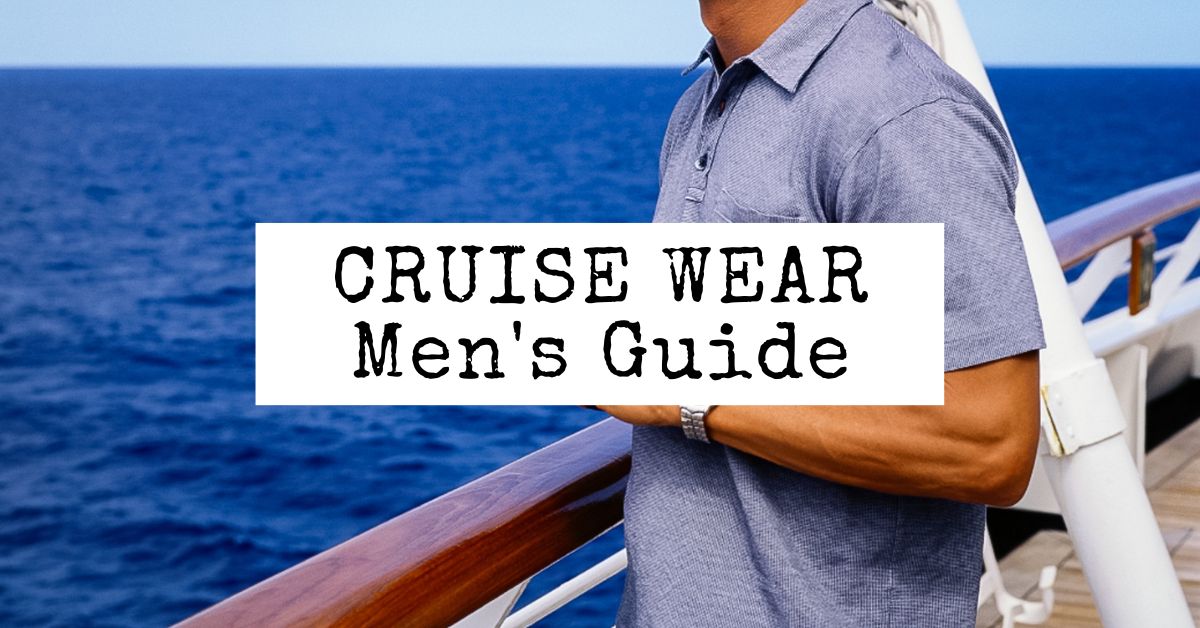 Starting to plan and pack cruise wear for men for a cruise vacation? Wondering what cruise outfits you should bring with you? When it comes to cruise clothes for men, our biggest cruise tip is to strive to pack the basics and be comfortable.
Every time we go on a cruise or any vacation, figuring out together what my husband will wear and packing is more straightforward than when I'm trying to pack my cruise attire.
I say the same for cruise wear for women, but as women, we have way more options on what we will wear. You know, do we bring dresses and heels?
Packing cruise wear for men comes down to being comfortable, practical, and stylish.
With cruise clothes for men, you can mix and match to create multiple outfits from the basics, like tee shirts, polo shirts, jeans, pants, and shorts. You can probably get away with bringing one pair of nice comfortable shoes and flip-flops – especially if you're on a Freestyle Cruising on NCL.
Of course, when planning what to wear, you want to consider the various activities and events on the cruise and the dress codes for different areas of the ship. As well as the climate and weather of the port destinations.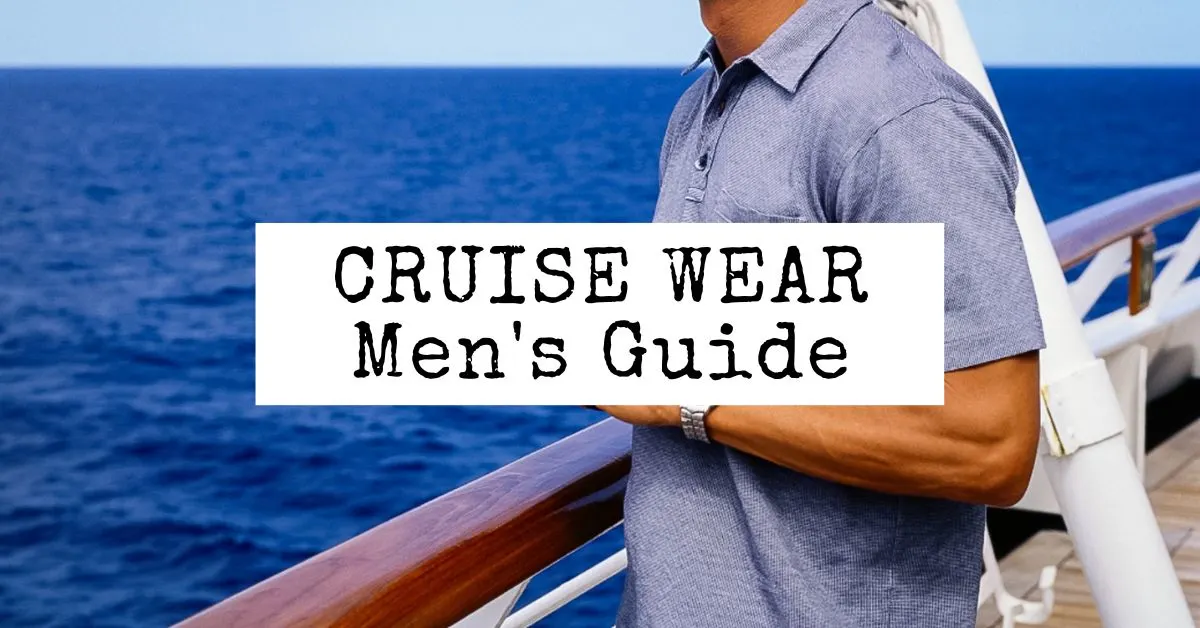 This post may contain affiliate links, which means we'll receive a commission if you purchase through our links at no extra cost to you. Please read full disclosure for more information. We appreciate your support!
In this article, we'll discuss cruise wear for men, including what to wear during daytime and evening activities, formal nights, and tips for packing efficiently.
By the end of this guide, you'll better understand what to add to your cruise packing list and how to dress for your next cruise adventure. Hopefully, you get some ideas on men's cruise outfits.
Cruise Wear for Men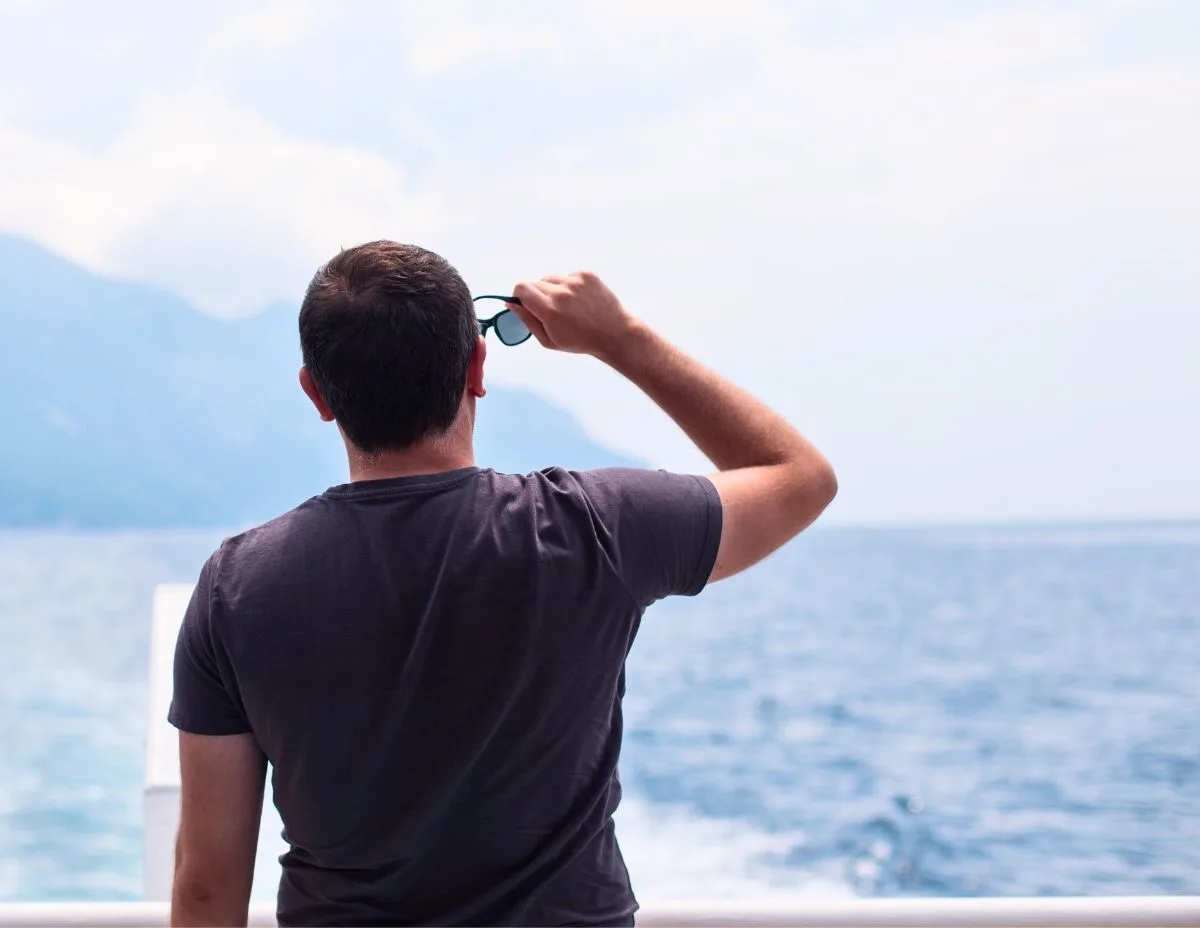 One of my favorite things to do is shop for clothes for my husband. I find it more fun than shopping for myself and also easier. I love men's clothes. I like to see him dress in different colors or cruise outfits he might not have thought of to put together himself. He also appreciates it with his busy schedule.
He also loves shopping for cruise clothes right before our cruise. Always adding a new item or two to his wardrobe.
Most recently, we've been super impressed with using StitchFix to style him, whether that's for work, special occasions, or trips we take. They've created this fabulous capsule wardrobe so he can mix and match pieces and dress without overthinking too much. All the while feeling confident and comfortable.
I sometimes tease him and call him a StitchFix model. Ha.
Even though we use this service sometimes, we still purchase many pieces to fill the missing items that will round out his cruise attire.
Dressing for work isn't the same as dressing for a cruise.
Cruise Clothes for Men: Daytime Activities
For casual daytime activities, such as lounging by the pool or exploring the ship, men can opt for comfortable and breathable clothing such as shorts, t-shirts or polo shirts, and sandals or sneakers.
Athletic wear like shorts or joggers and a moisture-wicking t-shirt would be appropriate for more active activities like rock climbing or zip lining.
If you plan on visiting local attractions at the port, it's best to dress comfortably yet respectfully. This depends on the destination and your plan at the port.
In the Caribbean, you'll reach for swimwear and shorts, while on a cruise in the Mediterranean, you'll want to dress in a pair of lightweight pants or jeans paired with a polo shirt. 
When it's hot, you'll want to wear lighter colors as it will keep you cooler under the sun.
Always check the dress code for any restaurants or lounges you plan to visit during the day. Because if you're visiting churches while in Italy, you will want to cover up. Shorts or tank tops are not allowed – knees and shoulders must be covered. 
T-Shirts
T-shirts are the ultimate cruise wear staple for men. They're versatile, comfortable, and perfect for any occasion. Be sure to pack 4-5 T-shirts in your suitcase, ranging from basic plain ones to ones with fun graphic designs. Just remember to avoid anything with an offensive design or language.
T-shirts can be worn with almost anything, from swimwear and shorts to jeans, khakis, and linen pants. And if you're looking to dress up for dinner, a nice quality t-shirt can be paired with a button-down shirt, blazer, or jacket for a stylish and sophisticated look.
Don't forget to bring 1-2 plain dark-colored T-shirts, as they're always a great option to have on hand. Dark colors always elevate an outfit if
My brother buys multi-pack cotton shirts to wear with everything to keep things easy for him when he travels. It works for him.
Fun Cruise T-Shirts for Men
Shorts
If you're heading to a hot and sunny destination, shorts are a must-have in your cruise clothes for men list. They're comfortable, practical, and perfect for keeping cool in the heat.
When choosing the right pair of shorts, it's important to consider the length and fit. Cargo or quick-drying shorts are great options for a more casual look and a day out in port. A pair of linen or golf shorts can be dressed for a dressier look.
Pair your shorts with a comfortable t-shirt or polo shirt for a laid-back daytime look, or dress them up with a button-down shirt for a chic look.
Hubby loves his cargo shorts cause they are comfortable and casual, and he can utilize the pockets to carry small items. He also loves his quick-drying shorts, which can easily double as swimwear if the occasion arrives – you never know!
Swimwear
Sea days are spent by the cruise pool, on port days at the beach, or enjoying fun water activities.
But even if you're packing for Alaska, you want to add swimwear to your luggage. You never know when the opportunity to jump in a hot tub or indoor pool will arise.
When spending the day by the pool deck, hubby will wear swim shorts and a t-shirt. When we beach-hopped in the Caribbean and plan to spend the day swimming and sunbathing, he wears his swim shorts and his SPF swim tee.
This Amazon Essentials Swim Tee is a favorite here, and we have them in multiple colors. They have lasted for years.
It's important to pack comfortable footwear as part of your cruise wardrobe. While on a cruise, you can relax as much as you want, but you will walk a lot around a cruise ship.
Wearing flip-flops is an option if you plan to spend time at the pool or beach when in port. As long as you know, walk in them. Crocs and Keens are also other popular options amongst cruisers.
Depending on the sneakers, you may get away with wearing them for dinner in the main dining room on non-formal nights.
Aside from his Brooks running sneakers, hubby swears by the Adidas Cloudfoam sneakers above as the most comfortable sneakers ever. I had to go ahead and purchase my own pair, and now I'm obsessed.
Hats
Bring a hat that will help keep your head over and shield your face from the sun. You may even want something that helps cover your neck, as you can get sunburnt there, too (this happened once, and it was not pretty).
Always remember to slather on sunscreen, too.
Men's Cruise Outfits: Evening Activities
When the evening approaches, it's nice to shower and get dressed up a little. Even if it's freestyle, we still look to be comfortable and wear something more than just a swimsuit.
As far as men's cruise outfits, hubby has sworn for decades that you can never go wrong with jeans and a polo shirt. It has a collar, yet you don't feel overly dressed up or stuffy. It's practical and versatile enough to be worn for various occasions on the cruise ship, even in the daytime and out in port. It's a style that never goes out.
On casual evenings, when it's not a formal night, you can get away with a nice pair of jeans or pants, a top, and dressy sneakers or shoes.
Jeans and Pants
A pair of breathable cotton jeans and wrinkle-resistant chinos can go a long way for evenings on a cruise ship. The jeans you can wear more than once. The chinos can be dressed up or down. You add a button-down and blazer, and you're ready for a chic night.
Another pair of pants that hubby loves is his travel pants because they are super comfy and can be worn for many occasions. It's become part of the cruise attire that he packs.
Polos & Button-Down Shirts
A polo or button-down shirt is just another step above a t-shirt, but it elevates your outfit tenfold.
They come in all different fits, colors, and fabrics. We always suggest breathable fabrics that are soft and comfortable so you're not itchy and sweaty. Just because you choose a collared shirt doesn't mean you have to be twisting and turning, ready to take it off.
A linen button-down is a nice piece to add to your men's cruise wear, as it's light to wear, and you don't have to worry about it being overly wrinkled.
Since you're on a cruise vacation, you can bring 1-2 Hawaiian shirts that scream vacation time.
Outerwear
You may want to bring a hoodie or fleece, a light jacket, or a rain jacket to be safe. It all depends on where you're cruising, but even on a Caribbean cruise or the Mexican Riviera, it can get chilly at night inside the cruise ship, and outside is windy as the ship is sailing. You also never know when it's going to rain anywhere.
Chic Night Attire
What do men wear on cruises for formal nights?
The days of formal nights when men used to dress up in tuxedos no longer exist, at least not on mainstream cruise lines. The guidelines have been relaxed, and it's now more of a night where they ask that you dress up – a chic night. You just have to be slightly more polished than usual.
Here are a few options for a chic night:
When we sailed Celebrity Equinox, it was the first chic night we had in a long time since we had been sailing with Norwegian. Hubby brought his suit and wore it twice with different ties during our ten-day cruise.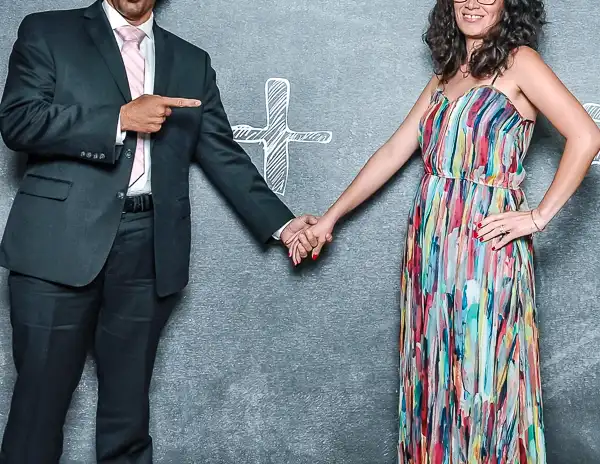 On our last cruise on Celebrity Solstice, he brought a new blazer in the closet, and it was just easier to pack since he always brings a nice pair of pants and a button-down anyways.
Chic night # 1, he wore his chinos with a button down and blazer. Chic night #2, he swapped the button-down with a polo shirt.
Dress Shoes
If you plan to participate in evening chic or elegant night, bring a pair of dress shoes to accompany your men's cruise outfits for the night.
We can understand the frustration. Although hubby loves to dress up, adding another pair of shoes to the luggage that you'll only wear 1-2 times is annoying. But we enjoy going to the main dining and specialty restaurants.
If we are cruising with NCL, we don't worry about the shoes or what to wear on evening chic.
Men's Cruise Outfits: Packing Tips
Pack versatile pieces in complementary colors that can be mixed and matched to create different outfits. You want to create a capsule wardrobe.

This can help you save space in your luggage and ensure that you have enough clothing options without overpacking.

Learn to roll or fold your clothes to save space.
Check the weather forecast for your itinerary and pack accordingly. Bring lightweight clothing for warmer climates and layering pieces for cooler temperatures.
Bring comfortable shoes for walking and exploring in port and dress shoes for formal dining nights.
Don't forget swimwear (we have done this): Pack swim trunks or board shorts for pool and beach days.
Pack accessories: belt, ties, watch…etc.
Pack clothing that meets the dress code for each venue on board, including casual, smart casual, and formal attire.
Bring laundry detergent sheets to wash some items yourself in the cabin and consider your other options: Do they have laundry on the ship? (Princess, Carnival, and Disney cruise ships sometimes do) Are there mid-week specials for laundry? Sometimes the cruise has a special promotion.
Don't forget to add wrinkle-release spray to your packing list. It will come in handy.
Read more: What Are Must-Haves to Pack for a Cruise
Cruise Attire for Men: FAQs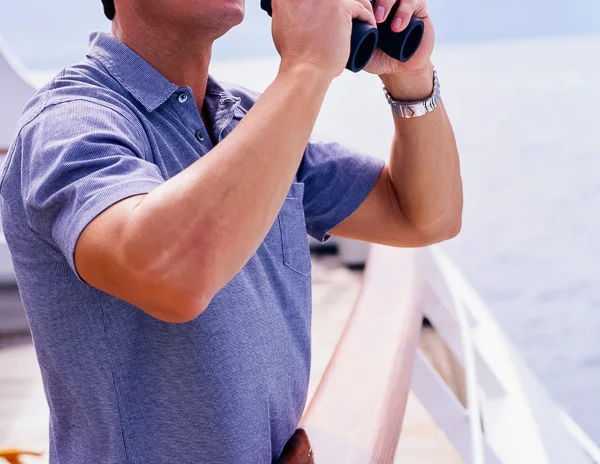 How much clothing should I pack for a cruise?
The amount of clothing you should pack for a cruise depends on the length of your trip and your personal preferences. As a general rule, you should plan to bring enough clothing to last for the duration of your cruise and include a few extra items in case of unexpected events or changes in weather. Of course, you should also consider whether you can do laundry.
Do you have to dress up every night on a cruise?
No, you don't have to dress up every night on a cruise. Most cruise lines have a dress code that varies depending on the time of day and the activities planned. During the day, casual attire, including shorts, t-shirts, and swimsuits, is usually acceptable. In the evening, it's more of a casual evening, and some cruise lines have "smart casual" dress codes, which require you to leave the swim trunks in your cabin and wear a nice pair of pants.
Do you bring a suit on a cruise?
It depends on the cruise line and the occasion. Most mainstream cruise lines have relaxed their formal nights, where a suit or tuxedo is no longer required. You can get away with chinos, a button-down shirt, and dress shoes. However, you should always read the cruise line's dress codes before sailing, so you can pack appropriately.
What do men wear on a cruise for dinner?
If you're heading to the buffet for dinner, you stay in your casual daytime cruise attire of shorts and a t-shirt. If you plan to have dinner in the main dining or specialty restaurant, you'll want to change into long pants and a nice shirt, depending on the dress code policy.
Are jeans ok on a cruise?
YES. You can wear jeans on a cruise. We suggest leaning towards darker-colored jeans with no rips or holes in them.
Can I wear shorts to dinner on a cruise?
Shorts for men are usually not allowed in the main dining or specialty restaurants. If you do, don't be surprised if you're turned away and asked to change. There are times that they do make exceptions, like the first or last day of the cruise.
Is it okay if men wear Speedo on a cruise ship pool?
Whether or not it is okay for men to wear Speedos on a cruise ship pool depends on the specific cruise line's dress code and policies. Some cruise lines may restrict swimwear that is considered too revealing or inappropriate, while others may have more relaxed policies.
If the cruise line allows Speedos, keep other passengers in mind, including if you will be around many children. It's important to respect other passengers and their comfort levels.
Read more: What Not to Wear on a Cruise
Share the tips & love on Pinterest: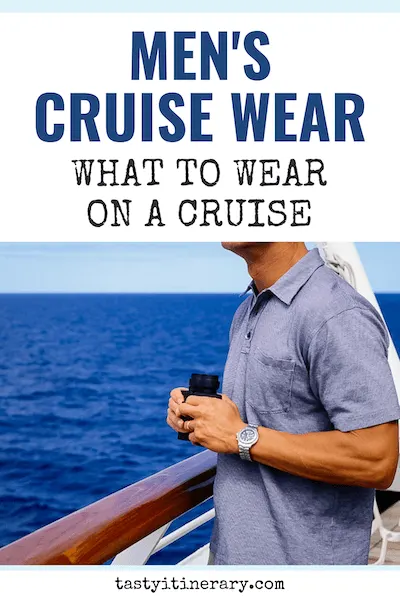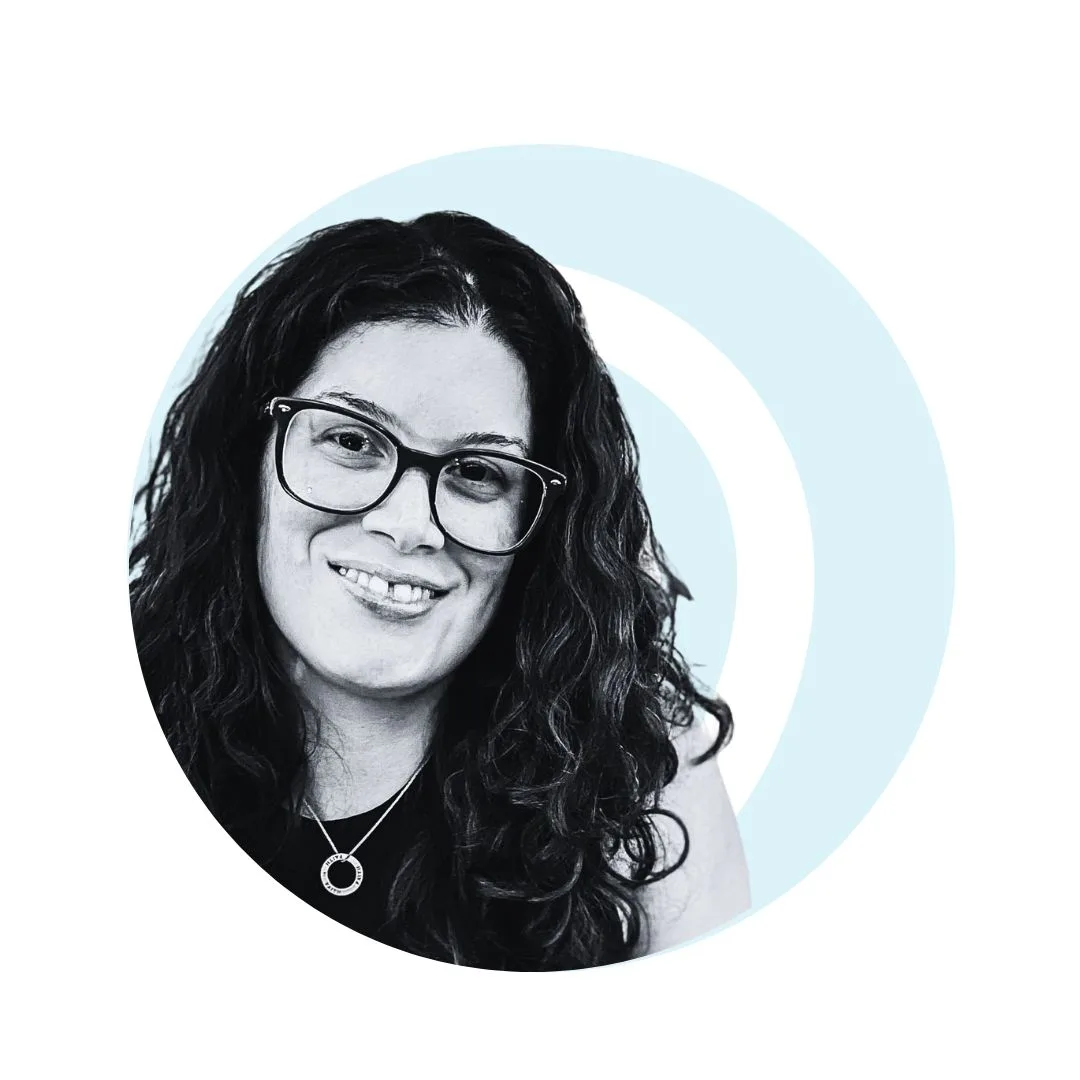 Meet Kathy – a food, travel, and cruise writer based in Los Angeles/Pasadena. With over 20 years of experience planning trips and logistics at her full-time job and for herself, she's become a pro at crafting unforgettable travel itineraries. She's always looking for delicious, fun cruise itineraries and travel destinations and is slightly obsessed with Italy. Her passion and curiosity for travel started in childhood on her yearly and sometimes bi-yearly trips to PR. She firmly believes that life is short and we must make the most of it – so let's explore the world and make some incredible memories.