When it comes to the weather, London has quite a controversial reputation. While it's rainy and cloudy most of the time, visitors can be happily surprised by hours of sunshine after a heavy storm.
With its varying weather conditions, it can be challenging to decide the best time to visit London. Winters here are cold, with higher chances of rain, while spring and summer offer comfortable temperatures for exploring the city's parks and outdoor attractions. However, peak tourist season during these months can also mean higher prices for hotels and flights.
In this comprehensive guide, we'll take a closer look at the best times to visit London based on events, temperature, and prices. Read on and get ready to plan your trip to one of the most exciting cities in the world!
Find Places To Stay In London
The London Weather
London has a temperate oceanic climate, which means that the city experiences cool winters, warm summers, and precipitation fairly evenly distributed throughout the year.
While the city doesn't typically experience extreme weather conditions, it can still have its fair share of snowfall and thunderstorms.
Temperatures in London tend to stay within a moderate range, rarely dipping below -1ºC or exceeding 28ºC.
The warm season lasts for around 2.8 months, with an average daily high temperature above 20ºC, while the cool season lasts for about 4.0 months, with an average daily high temperature below 11ºC.
Rain is a common occurrence in London, with the month of October receiving the most rainfall, while March tends to be the driest month.
It's worth noting that temperatures are generally higher toward central London, and the air is drier there as well.
So, while London experiences four distinct seasons, it's common to see light showers and cloudy skies throughout the year, and weather conditions can change quite a bit over the course of a single day.
The Seasons in London
Spring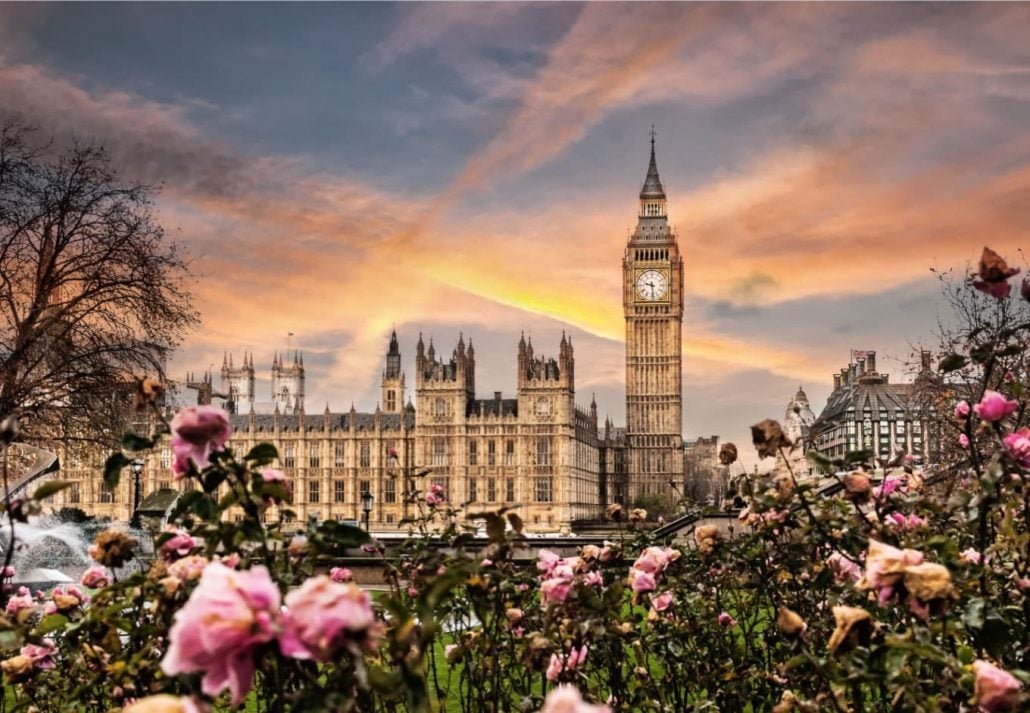 Spring in London, which lasts from March to June, is a time of moderate temperatures that progressively warm as summer approaches. 
In March, temperatures range from highs of 12°C to lows of 3°C. By April, temperatures reach 13°C, and in May, they can reach up to 17°C, with low temperatures hovering around 8°C. 
June is the warmest month of spring, with temperatures reaching a pleasant 21°C. However, it's still best to travel with an umbrella, as spring is one of the rainiest months in London. Rainfall tends to decrease from May onwards. 
Spring temperatures still change unexpectedly, so when packing for a trip to London in the spring, it's best to bring a warm jacket and some layers so that you can easily adapt to unpredictable weather conditions. 
Nevertheless, with longer daylight hours and milder temperatures, spring is a great time to explore the city's many parks and attractions.
March average temperature: 10ºC
April average temperature: 13ºC
May average temperature: 17ºC
June average temperature: 20ºC
Summer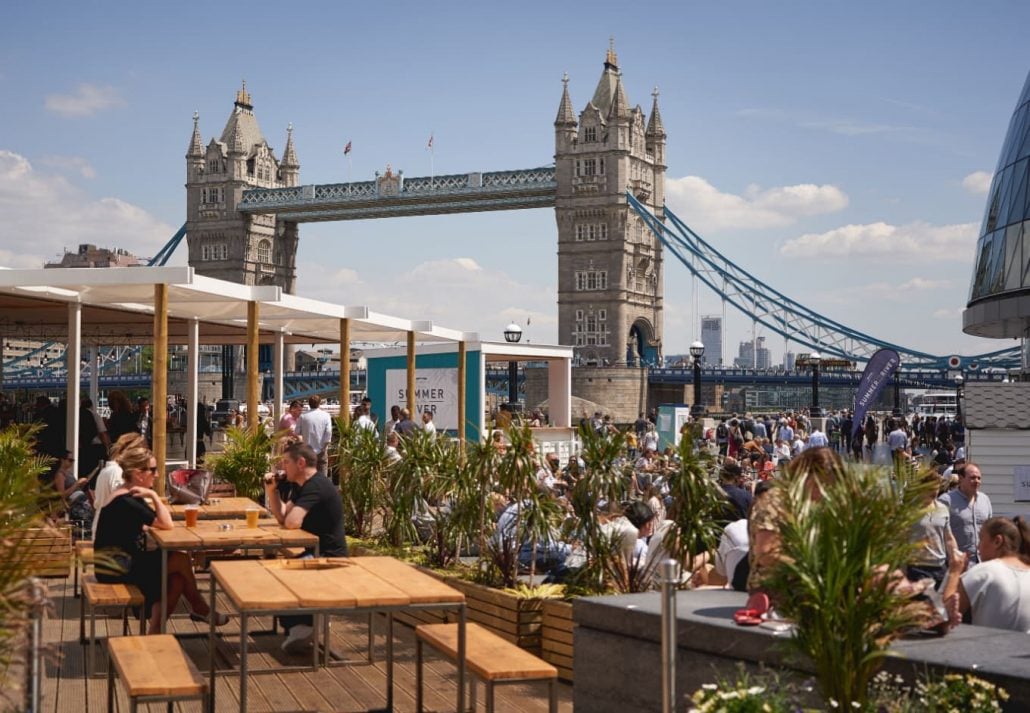 Summer, which lasts from June to September, is the hottest season of the year in London. During the summer months, temperatures are warm, days are long, and the skies are clearer.
The summertime is the driest season in London, but do expect occasional showers. We recommend packing an umbrella/raincoat, as well as a light jacket or sweater for chilly summer evenings.
In early summer, expect average temperatures at 20ºC. The hottest month of the year is normally July when temperatures can reach up to pleasant 23ºC. The August average temperature usually stays at a comfortable 22ºC; in September, as fall approaches, temperatures start to drop slightly.
June average temperature: 20ºC
July average temperature: 23ºC
August average temperature: 22ºC
September average temperature: 19ºC
Fall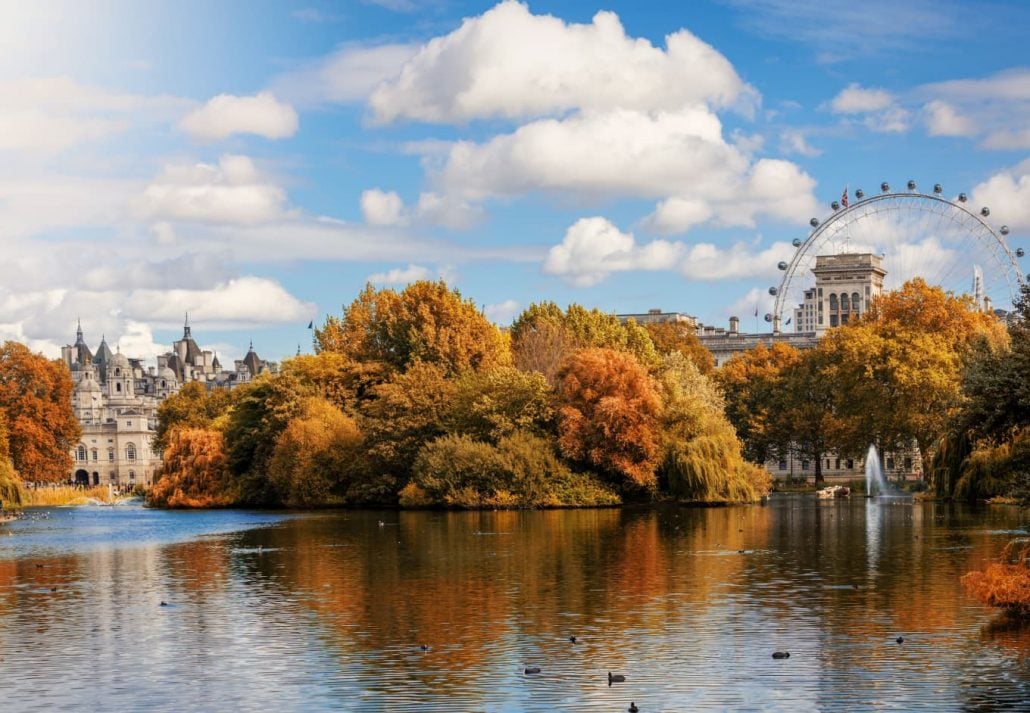 The warm summer temperatures begin to drop sharply in October. During the fall in London, expect highs ranging from 19°C down to 12°C, with lows around 10°C.
In October, the thermometer shows 15 °C at day and 8 °C at night. November sees temperatures ranging between 15º and 4ºC, and in December, the temperatures drop down to 8ºC.
The rainfall also increases during the autumn, so be sure to pack an umbrella, rain jacket, and appropriate shoes.
September average temperature: 19ºC
October average temperature: 15ºC
November average temperature: 10°C
Winter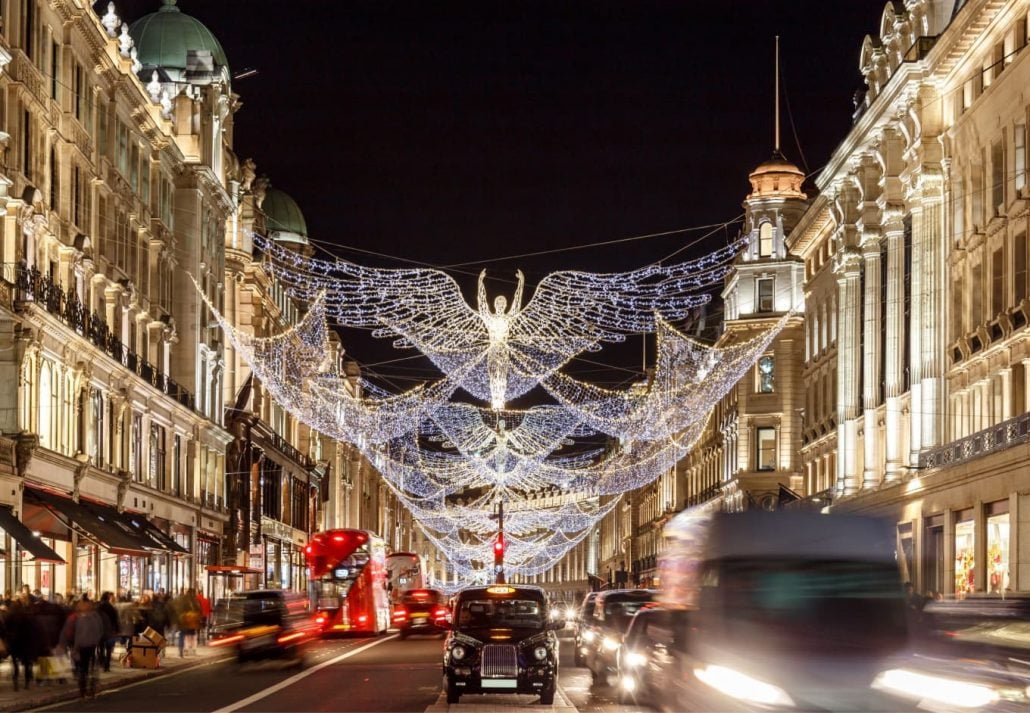 Winter in London is chilly and damp, with temperatures hovering around 5 to 7°C during the day and dropping below 0°C at night.
Snow falls on average on about three days in December, January, and February, the coldest months of the year.
The central part of the city tends to be a bit warmer due to the smog and higher density of the population.
Despite the cold weather, there are a few days during winter when temperatures can rise up to 12-13°C. H
However, it is important to note that winter days are the shortest days of the year, with only a few hours of daylight, usually until around 4:30 pm.
A raincoat is essential for the rainy winter days in London, and a warm coat or jacket, comfortable shoes, gloves, scarf, and a sweater can all help keep you warm during your visit.
December average temperature: 8°C
January average temperature: 7ºC
February average temperature: 8ºC
The Best Time For Visit London
For Pleasant Weather
When it comes to the finest weather conditions, the best time to visit London is spring throughout the summer. From May until September, the city benefits from warm weather, less rainfall, and longer days, which creates the most perfect conditions for sightseeing.
During this time of the year, the temperatures are comfortably warm, making it a joy to explore outdoor attractions like Hyde Park, London Zoo, and the Kew Gardens.
Just beware that the summer high season brings crowds of tourists to the city. During this time of year (usually from July through September), the British school holidays happen, which means that the city is likely to be congested.
For the Lowest Prices & Fewer Crowds
Since spring and summer are the most popular times to visit New York City, as the weather is at its finest, you'll find that these months are typically high season. This means higher rates for flights and accommodations, as well as thicker crowds of tourists.
With that being said, you will generally find most off-season deals during the wintertime. But beware to avoid visiting London during the busy holiday season, as Christmas and New Year's are some of the most popular times to visit London.
So, if you don't mind the colder weather, visit London during the winter months, and you'll save money on accommodation and flights.
The shoulder seasons (early spring and fall) are also cheaper if compared to the summer months. These times of year are great for visiting popular tourist attractions like Big Ben, the London Eye, Westminster, St. Paul's Cathedral, and the Tower of London, which get busy during peak months.
For Bucket-List Activities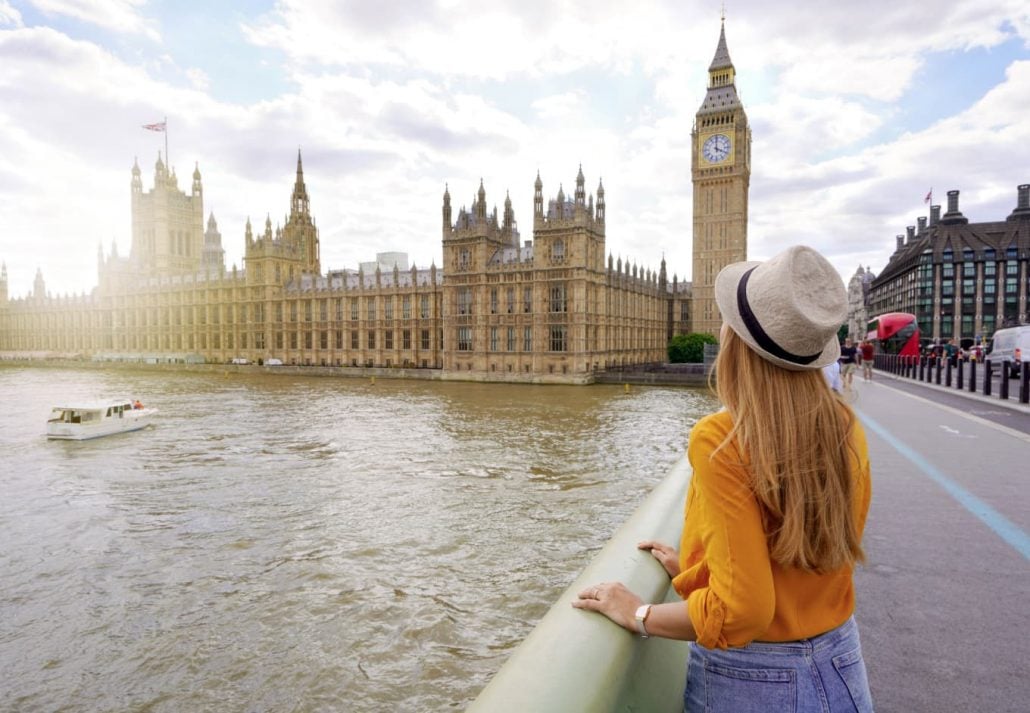 London has incredible activities and experiences on offer all year round. So it doesn't matter in which season you visit the city, you'll always have an array of amazing things to do.
Spring and summer, for instance, are the best times to explore London's outdoor attractions. Thanks to their pleasant temperatures and bright sunny skies, these seasons provide plenty of opportunities to visit London's royal parks and big-name landmarks such as the Tower Bridge, Big Ben, and the Portobello Road Market.
The warm temperatures provided by the spring and summer months also create top conditions for exploring London and its colorful neighborhoods on foot.
If you visit London during the spring, you'll also get the chance to see the cherry blossoms in full bloom in the city's gardens and parks (mid to late April is the best time for sakura viewing in London).
Greenwich Park, St Paul's Cathedral, and Kew Gardens are some of the top places to see the cherry blossom trees as well as other spring flowers and plants in London.
Visiting London during the fall? Then, prepare to be rewarded with gorgeous views of the city covered in beautiful fall foliage.
Winter is also a prime time for a trip to London. In December, the city comes alive with twinkling holiday lights and dreamy decorations. Some of the tried and true activities in London during the winter holidays include visiting the Winter Wonderland Christmas market in Hyde Park, going ice skating in the Somerset House ice rink, and seeing the Christmas lights of Oxford Street.
For Amazing Events & Festivities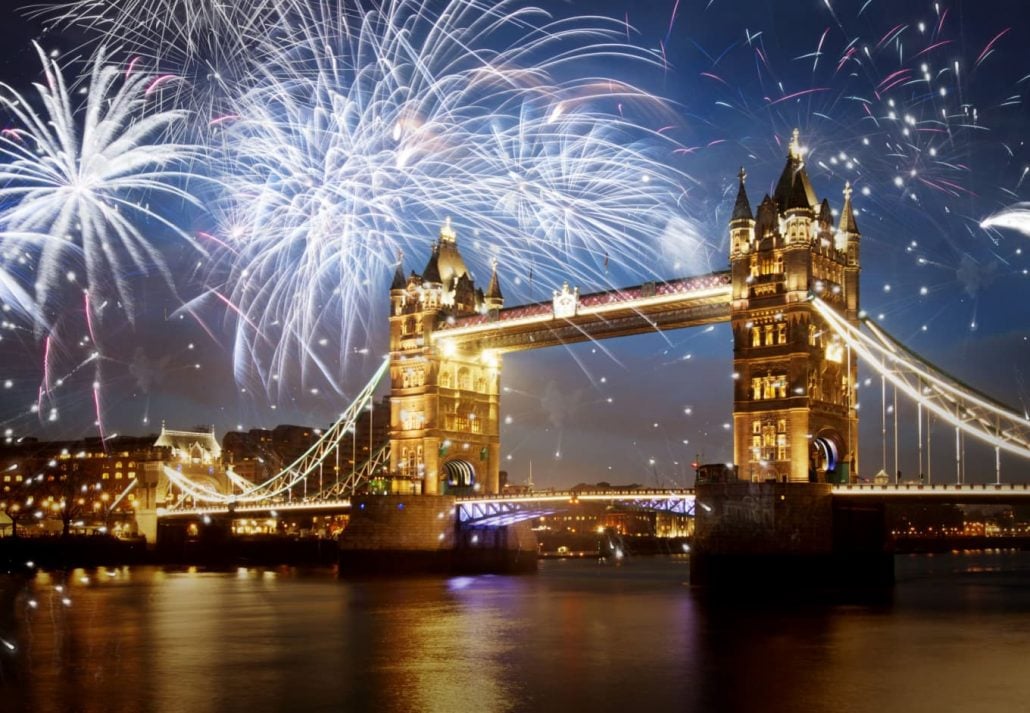 London has a variety of bustling events citywide running throughout the year. So, it really doesn't matter when you visit the British capital — you'll certainly find incredible festivities to keep you on your toes.
Here's a list of all the top events happening in London throughout the year.
Spring: London Marathon (April), Chelsea Flower Show (May), London Fashion Week (June), Queen's Birthday Parade (Jun), London Restaurant Festival (Jun)
Summer: EFG London Jazz Festival (June/July), Notting Hill Carnival (Aug), Totally Thames Festival (Sep)
Fall: London Design Festival (Sep), Regent Street Motor Show (Nov), Bonfire Night (Nov),
Winter: Christmas at Kew (November-January), Hyde Park Winter Wonderland (November-January), St Patrick's Day Festival and Parade (March)
FAQ
What is the best time to visit London?
Spring, summer, and early fall are the best times to visit London. The alluring Christmas season is also a great time for a trip to London.
What is the cheapest month to go to London?
London is one of the world's most sought-after travel destinations, so it can be expensive year-round. However, most tourists find that the cheapest time to visit London is during the winter, from November to February (with exception of the holiday season). Another budget-friendly time to visit London is during the shoulder seasons of Mid-September through November.
When is the peak tourist season in London?
London is a year-round destination, but the city is particularly busy in late spring, summer, and the winter holidays, which is the peak season.
What is London's hottest month?
July is the hottest month in London, with an average temperature of 20°C.
Which season offers the best weather in London?
With comfortable temperatures ranging from 18º to 23ºC and plenty of sunny days, spring and summer offer the best weather in London.
What is the sunniest month in London?
On average, July is the sunniest month, with 219 hours of sunshine.
What are the worst winter months in London?
The coldest month in London is usually January, when temperatures can drop to around 1º C.
What can I do in London when it's raining?
When it is raining in London, visit indoor attractions like the London SEA LIFE Aquarium, Hampton Court Palace, Peter Harrison Planetarium, Westminster Abbey, St. Paul's Cathedral, and the Royal Abert Hall. You can also take shelter from the rain by visiting top-notch London museums like the Natural History Museum and the National Gallery.
Browse. Book. Stay.  
CuddlyNest provides all accommodations to all travelers at the best price. Find unlimited travel inspiration on our blog and social media channels.
You May Also Like:
How To Get To Stonehenge From London: 4 Easy Ways
Train From London To Paris: Everything You Need To Know
11 Fun Facts About The London Eye
How To Travel From London to Edinburgh, Scotland: 4 Easy Ways
Best Destinations for Family-Friendly Holidays in the UK
Top Attractions in London
A Guide To Visiting The Tower Of London
9 Amazing Free Things to Do in London, England
17 Amazing Things to Do in London with Kids
The 15 Best Pubs in London, England
21 Amazing Hidden Gems in London, England
The 9 Best London Neighborhoods To Stay In