How to Save Money On a Cruise: 28+ Proven Money-Saving Tips
21 min read
How to save money on a cruise? How to save money while on a cruise?
Cruising can be a cost-effective way to travel, but it can also become expensive once we start upgrading stateroom cabins and adding additional perks we probably don't need.
While we all have different preferences and desires when planning a cruise, we can all agree that learning a few tips on how to save money on a cruise can be incredibly helpful. We can enjoy a fantastic cruise experience without breaking the bank by implementing some of these tips.
There are many ways to save money on a cruise without sacrificing the quality of your vacation. Sometimes, it can be as simple as keeping an eye on the rates and the deals for the cruise you have already booked and calling in to save hundreds of dollars when the rate drops.
We recently saved $900 on a Celebrity cruise we booked months ago. I saw the promotion Celebrity sent out, so I did a mock sailing on their site to check the rate. It looked like it had dropped significantly, so I called in. Sure enough, I had a new balance emailed to me in minutes.
Of course, a good travel agent should also be able to do this for you.
That's $900 I can either put into savings or use for experiences like shore excursions. 
There are other ways to save money on a cruise, like avoiding getting sucked in on purchasing unnecessary items or services onboard. For example, the unlimited drink package may be a waste on you if you don't drink. Or, instead of booking expensive shore excursions through the cruise line, you can often find cheaper options by researching and booking independently.
Saving money on a cruise will look different from cruiser to cruiser. Some cruisers will only book shore excursions with the cruise line because of the benefits provided, so they are willing to spend that extra money. And others, those extra perks like specialty dining are worth it to them.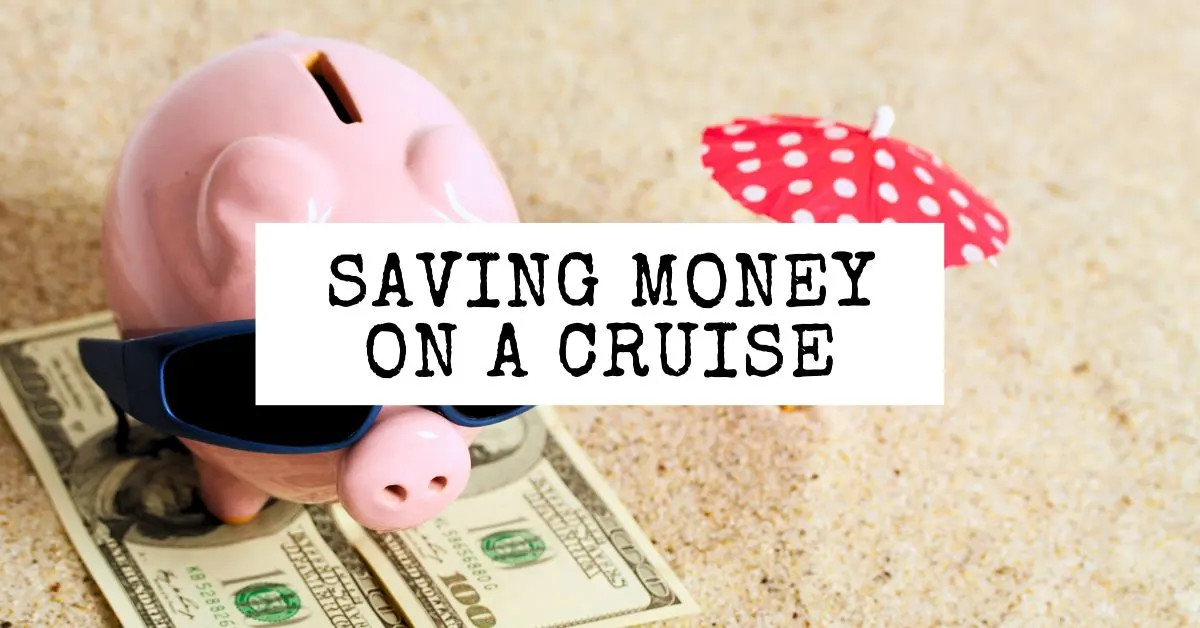 This post may contain affiliate links, which means we'll receive a commission if you purchase through our links at no extra cost to you. Please read full disclosure for more information. We appreciate your support!
Ultimately, it all comes down to being mindful of your spending and avoiding unnecessary expenses, especially those the cruise lines may try to sell you. It's incredibly easy to get carried away and start charging things to your cruise cabin card, which can quickly add up and leave you with a hefty bill at the end of your trip.
So, what are some cruise hacks to save money?
In this blog post, we dive into how to save money on a cruise, some cruise money-saving tips, and cruise hacks. So you can book a cruise on a budget, get around unnecessary expenses, and see where you can save on your future cruises.
Cruise vacations are getting more expensive, and while we truly believe that travel is an investment, there are still ways to save money on a cruise.
How to Save Money on a Cruise
1. Book a Cruise Early
One of the best ways to save money on a cruise is to book early or when cruise itineraries are first released. This is because cruising rates are subject to cost and demand, and the earlier you book, the better chance you have of securing a lower rate.
This is especially true for high-demand cruise lines like Disney Cruise Line or popular high-season itineraries like Alaska or Antarctica. By booking early, you can take advantage of early-bird discounts and secure your spot on the cruise at a lower rate, leaving you with more money to spend on other fun activities during your trip.
And when you book early, you have set dates and a plan that allows you to start looking for cheap flights, hotels and getting first dibs on popular excursions. Every dollar saved adds up. 
Another upside to booking a cruise early is that you have time to pay off the balance of your cruise after the deposit. Most mainstream cruise lines expect the final payment to be made 4-6 months before the cruise date.
2. Booking a Last-Minute Cruise
If you like to be spontaneous, booking a last-minute cruise can be a great way to save money. After the final payment due dates for the cruise have passed, cruise lines often have leftover cabins that they need to fill, and they may offer significant discounts to encourage last-minute bookings.
These deals can be a great way to save money on a cruise, especially if you're flexible with your travel dates and don't mind waiting until the last minute to book. 
Remember that you may still need to book a flight or hotel. Take those costs into consideration if you need them because they can
The downside of booking a last-minute cruise deal is that you must pay in full when you book, and it's usually nonrefundable. You should always check the cruise line's cancellation policy before booking. As well as purchasing third-party insurance.
3. Find Cruise Deals Departing From Your Home Port
A great tip for finding last-minute cruise deals for departures from a home port near you. By doing so, you can take advantage of the last-minute deals without having to worry about expensive flights or hotel stays. Instead, you can simply drive to the port, park at or near the terminal and embark on your cruise adventure.
Look for a cruise hotel near the port that offer weekly parking at a discount. Sometimes this is chepear that parking at the terminal.
4. Travel During the Off-Season
There are many reasons to travel off-season, and saving money on a cruise is one of them. The higher in demand the cruises are the higher the rates. Due to fewer crowds during the off-season, cruise lines often offer lower prices, making it a great time to take advantage of deals and enjoy a more relaxed cruise experience.
When is the off-season for cruising? That depends on the cruise, the itinerary, and the time of year it's best to sail to the destination. Of course, Spring break and summer months are popular for families to cruise when kids are out of school.
Read more: Pros and Cons of Fall & Winter Cruises
5. Book a Cheaper Cabin
Inside cabins tend to be cheaper than a balcony cabin. When you see a great sale advertised by a cruise line that seems too good to be true, that low rate is more than likely an inside cabin. 
You need to ask yourself, do you really need a balcony?
The answer to that varies for everyone. While we are fans of balcony cabins, I can't deny the savings when booking an inside room. Sometimes, it's 50% less. You can book another cruise with that savings.
Think of the outdoor areas of the ship as your balcony. 
6. Kids Sail Free
This promotion comes up occasionally with cruise lines, most notably with Royal Caribbean or Norwegian's Free-at-Sea 3rd & 4th guest free. This can save a family a significant amount of money.
7. Book a Shorter Cruise
On a budget but still, want to take a cruise vacation? Consider booking a shorter cruise. 
Short-term cruises are typically less expensive than longer ones, but they can also be an excellent option for first-time cruisers or those who want to test the waters before committing to a more extended trip.
8. Be Flexible
Being flexible and looking for deals allows you to enjoy a fantastic cruise experience without breaking the bank advantage of cruise deals.
The same cruise you may want to take can be hundreds of dollars cheaper if you wait to cruise a month later. Always compare the dates.
9. Take Advantage of Free Perk Offers
When booking a cruise, it's always a good idea to watch for free perk offers promoted by cruise lines. These offers can include a variety of perks, such as free onboard credit, free Wi-Fi, free gratuities, or even free specialty dining experiences.
Sometimes, these free perks are offered with great sales, making it an even better deal. By taking advantage of these free perks, you can save significant money and enhance your cruise experience without spending extra money.
10. Book a Cruise on an Older Ship
You can save a lot of money on a cruise vacation if you book on an older cruise ship.
When a new cruise ship is launched, it's common for it to be in high demand, and prices for sailings on the new ship can be significantly higher than on older ships. However, older ships can still offer a fantastic cruise experience, often at a much lower cost.
You could save anywhere from 30-50% by booking on an older ship with a similar itinerary. While older ships may not have all the latest bells and whistles, they still offer many amenities and activities as newer ships, such as delicious dining options, relaxation areas, and entertainment.
While I love sailing a brand new ship, I have found that we always love the intimate experience we get on the older ships.
Tip: If you're a big family and need two cabins instead of one, look into booking an older ship. You may be able to book two cabins on an older ship for the price the one cabin on a new ship.
11. Book the Sail Away Rate or Guaranteed Cabin
To save money on your cruise, consider booking the Sail Away rate.
This discounted rate applies to a specific cabin category, such as inside or balcony, and guarantees the cabin type. While you'll enjoy significant savings, keep in mind that you won't have control over the cabin location, as it will be assigned before cruise embarkation day.
Usually, any extra perks or promotion offers can't be combined with the sail away or guaranteed cabin rate, but that is not always the case. 
12. Book the Cruise-Only Rate
Cruise-only rates are just that, a rate that includes the cruise only without any extra promotions, perks, or special package deals.
This rate includes the cruise only, without any extra promotions, perks, or special package deals. By focusing on the cruise only, you can often save over a thousand dollars compared to other package deals.
However, it's essential to do the calculations both ways before deciding. By weighing the costs and benefits of different booking options, you can find the best deal for your cruise vacation.
13. Keep an Eye On Those Rates
Even if you booked your cruise super early, you want to keep an eye on those rates until the final payment date, as they'll fluctuate due to supply and demand.
So don't delete those marketing emails with special promotions because that's one way to know when it's worth making a mock booking. Even if you're unsure if the rate dropped, you can always call and have them check. They'll happily modify your booking to match current offers.
A good travel agent can help you with this and keep an eye on special promotions.
Just note that there is a chance of losing any special perks or promos promised when you first booked the cruise.
As mentioned earlier, we saved $900 during a big sale weeks before our final due date. That's a good chunk of money that was saved. Worth the call.
After the final due date, it's harder to get credit if prices drop, but you can try. After seeing my Norwegian Joy cruise rates drop, I got a $500 future cruise credit. It's not a guarantee, though.
14. Optional: Bid to Upgrade Cruise Cabins
After the final payment is made, some cruise lines offer an option to bid for an upgrade to a higher-category cabin. You can bid to go from an inside room to an ocean view or a balcony. You can even put in a substantial bid for a suite. 
This is one of those options for saving on a cruise that you can use, but it's not a guarantee. So it's best to book a cabin you'll be happy with if your bid isn't accepted. 
We once won a bid to from the balcony to a Penthouse suite in The Haven of the Norwegian Getaway. It cost us an extra $500 per person, a small fraction of what it would have cost us if we had paid retail in the thousands. We had a lovely experience living the suite life and enjoying the perks that came with The Haven, like the restaurant, priority access…etc. 
However, had we not won the bid, we would have been perfectly okay with our balcony cabin. 
Note: You do have to book directly with the cruise line months before sailing to have the option to bid.
15. Use a Travel Agent
Travel agents are industry experts and can advise on the best cruise lines, itineraries, and destinations based on your preferences and budget.
They often have access to exclusive deals and promotions that may not be available to the general public, which can help you save money on your cruise.
They can also help handle any issues or changes that may arise before or during your trip. This way, you're not on the phone with customer service, which sometimes can be frustrating.
Tip: Even if you decide to book directly with the cruise line, you have 30 days to transfer the reservation to a travel agent. They will be able to handle the reservation from here on out. They may even get you a better deal and onboard credits.
16. Shop Around
Ultimately, to save money on a cruise, you want to shop around to make sure you're getting the best deal.
This can involve researching different cruise lines and itineraries, comparing prices from travel agents and online booking sites, and being flexible with travel dates and destinations.
For the most part, the cruise lines set the rates and promotions and forwarded them to travel agents and other agencies. However, booking through a travel agent or wholesale site may offer extra perks such as onboard credit, free upgrades, or other special offers. 
Two sites that are worth looking at if you're looking for the best cruise deal are:
Cruise Compete: This site is a valuable tool for travelers looking to compare prices and offers from multiple travel agents for their cruise vacation. You can submit to get quotes for a specific cruise itinerary, and you'll receive multiple offers from travel agents to book the best deal.

The downside is that you will be booking with an agent you've never worked with before, and if you have issues or changes later on, your travel agent is the only one that can fix it. If you book because of a great deal, you may lose out on customer service.

Costco Travel: As a member, you can book some incredible deals through Costco Travel. We've used them twice. Once to book our all-inclusive stay at Hilton La Romana as they gave us a great rate compared to other sites, including private airport transportation and a $600 gift card back.

The second time, we booked a Norwegian cruise. We received many free perks, from unlimited photo packages, bingo cards, extra WiFi minutes, unlimited phone calls from the cruise ship, and a $300 Costco gift card.

The gift cards are as good as onboard credits to us. We are there every month purchasing chicken for our dogs, so it was a huge money saver.

The downside to Costco Travel is the customer service. I called for our NCL cruise when rates dropped, and while they did get the job done, I had to wait over 2 hours for someone to pick up. But this was not long after the pandemic. Have not used them since. 
17. Book Shore Excursions Independently
After booking a cruise, you may want to book shore excursions when you're at port. The shore excursions the cruise ship offers are usually inflated as they hire local tour companies and tack on a high percentage for profit. 
Book your own tours run independently from the cruise ship to save money.
18. Explore on Your Own
Shore excursions aren't always necessary. You can also explore on your own in port when you arrive on foot, taxi, and other modes of transportation. Sometimes you just need to get to the nearest beach.
When you do your port research, google "free things to do" at the port or check on our site to see if we've covered the port destination.
19. Bring Your Own Soda, Water, or Wine
One of the cruise money-saving tips that most first-time cruisers are unaware of is that you can bring your own soda, water, or 1-2 bottles of wine onto most ships on embarkation day.
Note: Except for sealed wine bottles, all other alcohol is prohibited from being brought onboard.
Every cruise line has its own policy; you should check with the cruise line you plan to book.
Here is a couple of examples example: 
NCL doesn't allow passengers to bring any beverages or water onboard, but you can bring bottles of wine or champagne, subject to a $15-30 corkage fee per bottle.
On Celebrity Cruise Line, passengers can bring up to a 12-pack of soda or water onboard you must carry it on yourself. And according to their alcohol policy, one bottle (750ml) of wine per guest is allowed, subject to a $25 corkage fee per bottle.
If the cruise line allows you to bring soda or water, consider bringing some to save money on the cruise. These drinks can add up quickly, costing $3-6 per drink.
Tip: You can also pack a refillable water bottle and fill it up at the filtered water station at the buffet. 
20. Avoid Purchasing a Drink Package
While a beverage package may sound appealing, consider whether you need one. Beverage packages can be expensive, and if you're not a big drinker or prefer to stick to water or other non-alcoholic beverages, you may not get your money's worth. 
The best thing to do is to calculate the cost of the number of drinks you think you'll have in a day and see if it will add up to the package cost.
If you purchase your drinks without a package, you may be surprised that it adds up to be a lot chapter than the cost of the drink package, especially if every one of the drinking age in the cabin has to buy the same package. You could save thousands.
Additionally, cruise lines offer complimentary beverages like coffee, tea, and lemonade, so you can save money by sticking to these options.
Read more: Guide to NCL Drink Packages
21. Drink of the Day
One of the cruise money-saving tips is to stick to the drink of the day specials.
If you're looking to save money on drinks during the sailing and don't have a drink package, there are still ways to indulge without breaking the bank. One option is to keep an eye out for drink specials offered onboard.
Many cruise lines offer daily specials on drinks, such as two-for-one deals or discounted prices during certain times. You'll still be spending but not as much as paying the retail price for drinks.
22. Skip the Specialty Restaurants
Another way to save money on a cruise is by not dining in specialty restaurants and sticking to the main dining rooms included with a cruise fare.
The buffet and the main dining are included, and the food is as good as any other restaurant. You will not leave a cruise without being well-fed. While we have enjoyed many specialty restaurants, we've had many amazing meals in the main dining rooms.
But if you are a foodie that enjoys what specialty restaurants offer, you can also save a lot of money by booking the specialty restaurant package offered before cruise day. Usually, it covers 2-3 full meals at specialty restaurants for a fraction of what it would cost if you a la carte.
Pre-book a specialty restaurant for the first night of the cruise at a discounted price.
23. Stay Away from the Casino
The casino on a cruise ship can be a significant money drain, so avoiding it can help you save money.
While there are particular times allocated in the casino that you can go for a free drink, you have to be playing to get that free drink. Consider if the $5 you put into a machine is worth that "free" drink.
However, if you are a gambler and play enough, you can be offered future comped cruises or great discounts. It's not a reason to play and lose money in the casino, but it is a perk if you plan to cruise to gamble.
24. Be Mindful of Entertainment & Activity Expenses
There are plenty of free things to do on a cruise, but there are also plenty of activities and entertainment expenses. You may want to avoid them to save money on a cruise, but you may also want to be mindful of the activities you choose to spend money on. 
Cruises are filled with daily activities that keep everyone busy and having fun. The extras like bingo, Deal or No Deal, go-karts, laser tag, escape rooms, arcades, wine tasting, and many more are an extra cost. These small costs add up fast.
The truth is with all the shows and daily activities on the ship. You don't have to spend more to have fun on a cruise. Every day, look at the daily ships newsletters and highlight what you'd like to participate in. If it's an added cost, it will say so. 
25. Skip the Spa
How to save money on a cruise? Skip the spa treatments.
While it is nice to treat yourself to the spa while on vacation, you can get the same treatment locally near your home for a fraction of the cost.
I love a good massage and believe in treating myself, but even my eyes widen in shock at the cost of the spa treatments on a cruise. Have we indulged in the past? Sure, but we mainly sustain spending at the spa to spend it on experience at the ports.
However, if the type of vacation you're looking for is a spa & wellness cruise, make sure to allow enough of a budget to compensate for it.
26. Forget Paying for WiFi
Unless it's vital, save money on a cruise by not purchasing a WiFi package.  
WiFi packages are expensive. You can pay 1-2 months of your home internet bill for the cost of the WiFi for one device alone on a cruise. More, if you are eyeing that premium WiFI upgrade package.
To top it off, the quality of the Internet on cruise ships is subpar. You'll be frustrated with the connection and wonder why you wasted your money.
And aren't you on vacation to disconnect?
Understandably, we need to check in from time to time. The best thing you can do to stay within budget is to wait to use the Internet when you're at ports. 
Free WiFi is sometimes available at cruise ports, bars, or cafes. If you see crew members hanging out at any of them, it is probably because there is WiFi.
Check if your current cellphone data plans cover any port destinations on your cruise itinerary.
If not, what is the cost of having a data plan for the day? Some providers charge $5-10 for unlimited text and data daily.
If you're traveling abroad, you can purchase an eSim data plan that covers the region you'll be traveling to. 
Or invest in a WiFi hotspot. 
27. Forget the Photo Packages
Save your money, invest it into an excellent camera to take your own photos, and skip the photo packages.
We know some people love the photo packages and take advantage of taking their family portraits or that one couple photo that surprisingly came out nicely. However, how nice are these photos for $20 each?
Let's be honest. And no offense to cruise ship photographers. The truth is that they are not that great.
We had one photographer that did a great job shooting a couple photos of us on the Celebrity Equinox that we couldn't leave behind, and it cost us a pretty penny for that package. Am I happy to have the photos? Yes. But the cost of them was expensive.
So if you're not looking to go on the cruise ship to take some "professional photos," just stay away from the photographers during your cruise. This way, you won't be tempted to look at these random photos and then want to buy a large photo package.
28. Ask Onboard About Discounts for Your Next Cruise
Every cruise line has special offers onboard for future cruises, and it's always a good idea to ask about these discounts while you're on your current cruise.
Some cruise lines offer discounts for booking your next cruise while onboard, which can help you save money on your next vacation. These discounts include reduced deposits, onboard credit, or discounted fares. 
For example:
Due to their significant savings, we usually purchase Cruise Next Vouchers with NCL while on board. You pay $250 for a Cruise Next and get $125 onboard credit (do not use the credit onboard, or else it won't be a savings). Then we have up to 4 years to use the voucher as a deposit.
On Celebrity, you can place a reduced deposit of $100 per person for any future cruise. You can book the cruise itinerary onboard with their current offers or wait to book it later when you're ready. That's a tremendous savings compared to the $900 non-refundable deposit they request when booking online.
Saving Money on a Cruise: FAQs
How can I pay less on a cruise?
To pay less on a cruise, you can book early, be flexible with your travel dates, use a travel agent, skip the drink package, avoid specialty dining, and take advantage of free perks. Following these tips can save money on your cruise vacation and still have a great experience.
How do I get the best deal on a cruise booking?
When getting the best deal on a cruise booking, shopping around is key. You can start by researching different cruise lines and itineraries, comparing prices from travel agents and online booking sites to see who can get you the best deal and perks.
Does AAA save money on cruises?
Yes, AAA can help you save money on cruises. AAA is a travel agency that offers various travel services, including cruise bookings. As you shop around, include AAA in your research process and compare their prices and promotions to other travel agencies and booking site
How do you save money on cruise excursions?
To save money on cruise excursions, after researching the activities and experiences, you can book with third-party vendors rather than the cruise ship, share excursions with others in your cruise roll call, look for free guided tours, or explore on your own.
Remember to take what you think will apply to your travel style when reviewing these tips on saving money on a cruise. Some of us think the drink package is worth it; others love to splurge on those specialty restaurants. Do what works for you, but always try to find the best deal.
In advance of your cruise, don't miss these related articles:
Share the tips & love on Pinterest: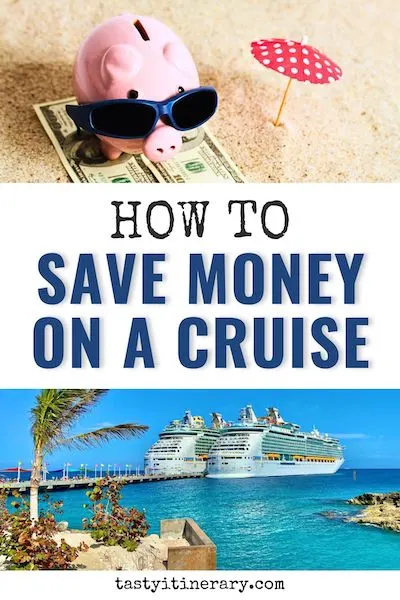 Quick Cruise Planning Guide
Where to book a cruise?
We like to shop around before booking by going directly to the cruise line and checking out the deals on GoToSea, CruiseDirect.com, Costco Travel, and Cruise Compete. Ultimately, the best advice is to find a travel agent you can trust to help you book a cruise.
Hotels for pre-cruise and post-cruise stays
We always use Booking.com or Hotels.com to book international accommodations and Expedia or Hotels.com for US accommodations. Airbnb or Vrbo for vacation rentals.
Can I book my own shore excursions?
Yes, you'll save money booking your own excursions and not with the cruise ship. We like to use Viator or WithLocals. Don't forget to read up on our tips for booking.
Car Rentals
We like to rent a car at cruise ports and for the freedom to explore on our own when the destination makes sense. We also sometimes rent cars during our pre-cruise stay or on embarkation day.
Should I book cruise insurance?
Yes! Cruise insurance is essential. We always book with a third party rather than the cruise line. Compare pricing on Insuremytrip.com.
Packing for a Cruise? Don't miss our essential cruise packing list.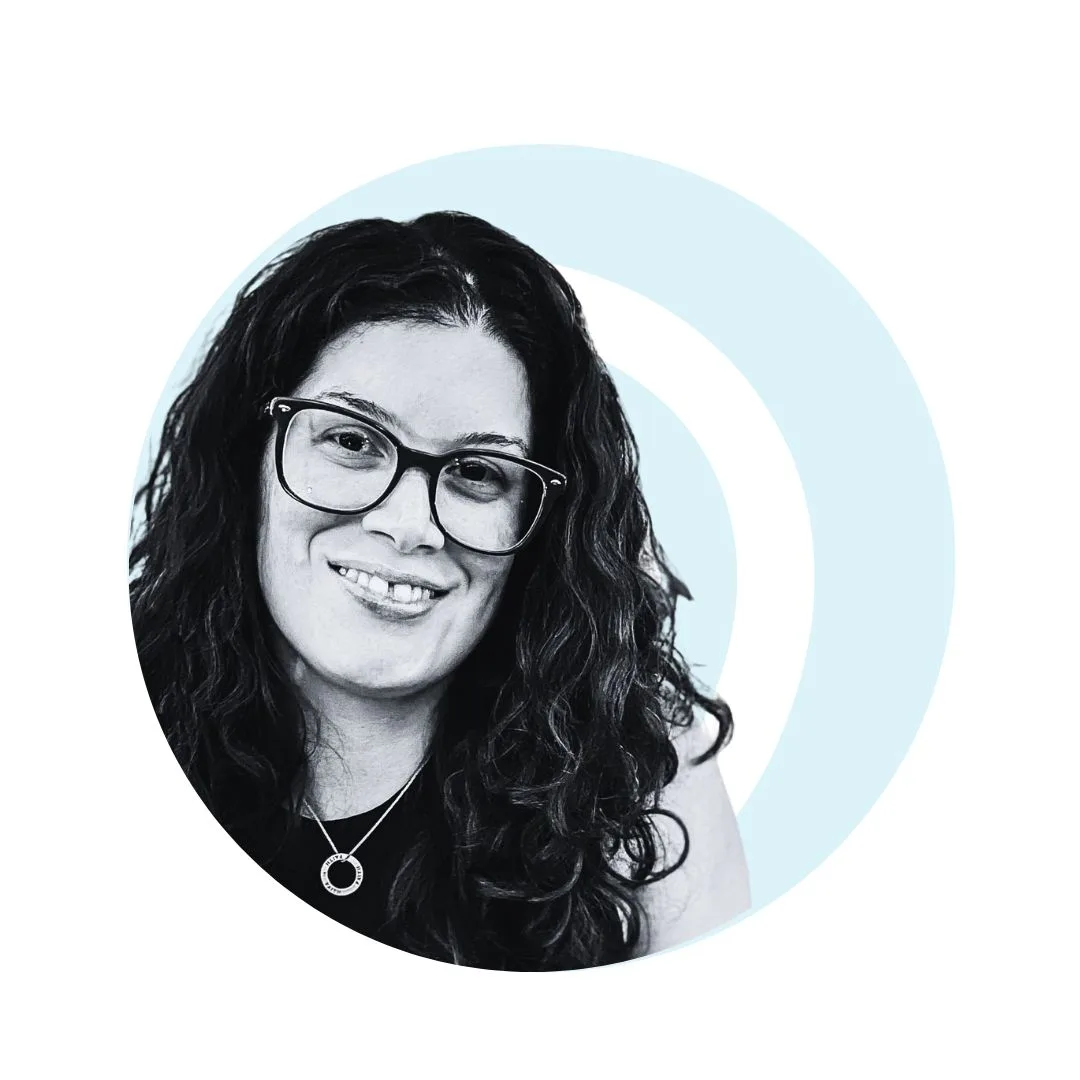 Meet Kathy – a food, travel, and cruise writer based in Los Angeles/Pasadena. With over 20 years of experience planning trips and logistics at her full-time job and for herself, she's become a pro at crafting unforgettable travel itineraries. She's always looking for delicious, fun cruise itineraries and travel destinations and is slightly obsessed with Italy. Her passion and curiosity for travel started in childhood on her yearly and sometimes bi-yearly trips to PR. She firmly believes that life is short and we must make the most of it – so let's explore the world and make some incredible memories.