Las Hotel and Spa – contemporary style in Gythio Greece
16 min read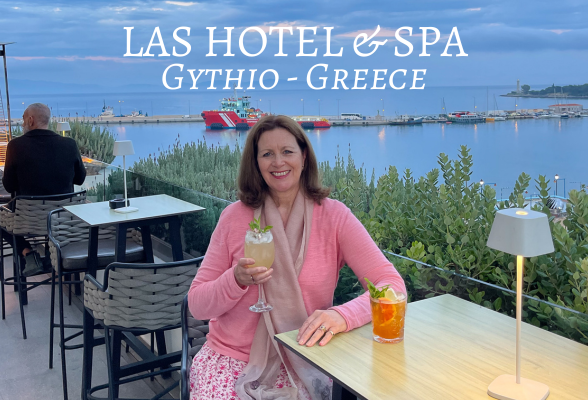 Stylish and modern, the Las Hotel and Spa sits in the heart of the seaside town of Gythio, on the southern coast of the Peloponnese. Just a couple of streets back from the harbour, the glass fronted hotel provides a great base for exploring this unspoiled region of Greece. Read on to discover all there is to see in this part of the Peloponnese and why you'll want to stay at Las Hotel and Spa, with its contemporary bedrooms, rooftop pool and restaurant with stunning views over the town.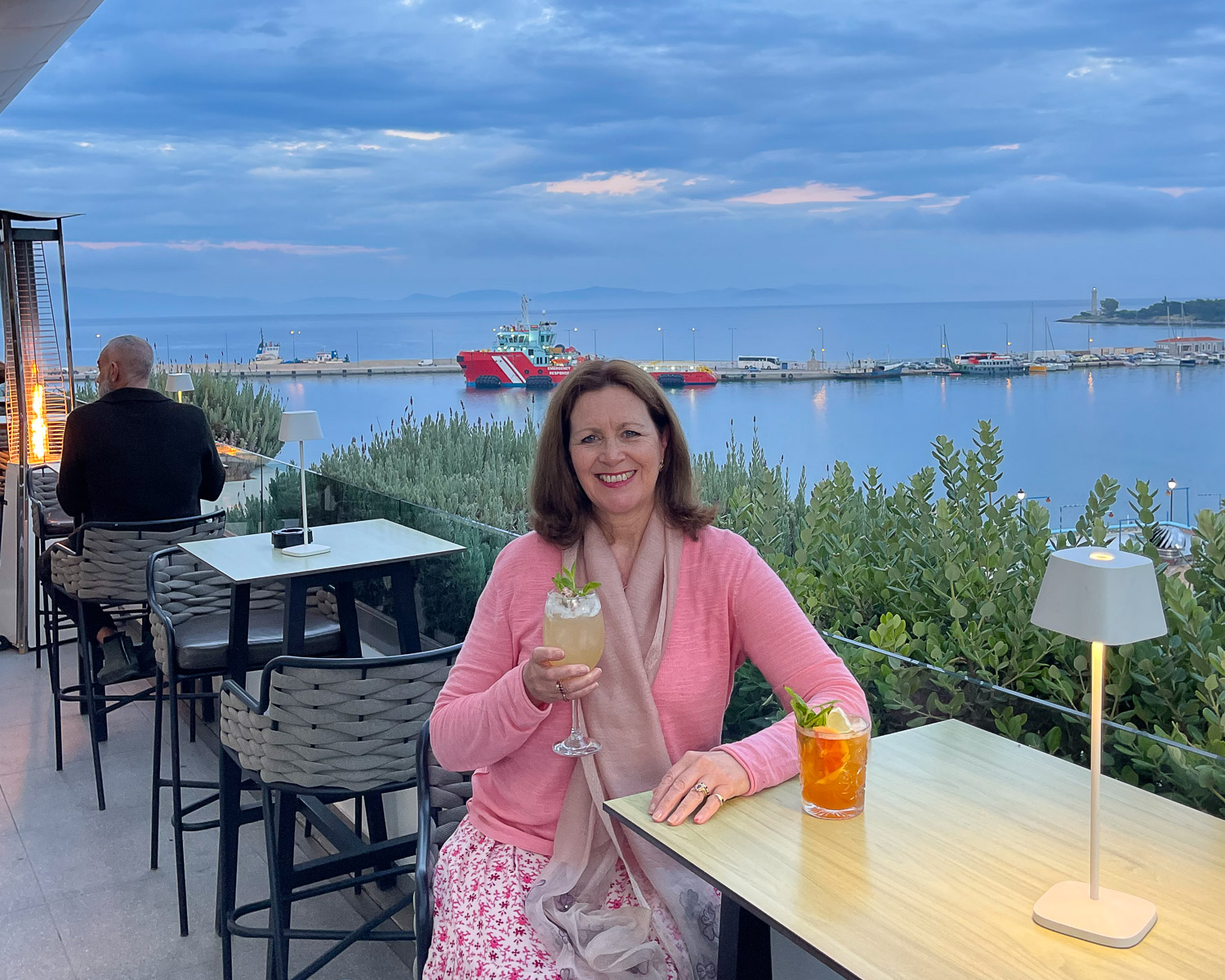 This article may contain affiliate links that provide commission on purchases you make at no extra cost to you. As an Amazon Associate I earn from qualifying purchases.
About The Las Hotel and Spa
Named after the ancient Greek town of Las, which was located nearby, the 4 star hotel in the centre of Gythio is by contrast completely modern in style. The five storey hotel was renovated in 2019, with stylish new decor in its 57 rooms. A glass, marble and metal exterior gives the hotel clean lines, topped by a wonderful rooftop pool, bar and restaurant, offering views over the town.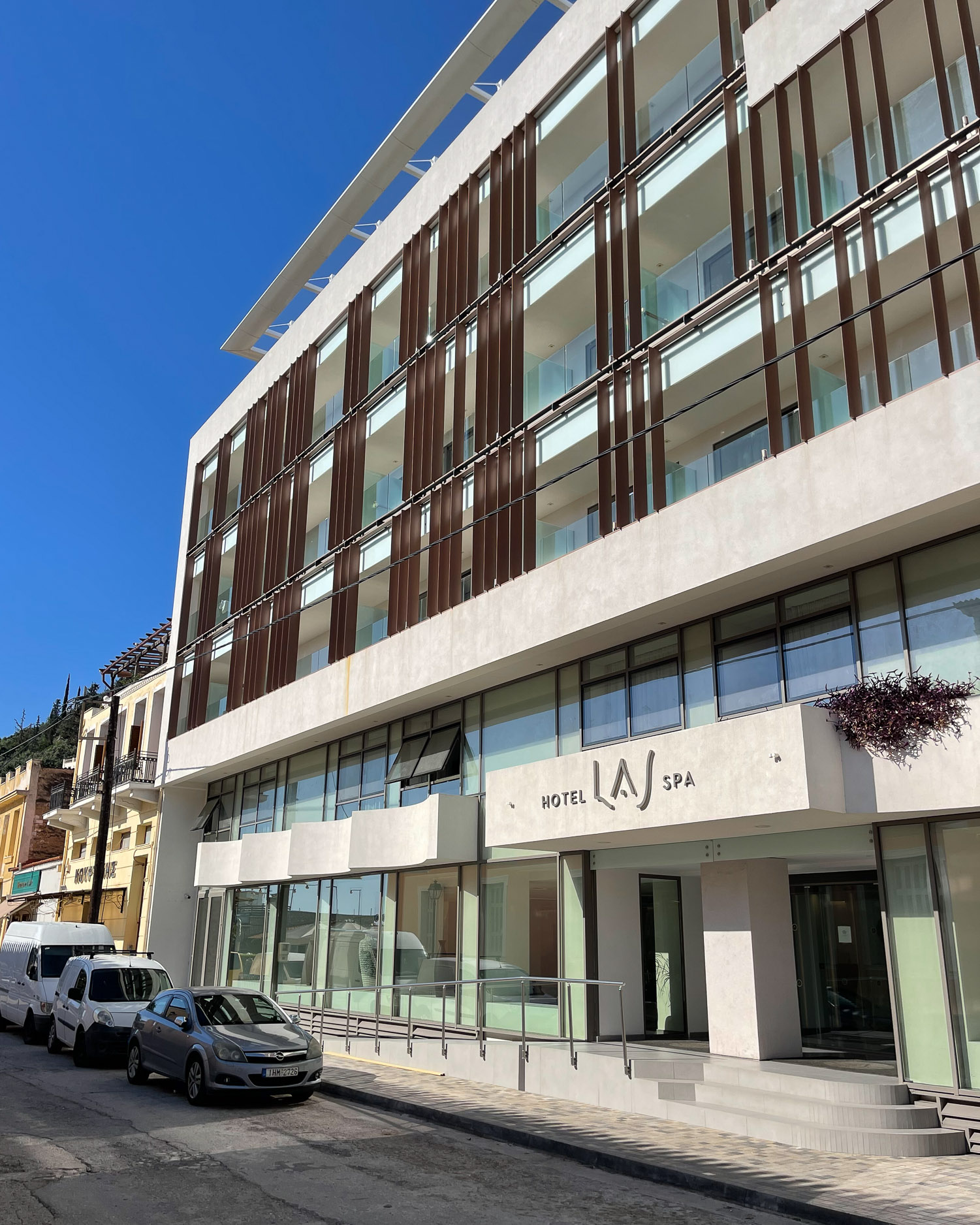 Although the hotel is a couple of floors higher than the surrounding older buildings, the pale colours and darker accents echo the terracotta roofs of houses nearby, so it blends in with its surroundings. While the hotel is a great place to stay for travellers wanting contemporary style, the rooftop restaurant is also extremely popular with locals. We noticed families, couples and groups of friends coming to enjoy brunch, lunch, cocktails and dinner.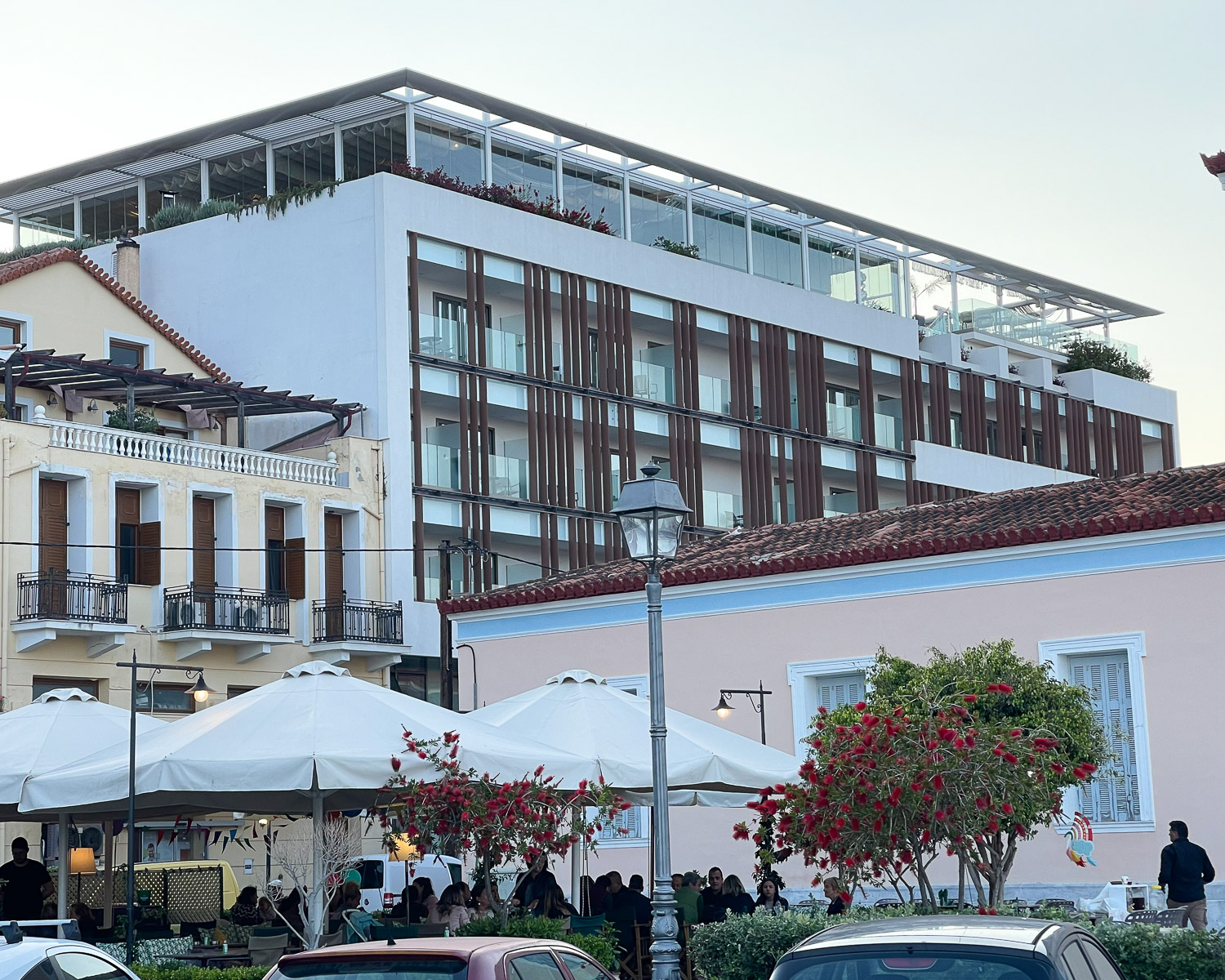 Our Room at The Las Hotel and Spa
We stayed for three nights in a Superior Double room with sea view, the glass balcony facing towards the harbour. The room was spacious (around 26 M2) and like most of the hotel's rooms could be arranged as a double or twin. Neutral shades of soft grey and brown made up the decor, with darker accents in the bathroom and other furniture.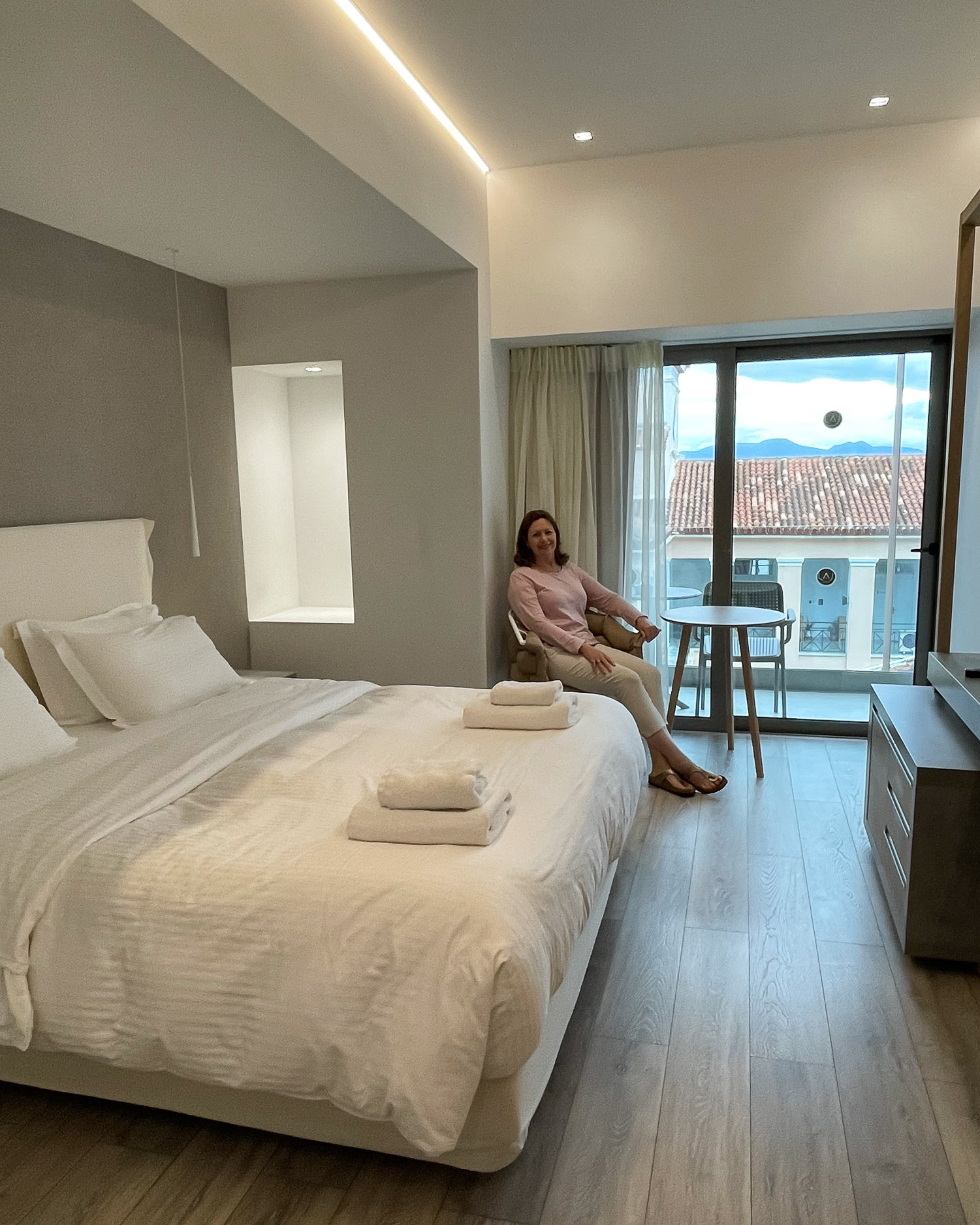 A sound night's sleep at Las Hotel & Spa
We really appreciated the kingsize bed and Coco-mat mattress which was super comfortable. Together with the high quality Coco-mat bedlinen this ensured a sound night's sleep. I found my pillow a little firm (I love my down pillow at home) but on request it was immediately changed to a softer pillow.
Coco-Mat is a Greek mattress and hotel brand that's known for its use of natural and sustainable materials, such as coconut fibre, natural latex and organic cotton. The company has numerous accreditations for best sustainable practice, such as from the Sustainable Furnishing Council and Forest Stewardship Council.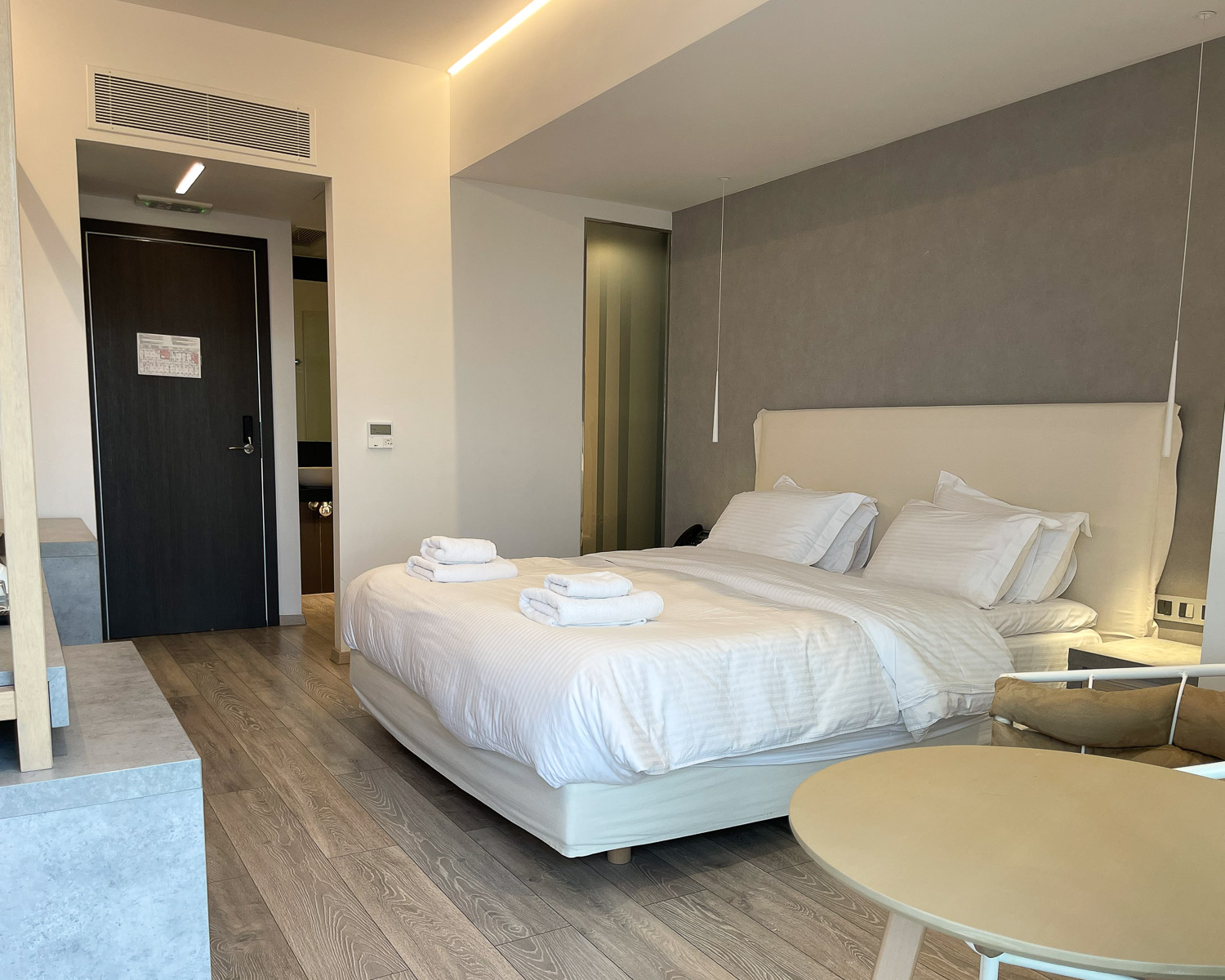 Room amenities at Las Hotel and Spa
Just to give you the full list of amenities that our bedroom offered;
Large desk / dressing table area with drawers and mirror
A small table and easy chair
Two chairs and table on the balcony
A spacious wardrobe with an electronic safe. Full marks for a safe that was both easy to use and large enough to take my laptop.
Electric kettle with individually wrapped teas, Nespresso machine for making coffee
Fridge with complimentary plastic bottles of water
Wide screen satellite TV
Our bathroom at The Las Hotel and Spa
The compact bathroom area was well lit and decorated with dark grey tiles and modern fittings. We enjoyed using the shower, which had good pressure and both an overhead rainforest shower head and a hand held shower fitting. It's nice to have the choice, as you don't always want a full overhead blast of water when you are trying to keep your freshly blow dried hair looking good!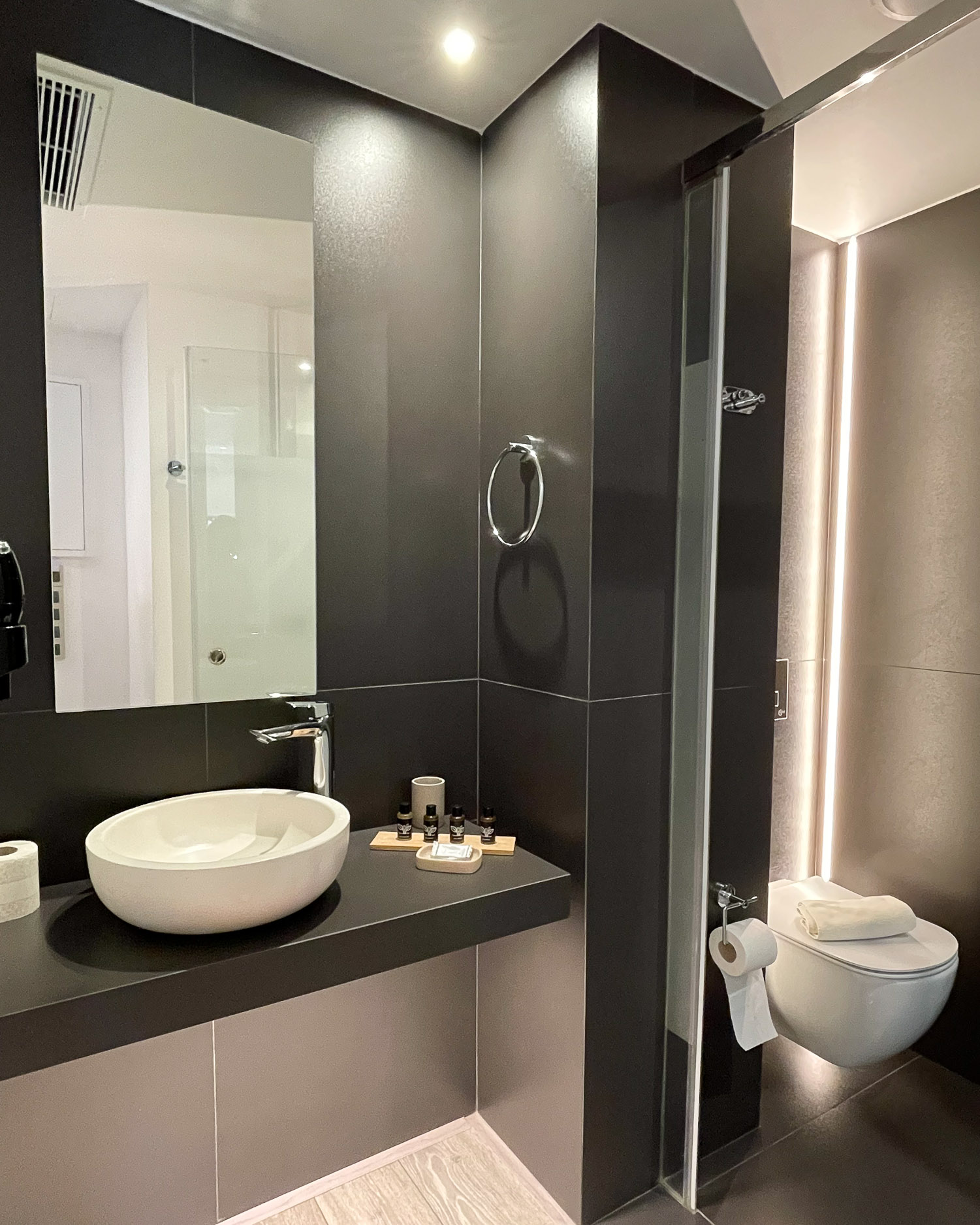 Individual bottles of shower gel and shampoo were provided, together with miniature hand soap. I noticed that in some rooms the hotel uses the Greek Zealots of Nature brand that promises all natural ingredients, such as olive oil, herbs and plant extracts. I would have liked to see a refillable hand soap or shower gel dispenser, as these days we are trying to travel more sustainably and are cutting back on the use of small plastic toiletries bottles.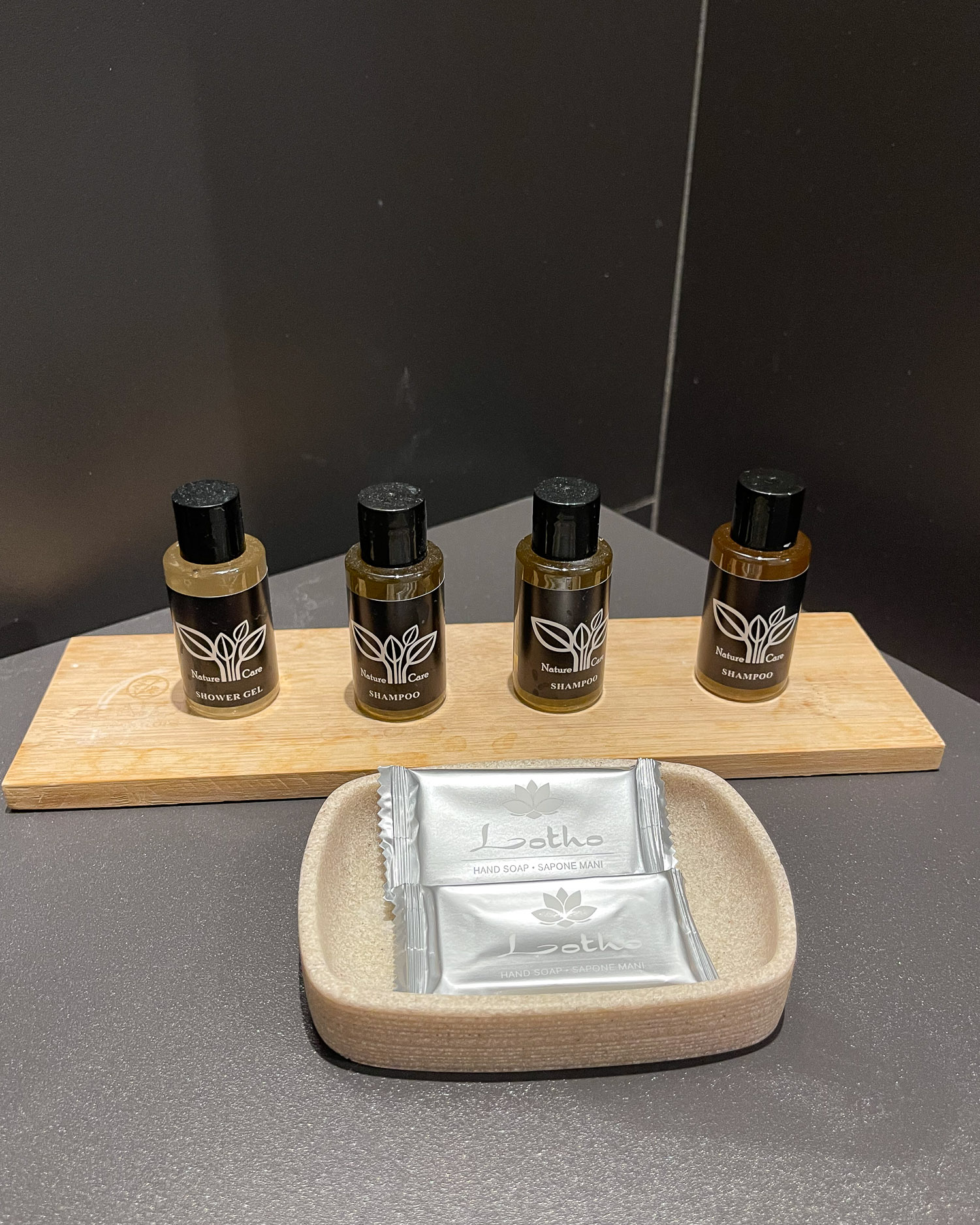 Location of Las Hotel and Spa
The hotel is well located in the centre of Gythio, just a couple of streets back from the seafront. Everything you might need in the town is within easy walking distance, but you won't be disturbed by too much noise from the main road along the harbour.
Although the hotel has no dedicated car park, we found it easy to find parking in the streets around the hotel. Immediately in front of the hotel is the City Hall, set on Dimarcheiou Square, where there are also a couple of open air cafes and a childrens' playground.
Gythio is a coastal town in the province of Laconia, between two of the 'fingers' or southern peninsulas of the Peloponnese. Due to the new fast toll road through the Peloponnese, Gythio can be reached in around 3.5 hours driving time from the Greek capital of Athens.
Breakfast at Las Hotel and Spa
Breakfast at Las Hotel and Spa is served in a spacious glass sided area to one side of the ground floor. As we were visiting at the start of the summer season, the hotel was not full, but nevertheless there was a good choice on offer.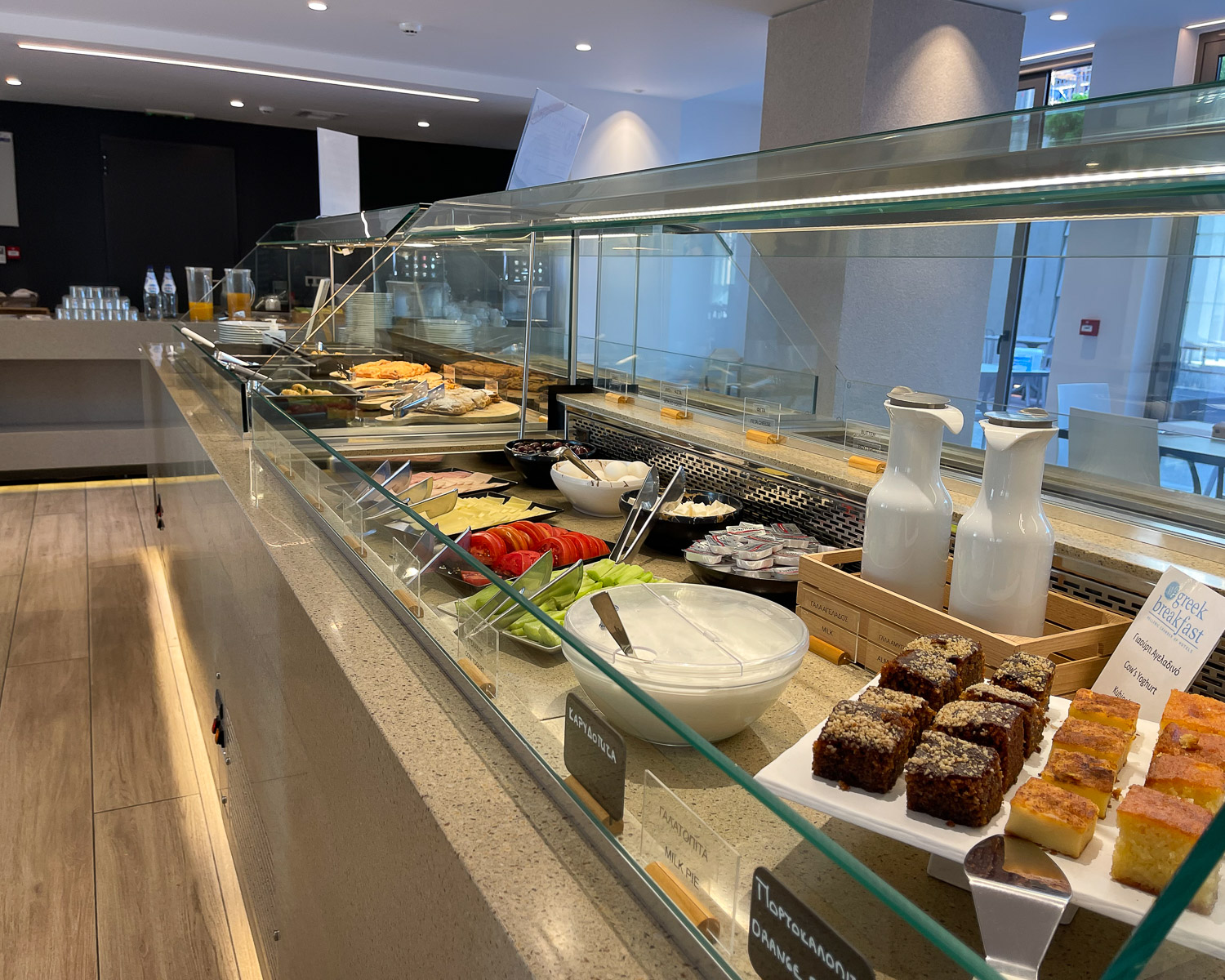 Breakfast is served buffet style and we could see that when the hotel is full, this would scale up with both sides of the long buffet bar being used. We found a wide range of different breakfast dishes, with cereals, nuts, seeds, pastries, cold meats, cheese and sweet cakes and preserves.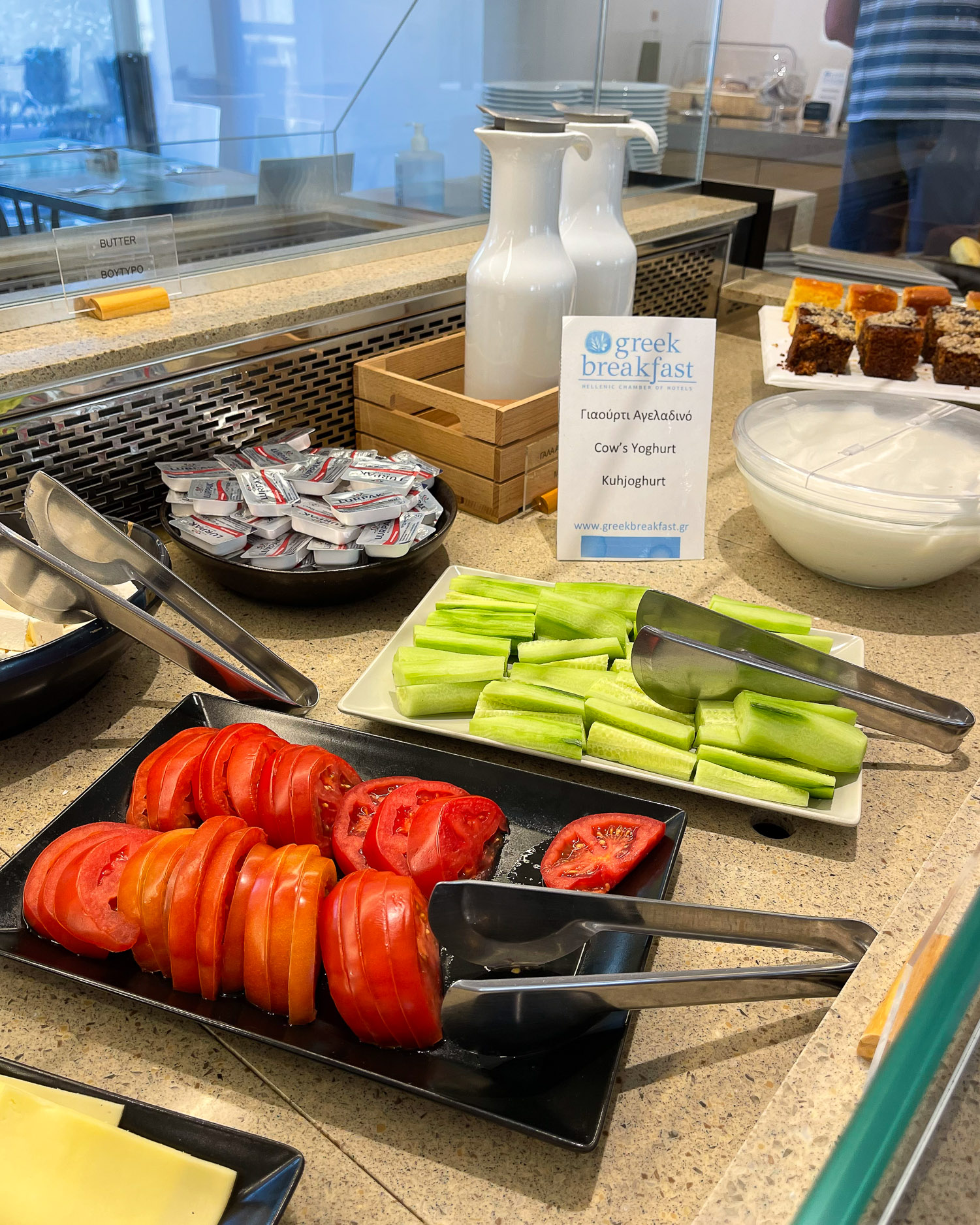 The hotel also offers a "Traditional Greek Breakfast", as part of an initiative from the Hellenic Chamber of Hotels, which showcases the best of the region. In this case, we noticed the fresh tomatoes, cucumber and olives that Greeks love to eat with feta cheese, thick Greek yoghurt with honey, traditional filo spinach and cheese pies and some typical cakes of the region.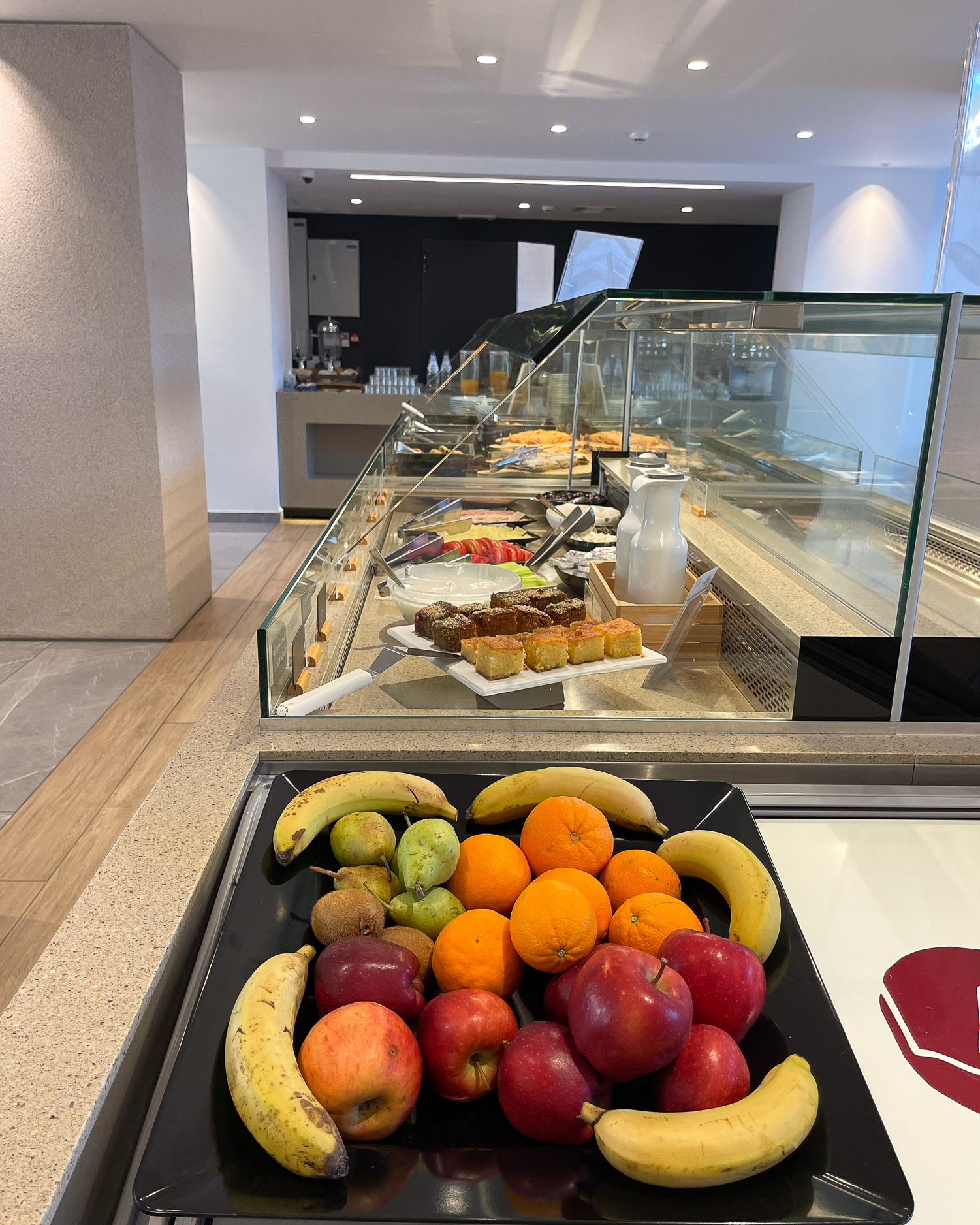 Adjoining the breakfast area is an outdoor space that runs at the back of the hotel, with seating on a wooden deck next to a water feature wall. Although the weather was a little too cool when we visited in May, this would be a lovely place to sit outside for breakfast in the warmer summer months.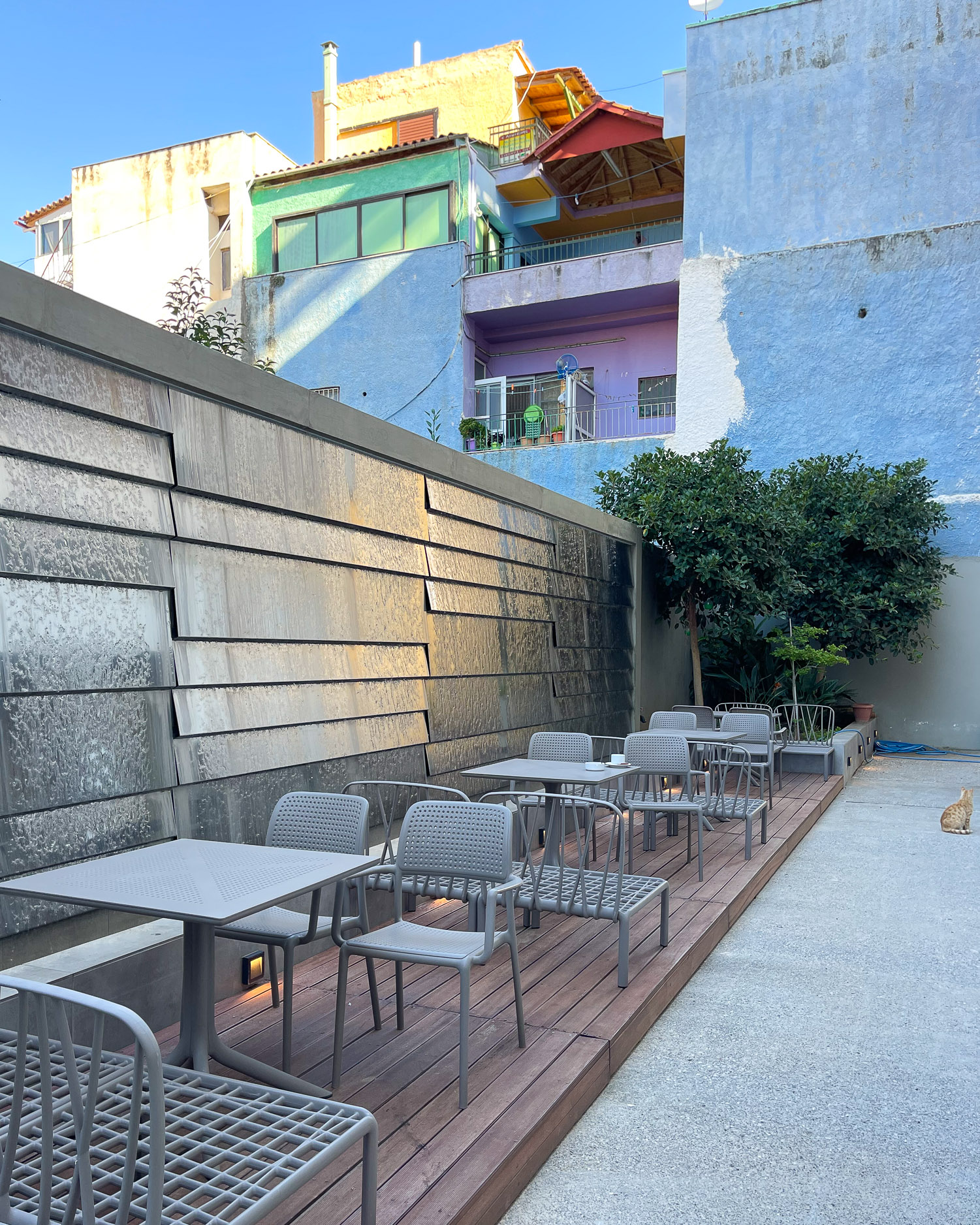 Rooftop Pool at Las Hotel and Spa
One of the nicest areas of the Las Hotel is the rooftop pool, which provides a place to relax and cool off, even though you're in the heart of the town.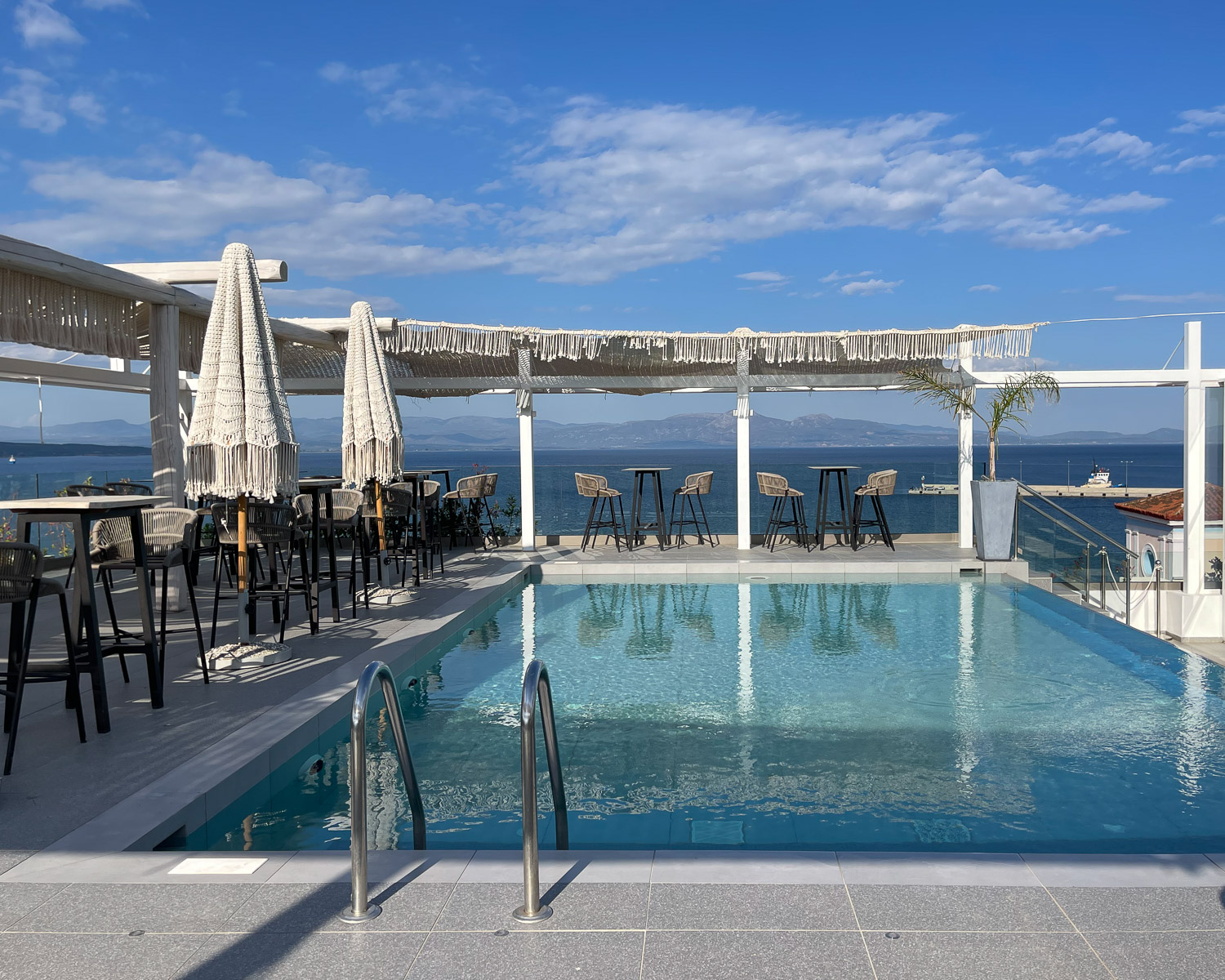 The views from here are beautiful, looking out to sea in one direction and towards the green hillside and old town houses in the other.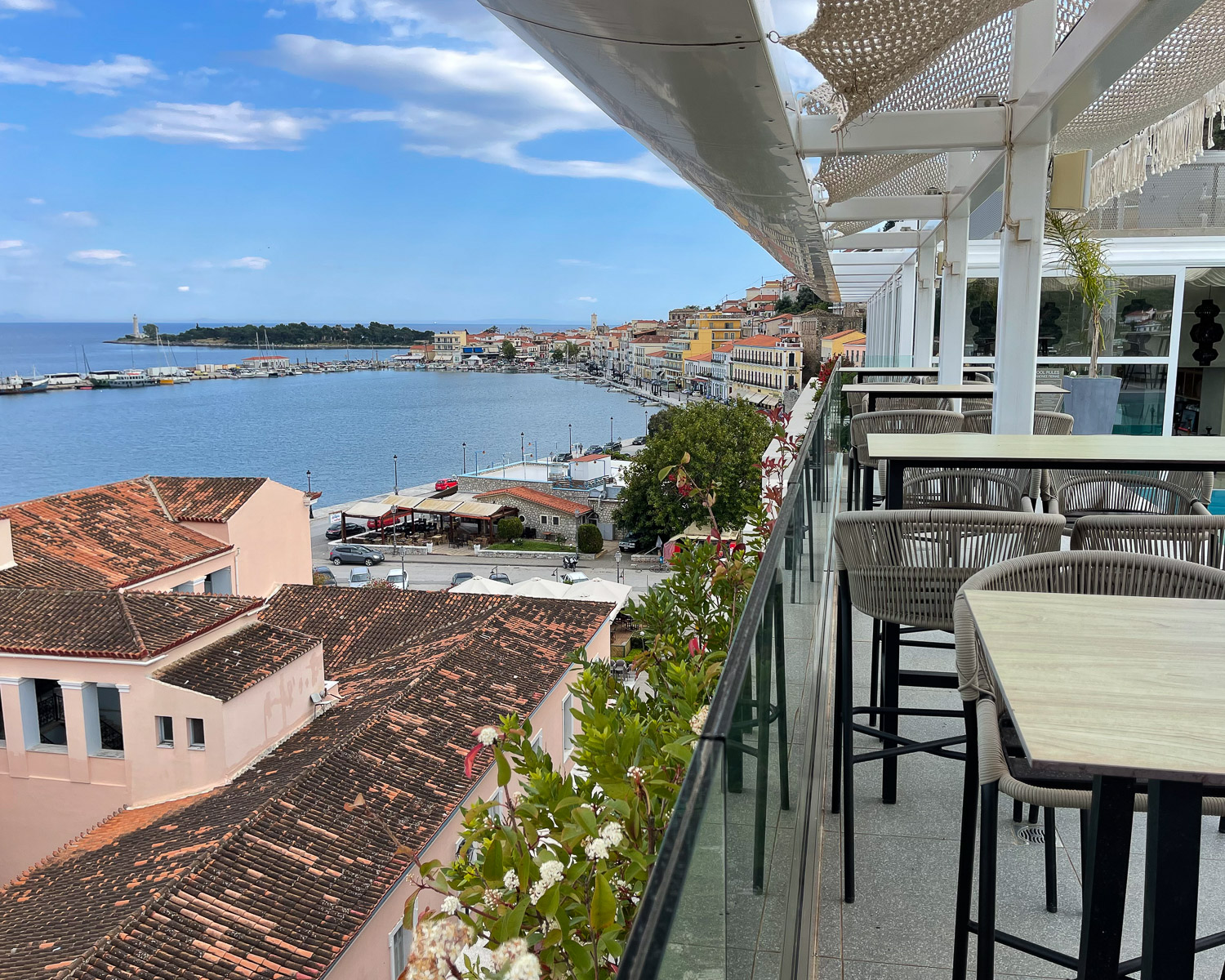 The pool has an infinity edge on one side and sun loungers where you can relax and order a drink from the 360 bar and restaurant.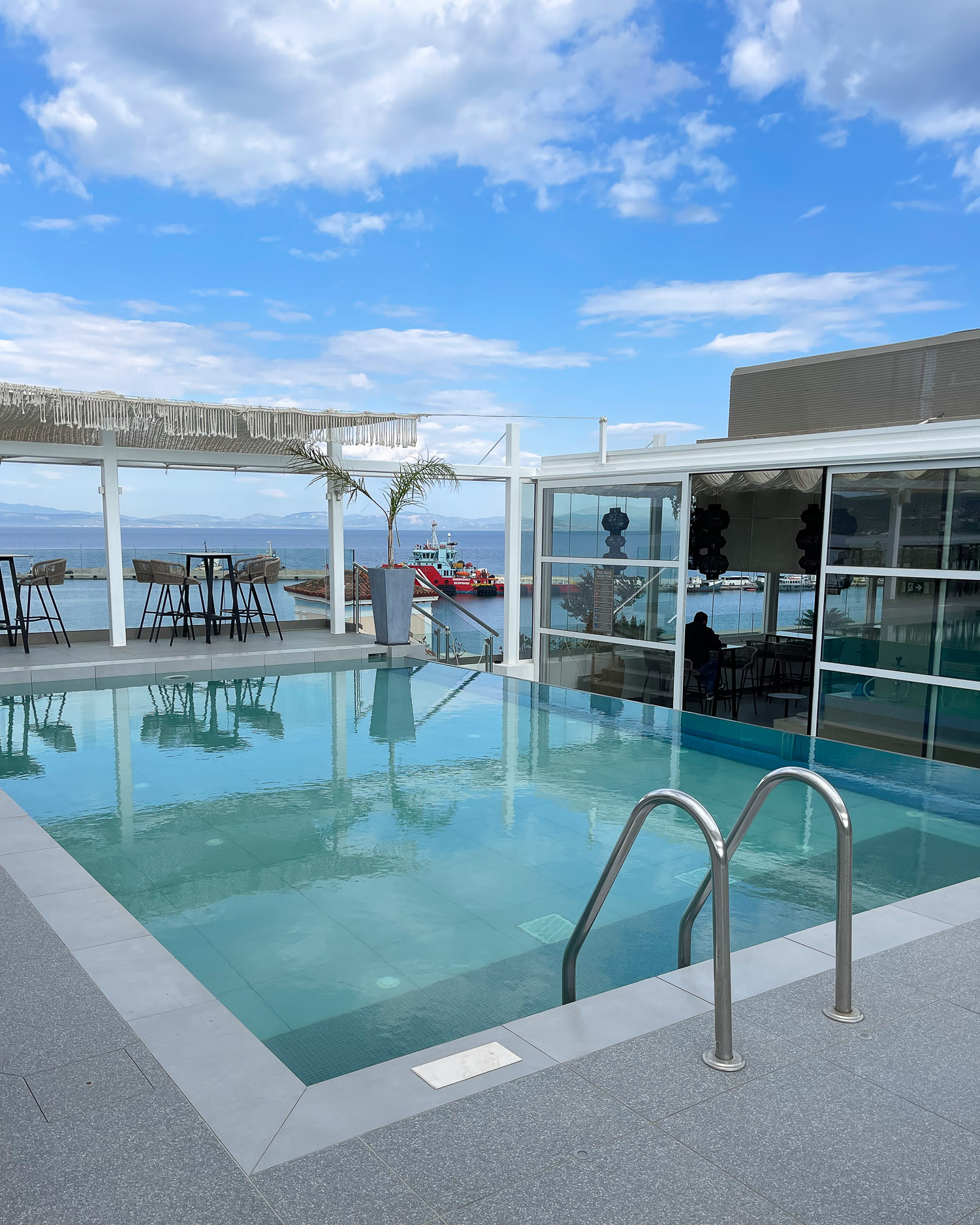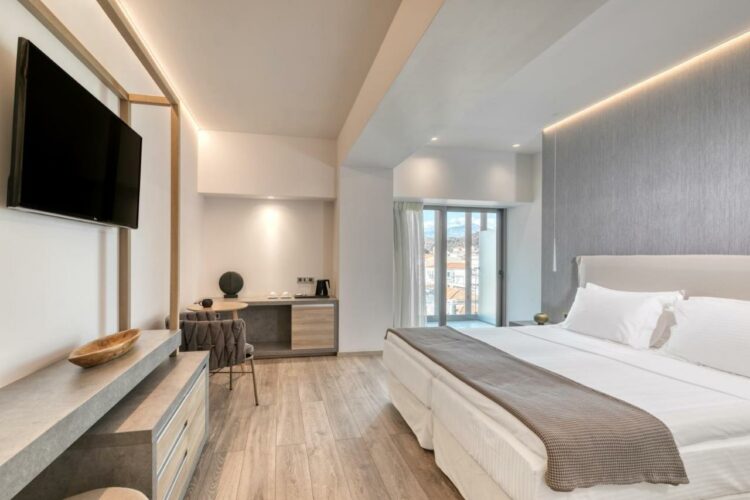 The 4-star Las Hotel & Spa in Gythio where we stayed offers contemporary style with roof top pool and restaurant
Cockails at Las Hotel and Spa
While I'm not a big drinker, I do have a weakness for a cocktail or two when I'm travelling. We really enjoyed the prettily garnished cocktails at the 360 rooftop bar of Las Hotel. The list is quite long and you can choose from classic cocktails or the 360 signature cocktails with some typically Greek flavours such as Metaxa and Mastic (a type of resin).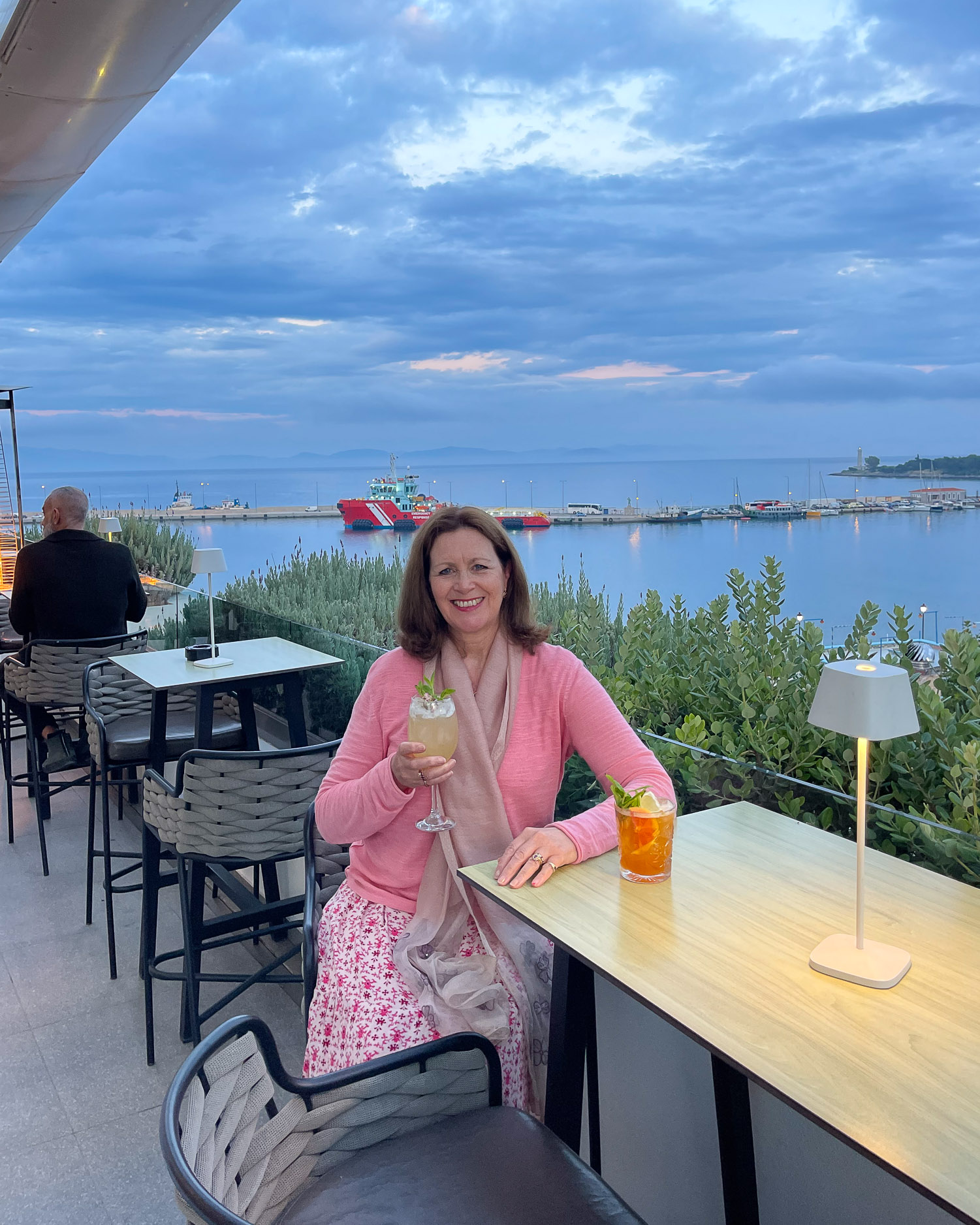 The outdoor terrace seemed the perfect place to enjoy the sunset views over the port with a drink in hand!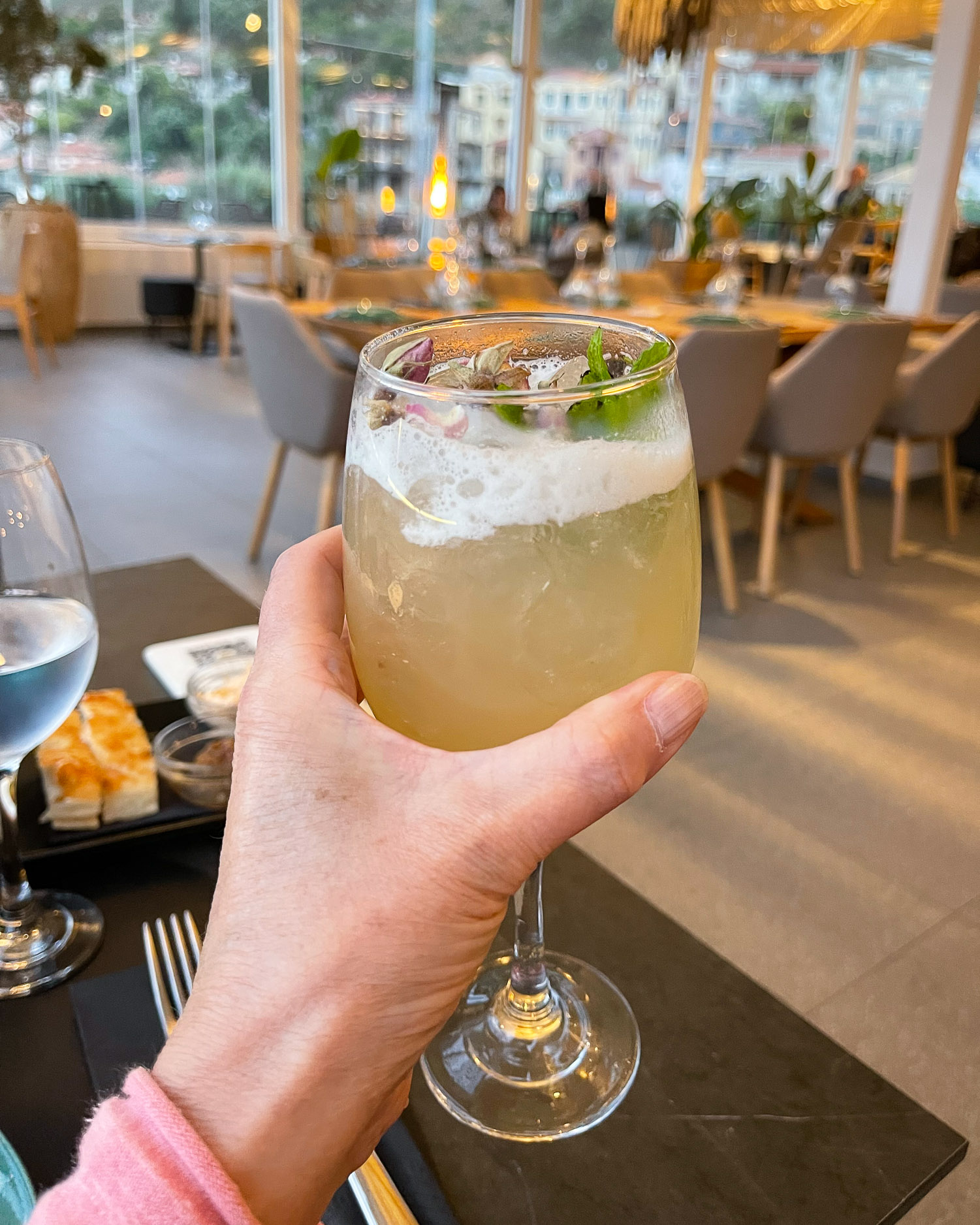 360 Bar and Restaurant at Las Hotel and Spa
The 360 rooftop restaurant offers a crowd-pleasing fusion of international and Greek flavours. It seems designed as a contrast to the traditional tavernas and fish restaurants around the harbour, to attract a stylish local crowd as well as hotel guests.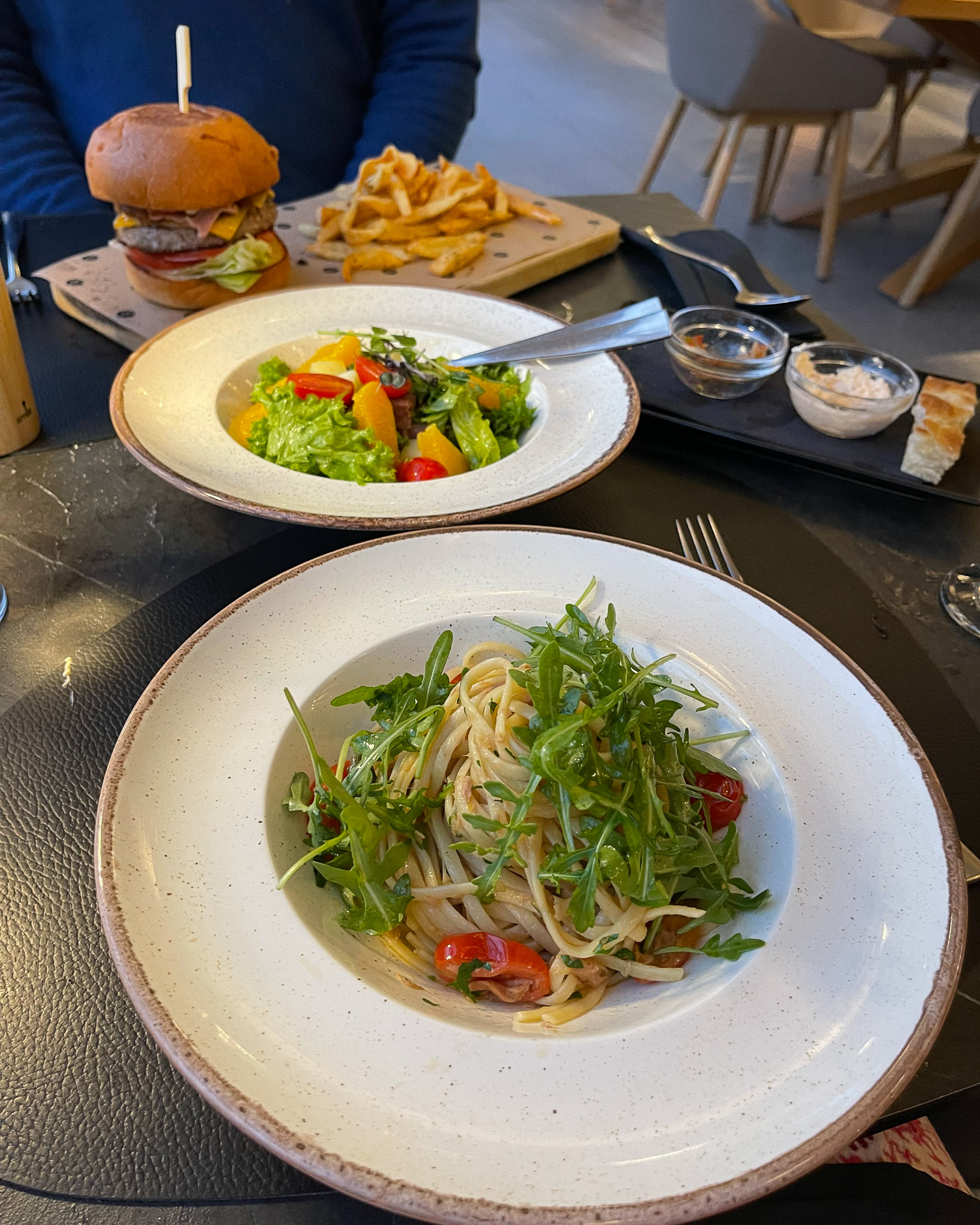 I ordered a tasty tuna linguine topped with rocket salad, while Guy enjoyed his burger and fries. We both shared a local style salad, with fresh oranges and cheese of the region, similar to the 'Mani salad' we had tasted in many places during our tour of the area.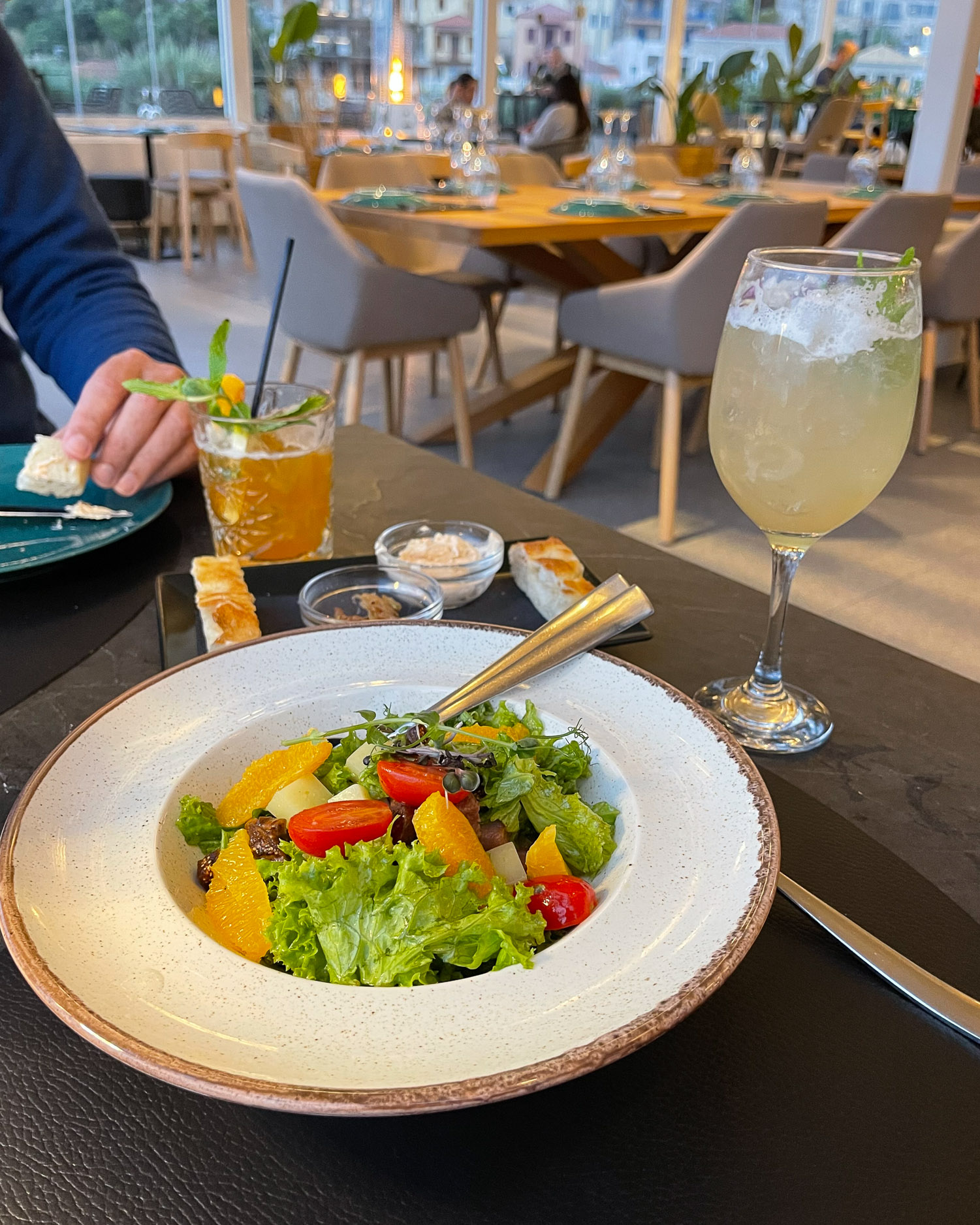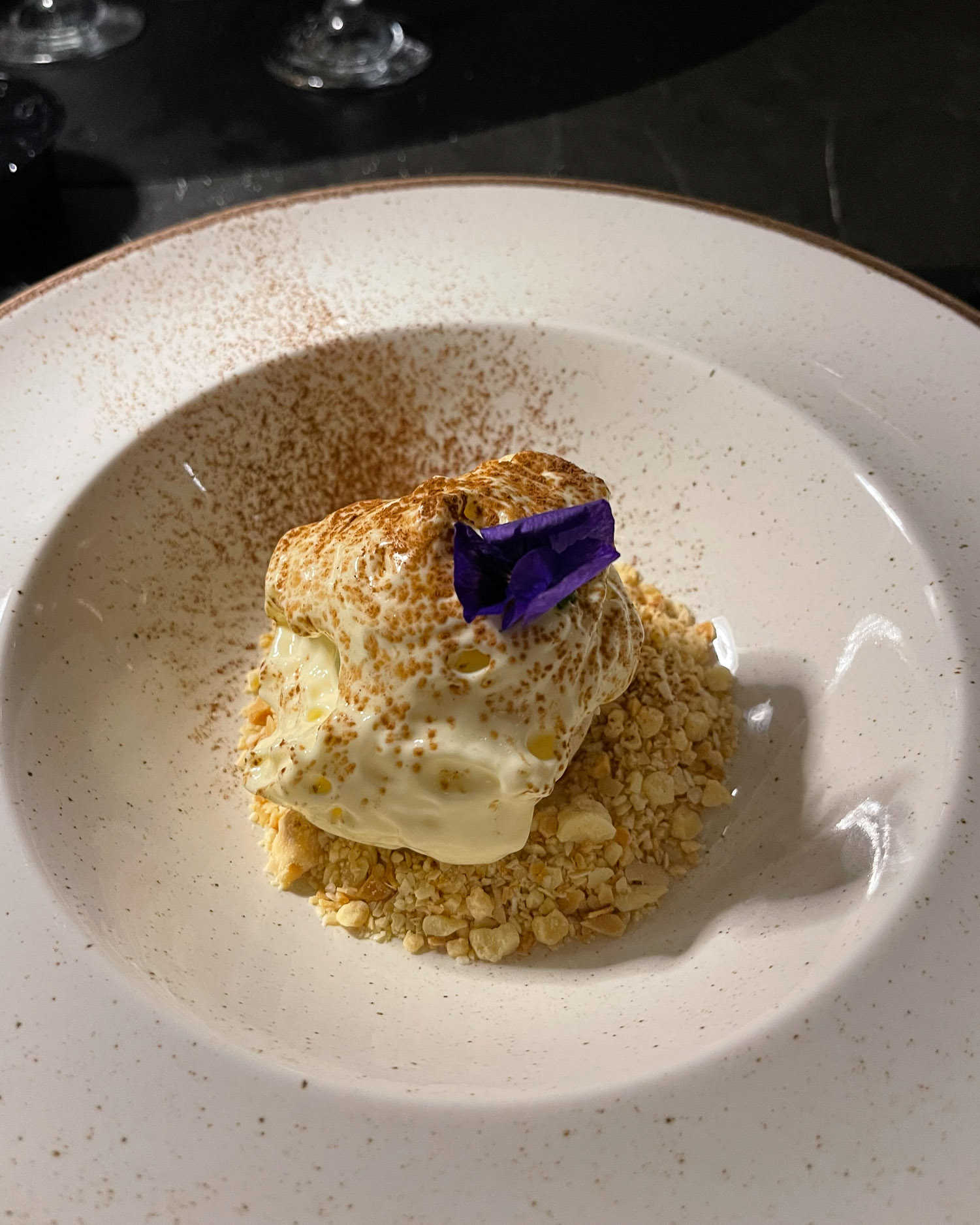 The restaurant is light and airy, surrounded on all sides by glass walls. Shade is provided by drapes of fabric from the ceiling, with a nod to the contemporary 'Bali' style that is so popular. On one side was an outdoor terrace that is used mainly to serve drinks and cocktails, while inside were different heights and sizes of tables for drinks, coffee or dining.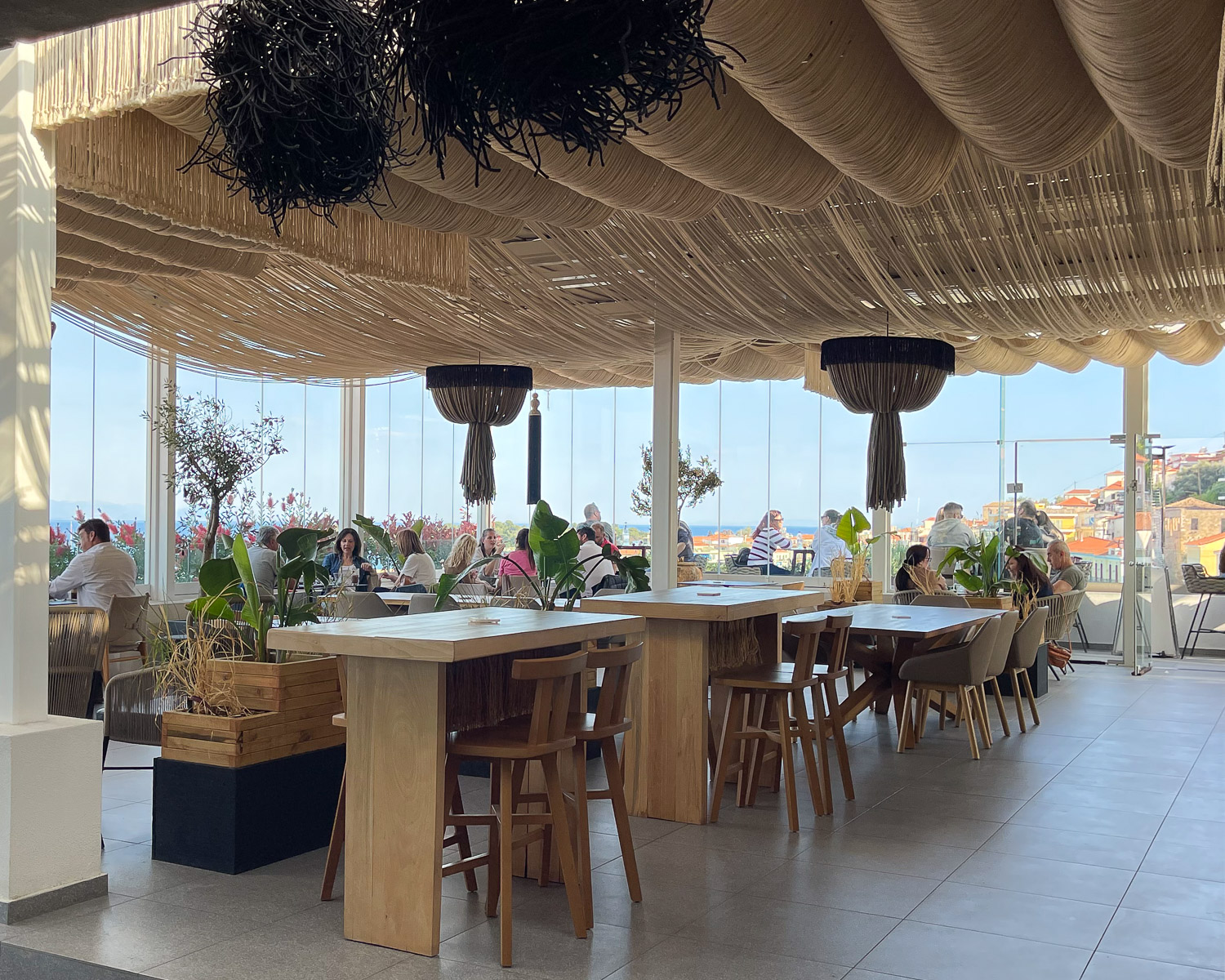 While the restaurant serves a full menu from 6pm, it's worth knowing that brunch, snacks and coffee are served throughout the day from 10.30am. At weekends the restaurant seems an especially popular brunch spot for families and groups of friends.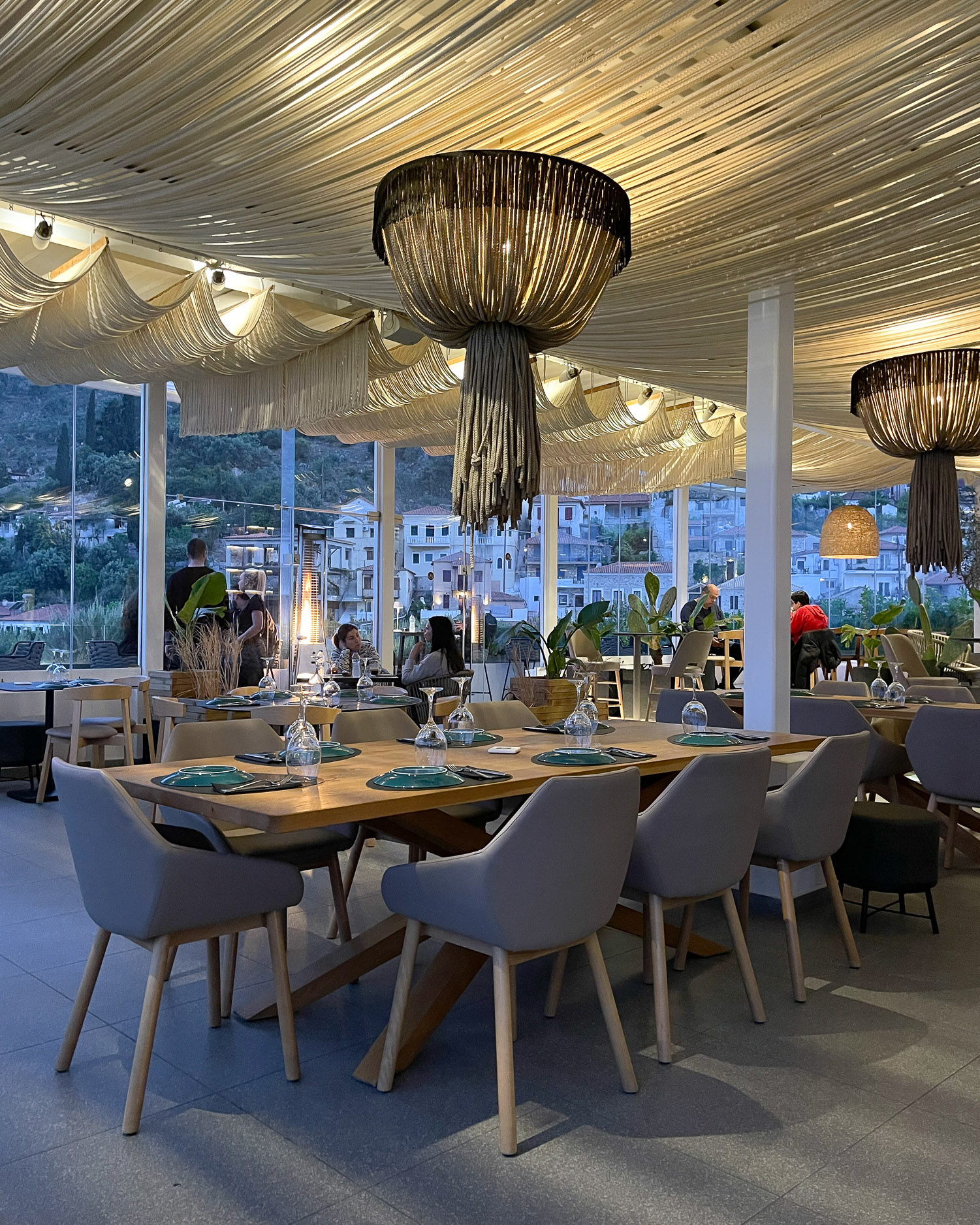 Reception area at Las Hotel and Spa
One half of the ground floor is given over to the reception area, with modern furnishings and clean lines. There's also a small bar in this area, which probably gets used when the hotel hosts conferences or functions, as we didn't see it in use when we were there.
While I imagine that most guests would prefer to relax on the roof terrace, it was a comfortable space to sit while waiting for a taxi or to check in. We spoke to several different reception staff while we were there, and all were unfailingly friendly and helpful, speaking excellent English.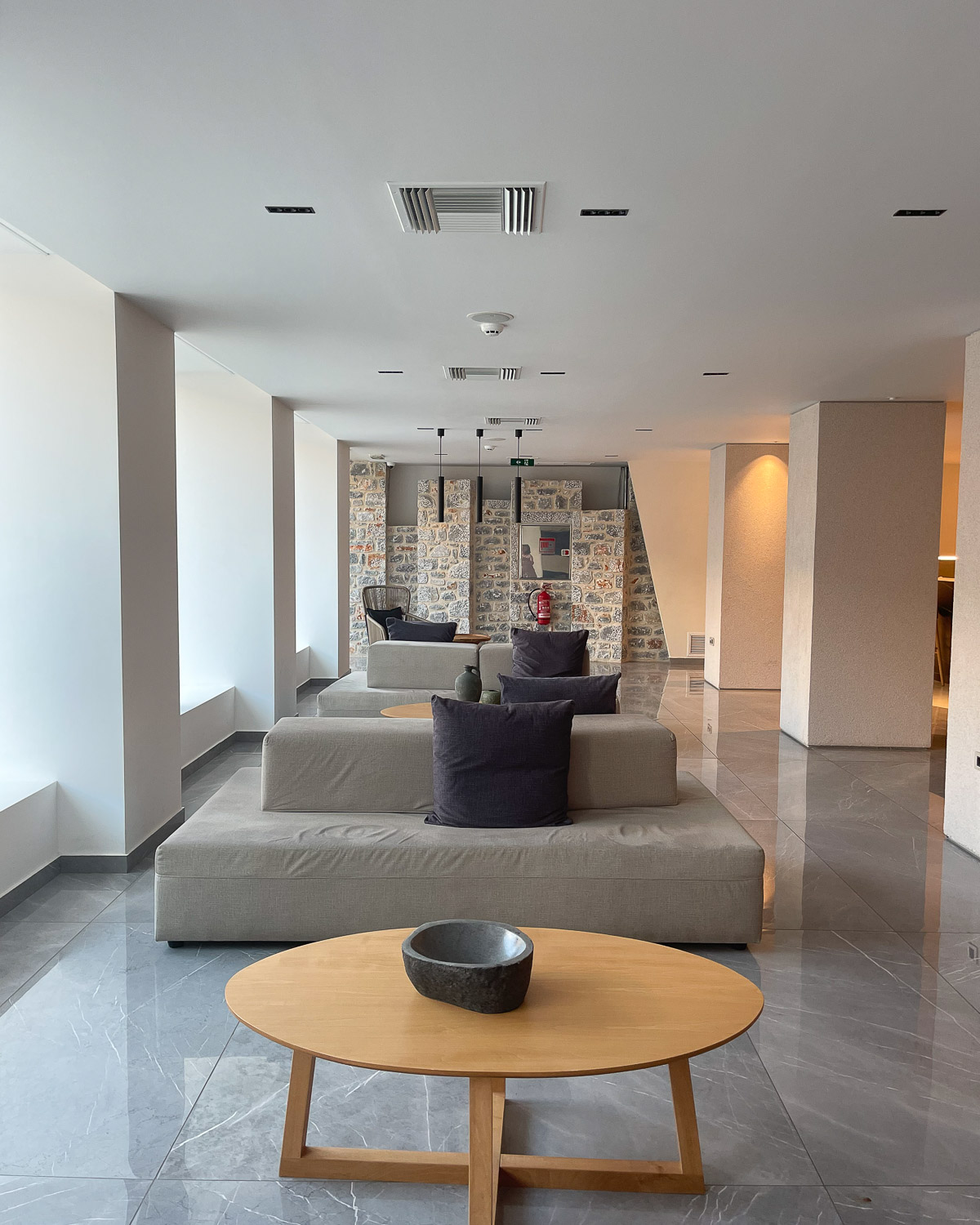 Sustainability at Las Hotel and Spa
Since we increasingly look at sustainability when choosing which hotels to book, here are some of the things we noticed at Las Hotel and Spa;
Las hotel and Spa went through a total building renovation in 2019, so we would expect that the latest standards of insulation, double glazing and lighting would have been installed for best energy efficiency.
The hotel rooms have a keycard system to ensure that power and lights are automatically turned off once guests leave their room.
Coco-mat mattresses and bedlinen used throughout the hotel are made of natural materials and meet the highest standards of sustainability, meeting several accreditation standards for sustainability.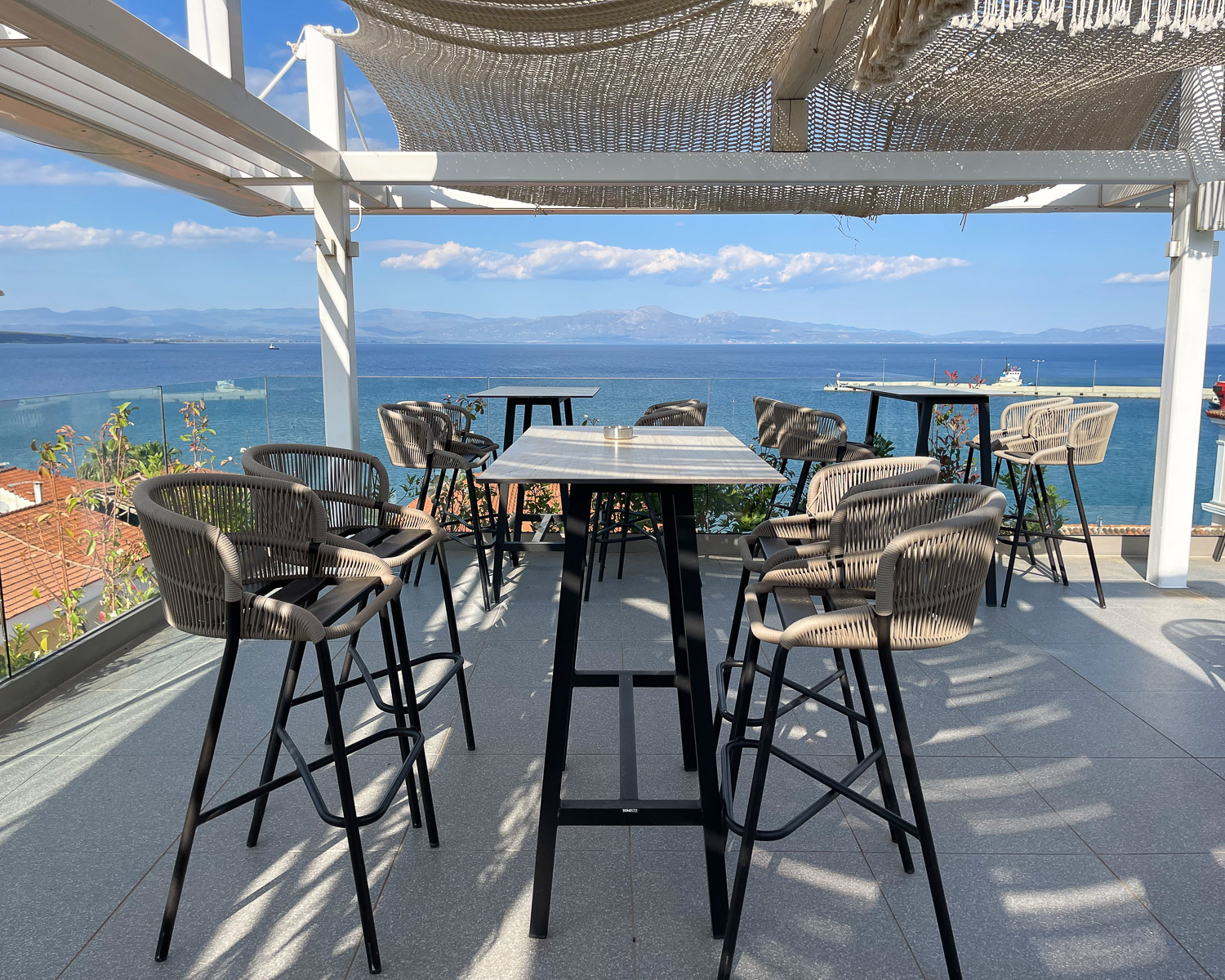 More rooms at Las Hotel and Spa
There are a total of 57 rooms and suites at Las Hotel and Spa, which are arranged with either sea view or town view, as well as being able to accommodate two or three persons.
The size of standard rooms varies from 26 square metres to 29 square metres and beds can be set up as a double or twin. Cots can be provided on request and triples have a sofa that is made up at night into a single bed.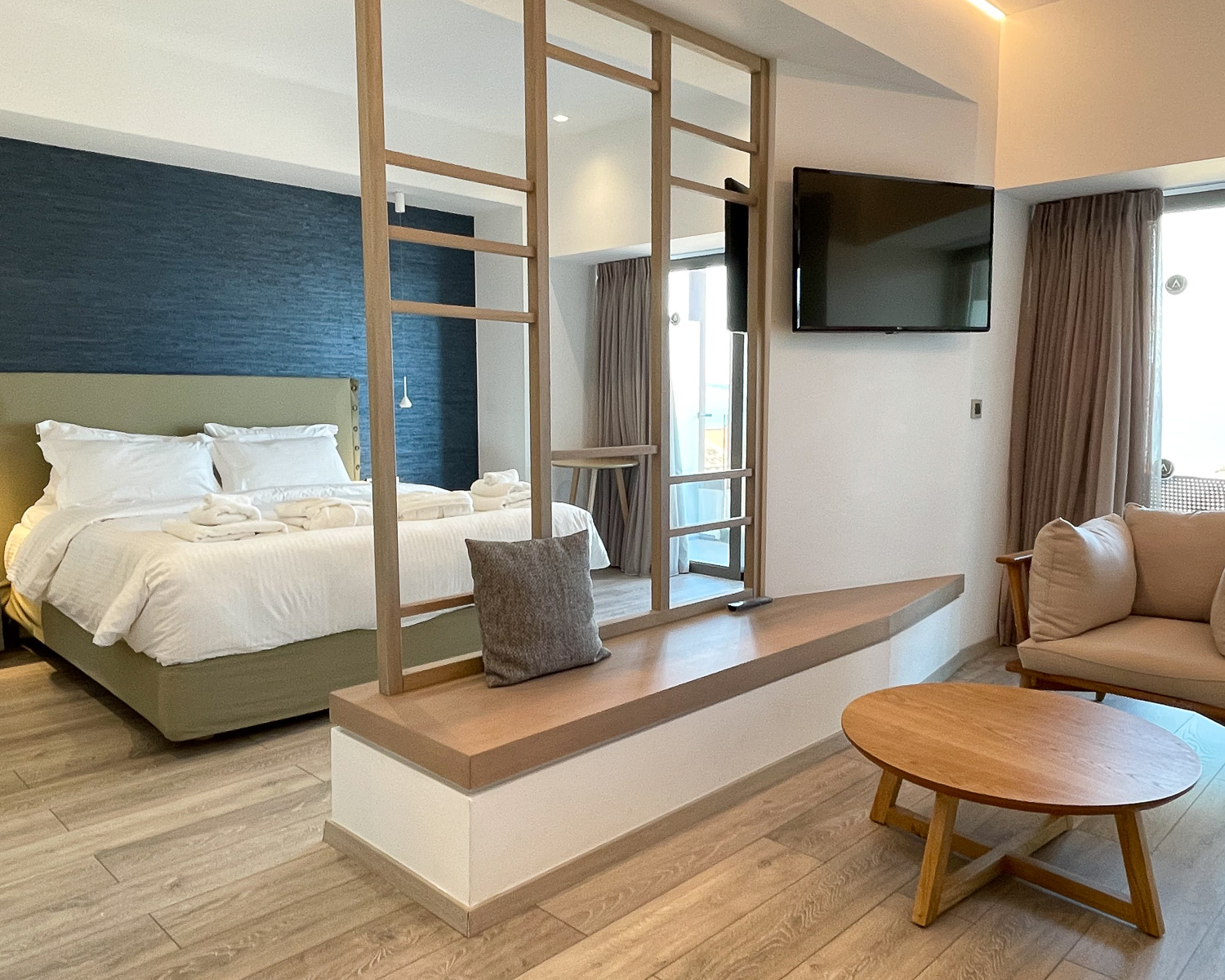 There are a couple of larger suites on the 4th floor which we liked very much, especially the 45 square metre Deluxe Suite with sea view, with a separate living area and much larger bathroom.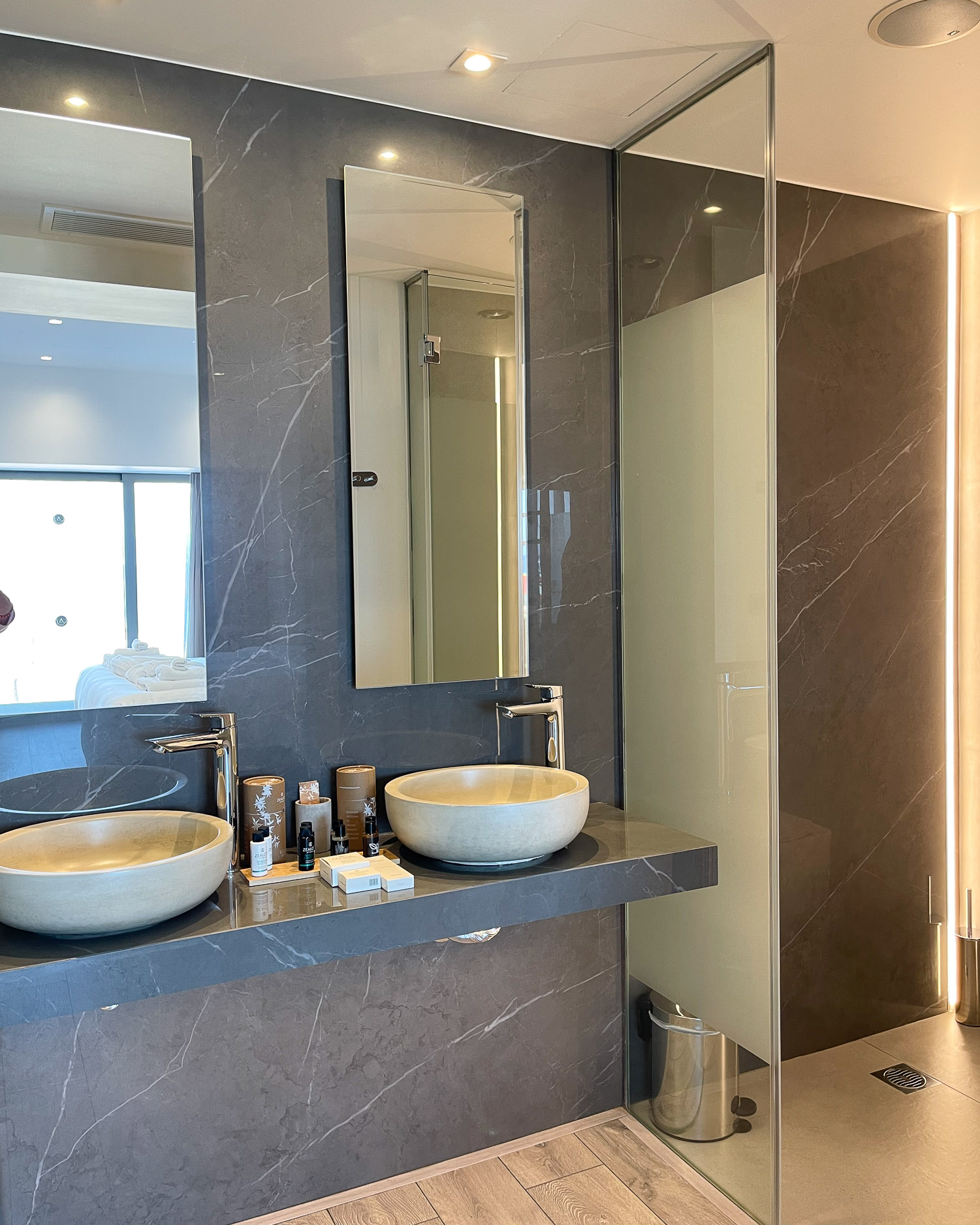 We noticed that some of the larger rooms and suites have a slightly different colour scheme, with soft sage green accents. There are also rooms designed for disability access, which are slightly larger at 38 square metres.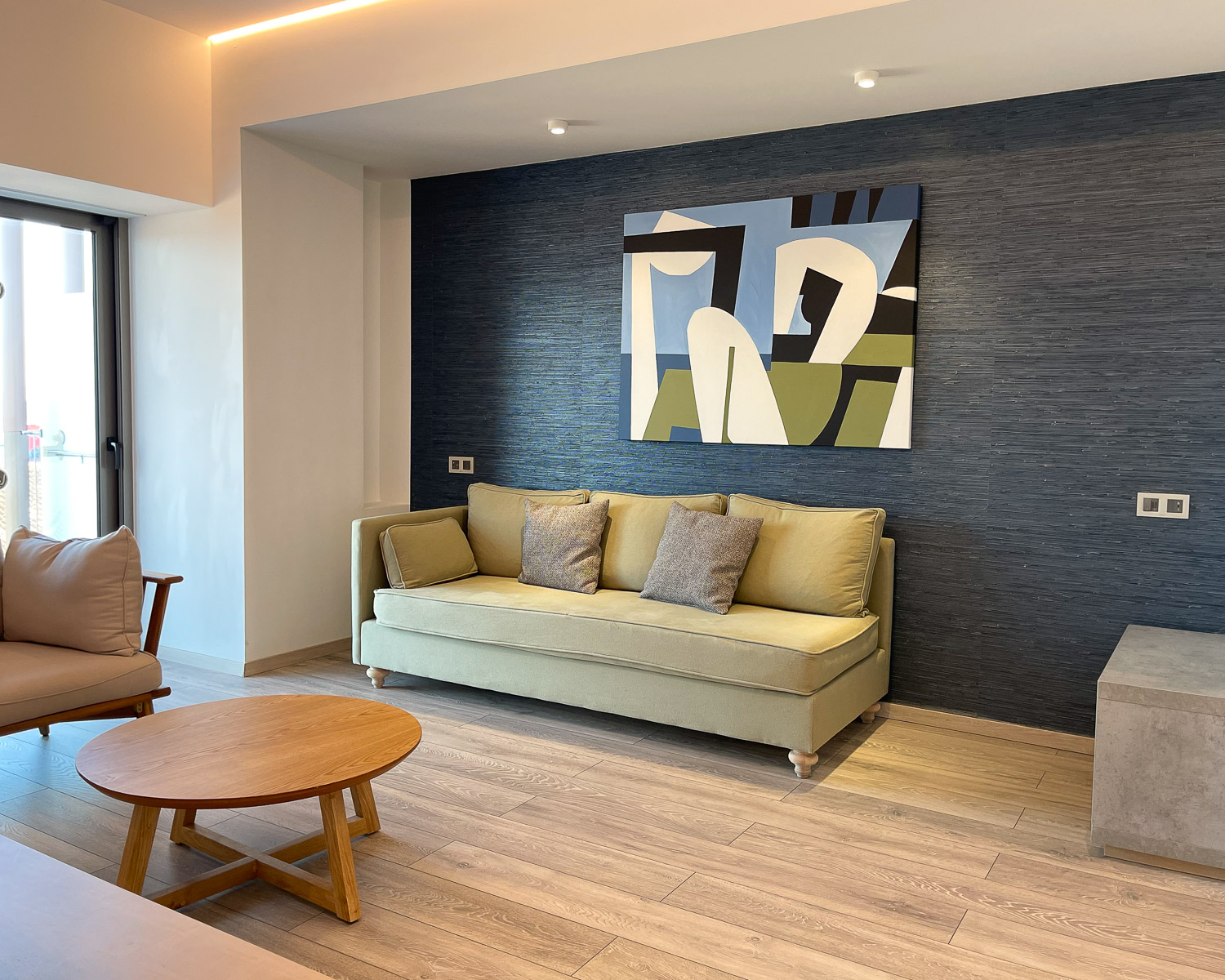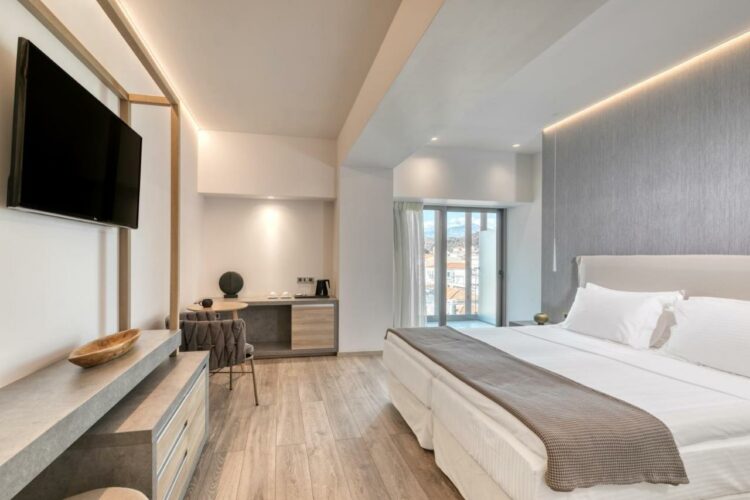 The 4-star Las Hotel & Spa in Gythio where we stayed offers contemporary style with roof top pool and restaurant
Spa at Las Hotel
On the lower ground floor is the Rivage Spa, which we sadly didn't have time to visit. Facilities include a jacuzzi and sauna, with massage and other treatments available. Because the spa is quite small, it needs to be booked in advance and there is an additional charge. Next to the spa is a fitness centre which is free for hotel guests to use.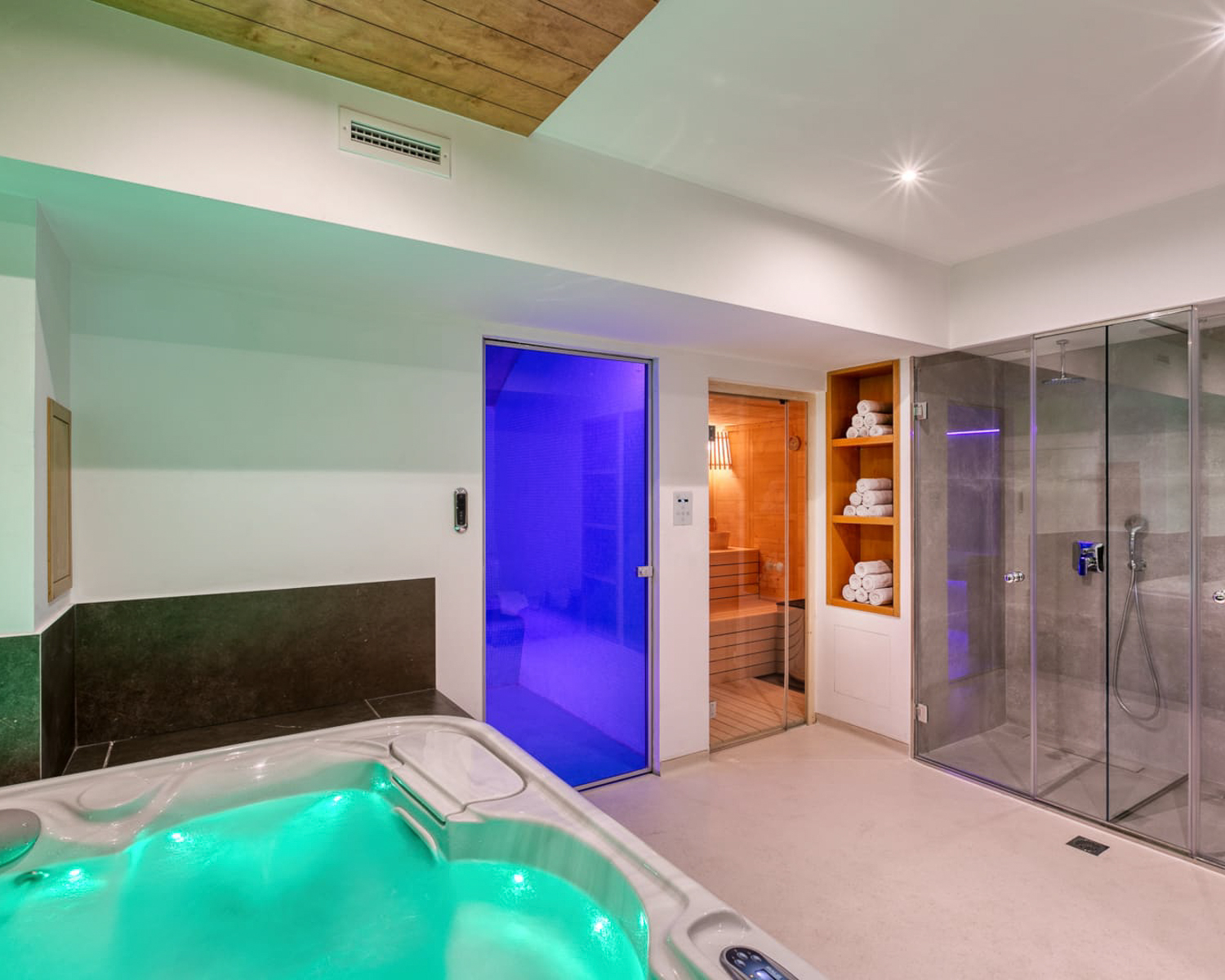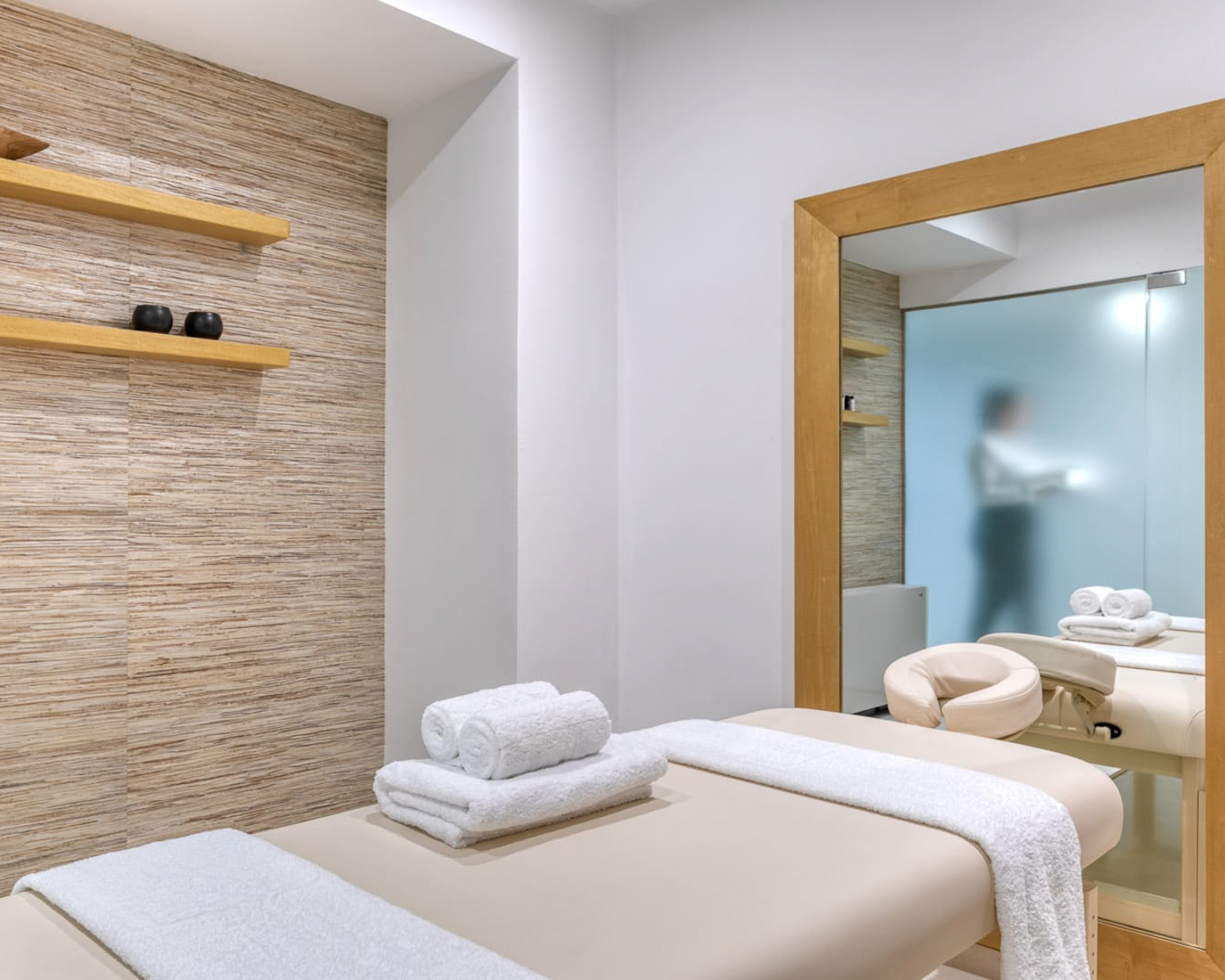 Things to do in Gythio
Gythio makes a great base to explore both the Mani peninsula to the west and the region of Laconia to the east. You can read more in our article Mani Peninsula Travel Guide – the Wild Peloponnese, about all the places we visited on this trip.
Within Gythio itself we suggest the following: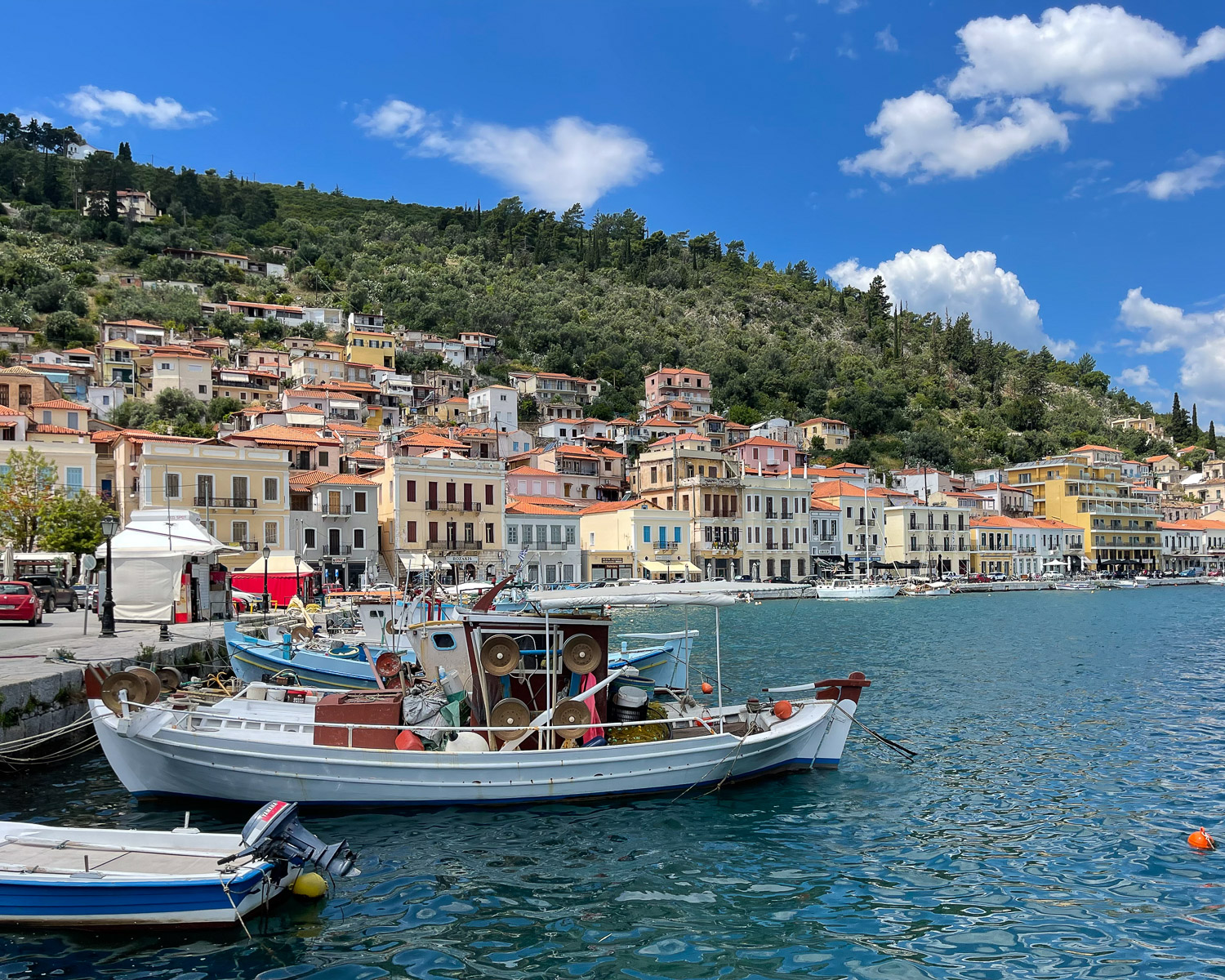 Wander along the Seafront – along the seafront are numerous cafes, with a small marina and port where fishing boats are moored and the ferries come and go.
Try the local seafood – Gythio offers a cluster of fish restaurants close to the harbour, some of which have their own boats bringing in fish from the Laconian gulf.
Old Town – climb up the hill behind the hotel to explore the old town where houses perch on the side of the wooded hillside, with narrow flower filled lanes between them, giving pretty sea views.
Ancient Theatre – seek out the ancient amphitheatre that dates back to the 1st century, tucked down the side streets of Gythio, now next to a military base.
Island of Kranai – Walk from the hotel along the harbour to the island of Kranai, also known by its modern name of Marathonisi. It's joined by a narrow causeway, which you can walk along to look around. Ancient Greek legend has it that this was the place where Paris and Helen of Troy spent their first night after fleeing from Sparta.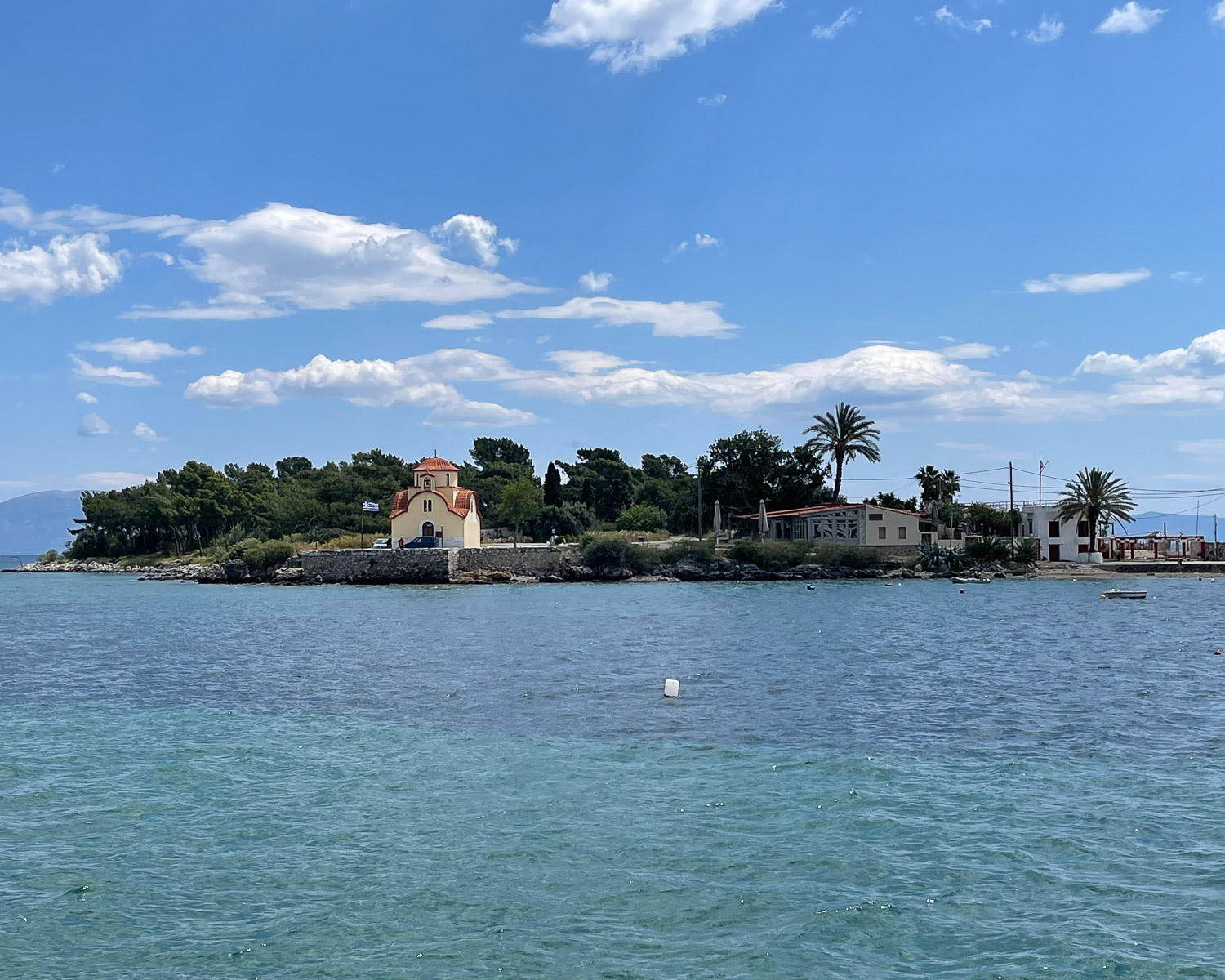 There's also a lighthouse that protects the harbour of Gythio and a small chapel, with a restaurant that's open in summer. The fortified stone tower house was built by Tzannetakis Grigorakis, one of the local clan leaders in the Greek War of Independence and is now a museum of local history and culture, although closed when we visited.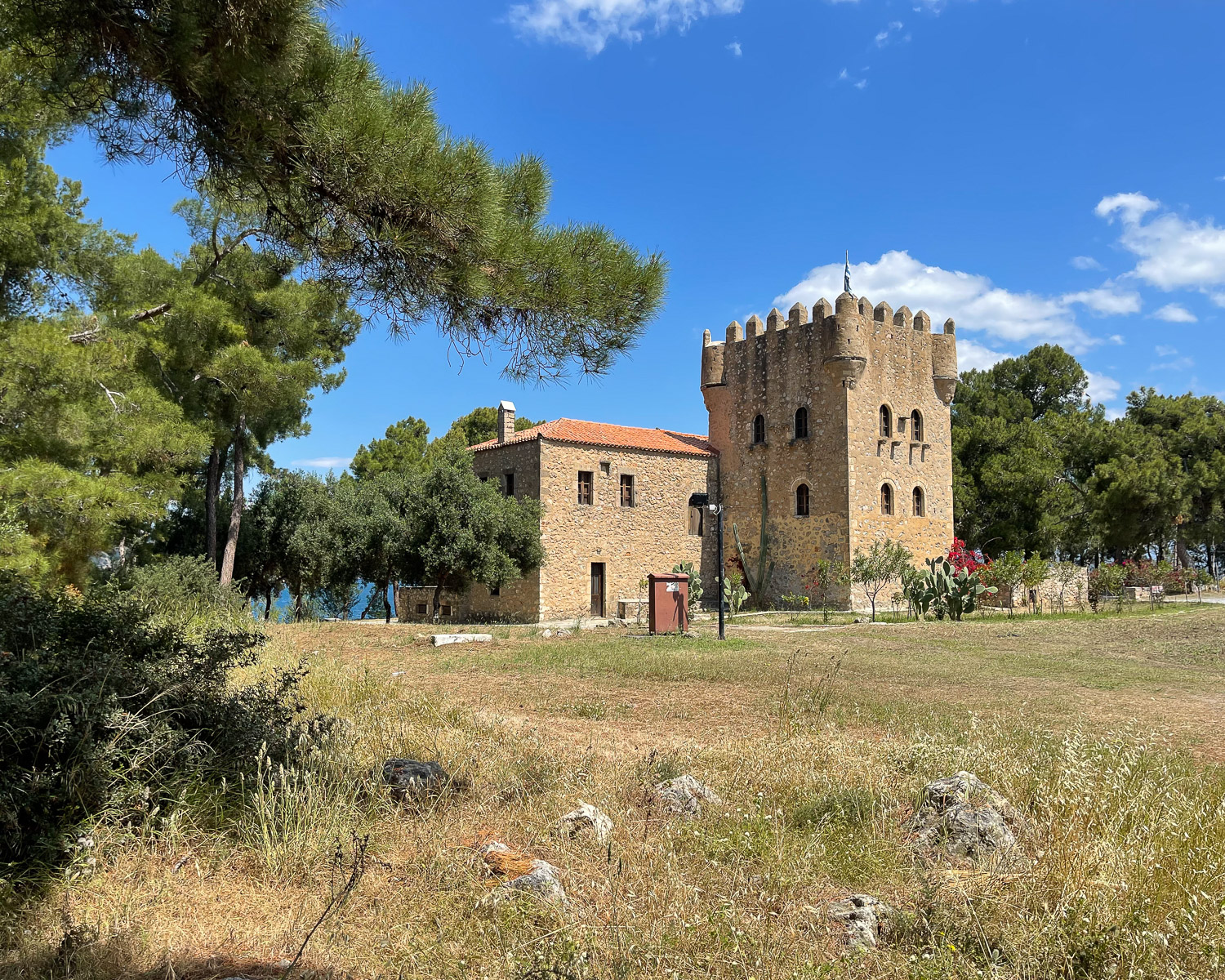 Beaches close to Gythio
Mavrovrouni Beach – (10 mins drive) – Just south of Gythio is the long stretch of sand at Mavrorouni beach, a natural and unspoiled beach with just a few holiday homes and campsites behind it. This is the closest place for swimming, since there's no town beach at Gythio.
Dimitrios shipwreck – (10 mins drive) – A short drive north along the coast, brings you to Valtaki beach, and the rusty but photogenic "Demetrios" shipwreck. With its stretch of sand dunes and beachside restaurant it's a nice place to relax and swim.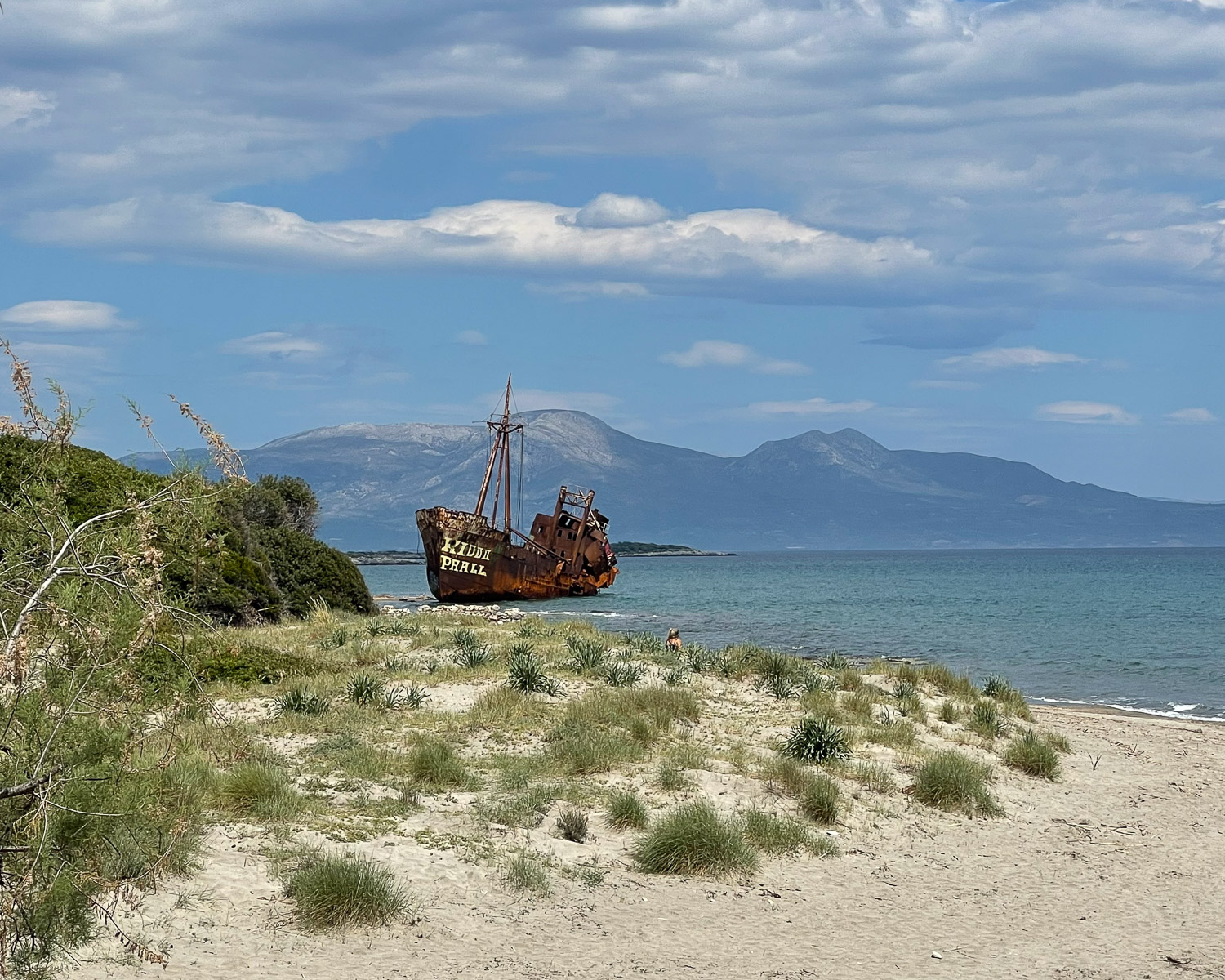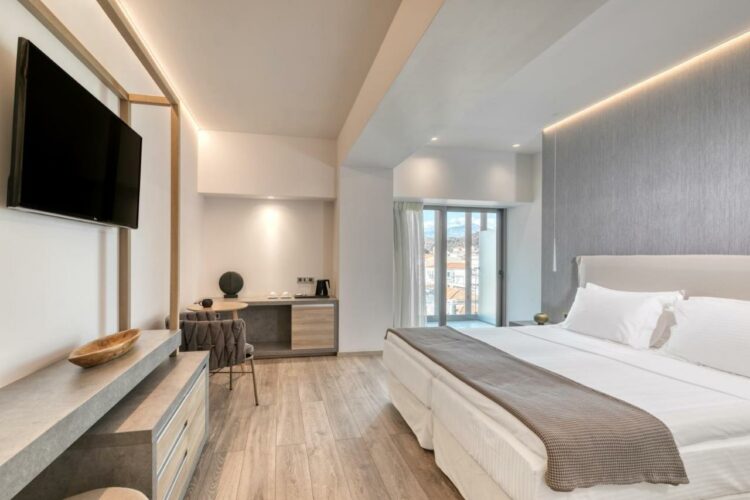 The 4-star Las Hotel & Spa in Gythio where we stayed offers contemporary style with roof top pool and restaurant
Visiting the Mani peninsula from Gythio
Drive west to the scenic Mani peninsula to visit some of the following, which could be combined into one day trip. Read more in our article: Mani Peninsula Travel Guide – the Wild Peloponnese.
Areopolis – (35 mins drive) – Crossing the Mani peninsula brings you to the regional capital of the Deep Mani, set on the hilltop. It has a square with plenty of restaurants and a quaint old quarter that's worth a visit.
Limeni – (35 mins drive) – The seaport of Areopoli, Limeni is set on an idyllic bay. A rocky shore is lined with traditional Maniot tower houses and stylish restaurants overlooking turquoise water. While there's no beach, there are places to swim from the rocks and the water is crystal clear.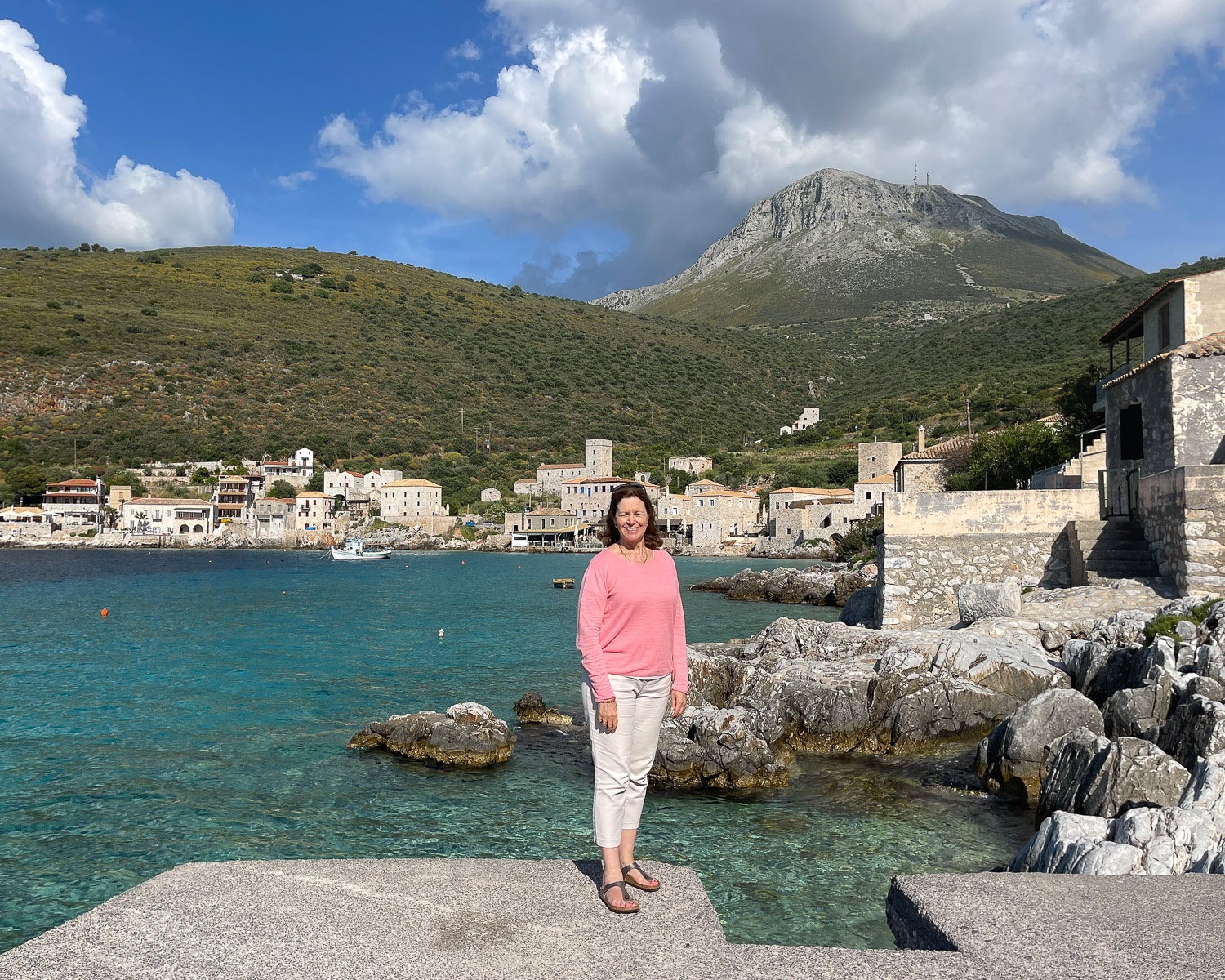 Caves of Diros (45 mins drive) – This flooded underground cave system by the sea can be visited on a boat trip, with expert boatmen to navigate the shallow water and overhanging stalactites.
Vathia – ( 1 hr drive) – A much photographed abandoned village which you can wander through, full of square Maniot tower houses clustered along a ridge.
Day trips from Gythio
Drive east or north to see some major sites that would make a pleasant day trip from Gythio.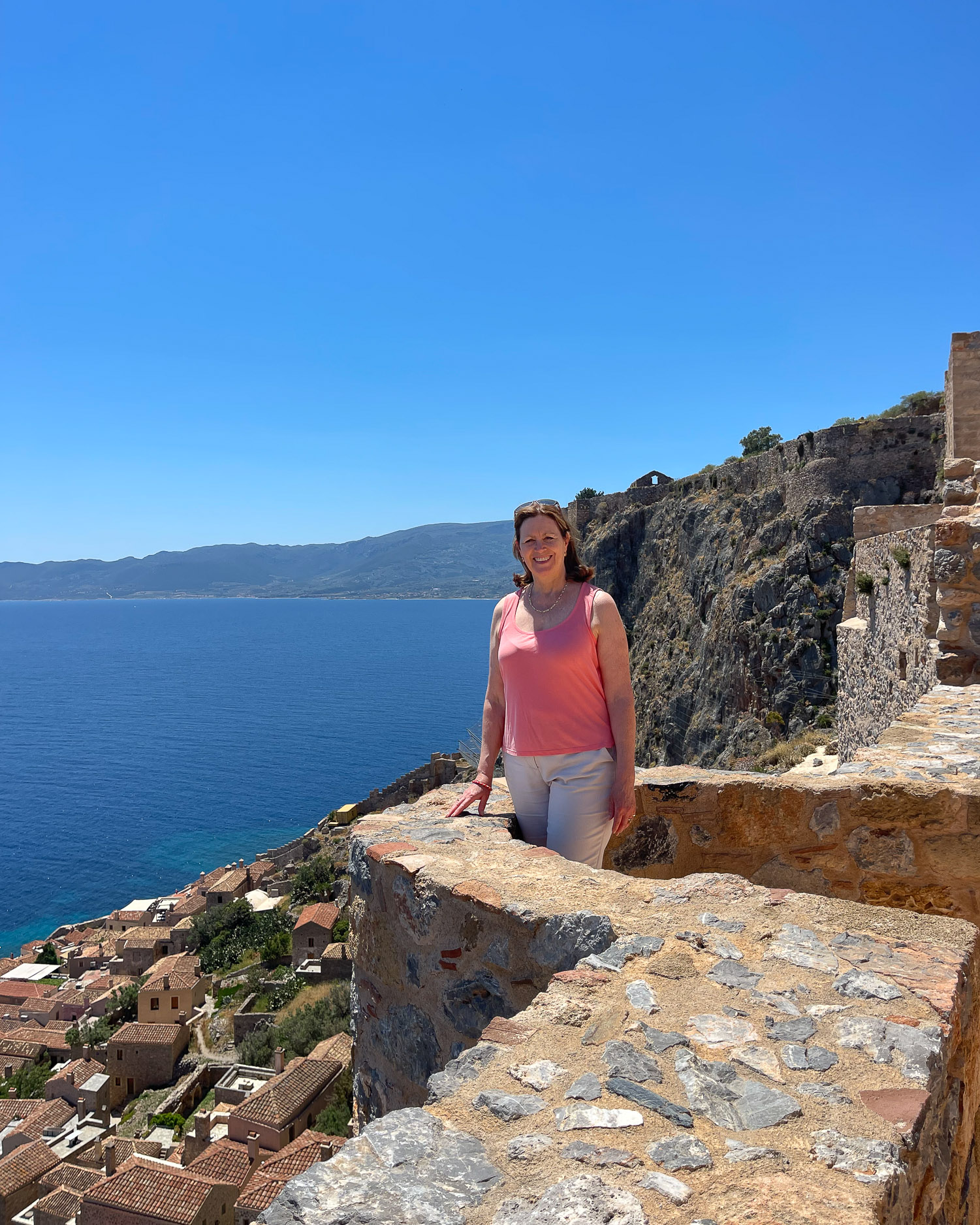 Monemvasia – (1 hr 10 mins drive) This pretty walled Byzantine town is hidden on one side of a rocky peninsula. It was once a thriving trading centre, with a well restored lower town that has souvenir shops, cafes and boutique hotels, as well as a ruined upper town with amazing views and a 12th century church.
Elafonisis Island – (2 hrs drive) Drive to the end of the Laconian peninsula and take the ferry for the day to Elafonisos. The small island has a reputation for lovely sandy beaches and clear turquoise waters for swimming and snorkelling.
Mystras – (1 hr drive) The archaeological site of Mystras is located close to the modern city of Sparta and is a good place to break your journey if travelling from Gythio to Kalamata. This former Byzantine capital set on the side of the hill is a huge area to explore, with Byzantine churches, a 12th century palace and a Kastro or fortress on the top of the hill.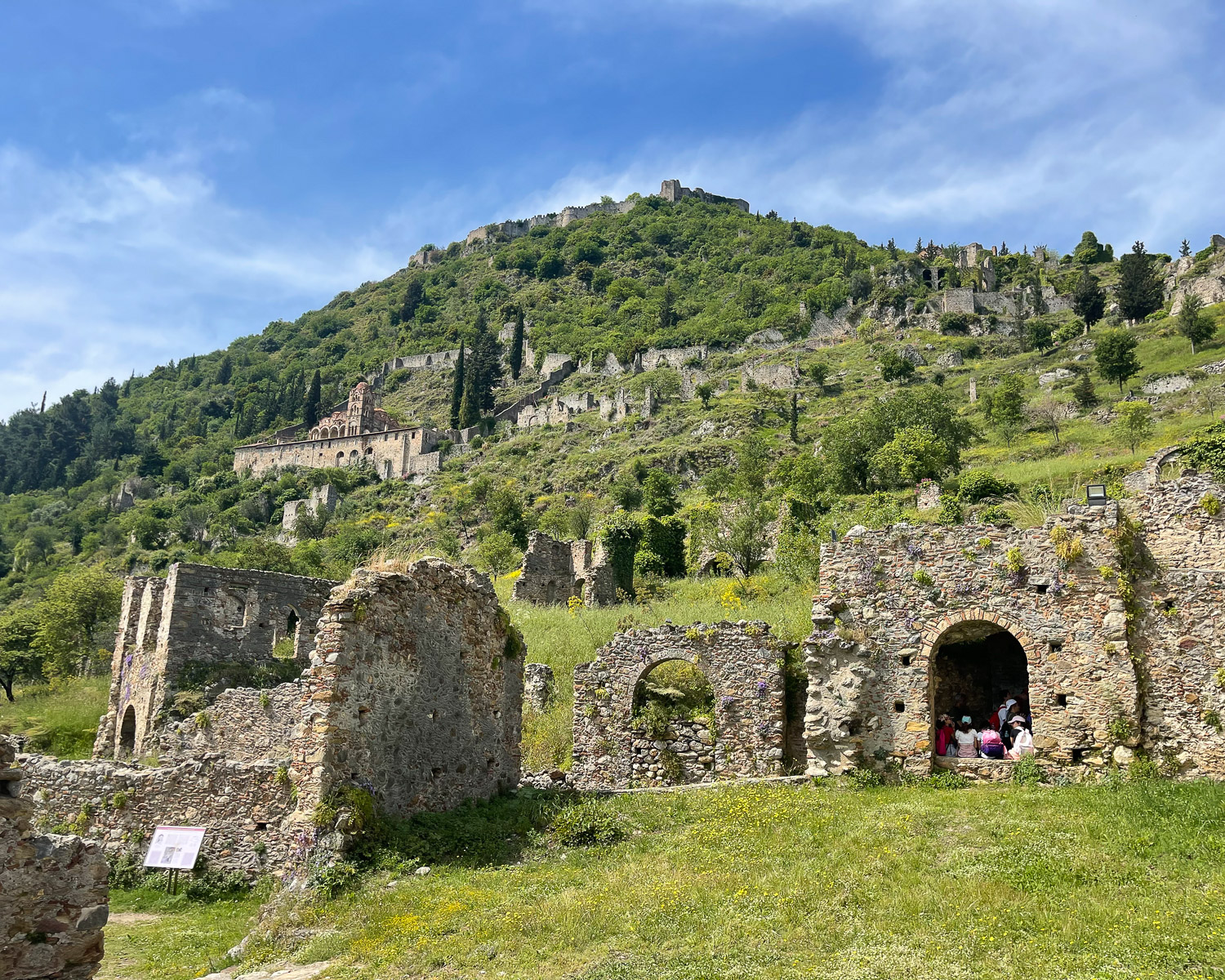 Who will enjoy staying at Las Hotel and Spa
We think that Las Hotel and Spa will be most enjoyed by the following guests:
The hotel is ideal for couples or friends travelling together since most rooms can be set up as double or twin beds.
It will appeal to travellers who want a hotel with facilities such as a pool, fitness centre and restaurant within the hotel.
Las Hotel and Spa would be a good choice for those who want a base for sightseeing in the southern Peloponnese, combined with a pool to relax and restaurants when they return in the evening.
Because of its location in the centre of town and the range of room types on offer, the hotel is a good choice for groups of friends travelling together, as there's something for everyone.
Good to know
There's no dedicated car park and while we had no issue finding space to park, we read that this can become more of a problem in high season or at weekends when the town is crowded.
The rooftop restaurant is popular with guests and locals alike, and we did read reviews that mentioned noise from the restaurant at busy times.
Due to the town centre location, there is limited outdoor space and we think that families with young children might prefer to stay at out of town hotels that offer gardens and family friendly facilities.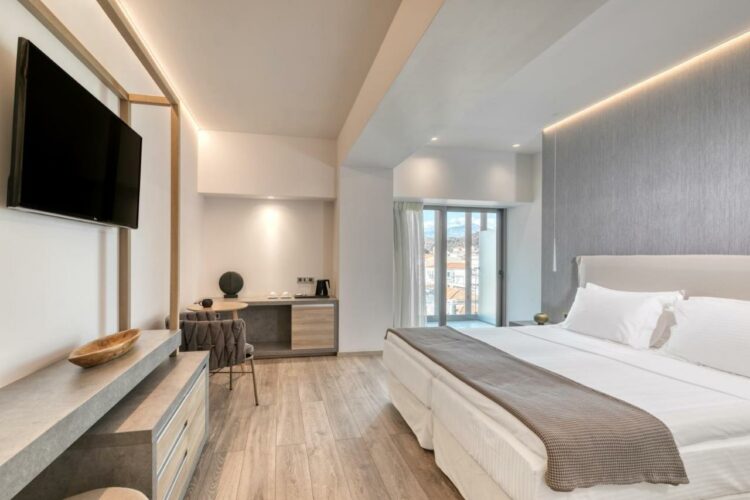 The 4-star Las Hotel & Spa in Gythio where we stayed offers contemporary style with roof top pool and restaurant
Book your stay at Las Hotel and Spa
Visit the Las Hotel and Spa website to book your stay direct from their site (they also have a member's discount for regular stays). To discuss your requirements or for last minute enquiries you can contact the hotel by email on [email protected] or +30 27330 24610. Address: I. Grigoraki 7 Gythio, Lakonia, Greece, 23200
If you prefer to use a hotel booking site, check out the hotel on Booking.com, Expedia or Hotels.com
How to get to Las Hotel and Spa
Kalamata is the gateway city for the southern Peloponnese and closest major city to Las Hotel and Spa. In Kalamata is an international airport, with direct flights from the UK and many other cities in Europe.
Due to a new fast toll road through the Peloponnese, it's also possible to reach Gythio from Athens in around 3 hours. If you plan to arrive and depart via Athens, you can easily hire a car there and drive to Gythio.
Another option is to take the bus from Athens to Gythio, changing at Corinth. Information is available on the KTEL Lakonias website. Alternatively take the bus from Athens to Kalamata and then hire a car to drive to Gythio and Las Hotel and Spa – driving time 2 hours.
It's possible to take a ferry from the Ionian Island of Zakynthos to Kyllini and from there it's just over 3hrs drive to reach Gythio.
Read Next
Discover more in our article: Mani Peninsula Travel Guide – the Wild Peloponnese, about all the places we visited on this trip.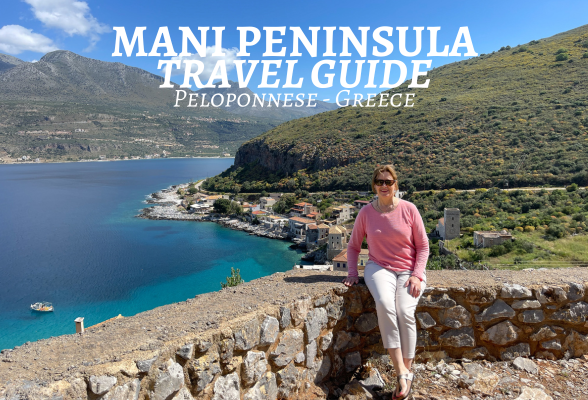 More articles to read about Greece
Akrolithi Boutique Hotel – an eco-friendly hotel in the Peloponnese
A guide to the Pelion Greece – from the mountains to the sea!
Mamma Mia film locations in Greece – Skopolos, Skiathos and Pelion
Map of Mani Peninsula showing places to visit
To see the other places we visited on this trip, check out my map of the Mani Peninsula, Greece or click on the map below. You can also read my article: Mani Travel Guide – things to do in the Mani Peninsula Greece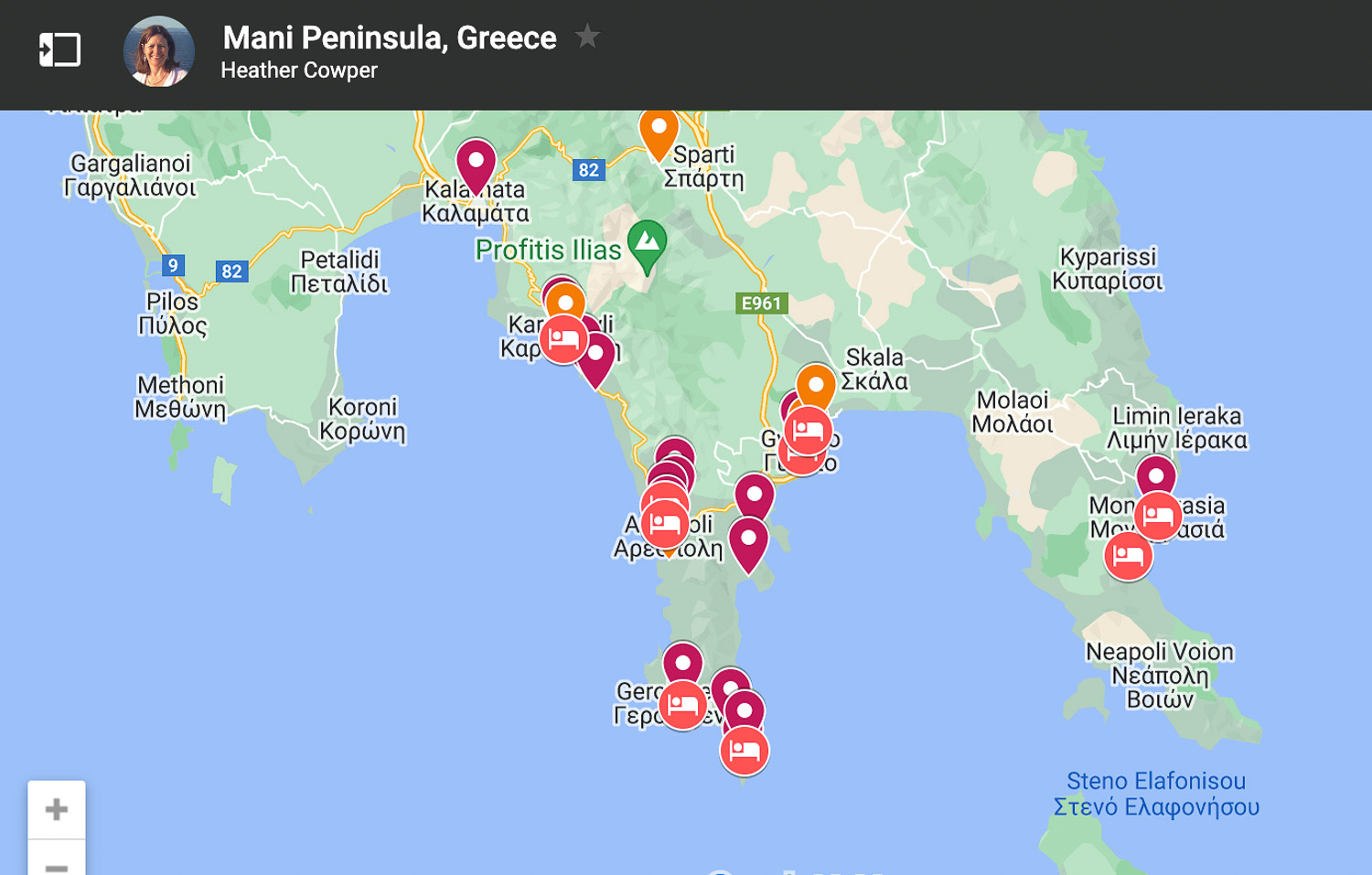 Plan your trip to the Peloponnese in Greece
For more information on visiting the Peloponnese visit the official Mythical Peloponnese official tourism website.

Pin it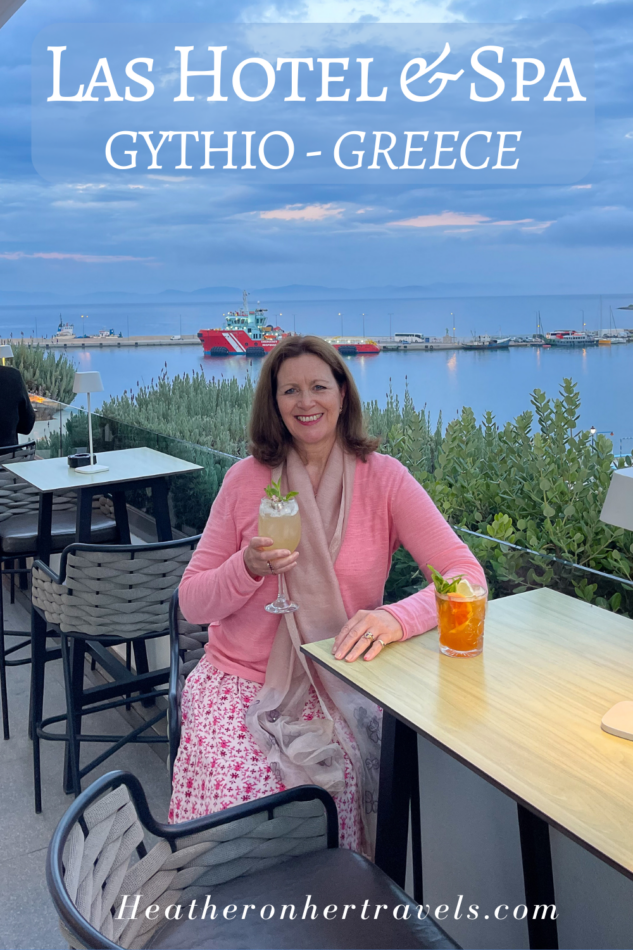 Heather's stay at Las Hotel and Spa Gythio was hosted* by the hotel
* More info on my policies page
This article is originally published at Heatheronhertravels.com