Less Than One Day in Juneau: Mendenhall Glacier and Crab Legs
13 min read
How to spend less than one day in Juneau, Alaska, on a cruise?
A day in Juneau will look different for everyone. Ours started with some rain and a canceled shore excursion.
Standing outside our balcony on the Norwegian Encore as it docked in Juneau, Alaska, we gazed upon a port enveloped in fog and drizzle, anticipating the inevitable call.
Despite our hope that the call wouldn't come, we were aware deep down that it was unavoidable. We booked a tour, aware of Alaska's unpredictable weather and the likelihood of cancellations, especially if the excursion involves a helicopter ride.
And then it happened – the call came in, informing us that our glacier dog sledding excursion had been canceled.
We were utterly disappointed. It was the experience we'd most wanted to do (and the most expensive).
But we had to quickly come up with Plan B. A canceled shore excursion wouldn't stop us from experiencing what Juneau offers.
We were well aware that there are many things to do in Juneau. And we could have negotiated a last-minute tour at the cruise port.
But we aren't beginners at exploring on our own at ports. We sometimes prefer to do our own thing and, so far, always book our own excursions.
Mendenhall Glacier was at the top of our list of things we wanted to see before we booked the dog sledding. So, we decided to make it there and then find some local food on the way back – Alaskan crab legs, to be exact.
This post may contain affiliate links, which means we'll receive a commission if you purchase through our links at no extra cost to you. Please read full disclosure for more information. We appreciate your support!
It ended up being an amazing day in Juneau. One that is worth sharing about.
In this article, we share how to get to Mendenhall Glacier, what to see there, whether the hike to Nugget Creek Falls is worth it, and where to get some delicious crab legs in less than one day in Juneau.
Less Than One Day in Juneau, Alaska
Now, a day in Juneau, Alaska, can be spent exploring the town and its rich history, visiting the local museums like the Alaska State Museum, drinking at Red Dog Saloon, riding Mount Roberts Tramwat, or hiking through the Tongass National Forest. There are whale watching, glacier trekking, or dog sledding opportunities for the more adventurous.
And, of course, if time permits, no visit to Juneau would be complete without indulging in some fresh Alaskan seafood. Whatever your interests may be, Juneau offers plenty of things to do.
After the dog sledding tour was canceled, seeing Mendenhall Glacier was the next best thing for us.
After all, Mendenhall Glacier is the crown jewel of Juneau, and locals are so proud of it. Our Lyft driver spoke of it with pure joy and awe, leaving us at the visitor center excited to see it for the first time. 
What's great about Mendenhall Glacier is that you can get there independently without a tour. You can even take the local bus. We chose to take a Lyft out of convenience. We'll get further into the transportation options below.
Cruising with Norwegian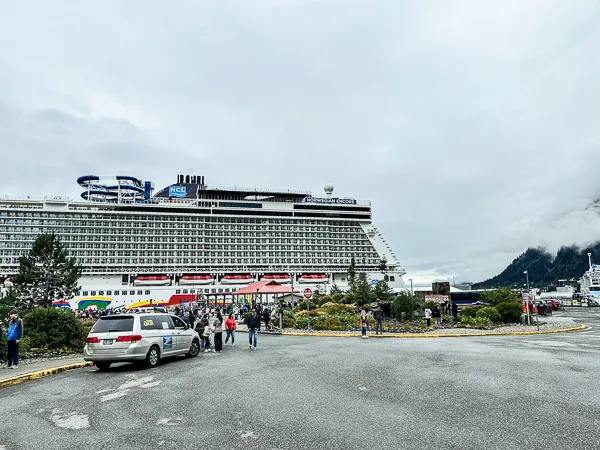 If you're cruising with Norwegian, they dock their ships furthest from town at the AJ Dock. There are free shuttles outside where NCL docks, but there can be a bit of a wait. It's easier to walk the 30 minutes into town.
Visiting Mendenhall Glacier National Park
Seeing Mendenhall Glacier
Mendenhall Glacier, located in Southeast Alaska in the Mendenhall Valley of Juneau, Alaska, is a 12-mile-long glacier in the Tongass National Forest. It is a popular attraction in Juneau cruise port, attracting over half a million visitors yearly (700,000 in 2023) who witness it and its breathtaking scenery.
Mendenhall Glacier is a natural wonder. The glacier's melting ice has formed a network of caves. You should bring your binoculars to spot these caves. They are not visible to the naked eye from the viewing point.
It is said that by 2050, Mendenhall Glacier will be gone. That's one reason to hurry up and see it. Sadly, the glacier is melting.
My close friend, who had been there about 5 years ago, compared her photos to ours, and there is a major difference in how it looked then and now.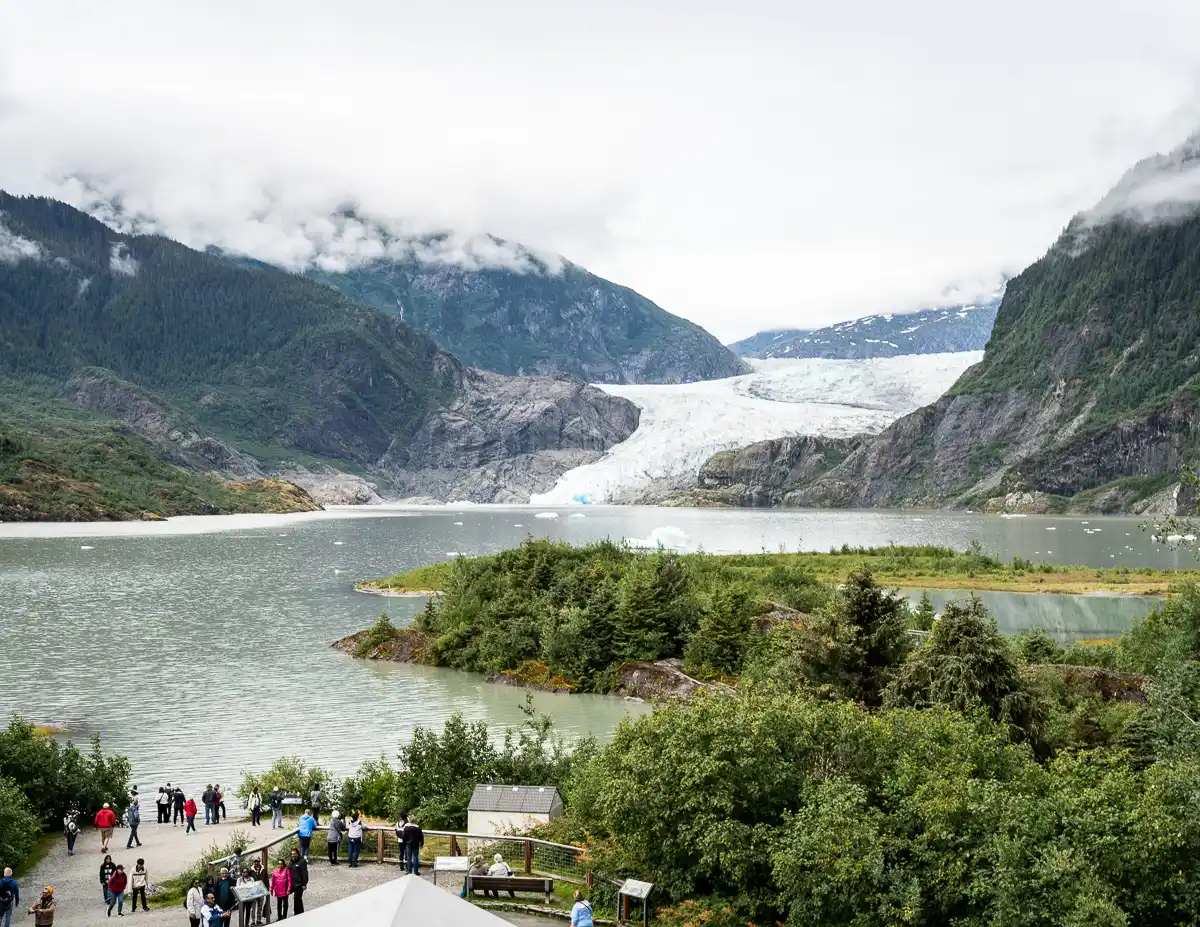 The Mendenhall Glacier National Park's Visitor Center offers a fantastic view of the glacier amongst the souvenirs and other small exhibits. You don't have to get any closer if you can't or are limited in time.
If you have the time to enter the park, a daily pass costs $5, which you can purchase at the gift shop in the Mendenhall Glacier Visitor Center. If you have a National Parks Pass, then you do not need one.
(Note: We purchased passes, and nobody ever checked our receipt.)
But if you arrive there by tour, shuttle, or taxi, the cost of the pass is included with the cost of transportation. Make sure to ask.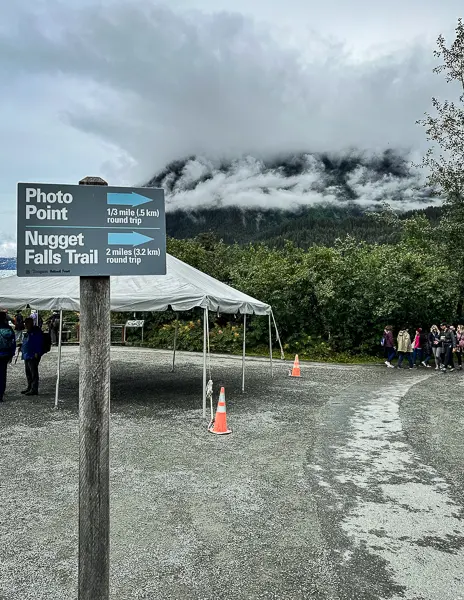 The Photo Point Trail for Mendenhall Glacier
The Photo Point is not a 5-minute walk from the visitor center. We suggest getting to the viewpoint to see it on foot as it is a stunning sight. This is the closest you'll be able to see it by going on an expert hike or a helicopter.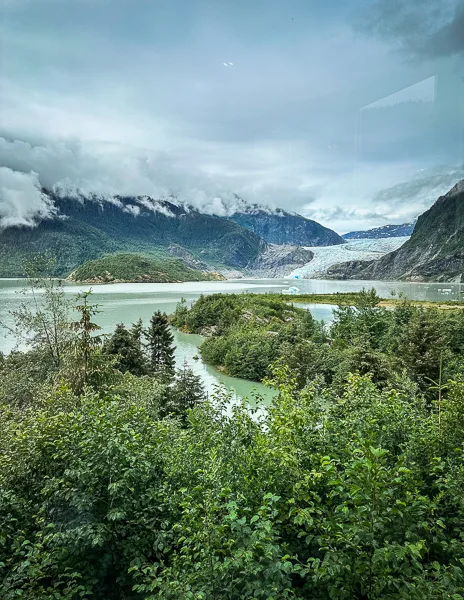 You can book other tours to get closer, like kayaking, canoeing, or other boat tours. Those you have to book far in advance. 
This was our first glacier, a wonderful sight to see. You should expect to be sharing the view with many others.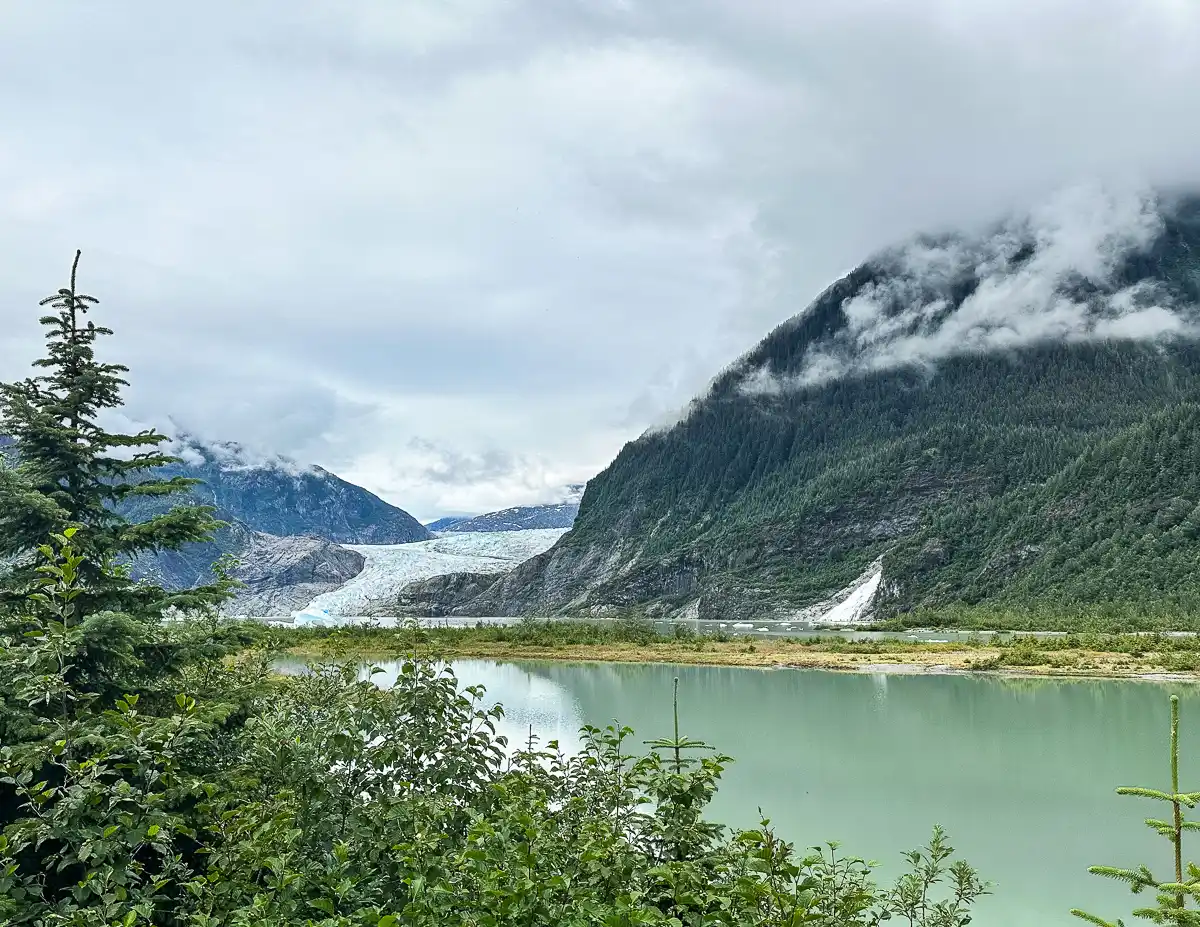 You can also see Nugget Falls from the Photo Point Trail. It's incomparable to seeing up close. You will want to loop back around and do the Nugget Falls trail.
When planning a day in Juneau, if Mendenhall Glacier is part of it, carve out time to hike to Nugget Falls. It is worth it.
Tour Ideas:
Mendenhall Glacier Lake Canoe Tour [book now]
Mendenhall Glacier Ice Adventure Tour [book now]
Hike to Nugget Falls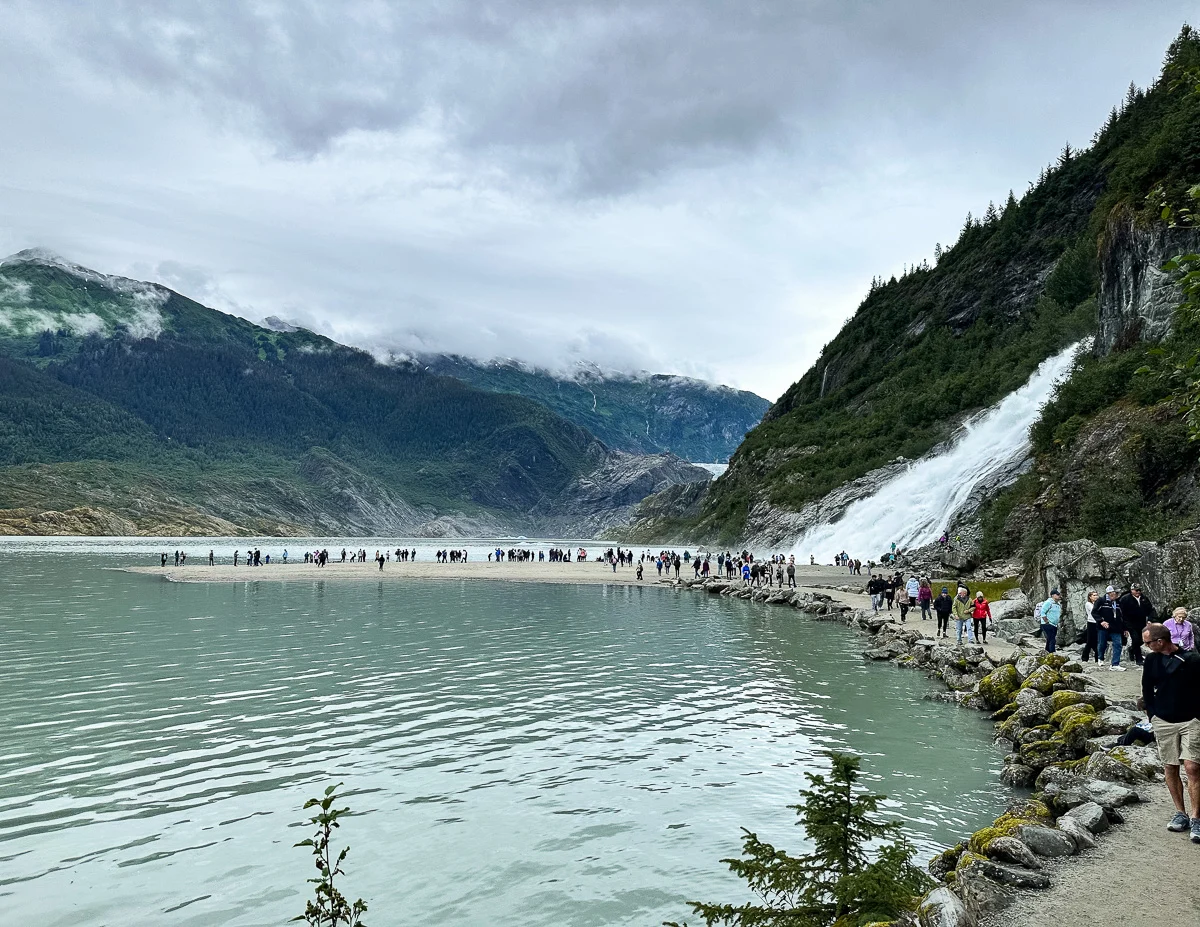 The Nugget Falls Trail is a 2-mile round-trip trail. It takes about an hour and a half back and forth, not counting the time you spend by the falls, taking in its grandeur. The trail is paved, and while it is labeled moderate, it was easy for a low-key hiker like me.
If you're on a tour with time limitations, make sure there is enough time to walk this trail before you plan to do so. Getting halfway and realizing you must turn around without seeing the falls up close would be disheartening because you must return to your tour bus in time.
This amazing waterfall is located in the Mendenhall Valley near Juneau, Alaska. The massive waterfall is about 377 feet tall, cascading and spraying over 100 feet wide.
As you stand near the waterfall, you can't help but feel tiny amongst tiny amongst the towering beauty.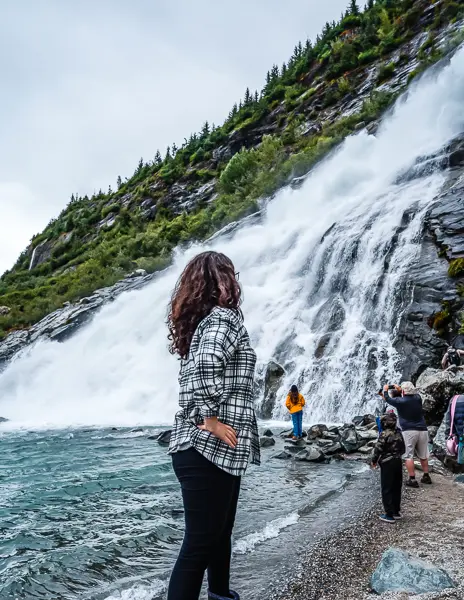 Because it had been a warm summer, the falls flowed strong and were not frozen, as you may see in other photos on the web. My friend told me that the falls and the lake were frozen the last time she was there. Even our Lyft driver told us it completely freezes in winter, and locals can access the falls from other surrounding parts on foot, not just the visitor center.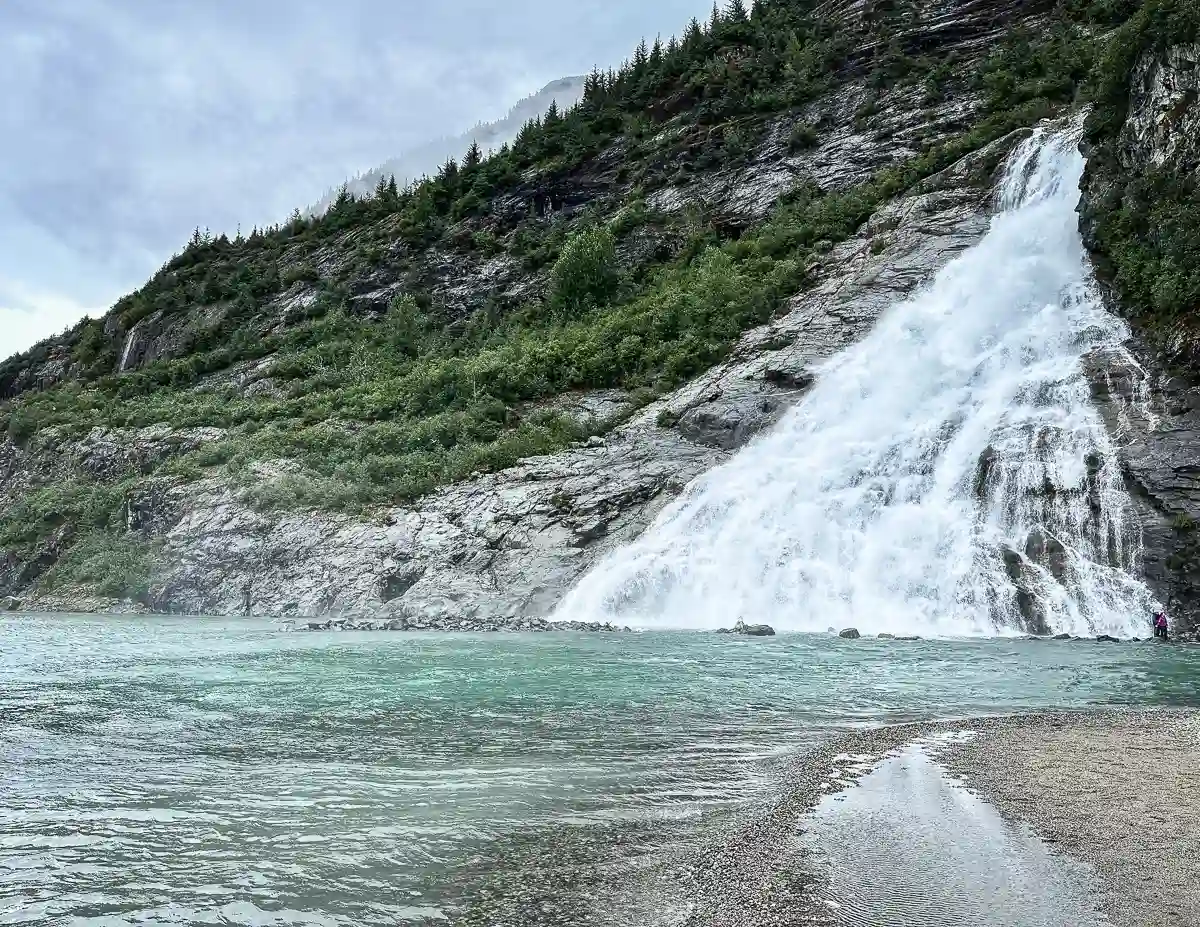 Seeing the Mendenhall Glacier for the first time was an experience, but also slightly saddened by the fact that it's slowly melting. You can tell standing there that the glacier has been receding for years, leaving behind a barren landscape that was once covered in ice. 
And even as you stood in front of Nugget Falls, still thriving, the glacier that feeds it has also receded. It's a sobering reminder that the natural world is constantly changing and that we must cherish and protect the beauty surrounding us.
Tip: Keep your eyes peeled while walking the trail. The area surrounding the falls is home to all sorts of wildlife, like black bears, bald eagles, and salmon.

You never know what you will see. We got to see a porcupine up on a tree. Didn't even know that porcupines could climb trees.
How to Get to Mendenhall Glacier from Juneau Cruise Port?
You have a variety of options to get from Juneau Cruise Port to Mendenhall Glacier. It all depends on budget, convenience, and the level of adventure you're looking for.
Transportation Options to Mendenhall Glacier from Juneau Cruise Port
City Bus
The city bus is the cheapest way to reach Mendenhall Glacier. It cost $2 each way. There are a few bus stops in Downtown Juneau that you can take the bus from. The city bus will drop you off 1.5 miles from the visitor center, about a 35-minute walk. You can find local transit information from Juneau to Mendenhall Glacier here.
Shuttle Bus
This is a popular option because it is convenient and takes you straight to Mendenhall Glacier. The shuttle bus runs every 30 minutes from Juneau Cruise Port to Mendenhall Glacier and back. The cost is $35 per person round trip, including the park pass. The most popular shuttle bus company is The Blue Bus Express.
Taxi
This option provides more flexibility and comfort than a shuttle bus. While you can hop into a taxi at Juneau Cruise Port, we wouldn't rely on finding one. Taxis are limited, and if it's crowded at the port, you may have difficulty finding one available. We recommend calling and booking one in advance or when at the port.

You can even negotiate a city tour with them.

Taxis also sell the passes, but don't be surprised if it's at a higher price.

Glacier Taxi & Tours (907) 796-2300
Juneau Taxi & Tours (907) 790-4511
Alaska Taxi & Tours (907) 321-2329
Car Rental
You can rent a car and be in charge of your agenda. This is usually our favorite way to explore ports, and we almost rented from the Avis near the cruise port as they had cars available the morning of, but we went with a Lyft instead. From what we could see, driving in Juneau seemed pretty easy, and there was plenty of parking at Mendenhall Glacier.
Lyft or Uber
Lyft and Uber are not authorized transportation options (meaning they do not have permits to drop you off or pick you up right in front of the visitor center). However, they are still a viable transportation option.

We requested a Lyft upon getting off the ship to get to Mendenhall Glacier and then requested another one again upon our return. We were just dropped off or had to meet the Lyft a bit ways down.

We purchased our passes at the visitor center for $5 each.

Both times, we had the nicest locals who spoke so highly about their home and provided us with some great tips. One even went out of their way to show us the new Whale Statue. The other said we were better off eating at Tracey's outside of the downtown area, which we didn't even know existed.
Biking
Biking at Mendenhall Glacier is an adventurous option that our Lyft driver told us was popular. You can rent a bike via a bike rental company in Juneau or book a bike tour, and the journey takes 1-2 hours each way. The route requires a moderate level of fitness.
Juneau Tip: Look up as you're being driven around. You'll be surprised to see bald eagles just hanging out on top of lamp posts.
Tour Ideas:
Mendenhall Glacier Canoe Paddle and Trek [book here]
Mendenhall Lake Kayak and Salmon Bake Adventure [book here]
Mendenhall Glacier Float Trip [book here]
Can you visit Mendenhall Glacier on your own?
Yes, you can visit Mendenhall Glacier National Park on your own. We did so by just taking a Lyft. You do not need to book a tour unless it's for convenience or if you want to do something more adventurous that involves getting closer to Mendenhall Glacier, like this Mendenhall Glacier Ice Adventure tour.
Is Mendenhall Glacier worth seeing?
Yes, with just a day in Juneau, Mendenhall Glacier is worth seeing if you have the opportunity and can fit it in. It is an incredible natural wonder and one of the most accessible glaciers you can see in person from land.
Alaskan Crab Legs at Tracy's Crab Shack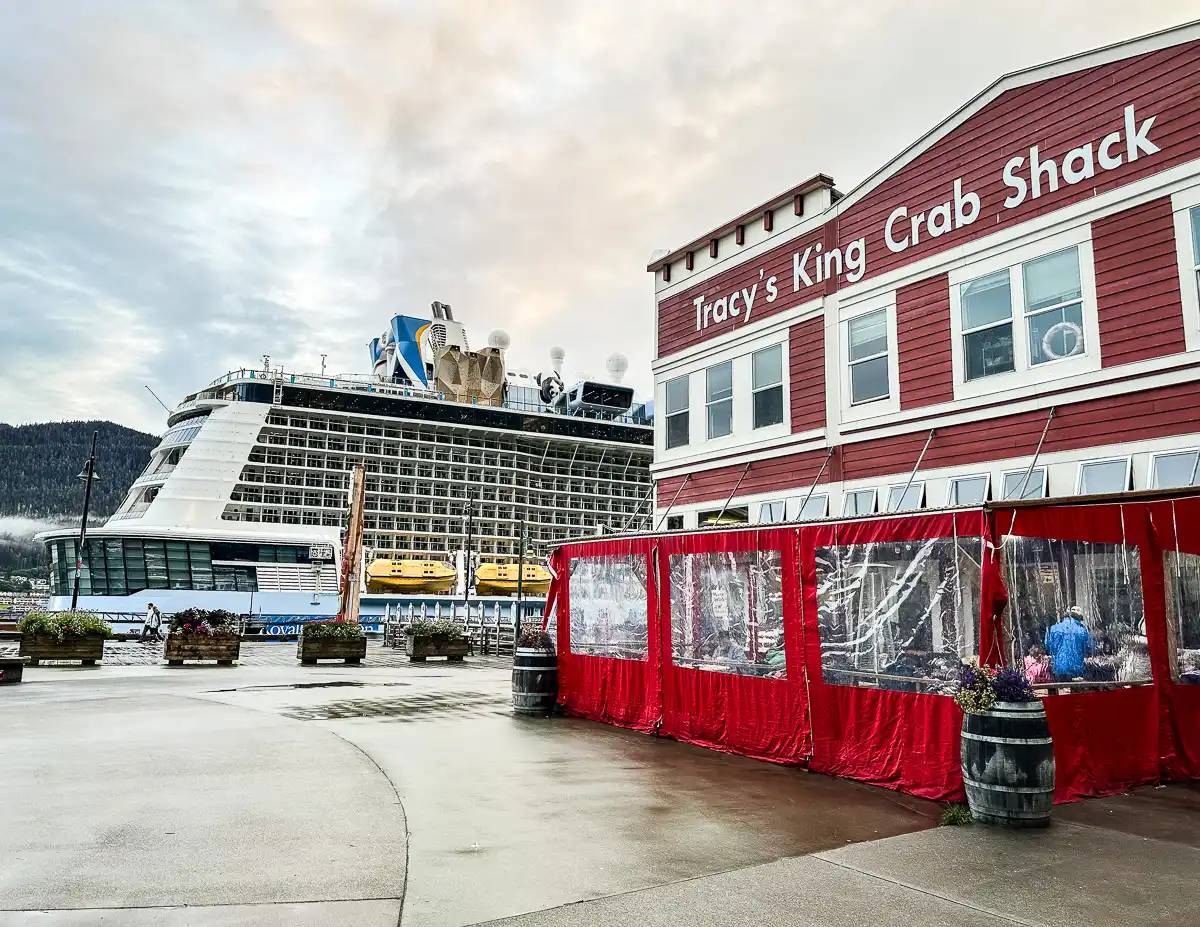 On the top of my list for our Alaska cruise was having Alaskan crab legs. We didn't know what cruise port we'd fit this in, but it was on my list.
I knew in advance that Tracy's King Crab Shack in Juneau is one of the popular spots to eat crab, but I wasn't married to the idea. Just because it's popular doesn't mean that's where we should go.
However, on our way back from Mendenhall Glacier, we spoke to the Lyft driver about crab legs, and he said Tracy's was THE place for crabs in the area. Although, the best for him was the ones he's fished himself and cooked at home.
Alas, we couldn't go out fishing for our crab. There wasn't even enough time if it was even an option. Although there are tours, you can book to go crabbing.
Then he remembered that Tracy's opened a 2nd location right outside Downtown, away from the busy port, and recommended we go there to avoid lines and crowds.
He had us at…"away from the busy cruise area" and then at "avoid lines."
So, he dropped us off at Tracy's King Crab Shack near the US Coast Guard, about a 15-20 minute walk from Juneau, which we didn't mind walking back on our return.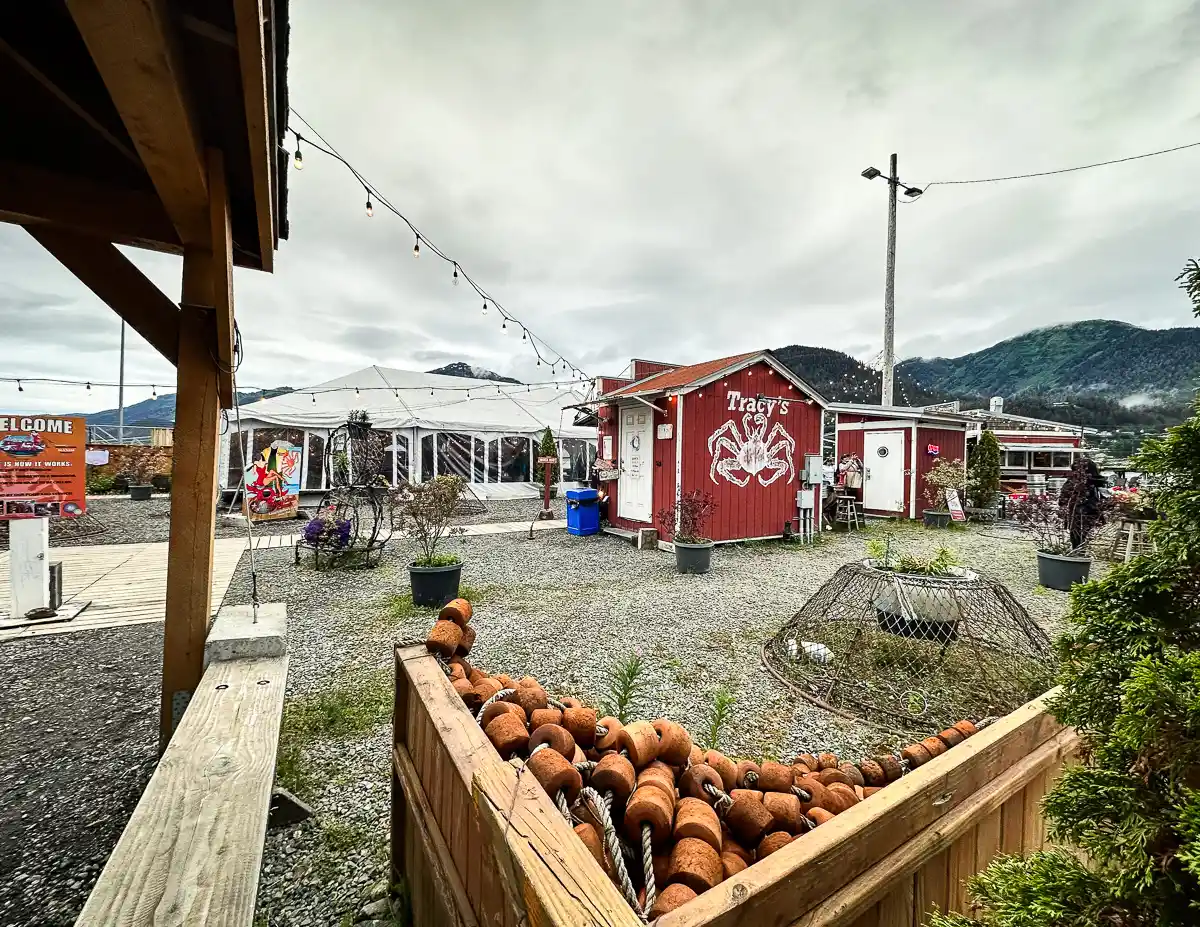 Tracy's 2nd location on Whittier Street differs from the one at the cruise pier. This location is more open with outdoor sheltered seating that is also heated, which we appreciated because it rained hard while we ate. The best part is the beautiful views of the waterfront at this location.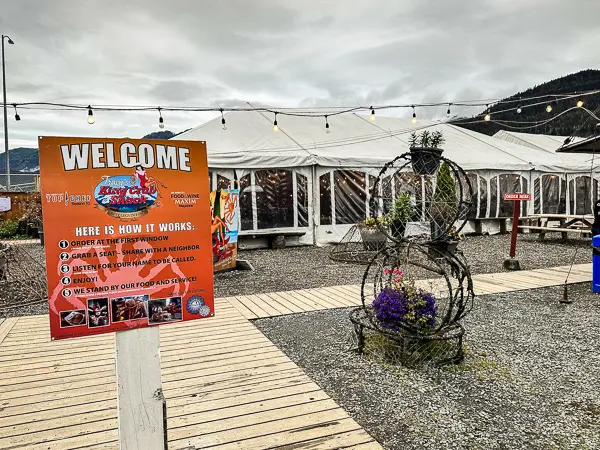 Now, there are instructions upon entering and a huge sign as you do that tells you how to order.
First, you order at the first window.
Second, grab a seat, and don't forget to share with a neighbor.
Third, listen for your name to be called – they bring out the food to you.
Fourth, ENJOY. We sure did!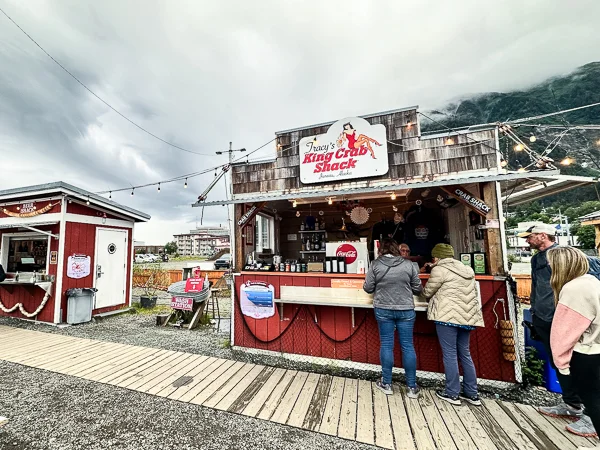 Tracy's has two types of King Crab you can order: Red King Crab and Golden King Crab. They also have Snow Crab and Dungeness Crab, crab bisque, crab cakes, fried shrimp, and other things on the menu.
We ordered a pound of the Red King Crab and a pound of the Golden King Grab, beer-battered shrimp, and a side of tater chips.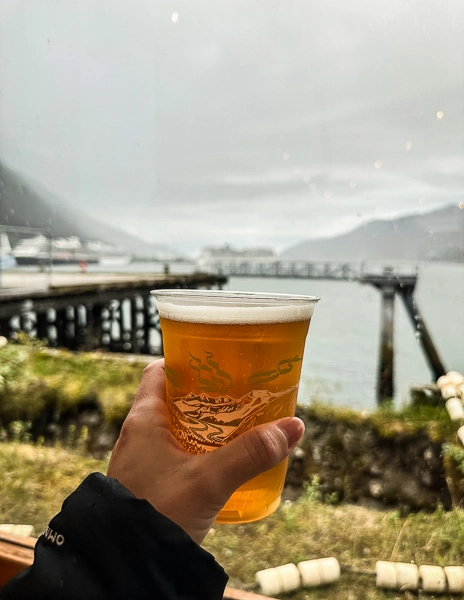 We sat down inside with a view of the water. Our food came out not long after, and it was a beautiful spread of crab legs with melted butter and sides.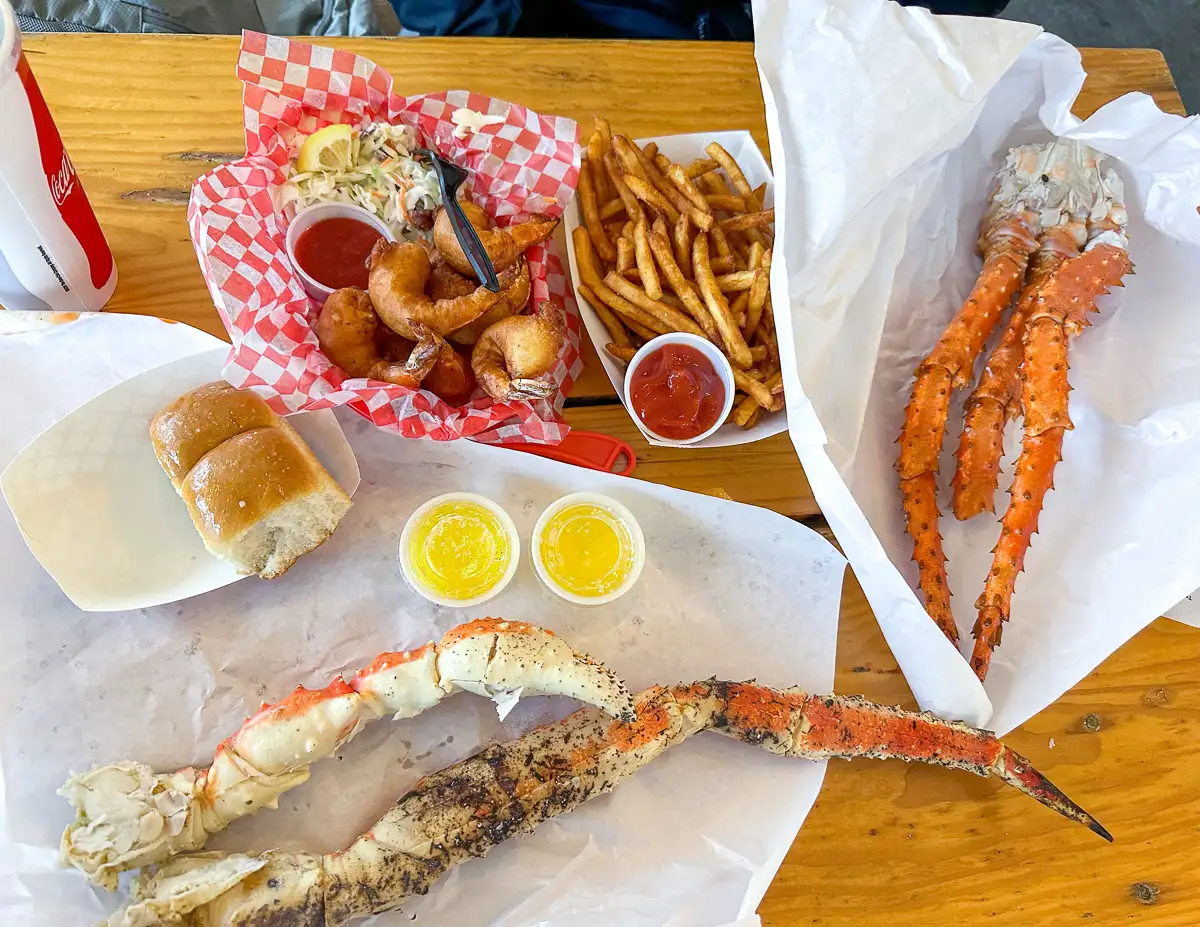 The crabs were better than I imagined them to be. I've had Alaskan King Crab, but it's not as fresh. You could taste the sweetness of the fresh crab, and then you dipped it in butter, which just brought it to a whole other level.
And, the beer-battered shrimp was good, too.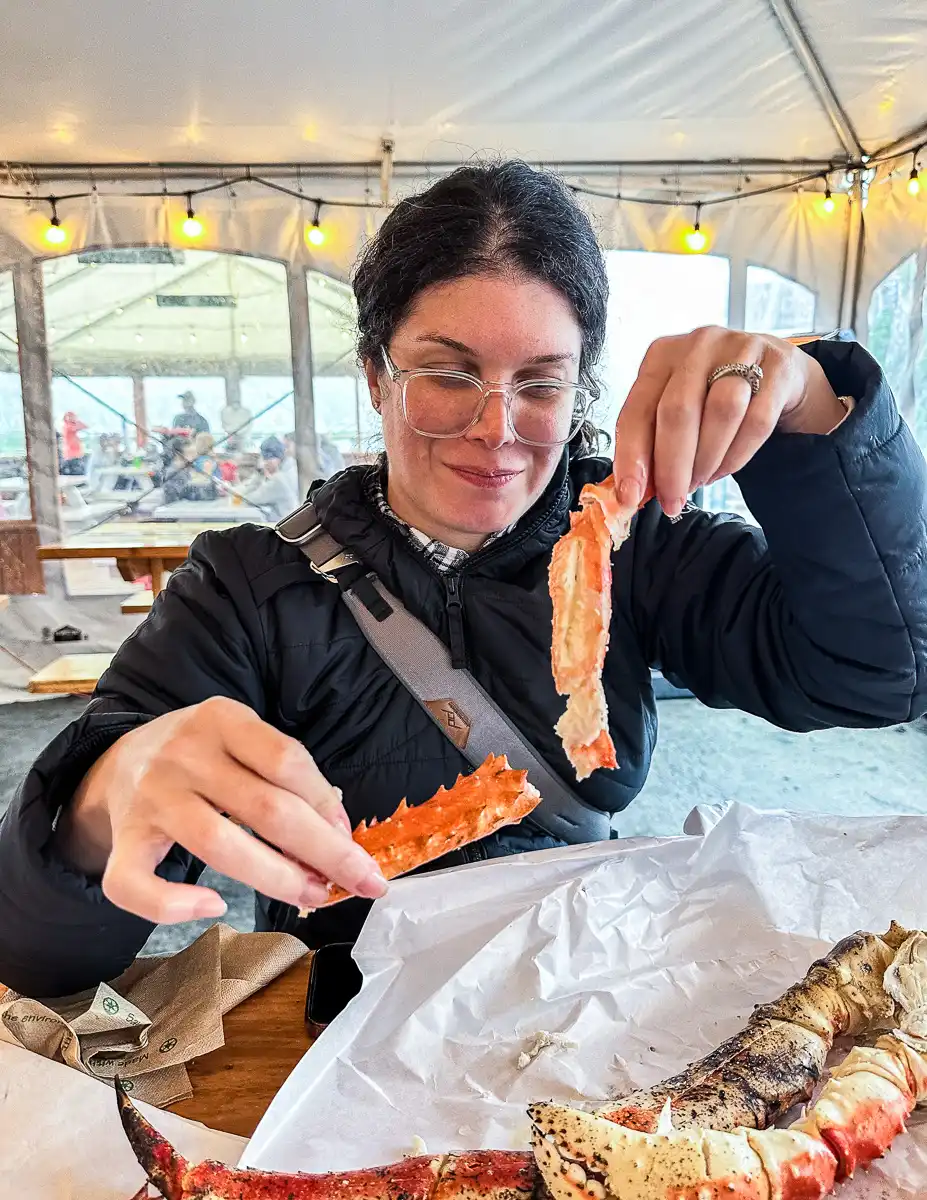 Hubby normally doesn't eat fish. Sometimes, he'll have fried shrimp, but I convinced him to try the crab legs. He loved the Red King Crab. The Yello King Crab had more of a fishy taste to it, he says, which I agree. I enjoyed the Red King Crab way more but still ate it all and felt it was worth the experience.
It is an expensive experience at $70 per lb. Not one that I regret during our one day in Juneau.
[Tracy's King Crab Shack Location 2 Menu]
Once you leave Tracy's 2nd location, you can walk (or call a Lyft) back to the Historic District of Juneau and the Juneau cruise port.
Or you can go in the other direction and stroll along the Juneau Seawalk.
The Juneau Seawalk has beautiful waterfront views, and it's a 12-minute walk from Tracy's 2nd location to The Whale Project. It's something else you can fit into a day in Juneau, Alaska. Just remember to give yourself time to walk back to the cruise port.
Other Spots for Crab Legs During an Alaska Cruise
Ketchikan, Alaska
Icy Strait Point
Crab House | 108 Cannery Rd, Hoonah, AK 99829
Additional Things to Do With a Day in Juneau
You can add to your one-day in Juneau itinerary or mix and match. These are some other popular attractions and activities you can fit into your day, if you plan accordingly.
In advance of your cruise, don't miss these related articles:
Share the tips & love on Pinterest: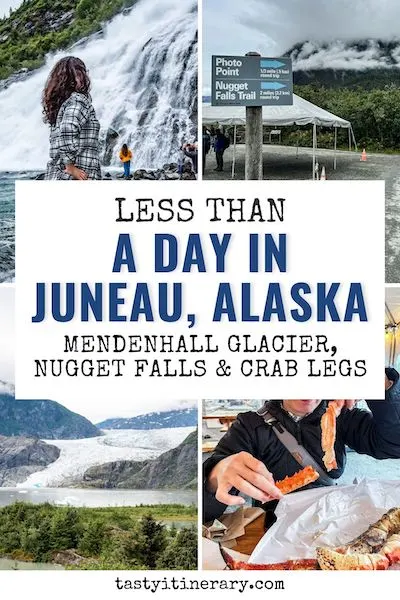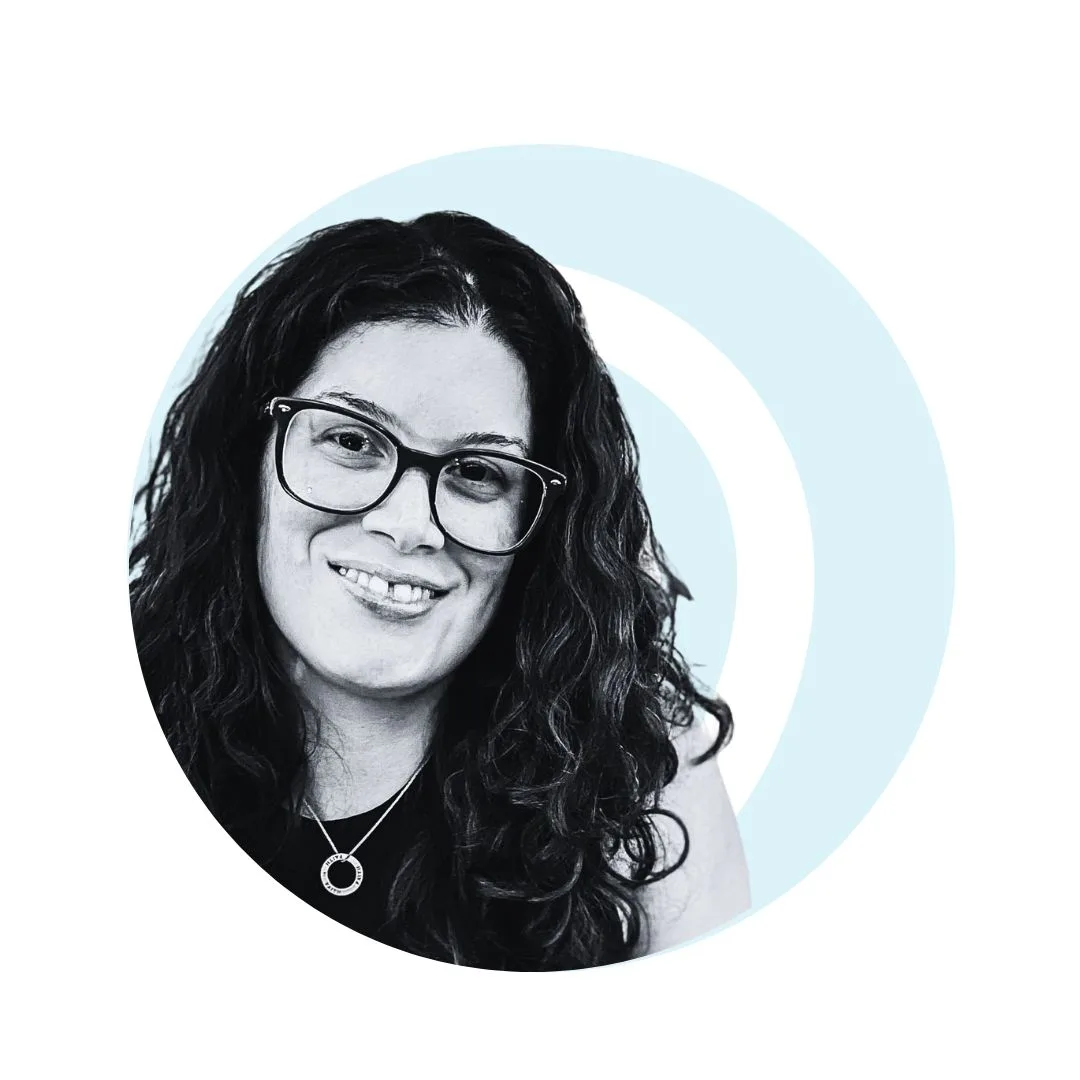 Meet Kathy – a food, travel, and cruise writer based in Los Angeles/Pasadena. With over 20 years of experience planning trips and logistics at her full-time job and for herself, she's become a pro at crafting unforgettable travel itineraries. She's always looking for delicious, fun cruise itineraries and travel destinations and is slightly obsessed with Italy. Her passion and curiosity for travel started in childhood on her yearly and sometimes bi-yearly trips to PR. She firmly believes that life is short and we must make the most of it – so let's explore the world and make some incredible memories.