The Perfect 3 Days In Washington DC Itinerary (2023 Guide)
15 min read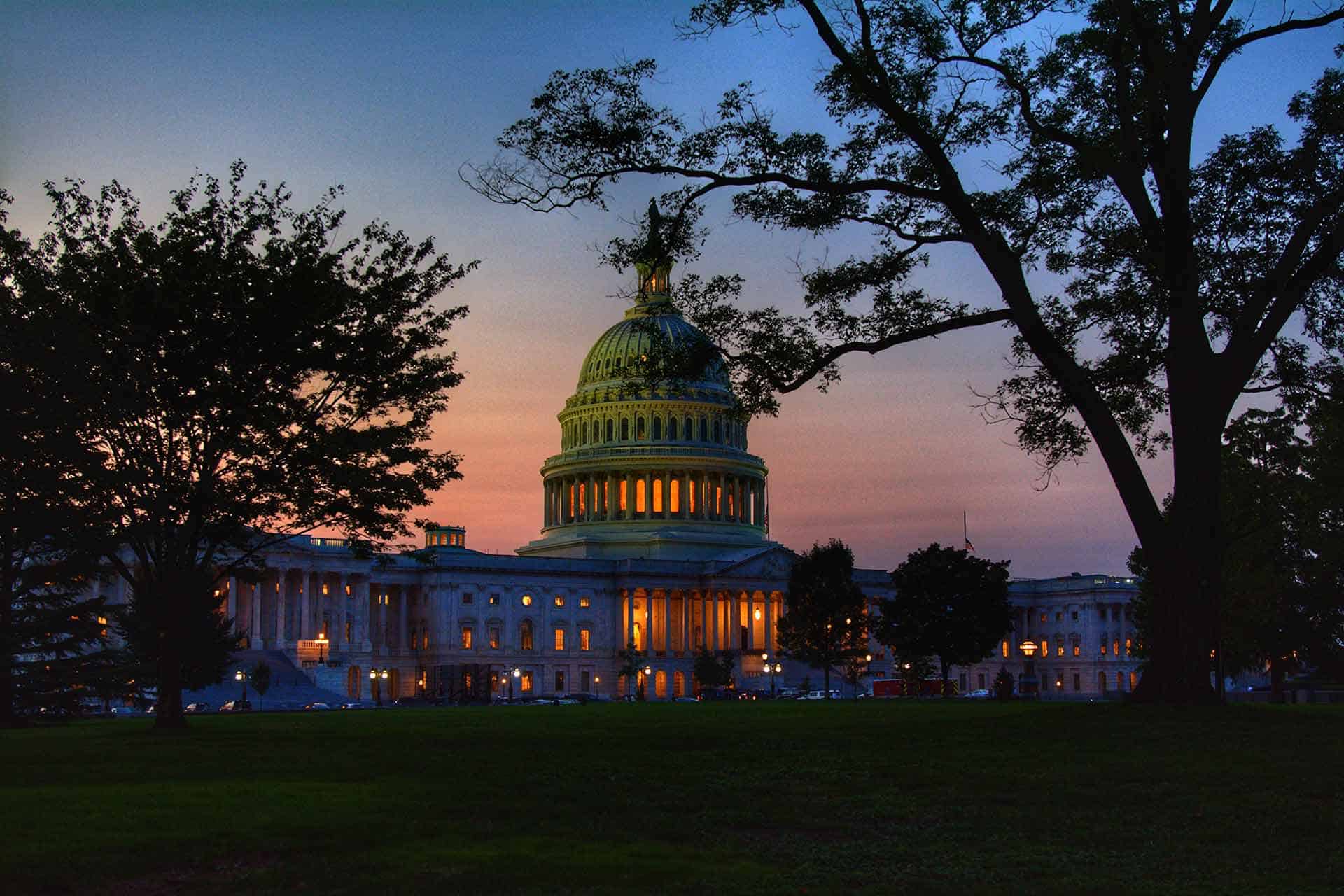 Looking for great itinerary ideas for a trip to Washington DC? Our Washington DC itinerary is all you need to plan the perfect trip!
Cloaked in history, Washington DC commands immediate attention due to its collection of iconic monuments. With head-turning architecture, a trip down memory lane and a glimpse of the White House, the nation's capital attracts travelers from across the globe.
The Lincoln Memorial, National Mall, National Portrait Gallery, Washington Monument, Jefferson Memorial, and the free Smithsonian Museums are just a handful of the famous landmarks in the capital city of the USA. These locations will form the bulk of everyone's Washington DC itinerary.
But travelers who balance this with an exploration of the city's memorable neighborhoods and nearby historic districts get to truly understand what makes the city tick. That being said, it's a haven for foodies, it boasts a diverse art scene, and has a seriously underrated nightlife.
So whether you want to cross off all the monuments from your bucket list, or you want to check out more nightlife and DC restaurants, this beautiful and very walkable city has something in store for you!
Don't forget to check out our ultimate guide to the 21 Best Things To Do In Washington DC if you have more time!
How to Spend 3 Days in Washington DC Itinerary
To help you make the most of your time in the US capital city, we've created a 3-day Washington DC itinerary that includes all the highlights of this famous city.
Your Washington DC trip will be packed with history, food, fun, and excitement, so lace up your walking shoes and charge your camera!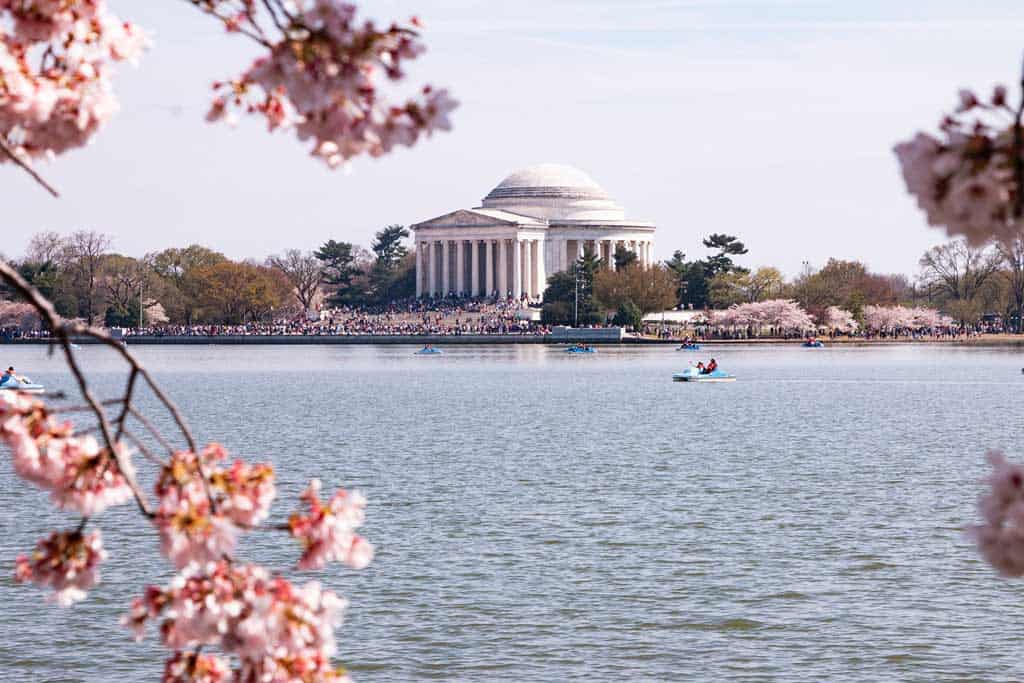 Day 1 in Washington DC
Your first day in Washington DC encompasses many of the must-see and underrated attractions away from the National Mall.
Enjoy one of the coolest neighborhoods downtown before learning more about the sudden end of a president's reign. Being your first night in Washington DC, let your hair down with a fun night along the U Street corridor.
Day 1 Morning – The Penn Quarter
Having just arrived in Washington DC, you may be ready to rock and roll your way down the National Mall. But let's not get carried away just yet. Your Washington DC itinerary begins in the Penn Quarter, a central district with art, history, and great food.
Next door to some of DC's most famous attractions, the Penn Quarter can easily be overlooked. But it's one of the city's most fascinating neighborhoods, so a little bit of everything blends together.
Get your energy levels up by first squashing your appetite at Lincoln's Waffle Shop. After indulging in some classic breakfast eats, check out the nearby Chinatown where street musicians mingle among the early risers to create a blossoming morning atmosphere.
Next, make your way to the infamous Ford's Theatre, the location of President Lincoln's assassination. Now home to a museum, this historic theater is open for you to explore and learn about Lincoln's legacy and his fateful passing.
Take this guided walking tour and immerse yourself in the Civil War era as you retrace the events that led to Lincoln's assassination.
Day 1 Afternoon – Theatre and Art
Having worked up an appetite take some time to ready yourself for the rest of the day. A visit to Matchbox for wood-fired pizzas wouldn't hurt.
After lunch wander down to the Smithsonian American Art Museum, for your first taste of Washington DC's marvelous museum scene. Housing an extensive collection of works dating back to the early Colonial period, the museum focuses primarily on decorative and contemporary art.
Set within the Old Patent Office Building, you'll find works by more than 7,000 artists on display. Covering over 400 years of history, you'll be taken on a journey through various American landscapes as seen through the eyes of explorers, pioneers, and everyday men and women as the nation continued to expand westward.
You'll discover a diversity of perspectives with works by over 200 African American artists housed in the gallery. In addition, there is Latina art and a fascinating collection of folk artists.
In the same building as the Smithsonian American Art Museum, is the National Portrait Gallery. Where the former explores an ever-changing America, the latter is an insightful collection of portraits that showcase Americans that have left an indelible mark on this nation.
Take a trip back to the country's humble beginnings and work your way forward to see the faces of historic figures and former presidents. Afterward, check out the Kogod Courtyard where towering trees mingle with elegant plants in an enclosed space lathered with skylights.
Day 1 Evening – Have a Night
There are several major nightlife hubs in Washington DC. Yes, this city of politics and history still knows how to let its hair down. From Penn Quarter, jump on the Green line towards Greenbelt and make your way towards the beloved U Street corridor.
This is the location of your first night out in DC, where you can find a bar or club for all traveling types. But before you take a deep dive into the local nightlife scene, be sure to fill up the belly.
U Street is a spot for foodies, whether it's downing something cheap, delicious, and heart-attack worthy or enjoying something more refined. At El Centro DC, you'll discover an open kitchen where zesty tacos and enchiladas create a party across your tongue and the quality tequila doesn't struggle to go down the hatch.
For something quick, easy, and iconic, head to Ben's Chili Bowl that's been a haven for locals since 1958. The original chili burger is mouthwatering and promises to soak up the bulk of the night's alcohol.
Exploring more of the USA's big cities? Check out our 3 days in New York City itinerary!
Once you're ready to party, you can begin with Caribbean-themed cocktails and the pastel-hued Colada Shop. Catch your favorite team at Nellie's Sports Bar, a gay sports bar that slowly turns into a dance venue as the night gets on.
However, to really go large, take your pick between U Street Music Hall and 9:30 Club. Both legendary local haunts, the former is underground with a range of live music and DJs. The latter is a larger venue where you can mingle with a big audience and catch local and major artists.
Day 2 in Washington DC
After a big night out in Washington DC, get ready to experience what makes DC such a wonderful destination. Dive head-on into the dozens of historic landmarks, thought-provoking museums, and elegant downtown green spaces.
After a big day of history and facts, enjoy some eclectic culture and music on H Street.
Day 2 Morning – Morning Strolls and the National Mall
Provided you haven't managed to wipe out your entire morning sleeping, there's no better time to get out of bed and head to Tidal Basin. If you've come in the spring, Tidal Basin will be blooming with beautiful cherry blossoms.
However, at any time of year, it's a lovely place to stretch your legs with a coffee in hand. As you walk alongside your basin, you'll witness a number of key attractions reflecting on the water's surface.
Perhaps the most famous is the domed Thomas Jefferson Memorial. Inspired by the Roman Pantheon, the memorial boasts 54 Ionic columns surrounded by an almost 20-foot statue of Jefferson himself.
Next on your Washington DC itinerary, it's finally time to explore the National Mall. This is the heart of the Washington DC experience!
Dive deeper into US history with a visit just down the road to Harper's Ferry, West Virginia!
The National Mall is home to an abundance of major attractions and free museums, and you could easily spend multiple days here. At one end, you'll find the Lincoln Memorial at the other the Capitol Building.
In between is the glistening Lincoln Memorial Reflecting Pool that never fails to rouse your emotions and the memorable Washington Monument
You should take your time exploring the memorial, the pool, and the monument, beginning at the former. From its steps, you can look down the pool towards the Washington Monument and enjoy one of the best photography spots in DC.
Between the two are more major attractions, these include the memorials to veterans of both the Vietnam War and the Korean War along with the Holocaust Memorial Museum.
On this bike tour, you can explore all of this morning's big attractions on two wheels.
Day 2 Afternoon – More Museums and Great Eats
For lunch, grab something quick and easy and take it to the Elipse. This is a large green space that looks towards the Washington Monument and the White House. Once you're ready to continue the adventure, it's time for the Smithsonian Museums.
Between your starting point and the United States Capitol Building, you'll find 11 museums, historical exhibits, and galleries under the purview of the Smithsonian Museum Institution.
Covering an enormous range of topics, you'll quickly find a museum that best suits your interest whether it's the National Museum of African American History, the National Museum of Natural History, the National Air and Space Museum, the National Archives Museum, or the expansive National Gallery of Art.
It's best to choose one or two, as you'll quickly find yourself running out of daylight.
Having now ticked off a couple of Smithsonian Museums (remember you can always come back for more tomorrow), you'll find Capitol Hill a short walk away. It's one of the oldest neighborhoods in the city and is a pleasure to walk around. This is especially true when the fall colors are in bloom.
In Capitol Hill, you'll find an old-time neighborhood where manors mix with old row homes and historic churches dot the street corners. A major highlight is the beloved Eastern Market. Discover a mix of food vendors showcasing international cuisine, local classics, and tasty treats.
Day 2 Evening – Art, Culture, and Cocktails
Having loaded up at the Eastern Market, you'll be ready to jump straight back into the Washington DC nightlife on H Street. This dynamic corridor runs for 1.5 miles providing a night of eclectic art, funky restaurants, bustling bars, and unpredictable pop-ups.
H Street is an artistic haven, one that has undergone significant urban renewal without losing its grungy edge. It's here that you'll find the Atlas Performing Arts Center with four performance spaces and free events it's a renowned spot to catch a live show.
With another dose of arts and culture under your belt, continue to make your way down H Street where you'll soon find the Argonaut. Come here for a casual drink in a tavern-style establishment that offers a fantastic happy hour.
For a high-class evening, trade the Argonaut for H Street Martini Lounge. One of H Street's originals, the bar has amazing bartenders that serve up twists on classic drinks such as the Caramel Candy Apple and the Bermuda Triangle.
With the pre-game done and dusted take things up a notch with a visit to Vibez on H Street. Basic name aside, this two-story bar and lounge comes with great views, and puts on a great show with their regular live music nights.
READ NEXT: Dive deeper into history and plan your trip to Philadelphia.
Day 3 in Washington DC
The final day of your 3 days in Washington DC itinerary is all about exploring the popular, happening spots outside of downtown.
The morning starts with a somber experience at one of America's prominent cemeteries before history and food collide in historic Georgetown. Your time in DC then comes to an end with seafood and America's pastime.
Day 3 Morning – Time for Reflection
With views of DC across the surging Potomac River, the location of the Arlington National Cemetery is already captivating. But add the presence and history of those that have been laid to rest here and the experience quickly becomes breathtaking.
The solemn, beautiful, and inspiring Arlington National Cemetery has famous names in US history resting alongside unsung heroes who have strived to pave the way for peace and prosperity.
The cemetery has been in place since the American Civil War, with several prominent Revolutionary soldiers exhumed and reburied on site.
One part of the cemetery stands above the rest, the Tomb of the Unknown Soldier. The crypt holds the remains of a number of unidentified soldiers from major 20th-century wars.
Read Next: Check out our post on how to enjoy a few days in nearby Baltimore.
After exploring as much of the Arlington Cemetery's 630 acres make your way to the nearby Potomac River. After two days of majoritively indoor activities, enjoy the sunshine, and the surrounding nature and see Washington DC from a different perspective.
There are two common ways to enjoy your time on the Potomac River. One is relaxing and the other promises to get your heartbeat racing.
If you prefer to be relaxed, jump onboard the Spirit of Washington DC for a cruise along the Potomac. Along the way, you'll see some of the previous day's highlights from afar while learning all about Old Town Alexandria.
If you feel like you've spent too much time indoors while visiting DC, then I think I hear a kayak calling your name. Head to Key Bridge Boathouse where you can rent a kayak or a SUP for a one to four-hour paddle towards downtown, monuments, and Theodore Roosevelt Island.
Day 3 Afternoon – Go Beyond Downtown Washington DC and Explore Georgetown
Georgetown is the place to venture if you want to go beyond downtown Washington DC. This delightful National Historic District is home to Georgetown University, dozens of adorable old-time streets along with some seriously delicious baked goods.
Speaking of tasty eats, Georgetown is a local food mecca. This walking food tour peels (pun intended) back the curtain on the oldest neighborhood in Washington DC while also revealing the several amazing restaurants that have given this area an entirely different persona.
Regardless of how much you eat on the tour, however, you must find room for Georgetown Cupcake. This local institution has been beloved by locals and travelers alike thanks to its out-of-this-world baked desserts.
Having now explored the historic streets and memorable eateries in Georgetown, head along to Theodore Roosevelt Island. Cross the bring to the national park where you'll be surrounded by peaceful nature in time to enjoy watching the sun fall across Maryland and Virginia.
Several simple trails take you around the island, you'll find peace among the woods interrupted only by Roosevelt Island's abundance of birds.
Day 3 Evening – A Chill Last Night
Having partied the night away the previous two days, enjoy a relaxing final night in Washington DC. Starting at the Southwest Waterfront on the other side of the Potomac River, indulge in the city's best seafood scene.
At the Municipal Fish Market embark on an important rite of passage as you try some of the DC's best shucked ocean treats. For something equally quick and delicious check out the beloved Jessie Taylor Seafood, where you can even pick up fresh catch.
You'll also find yourself close to a range of cuisine from Thai and Korean at Kaliwa along with New Orleans-inspired cuisine at Kith/Kin.
Once you're fed, it's time to kick back and enjoy America's pastime at Nationals Park. From March to October, the Washington Nationals of the MLB play right here. Within walking distance of Southwest Waterfront, you'll soon be with a beer in hand singing Take Me Out to the Ballgame.
Then your 3 days in Washington DC are up and you'll have to start planning another weekend trip here!
Heading north? Here is our list of the best things to do in Boston, Massachusetts!
Washington DC Travel Guide
Now that we have broken down the best things to see for 3 days in Washington DC, and also the order in which to do them, it's time to dig into the finer details. Below is further information that will help you get the most out of your DC experience.
When Is The Best Time To Visit Washington DC
Washington DC is a year-round destination further enforced by the amount of amazing indoor activities to be found here. But differing seasons bring more than just a change of weather.
Winter is off-season in Washington DC. However, you can expect hearty crowds around Christmas time when charming markets, and the holiday spirit is in full swing.
Spring is a great time to visit DC as it's beginning to warm up yet the high season is yet to arrive. The one exception is National Cherry Blossom Festival that takes place at Tidal Basin. This is cherry blossom season, which will make your exploration of downtown DC much more beautiful.
Summer, of course, is peak season. There are numerous festivals that bring in large crowds and you can expect longer lines at major attractions. Despite the increased temperature, it's actually the wettest time of year in Washington DC.
Our favorite time of year for visiting Washington DC is the fall. Crowds and hotel prices start to tumble and the city's fall foliage is majestic to witness.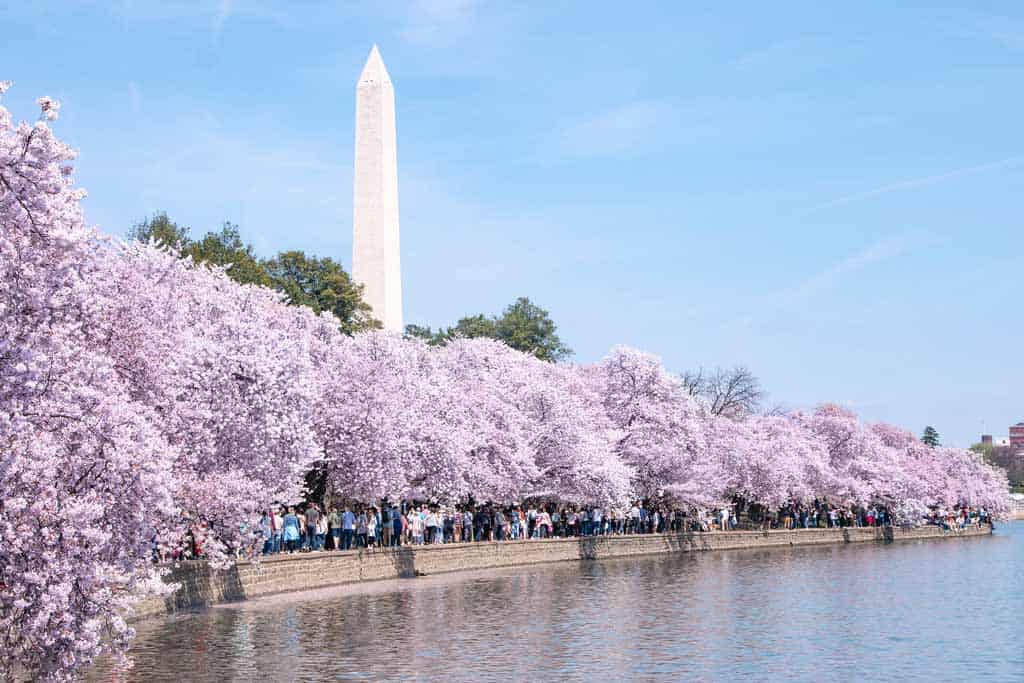 Getting Around Washington DC
For 3 days in Washington DC, you can easily get around on foot. Attractions like the White House, the National Museum of Natural History, the National Air and Space Museum, and the Lincoln Memorial are all within walking distance.
With that said, if you prefer to let someone else do the work, sign up for the city's Hop-On Hop-Off Bus Tour. Aside from rideshare and public transport options, this is the best way to get around Washington DC without breaking a sweat.
The tour hits up all major landmarks, including the ones in our guide. With a packed bus schedule, you can take your time and not worry about when the next one might arrive.
Travelers thinking about taking public transport should get their hands on a SmarTrip card. These cost $2 dollars and allow you to make use of buses and the metro line, both costing between $1 and $4 depending on the length of the trip.
Where To Stay In Washington DC
Now that you know where to go and how to get around, let's begin to focus on the best places to stay in Washington DC. The nation's capital attracts all kinds of travelers, so we've been sure to include accommodations that suit all budgets.
Best Hostel In Washington DC
In Dupont Circle, you'll be surrounded by a memorable local community at Generator. But it's the four-star amenities and social hostel atmosphere that you'll love the most.
Located in a chill neighborhood, you can enjoy a relaxing vibe but you can also hop on public transport to get to iconic spots like the National Museum of African American History and the White House.
Best Mid-Range Hotel In Washington DC
Close to the Arlington National Cemetery, the Homewood Suites places travelers in a good position to explore all the sights of Washington DC and Georgetown. Guests can also make use of on-site bike rental and restaurant with complimentary breakfast.
Best Luxury Hotel In Washington DC
For luxury in DC, you can't pass up a stay at the Riggs. Enjoy city views, a high-end bar and restaurant, a fitness center, plus close proximity to Washington DC highlights. There is no better place to stay in this amazing city if you're looking for luxury!
DISCLAIMER: Some of the links in this article are affiliate links, which means if you book accommodation, tours or buy a product, we will receive a small commission at no extra cost to you. These commissions help us keep creating more free travel content to help people plan their holidays and adventures. We only recommend the best accommodations, tours and products, and regularly review these. Thanks for your support, kind friend!