This Luxurious Ultra-All Inclusive Resort in Antalya Was Made for 'Do Less' Holidays
31 min read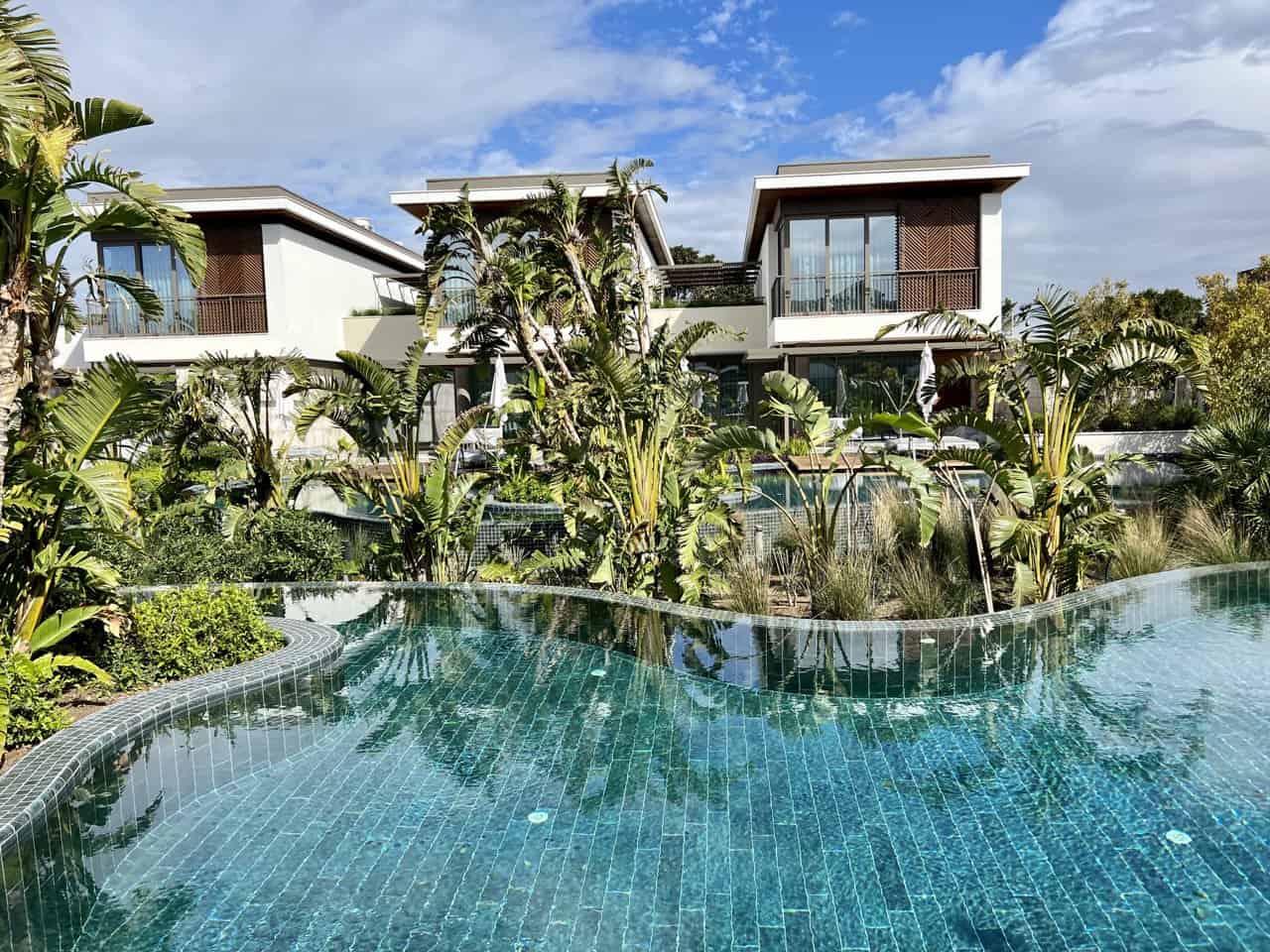 On the golden shores of Lara Beach, along the Mediterranean in Antalya, Turkiye, the luxurious ultra all-inclusive Bayou Villas by Lara Barut Collection offers the ideal getaway for a slow holiday where relaxation is key. I recently had the opportunity to stay at Bayou Villas and review their Three Bedroom Villas. I came away rejuvenated, but also impressed by how enjoyable an ultra all-inclusive holiday can be — when done right, of course. 
With 24 private villas set amid lush gardens, swaying palms, and azure lagoons over an area of 25,000 sqm, these villas are perfectly suited to guests—whether couples, families, groups, or solo travelers—after an ultra-luxurious stay that encourages doing less and allows for utmost privacy while boasting a variety of dining and leisure options.  
At Bayou Villas, guests can choose between private villas with one, two, three, and four en-suite bedrooms, ranging from 246 sqm to 983 sqm. Each villa comes with a fully-equipped kitchen, a terrace and garden, a private heated seawater pool, and a swim-up lagoon pool. 
The two, three, and four-bedroom villas are spread over three floors and each one is complete with a gym, billiards table, massage room, Jacuzzi, sauna, and steam room/Turkish bath. Additionally, the four-bedroom villas have elevators, a study, and a piano in the living room. 
On the same premises, the ultra all-inclusive resort at Lara Barut Collection offers spacious and luxurious rooms and suites. Check rates and availability.  
---
In addition to the à la carte Weik restaurant and Bayou Villas Lounge only for Bayou Villas guests, also included in your ultra all-inclusive Antalya holiday are nine à la carte restaurants, the main restaurant with open buffet, two snack restaurants, a patisserie, and seven bars (including a nightclub) at Lara Barut Collection resort, a 3-minute buggy ride away. 
An ultra all-inclusive stay at Bayou Villas also includes access to a schedule of daily activities at the Lara Barut Collection resort. Events, activities, and massages can also be arranged in-villa, on request. The resort's private beach, with cabanas for villa guests, is an easy stroll (or a 3-4 minute buggy ride) away.  
Kaleiçi, Antalya's Old Town, where you can visit sights such as Hadrian's Gate, the Roman Harbour, and cobbled streets with Ottoman-era houses and shops selling pottery and rugs, is a 40-minute drive away. 
If you're considering an ultra all-inclusive resort in Antalya on your Turkiye holiday, here's my detailed review of Bayou Villas, including original photos, so you can make an informed choice. 
Check rates and availability at Bayou Villas. 
---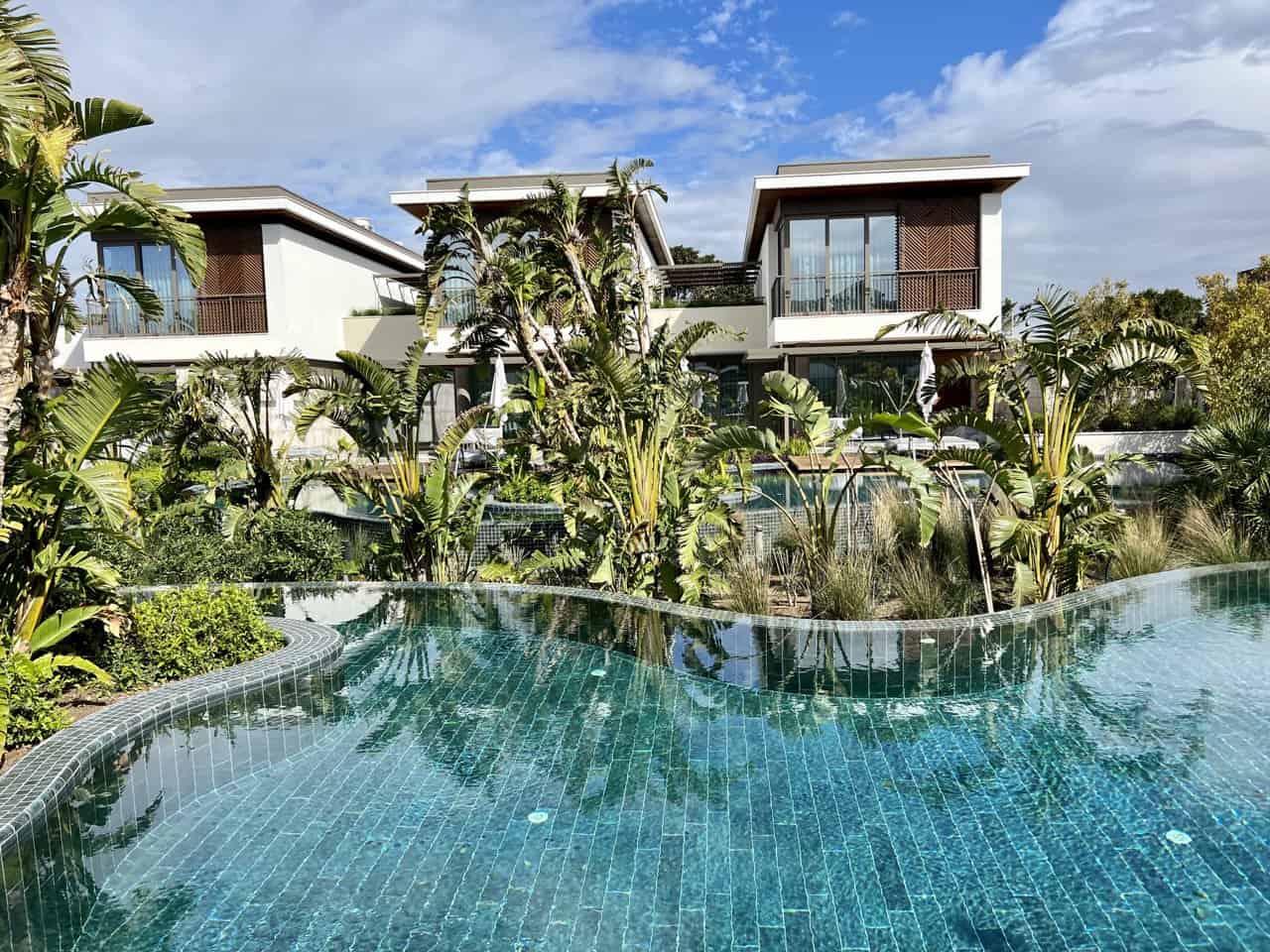 Bayou Villas Antalya Review
Highlights 
Stellar Service: 
The true highlight of the Bayou Villas experience is the outstanding 24-hour Personal Assistant service by the stellar team that manages their Whatsapp. Big thanks to Melike, Fulya, and Saida, and the rest of the team for their hospitality.
In-room dining menus and other information are promptly sent via the Whatsapp Personal Assistant service after you check-in. Guests can also use this service to make dining and spa reservations, buggy requests to be transported around the premises, and any other requests. They really mean it when they say 24-hour service.
The Personal Assistant team checks in on you during the day to see if you need anything, and to coordinate when you'd like your villa cleaned and turndown service. 
Communication is clear and always begins with "Good Morning, it's (name of the person)" so you know you're speaking to a person and not a system — after all, isn't that personal touch what makes hospitality in the true sense of the word? 
The team is quick to act on requests (with the buggy showing up at my door in less than a minute each time). Responses are prompt, courteous, friendly, and warm.
It's a luxury to have someone take care of everything — so you're free from the need to organize things and can truly relax on your Antalya holiday. 
Attention to Detail
: 
Careful attention to detail permeates every space at Bayou Villas. There are thoughtful touches like the fresh bouquet of flowers that awaits in your villa, in-villa fragrances (a choice of four scents to leave for housekeeping to spray daily), and little lavender sacks in the wardrobes to keep them smelling fresh. 
The living room welcomes you with a variety of sweet treats (from chocolate-covered strawberries, fresh macaroons, and melt-in-your-mouth truffles to dates, Turkish delights, and baklava), fresh fruits, and nuts to snack on during your stay. 
Curated amenities include a cute bag that you can take to the beach, plush bathrobes, and slippers that your feet sink into. The extensive pillow menu offers everything from goose feather pillows to orthopedic pillows. 
Then there's the understated but classy decor and a soft color palette that creates a calm, restful space, and lighting options to suit every mood.  
Quality of Dining Experiences:
Unlike other all-inclusive experiences that can only get one aspect right —either quantity or quality when it comes to dining options, Bayou Villas at Lara Barut Collection delivers on both, offering plenty of restaurants that are all really good, with options for choice of cuisines.   
Even for guests staying for a week, it's nearly impossible to run out of options. Want tacos? Head to Kuyu for lunch. Want kebabs? Dine at Zestful Bazaar. In the mood for pizza? Eat at Pizzeria Di Laura. 
The best part of course is that there is a strong focus on gastronomy with regional and local flair. It's nothing like those all-inclusive resorts where you never really taste the authentic cuisine of the place you're visiting and only eat food that you could find in any major city. 
If you're after a sense of Turkiye, and specifically Antalya, through food, then there are plenty of options at Lara Barut Collection, from Tirmis restaurant, where authentic regional dishes are prepared from local produce sourced from the area, to Akdeniz where you can experience Turkish fine-dining (in addition to international dishes).   
A stay at Bayou Villas also offers plenty of opportunities to taste Turkish wines sourced from small local producers. For example, a meal at Secret Grill is an excellent excuse to try the Turkish wines that are paired with dishes on the menu. You'll also find these on the wine list in other restaurants at the resort.  
Dietary preferences are easily catered to, ensuring that everyone has an equally great culinary experience at Bayou Villas. Keep reading to know more about my favorite dining experiences.   
Check rates and availability at Bayou Villas.    
Check-In and Welcome 
After arriving in Antalya and being picked up by a resort representative, it was lovely to be warmly welcomed at Bayou Villas by a smiling Saida, who led me to relax in the dedicated check-in area. While she sorted out the formalities, I was offered champagne and refreshing welcome drinks.
After a quick check-in (something I can truly appreciate when I'm exhausted after a flight), a buggy brought me and my luggage to my Three Bedroom Villa. Saida gave me a quick tour of my villa so I could familiarize myself with all the different features and areas (it was massive). 
In the living room were a bottle of Moët & Chandon champagne on ice, a bouquet of fresh flowers, a platter of fresh fruits, and enough sweets for me to skip dessert the next few nights. 
The bar was stocked with premium spirits and in the kitchen, the fridge was stocked with all manner of snacks, beverages, beers, iced coffees, and sparkling water. 
I had everything I could possibly need in the villa, so I popped a chocolate-covered strawberry into my mouth, asked for room service from Weik Restaurant, and decided to have a warm shower followed by a quiet dinner in my beautiful villa.       
The Three-Bedroom Villas
Spread over an area of 693 sqm across three floors and a 266 sqm private garden, the Three Bedroom Villa at Bayou Villas is seriously spacious and is perfectly suited to families or a group of friends. 
The living room, terrace and pools, an ensuite bedroom, guest bathroom, and kitchen are on the ground floor of the villa, there are two ensuite bedrooms (including the Master Bedroom Suite) on the first floor, while leisure and wellness facilities including the steam room, sauna, massage room, gym, and billiards table, and a garden are on the basement level.  
As an introvert who needs her own space, especially when vacationing with others, I appreciated that the villa was spacious enough for someone like me to hide away for a bit doing my own thing, had others been around.    
The elegant and modern design aesthetic in the villas works successfully to create a space that you don't want to leave; think soft grays accentuated by pops of blue and brass, dark wood finishes, gorgeous art, and sculptural chandeliers. I found the design was balanced and flowed harmoniously through the villa's different spaces. 
Smart features include motorized curtains, operated by the touch of a button, and smart TVs in the rooms. 
There's excellent WiFi, both in the villas and across the property (including restaurants, poolside and common areas) so there's nothing to worry about if you need to work a bit or catch up on emails while on holiday. 
---
The Living Room
In the living room, is a dining table for six, a well-stocked bar, comfortable seating, a 65-inch LCD ultra HD smart IPTV with Chromecast (to watch Netflix from my own account without having to sign in), and Bang & Olufsen Bluetooth sound system (to put on my favorite music).  
Right next to the living room is a guest bathroom. 
The Terrace and Swimming Pools
With an area of 266 sqm, the terrace is quite spacious with garden furniture to lounge in, a dining table for six (where I had the pleasure of enjoying a leisurely mixed Turkish breakfast on my last morning in Antalya), and four sunbeds.   
Set here are two pools: a swim-up freshwater lagoon pool and a private heated seawater pool. Though the weather turned favorably sunny the next few days during my stay, I preferred the heated seawater pool for refreshing post-breakfast dips.     
While the villas are right next to each other, there was plenty of privacy on the terrace and in the pools, thanks to high walls and plenty of trees between the villas and lagoon pools.   
The Kitchen
With the wealth of dining options on offer at Bayou Villas, I can't imagine anyone wanting to cook but for some reason, if you wanted to, there's a fully-equipped kitchen with a dishwasher, microwave, washing machine, and dinnerware. 
As a coffee addict (just calling it what it is), I loved that there was a Nespresso machine and a selection of coffees to choose from, because let's be honest, I simply don't want anything to do with life, or anyone, until I've first had an espresso after I've woken up in the morning. 
The well-stocked fridge included sparkling and still water, energy drinks, fresh juices, iced coffee, beers, and snacks for late-night munching, and was replenished every day.   
Master Bedroom Suite
In the Master Bedroom are a comfortable super king-size bed (200x200cm) and a pillow menu that offers everything from goose feather to orthopedic pillows. A cozy duvet and blackout curtains meant I slept soundly through the night.   
Not only could I charge my phone and control the lights bedside, but a bedside button also operates the motorized curtains, which meant I could wake up and enjoy the beautiful view while I was still in bed. It's the small luxuries that make all the difference, isn't it? 
The balcony in the Master Suite looks upon the villa terrace and pools. For the first time in a while, I didn't get out of bed and look at my phone, instead, I went out to the balcony, looked at the trees, and enjoyed the silence and the sound of water in the lagoon. 
There is also a 55″ LCD ultra HD smart IPTV, minibar, a business desk, and two chairs. The dressing table came with a chair and a mirror with perfect lighting for when I was putting on make-up.
Dressing Room
In the Master Suite, the spacious dressing room came with many closets and offered ample space for clothes, shoes, bags, accessories, and more, and a digital safe offered a secure space for valuables. There was a shoe cleaning kit, clothes brush, iron, ironing board, and laundry bags. Free laundry service is included for guests staying at least seven nights. 
I also stored my suitcase in there because I like my space to be neat. There's an Ottoman for when you're contemplating your outfit choices for the day. 
My packing for the beach consisted of one hastily thrown in swimsuit, so I was pleased to find a beach bag in which I could pack a book, sunscreen, and lip gloss for my morning at the resort's private beach. Beach towels, which I also used poolside, are also provided. 
Master Suite Bathroom
I really loved the sleek design of the bathrooms in all the bedrooms, but especially in the Master Suite, probably because of how spacious it felt. Twin vanities, oblong backlit mirrors, a gray, white, marble, gold theme — it was visually so appealing. 
Twin vanities are non-negotiable when you're sharing the space with a partner or anyone. I'm exactly the kind of person who announces, "This one's mine, and this here beyond this boundary is your area," to my husband when we're settling in.  
In the bathroom were high-end Bulgari bath amenities and all manner of grooming essentials that you could possibly need, including a hairdryer. There were plenty of towels and bathrobes (plus child-sized robes and slippers in the other bedrooms). There was also a digital scale, but I tend to stay away from those when on vacation. 
A large full-length mirror was ideal for a final look before stepping out the door. 
Fitted in a separate shower cabin, the shower was absolutely amazing. I felt like I was being enveloped in a cocoon of hot spray — and the fact that I came up with that sentence for a shower is proof of how much I enjoyed it.   
The toilet — now let's talk about the toilet because stuff like this spoils people and surely merits special attention. In the Master Suite, the toilet is high-tech and there's a control panel that lets you set your ideal conditions for how you want to do your business. 
Do you want a heated seat? Want to control the direction and intensity of the jet? Want the water to be warmer? How about some air drying? This super-toilet's got you.
I do suggest figuring out what each of the buttons does before you… umm, get started with longer tasks in there. 
The One-Bedroom Villas come with freestanding bathtubs as well.  
Other Bedrooms 
In addition to the Master Bedroom Suite, there is one bedroom on the ground floor (same as the Living Room) and a third bedroom on the first floor. 
Each of these two spacious bedrooms is home to two queen-size beds (140×200) each, ample wardrobe space (with safety deposit boxes, bathrobes, slippers, and hair dryers), minibars, and 55″ LCD ultra HD smart IPTVs. 
Additionally, the bedroom on the ground floor also has a couch and a coffee table.
In both bedrooms, the bathrooms are reasonably sized with twin vanities with backlit mirrors, makeup mirrors, separate showers, and toilets. Bulgari bath amenities and grooming essentials are provided.  
The bedroom on the ground floor opens onto the terrace and looks upon the heated swimming pool, while the second bedroom on the first floor, which is located just above this one, has a balcony that also offers a view of the pool terrace. 
The Basement: Fitness and Wellness Area
Offering a true retreat-style getaway, Bayou Villas is an introvert's dream, thanks to the leisure, fitness, and wellness facilities available on the basement level. 
Here is a billiards table, and minibar, as well as a gym with Technogym weights, exercise bike, treadmill, and yoga mats. This area is well-designed with a full mirror so you can get the proper gym experience, and a TV if you'd rather watch your favorite sitcom while busting out a 5K on the treadmill.  
From here, you can step into a small garden outside.  
There's a steam room/ Turkish hammam as well as a sauna, that's easily operated with a single switch. I used the sauna on my last night, having let it heat up for about 20 minutes, and slept really well that night.
The massage room comes with two spa beds and a Jacuzzi and feels like you're in a proper spa (oh the joy of not having to leave your villa for a spa treatment). I enjoyed a lovely Balinese massage here, booked via the Whatsapp Personal Assistant service. The only thing missing was music, and by the time I thought of playing some on my phone, I was close to dozing off so I gave up the idea altogether.  
Considering an ultra all-inclusive stay for your Antalya holiday? Check rates and availability at Bayou Villas and Lara Barut Collection resort.
The Service
The standard of service at Bayou Villas, in every which way, is very high and indicative of how hospitable Turkish culture is. It goes beyond requests attended to or tasks completed impeccably; what makes it so special is the warmth and friendliness that makes it feel so personal. The staff is paying attention to you, to what you like, to what you prefer, and after a few days, it felt great to realize that they remembered my preferences. 
From staff members offering to walk me somewhere when I asked for directions and the housekeeping ladies who sweetly wished me "Sweet dreams" during turndown service to servers gently recommending as if to a friend, "Try this wine, it's really good with the meat," the team at Bayou Villas proves that when done with personality, hospitality is even better. 
Dining at Bayou Villas
There's an extensive selection of restaurants, cafes, and bars at Lara Barut Collection that Bayou Villas guests have access to, in addition to Weik Restaurant and Bayou Lounge. Here's my review of the restaurants that I dined at. 
Weik Restaurant 
On my first night at Bayou Villas, I ordered room service from Weik: a lovely fresh burrata salad and sea bass with chickpea pureé, fennel, edamame, avocado, and tahini sauce. Both were excellent.
For breakfast the next three days, I ate and ordered in from Weik restaurant, I tried the omelet with cheese and asparagus, the yogurt with herbs and poached eggs, and my favorite – the classic mixed Turkish breakfast.
The classic mixed Turkish breakfast is fantastic, and it comes with two types of seasonal jams, a mixed cheese plate, shakshuka, fried potatoes with yogurt, Eggs Benedict with quail eggs, olives, lettuce, cucumber, and tomato, simit sandwich, dried meat and crackers, citrus fruit plate, honey (in honeycomb!), and clotted cream.
I asked for some of the items to be omitted but even then, it was the breakfast of my dreams — just so delicious and flavorful. If there's one thing on the breakfast menu you should try, it's this one.   
It's usually for a minimum of two persons, but even with a portion reduced on request, it was a lot for me. I'd ordered it to enjoy on the terrace in my villa, so I also ate it for lunch later that day to finish as much as I could.  
Zestful Bazaar
For lunch on my first day, I visited the open buffet at the main restaurant Zestful Bazaar. Usually, I'm not a fan of open buffets, but Zestful Bazaar certainly changed my opinion. 
Firstly, their selection of appetizers, Turkish mezze style, was seriously impressive. I loved that there were so many options for someone wanting to try Turkish appetizers, beyond the usual cheeses and salads (which were also extensive). I filled up on these because Turkish food is amazing! 
Other than hot dishes, a mix of international and Turkish cuisines, they also had a live counter for kebabs and borek, which I highly recommend visiting. 
The dessert counter was every dessert lover's dream with everything from baklava and cookies to tiramisu and chocolate mousse cakes.  
There are also plenty of options for vegan, lactose-free, and gluten-free diners at Zestful Bazaar. 
Afterwards, don't forget to order a cup of çay (Turkish tea), Turkiye's version of the post-meal espresso. 
Zestful Bazaar is open for breakfast, lunch, dinner, and night snacks. 
Akdeniz Fine Dining
I particularly enjoyed my meal at the fine-dining Mediterranean restaurant Akdeniz, where I had an excellent beetroot ravioli with goat cheese ice cream for my appetizer (so good I still think about it). My main was salmon with eggplant pureé, peas, and artichoke, a simple but well-prepared dish.
With an à la carte menu, Akdeniz seemed like a popular place for birthday dinners with many tables celebrating with cakes and balloons, including ours. The service here was friendly and attentive. When my server noticed I was drinking my wine very slowly, he whispered a friendly, "But you should try the red wine…" but I'd just come from an olive oil tasting where I'd traded my appetite for too much olive oil.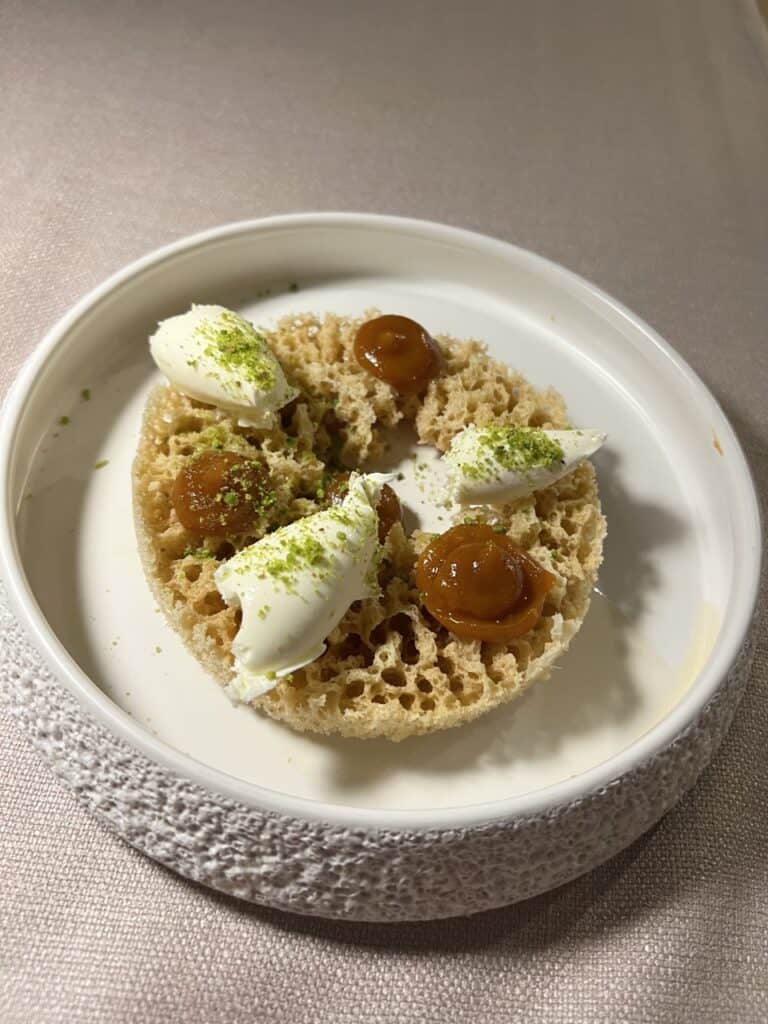 Akdeniz is open for dinner and requires reservations.
Tirmis Restaurant 
Another highlight, and probably my favorite meal, was a taste of Antalya's local cuisine at Tirmis Restaurant. The à la carte menu features regional dishes prepared from ingredients, such as cheese, olives, meat, and vegetables sourced from within a 100km radius of the resort, often from small producers.
I sampled a variety of dishes recommended and ordered for the table by the chef, including yogurt with cucumber and pomegranate seeds, zucchini flower, avocado with spinach, fennel salad, sole fish with almond, shrimps in sauce, kebabs, and tandoor lamb, and they were all incredible and full of flavor. My favorite here was the dessert – tahini-drizzled pumpkin.  
What I loved was that several of the dishes were home-style, "My mother makes this," my host Osman remarked as a dish that reminded me of a vegetable pancake-like dish we also have in Indian cuisine. 
I also tasted Turkish wines for the first time (how wonderful!).  
I'd recommend guests at Bayou Villas to have at least one meal at Tirmis so they can sample regional specialties from Antalya. 
Tirmis is open for dinner and requires reservations.
Kuyu Restaurant
I also ate lunch on the lovely terrace at Kuyu Restaurant one afternoon, with a view of the resort pool. They've got quite a variety of dishes on the menu at this à la carte restaurant, from kebabs and pide to tandoori chicken, fish, and tacos. The food was delicious and the service was prompt.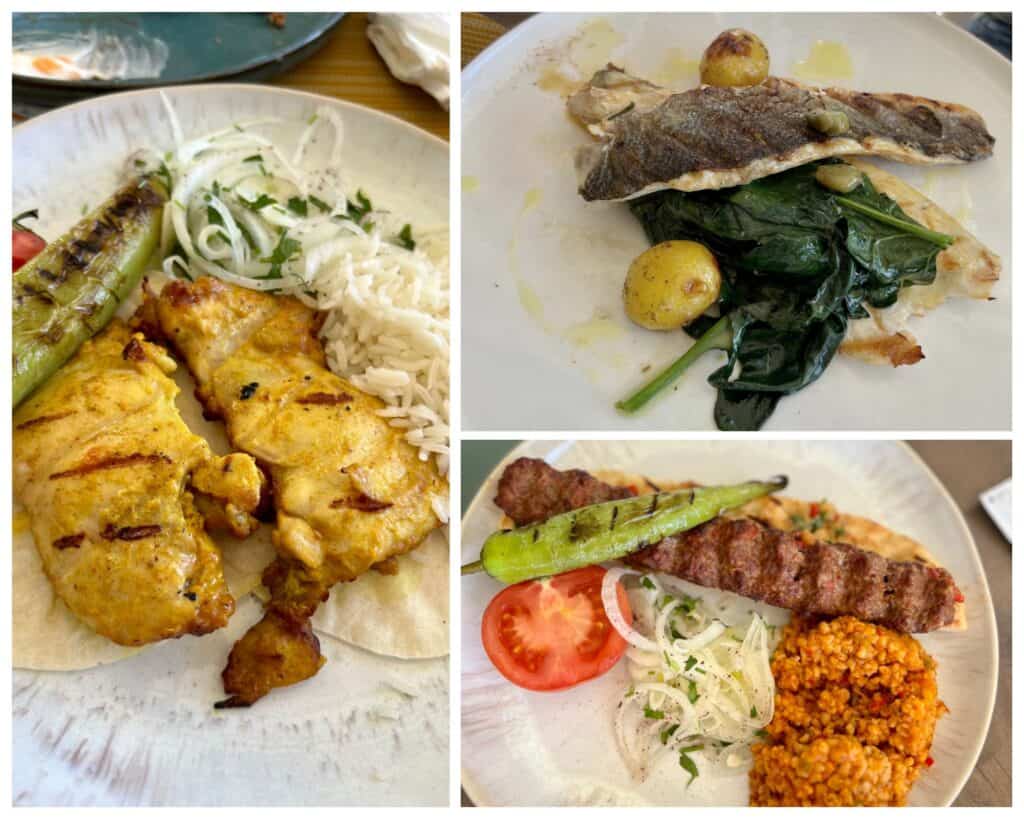 Bayou Villas Lounge
Bayou Villas Lounge offers a menu of hot and cold beverages as well as cocktails, premium spirits, and wines. 
Check rates and availability at Bayou Villas. 
The Beach 
From Bayou Villas, it's an easy 10-minute stroll (or a 3-minute buggy ride) to the resort's private stretch of beach on the gorgeous Lara Beach by the Mediterranean Sea. A section is reserved exclusively for Bayou Villas guests with private gazebos (for two) and pavilions (for five) available for villa guests. 
Other than the beach and pools, families with children might be interested in the aquapark on the resort premises. 
---
Sports and Activities
On the premises are a mini golf area, three outdoor tennis courts, a badminton court, table tennis, an indoor gym, a squash court, beach volleyball, basketball, and an air rifle area. 
Experiences at Bayou Villas
Bayou Villas can arrange for interesting experiences in guest villas, on request for an additional cost. Catered to guests' interests and preferences, these are executed beautifully in stunning surroundings. I had the opportunity to experience two of these during my stay at Bayou Villas. 
Mocktail and Coffee Tasting and Workshop
With classical piano and violin music and a gorgeous poolside setting, the Mocktail and Coffee Tasting Workshop was exactly the kind of classy affair I'd want to arrange if I were hosting an event or party with a small group of invitees at Bayou Villas (what an absolute dream it would be to renew our vows here).
We sampled a variety of mocktails, including zero-waste drinks, and I learned that I have zero creativity or skill when it comes to the art of mocktails. I do, however, have a caffeine addiction and so I could not refuse the opportunity to drink a strong coffee, even as late as 6 pm, knowing it would keep me up at night. To make it even better, I then drank a fragrant cay. I regret nothing. 
This could very well be a cocktail affair if you wanted, as they're happy to customize to suit your preferences.    
Turkish Olive Oil Tasting 
Turkish olive oils are not nearly as popular as European varieties but olive cultivation and olive oil experts and husband-wife duo Prof. Dr. Mücahit Taha Özkaya and Prof. Dr. Fügen Özkaya are passionate about creating awareness and educating people about Turkish olive oil. 
Did you know that Turkiye produces about 200,000 tonnes of olive oil annually? Most of it is consumed locally, which is why we've probably never seen it in our neighborhood supermarkets.
During this Turkish olive oil tasting session with the experts, we learned how to taste olive oil correctly (pour, swirl to release aromas, breathe in aromas, slurp, and swallow), and the qualities to look out for (such as bitterness and pungency).
While we tried different local varieties of olive oil, the experts dispelled some common myths and educated us about the health benefits of olive oil. 
Turkish olive oils, manufactured by small producers locally, are available to buy at the restaurants at Lara Barut Collection. 
It's these high-quality local olive oils that are used in the dishes served at the restaurants in the resort, with kitchen staff having been trained to know which olive oil must be used in which dish — another example of the brand's attention to detail. 
Extra services 
Extra services, available for an additional cost, include airport meet and greet, yacht, limousine, and helicopter renting, in-villa personal training and massages, babysitter, and activities like go-karting and horse-riding.  
Who It's For 
Bayou Villas offers the perfect getaway for couples, families, and solo travelers after a stay that makes it easy to slow down and do less while on vacation. The draw here of course is the time you'll spend in your private villa, focusing on rest, relaxation, and rejuvenation.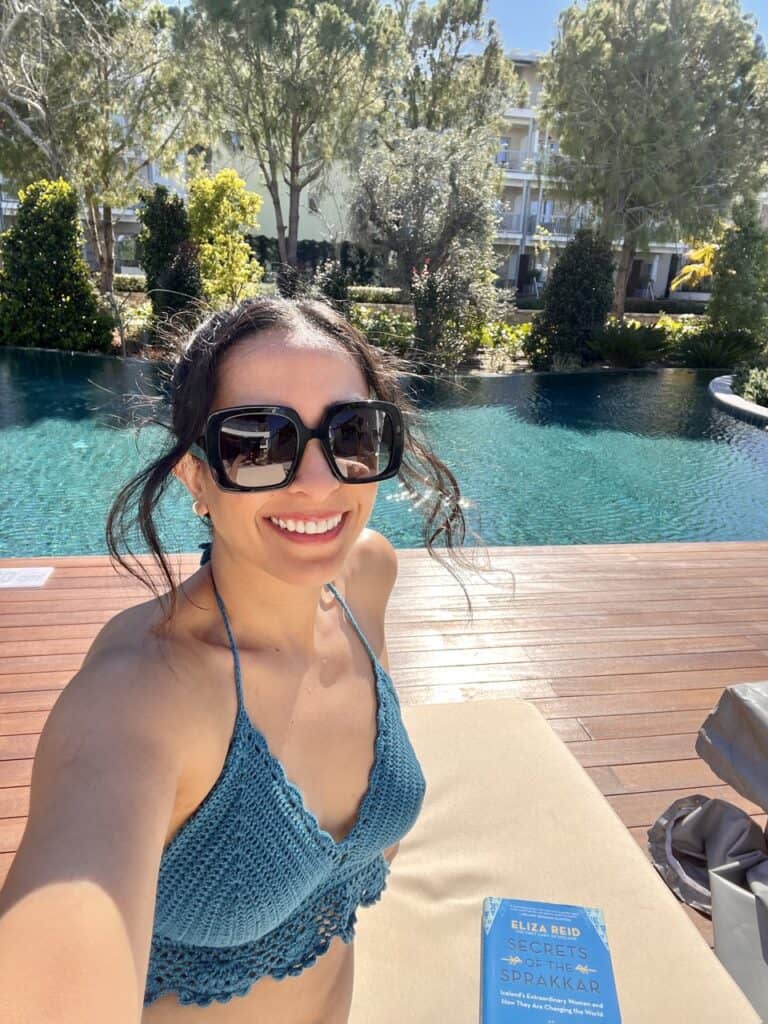 Whether it's dips in the private pools, in-villa massages, steam, sauna, and yoga sessions, daily workouts in the comfort of your villa, sleeping in followed by leisurely breakfasts on your terrace, long walks on the beach, or treating yourself to delicious food prepared from quality local produce, Bayou Villas offers ideal conditions to give yourself the permission to turn inward, focus on your wellbeing, both mind and body, in a way that's impossible when you're on a vacation filled with sightseeing and must-dos.
That doesn't mean that there's nothing to do — the resort at Lara Barut Collection offers a daily schedule of events (like Tabata and aqua zumba) that Bayou Villas guests can sign up for and there are three kids' clubs offering a range of activities for all age groups, from toddlers to teenagers, in addition to a waterpark. This leads me to believe that this might just be the best all-inclusive family resort in Antalya. 
In the evenings choose from live shows, themed parties, and live music on the beach. Visits to Antalya's Old Town and other sights or shopping days in the area can easily be organized. 
But the only "must do's" at Bayou Villas really are to sleep soundly, eat well, enjoy nature, swim, take advantage of the villa's fabulous privileges, and restore your energy so you can leave feeling better than you did when you arrived. Check rates and availability at Bayou Villas. 
With elegant venues, gorgeous settings, a wealth of dining options, and a team that is well-versed in executing classy events, Bayou Villas is also ideal for small weddings, engagement parties, and other celebrations with a small group of people. 
Sustainability at Bayou Villas 
At Bayou Villas, and the larger Lara Barut Collection resort, the approach to sustainability is rounded and includes sustainable management of and contribution to social, cultural, and environmental life. 
Bayou Villas and the entire Lara Barut Collection property is powered by green energy, food wastage is minimized through internal efforts, and the brand undertakes projects to raise awareness about environmental pollution. 
They've also invested heavily in the development of art and culture in the region through sponsoring excavations in the historically significant city of Side and cooperation with local artists. 
The villas, restaurants, and other areas at the resort feature art and installations by regional talents, serving as a platform for greater visibility. In addition, an annual exhibition invites young artists to create art on the premises while offering guests the chance to interact with the artists, followed by an exhibition held at the resort.  
Lara Barut Collection holds the Sustainable Tourism Certificate recognized by the Global Sustainable Tourism Council (GSTC) and is the first hotel in the Mediterranean region to obtain the Green Energy Certificate. 
Should you book a stay at Bayou Villas? Don't think twice before you do. Check rates and availability at Bayou Villas. Alternatively, check availability at Lara Barut Collection resort. 
Frequently Asked Questions about Ultra All-Inclusives in Antalya
What is included in ultra all-inclusive in Turkey?
Typically, an ultra all-inclusive in Antalya, Turkey covers your entire stay including accommodation, food and beverages throughout the day (and night), activities (such as sports, fitness, and leisure), and entertainment (such as bars, lounges, nightclubs, dinner shows, and more). 
A 5-star ultra all-inclusive like Bayou Villas and Lara Barut Collection resort also covers dining at premium à la carte restaurants, where you get priority reservations, and additional privileges like airport transfers, welcome with champagne and flowers, and 24-hour personal assistant service.  
Are all-inclusive resorts unlimited?
Generally, all-inclusive resorts cover everything, which means all the food and beverages (both alcoholic and non-alcoholic, as per your package) including room service, minibar, and in-house restaurants and bars (choice of restaurants depends on your package), plus activities and leisure facilities at the resort. 
Once you've paid for your all-inclusive package, no one's keeping count of how many dinners, lunches, or drinks you have or how many yoga sessions you book, so yes, it's pretty much unlimited. At ultra all-inclusive resorts like Bayou Villas, everything is covered, including premium alcohol, and high-end à la carte restaurants.   
Which part of Turkey Antalya is best?
While the Old Town of Antalya, Kaleiçi is a must-visit for sightseeing and learning more about Antalya's history as the ancient Greek city of Attalia, it's best for tourists to stay at one of the beaches, both for the fabulous views and the peace. As such, Lara Beach, where you'll find the ultra all-inclusive Bayou Villas is one of the best places to stay in Antalya when on holiday. 
What is one big difference between all-inclusive and ultra all-inclusive?
An ultra all-inclusive like Bayou Villas and Lara Barut Collection resort take the all-inclusive concept a notch higher by including premium privileges such as 24-hour personal assistant service, champagne and flowers, high-end à la carte restaurants, airport transfers, and private cabanas on the beach, in addition to the regular inclusions of an all-inclusive. 
An ultra all-inclusive like Bayou Villas offers a much higher quality of dining, leisure, entertainment, and service, think a significantly elevated all-inclusive experience.   
Do you spend money at all-inclusive?
Once you've paid for your all-inclusive package, you should not have to spend additional money for dining, drinks, nightlife, entertainment, or activities, unless you want to book a service that's additional and is not included in your package. 
How far in advance should I book an all-inclusive vacation?
An all-inclusive vacation at a quality resort can get booked up pretty quickly. That's because quality resorts like Bayou Villas and Lara Barut Collection resort have a limited number of rooms and villas, so that restaurants, bars, pools, and beach areas aren't unpleasantly overcrowded in a way that takes away from the guest experience. Once you've decided, it's best to book your ultra all-inclusive vacation as soon as possible so you can get better rates.  
What are the disadvantages of all-inclusive packages for destinations?
The most common disadvantage of all-inclusive packages for destinations in my experience is that while you might have plenty of options for restaurants at the resort, not all of the food is good, and you end up sticking to one or two restaurants for the most part even when you have a dozen options. Another disadvantage of cheaper all-inclusives is that they can be too crowded and you often have to deal with huge crowds at the buffet or in the pool.
Luckily, you'll never have those issues at a 5-star ultra all-inclusive like Bayou Villas and Lara Barut Collection resort because their restaurants are high-end and include à la carte options and fine-dining venues with a focus on quality Turkish and international cuisines. They also offer guests premium privileges like two private pools in the villa, and pavilions and gazebos on the beach that are always available for each villa. 
Why do people go all-inclusive?
An all-inclusive and ultra all-inclusive like Bayou Villas and Lara Barut Collection resort offers a variety of dining, entertainment, and leisure options within the resort, so they are appealing to people who don't want to undertake the chore of researching and planning each meal or activity for every day and calculating the cost of each one to understand how much they will be spending on holiday. 
People go all-inclusive because it gives them the convenience of paying a fixed price which includes all of their accommodation, food and beverage, and experiences during the holiday while having access to a large variety of dining and leisure options. This is particularly great for family and group travel where travelers want a relaxing holiday where they stay in one place for a few days rather than move around between cities every few days.   
How do you take advantage of all-inclusive resorts?
The best way to take advantage of all-inclusive resorts like Bayou Villas and Lara Barut Collection resort is to get their list of restaurants and lounges, familiarize yourself with scheduled activities (such as aqua yoga, crossfit, or meditation sessions), and learn about entertainment options (such as jazz on the beach) as soon as or even before you arrive. 
There are usually plenty of options, so many that you might not be staying long enough to enjoy all of them. So it's important to have at least a rough idea about the restaurants you want to eat at and activities you want to try so you can organize them accordingly. 
For example, if I were staying at Bayou Villas or Lara Barut Collection resort I'd be very sad if I didn't know about Tirmis Restaurant where you can try authentic home-style dishes from Antalya, prepared from locally-sourced ingredients. 
Lining up the resort's offerings with what you're interested in is important to make your all-inclusive experience truly worth it. 
Which month is best for Antalya?
It really depends on your preference. While summer, from June to September, might be the busiest months, you can also visit in April and May during spring, or from October to March for colder weather (which you might want if you live somewhere as hot as the UAE). Visiting outside of summer means you'll have a calmer experience with fewer crowds. 
To make the most of your private pools at Bayou Villas and the beach at Lara Barut Collection resort be sure to check the weather forecast for the days of your visit.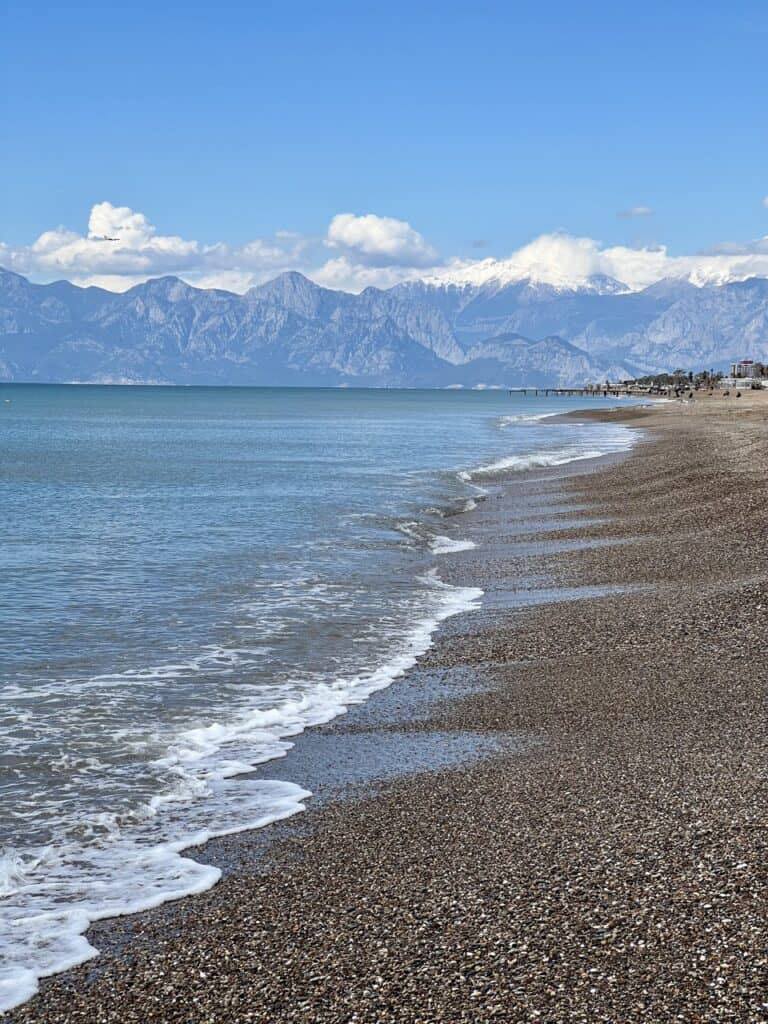 Is all-inclusive worth it for couples?
An ultra all-inclusive like Bayou Villas or Lara Barut Collection resort is worth it for couples who want to spend the majority of their time on holiday at the resort while having access to a wide choice of quality restaurants and bars, various activities, sports, and leisure facilities in-house at the resort. 
This gives couples the freedom to slow down and enjoy these privileges instead of coordinating and arranging things constantly. An ultra all-inclusive is perfect for couples on honeymoon, or celebrating a special occasion or looking for a slow holiday.   
Why are all-inclusive resorts popular?
All-inclusive resorts and a 5-star ultra all-inclusive such as Bayou Villas and Lara Barut Collection resort are popular because they offer excellent value for money and fantastic privileges for people who want their holiday to be a luxurious escape. Not only do you get to stay in amazing villas and suites, but at your doorstep here are several high-quality dining and leisure options including fine dining and unique experiences. The best part is that you know exactly how much you'll be spending on vacation because everything is included.   
How many days in Antalya is enough?
Plan to spend at least five days to a week in Antalya so that you can enjoy the privileges and activities at an ultra all-inclusive like Bayou Villas and Lara Barut Collection resort while also taking a day to see Kaleiçi, Antalya's Old Town, and perhaps have one day to shop for souvenirs, Turkish delights, tea, and clothes.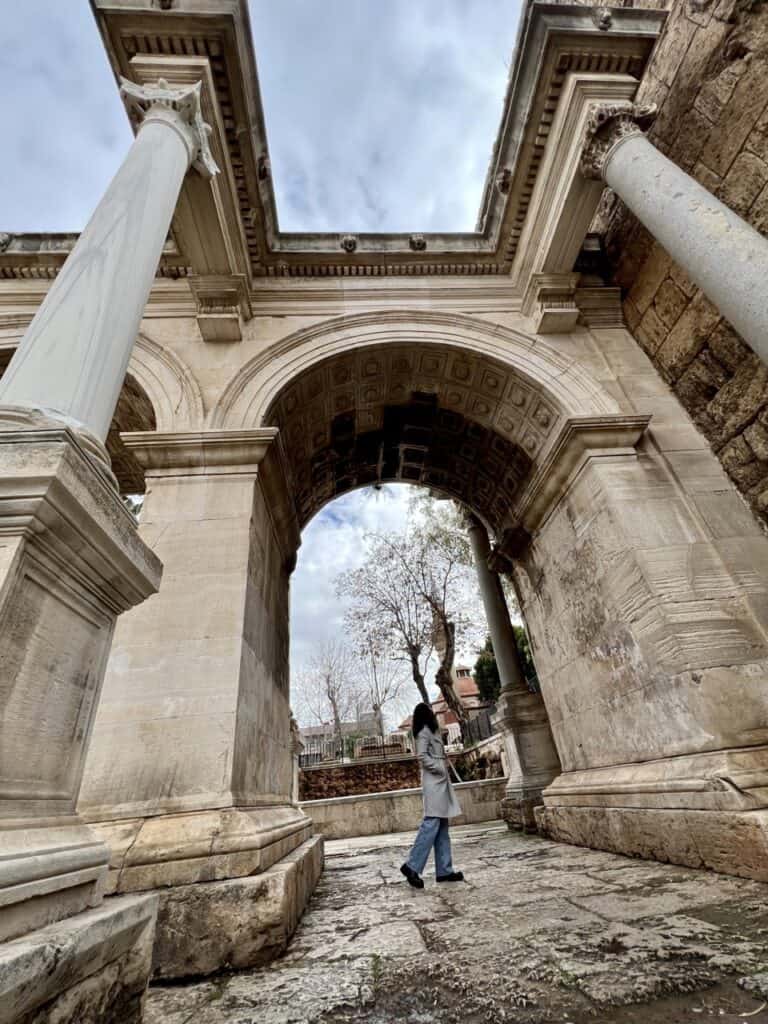 What is the best part about an all-inclusive?
The best part about an ultra all-inclusive like Bayou Villas and Lara Barut Collection resort is that they take away the stress of planning and researching where you'll eat every meal, or organizing activities for each day, as they've got tons of options when it comes to dining and leisure. Another advantage is that you know exactly how much you'll spend on vacation as your package includes everything and don't have to worry about going over budget. 
Both of these are perfect for family and group travel, as the burden of planning and budgeting does not fall on one person in the group.  
How to make an all-inclusive worth it?
Familiarize yourself with the offerings available, and make a note of restaurants you want to eat at, bars you want to visit, activities you want to join, and experiences you want to have. Then make a rough plan and organize it as soon as you want to arrive. At Bayou Villas by Lara Barut Collection resort villa guests get priority reservations and you can easily book activities and make reservations through your 24-hour personal assistant. 
This post contains affiliate links. If you make a purchase using these, I might get a small commission with no extra cost to you, which goes towards running this site.