Katmandu Park Punta Cana – everything you need to know before visiting this new theme park
16 min read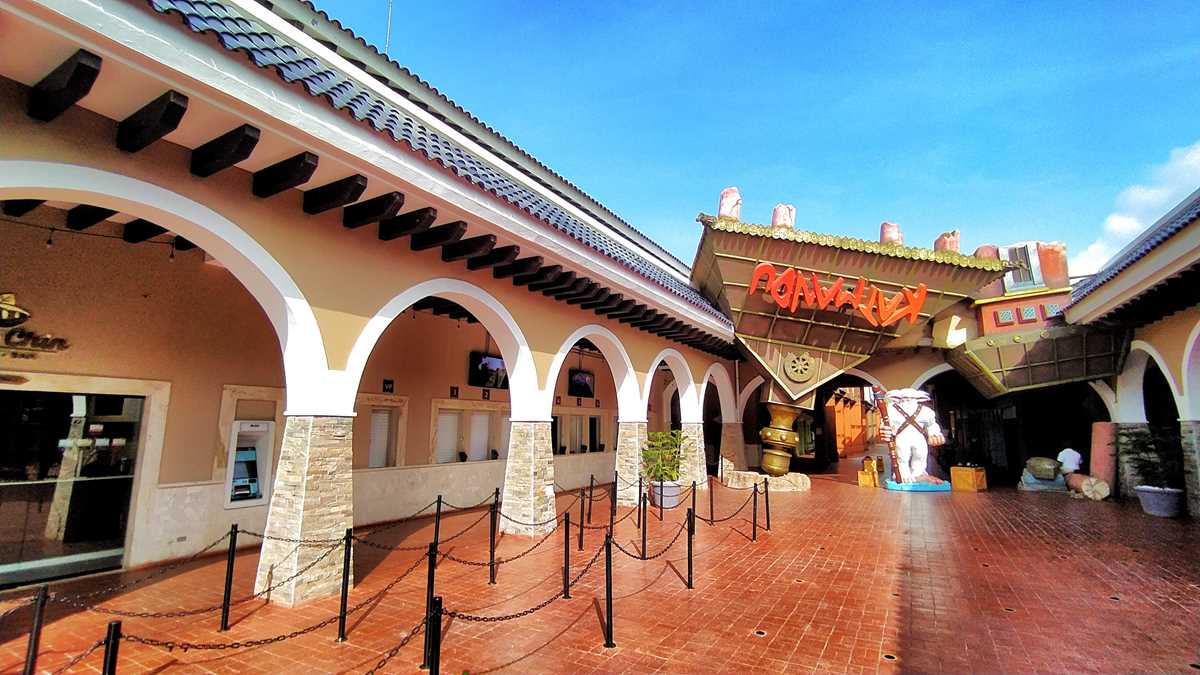 Katmandu Park Punta Cana is one of Punta Canas' newest attractions and is absolutely unique. Immersive entertainment, one-of-a-kind outdoor challenges and great family fun are just some of the characteristics of this recently-opened theme park in Punta Cana. But it might be confusing at the beginning to see what is included and what is not when looking for your tickets. The following Katmandu Punta Cana review helps you to understand how this amusement park works, which attractions and rides are included, how to get there as easily as possible and which resort even includes the entrance fee of Katmandu in your room rate.
This is an extensive Katmandu Park Punta Cana review. If you're looking for other theme parks in Punta Cana, you can also check out our popular Scape Park Punta Cana review.
If you're curious about other things to do with your kids, check out the best family activities in Punta Cana.
And for the best excursions in Punta Cana, continue reading here.
Quick overview: Katmandu Park tickets
 If you don't want to read that much about the attractions and the helpful recommendations we have for you, but are just looking for the cheapest Katmandu Park ticket, we have you covered. You can check the following offers to get your tickets with round-trip transfers included:
| Website | | Katmandu Park Punta Cana |
| --- | --- | --- |
| Viator | Book your trip with the No.1 excursion website worldwide | |
| Katmandu Park Website | Book directly with Katmandu Park – currently they have a 2-for-1 offer until 31st of July 2023 | |
| Getyourguide | Established tour platform with "Reserve Now & Pay Later" option | |
 You can also buy tickets at the box office of Katmandu Punta Cana, but in this case, you would not have transfers from your accommodation included. 
What is Katmandu Park Punta Cana?
 Katmandu Park is Punta Cana's newest attraction which just opened during spring 2023. It is the long-anticipated first unique theme park of its kind in the Caribbean as it is offering a combination of immersive entertainment, innovative games and physical-challenging attractions where you explore The Gateway to the Hidden Realms with Kilgore, the main character of Katmandu Punta Cana. 
 Besides the wide array of attractions, Katmandu Punta Cana features a food court with a variety of options, two bars (one indoor, one outdoor) and recreational areas for the entire family. While you need a ticket for the attractions we present further below in this Katmandu Park review, you can visit this theme park in Punta Cana also on your own without the obligation of buying a ticket as there are public areas that can be accessed for free (such as the Katmandu village and the food court). Especially when you stay in some of Punta Canas' resorts within walking distance, particularly Melia Punta Cana, Paradisus Palma Real or Lopesan Costa Bavaro, you can visit the park and roam around freely. We'll explain to you further below in this Katmandu review what kind of areas you have access to with and without a Katmandu Park Ticket.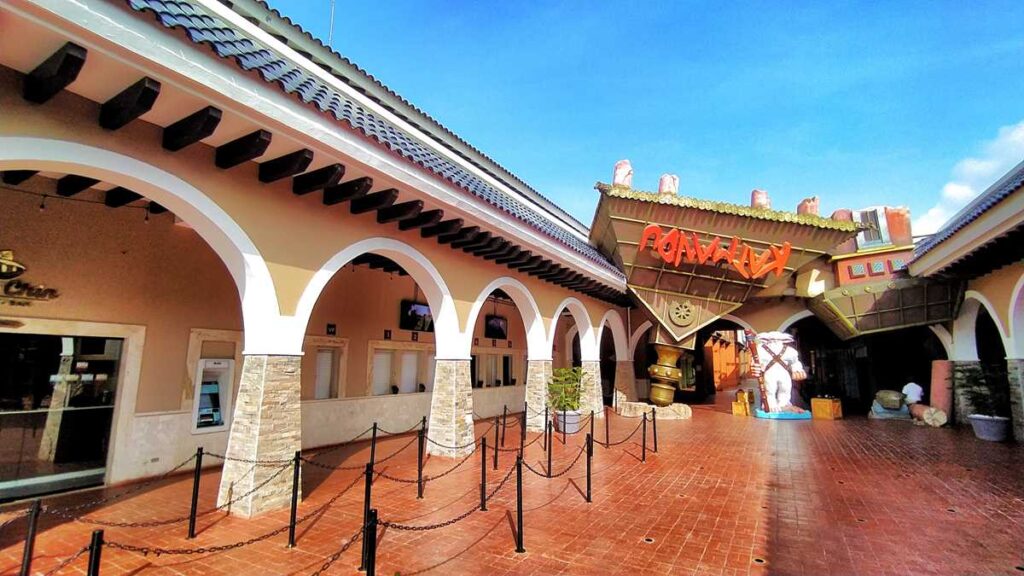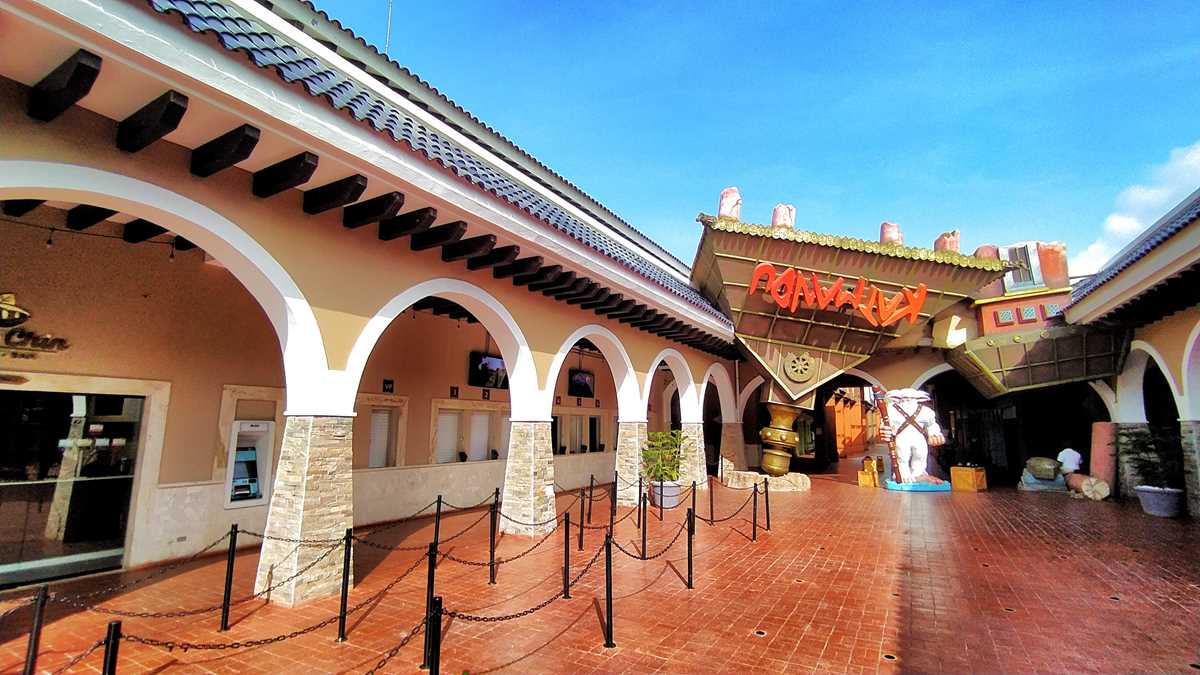 Where is Katmandu Park?
 Katmandu Park is located in the tourist center of Bavaro, the heart of Punta Cana. Years ago there was a shopping mall in the same place (Palma Real Shopping Mall), now this mall got rebuilt to create the first immersive theme park in Punta Cana and the Dominican Republic. It borders the Melía property, which means that the hotels Melía Punta Cana Adults Only, Melía Caribe Beach, Paradisus Palma Real, Garden Suites by Melía and Falcon's Resort by Melía are all within walking distance. Lopesan Costa Bavaro is also pretty close and can be reached by walking. Secrets Royal Beach and Dreams Royal Beach Punta Cana are a bit more than a half-mile walk away.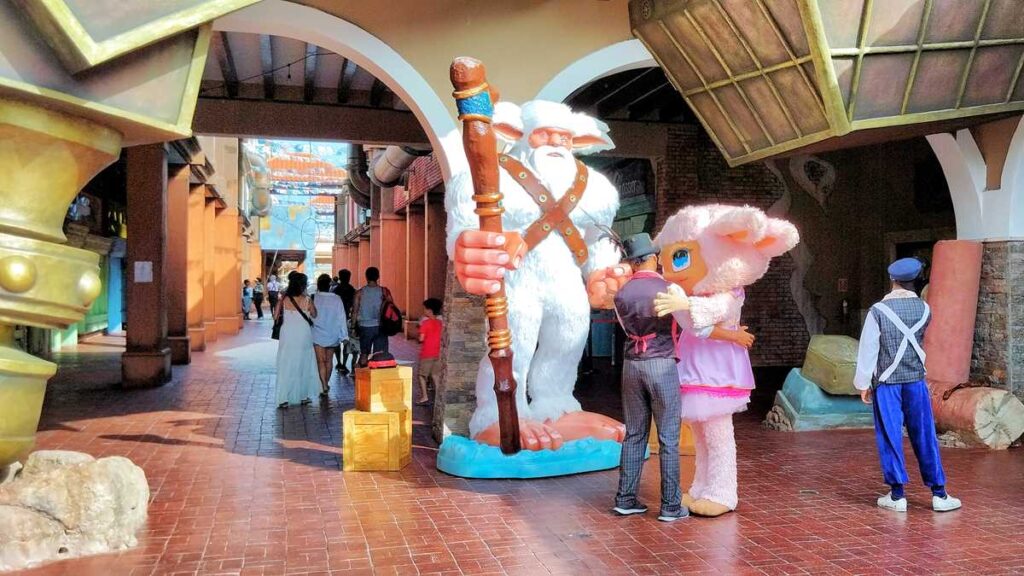 How can I get to Katmandu Park?
 However, even if your resort is not close to Katmandu Punta Cana you don't have to worry as round-trip transfers are included if you book your Katmandu ticket online* before you go. 
 If you want to get to Katmandu Theme Park Punta Cana on your own, you can either use Uber in Punta Cana, call a taxi or even go by public transport. Thanks to its centric location Katmandu can be reached with all the local busses plying the Bavaro route passing Melía. In case you have a rental car in Punta Cana, the park offers plenty of parking space. 
The attractions of Katmandu Park
 When it comes to the Katmandu Park Punta Cana rides and attractions, the park offers a unique combination of immersive and interactive indoor entertainment as well as fun-filled outdoor activities. While those indoor activities are a great thing to do in Punta Cana when it rains, the outdoor section is absolutely unique in Punta Cana and can't be found anywhere else. This combination makes Katmandu a pretty interesting option for activities and excursions in Punta Cana.
 The attractions and rides at Katmandu Punta Cana can be divided into 2 different categories: immersive indoor entertainment and physical outdoor activities (well, one of those activities is still indoor 😉 ). Let's dive a bit deeper here in our Katmandu Punta Cana review. Here is what are the 4 immersive entertainment attractions and the 4 physical/outdoor activities which are included when you buy your regular Katmandu Punta Cana ticket.
Immersive Entertainment
 The following attractions and rides at Katmandu Park Punta Cana are all indoor and therefore also perfectly suitable if the weather in Punta Cana is not that great – which luckily is hardly the case. 😉
 "Legend of the Desirata": This is a 4D Dark Ride, where the story of Katmandu is explained by Hira, the village elder, and the characters are introduced. It is a blend of technology and scenic elements in motion.
 "EtherQuest": EtherQuest is an interesting innovative and interactive tour through different rooms, where participants are becoming the protagonists of their own thrilling journey through the story. You have to find and fight your way out of the quest, passing a combination of immersive projection and interactive gameplay. In the end, a hall of mirrors and a room for physical experiments are waiting, which is a cool and fun family activity in Punta Cana.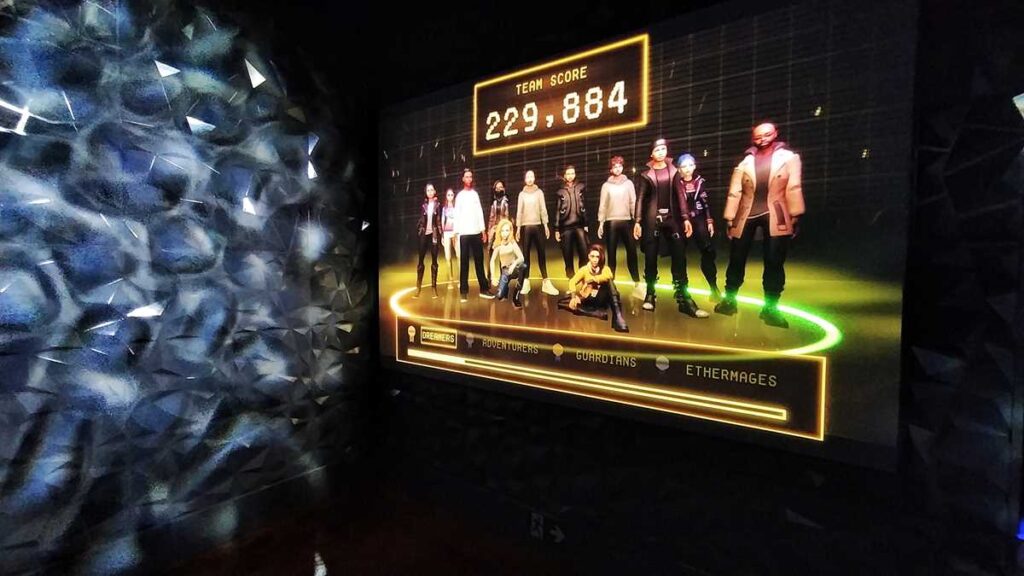 "Voyage of the Fathom Wanderer": This attraction boasts the world's first sunken theater. Visitors join Kilgore Goode and his robot Busby on an underwater mission to protect the Hidden Realm of Azurlan from a sea monster. 
 "Challenge of the Mad Mage": This is another 4D attraction at Katmandu Punta Cana, one which guarantees a lot of action and fun. It is a similar setup to the 4D cinemas you might know from around the world, but additionally, you are equipped with a wired technology gun which you need to use to gain points in an interactive battle against the other participants, while your seats are loaded with a lot of special effects throughout the game. At this Katmandu Punta Cana ride, adventurers are challenged by a curious magician named Alvis to engage in a blaster duel through the Hidden Realms in a whimsical chess game.
Physical Activities (mostly outdoor)
 The following activities are outdoor (except for "The Quadagon" and "Maiya & Kumar's Secret Cave") and require some kind of physical activity (except for "Wheel of Infinite Wonder"). If you visit Katmandu Punta Cana in the morning, you should focus on these activities right in the beginning of your trip before the sun gets too hot, if you visit in the afternoon, leave them last until the sunset hours.
– Most Popular Posts on Punta Cana Travel Blog –
 "High Point Adventure": Thrill-seekers will love High Point Adventure, an outdoor high ropes course reaching 18 meters in height, featuring three levels of adrenaline-pumping challenges, some of them indeed not for the faint-hearted. This is the most extensive Katmandu Punta Cana attraction, as this easily takes you 1.5 hours if you do the whole course.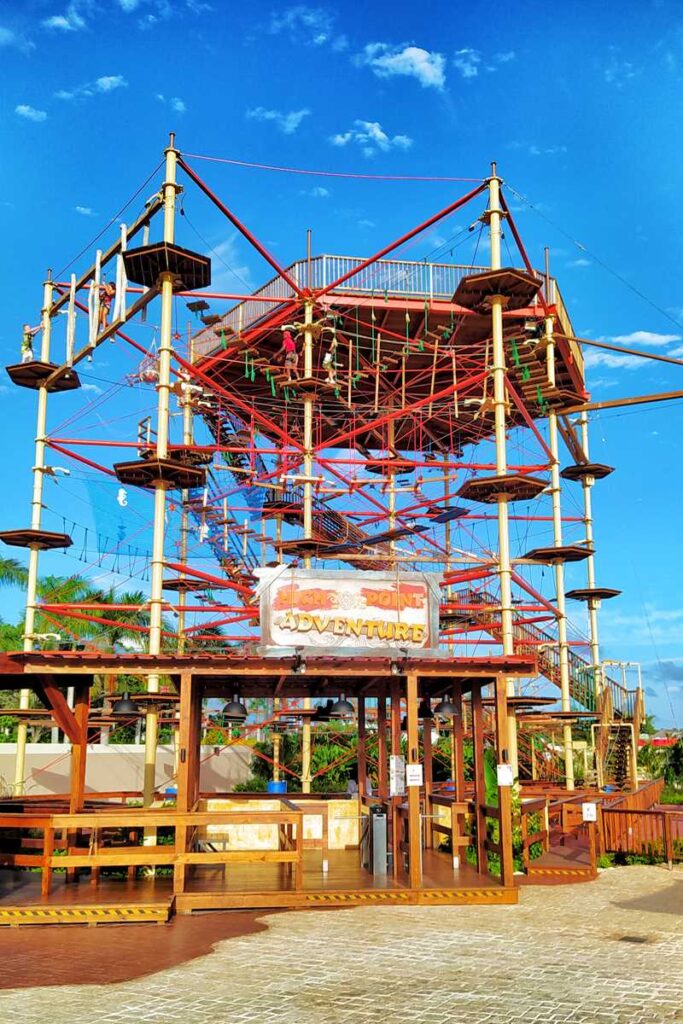 "Expedition Golf": For those adults and families seeking a more leisurely activity, Expedition Golf provides two 18-hole mini-golf courses that take players through mountains, bridges and interior caves, offering a fun and relaxing time for families and friends. There are two courses, "Earth" and "Sky" – I'll tell you further below when talking about our experiences and recommendations which one is the better one.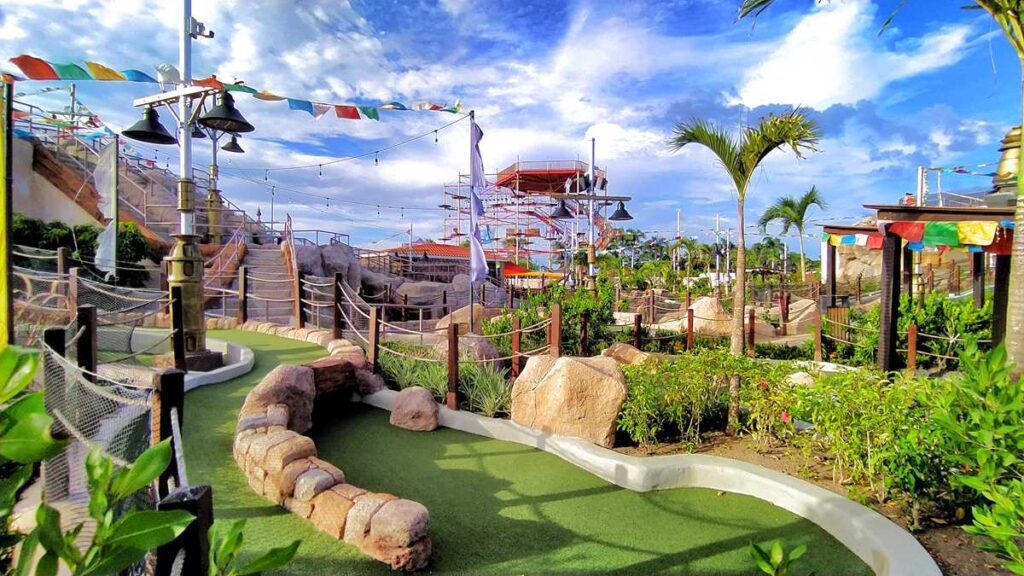 "The Quadagon" and "Maiya & Kumar's Secret Cave": This is a completely new concept I have never seen before, neither in any amusement park in Punta Cana nor anywhere else in the Dominican Republic. The Quadagon features four indoor obstacle courses for adults which feels a little bit like Ninja Warrior, while the child-friendly "Maiya & Kumar's Secret Cave" allows everyone to train like Yetis, making it an engaging experience for young adventurers. The combination of both attractions makes this a perfect family-friendly activity in Punta Cana.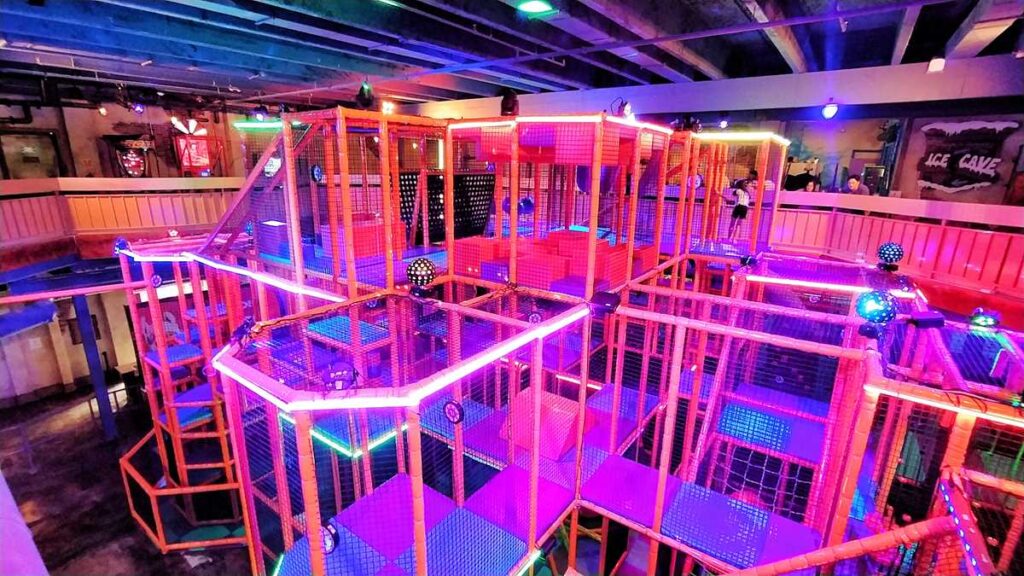 "Wheel of Infinite Wonder": Situated in the central plaza, this themed carousel brings the characters of the Hidden Realms to life, providing a delightful and magical ride, especially for kids. Compared to the other Katmandu attractions it is not really impressive, but it guarantees a nice ride for the little ones.
For an additional rush, the "Giant Swing" is included in the VIP Pass or available for direct purchase at the box office, subject to availability.
Most of the Katmandu attractions can also be bought individually, hence if you don't want to do them all, you might experience a better value when purchasing them individually on the spot. Each attraction usually ranges between 10 and 20 USD per person. Just note that you won't have transfers included if you don't book the full Katmandu Pass ticket.
Our experiences at Katmandu Park
 A Katmandu Park Punta Cana review would not be complete with our own opinion of this visit.
 What's unique about Katmandu Theme Park Punta Cana is the combination of attractions. While those loving fantasy stories, gaming and action-filled entertainment will love the immersive activities and rides, outdoor-oriented persons and physically active guests will enjoy the open-air attractions at Katmandu. Therefore, it is a great option for families visiting Punta Cana, especially when interests are a bit different. 
 In my opinion, for example, the immersive attractions were not that spectacular (but that's because I am not that much into fantasy and video games), especially as some of them were rather short. It was more the technology which was interesting here for me, as everything is brand-new and you can see, experience and enjoy a lot of state-of-the-art technology, such as the sunken cinema or the interactive games. However, I know that families and kids will love these kinds of attractions.
On the other hand, I absolutely loved the High Point Adventure and the Minigolf Experience, as they are not only unique in Punta Cana but also one-of-a-kind in the entire Dominican Republic and maybe even in the Caribbean. That's why Katmandu's advertising "the first world-class theme park in the Caribbean" lives up to its name. 
 Talking about the High Point Adventure, this was a game changer for me when visiting Katmandu Park Punta Cana. It is a high ropes course that has a lot of different challenges, activities and obstacles and is a unique adventure in Punta Cana. Furthermore, you can enjoy great views from above. Even if you don't want to do the high ropes, you can climb up to the highest platform via the staircase and enjoy a fantastic view of Katmandu Punta Cana, the surrounding resorts such as Falcons by Melía and Melía Punta Cana as well as this part of the Bavaro area.
 Another physical challenge we loved is "The Quadagon". Even though we were already tired, we definitely wanted to try this Katmandu activity as it is not only new and unique to the Dominican Republic but also one of those rare opportunities where you can feel like a kid but are still being challenged. Those indoor obstacle courses were great fun even though the time measurement unfortunately was not working correctly which I hope can be fixed in the upcoming weeks.
TRAVEL COACHING
Save money and time!
Do you need help planning a customized vacation in Punta Cana and the Dominican Republic? Is it difficult for you to decide what and where to book? Would you like to take advantage of someone with years of experience in the tourism industry (knowing all the travel hacks 😉 ) and living right in the place where you would like to spend your holiday?
That's what my personal travel coaching is for. I will design your tailor-made itinerary, tell you how to save money on your trip and send you the best insider tips and recommendations. All the information I send you are crafted with love and passion – and are coming with a money-back guarantee. Let me know how I can help you (check my packages here) and send me a request here!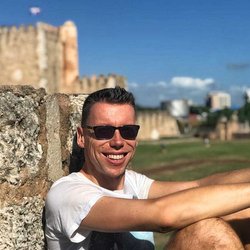 If you want to play minigolf, I recommend the "Sky" course, as this not only features more creative lanes compared to the "Earth" course but also stunning views. In general, we found that this course, the first minigolf in Punta Cana, was created with a lot of love for details, beautiful vegetation and some serious creativity, hence it is really fun to play this experience at Katmandu Punta Cana.
 When talking about the immersive entertainment activity at Katmandu Park Punta Cana, I was, as mentioned above, not that thrilled about the activities per sé, especially as it was occasionally difficult to understand the context as the sound effects were superposing the spoken dialogues. However, the technologies were top-notch. The sunken cinema at "Voyage of the Fathom Wanderer" was impressive and the fun "Challenge of the Mad Mage" was a unique way of interacting with your fellow participants.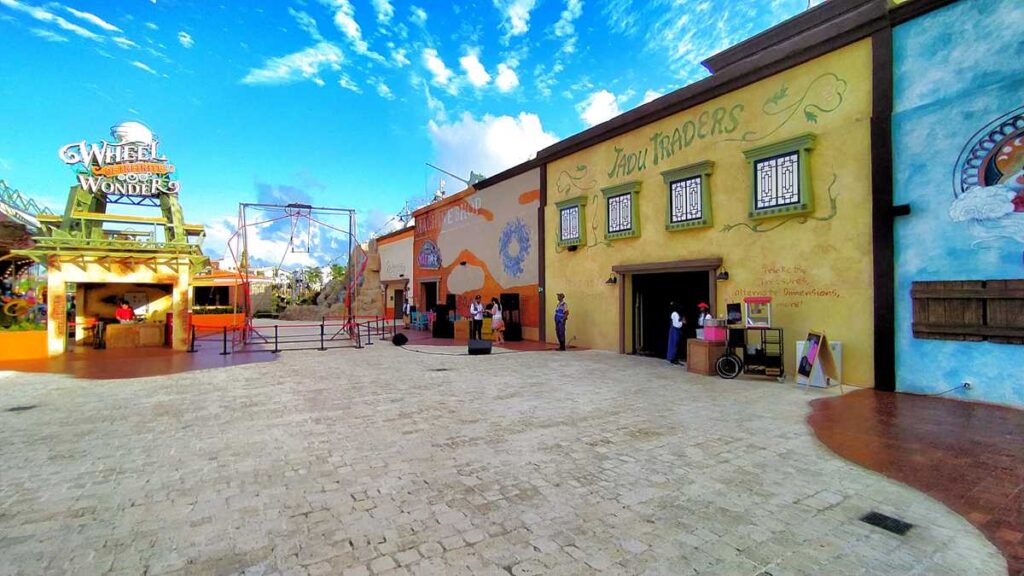 Another sweet spot was hidden after the "EtherQuest" attraction at Katmandu, where you arrive at a large hall full of mirrors. Finding your way out here from a room full of optical illusions was definitely a super-fun challenge. The following room with a lot of physical experiments you can try on your own was not less interesting.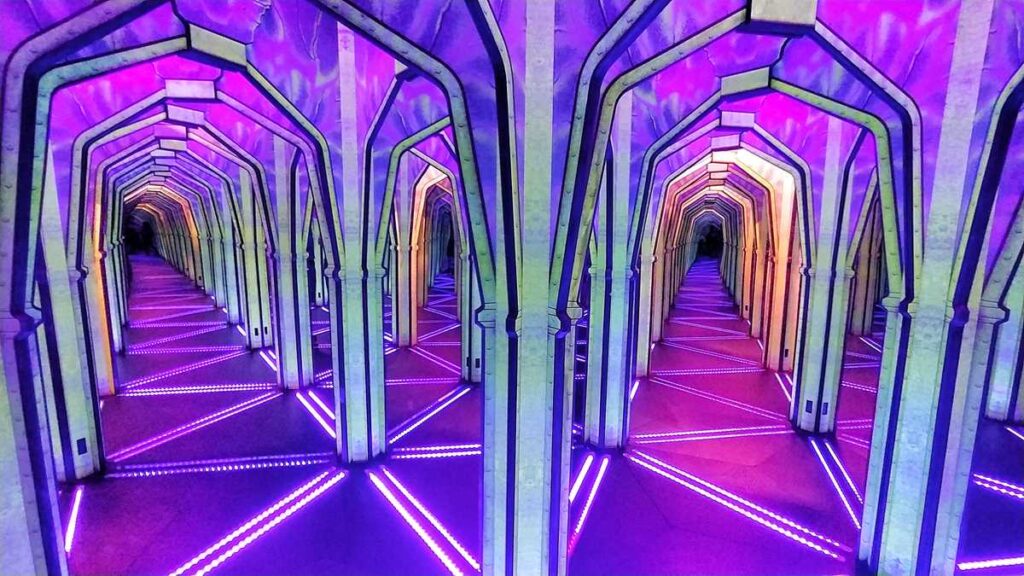 But also the general setup of the park was very convincing. All the scenes and decorations feature a high attention to detail, also the waiting areas made you feel like you're entering a new world immediately, even though we were happy that we haven't had to wait anywhere (because the park was not full), which added to the fun experience we had at Katmandu Punta Cana. Also, the staff was super friendly and entertaining, so be prepared for some surprises, such as spontaneous show acts or different appearing characters.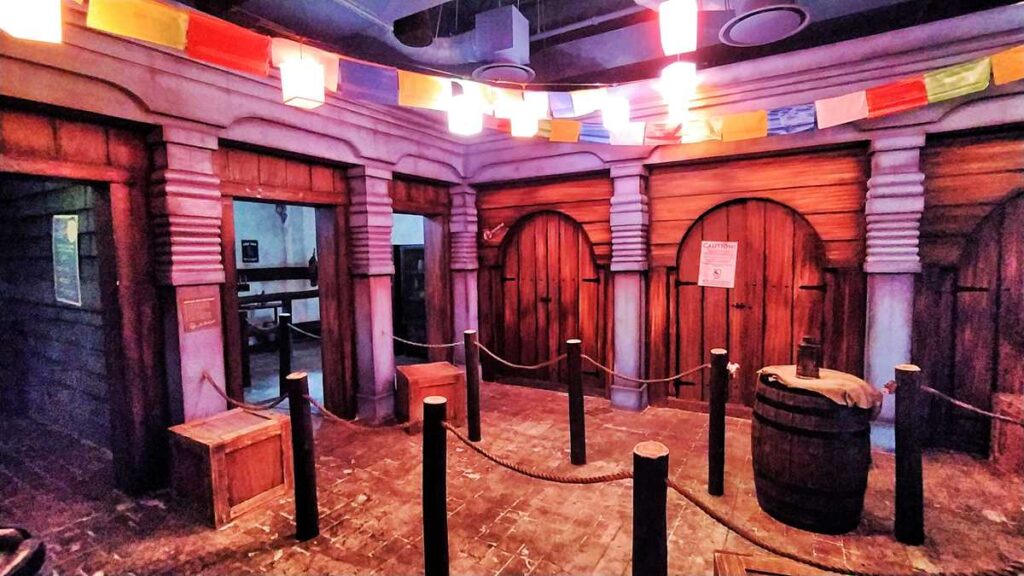 In total, we spent around 4.5 hours in the park, but I'd say you should plan with at least 5 to 6 hours if you want to do all of Katmandu Punta Canas' rides and attractions. In case you have to wait at a few of the attractions or want to eat in between, you might spend even more time. Be prepared for a full day of fun at Punta Cana's Katmandu Park, which is a unique new thing to do in Punta Cana. 
Insider tips and recommendations: everything you need to know for your visit to Katmandu Park in Punta Cana
 After we have presented the attractions as well as our experiences here in this Katmandu Punta Cana review, let's have a look at some practical information when visiting Katmandu Punta Cana. 
Transfers to Katmandu Punta Cana
 Transfers to Katmandu Punta Cana are included if you book your tickets online, for example here* or here*. They pick you up from your resort and bring you back afterwards. Currently, there are two sets of transfers: one leaving in the morning and returning in the afternoon and another one leaving for Katmandu in the early afternoon and returning to your resort in Punta Cana in the later evening. 
Katmandu Punta Cana Opening Hours
 Currently, Katmandu Punta Cana is open from Wednesday to Sunday, opening at 10 am on each of these days. The theme park closes at 10 pm on Wednesdays, Thursdays and Sundays, while it is open until 1 am on Fridays and Saturday nights. 
Get your free e-book now – "16 amazing things-to-do for free in Punta Cana"!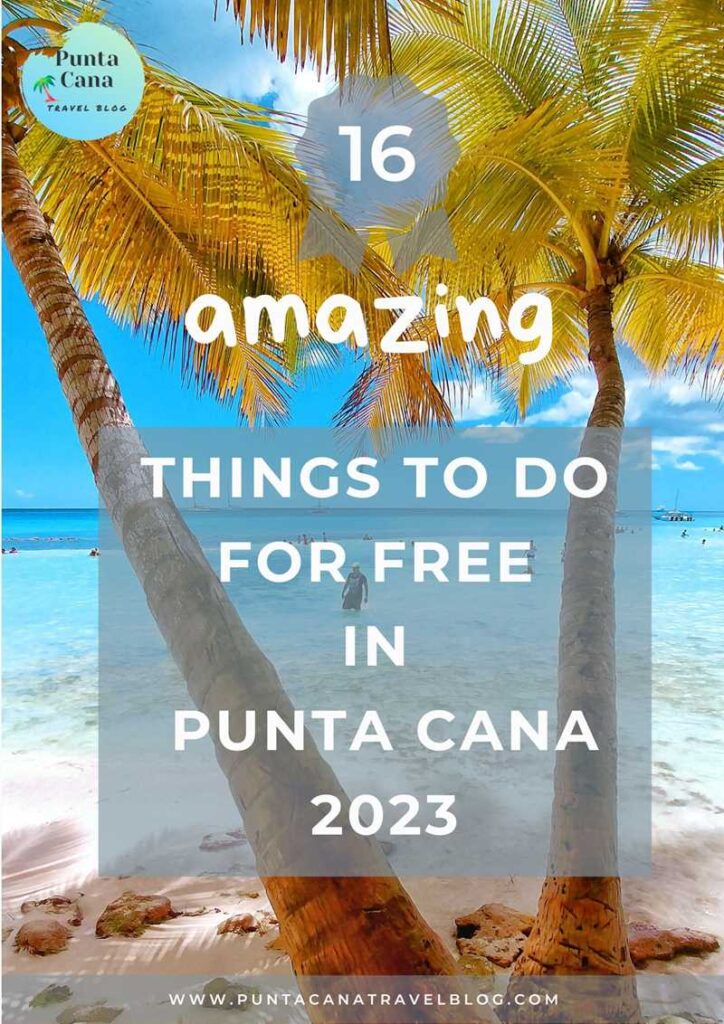 Best time to visit Katmandu Punta Cana
 Katmandu Park Punta Cana can be visited year-round. If you're visiting between June and September, take into consideration that it gets pretty hot during the day, hence the afternoon departure is more recommendable. Like this, you can also enjoy the magnificent views of Katmandu Park and its surrounding at night incl. a wonderful sunset if you're lucky.
Drinks and Food at Katmandu Park Punta Cana
 In case you get hungry, you can head to the central area right next to the High Point Adventure rope course (and next to the children's carousel) and get some American or Mexican fare or different sweet delicacies from a couple of food trucks. Katmandu Park Punta Cana also features two fully-stocked bars (one indoor bar on the upper floor of "The Quadagon" and one outdoor bar next to the food trucks). Prices vary, but considering you're visiting one of Punta Canas' touristic attractions, they're reasonable. A bottle of water costs 2 USD for example and a meal starts at around 10 USD.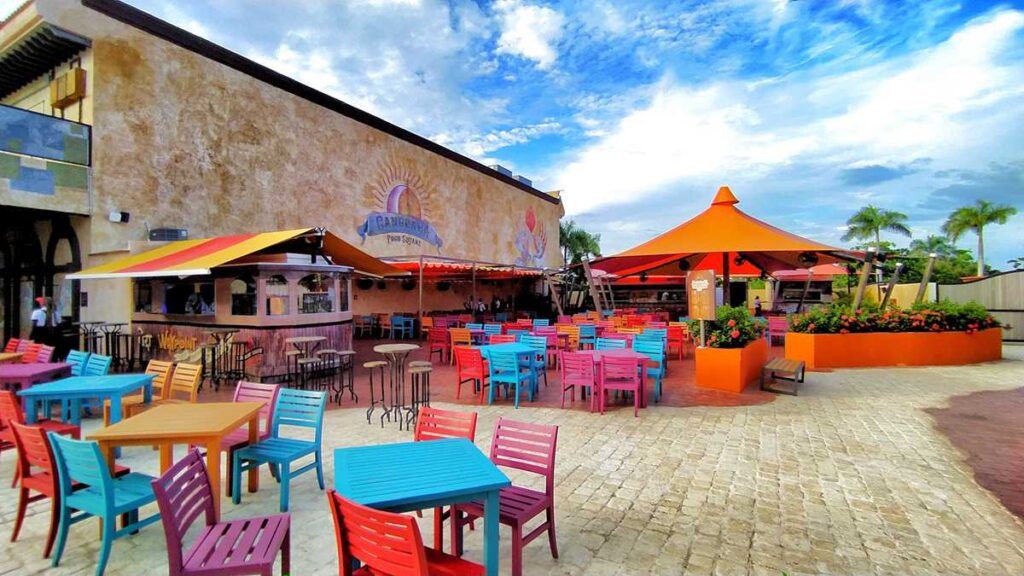 Photos at Katmandu Park
 You're free to take your own photos in the park (which is not a matter of course in all theme parks in Punta Cana) and when enjoying the outdoor attractions of Katmandu Punta Cana. At the immersive entertainment rides such as "Challenge of the Mad Mage" or "EtherQuest" photos are not allowed to protect against any copyright infringement of the video material and scenes. Furthermore, you're not allowed to take your phone into "Voyage of the Fathom Wanderer" to prevent any objects from falling on the screen of the sunken theatre (which would be a pretty costly mishap otherwise). 
 However, photographers are available in the park. They occasionally take photos of you which can be bought in a separate store. There are no pushy sales tactics though.
Lockers at Katmandu
 Talking about things you're not allowed to take: there are not many restrictions at Katmandu Park Punta Cana but in case you want to leave something at the park entrance, there are lockers available for a 5 USD rent fee. Furthermore, there are small lockers (for free) available at "Voyage of the Fathom Wanderer" and "High Point Adventure" to leave your phone and other small items and at "The Quadragon" where you can leave your shoes as the courses are done only in socks.
Katmandu Punta Cana Tickets
 Tickets for Katmandu Park Punta Cana can be bought online*, with various travel agents, at the box office in Punta Cana or with your hotel representative. You can also visit Katmandu Punta Cana without a ticket and pay individually for the different attractions which might make sense if you don't plan to experience all of Katmandus' rides and activities.
Recommended clothing
 Katmandu Park doesn't feature any water attractions, hence you don't need any swimsuits. It is highly recommendable to come with closed shoes, as those are necessary for some of the rides at Katmandu. Besides this, shorts and a shirt are sufficient.
Best Katmandu Park Accommodation
 Last but not least, it is important to mention a few accommodation recommendations for Katmandu Park Punta Cana, particularly as there are tons of resorts available in Punta Cana. 
 Without a question, the best resort if you want to visit Katmandu is Falcon's Resort by Melía. The reason is simple: if you stay at Falcon's, your Katmandu Park Ticket is included in your stay, as Falcon's and Katmandu have a very close partnership and partly belong to the same company. It is only a 5-minute walk from Falcon's to Katmandu, hence it is the perfect option if you want to combine a modern and attractive family resort in Punta Cana with the perk of visiting Katmandu for free.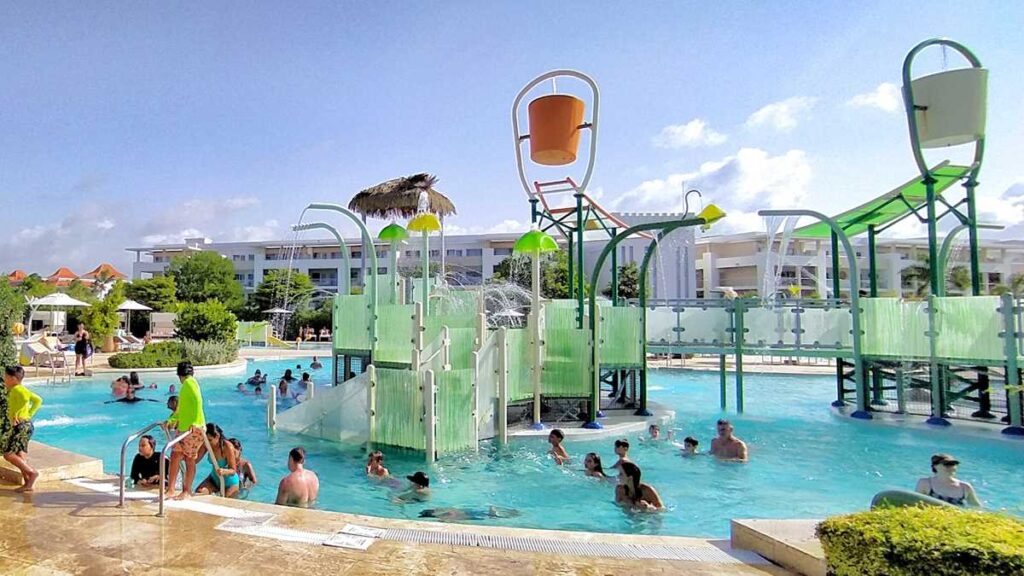 Other suitable resorts for this Punta Cana amusement park were already mentioned throughout this Katmandu Park review. Particularly Melía Caribe Beach, Paradisus Palma Real and Garden Suites by Melía are perfect options as they are all located within walking distance as well (but don't have the park ticket included compared to Falcon's by Melía). Melía Punta Cana can also be named here, even though it is an adults-only resort.
 However, you don't need to stick to the Melía hotel chain to visit Katmandu Park Punta Cana. As mentioned above, if you buy your ticket online, you have your transfers included. All resorts in Punta Cana can be reached from Katmandu in less than 30 minutes of driving. Considering you're visiting Katmandu as a family, you should definitely check out our handcrafted list of the best family resorts in Punta Cana as well as the best resorts with a water park in Punta Cana, as they will make your kids happy.
Frequently Asked Questions (FAQs)
SHARING IS CARING! IF YOU ENJOYED THIS ARTICLE, PLEASE SHARE WITH YOUR FRIENDS – I WOULD APPRECIATE IT A LOT.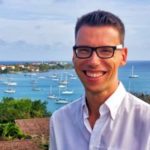 CHRIS
Author, Travel Coach & Punta Cana based digital nomad
Hey, I am Chris, a born and raised German, travel-addictive and Caribbean Soul. Since 2011 I have been living in the Caribbean, among them 5 years in the Dominican Republic. Punta Cana is my home-base here in the country and I'd love to tell you more about how to experience Punta Cana off-the-beaten-track and give you all the advice you want to know for your vacation in Punta Cana.